So, you have finally decided to cut the cord and jump into the world of digital entertainment. If that's the case, we have good news for you! There are numerous different options out there when it comes to content providers and media streaming devices. On top of that, you will save money by ditching a cable provider. As you are about to see by reading our Roku Streaming Stick review, the process of cord-cutting is as painless as it can possibly be.
Before we dive deeper into specifics of this streamer, let's get to know some of its notable features. The following table will come in handy if you're making a decision between several devices. Comparing their specs is always a good starting point.
Overview
| | |
| --- | --- |
| Product Name | Roku Streaming Stick |
| Video Output | HDMI Output |
| Video Resolution | Up to 1920 x 1080 |
| Notable Features | Easy to use; Radio playback; Rich app ecosystem; Digital photo playback; Music playback. |
| Accessories | 2 AAA batteries; AC power adapter, USB Cable, Remote control. |
| Warranty | 1 Year |
| Price | $49.99. |
| Where to Buy | Buy on Amazon |
Even though it's handy to know the tidbits about Roku Streaming Stick, we'll also include a snippet of our final verdict. Perhaps the following pros and cons will be of help when deciding whether to buy this interesting streaming device.
Verdict
| | |
| --- | --- |
| Pros | Compatibility with Netflix, Amazon, and Hulu; Hundreds of useful apps; Incredibly simple to use; Easy to set up; Voice-powered remote; Unbeatable price. |
| Cons | Not the most polished UI; Can't play 4K content. |
| Final Verdict | In case you don't need a 4K or HDR streamer, the Streaming Stick is a bulletproof decision. |
| Rating | 9.1/10 |
Finally, let's dive deep into our Roku Streaming Stick. Continue reading to learn the specifics of Roku's most affordable device. Let's jump right in.
Roku Streaming Stick Review
In this review, we will try to answer all your questions regarding the Roku Streaming Stick. We'll start from the basics, by introducing you to its design. Then, we'll jump to ease of use and functionality. In the end, you will have a very clear picture of whether this is the right media streaming device for you and your family.
Hardware / Design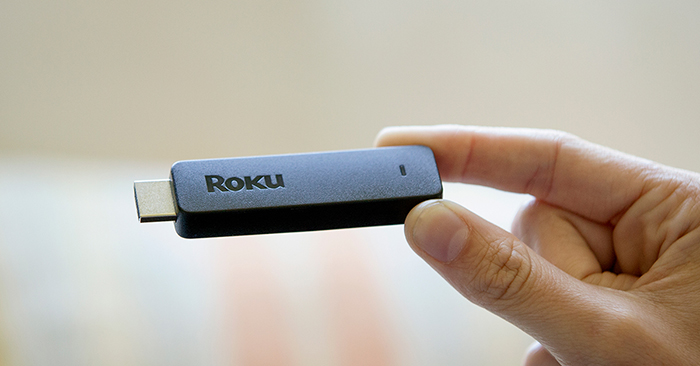 Incredibly simple and without any bells and whistles. The Roku Streaming Stick is designed with simplicity and functionality in mind. Our Score: 10/10.
The Roku Streaming Stick is as simple as it can possibly be. In its essence, this is a plain black stick with a prominent Roko logo on it. It looks very inconspicuous and it simply blends into your TV. Differently, from large set-top boxes whose design might complement your living room, this device sits on the back side of your TV.
We won't spend too much time talking about its design because this is the least important thing about this device. What you need to know is that it's incredibly simple – which is exactly how you want it to be.
Installation Process
Once you have the device in your hands, you are 5 minutes away from streaming your favorite show on Netflix, Hulu, or any other streaming service. Our Score: 10/10.
The Roku Streaming Stick is so simple that you'll exactly know what needs to be done. First, plug the device into your TV's HDMI port. Most TV's have a number of HDMI ports, which means that it won't take precious space. In addition, you need to power your device. You will receive a USB power adapter, so there are two ways to do this. If your TV has a USB port, that's great. If not, you can connect the device using a wall adapter to a nearby outlet.
In case you need a flexible HDMI adapter, there is a simple solution to get one. This goes for those who don't have enough space to plug in the device. Simply go to Roku's website and fill out a form to receive the free adapter.
Finally, you need to turn on your TV and select the HDMI source using your remote. You will be greeted by Roku's welcome screen. Set up a new account and you're ready to stream all kinds of content.
Interface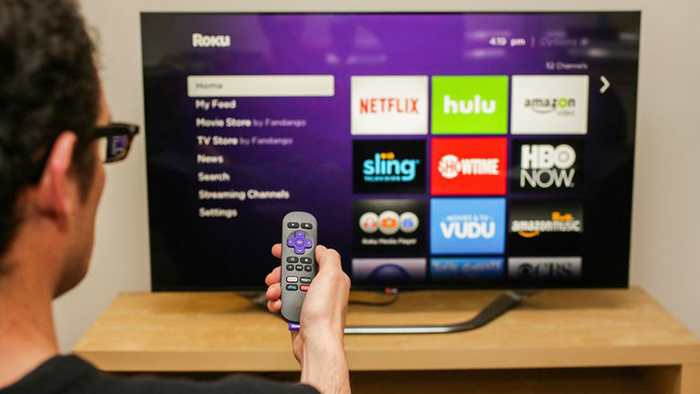 Even though some will say that Roku's UI is overly simple or even outdated, we feel that Roku made a good choice by keeping it simple. Our Score: 8/10.
Every time you pick the HMDI source on your remote, Roku will greet you with its Home screen. This is where all your channels will be located. As you can imagine, you can always pick new channels (apps) if you decide to use additional streaming services.
If you scroll down, you will see My Feed – which is where you can go to keep track of the availability of new titles. This is also where Roku's TV Shop is located. Even though this isn't where you'll spend the majority of your time, it's good to know where to find new content.
You will often hear that Roku is an amazingly simple platform, and that's true. You'll spend the majority of your time using the Home screen. This is where you'll see a grid of 'apps' which are Roku's channels or third-party media streaming applications (like Netflix or Hulu). You can delete those that you don't use, or add your favorites. The only downside is that you can't organize them into folders, which could help to clean up the UI. However, it's also worth noting that Roku never pushes any ads your way – this is a neutral platform that lets you pick your content sources.
Remote Control
Even though it still doesn't come with a headphone port, the new remote is a step in the right direction. Our Score: 8/10.
The biggest update in comparison the previous generation of the Stream Stick is an improved remote controller. It still looks very familiar to long-term Roku customers, with a few new improvements. Let's take a look at what these are.
The new remote now has three additional buttons. You can power the device ON or OFF, and there's a volume rocker on the right side of the remote. These can be used to control your TV functions as well. This means that you can fine-tune your user experience using a single remote controller, which wasn't the case before. Aside from that, you still have a bright violet D-pad, and buttons to confirm, go Home, back, rewind, play/pause, and the rest of the standard set. We also shouldn't forget to mention that you can use your voice to perform search and basic options.
As you can see from the images in this article, there are still four dedicated buttons for Netflix, Sling, Hulu, and DirecTV Now. However, these buttons might be different in your case. While some are going to love these, other will have them – especially if you don't use these streaming services.
Content and Apps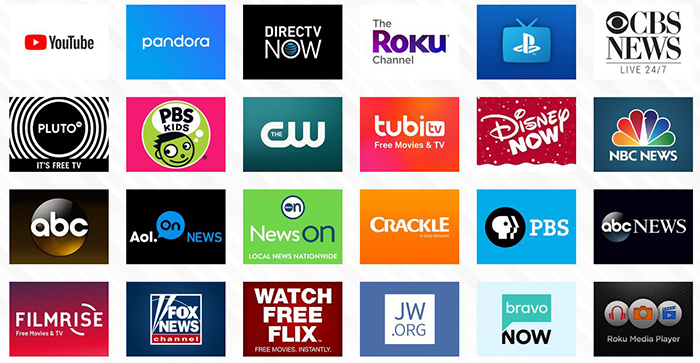 Aside from gaming, you can use Roku to access your favorite media streaming services. An incredibly large selection awaits, everything from Netflix to PlayStation Vue. Our Score: 10/10.
No matter which of Roku's devices you buy, you will get to dive into its unbelievably rich ecosystem of apps and services. You can easily tap into any of these, subscribe or unsubscribe at any point. This is why you can often hear Roku being recommended to cord-cutters.
When it comes to watching movies and TV programming, you get Netflix, Hulu (with Live TV), Amazon Prime Video, Google Play, YouTube (including YouTube TV) and more. The company has recently launched the new Roku Channel, where you get a selection of free movies – where some of them can be quite good, actually.
If you're interested in watching TV channels live, you can count on Sling TV, DirecTV NOW, PlayStation Vue, and other popular services. Needless to mention, Pandora, Amazon Music, and Spotify are there for fans of audio streaming.
If there's one thing that's missing here – that's gaming. However, the Roku Streaming Stick isn't really a gaming device, so we can't say that we miss this type of entertainment.
Performance
The Streaming Stick caps out at 1080p – which means that 4K videos are out of the question. Still, this should be enough for plenty of users. Our Score: 8.5/10.
The most important limitation of the Roku Streaming Stick is that caps out at 1080p. So, you won't take full advantage of your TV if it can play 4K videos. However, that's where the Roku Streaming Stick+ comes into play. These two devices are close to identical – but the Plus version goes one step further when it comes to 4K streaming.
If you plan on watching HD videos using an average home Wi-Fi connection, you can expect them to be buffered to full HD in about 10 seconds. This doesn't only depend on Roku but on a chosen streaming platform as well. For the price of $40, you will hardly find a better alternative.
When it comes to using Roku's software, you will notice a bit of lag when moving through menus. However, this isn't a big deal since it certainly won't affect your user experience.
The Verdict
As you can see by reading our Roku Streaming Stick review, there is a lot to like about this device. It is incredibly simple to use and provides a surprisingly wide set of streaming services. If you don't need 4K streaming or don't have a 4K TV, there is no reason to look for any other device. We are more than sure that the Streaming Stick will meet your every need.
PROS: Effortless installation; Brings dozens of popular streaming services; New and improved remote controller; Free content on occasion; Competitively priced.
CONS: Up to 1080p video output; Some lagging can occur.
FINAL SCORE: 9.1 out of 10.
Buy from Amazon
If you plan on searching on Google where to find this amazing device, don't worry about that. We got you covered. You can buy the Roku Streaming Stick on Amazon, which is where you'll usually find some hefty discounts as well.

Additional Resources
Before we let you go, we'd like to include additional resources. These will help you get to know this device and expand our Roku Streaming Stick review with highly valuable information.
If you're concerned about using your privacy, we recommend protecting your media streaming using a VPN. Therefore, here are the best VPNs for Roku;
If you're a Kodi user, you should know that there's a way for these two platforms to work side by side. Here's how to use Kodi on Roku devices.
Finally, maybe you didn't know that a Roku Assistant is coming your way. The company's devices should soon have their own digital assistant.
Final Thoughts
This is where we conclude our Roku Streaming Stick review. We hope that we managed to answer your questions and that you've narrowed your search for the best media streaming device.
In case of any doubts of additional questions, feel free to let us know using the comments section below. Finally, feel free to share this article on social networks. Thanks!