When it comes to creators of media streaming devices, Roku is a very straightforward company. It offers a simple lineup for devices – aimed at a few groups of typical users. Just like its name implies, the Roku Ultra is the most powerful device – for the most experienced streamers. However, it also comes with a somewhat higher price tag. For $89, you will get 4K and HDR streaming in addition to a few very useful bells and whistles. For more information, continue reading our Roku Ultra review.
Before we dig any deeper, we think it would be useful to provide a basic set of information about this device. This should come in handy if you're making a comparison with some other streamer.
Overview
| | |
| --- | --- |
| Product Name | Roku Ultra |
| Video Output | HDMI |
| Video Resolution | Up to 3840 x 2160 (4K). |
| Notable Features | Ethernet port; USB port; Expandable memory; Private listening; 4K video output. |
| Accessories | 2 AA batteries; AC power adapter; USB cable, Wi-Fi remote controller; Earphones. |
| Warranty | 1 Year. |
| Price | $89.00. |
| Where to Buy? | Buy on Amazon |
Before diving any deeper, it would be interesting to know the most important information. For example, the biggest pros and cons. In case you're happy to deal with the following cons, continue reading to learn more.
Verdict
| | |
| --- | --- |
| Pros | Incredibly rich app ecosystem; 4K and HDR support; Wired network connections; Private listening via remote. |
| Cons | Dolby Vision unsupported; Voice search is unreliable. |
| Final Verdict | Roku's high-end Ultra streaming is for heavy streamers. If you have a 4K TV and want all the best and whistles – this is the perfect product. |
| Rating | 9.3 / 10 |
Finally, let's dive into our Roku Ultra review to learn more about this device. We'll talk about the hardware design, user interface, app ecosystem, remote controller, and everything in between.
Roku Ultra Review
No matter if you're an experienced streamer or a newbie, this article will tell you all you need to know. Let's begin with the basics. We'll talk about how this device is designed and what kinds of ports and connections it brings.
Hardware / Design
The Roku Ultra is a simple but quite sophisticated device that will complement any space. Plenty of useful ports await in a small and convenient package. Our Score: 10/10.
The very latest Roku Ultra streamer isn't much different from the previous generation. This is still a very simple plastic device measuring 0.8 x 5.9 x 5.9 inches (HWD). However, we have to say that we like its curved lines and glossy sides. On the top, you will see a prominent Roku logo and a small button used to find your lost remote controller. On the back side, you will see one HDMI port, an Ethernet port (100Mbps, not Gigabit), and a power connector. The includes of the HDMI port is a necessity since you want the fastest possible Internet connection to stream highly demanding 4K videos.

On the right side, you will find one very interesting feature – and that's USB port. Thanks to a built-in app, you can play our own movies and music. In other words, the Roku Ultra is more than a streamer. In addition, this is the only Roku device that comes with this feature. Store a movie on your USB, plug it into Roku Ultra and you're ready to go.
The bottom line is that this streamer looks very simple but still quite refined. Since it sits next to your TV, you don't really want a device that will capture a lot of attention.
Installation Process
After making the needed connections, the Ultra will do everything on its own. This includes detecting 4K or HDR and adjusting the output to your TV's capabilities. Our Score: 9/10.
This streamer is far from a simple device, at least when it comes to its capabilities. However, you won't even notice that. It comes with an incredibly simple installation process where you'll be up and running in less than a few minutes of your time.
You need to make three connections from your Ultra streamer. Connect it to your TV using an HDMI cable (you'll have to supply your own) and to a router via an Ethernet cable. Finally, you need to provide a power to your Ultra by plugging a cable into a wall outlet. Once you've done that, press the power button and the Roku device will boot. Once you selected the appropriate HDMI source on your TV, you'll need to go through the setup process. Pick your language, update if there's an update available, and create a Roku account.
When it comes to technical things, the Ultra will automatically detect if your TV supports 4K or HDR output. In addition, it will automatically detect if it needs to use 4:2:0 or 4:2:2 subsampling. Either way, you will be left with a crystal-clear picture on our TV without any tinkering needed.
Interface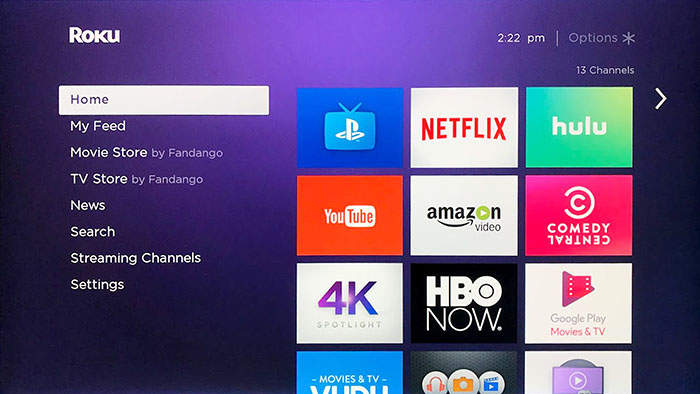 Just like the hardware, Roku's software is straightforward and easy to use. The only downside is ads that might be overly annoying to some users (you can't turn them off). Our Score: 8.5/10.
Some manufacturers of media streaming services tend to be overly ambitious. In the end, you will find numerous options that look great on paper but somewhat fail to work properly. This isn't the case with Roku. While some would say that Roku's interface is a bit boring – we strongly disagree. It is as functional as you want it to be – no more or less than that.
Every time you power ON your Ultra, you will be greeted by a Home screen. This is where you'll see pins of your channels and media streaming services. You can also move vertically and switch between different types of content or settings. Since this is a 4K device, you will also find a dedicated 4K Spotlight pin with a selection of content available across different services.
The only annoying this with Roku is that it displays ads on occasion. Since Roku earns money by selling hardware, it has to show these ads. In case you use any to sign up for a new service, the company will get a cut. There's no way to disable advertisements, so you'll simply have to live with them.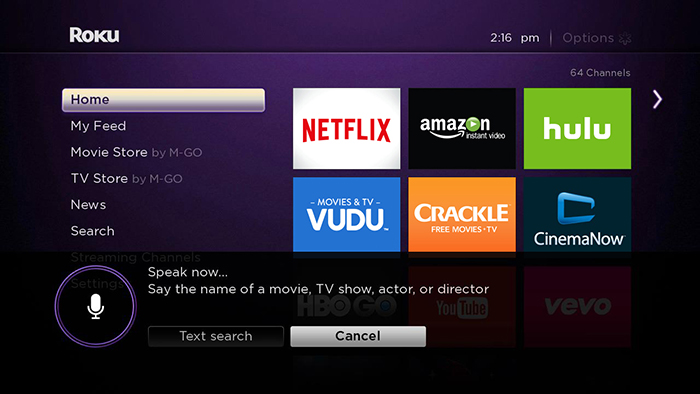 We'd also like to highlight Roku's search capability. Once you search for something, you will get a very detailed guide. If that a movie, for example, you'll see casting information, ratings, and a list of channels that can be used to watch that movie.
Remote Control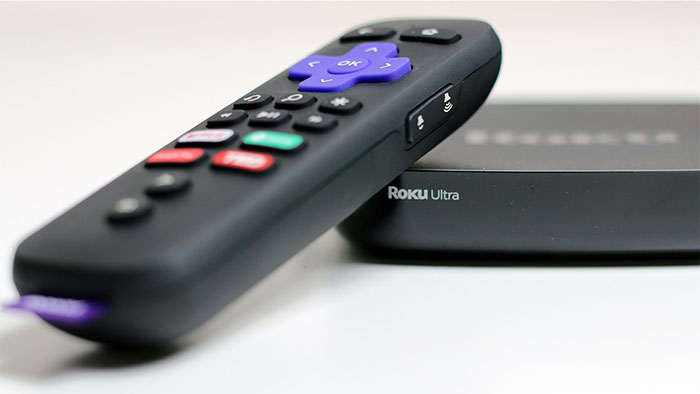 More powerful than ever before, the new Ultra remote comes with gaming features and a headphone port. This is the only way to use private listening on Roku. Our Score: 9.5/10.
Aside from the device itself, the new remote control is another highlight of the Roku Ultra package. Even though it looks pretty much the same other Roku controllers, it brings several important enhancements.
What's the same with all Roku remotes is the standard navigation and playback controls, as well as the prominent four-way direction-pad? There are also four dedicated buttons for four chosen streaming services. You can remove or change these since Roku is getting paid to promote other services. While some will find this annoying, others are going to love this feature.
Now, about new things. There are two buttons called 'A' and 'B'. These are used for certain games available on the Roku Channel Store. In addition, these buttons work with motion sensors incorporated into the remote. If you're not a gamer, you will have to ignore these buttons.
On the remote, you'll also find a headphone jack. Certain Ultra devices even come with earbuds included. This means that you can listen to your movies or music without disrupting others in your household. In addition, there's a so-called Night Listening mode which lowers louder moments and boosts quieter ones. Finally, you should know that the headphone port is exclusive to the Roku Ultra.
Content and Apps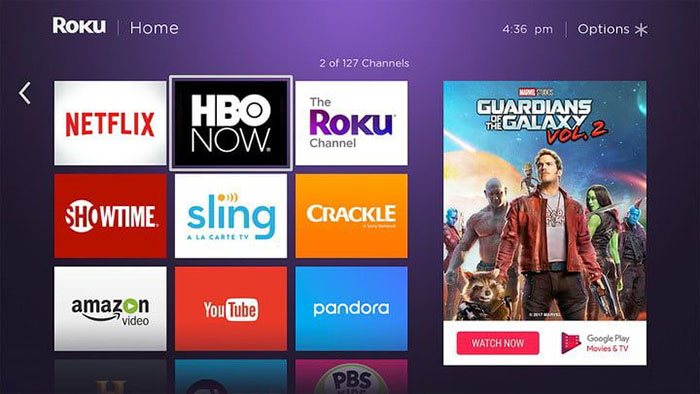 No matter if you want to use Netflix or DirecTV Now, or any other service, you're covered by the Roku Channel Store. Numerous options await and plenty of 4K content. Our Score: 9.5/10.
Since Roku doesn't have a streaming service of its own, it tries to integrate numerous others. We have to say that we're impressed by the number of third-party apps and services.
If you're into movies and TV shows (or on-demand videos), you can count on Netflix, Hulu, Google Play Movies, HBO NOW, as well as any other popular streaming service. When it comes to live TV channels, you can use DirecTV Now, Sling TV, PlayStation Vue, and pretty much anything else. We are more than sure that you'll find your favorite service on Roku.
Since this is a 4K device, we shouldn't forget to mention that availability of 4K content. At the moment, your best bet is to use Netflix or Amazon Prime Video. Both of these are offering plenty of 4K movies and TV shows – and their servers work without a single issue. You can also count on YouTube and Vudu. Even though the library of 4K titles does show its limitations, we believe that 2018 will be the year of 4K content.
Performance
Despite the absence of Dolby Vision, the Roku Ultra can stream 4K without any problems. In addition, it supports the HDR10 standard for compatible TVs. Our Score: 9.5/10.
When it comes to day-to-day performance, you'll be more than happy with the Ultra streamer. It is powered by a capable processor and a GPU unit. No matter how fast you move through menus or how deep you go into the system, it will only take a fraction of the second for Roku to listen to your commands.
When it comes to the streaming performance, HD streaming happens in an instant. However, the Ultra will be typically used for 4K playback. Assuming you have a fast Internet connection, 4K streaming shouldn't be a problem. It takes several seconds until a video turns into a full-featured 4K resolution. However, this also depends on a third-party streaming service. In addition to 4K, the Ultra supports HDR. More precisely, the HDR10 standard. This technology is designed to increase the range of brightness and color, creating very vivid and colorful scenes. However, HDR10 is just one standard. More powerful is called Dolby Vision – and this one isn't supported by the Roku Ultra. So, make sure to know the specs of your TV so you can take full advantage of it.
The Verdict
The Roku Ultra isn't designed for a typical streamer. Instead, it is designed for those who have 4K HDR TVs and who rely on streaming services for all their entertainment needs. However, there is also a group of even demanding streamers. They require absolutely the latest technology that includes Dolby Vision, high-end interface, gaming, and a Gigabit Ethernet port. Therefore, it's clear that the Roku Ultra sits in the middle. The ideal customer is someone who's using a streaming service and has a 4K TV – and want reliable streaming with a couple of advanced technology features.
PROS: Supports HDR technology; Streams 4K content; Hundreds of streaming services; USB port included; Simple and reliable UI; Private listening via remote.
CONS: Lacks Dolby Vision support; Voice search is hit-and-miss.
FINAL SCORE: 9.3 out of 10.
Buy on Amazon
So, you've decided to be a proud owner of the all-new Roku Ultra. We think you've made the right decision and that you're going to love this streaming device. The only thing that's left is to buy and have it delivered to your front door. Go ahead, and buy Roku Ultra on Amazon – and you'll have in no time.

Additional Resources
In case you're still unsure about this streamer, maybe you'd like to explore other options. You will hardly find a better 4K streamer – but your options expand if you need to stream HD content. Here are some of the most interesting devices.
If you're on the budget, or if you don't need any bells and whistles, you'll be surprised by what the Roku Streaming Stick has to offer. For more information, read our Roku Streaming Stick review.
We also understand that many of you are inside the Amazon ecosystem of services. Here's our Fire TV Stick review if you want to stay loyal to this tech giant.
Final Thoughts
As always, we hope that you managed to find the answers in this article. In case you still have any doubts, we are more than glad to help. Post a comment below and we'll give our best to respond.
If you found this article to be helpful, why not share it online? Thanks!