Let's say that you've finally decided to cut the cord. Instead of paying for a cable service, you want to dive into an endless world of online entertainment. However, you want to keep your budget as small as possible. This is where Roku Express comes into play. This is an incredibly simple streaming device that lets you enjoy HD content on your TV. To find out more, continue reading our Roku Express Review.
Before getting into specifics, here's a table with the basic information. The following segment should give you an overview of what to expect from this device.
Overview
| | |
| --- | --- |
| Product Name | Roku Express |
| Video Output | HDMI Output |
| Video Resolution | Up to 1920 x 1080 (Full HD) |
| Notable Features | A barebones device; Incredibly simple to use; Large app ecosystem; The cheapest out there. |
| Accessories | 2 AAA batteries; AC power adapter; HDMI cable; Remote control. |
| Warranty | 1 Year |
| Price | $29.99 |
| Where to Buy | Buy on Amazon |
Next, let's take a look at some of the biggest advantages of this device. In addition, we'll also tell you about its biggest limitations. In case you're willing to accept them, why not continue reading our Roku Express review to learn more about the specifics.
Verdict
| | |
| --- | --- |
| Pros | Incredible selection of apps; Easy to set up; Easy to use; Affordable. |
| Cons | Somewhat odd design; Some lagging. |
| Final Verdict | The Roku Express is designed for occasional streamers, who don't need the advanced tech. It brings all you might need with a few drawbacks. |
| Our Score | 8.1/10 |
As you can see by now, Roku Express is one of the most affordable streaming devices on the market. However, that comes with certain tradeoffs. To learn more, keep on reading.
Roku Express Review
Finally, we'll dive into specifics. We'll start with the device's design and functionality, and then we'll talk about the app and services ecosystem that you can expect. By the end of this article, we hope you'll make up your mind whether it's wise to invest in Roku Express or not.
Hardware / Design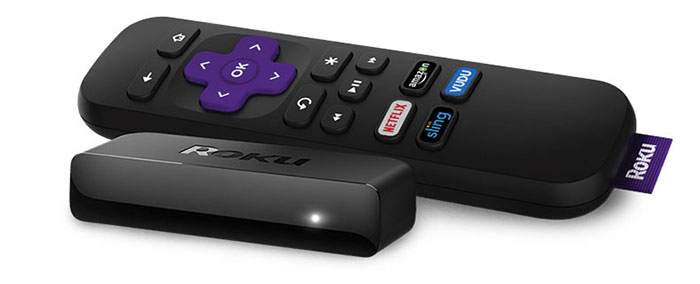 The first limitation of the Roku Express is its design. Instead of offering a USB Stick-like appearance, this is a small and problematically lightweight slab of plastic. Our Score: 6.5/10.
The general rule is that affordable media streamer come in the form of a USB stick. However, this is the case with Roku Express. The company has instead decided to create an incredibly small device that sits beneath your TV. You connect the device to your TV's port and then place it underneath your TV – to make sure you get the best signal reception for its remote. This is where the biggest weakness of its design shows its face.
Since the device is incredibly light, you will have a hard time making it sit flat on a surface. In most cases, you'll need to place something over it. Additionally, you can push it down by using the supplied HDMI cable. In other words, you'll need to show a bit of creativity to make this device sit the way it should and to make it inconspicuous.
It's also worth noting that you can use an adhesive tape to affix the Roku Express to a corner of your TV. That is actually one of Roku's ideas. However, you can see how this can be a problem if you have an elegant TV with a simple frame.
Installation Process
The setup process is quite easy after you've managed to properly position the device. Connect the device to your TV and provide power – and you're ready to go. Our Score: 8.5/10.
You will find two ports on the Roku Express. There's one HDMI port for video reproduction and one USB 2.0 port for power. As you can see, that's all you need to start using this simple streamer. First, connect the device to your TV using one of your TV's HDMI ports. Next, provide the power to Roku Express by either connecting the device to your TV's USB port or directly to a wall outlet (you'll need a separate cable for that).
In case you have an older TV, you won't find VGA cables for this device. If that's the case, Roku has a solution since it offers the Roku Express+ with slightly better specs and a VGA cable included.
Once everything is connected, power your Roku and select the HDMI output (source) on your TV. You will be greeted by a very simple setup wizard where you can sign in to your Roku account and pick channels you'd like to watch.
Interface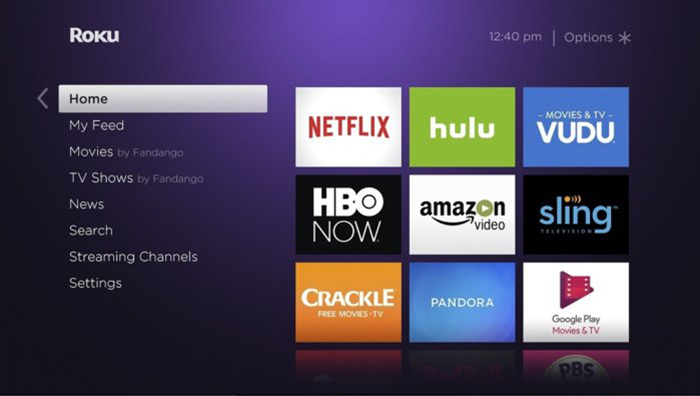 Even though Roku's UI design department should be more active in 2018, the currently present UI is pretty enough and easy to use. Some bells and whistles wouldn't hurt though. Our Score: 8/10.
During the last few years, Roku is sticking to its scheme of creating simple and straightforward UX experiences. You'll spend the majority of time glancing at your Home Page which basically brings rectangular icons of your selected media streaming services.
On the left side of the screen, you will find different pages of the Home Screen. This includes the FandangoNOW Movie and TV stores, the AOL News, the Roku Channel Store, and Settings. If you're not using Fandango or AOL, you can turn off these content sections in Settings. As you can see on the images in this article, there's nothing extraordinary about Roku's UI design. It is simple and on-point, while some may add that it's dated a bit. We partially agree with this – especially if we compare this UI to Hulu's UI, for example.
We should also mention that Roku shows ads while you're browsing through different Home Screen sections. These ads are for different types of content and streaming services – and that's a way for Roku to earn additional money. You can't disable these, so you'll just have to ignore them. They aren't overly intrusive, though.
Remote Control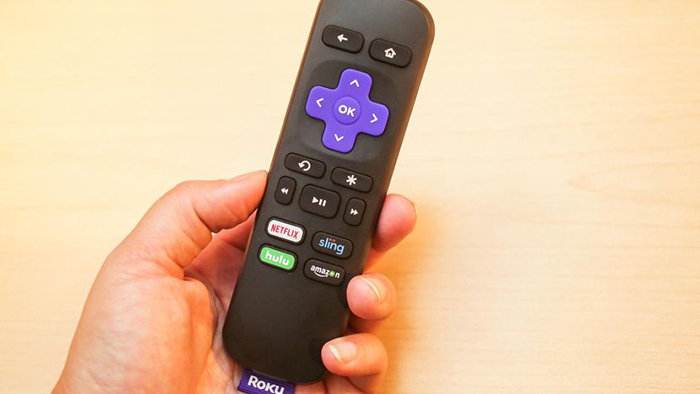 When it comes to all Roku remotes, this is the most basic one. No bells and whistles, just a simple layout of basic controls for moving through menus and playback control. Our Score: 8/10.
Every Roku device comes with a slightly enhanced set of features – depending on the price. Since this is the most affordable Roku device, you can expect the basic set of options. If you're a user of the first-generation Express device, you probably won't even notice any differences.
There is a prominent direction-pad on the remote, allowing you to move through menus and select items. Then, there's a basic set of controls for returning Home and going back one step. As you can expect, there are playback controls as well. What you won't find here is voice input – present on all other Roku devices. In addition, a volume rocker found on the right side is also missing yet present on the rest of this year's lineup.
Finally, just like with any other Roku remote, you will find four dedicated buttons – for four streaming services. You can't tell which combination of services you'll receive, but some of the frequently found are HBO NOW, Hulu, Amazon, and Netflix. You simply press the appropriate button and the app opens on the screen. There's no way to reprogram or disable these buttons.
Content and Apps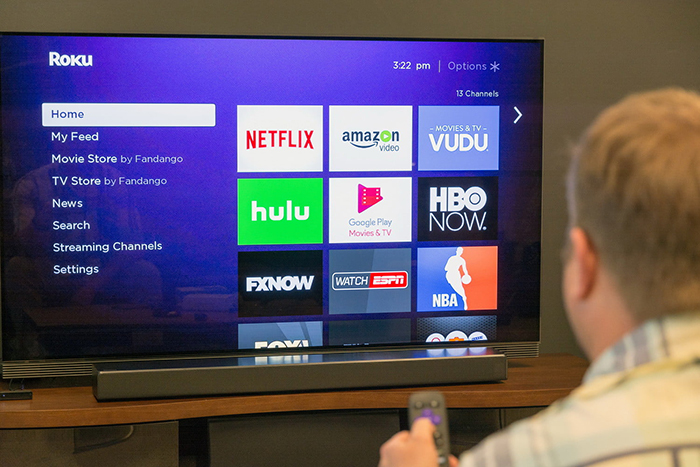 When it comes to available content and apps, Roku is above everyone else. With close to 6,000 apps, you won't be without something interesting to watch. Our Score: 9.5/10.
If there's one amazing thing about Roku – that's its huge ecosystem of apps and services. Since Roku doesn't have its own streaming service (aside from the Roku Channel), it relies on other services to fill out that part.
When it comes to popular streaming services, you can be 100% sure that you'll find the one you're already using. This includes Netflix, Hulu, Amazon Video, PlayStation Vue, DirecTV NOW, Sling TV, and anything in between. What you can't count on is YouTube TV and Apple's iTunes store – reserved for AppleTV only.
If you're a sports fan, Roku has a lot to offer. Almost every major professional sports league is covered, including NFL, NBA, MLB, and NHL. One of the most popular sports channels, ESPN, also comes included. Don't worry, niche sports can also be found, even though you'll have to dive in a bitter deeper into the Roku Channel Store. However, you'll also find that some not-as-popular apps look really outdated.
Performance
Despite its very low price, the Roku Express brings a stable and reliable performance. This also applies to HD streaming and buffering. However, you shouldn't push it too hard. Our Score: 8/10.
The biggest issue of the last year's model was its sluggish performance. This is why Roku promises that the new Express is five times faster. We agree with this statement. Moving through menus brings a very slight lag – where some of you won't even notice it. However, once you go really deep into the system or use advanced options, you will see that the Roku Express is quite behind other products made by this company. Still, we shouldn't forget the affordable price of the Express model. For the offered price, you will be more than happy – especially when it comes to buffering and streaming.
Once you start playing an HD movie, it will only take a few moments until the Full HD kicks in over Wi-Fi. There are no drops in resolution or mid-watch buffering, which is a big achievement for a device like this one.
To get the most out of your Roku Express, we recommend downloading the official smartphone Roku app. You will be able to quickly move through menus, playing something instantaneously, and even issue voice commands. The app will really enrich your user experience.
The Verdict
Even the company behind this product is saying that the Roku Express is great for secondary TVs or a good gift idea. This feels like an understatement – because the device is actually quite good. For the price you're paying, you'll have HD streaming and tons of great apps. If you're an occasional streamer or don't want advanced technology (like 4K, HDR, or voice search) – Roku Express seems like a rational purchase.
PROS: No-fuss streaming; Simple to operate; Short buffering times; Thousands of apps and services; Basic remote control;
CONS: Some lagging is noticeable; Home Screen advertisements; Some apps are outdated.
FINAL SCORE: 8.1 out of 10.
Buy on Amazon
Cord-cutters are going to love this product, as well as those who don't need all kinds of cord-cutting bells and whistles. Keep your entertainment simple and effortless – and this is why buying Roku Express is a good idea. Interested? Go ahead and buy Roku Express on Amazon.

Additional Resources
Before concluding this article, we'd like to help you make the right decision. This is why we'll include some helpful links to our other reviews of media streaming devices.
If you increase your budget just a bit, you might end up with the Roku Streaming Stick. It brings improved performance and more capable remote – so why not read our Roku Streaming Stick review.
Those of you who are using Amazon Prime might benefit from buying the Fire TV Stick device. This is a very interesting competitor to Roku's device – so here's what you need to know about Fire TV Stick.
Finally, here's our article on using Kodi on Roku devices. Since Kodi is a very capable home theater/media streamer, we think you're going to love it.
Final Thoughts
There you have it, folks! We really hope you found this article to be helpful. In case there's anything else you'd like to know about the Roku Express, don't hesitate to leave a comment below.
As always, we would like to ask you to share this article online if you think other readers might like it as well. Thanks!