Amazon's Fire TV streamers made their debut more than three years ago. All of the sudden, we received a choice of affordable, easy to use, and highly powerful media streaming devices. This also raised the competition and lowered the prices of competitors' products. The latest Fire TV device isn't only more capable than before but comes priced $30 less than the previous generation. Sounds interesting, right? Continue reading our full Amazon Fire TV review.
To get started, we'll first tell you the basics of this interesting device. The following could serve as a comparative point between Fire TV and other devices.
Overview
| | |
| --- | --- |
| Product Name | Fire TV with 4K Ultra and Alexa Voice Remote. |
| Video Output | Up to 4K Ultra HD (60fps) |
| Video Resolution | Up to 2160p (1080p and 720p also included) |
| Notable Features | Elegant and simple design; Easy installation; Rich app ecosystem; Great for Prime subscribers; Dolby Atmos support. |
| Accessories | 2 AAA batteries; Alexa Voice Remote; USB cable and power adapter. |
| Warranty | 1-Year Limited Warranty. |
| Price | $69.99 |
| Where to Buy | Buy on Amazon |
Before diving into specifics, let's take a look at some of the biggest advantages and drawbacks. This will give you a clear vision of what to expect from the Amazon Fire TV.
Verdict
| | |
| --- | --- |
| Pros | Performs incredibly well; Stable connection; 4K and HDR supported; A rich ecosystem of apps; Simple design; Polished UI. |
| Cons | Luckluster access to Atmos content; Intrusive advertisements. |
| Final Verdict | The Fire TV is an incredibly powerful streamer, designed for those who want the best. |
| Our Score | 9.3/10 |
Without any further ado, let's jump to our Fire TV review, where you'll get to know all you need to know about Amazon's most powerful media streamer.
Amazon Fire TV Review
We will start our review from the basics and that is hardware and design. Then, we'll take a look at its installation procedure and what kind of content you can expect. Don't worry, we'll try to answer all of your questions regarding this streamer. Keep on reading.
Hardware / Design
In one year, the Fire TV got quite smaller. More precisely, the device is now four times smaller than the previous generation and it's quite elegant as well. Our Score: 9/10.
If you're a user of the previous generation of the Fire TV, you are in for a big surprise. The all-new Fire TV is approximately four times smaller than before – all while packing an incredible power. At its essence, this is a simple plastic box with a small HDMI cable hanging from one of the sides. This is a good thing since it helps you to connect the device even with wall-mounted TVs. Then, the Fire TV sits on the back, and you don't even see it.
When it comes to power supply, you have a micro-USB port. However, you will still need to use the supplied mains adapter. Amazon switched to this technology in 2017 and joined Google in this endeavor. In case you don't know, the same power supply is used with the Google Chromecast Ultra.
The bottom line is that Amazon has done a good job when it comes to shrinking the device and making it nicely designed. However, that doesn't matter too much since you won't even be seeing the actual device.
Installation Process
Even though the Fire TV doesn't come with the simplest installation, it is easy enough for first-timers to quickly and easily set up this device. Our Score: 9/10.
If this is your first time encountering a streaming device, you should know that the Amazon Fire TV comes with a very simple installation method. Basically, you need to connect it to your TV and a power outlet, and you're ready to go. You will receive the needed instructions in the box.
As said before, the Fire TV comes with an HDMI cable included. Plug it into your TV to get started. Then, use the USB adapter you'll receive in the box to provide power to the device. When it comes to hardware installation, that's it. Now open the HDMI port on your TV and continue setting up your Amazon account. You will be asked to pair your remote and set up your media streaming services.
Even though the installation of this device isn't the most intuitive out there – it is still incredibly simple. No matter how old you are, or how much experience you have with media streaming, we are sure you'll understand what needs to be done.
Interface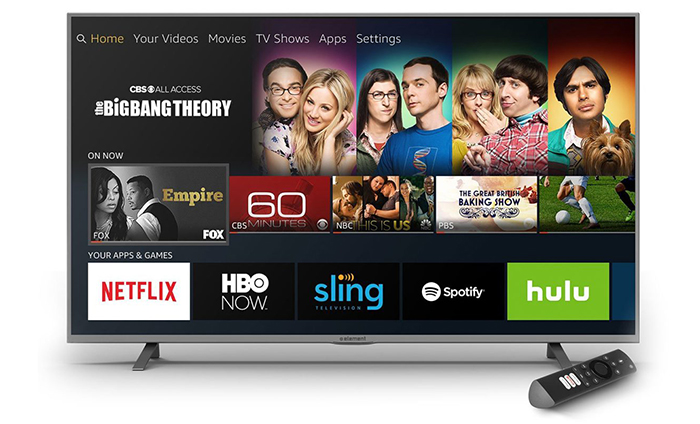 In terms of UI, Fire OS brings an overhauled interface that looks amazing on large screens. Navigation is very straightforward and plenty of subtle animations await. Our Score: 10/10.
One of the perks of buying the Amazon Fire TV is that you get to use the company's Fire OS for TVs. What you need to know is that Fire OS is actually Android TV – but heavily disguised. It is important to understand that Amazon has the full control over this OS  – which means that you won't get to use Google's Play Store. Instead, there's Amazon's App Store – which features thousands of full-featured applications.
In comparison to previous models, this one brings a highly polished UI. The Home Screen consists of a large carousel with featured content. Below that, you'll find rows of large icons highlighting different apps, media streaming services, and content found within them. You can tell that this UI is designed for large screens since it shows plenty of both small and large elements – all of which look great in full HD resolution (and above).
If there's one thing we don't like that would be Amazon's advertisements. If you're not a Prime subscriber, the company will try to lure you with attractive offers in a somewhat aggressive way.
Remote Control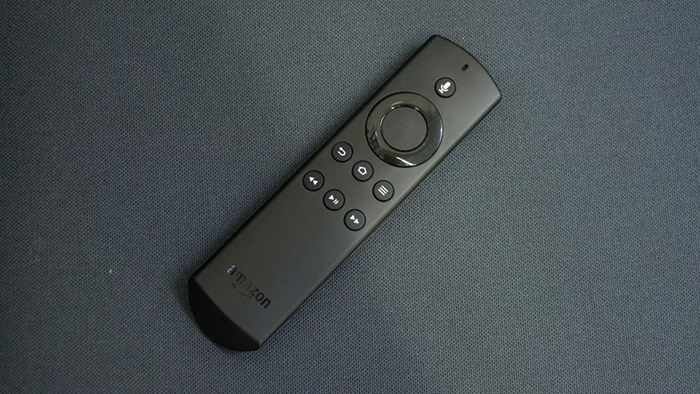 The remote is largely unchanged – and that's a good idea. It is very simple and nicely designed and relies heavily on voice input. Our Score: 9/10.
No matter which Amazon's Fire streamer you buy, you will end up with the Alexa Voice remote. This is a fairly simple remote and looks identical to the previous generation of Fire devices.
At the top, there's a circular navigation pad, along with playback controls and basic movement options (going Home, Back, and similar). However, there's also a key used to trigger Alexa and speak voice commands directly into the remote. For the most part, this works without a single issue. You can control the playback, search for movies, TV shows, apps, actors, and much more. If you have other Amazon devices in your home, you can control them as well, which is a huge plus. As you can see by now, this product is primarily intended for users of Amazon's ecosystem of services. Still, the company is showing some openness to other companies like Samsung, Arlo, Nest, and Ecobee – supporting their smart home products as well.
Content and Apps
Numerous popular options and alternatives await. Amazon has done a good job of opening its App Store to pretty much every popular media streaming service. Our Score: 9.5/10.
Amazon has done a great job of using Android TV in its products. Thanks to this move, you already have an incredibly large library of Android applications that can run on the new Amazon Fire TV. Needless to say, you will get to use Netflix, HBO NOW, YouTube, Hulu, PlayStation Vue, DirecTV Now, and much more. Therefore, this device might be the perfect solution for cord-cutters. This is because you can count on on-demand videos and watching live TV channels as well.
When it comes to content and apps, it's best to focus on what is missing. Even though Fire OS is built upon Android TV, many of well-known Google's applications are missing. This includes Google Play Movies & TV, as well as Google Play Music. Luckily, you can always find an alternative. When it comes to music, there's Spotify and Pandora, in addition to dozens of other popular apps.
The central part of the Fire TV device is Amazon's applications. Prime subscribers will be able to stream the latest movies in 4K while latest music albums also await in the appropriate app. Therefore, you might think about using the Prime account if you're not using it right now.
Performance
Thanks to powerful internals, streaming 4K HDR videos is an easy task for the Fire TV. There is also a dedicated section that highlights 4K content. Our Score: 9.5/10.
Many of you are going to buy this device because they want to stream 4K content. This is still a demanding technology that doesn't always work without issues. So, let's take a look at how the Amazon Fire TV managed to provide such flawless performance.
When it comes to streaming 4K content, you will often hear that you need to use an Ethernet connection. In general, this is true since this is the only way to ensure that you'll be using your Internet up to its full capacity. Still, Amazon has done a good job of integrating the latest generation Wi-Fi antenna into the Fire TV. Therefore, if you have a broadband Internet connection, there's no reason to go the Ethernet way. Still, there's an Ethernet adapter you can order from Amazon.
In general, it takes up to 3-4 seconds until the full 4K resolution kicks in. This goes for Amazon Video and Netflix, both of which offer plenty of 4K content. In addition, Fire TV also supports HDR Dolby Atmos – but you'll have a hard time discovering a library of Dolby Atmos-compatible content. At the moment, Netflix is your best bet.
The Verdict
The Amazon Fire TV isn't made for a typical streamer. In case you really want the best, which includes rich app ecosystem and 4K HDR support, this is where the device comes into play. In addition, this also means that you need to have a newer 4K TV. If you meet all of these requirements, we recommend you to stop looking elsewhere. The Amazon Fire TV is the device you need.
PROS: Easy installation; Incredibly fast performance; Rich app library; 4K and HDR support included; Alexa Voice search supported.
CONS: Aimed at Prime subscribers heavily; Aggressive advertising.
FINAL SCORE: 9.3 out of 10.
Buy on Amazon
In case you've decided to purchase the Amazon Fire TV – we'd like to say that you've made the right decision. You can go ahead and buy the Fire TV on Amazon – and make sure to check out additional gear as well. This includes an Ethernet port and an HDMI extension cable if you need those.

Additional Resources
This article would be as helpful if we didn't include some helpful resources. If you still like to explore your options, here are some of your recently published reviews:
Those of you who don't need 4K streaming could be more satisfied with the Fire TV Stick. It's more affordable, performs admirably, and streams in HD. Here's our review of the Fire TV Stick.
One of the direct competitors to the Fire TV is Roku Ultra. Both of these devices are incredibly powerful and brings plenty of useful options. Read our Roku Ultra review and compare the two products.
Final Thoughts
Overall, we feel that the Fire TV is one of the best streaming devices you can buy at the moment. In case you have any ideas to share or additional questions, don't hesitate to post a comment below. We'd gladly respond to each and every of our reader.
In case you like this article, why not share it across social networks? Let other hear about this awesome media streamer. Thanks!