After a highly successful first generation, Amazon brought numerous improvements to its Fire TV Stick. The new streaming device is more capable than ever, and more straightforward as well. In addition to that, it comes with an unbeatable price. However, is this enough to fight the ever-growing competition? Continue reading our Amazon Fire TV Stick review to find out.
Before we go any deeper, it's important to give you a few basic facts about the device. The following table will come in handy if you're comparing the Fire TV Stick to other devices. Therefore, here's a quick glimpse of what the device can do.
Overview
| | |
| --- | --- |
| Product Name | Amazon Fire TV Stick with Alexa Voice Remote. |
| Video Output | HDMI Output. |
| Video Resolution | Up to 1920 x 1080 (at 60fps). |
| Notable Features | Powered by Fire TV OS; Integration with Prime services; Fast and capable processor; Free cloud storage included. |
| Accessories | 2 AAA batteries; Power adapter; Remote; HDMI Extender. |
| Warranty | 90-day limited warranty with optional extended warranty. |
| Price | $39.99. |
| Where to Buy | Buy on Amazon |
Now that you know a bit about Amazon's most affordable streamer, let's jump to the strongest and weakest points. We'll end the introduction with our verdict.
Verdict
| | |
| --- | --- |
| Pros | Easy to set up; Small and inconspicuous; Thousands of apps available; Great for Prime subscribers; All major streaming services supported. |
| Cons | Missing 4K playback; Overly aggressive advertisements. |
| Final Verdict | If you're a Prime subscriber, there no better device than Fire TV Stick. It's simple to use, affordable and packs numerous interesting options. |
| Our Score | 9.5/10. |
For an in-depth information, make sure to read the rest of the article. We will be taking a look at different aspects of the Amazon Fire TV Stick – so you can decide whether this is the right streamer for you.
Amazon Fire TV Stick Review
As always, we will give our best to provide answers to all your questions. We'll start by explaining the device's design, how to set it up, and then we'll explain what to expect. Let's jump right in.
Hardware / Design
Small and inconspicuous, Fire TV Stick is incredibly simple. It looks like a USB dongle designed to be plugged into your TV. Simple but efficient. Our Score: 10/10.
There is nothing about Fire TV Stick's design that says 'high tech'. Still, it's quite impressive what this small device manages to do. It looks like a regular USB stick but it's somewhat bigger. Since it's designed to be placed on the back side of your TV, you really shouldn't be concerned about how it looks.
Once you have it in your hands, you will see that there's an HMDI connector on one side. On the other side, there's a USB port that provides the needed power to this device. And, that's pretty much it. The device is made of plastic and might creak a bit if squeezed hard. However, we are sure you'll get to use your Fire TV Stick for a very long time.
Installation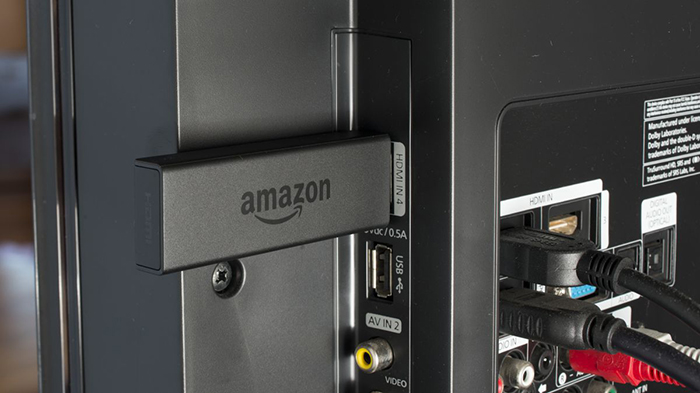 After connecting the Fire TV Stick to your TV and wall outlet, it takes 5 minutes for the setup to be completed. Our Score: 10/10.
Since the Amazon Fire TV Stick comes with an HDMI connector, you'll need one free HDMI port on your TV. Most new TVs have at least two ports of this kind, so the chances are that you won't have to disconnect any other device. So, the first part of the installation is to plug the device into your TV.
Next, you need to provide a power source. You will receive a power adapter with the device. You can connect it using a USB cable to the USB port on your TV. If there isn't one, you can connect the cable to a wall outlet. Now you're ready to select the HDMI source on your TV and enjoy your brand-new device.
Upon powering ON the device, you will need to sign in using your Amazon account. If you don't have one, you'll be required to create one. Then, pick the streaming services you use, and you're ready to go.
Interface
The current version of Fire OS is highly polished and easy to use. It is clear that Amazon did a great job of simplifying its platform without sacrificing the UI. Our Score: 9/10.
This device is powered by Amazon's own Fire OS. However, what you need to know is that this is Android TV in disguise. It brings a fresh coat of paint, with a large grid of installed apps. To download new ones, you'll need to open the Amazon App Store and download both free and paid applications.
The most notable feature of Fire OS is its Home Screen. It consists of a top menu with the most prominent content. For example, this is where you'll see what's trending on Netflix, Hulu, and similar streaming networks. Then, there are nicely designed rows of icons. This means that you'll get to your favorite apps in just a few swipes across the screen.
Remote Control
The Fire TV Stick comes with a very simple and efficient remote. On top of that, it can be used to issue voice command via Alexa. Our Score: 9/10.
This company was one of the first ones to introduce a full-featured digital assistant accessible via remote controllers. This is why you'll see Amazon's remote controller being heavily advertised even today.
It is said that it's hard to find the right balance between simplicity and complexity. However, we feel that this remote is a true example of how this can be achieved. You will see six buttons that will take you anywhere within Fire OS – and let you control the playback. Above these buttons, you will find the four-way navigation pad. At the top of the remote, there's the Alexa key. Alexa is your own virtual assistant that can open applications, move you around menus, and control how videos are played. More importantly, Alexa enables dictation.
You probably know how hard it can be to write something using the on-screen TV keyboard. The latest Fire TV Stick allows you to use Alexa to dictate and avoid the keyboard altogether. However, this only works with applications that support this feature. Don't worry, the most popular ones are included.
Content and Apps

A huge ecosystem of first- and third-party apps await. Even if you're not a Prime member, you can count on an endless media streaming library. Our Score: 10/10.
As said before, the Amazon Fire TV Stick is powered by a customized version of Android TV. As many of you already know, this is an indication that you can count on thousands of Android applications. However, there's one important caveat. Instead of Google's Play Store, you can download apps from Amazon's App Store. These two are not identical, but they share numerous similarities.
It's important to understand that you don't need to be a Prime member to use this device. You can count on apps like Netflix, Hulu, HBO, Showtime, NBC News, PlayStation Vue, and much more. This means that watch on-demand video content and live TV channels is entirely possible. You just have to download the appropriate app, sign in, and you're ready to go.
Aside from media streaming-related apps, there are apps like Firefox, YouTube, and Reddit. This means that you can expand Fire TV Stick's functionality in any way to like. Needless to say, you can count on Amazon's range of apps – many of which are designed specifically for Prime members.
Performance

The latest Amazon Fire TV Stick is equipped with a new processor. This translates to incredibly fluid performance and short buffering periods. Our Score: 9/10.
The latest Fire TV Stick generation brings a quad-core processor – and you can actually feel that power. Moving through menus and opening all kinds of options happens in an instant. The same goes for using applications. This isn't just a small upgrade – users of older models will actually feel this jump.
Buffering is incredibly fast and works without issues every single time. In general, you will see a low-resolution image for up to 2 or 3 seconds, until the HD resolution kicks in. Of course, this doesn't only depend on your device. It also depends on a streaming service you're using.
When it comes to Alexa-powered voice commands, they usually work quite well. You need to press the Voice Button on the remote, hold it and speak your commands. At the moment of writing this article, Alexa manages to find reliable results. However, you'll often see unrelated results as well. This might be Amazon's effort to showcase other types of content as well. You can give system-related commands, like turning the volume up or down, or pausing and unpausing. Furthermore, you can search by actor, genre or movie name.
The Verdict
Even though a Prime membership is not a requirement for using this streamer, it is an important factor. Amazon's streaming services are deeply integrated with Fire OS, which is evident due to massive advertisements you'll see. However, for the price of $39.99, you will get an easy to use and highly capable streamers with thousands of apps and even games. It can be really hard to find a flaw in this product.
PROS: Easy installation; Thousands of apps available; Very responsive; Short buffering times; Alexa-powered remote.
CONS: 4K streaming not supported.
FINAL SCORE: 9.5 / 10.
Buy On Amazon
If you already have a 1080p TV, all you need to open a whole new and exciting world of entertainment is Amazon's Fire TV Stick. In fact, this is the best way to join the family of high-tech Fire products made by the tech giant. For more information, as well as to make a purchase, go to Amazon's product page of Fire TV Stick.

Additional Resources
Before ending this article, we would like to leave you with a few interesting resources. Hopefully, these will help you get the most out of this streamer.
Final Thoughts
We sincerely hope that you managed to find answers by reading this Amazon Fire TV Stick review. In case of any doubts of additional questions, don't hesitate to post a comment below.
As always, we'd appreciate if you could share this article online. Thanks!