When it comes to media streaming devices, you are very far from having a narrow set of options. A number of different companies are racing to bring the ultimate media streamer, which makes the competition incredibly tough. During the last two years, we had a chance to see ultra-powerful 4K streamers becoming more affordable than ever before. However, 4K is no longer the most attractive option. Additional equipment and new kinds of technology are what matters – and Nvidia is here to show us the company's take on the perfect streaming device. Keep on reading our Nvidia Shield TV review to learn all you need to know about this device.
Before starting to dig any deeper, let's take a look at the basic specs of the Nvidia Shield TV. This will give you a helpful overview as well as a comparative point when it comes to finding the perfect streaming device.
Overview
| | |
| --- | --- |
| Product Name | Nvidia Shield TV |
| Video Output | HDMI |
| Video Resolution | Up to 4K HDR |
| Notable Features | Powered by Android TV; Rich app ecosystem; Highly innovative; GeForce Now supported; Lightweight gaming console. |
| Accessories | AC power adapter; Remote control; Wireless game controller. |
| Warranty | 1 Year |
| Price | $199.99 |
| Where to Buy | Buy on Amazon |
Next, let's take a quick look at the biggest strengths and weaknesses of Nvidia's media streamer. This should give you a clear idea of what to expect.
Verdict
| | |
| --- | --- |
| Pros | High performance; Thousands of available apps; 4K HDR support; Powered by Android TV; Support for Nvidia GeForce Now. |
| Cons | Controller isn't console-quality; A bit pricey. |
| Final Verdict | Despite its high price, we like what the Nvidia Shield TV offers. This is an ultra-capable media streaming device with a bit of gaming on the side. |
| Our Score | 9.7/10 |
Finally, let's dive deep into our Nvidia Shield TV review. Continue reading to learn more about specific options and functionalities of this device.
Nvidia Shield TV Review
As always, we will start by taking a look at the hardware and design. Then, we'll dive deep into the software and the apps you can expect. Keep on reading.
Hardware / Design
Unlike other media streaming devices, the Nvidia Shield TV brings a somewhat aggressive design. However, we feel you're going to love it – we know we do. Our Score: 10/10.
When it comes to companies like Roku, Amazon, and even Apple, all of their media streaming devices look the same. This isn't a bad thing since you don't want a streaming device to capture a lot of attention. Instead, it should sit quietly next to your TV, without you even noticing it. However, this isn't the case with the Nvidia Shield TV.
The best word to describe the design of this device is – striking. There are a lot of crisscrossing lines, slants, and very stark angles. In addition to its highly interesting design, the all-new Shield TV looks much smaller than the previous generation. To be more precise, it's 40% smaller. One of the reasons why it's so small is the elimination of the micro-SD card slot. This means that a regular Shield TV version comes with 16GB of storage but you can expand it via external hard drives.
When it comes to available ports, you will find one Gigabit Ethernet port, HDMI 2.0, and two USB 3.0 ports. It's also worth mentioning that the device is powered by Nvidia's own Tegra processor and that it's compatible with the 802.11ac Wi-Fi standard. In case you don't have a super-fast Internet connection, we recommend using the Ethernet cable to ensure that you can stream 4K content.
Finally, you probably also know that there's a game controller included as well. The controller has received a facelift and now more comfortably sits in the hand. In addition to that, it's now low-latency Bluetooth instead of Wi-Fi Direct which has improved the battery life.
Installation Process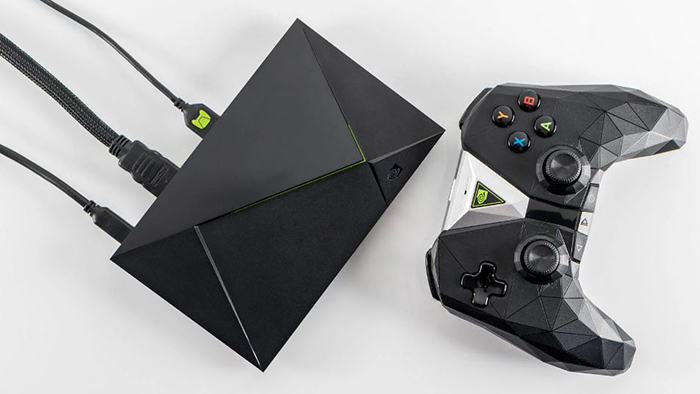 After connecting the hardware, you will need to set up your new Android TV device. Those who already use an Android device will be ready to use the Shield TV in less than a few minutes of their time. Our Score: 9.5/10.
The setup process is the same as with any media streaming device. First, you need to connect the hardware and then complete the software setup. When it comes to hardware, you need to know that you need to supply an HDMI 2.0 cable. Connect the device to your TV using an HDMI cable and then connect the device to a power source. You will also receive a USB cable that is used to recharge the game controller. Once you complete the hardware setup, power on your TV and select the appropriate HDMI input.
Speaking of the software setup, you will need to go through several installation steps. This includes signing in using your Google account, setting up your Wi-Fi connection, and similar. In case you already own an Android device, you can use it to shorten the software setup. The Nvidia Shield TV will automatically pull the needed settings off your phone or tablet – so you'll be up and running in no time.
Interface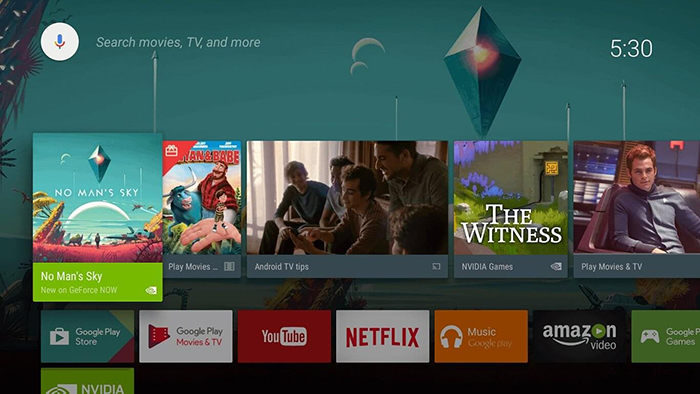 Powered by Android TV, the Nvidia Shield TV brings a very easy to use interface. You will see rows of beautifully designed icons which make the navigation effortless. Our Score: 9.5/10.
The Nvidia Shield TV is built upon Android TV – and the company isn't trying to hide that. This means that you'll reap the numerous benefits of having an Android TV device, including the access to the Google Play Store.
Even though it all depends on your personal taste, we would say that Android TV looks gorgeous. You will see a prominent carousel at the top of the screen, followed by rows of large icons. This means that you will use the remote and its directional pad to move left, right, up, and down. As you can install a bunch of different apps, you will be able to see different categories. No matter which way you decide to preview the installed apps, they will be presented via rows of rectangular icons. Moving between different menus is effortless and you can always return to the Home Screen if you ever get lost.
A very important aspect of Android is customization. However, this applies to different Android versions for smartphones and tablets. Even though you can't change every single aspect of Android TV, we are sure you are going to love its default looks.
Remote Control
The Shield TV offers a very nicely designed remote in addition to a fully-featured game controller. Both of these pieces of hardware work with Google Assistant. Our Score: 9.5/10.
This isn't a typical media streaming device – and that's because it also serves as a game console. You will receive a remote control and a fully-featured game controller as well. To make things less complicated, let's separate this section into two parts.
Remote Controller
In case you don't know, the original Shield TV didn't have a remote included in the box. Instead, this was an accessory priced at $50. The latest generation brings a remote while retaining the old price, which is a huge achievement.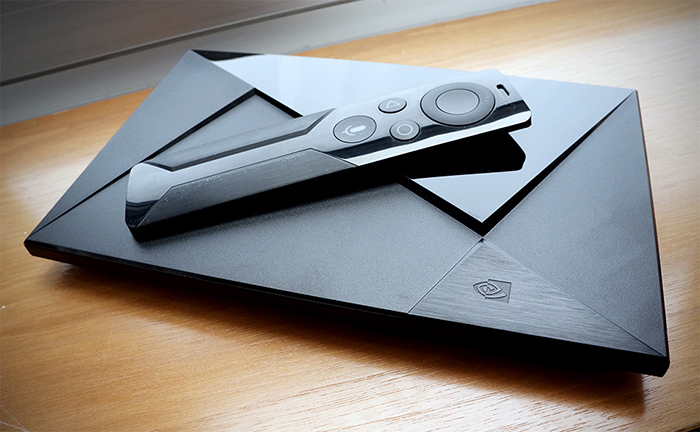 When it comes to the new remote, Nvidia has done a marvelous job. It's incredibly simple to use and brings a very futuristic design. At the top of the remote, there's a four-way direction pad followed by two buttons (Back and Home). Below that, you will find a prominent Voice Search button. Since the Shield TV comes with Google Assistant included, you will use this button often. There is a very small pinhole microphone at the top of the remote but note that you'll need to speak directly into the remote for your voice commands to be registered. This isn't a hands-free system, even though the game control can be used for that purpose.
Game Controller
Even though the remote is pretty much the same as before, this isn't the case with the game controller. Nvidia has decided to completely overhaul its design and to include some very attractive perks. Why not try the new controller? - It costs only $59.99 on Amazon.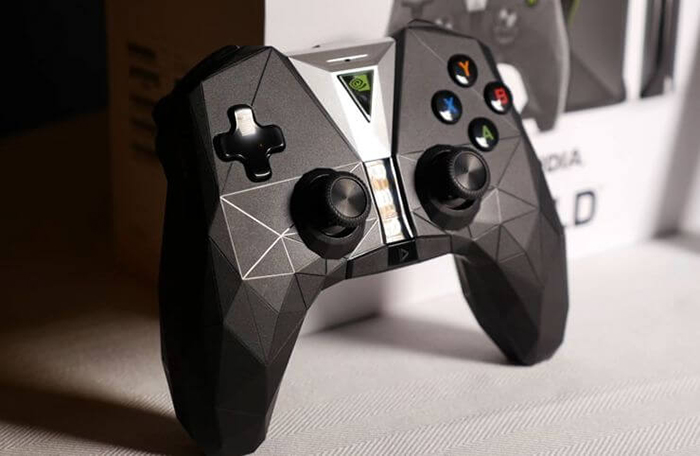 First of all, the new controller is incredibly light (nine ounces) and comes with a futuristic pattern of triangles. By looking at the images, you might think that those sharp edges can be very uncomfortable. However, the controller actually feels very comfortable and smooth in the hand. Aside from the interesting pattern, it brings pretty much everything you might expect. There are two analog sticks, one direction pad, four face buttons, and as well as two pairs of shoulder buttons. There is also a 'hidden' button under the Nvidia logo (top-middle position) that is used to activate the Shield's voice search. In addition to that, there are three buttons below the analog sticks (Back, Play, and Home). Finally, a 3.5mm headset jack is also included.
We shouldn't forget to mention that the game controller also has a microphone. It picks up the sounds around it – so you can use it issue voice commands, hands-free. This is an important enhancement that you'll find to be very useful.
Content and Apps
The Shield TV is the only media streaming device that brings gaming to the table. Thanks to the inclusion of GeForce Now, you can achieve console-like visuals. Our Score: 9.5/10.
This device is an equally powerful media streamer and a gaming device. Nvidia has done a good job of bringing lots of useful applications and even grabbing a few unique titles. Just like the previous section, we will break this segment into two parts.
Media Streaming Apps
When it comes to media streaming, you need to be aware of three things. The Nvidia Shield TV is capable of streaming 4K content at 60 frames per second. In addition, it supports HDR (Dolby Atmos included). Finally, since this is an Android TV – so you can use it to cast content from your Android smartphones or tablets. However, to use all of these features, you need to find compatible apps. Don't worry, there are thousands of apps that take advantage of the device's incredible specs.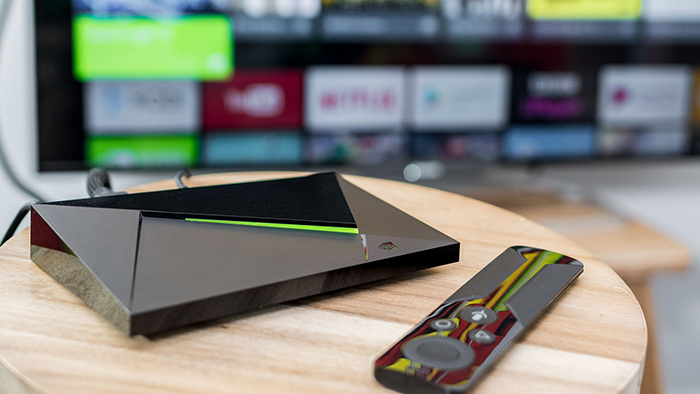 When it comes to 4K content, we recommend using either Netflix or Amazon Video. Yes, we mentioned Amazon Video and that's not a mistake. This is perhaps the only Android TV streamer that brings this app. Aside from these two apps, you can count on YouTube, Hulu, Vudu, Google Play Movies & TV, HBO NOW, and pretty much everything else.
For live-TV streaming, you can use DirecTV NOW, PlayStation Vue, Sling TV, as well as any other streaming service that has an official Android TV app. Please note that not all of these apps support 4K streaming – but all of them offer HD content at least.
Gaming Apps
You might be surprised to hear that the Shield TV is actually quite a capable gaming device. At its core, this device relies on three services (aspects). First, you can download and play Android games – just like on your phone or tablet – but on your large-screen TV. As you can imagine, this is lightweight gaming. Then, you can play local PC games using GameStream. However, the most attractive option is GeForce – a web-based streaming service that lets you play high-end games on your Android TV box.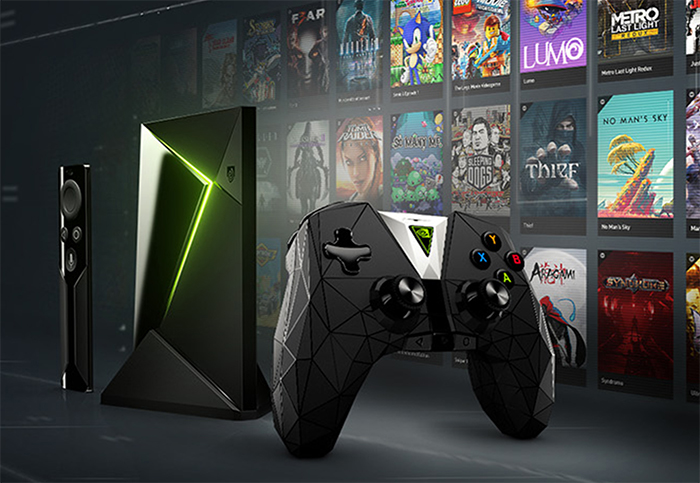 GeForce Now is priced at $7.99 per month and uses Nvidia's servers and high-end architecture. There are over 100 games available at the moment, all included in the price. In essence, the game runs remotely on Nvidia's servers. These are powered by high-end GPUs that are producing amazing visuals. Games stream without any lags – but you need to have a very fast Internet connection. To stream 4K games, you are required to have a 100Mbps connection.
Make no mistake here – the Nvidia Shield TV isn't your next PlayStation or Xbox. However, it can be used to play relatively new games at high settings. Therefore, casual games should be more than happy with this setup.
Performance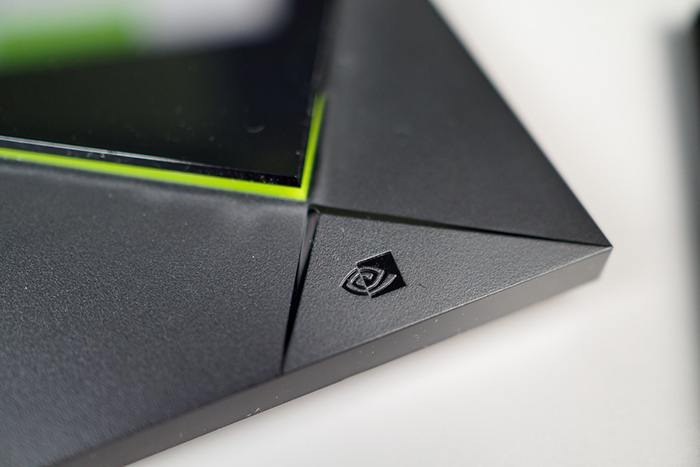 No resolution drops or lagging – the Nvidia Shield TV performs admirably. It streams both 4K on-demand videos and 4K games without any issues. Our Score: 10/10.
Needless to say, this is a highly capable device. After all, it supports 4K streaming and the company's own highly demanding GeForce Now subscription service. To make all of these options work, powerful internals are needed. As you are about to see, Nvidia didn't disappoint.
The Nvidia Shield TV streams 4K content from applications like Netflix and Amazon Video with ease. Videos start playing after a few seconds and immediately show the crispness of the 4K resolution. As you continue watching, you'll see that the resolution never drops. The same could be said for streaming games over the Web. This is an even more demanding process which had its share of problems in the past. Today, GeForce Now is a mature service that performs admirably.
It is worth mentioning that you need to meet certain requirements for using this device up to its full capabilities. If you want to stream in 4K, you need to have a 4K HDR TV. In case 4K gaming is your thing, we recommend using an Ethernet connection and having the connection speed of at least 100Mbps. All of these things cost – and we're not sure if it's a good idea to invest into either of these just to buy and use the Shield TV. In case you already meet the requirements, buying this device is the best way to utilize the power of your TV and your Internet connection.
The Verdict
Despite its high price, this is a unique device on today's market. By combining media streaming with high-end gaming, the Nvidia Shield TV caters to a broad range of users. In case you want only the best when it comes to media streaming, there's no need to look elsewhere.
PROS: Modern and elegant design; Quality made device; Easy setup; 4K HDR streaming, 4K game streaming; Support for GeForce Now; Google Assistant included.
CONS: High priced.
FINAL SCORE: 9.7 out of 10.
Buy on Amazon
The Nvidia Shield TV is, without any doubt, the best you can buy these days. If you want to explore the world of 4K entertainment, go ahead and buy the Shield TV on Amazon. We are more than sure that this device will exceed your expectations.

Additional Resources
Before we let you, here are some of the recently published reviews on TechNadu. In case you'd like to check out what the competition offers, keep on reading.
One of the strongest competitors to the Shield TV is Apple TV 4K. Both of these devices bring ultra-high resolutions and include addictive games. Here's our Apple TV 4K review;
In case you don't plan on playing games, Roku's Ultra streamer will save you a lot of money but still bring 4K streaming. Read our review of the Roku Ultra media streamer.
Final Thoughts
Thanks for reading our Nvidia Shield TV review. We tried our best to answer any questions you might have. However, if there's something else you want to know – don't hesitate to post a comment below. Our editorial team at TechNadu will try to provide a timely response.
In case you enjoyed reading this article, why not share it online? Let's spread the word about this awesome device. Thanks!