We all know that Apple might not be the fastest player when it comes to certain product categories. We know what you're going to say next… Maybe it's not the fastest, but it completely overhauls an entire product category once it arrives. This has been true for pretty much every Apple-made product. In fact, you will be able to see this in today's review as well. We will be talking about Apple's latest media streaming device – so keep on reading our Apple TV 4K review.
Before starting to explain what this product does and who is the ideal customer, let's take a look at the basic information. Use the table below to quickly glance at the device's specs.
Overview
| | |
| --- | --- |
| Product Name | Apple TV 4K |
| Video Output | HDMI |
| Video Resolution | Up to 4K (HDR supported). |
| Notable Features | Full support for 4K HDR; Wide ecosystem of apps; Beautifully designed UI; Siri-powered search. |
| Accessories | Lightning to USB cable; Siri Remote. |
| Warranty | 1 Year Limited Warranty. |
| Price | Starts at $179.00 |
| Where to Buy | Buy on Amazon |
Next, we are going to provide a table that contains the biggest pros and cons of the Apple TV 4K. These will help you to understand the biggest advantages and possible drawbacks. Take a look.
Verdict
| | |
| --- | --- |
| Pros | Simple design; Lots of 4K HDR content; Attractive UI; Issue-free streaming; Thousands of apps and services. |
| Cons | High-priced. |
| Final Verdict | If you can afford the Apple TV 4K, there is no reason to look elsewhere. This is the ultimate media streaming device. |
| Our Score | 9.2/10. |
Finally, we can start to dig deeper and explore all kinds of details about this device. Continue reading our full Apple TV 4K review – plenty of useful information await.
Apple TV 4K Review
We have been waiting for quite some time for Apple to adopt the 4K technology. Allow us to say that all this waiting didn't go unnoticed. The Cupertino-based company managed to produce something truly amazing. Continue reading.
Hardware / Design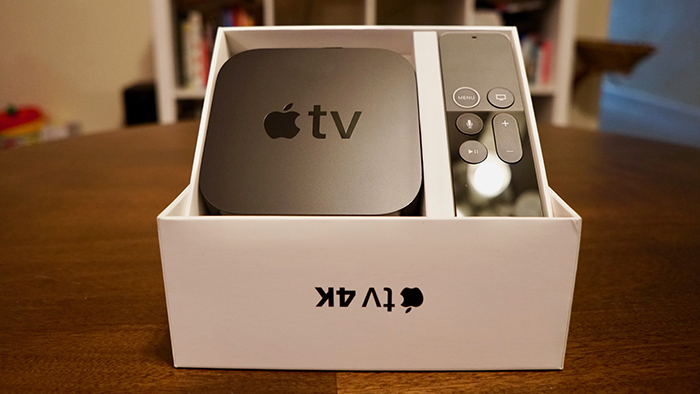 The Apple TV 4K brings a very inconspicuous design that hides the real power found inside. Once again, the company managed to design a very simple but highly efficient device. Our Score: 10/10.
In case you know how older models of Apple TV look like, you won't find any surprises here. Once again, the company did what it does best. The Apple TV 4K is a very simple black box, a bit taller than previous models. This was needed due to a new heat management system. In addition, the USB-C port was removed – once used by developers and Xcode. On the back side, you will find one Ethernet, one HDMI port, as well as a power cable port – and that's it. The front side is graced by a tiny light that lets you know when the device is active.
Inside, the Apple TV 4K brings the company's own A10X Fusion chip which is also used in the iPad Pro. This chip isn't only capable of 4K streaming and video reproduction but also for some light and medium-intense gaming.
For the most part, the device is very inconspicuous. It is designed to sit below or next to your TV without attracting unneeded attention. Actually, that's all you want from a media streamer.
Installation Process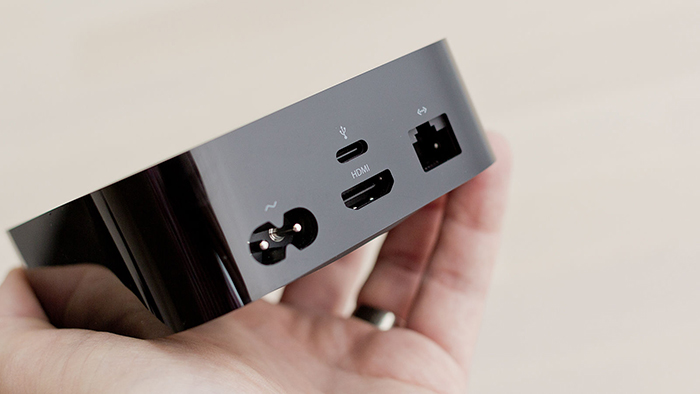 Even though the installation process is a bit more complicated than with similar devices, Apple has done a great job of making it as straightforward as possible. Our Score: 9/10.
Since this is a highly capable device, you'd expect that it has a somewhat complicated installation procedure. However, that's not the case. In fact, you will be up and running under five minutes – thanks to Apple's helpful manuals.
First, you need to set up the hardware. Connect the power supply, and connect the device to your TV via HDMI. Then, you can choose if you'd like to use the Ethernet port (recommended for 4K streaming) or Wi-Fi. Once you power ON the device, you need to proceed with the setup on your TV. The entire process can be ever faster if you set up using your iPhone or other devices. This will automatically set a bunch of different options so you can start using the Apple TV 4K in an instant.
We must say that the installation process is incredibly simple and quite elegant. Apple has done a good job of enabling you to quickly finish the entire procedure and start using the device as soon as possible. Once you get to the main interface, your first step should be visiting the App Store and downloading apps of your favorite media streaming service.
Interface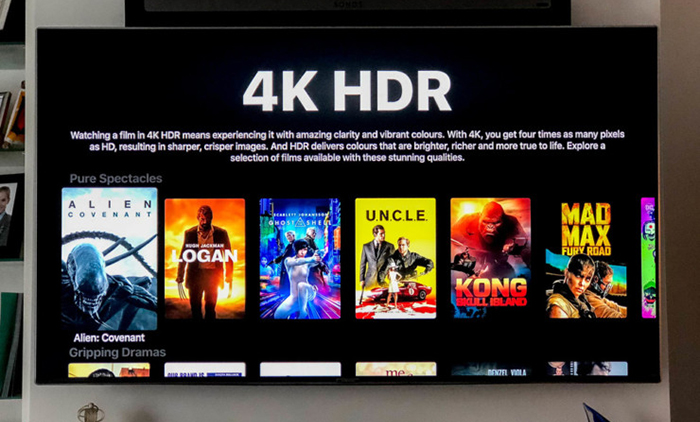 Apple's tvOS is perhaps the most beautifully designed operating system when it comes to media streaming devices. However, you will need to take some time until you truly get to master it. Our Score: 8.5/10.
If you're using an iOS device, you will be familiar with Apple TV's interface. However, this isn't iOS. Instead, Apple has made a dedicated version of its mobile operating system and adjusted it to large screen TVs. It's called tvOS – and it's still based on a grid of static icons. You may think that this sounds boring, but we have to say that tvOS is the most elegantly designed operating system found on any media streaming device.
To really get the most out of tvOS, you will need to put in some effort. For example, you will need to learn how to add items to the 'Up Next' list, so you can create playlists. However, we recommend diving into the TV App right from the start. This app is imagined to serve as the central hub, where you can see what different apps and services have on offer. However, we are surprised to see that some of the biggest services don't have an integration with the TV App (like YouTube, Sling TV, or PlayStation Vue). Since we've mentioned YouTube, we must say that Google is truly doing its best on bringing a barebones app. At the moment of writing this article, you can't use YouTube to stream 4K or HDR content at all. On top of that, it brings a very outdated interface.
Remote Control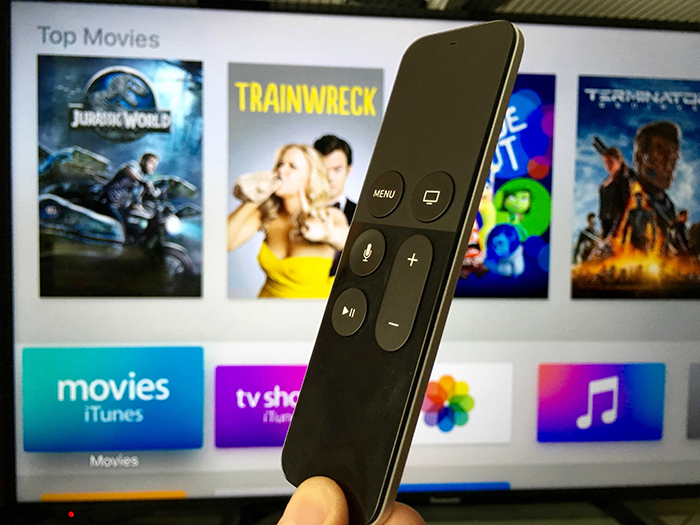 Based on your preferences, you can use the Siri Remote or you can use an iOS device to control this streamer. We're sad to say that text input is once again a problem. Our Score: 8.5/10.
It's best to begin this section by saying that the Apple Remote has remained the same. Some people liked it, others hated it. Either way, you will have to live with it in case you decide to purchase the Apple TV 4K. However, we think that you need to put some extra effort into really learning its options – and you'll see that this quite a powerful remote.
The top of the remote is reserved for a touchscreen which can be used to easily find your way around tvOS. Then, there are five more buttons. The menu button takes you to one step back, while the play/toggle is doing as advertised. There's also the Siri button and the volume up/down button. Finally, the TV button is programmed to open the TV app. In case you don't find this app as useful, you can set it open tvOS' Home Page by default.
What is important to be said that you can use iOS devices to control the device. As you can imagine, typing long app names or movie titles can be quite tedious. To overcome this, you can use Siri to issue voice commands. Alternatively, you can use your iPhone which seems like a better solution. As you can tell, you can choose from several input methods and it's surprising that Apple managed to provide that. After all, it's clear that the Apple TV is the perfect tool for those who already use the company's ecosystem of devices and apps.
Content and Apps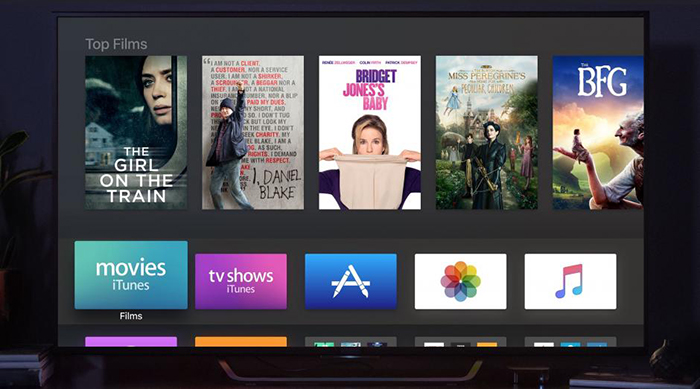 Despite its rocky start, the tvOS App Store offers thousands of nicely designed apps. The chances are that you'll get to use all your favorite media streaming services. Our Score: 9/10.
Early adopters, as could have been expected, had a hard time finding quality content on the Apple TV 4K. However, numerous developers have since joined the bandwagon, filling the tvOS App Store with thousands of amazing applications. Needless to say, you will get to use your favorite streaming app – no matter if that is Netflix, Hulu, HBO Now, Vudu, or anything in between. In addition, you get to use Amazon Prime Video – but we all know that Apple and Amazon are not the best friends exactly. It took a long time until Amazon's Video app became available, so we can only wait and see what happens next.
When it comes to cord-cutting, many of you want to continue watching live TV. Thanks to applications like Sling TV, PlayStation Vue, DirecTV NOW and numerous others, this is entirely possible. Finally, you can imagine that you can also count on the iTunes store. Even though this isn't the most affordable option, Apple has done a great job of bringing tons of 4K HDR movies.
Performance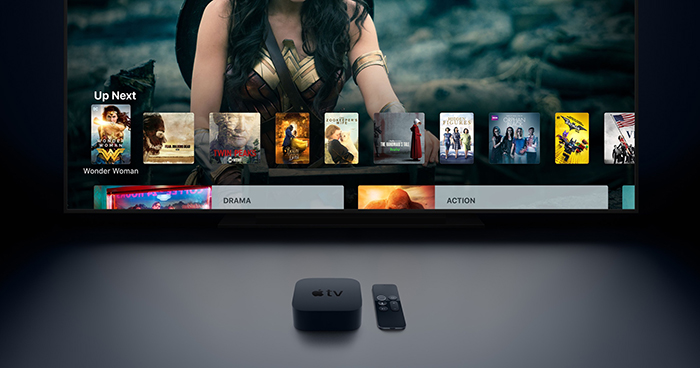 In terms of the streaming performance, no other streaming device can match Apple's latest streaming device. The Apple TV 4K is made for those who only want the best. Our Score: 10/10.
Apple TV 4K's hardware and software can stream 4K HDR content with ease. However, you should know that we're still talking about streaming here. At the moment, the Apple TV 4K brings the best possible quality when it comes to 4K HDR streaming. It is not just a small step forward in comparison to 1080p – but a major leap. Colors are incredibly vibrant and rich, and even the smallest details are very crisp. Still, you need a 4K HDR TV if you want to take advantage of this feature.
It is also important to say that we're not only talking about HDR here. Apple supports both of the prevalent versions of HDR and those are HDR10 and Dolby Vision. Your best bet is to use Netflix to fully experience the strengths of this technology. In case you haven't used it before, you're in for a big surprise.
When it comes to day-to-day use and gaming, you won't be disappointed. Apple's A10X chip provides more than plenty of power to produce stunning visuals on your large screen 4K TV.
The Verdict
In terms of specs and streaming, the Apple TV 4K provides the best you can get these days. However, it also means that you need to have a 4K HDR TV and a very fast Internet connection. If you meet both of these requirements, you are going to love what this device offers.
PROS: Simple and insomnious design; Beautifully designed UI; Rich app ecosystem; Gaming included.
CONS: Pricier than comparable products.
FINAL VERDICT: 9.2 out of 10.
Buy on Amazon
In case you've decided to treat yourself, go ahead and buy the Apple TV 4K on Amazon. We know that you'll have a hard time waiting for the product to ship to you – and we are more than sure you are going to love every bit of it.

Additional Resources
If you care about 4K streaming, you should know that there's a lot of choices out there. Almost every popular manufacturer of streaming devices offers a competitive product. Take a look at what the competition has to offer.
When it comes to Roku, you can read our Roku Ultra review. This is the top-of-the-line product made by this company, which includes a few features you won't find elsewhere;
Amazon's response to Apple was the company's ultra-powerful Fire TV. It is capable of 4K HDR streaming and has a huge ecosystem of apps. Here's TechNadu's Fire TV review.
In case you don't need 4K, there's no need to invest in a high-end device. There are numerous Full HD streamers out there, where the most popular ones are the Fire TV Stick and Roku's Streaming Stick. Use the provided links to get to full reviews.
Final Thoughts
We hope you enjoyed reading this article, as well as that we provided answers to all your questions. If you have any doubts, feel free to a comment below.
As always, please share this article online if you think others will like it as much you did. Thanks!