VPNs are excellent online security tools, and you probably already know you should pick one that doesn't keep any logs to get real privacy. Even then, though, does that mean the VPN doesn't log anything? What about device data? And if they do log any, what device information do VPNs collect?
We're addressing this topic because we saw a few people asking questions like that on Reddit and Quora. And, to be honest, it's a pretty interesting subject. There are tons of articles discussing what logs VPNs do and don't keep, but none talking about what kind of device data VPN providers log.
So we put together this quick article to address those questions. We also reached out to the top ten VPN providers on the market, and asked them what device information they collect, and why they need it in the first place.
Feel free to use our Table of Contents for quick browsing if you're in a hurry.
So
What Device Information Do VPNs Collect?
It's usually the kind of data that helps them improve their service and provides them with useful analytics. Some VPNs might collect more data than others. The standard seems to be information such as your device's:
Operating system
Device ID
Hardware model
App version
Browser version (when you use their sites)
You can normally find out what kind of device information a provider logs by checking the Privacy Policy. If it doesn't answer your questions, you'll have to ask them directly or check debug/diagnostic logs.
For example, here's what kind of device information Hotspot Shield collects: device ID, hardware model, OS version, language settings, and network information. Link to the page.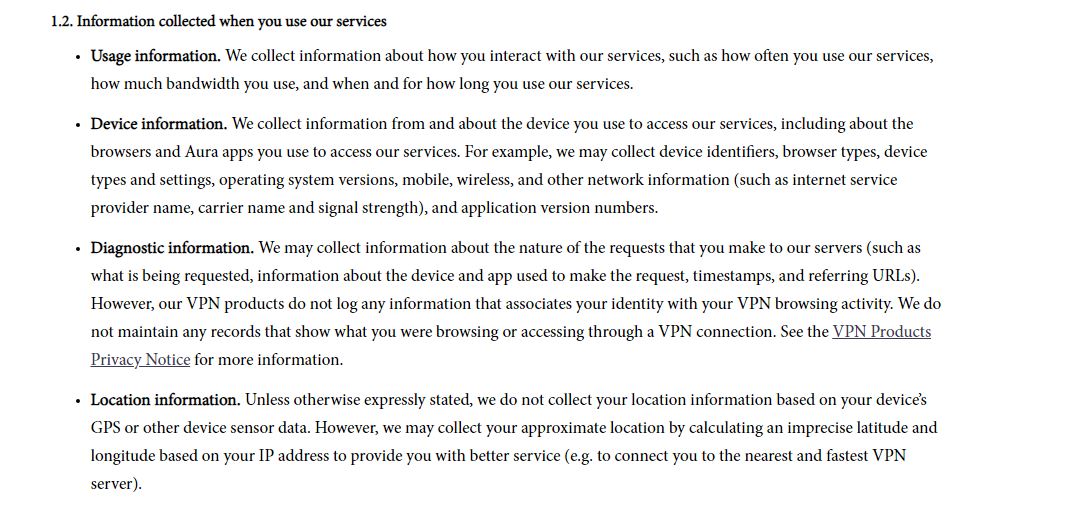 NordVPN collects similar information - OS version, device model, mobile device ID, etc. Link to the page.

We also checked StrongVPN's Privacy Policy, but there's not any specific information about device data there. So we had to ask their support reps instead. According to them, StrongVPN collects details about your mobile device ID and OS version on Android and iOS.
So you get the idea - VPNs will collect information about your device. You don't really need to worry about that since it's not the kind of data that could reveal your identity.
Do No-Log VPNs Also Collect Device Information?
Well, yes. We just showed you two examples of no-log VPNs (StrongVPN and NordVPN) that collect device data. Hotspot Shield doesn't log personally-identifiable data either, but they do keep some logs related to IP addresses.
If you need another example, check out CyberGhost's Privacy Policy. They have a pretty long list of device-related data that they collect (OS version, language settings, date and time, battery charge, etc.).

Just because a VPN has a no-log policy doesn't mean they don't collect information about your device. Again, please remember - that information can't be used by anyone to find out who you are.
Why Do VPNs Collect Device Information?
Some of you probably already have an answer in your heads - they do that to sell the data to advertisers, right?
If their Privacy Policy and ToS pages say they share that data with third parties, then yes, you're probably right.
However, most VPNs don't keep logs, and their policies clearly say they don't share your data with anyone.
So what gives then? Why do VPNs need information about your devices?
As far as we can tell, it all has to do with troubleshooting and analytics.
Troubleshooting
If you're having trouble with a VPN app, the provider will be able to solve your problem quicker if they already have access to data about your device. They don't need to waste your time by having you list things like your device model and OS version.
Besides that, mass device data from all users helps providers continuously troubleshoot and improve their services for specific platforms.
Analytics
Basically, device data helps VPN providers know user preferences. They find out which operating systems their apps are popular on, for example. Knowing that they'll be able to focus their efforts on optimizing those apps first (since that's where the majority of their user base is).
Here's another example - let's say the provider just launched a kill switch feature on their Windows app. By using device data, they can approximate how many of their customers use the feature. If it's very popular, they can start thinking about adding the feature on other platforms (like the iOS and Android apps).
Read More: VPN Kill Switch – The Complete Guide (What It Is, How It Works, and Why You Need It)
Also, analytics help providers run better targeted marketing campaigns. Sure, that doesn't sound appealing to you, but consider this - if the VPN provider's marketing campaigns are successful, they get more users. In turn, that helps them expand their service (new apps, more servers, more protocols, etc.).
So, in the end, you end up benefiting because you get a much better service.
We Asked the Top 10 VPNs What Device Info They Collect
We offered some examples, but what kind of device data does each VPN provider collect?
Well, it varies since they all have their specific logging policies. So we took a loot at the top 10 VPNs on the market to see what device information they record. We also asked them whether or not people can disable that kind of logging.
Please note that we asked the support reps about device data collected through the app, not the site.
ExpressVPN has diagnostic reports in the app that share device-related data with their servers:
App version
Operating system + OS version
Kill switch status
Speed test data
Crash reports
Usability diagnostics
The good news is that ExpressVPN lets you disable device data collection and sharing through their app.
Surfshark collects device data through diagnostics:
OS details
Internet configuration details
Network adapter info
GPU data
VPN connection data
Driver installation logs
They only get that information if you choose to send diagnostics through the app. According to one of their support reps:
Without your sent diagnostics, we are unable to see what device you are using.
The service collects data such as:
App version
OS version
Your country (PLEASE NOTE: Not your IP)
Successful connections
Like ExpressVPN and Surfshark, CyberGhost also lets you turn off device data collection and sharing. Also, their support reps told us that the hardware data CyberGhost does collect is fuly secured to protect users' privacy:
We read some data related to the hardware you are using, but this data is transformed in a MD5 hash which makes them totally anonymous and can not be traced back to the users.
The app collects device data through diagnostics and sends it to NordVPN developers. Here's what kind of information is logged:
OS details
GPU information
Internet configuration data
Network adapter data
Application logs
Driver installation logs
List of apps installed on your device (optional)
NordVPN's app lets you opt out of sending non-personal data (crash reports, OS version, marketing performance, etc.). Also, diagnostics are only shared with the developers with your approval.
TorGuard's support told us that the service doesn't log any OS-related data by default. The only way they'd get access to your device information is if you enable debug files.
If you do enable debug files, TorGuard will only log stuff like your OS type, OS version, and CPU architecture (x86 or x64 on Windows).
Ivacy doesn't bother with collecting too much data. According to their support reps, the app only collects your device's operating system.
Unfortunately, there's no way to disable that kind of logging in the app.
The app collects various device-related information:
App usage statistics
App settings
Connection timestamp
App crash info + general behavior (Android)
But it only does that if you enable the connection log. And on Android, you can opt out from the crash and general behavior data collection.
Other than that, ibVPN's app doesn't collect any device data. They actually have to ask you what device, OS, and app version you're using when you contact support.
The PrivateVPN app stores device data logs on your side. They record things like your operating system type, operating system version, and the PrivateVPN app version you're using.
PrivateVPN doesn't receive those logs automatically, though. You have to manually send them to their servers.
PIA doesn't log device data by default, but they do have debug logs that log information such as:
OS type and version
Host name
VPN connection settings
Network adapter settings
Fortunately, you can disable debug mode whenever you want. You also have to manually submit the logs, so they're not connected automatically.
IVPN's app has optional logs you can share with the dev team if you encounter issues. The logs contain data like:
App version
OS type + version
Time zone
Installation directory
VPN connection settings
You aren't forced to share device info with IVPN's servers by default. You have to manually send the logs to do that.
Can You Limit the Amount of Device Information VPNs Collect?
Yes, but not completely.
For starters, let's talk about data collection through the VPN app. The only way to stop it is to disable it or not send any logs. Pretty much all the providers we included in this article let you do that.
Unfortunately, if you can't opt out of that, your only option would be to use different burner devices every time you use the VPN. Unless you have a huge pile of smartphones, laptops, and PCs in a warehouse, that's not really a viable option. If only the OS is recorded, you could use VM (Virtual Machine) software to emulate a virtual operating system.
As for the data logging on the provider's site, it's basically browser fingerprinting. There's no on/off switch for that, unfortunately.
But we do have a complete guide covering that topic, so we recommend using the tips we mentioned there to lower how much device data VPN websites log. Here's a quick overview:
Use Firefox and optimize it for privacy. Alternatively, use Brave.
Use the Tor browser, but disable the Tor network.
Disable Flash in your browser (most of them have it turned off by default).
Disable JavaScript in your browser (uMatrix works very well). Keep in mind some features on the provider's site won't work well if you do that.
Use a Virtual Machine (like VMware Workstation Player or VirtualBox).
PLEASE REMEMBER: Like we already said, device data collection is nothing to be worried about. VPNs do it to improve their services and offer you a better user experience. Also, they don't collect anything that could be tied to your identity. As long as you use a reliable VPN, your privacy will be safe and sound.
How Do You Feel About VPNs Logging Device Data?
Do you think it's justifiable since they need to do it to offer a great service? Or do you believe it's a breach of privacy?
We already told you what our take on this is, so please let us know what your thoughts are too. You can do it in the comments below or on our social media pages.