Netflix offers much more than what's available in your country. There's a whole treasure trove of "hidden" titles that you can unblock – if you have a powerful enough VPN. And yes – that's precisely what we're going to show you. So, here's how to use a VPN with Netflix on Android smartphones, tablets, and even media streaming devices. 
Step #1: Get an Android VPN App
Keep in mind that Netflix has become quite hard to unblock as its VPN-blocking techniques evolve over time. Therefore, be very careful about which VPN to pick, especially if you want an enjoyable streaming experience. 
With that said, you'll want to check the best VPNs for Netflix – where you'll find a list crafted by our team after testing more than 60 VPN services in total. And if you also want to secure your privacy, cross-reference that lists with our selection of the best VPNs for Android.
If you don't want to waste your time trying out different VPNs, we recommend subscribing to ExpressVPN. That truly is the best Netflix VPN available right now, letting you access just about any version of that media streaming service.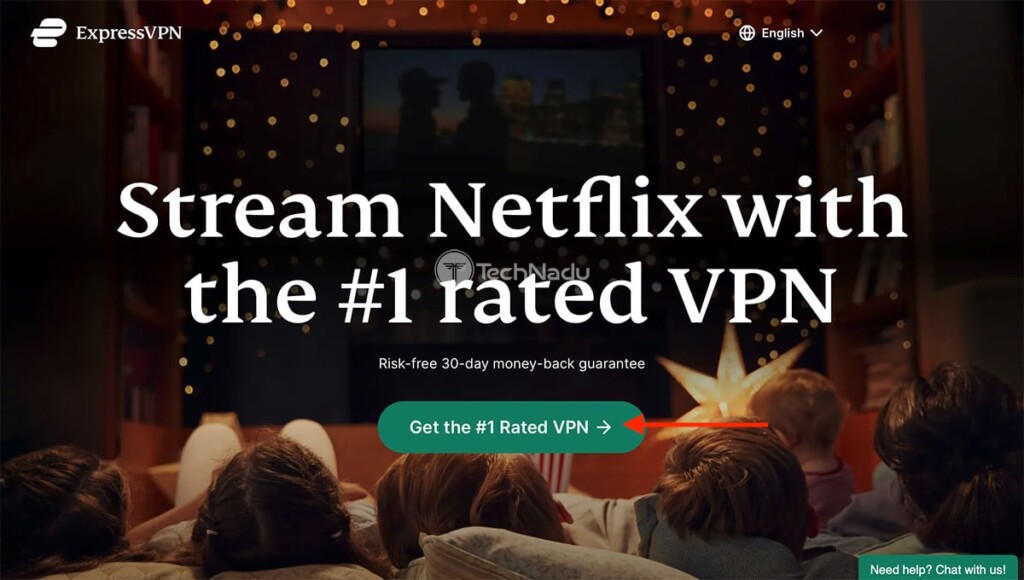 So, subscribe to ExpressVPN by visiting its website and clicking on 'Get the #1 Rated VPN.' Pick a subscription plan, provide your email, and pay for the subscription. Once done, expect to see a confirmation email from this VPN's team, so you can now activate your subscription.
Since we're talking about how to use a VPN with Netflix on Android, make sure to learn how to install ExpressVPN on Android. And in case you plan to use other devices as well, here's our central guide on getting started with ExpressVPN.
Step #2: Connect to a VPN Server
Right now, you should be looking at ExpressVPN's home screen. In case you haven't finalized the initial setup of this VPN, make sure to do so now. That means you need to log in to your account and install ExpressVPN's profile on your Android. Just make sure to follow the prompts you'll see on your screen. 
Now, it's time to connect to a VPN server. Do that by tapping on the button below the ON/OFF switch on ExpressVPN's home screen. At this moment, you should be looking at individual ExpressVPN servers, so feel free to pick one. However, remember that if you want to access the American version of Netflix, you need to pick a server from the USA.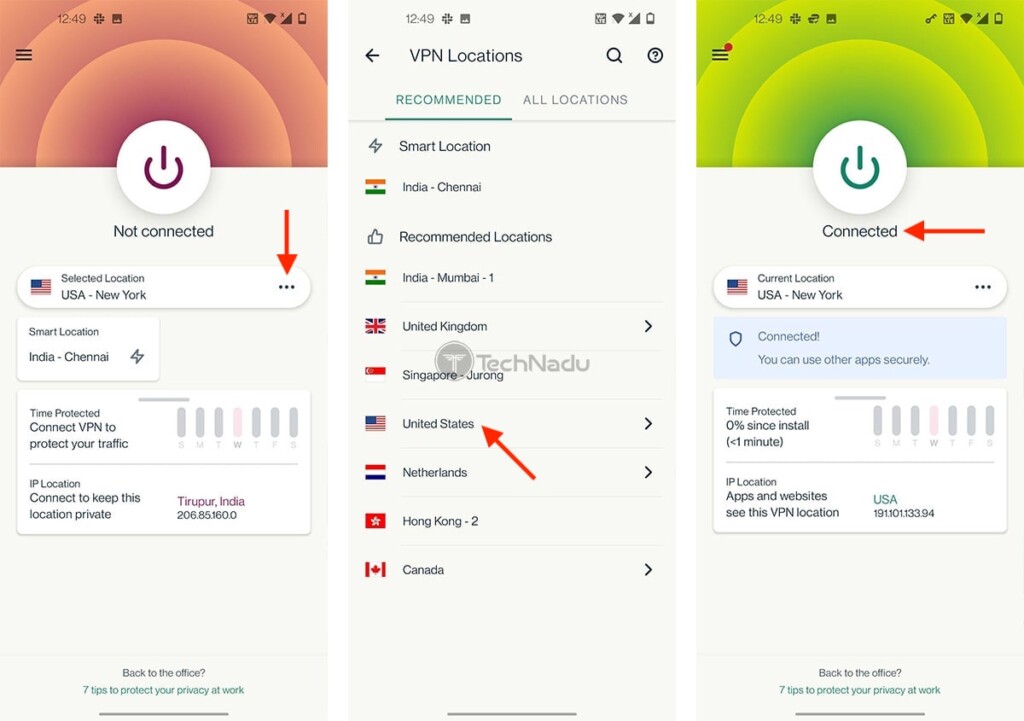 As soon as you pick a server, ExpressVPN will proceed to connect you. The upper portion of its home screen will turn green. Once that happens, your VPN session will become active, and you can proceed to the third and final step.
Step #3: "Unblock" Netflix on Android
Lastly, you can proceed to access Netflix on your Android smartphone. If you don't have the app just yet, you can download it from the Play Store. So, launch the Play Store, type in 'Netflix' in the search bar at the top, and then download/install the app. 
Once you launch Netflix and sign in to your account, the app will check your IP address. Since you have an active VPN session in the background, the app will get to know your VPN's IP address (your real IP will be hidden). Depending on the country to which your IP belongs, Netflix will let you access a version of its library available in that specific country.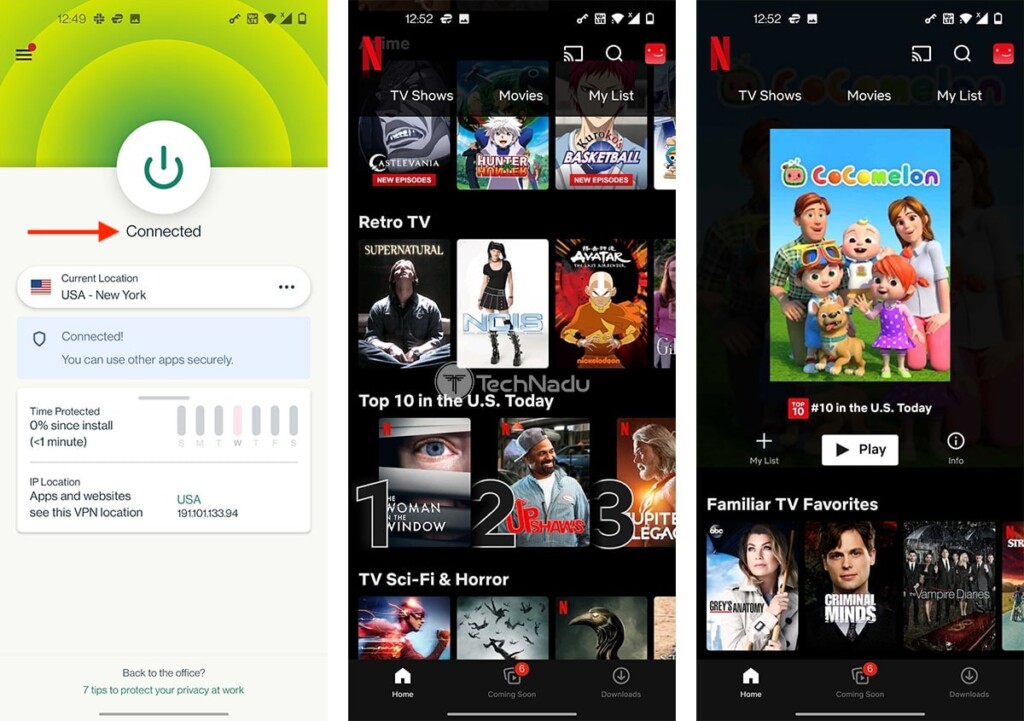 That's it! As long as your VPN session is active, you can unblock Netflix titles that aren't typically available in your country. However, once you disconnect, your VPN IP will revert to your original IP. Since ExpressVPN comes with unlimited bandwidth, you have nothing to be afraid about, so feel free to leave it running at all times.
As you browse Netflix, you'll get to add titles to your "watch list." However, as you switch to different Netflix regions (using your VPN), items from that watch list may disappear – depending on the version of Netflix you see at any given moment. However, they will return to your watch list once you reconnect to your VPN (to the server you've used while adding those items).
That would be all on how to use a VPN with Netflix on Android. In case of any questions or doubts, don't hesitate to post your comment below. And lastly, thanks for reading!