Like most people, you probably use a VPN with Netflix to get the most out of it. That doesn't always go off without a hitch, though. We actually see many Reddit posts and get tons of messages from our readers, all asking the same thing: why is my VPN not working on Netflix?
Well, it's probably because Netflix detected it and blocked it. Or maybe the VPN is leaking your geo-location. We'll show you the most common problems you'll encounter when using a VPN with Netflix and tell you how to get rid of them.
Why Is My VPN Not Working on Netflix? (Common Issues + Solutions)
We ran our own tests and checked what our readers and people on r/VPN and r/NetflixViaVPN complained about the most. After doing our research, we listed the most common problems in this section. Each one of them will have a dedicated subsection where we offer solutions.
1. The Netflix Proxy Error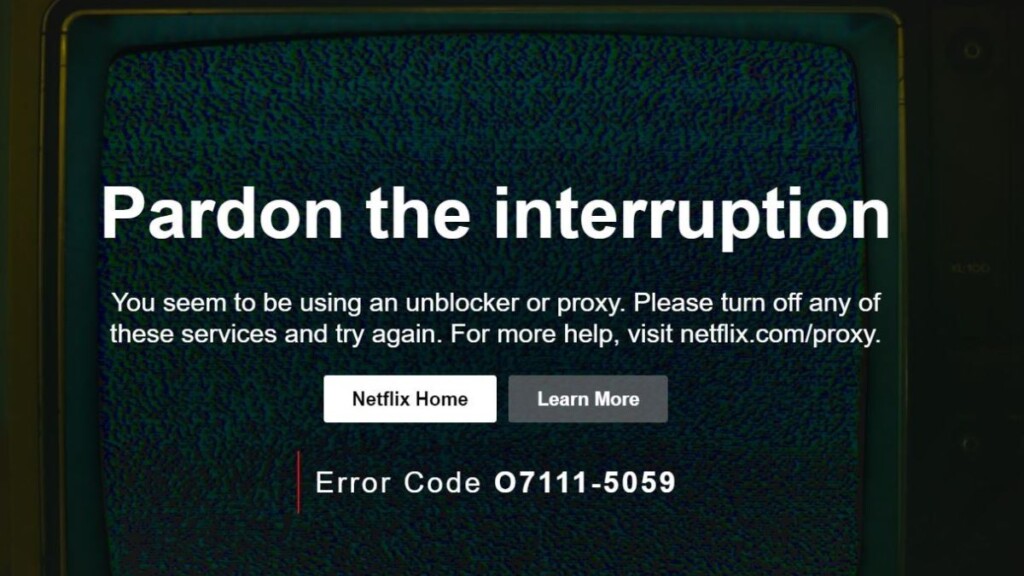 This is by far the most common problem you'll encounter when using a VPN with Netflix. Here's what happens: Netflix detects that your traffic is coming from a VPN server. It then uses automated scripts to block the server's IP address and redirect all connections coming from it to the Netflix proxy error page.
This can happen after you log into your account, when you look up a title, when you hit Play on a title, while you're watching a movie or show, or when you access a Google link that's supposed to take you to a Netflix title (like googling "Netflix Demon Slayer" and clicking the first Netflix link).
Netflix has a dedicated support article for this error. Obviously, what they recommend is to disconnect from the VPN. But we have some better alternatives.
Solutions
Here's a list of tips you can try to get rid of the proxy error. We tested all of them and were able to bypass the error screen.
Connect to a different server (maybe Netflix blocked the one you're using).
Ask the VPN provider which server you need to use (they don't publicly announce which servers work).
Restart the VPN connection.
Restart the VPN app.
Clear your browser's cache and cookies.
Use your browser's incognito/private mode.
Update the VPN app.
Get a dedicated IP (it likely cost extra).
If you want to read more about the Netflix proxy error and the tips we mentioned here, just check out our full guide.
2. The NSES-404 Error
Unlike the proxy error, Netflix doesn't have a dedicated support article for the NSES-404 error code. This message normally appears when you try to access a title that isn't available in your country.
If you see it while using a VPN, it likely means your browser's giving away your geolocation due to the tracking cookies it stores.
Basically, Netflix gets a connection request from an IP belonging to country X, but it detects tracking cookies from country Y when you log in. The site likely assumes you're from the second country (which doesn't have the title you want to unblock), so it sends you to the NSES-404 landing page.
Solutions
Whenever we get this error code, we get rid of it by doing any of the following:
Clear the browser's cookies and cache.
Use the browser's incognito/private mode (no tracking cookies that way).
Connect to a different server (one from a different country, if possible).
3. Not Being Able to Log In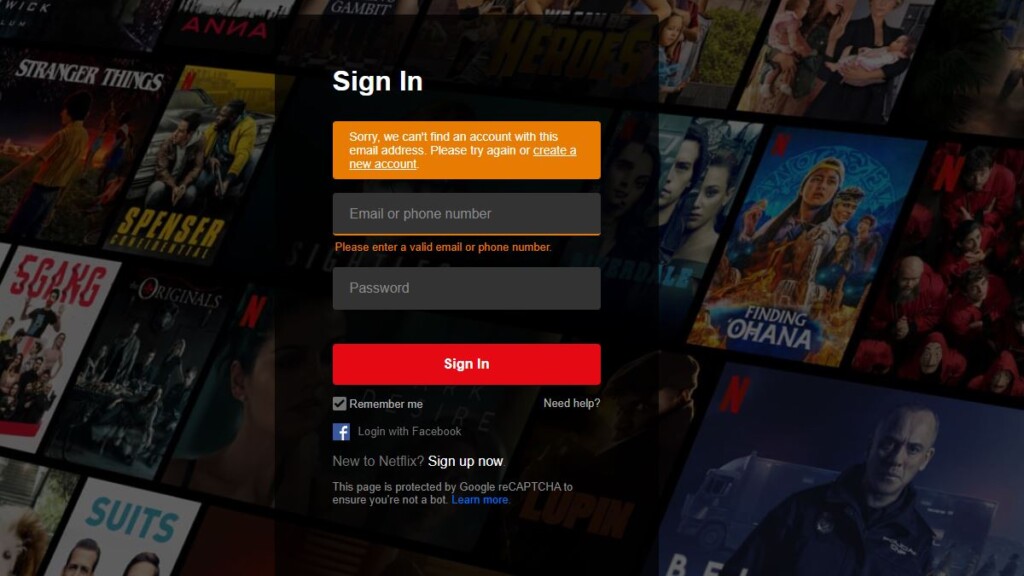 This one is a bit tricky since not a lot of people have experienced it yet. But we have seen people on Reddit complaining about it, and we also started experiencing this problem while using a VPN a few months ago.
Here's what happens: you use a VPN with Netflix, log in, and the site keeps saying you entered the wrong password or username. It doesn't matter how many times you make sure you're entering the right information, Netflix will keep saying it's wrong.
We're not 100% sure what's going on, but it might be one way that Netflix has started blocking VPN users. We contacted a few VPN providers to see what their support reps had to say, and it seems some of their users have complained about this too.
Solutions
We're going to mention a few tips we tried out that worked, and some pointers offered by VPN support reps:
Refresh the page, and try logging in again. You might have to do it a couple of times.
Restart your device.
Use a different web browser. Try it with incognito/private mode too.
If you're using Windows 10, delete the Netflix app and then reinstall it.
Reset your Netflix account password. It's a hassle, but we can confirm it works.
Check that you're using the VPN's DNS server, not your ISP's server. Basically, if the DNS addresses are set to automatic, you're probably using the ISP's DNS server. Ask the VPN provider for their DNS address, and manually type it in.
Do a DNS leak test while using the VPN. The only countries that should show up in the results are the ones that match the VPN server's location. Otherwise, you're dealing with a DNS leak. To fix it, make sure the VPN's DNS leak protection is on. Also, if you're on Windows 10, disable Teredo (guide) and SMHNR (guide) to prevent DNS leaks.
If none of those tips help, contact your VPN's support team. They might provide you with other tips that are specific to their service (like NordVPN did).
4. Ending up on Your Country's Library
Even though you're connecting to a VPN server in a different country, you still end up on your country's content library after logging in.
What gives?
Netflix can probably see your real geolocation - either through tracking cookies or because your VPN is leaking data.
Solutions
Let's assume tracking cookies are giving your geo-location away. To fix that, just use Netflix with a VPN in your browser's incognito/private mode. If you don't want to do that, you can also clear your browser's cookies and cache.
If VPN leaks are the problem, things are a bit more complicated. We recommend checking out this guide to understand what they are, what causes them, how to perform VPN leak tests, and how to fix most of them.
What Are the Best VPNs for Netflix?
Using a good Netflix VPN means you'll be less likely to deal with these problems. They refresh their IPs more often and offer powerful leak protection to make sure you can unblock Netflix without any issues. Plus, their support reps are normally available 24/7, so you'll always get help on the spot.
To find the best Netflix VPNs, we tested over 60 providers. In the end, these six VPNs came on top:
If you'd like to read more about each provider, just follow this link to check our in-depth guide to the best VPNs for Netflix.
FAQ
In this section, we'll answer the questions that people ask very often about VPNs not working with Netflix. If you have more questions, just leave them in the comments, and we'll do our best to answer them as soon as we can.