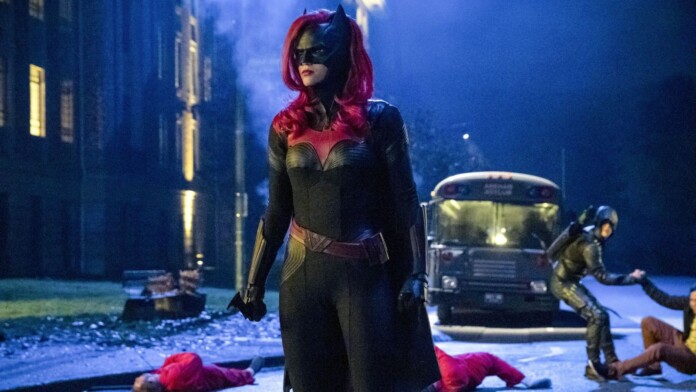 It's been quite a few years now that Batman has received all the focus but we finally get to watch Batwoman as well, thanks to the brand new show that's coming to The CW this fall. We are planning to watch the show online and we invite you to do the same.
This show is set in a timeline where Batman has abandoned Gotham City so Kate Kane, who is actually Bruce Wayne's cousin, takes on the role of Batwoman to bring a sense of peace and balance to the city. Batwoman is played by Ruby Rose, whom we've seen in a bunch of action movies, including Resident Evil, xXx, John Wick 2, The Meg, and, of course, Orange Is the New Black. She has already made her premier as Batwoman in other BBC shows, such a Supergirl, The Flash, and Arrow.
Gotham is her city now. #Batwoman premieres Sunday, October 6. Stream free next day only on The CW App! pic.twitter.com/ZyN4Uesa3S

— Batwoman (@CWBatwoman) September 26, 2019
The trailer of the show gives us a little hint of what's to come from Batwoman and we are quite excited to see where this show takes us.
When and Where to Watch Batwoman?
According to the schedule, Batwoman is premiering on The CW on October 6th and she will take over the 8 PM time slot. Therefore, you should totally clear out your Sunday evening schedule.
How Can I Live Stream Batwoman?
It's easy to watch TV nowadays because there are so many platforms offering streaming services that are here to help you. One of the best ways to watch The CW is with the help of fuboTV, which is one of the best platforms on the market. Start your 7-Day free trial on fuboTV now! The platform comes with a single bundle of channels, including The CW.
Aside from the main bundle that features over 100 channels, you can add several channel packs to your subscription and premium networks. If you want to watch fuboTV, you will need the appropriate app for your device, so you should know that the service works on Amazon Fire TV, Android phones and tablets, iOS phones and tablets, Android TV, Apple TV, Google Chromecast, Roku, and Samsung Smart TVs. (Note: fuboTV is a service that only works in the United States so you're going to have to use a VPN if you want to continue watching when traveling outside of the country. Click here to learn how you can do this easily.)
Here's what you need to know to start your 7-Day free trial on fuboTV:
You have to access the fuboTV website and tap the "Start free trial" button that you will find on the page.
Then, you need to create an account by providing an email address and a password. You can also use the social login buttons Facebook and Twitter.
Then, you have to pick a bundle that you want to go for, as the fubo Standard plan features all the main channels. The Family, Family Deluxe and Premium plans include the fubo Standard bundle and various channel packs and premium networks in the subscription, at discount prices.
You now have to finish customizing your subscription by adding channel packs, premium networks, and add-ons to expand the Cloud DVR storage space or to add another screen that you can watch the shows on.
The last step involves providing your card details so you can finish setting the account. Keep in mind that you won't get billed until the trial period is over.
Other Ways to Watch Batwoman
Hulu – Another great way to watch Batwoman is with the help of Hulu. The service offers a live TV platform that features dozens of channels, including The CW. Start your 7-Day free trial on Hulu now! You can customize your Hulu subscription by adding a couple of packs and several premium networks, and you should keep in mind that you'll also get access to the video-on-demand library.
YouTube TV – Another one on our list is YouTube TV, which comes with a single bundle of channels that includes The CW. All subscribers get to enjoy unlimited Cloud DVR storage space on YouTube TV, which is pretty great, as well as the possibility to watch content on up to three devices at once. While there are no channel packs to add here, you can still add plenty of premium networks to your subscription.
What Can I Do to Watch Batwoman Outside of the United States?
If you find yourself traveling abroad, you probably know that live TV platforms and streaming services all have to abide by licensing deals. What this translates to for subscribers is that they cannot access content while outside of the United States because their access is completely blocked. In order to bypass the situation, you can use a VPN to change your IP address and trick the site into thinking you're still in the United States. On TechNadu, we only recommend the very best and we will direct you towards ExpressVPN.
Here's what you need to do to use ExpressVPN to watch Batwoman outside of the United States:
First, you have to subscribe to ExpressVPN by visiting their website (49% OFF). The whole process only takes a couple of minutes and you will have to pay upfront for the service. On the other hand, the service offers a 30-day money-back guarantee so you can ask for a refund if you don't like the service.
Next, it's time to download the app and install it on your device. When the process is complete you can go ahead and launch the tool and log in to your brand new account.
You now have to choose a server that is located in the United States and connect to it.
There are a couple of dozens of these available so you shouldn't have any issues in finding one to suit your needs.
As soon as the connection is established you can load fuboTV and watch Batwoman online.
Can I Watch Batwoman on the CW Website?
Unfortunately for you, the CW website does not have a live stream to access. This means that you will have to stick to watching Batwoman live on fuboTV, Hulu, or YouTube TV.
Can I Watch Batwoman With the TV Antenna?
The CW is actually one of the few channels that continues to broadcast over-the-air so you will be able to watch the show with the help of an antenna. TV antennas are super popular with cord-cutters because they are cheap and they allow people to watch content for free.
Before you make any purchase, we advise you to check a site such as NoCable, where you can find out whether or not The CW is part of the offer in your specific location. You will also find out how far the broadcasting stations are for all the channels nearby and you will be able to figure out what range you need your device to have, so you can enjoy as many channels as possible. We have given you a bunch of suggestions in terms of devices that you can use, but you can also do your own research if you want even more options.
Can I Binge-Watch Batwoman?
Yes, that is something that you can do. The Batwoman episodes will be uploaded to The CW website so you can enjoy the most recent ones for free, without even having to log in to an account. It is also likely that the episodes from Batwoman will be uploaded to platforms like Netflix or Hulu, but it is currently unclear exactly which one is going to get the series. We will update when we know for sure and you will get a link.
Can I Purchase Batwoman Episodes?
You will most certainly be able to do that as soon as the show starts airing, because this type of shows traditionally ends up available on Google Play, YouTube, iTunes, Microsoft Store, Amazon Prime, and Vudu. We will update with links when we have them and you should check them all out because they may have better deals available for you, depending on which episode or season you are looking to buy.
We would love to hear back from you so you can tell us what you love most about Batwoman, and what you're hoping to see in this new series. Drop us a note in the comments section below the article and share it with friends and family so they can find a better way to watch TV as well. Follow TechNadu on Facebook and Twitter for more news, guides, reviews, and interviews.