Looking for horror, thriller, or supernational fiction films? Love a good scare? Well, know that Shudder will most certainly meet your needs! However, if you're not in the United States, your access to this niche streaming service will be blocked – unless you read this article very carefully. That's right - we'll show you how to watch Shudder outside the US!
In this guide, we'll introduce you to VPN services, which come with the power to preserve your online privacy (and yes, that's something you should truly care about). However, VPNs also let you unblock digital services like Shudder, so let's show you how.  
Where Is Shudder Available? 
At the moment, Shudder is available in the United States (and its territories), Canada, the United Kingdom, Ireland, Australia, and New Zealand. 
With that said, we can see that Shudder is slowly reaching more countries, expanding beyond its original availability, which was confined to the American borders. However, you should know that Shudder isn't the same everywhere. Each country has its library of titles, and as you already guess – Shudder's US library is the biggest one. 
We can show you how to take full advantage of this digital service, no matter where you're located. So, let's teach you how to unblock and watch the American version of Shudder using a VPN. 
How to Watch Shudder Outside the US With a VPN?
Finally, here are the 6 steps to watch Shudder from anywhere: 
Step #1: Find the Best-Working VPN to Unblock Shudder
To unblock Shudder reliably and securely, you need a VPN optimized for media streaming. With that said, you need a VPN with fast and fluid performance, plenty of servers in the US, and an easy-to-use interface. And that VPN would be – ExpressVPN.
3,000+ VPN servers in 160 VPN server locations in 94 countries, 5 Simultaneous connections, Fast and stable connection, No activity logs or connection logs, No bandwidth limits, Strong encryption, 24/7 live chat support, and 30-day money-back guarantee.
Based on our hands-on tests (and we've tested dozens of VPNs so far), ExpressVPN will provide you with the best (and easiest) possible experience. However, you do have other options as well. To check those out, here's our guide to the best VPNs for streaming. 
Step #2: Get Your VPN Subscription
To proceed further, you need to have an active VPN subscription. So, now's the time to make up your mind. If still in doubt, go for ExpressVPN. Signing up won't take more than a minute, and you can begin by clicking on 'Get ExpressVPN' on the VPN's website.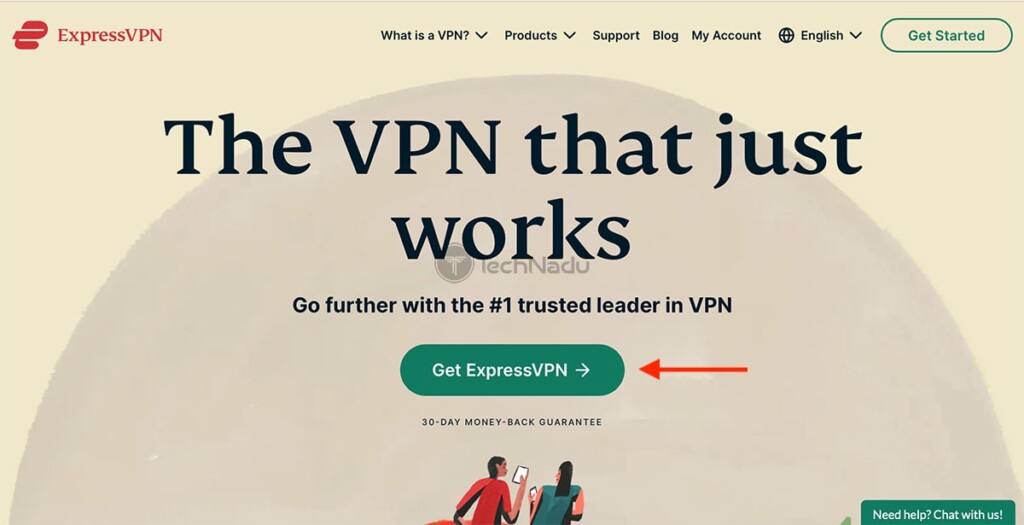 Pick a subscription plan, input your email address, and then fill out your payment details. Once your payment is processed, you'll receive a confirmation email from ExpressVPN's team. When that happens, feel free to proceed to the next step.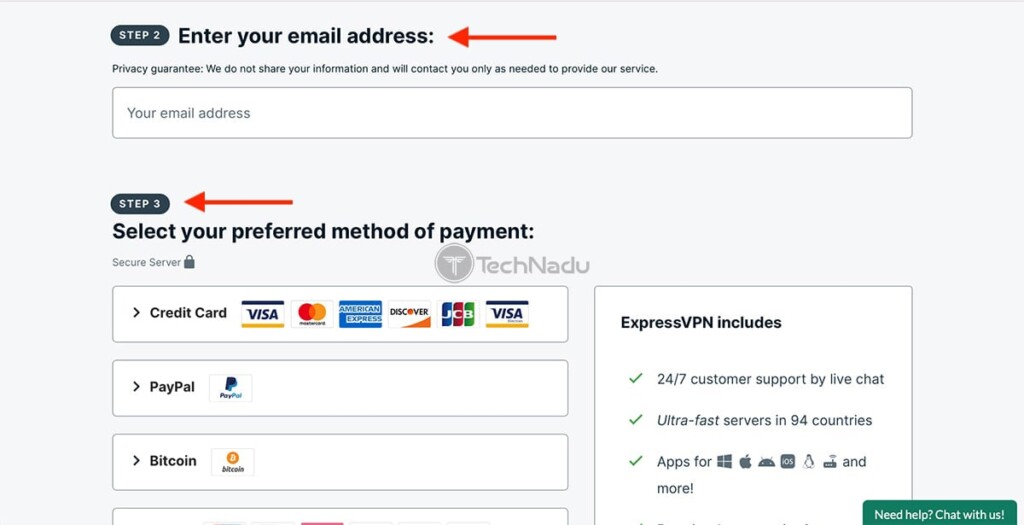 Step #3: Download & Install the VPN on Your Device(s)
To unblock and watch Shudder from anywhere, make sure to install the VPN on each device you'll use to access the streaming service. With that said, you'll be happy to know that you can download and install ExpressVPN on more than 60 devices. Use the provided link to learn more.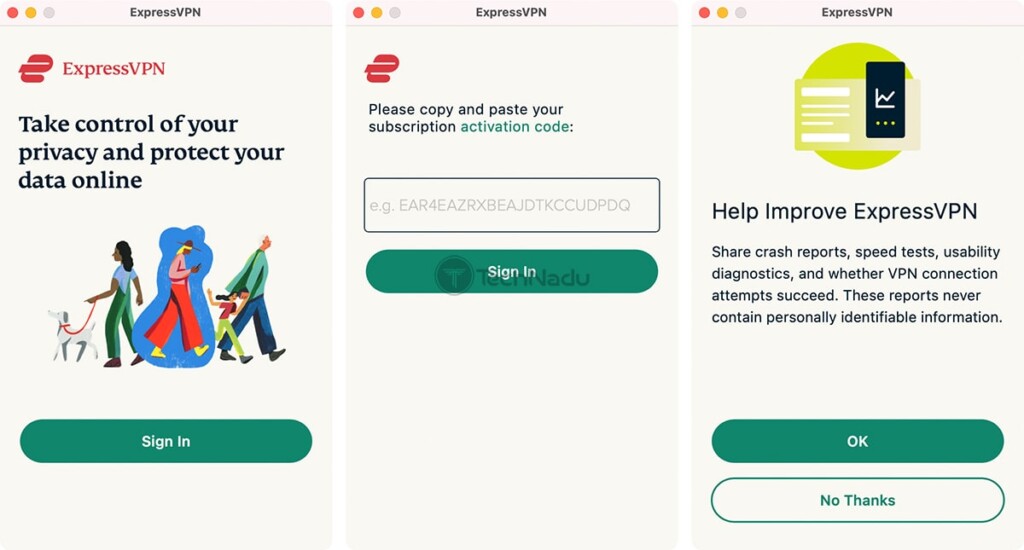 Once you install the VPN, don't forget to launch it for the first time. Log in to your account, for which you can use your ExpressVPN activation code. Then, proceed with the initial setup following the prompts you'll see on your screen. You'll know when you're done once you see the VPN's home screen, ready to be used. 
Step #4: Connect to a VPN Server in the US
To unblock the US version of Shudder, you need to connect to a US VPN server. So, launch ExpressVPN and click on the button just below the ON/OFF switch (on the VPN's home screen). A new window will open, giving you an overview of all 3,000+ servers on offer. 
You can use the top-placed search bar to find servers located in the US. If you double-click on the VPN's name, you'll let ExpressVPN find you the fastest available server. However, you can also double-click on an individual server's name, so you'll have plenty of freedom to pick what you want. 
Step #5: Unblock & Access Shudder from Anywhere
This step is for those who already have a Shudder subscription, as it will allow you to access your subscription from anywhere. If you're yet to subscribe to Shudder, use the provided link to learn how that's done (outside the US, of course). 
Now, feel free to access Shudder's website – using any Web browser. If you have a subscription, go ahead and select 'LOG IN,' found in the top-right corner. Once you input your credentials, Shudder will let you access its streaming library, just as if you were in the United States.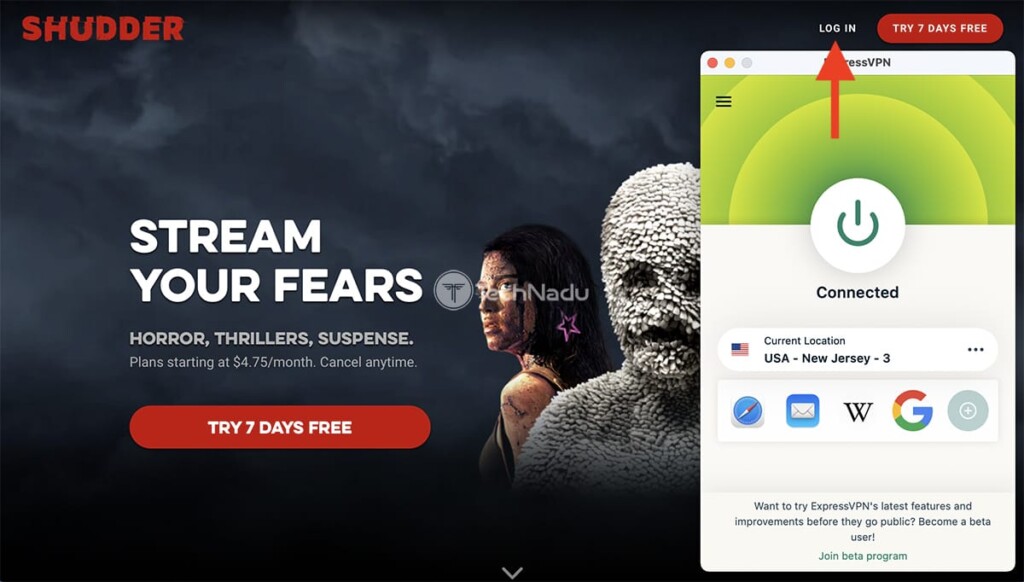 Know that for as long as you're connected to ExpressVPN, your access to Shudder will remain active and uninterrupted. Also, ExpressVPN comes with unlimited bandwidth, which makes it perfect for streaming as many movies as you want.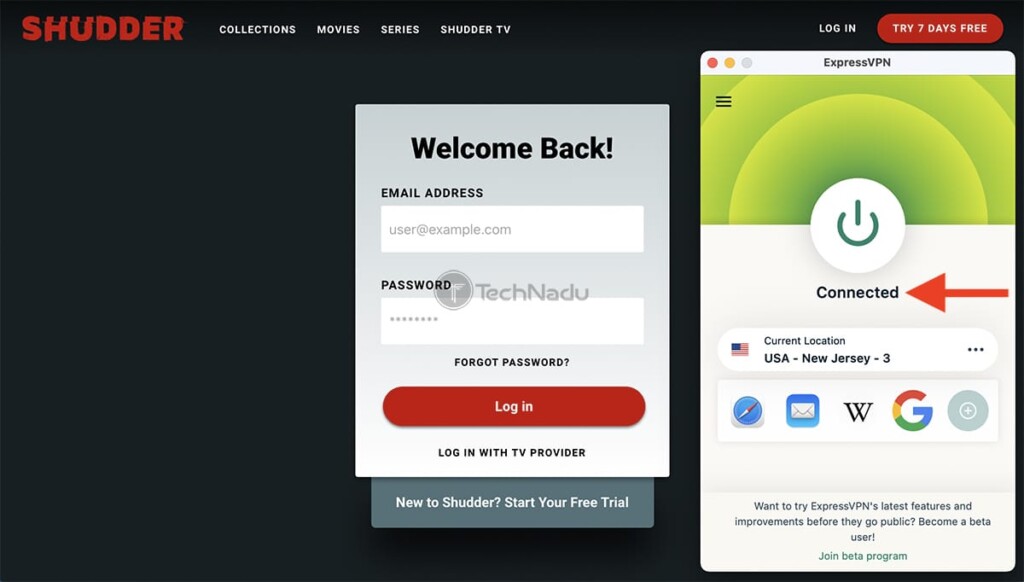 Step #6 (Optional): Get Shudder on Other Devices
Keep in mind that Shudder is available on iOS, iPadOS, and Android. In fact, you can use Shudder's app to sign up for the streaming service, even outside the United States. Still, that's possible only with US-based Google or Apple accounts. 
Luckily for you, it's quite easy to sign up for a new Google account or get a new Apple ID. Make sure to use ExpressVPN while signing up. Pick 'United States' when and if asked about your country. And when asked about your address, use this random address generator. 
Then, use the Settings app on your iPhone or Android phone to log in to your newly created account. That means you have to sign out of your old account, as you're allowed to have only a single one active on your smartphone.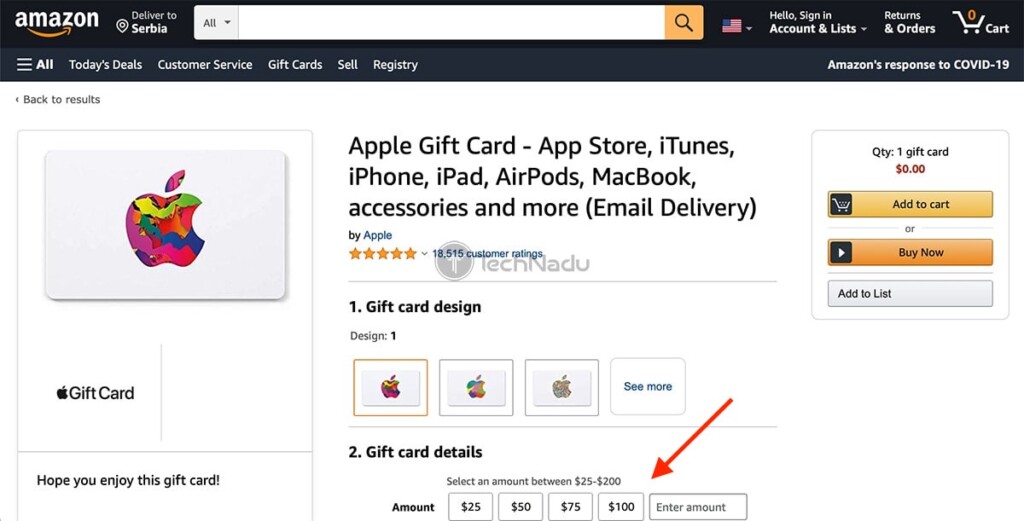 Before you get to subscribe, you need to credit your account. Go ahead and purchase a Google or Apple gift card (keep in mind that Shudder is priced at $5.99/month). And then, here's how to redeem your Google and Apple gift cards. 
Finally, proceed to download Shudder from Apple's App Store or Google's Play Store. Once again, make sure that you have an active VPN session in the background. Tap on 'See Plan Options,' register your account, and subscribe from within the app. That's it!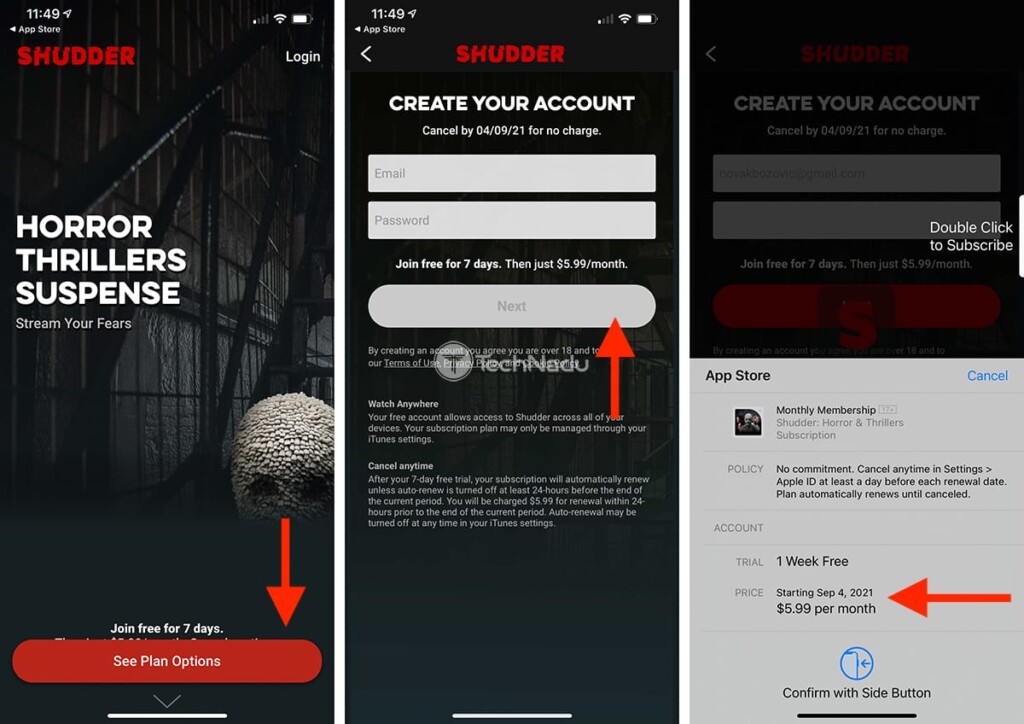 FAQ
What Is Shudder?
Shudder is a standalone streaming service specializing in classic horror movies, cult favorites, and original content. It offers both movies and TV shows.  
What Can I Watch on Shudder? 
At the moment, the most popular titles on Shudder are The Changeling, The Texas Chainsaw Massacre, Train to Busan, Deep Red, The Wailing, and more.
Is Shudder Worth Getting?
If you love horror movies, Shudder is definitely worth getting. It comes with an extensive library of titles, offering plenty of value for its low monthly price. 
How Much Is Shudder Monthly? 
Shudder is priced at $5.99 per month. However, you can also choose to subscribe for $56.99 per year (which comes down to only $4.75 per month). 
How Do You Get Shudder for Free? 
You can get Shudder for free when you sign up. More precisely, you'll get to use Shudder for 7 days completely free of charge before your subscription kicks in. 
Is There a Free VPN for Unblocking Shudder Outside the US?
Sadly, no. Free VPNs can't be used for media streaming or accessing Shudder due to their speed and bandwidth limitations, which are pretty rigorous. 
Your only option is to pick a premium VPN that can unblock Shudder outside the US. Based on our tests, that VPN should be ExpressVPN. 
That would be all on how to watch Shudder outside the US. If you have any questions, let us know via the comments section below. And lastly, thank you for reading!