Cord-cutting – the act of canceling your cable or satellite TV subscription – is on the rise. According to the latest research, over 2.9 million people in the US have suspended their multichannel subscription TV services last year. Like many people, maybe you've switched to PlayStation Vue for your live TV needs. However, maybe you're just traveling or you happen to live abroad. To your surprise, you soon find out that you can't stream PlayStation Vue abroad. So, what do you do? Never fear. TechNadu's here to help you watch your favorite videos and live TV programming. Here's how to watch PlayStation Vue outside US.
Top 5 VPNs for Watching PlayStation Vue Anywhere!
We went ahead and created a list of VPNs that work with PlayStation Vue so you don't have to do too much research. You can, however, read the reviews of the listed VPNs before making a decision.
1. ExpressVPN
ExpressVPN, the world's most-used VPN (and our top recommendation), uses only military-grade encryption to keep you safe. With a no logs policy, no one will ever know what you do online. Plus, ExpressVPN offers lightning-fast connection speeds. Once you stream PlayStation Vue outside the US with this application, don't expect to see any kind of connection drops. In addition, you'll find support for Windows, Mac, Linux, iOS, Android, Apple TV, Kindle Fire, and more.
Also, this application is specifically designed with newcomers in mind. Power users won't find any advanced configuration options here. For more information about our top recommendation, read through our in-depth review of ExpressVPN.
2. NordVPN
Compared to most of the VPNs, NordVPN has the most servers. You'll find close to 5,000 servers around the world, including dedicated P2P servers for BitTorrent users. In addition, NordVPN strikes a great balance of simplicity and complexity in one application. Plus, the servers are speedy.
NordVPN's kill switch feature is also hit-or-miss, effective on mobile devices but too simple on desktops. There's also a CyberSec feature to flag any dangerous websites you may want to visit. Check out our complete NordVPN review to find out everything there is to know about this tool.
3. SaferVPN
SaferVPN will help you quickly unblock PlayStation Vue abroad. How? Thanks to specialized US and UK streaming servers that will constantly cycle your IP addresses to avoid detection. Yet, depending on the time of day, expect streaming quality to take a hit.
This VPN application is also very easy to use, designed with a fantastically intuitive UI. SaferVPN has also blocked P2P traffic, though, so BitTorrent users will have to look elsewhere. So, is SaferVPN the right choice for you? Find out in TechNadu's complete SaferVPN review.
4. TorGuard
Designed with BitTorrent users in mind, TorGuard provides plenty of advanced configuration options. In addition, if you're willing to pay a few extra bucks per month, you can access dedicated US IP addresses for quick streaming.
TorGuard, unfortunately, leans far too much on the complex side. VPN beginners will have a difficult time setting up this application, as it can quickly become complex and overwhelming. Would you like to know more about TorGuard? Check out TechNadu's in-depth TorGuard review.
5. StrongVPN
Our final VPN solution, StrongVPN, offers military-grade security to keep you protected. This application also has 650+ servers in 26 countries and a zero logging policy.
Unfortunately, streaming performance gets pretty bad. Compared to other premium VPNs in this list, StrongVPN offers just decent features. The desktop client also feels counter-intuitive at times, hampering your streaming viewing experience. Would you like to know more about this application? TechNadu has an in-depth review of StrongVPN.
FAQ
Let's make this article as informative as possible by answer some common questions. Here's what else you must know about VPNs and using PS Vue.
How Effective Can VPNs Be?
Virtual Private Networks, or VPNs, connect you to the Internet through a service run by the VPN provider. VPN applications will get you securely connected and easily accessing blocked content. The greatest applications will also encrypt your data in the process, making your private data invisible to your Internet Service Provider.
As you can see, these are highly sophisticated applications - however, they're quite easy to use. To learn more, here's what you need to know on how VPNs work.
Is There a Free VPN for PS Vue?
While we're well aware that there are free VPNs out there on the Internet, we can't recommend them. The first issue they face is the fact that they're easily recognizable by streaming services and therefore, unusable. Then, they're free most often than not – they only offer a limited bandwidth without cost before asking you to pay up. Or, even worse, they keep traffic logs on their users, which means your online privacy isn't complete.
Why Bother Watching PlayStation Vue With a VPN?
PlayStation Vue is a great platform that offers over-the-top (OTT) Internet television. Basically, you can watch multiple channels and the programming you'd normally see on TV straight on your computer or mobile device. You can pick one of the multiple packages they offer, each with its own channel list and pricing, varying from $39.99 to $74.99 per month for the full collection.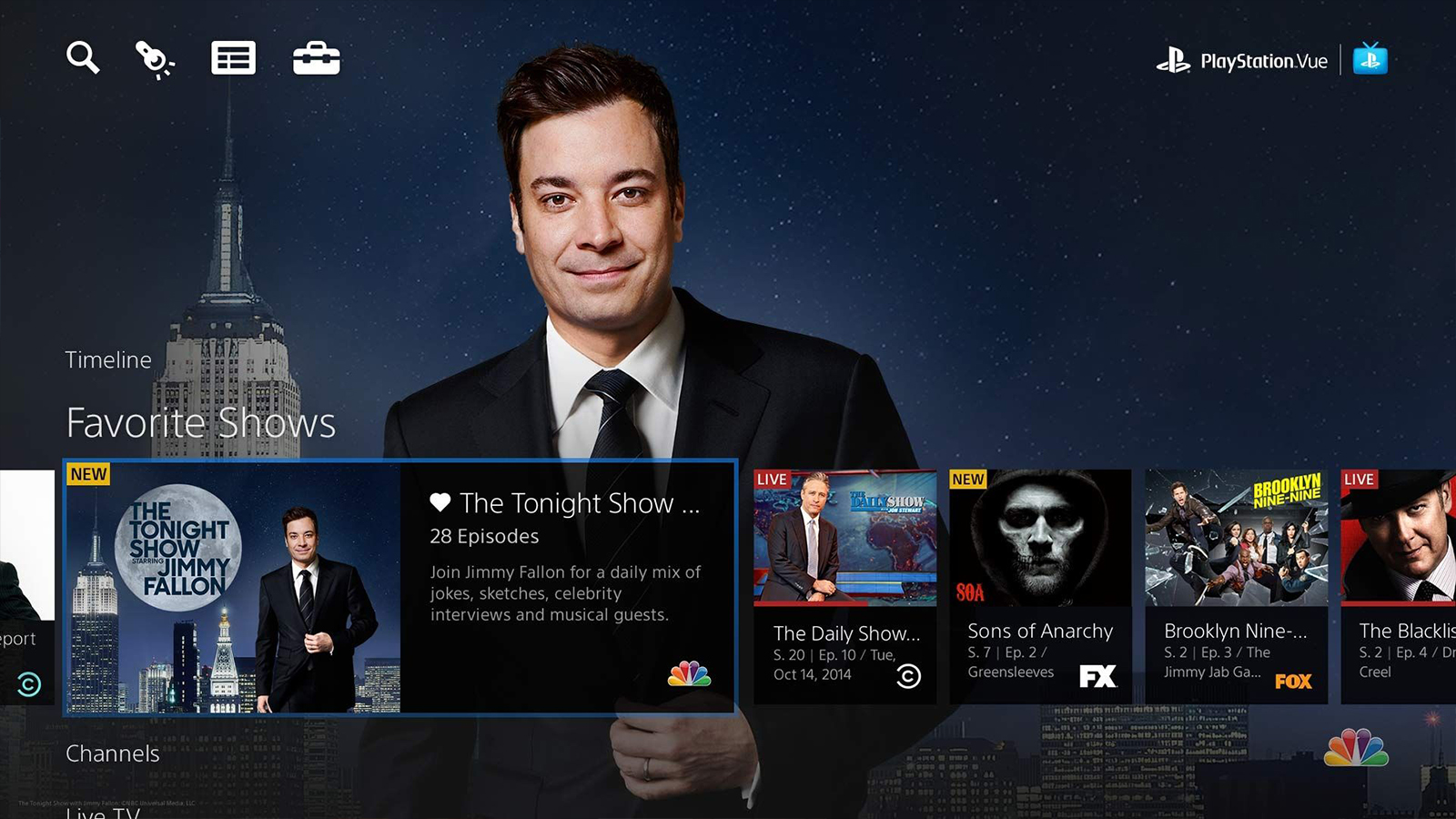 Owned by Sony, PlayStation Vue offers users 90+ channels and simultaneous streaming on up to 5 devices. On the live video service, you'll find top networks like CNN, ABC, FOX, and AMC, among others.
Where Is PlayStation Vue Available?
Just like many other similar platforms, PlayStation Vue is only available within the United States. Due to licensing restrictions, users can't view any of the content they paid for outside of the US borders, no matter where you go. The problem can be easily fixed, however, with the help of a VPN.
On Which Platforms You Can Watch PlayStation Vue?
When it comes to watching PlayStation Vue when you're on the road or at home, you can use a number of devices. The platform works on PS4 and PS3 consoles, Roku players, Amazon Fire TV, Apple TV, Android TV, iOS smartphones and tablets, Android smartphones and tablets, as well as Amazon Fire tablets.
You can also simply load PlayStation Vue on your Web browser, and you can even cast the videos over to your non-smart TV with the help of Chromecast. Here's everything you need to know about the availability of PS Vue on different platforms.
We hope we've now helped you not only view your PlayStation Vue content from any corner of the world but also open your door to other similar geo-blocked platforms.
Feel free to post your comments below. And of course, if this article has helped you, please share it across your favorite social networks. And finally, check us out on Facebook and Twitter. Thanks!