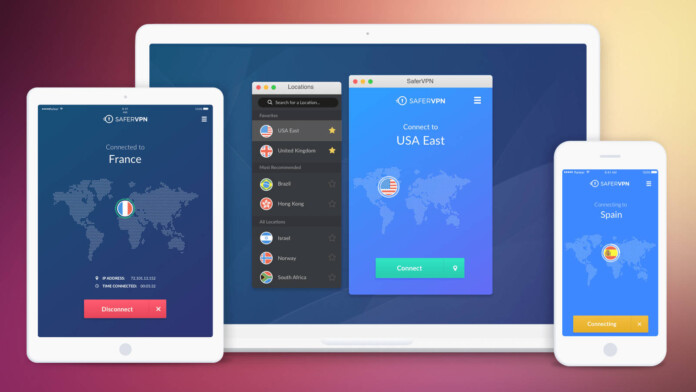 The following is our in-depth review of SaferVPN. The personal VPN market has sure become crowded over the last few years. Thanks to the rise of cybercrime, ever more oppressive laws and the apparent end of net-neutrality more people are finding themselves shopping for a VPN every day.
Given this glut of companies already fighting over their spot in the market, it's surprising to see a new face in the crowd. Today I'm looking at SaferVPN. It was founded in 2013 and is now starting to get some name recognition along with bigger and older names.
SaferVPN is based in the USA, which immediately raises questions about logging and user privacy, but we'll get to that a little later as part of the review. After all, privacy is one of the nine criteria that we use to evaluate all our VPNs. To make things easy for you here are the main findings under each category summarized in this table.
| Criteria | Details |
| --- | --- |
| Features | Auto WiFi protection, Bank-level security, Kill Switch, Encryption, Location Unblocking, IP hiding |
| Servers | 700 Servers, 34 locations |
| Logging Policy | Logs session timestamps and data volume |
| Security | AES-256, OpenVPN, IKEv2, PPTP |
| Privacy | DNS Leak Protection |
| Speed | 1.83 Mbps (automatic server) | 0.91 Mbps (US streaming server) | 1.53 Mbps (baseline) |
| Price | $10.99 per month (1 month) | $5.49 per month (1 year) | $3.29 per month (2 years) |
| Device Support | Mac, Windows, Linux, iOS, Android, Router, Chrome extension, Firefox extension |
| Number of devices | Five |
| Overall | 8/10 |
| Visit | SaferVPN |
There's always one question everyone has: will it unblock the streaming content I want? Well, here's the results of our tests with US Netflix, Hulu, and Kodi. Kodi doesn't need to be unblocked, but many users want to keep their Kodi streaming private and so performance still matters.
| Streaming Service | Result |
| --- | --- |
| Netflix | YES – W/ Streaming Server |
| Hulu | YES – W/ Streaming Server |
| Kodi | YES – 1080p |
SaferVPN has specialized US and UK streaming servers which constantly cycle their IP addresses to get around VPN blocking. It's a good solution, but I found the streaming servers to have atrocious performance. I assume this is because they are so busy all the time. It definitely works, but your mileage may vary depending on the time of day or how much capacity they add. When I tried again later I got great results.
To give you the most important strengths and weaknesses of SaferVPN in a nutshell, here's yet another table.
Criteria
SaferVPN
Pros

So simple a child or grandparent could use it
Everything is very pretty
Netflix and Hulu unblocking works

Cons

A bit pricier
Not for power users
Streaming quality poor at times
SaferVPN Review
We tested SaferVPN on our Windows computer. SaferVPN touts itself as the "fastest and simplest" VPN solution on the market. Those are some mighty big words in a world with so many great VPN services, but let's start at the beginning. How easy is it to sign up and get the client software?
Supported Devices
SaferVPN only has a small number of native clients for mainstream devices with more via OpenVPN. However, OpenVPN undercuts the value proposition. Our Score: 6/10
In terms of native applications, you'll only find the big four mainstream options. There's a client for Windows and one for MacOS. There are also apps for Android and iOS. SaferVPN also offers a Chrome and Firefox extension for those who only want their VPN protection to extend to their browser.
SaferVPN supports PPTP, L2TP, IKEv2 and also OpenVPN. Since it's OpenVPN compatible you can also use it on devices that have an OpenVPN client. Usually, I'd say that was a good thing (and it is) but it's more complicated here. You see, SaferVPN offers itself as the easiest VPN to use. That's only true if we're talking about using their native applications. Setting up the VPN manually using OpenVPN is going to be no easier than doing it for any other VPN.
In other words, if you have a device that's not covered by one of the native apps, such as a Linux PC, then the value proposition drops because any client design advantages are negated.
Here is a quick list of the supported OS/devices:
OS: Windows, Mac, Android, iOS, Linux
Browsers: Chrome, Firefox
Network devices/Others: Routers
Installation & Setup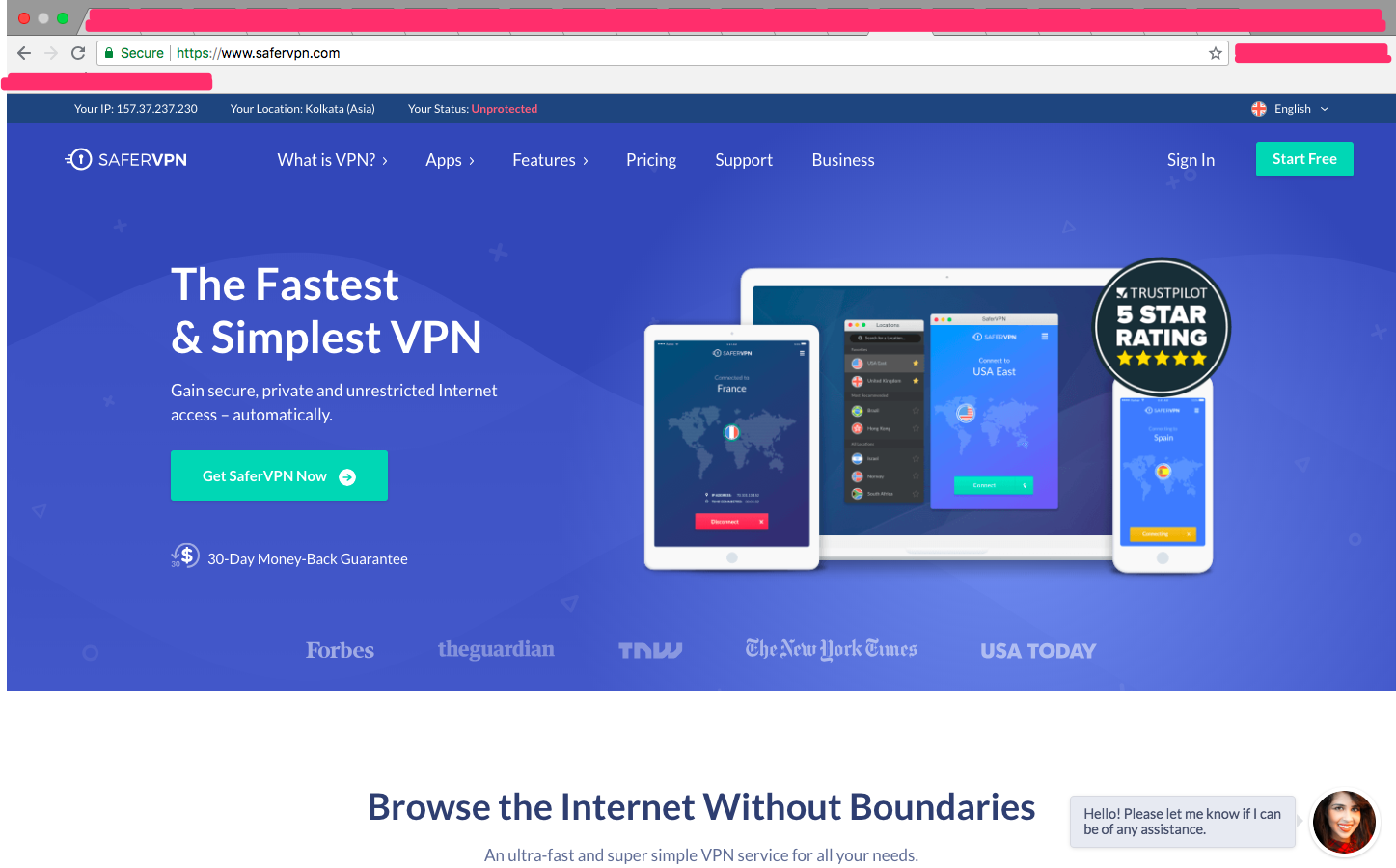 SaferVPN is easy to install and is quickly set up. Our Score: 10/10.
First, we head to the download section and grab the Windows client.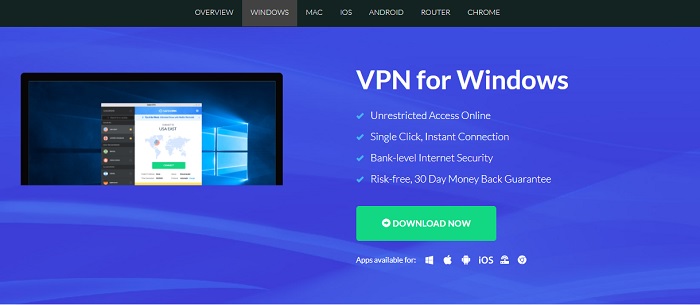 It's a pretty normal installer, nothing weird here.
Click "next" a couple of times and soon the installation is done.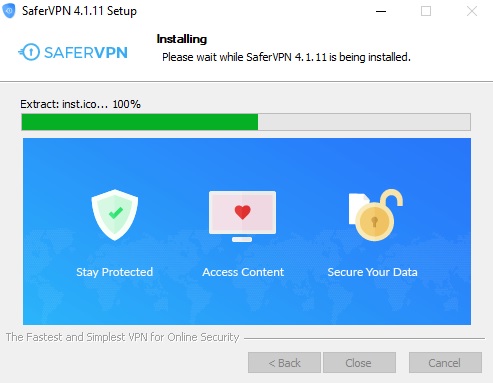 Before we get into the testing phase, let's look at the features that are on offer.
Prominent Features
SaferVPN has all the features you really need plus one or two features that are simply nice to have. Our Score 8/10
SaferVPN has a lot of features it wants you to know about. The company is very proud of their automatic WiFi encryption protection, which they say is a first. For which they get the credit. They also don't have any throttling or data caps. Something I expect of a premium VPN, so it's good things are this way.
Of course, we mustn't forget about the core features that make a VPN a VPN. It will hide your IP, browsing, and location at the click of a button. It's still not clear why it's safer, however.
In all seriousness, SaferVPN's feature list is pretty much what you'd expect from a good VPN. SaferVPN, as per a latest update, also allows P2P/torrenting, which is an exciting news indeed.
Ease of Use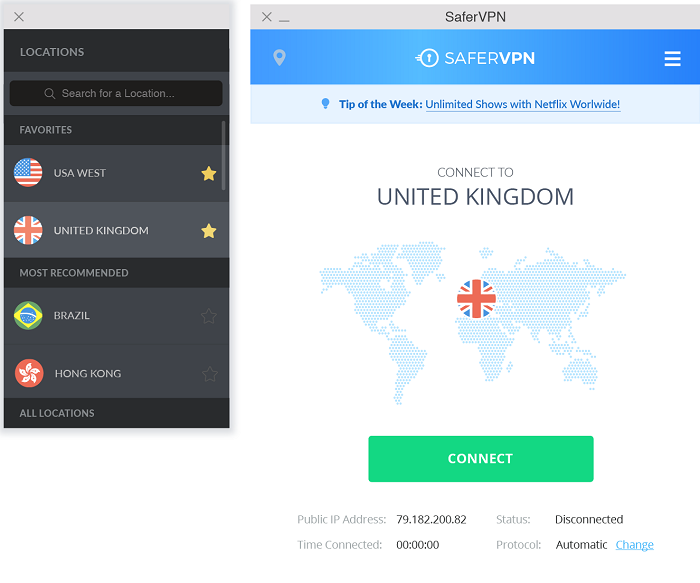 SaferVPN has an incredibly streamlined, attractive and easy to use a client. Too bad you can't choose specific servers, but otherwise this is great for the general user. Our Score: 9/10
The whole pitch of SaferVPN revolves around being the simplest VPN to use. It's all about zero configuration and one-click operation. Which is why I am expecting big things from SaferVPN in this area.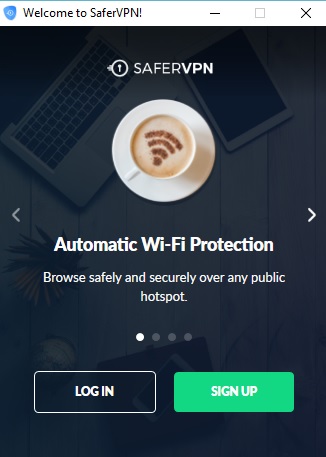 Indeed, the Windows client is slick and simple. SaferVPN promised us a one-click connection experience and technically they did deliver on that promise. That is if you don't want to manually select a country, in which case there are one or two more clicks to perform.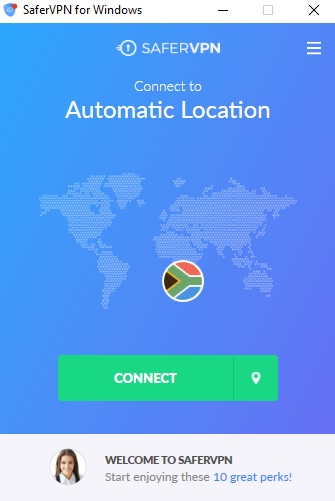 Luckily the button to do so is right next to the connect button. A perfectly logical place to put it.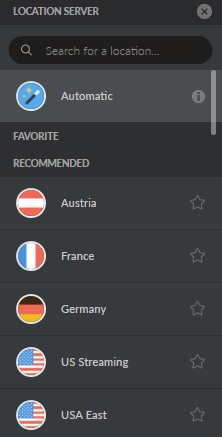 It might have been a good idea to include some sort of "advanced" mode, but keeping their focus narrow is probably one of the main reasons what they do offer is so good. Quality over quantity and all that.
This doesn't mean there aren't any settings to mess with. You can do a couple of things if you click the little hamburger and choose "settings".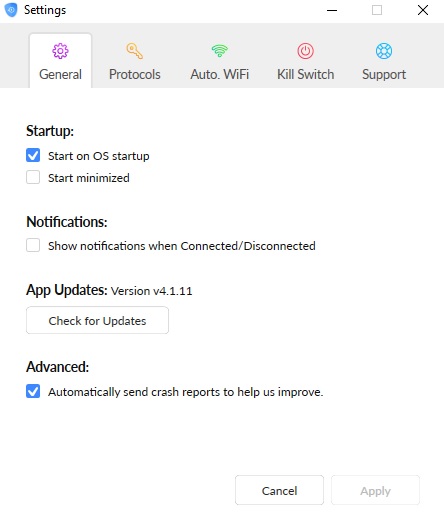 The general settings tab just has some basic startup options and a few other bits and bobs. Not much to write home about.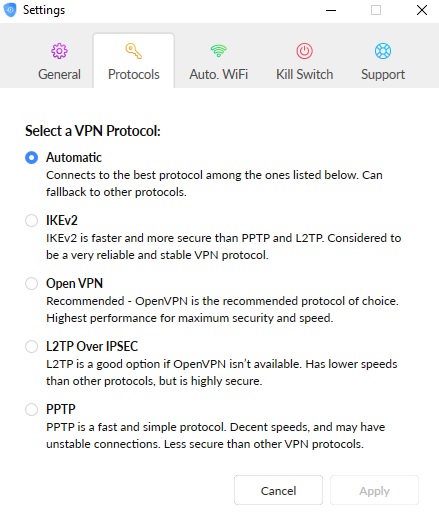 The protocols section lets you, well, switch protocols. The only reason to really use this is to force a secure protocol like OpenVPN. I like that the protocols are all explained in simple language. The next tab is all about their Auto WiFi feature.
This is the feature that automatically protects you when an unsecured network is detected.
A kill switch is a feature which shuts down the network connection if the VPN connection fails. In SaferVPN it isn't on by default, so be sure to check the little box if you're paranoid.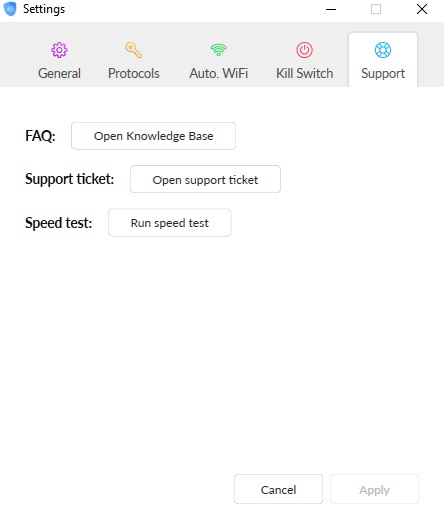 The last tab is just some links to help documents online and to a speed test. Not terribly important, but convenient.
SaferVPN extends its usability and simplicity philosophy throughout all of its customer-facing material.
Regardless of whatever else anyone has to say about their VPN service itself, SaferVPN shows that it understands the fundamentals of design, usability, and simplicity.
This is one of the best VPN websites I have seen. It's seamlessly responsive, switching between mobile and desktop versions. The design is clean, minimalist and easy to navigate.
This is what a slick, modern internet company should look like. Things are where you expect them to be and only the information you actually need is presented. The copy is written professionally and I really have nothing negative to say here.
Server Locations

With a medium network size and a short (but varied) country list, SaferVPN feels a little limited. Our Score 6/10
How do we judge the size of a VPN server network these days? What's still considered large? With many players sporting more than 3000 servers and small fry having perhaps 200-300 servers, I'd say SaferVPN's 700 servers tend towards the lower end.
That being said, they only have a presence in 34 locations, which is a very short list. Luckily it's a list that's quite spread out and not limited to the Americas and Europe. You'll find countries like India, Japan, South Africa and Mexico on the list. Which means that even if there isn't one in your own country for fast connectivity, there should be one in a neighboring nation.
Of course, for users who simply want to unblock content what's usually most important is that the country in question is on the VPN's list. Only you'll know if that's the case here.
Speed
Fastest VPN ever? We don't know, but it's the fastest we've tested so far. Our Score: 10/10
SaferVPN claims to be the fastest VPN service. Not "one of" the fastest, just "the" fastest. Just look at that claim in the image above.
Our testing methodology is pretty simple. If the client can auto-select the best server, then we test that as a best-case scenario. Then we manually select a US server to test the performance of the most popular content-unblocking region.
Before we do any of that, let's first run the baseline and see what the target is.

All right, now we let the client pick its own server. Lucky for me there's one in my country. Roll on with the speed test.

Amazing, the result is so close to the naked connection speed that in practice I can't tell the difference. In fact, the VPN renders the connection faster! Next is the US streaming server.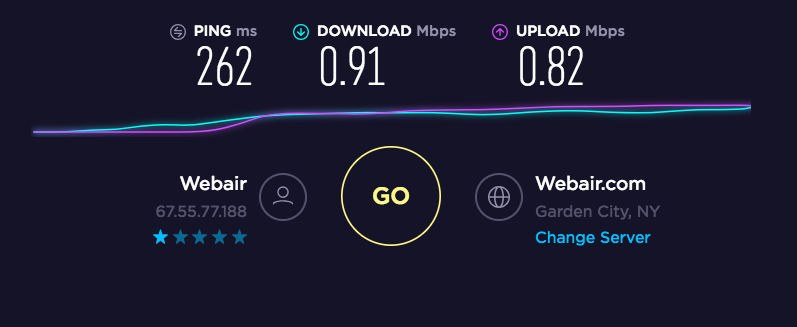 A lot more ping, but for most applications, it's still fine. The speed scores are fantastic. Great result!
Let's summarize the speed test results:
Ping: 47 ms
Download: 1.53 Mbps
Upload: 0.65 Mbps
US Streaming Server Tests
Ping: 262 ms
Download: 0.91 Mbps
Upload: 0.82 Mbps
Ping: 77 ms
Download: 1.83 Mbps
Upload: 0.95 Mbps
Security & Privacy
Easy to use security technology with strong encryption mean that even novices can feel safe, but SaferVPN logs more than perhaps some users would be comfortable with. Our Score: 6/10
If you're going to put the word "safer" in your name then you'd better have some actual technology that makes us feel safer when using your VPN.
Encryption
SaferVPN does indeed support 256-bit encryption, which is about as strong as anyone in the world needs encryption to right now. At least until the whole quantum computer thing really takes off.
There's also support for two modern and secure VPN protocols. OpenVPN is what most people should be using most of the time, but iOS users will most likely go with IKEv2.
SaferVPN offers a measure of automated security. It doesn't expect it's users to necessarily know the difference between one protocol and the next. The automatic WiFi protection is a neat feature too. Basically, when you connect to an unsecured hotspot you don't even have to switch the VPN on, it will keep it safe automatically.
When it comes the SaferVPN privacy policy, I was expecting a simpler alternative explanation, but we're stuck with a pretty regular legal document.
Logging
In any case, SaferVPN practices "minimal logging" which is basically session data. This includes the date, time, data used, which VPN server you used and which country you connected from.
It doesn't sound all that "minimal" does it, but they do promise not to log websites, IPs, DNS queries or anything else. The thing is, even that minimal anonymous data can still be useful if someone has other information such as the specific files they know were downloaded, as one example. How comfortable you are with their logging policy is up to you. It's not a true zero-log policy. So some points get docked here.
There's also a bit in the terms of service that warn against "obscene" content uploaded or posted from your computer. The definition of what constitutes such material is pretty vague, which is an issue in itself. A larger issue is how SaferVPN intends to enforce this policy without actually logging or monitoring users. It seems a little contradictory, but presumably, it's the just generic way for them to cover themselves.
DNS Leaks
It's a good idea to test a VPN to see if it accidentally causes DNS leaks, where your real IP address is exposed.
As you can see, it passes and doesn't show my real IP address.
Customer Service

Well thought out support resources, live chat and 24/7 availability make SaferVPN a top-class provider when it comes to customer support. Our Score: 10/10
Keeping up with their customer-friendly image, SaferVPN offers many support options for when things don't go quite right. I do find it somewhat ironic that a service that's meant to be automatic, simple and foolproof really needs much in the way of support. To SaferVPN's credit, they have gone all-out in this department.
The support page on the website is one of the best I have seen. It clearly lays out the different types of problem that a typical user might face in its quick start section. I can see a non-technical person quickly finding the right info here and I'm very impressed.
Beyond the quick start stuff, information is very clearly and logically categorized. There's also a well-written blog, prominent article search bar, and robust FAQ.
If you can't find what you need using these resources they've also got 24/7 email support and live chat facilities. I really think that SaferVPN has every base covered here and they're an example of how to do support right.
Pricing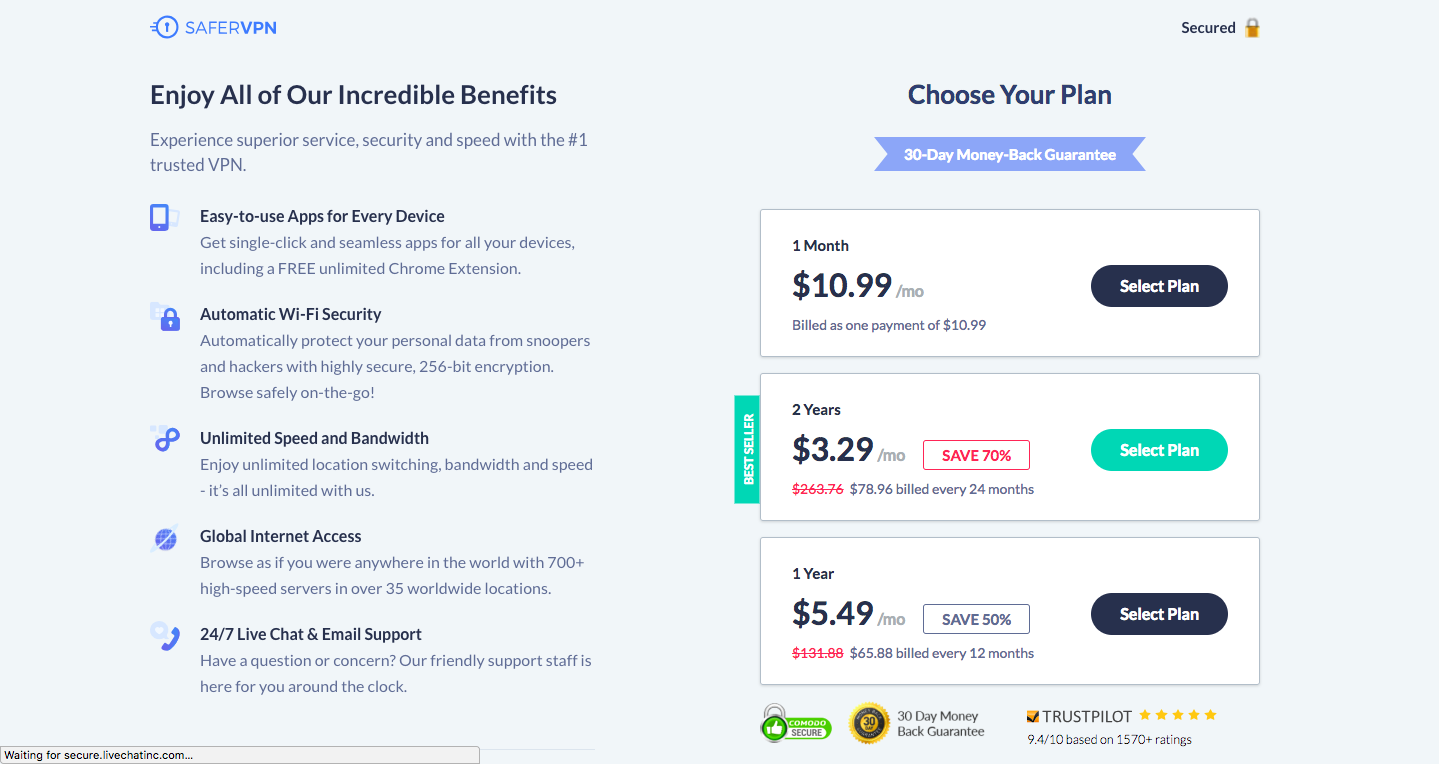 SaferVPN is priced a bit high when compared with the other VPNs in the marketplace. Our Score: 7/10
There's nothing particularly special about the pricing packages on offer from SaferVPN. They aren't the most expensive provider we've seen, but at $10.99 a month, we've seen cheaper as well.
On the annual plan you'll pay an effective $5.49 a month, but pay for two-years upfront and that cost goes down to a mere $3.29. A 70% saving, as their marketing copy gleefully announces.
Generally, however, it's better to judge a VPN by the monthly pricing. I don't recommend buying into a long-term commitment given that what happens to be a good service today could be a real mess just a few months down the line. This is especially true when it comes to unblocking streaming content, which might stop working at any time.
The following is a basic summary of the pricing plans:
Final Verdict
Who Should Use This VPN?
Users who don't want to fiddle with a million settings, don't care to learn the black arts of VPN technology or who simply appreciate fantastic usability design will love SaferVPN.
Who Should Not Use This VPN?
Those looking out for a lot of advanced features or a more modestly priced VPN
PROS:
Very intuitive: So simple a child or grandparent could use it
Everything is very pretty- great UI
Netflix and Hulu unblocking works
CONS:
A bit pricier
Not for power users
Streaming quality poor at times
Final Verdict: 8 out of 10!
Buy SaferVPN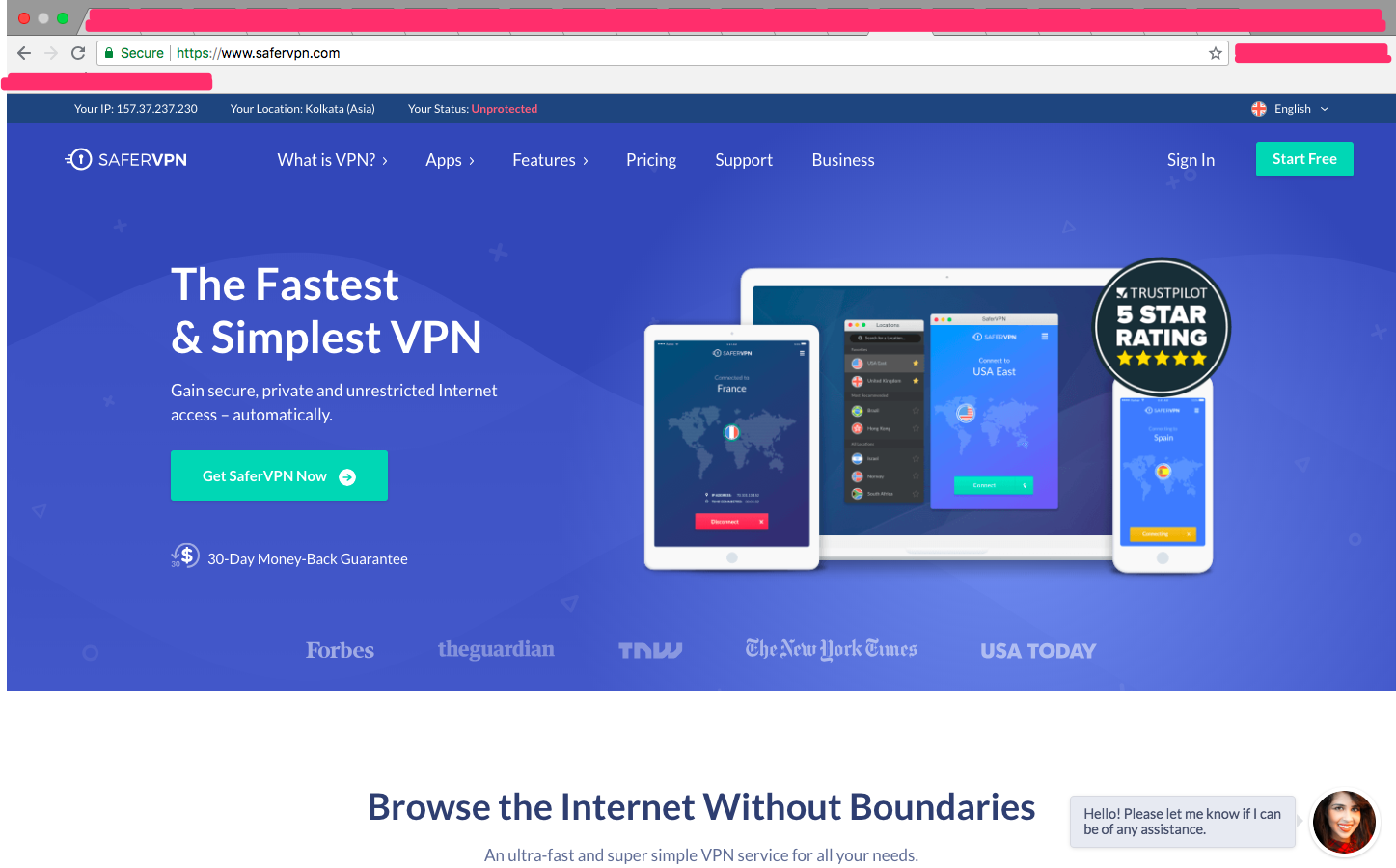 If you have made up your mind to purchase SaferVPN, proceed to their official website today and buy a plan that suits you the most.
Final Thoughts
I am pretty impressed with SaferVPN. It's really, fast. Incredibly easy to use and has excellent support.
Some people might be uncomfortable with what logging is in fact done by SaferVPN. If you can get over those issues this is definitely one of the very best VPNs on the market.