Netflix is definitely the most popular streaming site on the web. With close to 200 million subscribers worldwide, you can't go wrong if you register an account.
Some of you might be disappointed, though – Netflix is split into different regional libraries. Right now, the US one has the most titles (roughly 5,932 according to Statista). Plus, some of the best Netflix titles are only available in the US – The Tudors, Dexter, Shameless (U.S.), The Office, Weeds, The Borgias, Twin Peaks. The list goes on and on.
And you only have access to your country's library – that's it.
It's a bummer, we know, but don't worry – we'll show you how to watch American Netflix outside the US anywhere in the world. We'll also answer some relevant questions (like why Netflix geo-blocks its content in the first place).
How to Watch Netflix Outside the US From Anywhere in 5 Simple Steps
Sign up for Netflix if you don't already have an account.
Pick a VPN from our list, then sign up, download, and install the VPN app. We personally recommend ExpressVPN.
Log in to the VPN app and connect to a VPN server in the US.
Head to Netflix. The site should automatically redirect you to the US content library.
Look up US-only titles, and start binging them as much as you want!
6 Best VPNs That 100% Unblock Netflix Anywhere!
We tested over 60 VPNs and managed to find the best six Netflix VPNs that will unblock the US library for you. We'll list them all below and offer a quick summary for each one.
1. ExpressVPN – Best Netflix VPN in General
It's not surprising that ExpressVPN comes in at number one. They're without a doubt the most popular Netflix unblocker on the market right now.
What's not to love, after all? They have native apps for tons of platforms (Windows, macOS, iOS, Android, Linux, and routers), allow up to five simultaneous connections, and offer a very user-friendly design. So even if you never used a VPN, it won't take you more than a few minutes to start unblocking Netflix outside the US with ExpressVPN.
Plus, you'll get a very smooth streaming experience since the provider offers high-speed servers (and lots of them – well over 3,000) and unlimited bandwidth. ExpressVPN also provides split tunneling so that you can better fine-tune your VPN speeds. So streaming Netflix in Ultra HD is definitely a possibility.
And if you ever have issues, you can expect them to be resolved in no time since ExpressVPN offers 24/7 support through live chat. Finally, you can count on a very generous 30-days money-back guarantee (it's a no-questions-asked deal). However, we are sure you are going to be more than happy with this service.
Useful Guides: ExpressVPN Review / How to Find Your ExpressVPN Activation Code / ExpressVPN Not Working With Netflix? Fix it Now
2. CyberGhost VPN – Best Streaming-Focused Option
CyberGhost VPN is an excellent alternative if you're not happy with ExpressVPN. Like them, they offer user-friendly native apps for most platforms, unlimited bandwidth, and very smooth speeds.
Their server network is much larger, though – numbering over 6,000 servers. Even better – CyberGhost VPN has dedicated streaming servers that are optimized for Netflix US. You might be less likely to deal with the Netflix proxy error by using them (they probably refresh their IPs more often).
Also, CyberGhost VPN supports up to seven simultaneous connections – which is perfect if you love binging Netflix on multiple devices or if everyone in your family uses Netflix regularly. Also, you can get a dedicated IP, too ("truly anonymous dedicated IPs," like they call them). With it, Netflix will be less likely to think the IP you're using belongs to a VPN.
As for support, the provider doesn't disappoint. Their reps are quick to answer, very helpful, and you can contact them over live chat. Moreover, the service comes with a 45-day money-back guarantee (14-day if you get a monthly subscription) and a free one-day trial.
Useful Guides: CyberGhost VPN Review
3. Ivacy – Most Cost-Efficient Service
Ivacy is a pretty decent option for the regular Internet user who just wants to unblock a few titles on Netflix US. It offers decent speeds, unlimited bandwidth, a decently-sized server network (1,000+), and the ability to use streaming-optimized servers for Netflix US.
Ivacy also gives you the option to get a dedicated IP address when buying a subscription for an additional monthly fee (which is lower compared to VPNs like CyberGhost VPN and NordVPN). It's a pretty nice and cheap way to lower the odds of Netflix detecting your VPN usage.
The provider also offers native apps for most devices, though the UI could use a bit of polishing. Still, it's nothing you can't quickly get used to. Finally, Ivacy offers 24/7 support (live chat is available) and a 30-day refund policy.
Useful Guides: Ivacy VPN Review / Private Internet Access vs. Ivacy VPN
4. NordVPN – Best Choice for High Security
On a market flooded with VPN apps, NordVPN stands out thanks to its ease of use. If this is your first time using a VPN, you are going to love this provider.
You can expect cross-platform compatible apps with a very intuitive UI that takes seconds to master. There are 5,600+ servers to choose from (some of which are fully owned by them), and they all offer lightning-fast speeds + unlimited bandwidth. We can safely say that this VPN handles HD and 4K content with ease (if your Internet connection allows for that).
What's more, you can use NordVPN on up to six devices, which is great for shared Netflix accounts. You can also get a dedicated IP, which is a nice perk.
If you encounter any issues with unblocking Netflix, you can contact NordVPN's support reps anytime – they're usually available through live chat. Also, the provider offers a 30-day money-back guarantee.
Useful Guides: NordVPN Review / ExpressVPN vs NordVPN
5. Surfshark – Best Multi-Device VPN
Surfshark is relatively new, but that doesn't stop it from being a pretty great Netflix VPN. The VPN offers speedy servers (around 1,700+), has intuitive apps for most platforms, and provides unlimited bandwidth. You also get split tunneling, so you can make sure the VPN only routes Netflix traffic while leaving the rest of your data alone.
While Surfshark doesn't offer dedicated IPs, they do let you set up the service on an unlimited number of devices (with just one subscription!). That's a really convenient way to binge Netflix anywhere on as many devices as you want. It's also a great and cheap way to use a VPN to watch Netflix outside the US in a college dorm.
Surfshark offers live chat support, and their reps are really helpful. And just like ExpressVPN, they provide a no-risk 30-day refund policy.
Useful Guides: Surfshark VPN Review / ExpressVPN vs. Surfshark
Finally, we have Private Internet Access (also known as PIA). They offer a really smooth and convenient way to watch Netflix outside the US. It's all thanks to their very user-friendly apps, clean design, fast speeds (especially on their US servers), and unlimited bandwidth.
While PIA don't have ways to get dedicated IPs, they do offer split tunneling. That means you can configure PIA to only route Netflix traffic so that you get better speeds. Moreover, the provider allows up to ten simultaneous connections, which should be more than enough for anyone trying to unblock Netflix US.
In terms of support, PIA offers 24/7 live chat. So if you're unable to unblock Netflix US with their service, the solution is just a few clicks away. Also, they offer a reasonable 30-day money-back guarantee.
Useful Guides: Private Internet Access VPN Review / ExpressVPN vs. Private Internet Access / Private Internet Access vs. Ivacy VPN
How Does a VPN Unblock Netflix?
We showed you how easy it is to use a VPN to watch Netflix outside the US, but how exactly does it help you do that?
It's actually pretty simple – here's a quick look at what goes on behind the scenes:
When you use a VPN app to connect to a VPN server, the two establish an encrypted connection. Nobody can spy on the data passing through it (not even your ISP, so no more bandwidth throttling).
When you visit Netflix, the VPN routes your connection requests through its server. Basically, it acts as a middleman between your device and Netflix, so your connection looks like this: Device –> ISP Network –> VPN Server –> Netflix.
Because of that, Netflix thinks your requests are coming from the VPN server, not your device. Connection requests contain IP addresses, meaning Netflix only sees the VPN's IP.
Based on that information, Netflix will redirect you to a regional library that matches the VPN's IP (so Netflix US for a US IP address).
What Else Should You Know About VPNs & Netflix?
You probably have a few questions about Netflix, VPNs, and using them together. We included all the questions we could think of, and some we saw on Reddit in this FAQ section. If your query isn't on the list, please reach out to us via social media, email, or in the comments, and we'll get back to you ASAP.
How Does Netflix Control What Titles You Can Watch?
They use geo-blocking – a content control method that automatically redirects you to a regional library based on your IP address. Here's how Netflix does that:
When you visit Netflix, your device sends connection requests that contain your IP to the site through your web browser.
Netflix checks the requests – specifically your IP, which tells the site what country and city you are from.
Using that data, Netflix redirects you to the right content library. So if you have a Polish IP address, Netflix takes you to the Polish content library.
Why Does Netflix Geo-Block Its Content?
They have to do that, actually. Netflix doesn't own most of the shows and movies on its platform, so it buys licensing rights from the copyright holders. Unfortunately, they often can't get global rights because the copyright holder already sold the rights for different countries to other streaming sites and TV networks.
For example, Netflix was only able to get licensing rights to Dexter for the US. The show is only available there, and it is geo-blocked everywhere else (like the UK, where Sky owns the rights).
To learn more about how Netflix licenses content, check out this FAQ on their site.
Are Netflix Originals Geo-Blocked?
No, you don't normally have to worry about this. Since Netflix owns the copyright, they can freely stream the content wherever their service is available (in over 190 countries so far).
There are a few exception, however – like Orange Is the New Black. That show isn't available worldwide (it's geo-blocked in Indonesia, for example) because Netflix no longer owns the licensing rights for all countries. They sold them to other sites and TV networks when the shows launched since Netflix wasn't available in most countries back then.
On the plus side, there are no Netflix Originals that are only available in the US (to our knowledge at least).
What Are VPNs?
VPN stands for Virtual Private Network. In the past, VPNs were corporate private networks. You can think of them as private Internet networks where outside users were cut off. However, things have changed. These days, VPN applications are incredibly simple to use. All you need to do is download an application to your device, run it, and connect to a server.
VPNs have two main purposes:
First and foremost, to change your IP address. In other words, they "change" your physical location. If you connect via an IP located in the U.S., Netflix will believe you're accessing the service from the U.S.
Next, to secure your traffic. They do that by encrypting your Internet connections. To keep it simple, nobody can monitor your Internet traffic (government surveillance agencies, ISPs, hackers, etc.). That means you can use public Wi-Fi without having to worry about weak or non-existent encryption.
We can spend quite some time talking about VPNs, but let's keep this short for now. If you want to learn more about how VPNs work, follow that link.
Can All VPNs Unblock Netflix?
No – only a few providers can do this consistently (offer 24/7 access to Netflix). The site is actually really good at detecting VPN IP addresses. When it does that, it redirects VPN users to the Netflix proxy error page.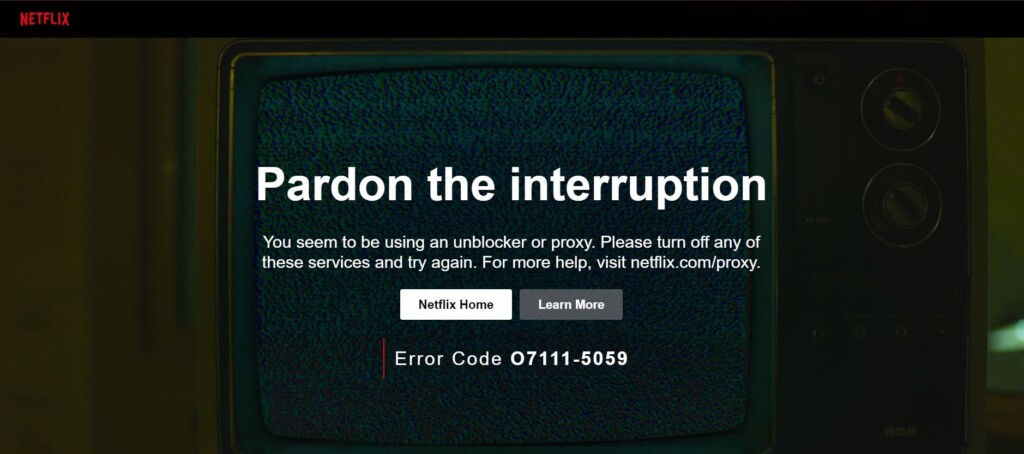 To avoid detection, VPNs have to refresh their IPs very often (so lease new ones from the data centers or ISPs they use). Doing that isn't very cheap, so not all providers can afford to regularly invest in this.
Don't worry, though – all the VPNs we recommended in this article can successfully unblock Netflix. We test them regularly and never have any problems. If you do see the Netflix proxy error, try using our guide to fix it.
How Do You Know What Netflix Region You Are on?
The easiest way to do this is to use the Global Netflix API. Just follow that link, and look for the following:
geolocation.locale – it shows your country's code.
geolocation.country – it shows which Netflix regional library the site redirects you to.
Can You Use Your Netflix Account Overseas?
Yes, of course – as long as you're in a country where Netflix is available. The service is present pretty much worldwide, with a few exceptions: China, Crimea, North Korea, and Syria.
But keep in mind you won't have access to your home country's content library. Instead, Netflix will redirect you to the library of the country you're currently in. You can easily solve that issue by using a VPN, though. Just connect to a server in your home country, and you're good to go!
How Can You Change Your Netflix Region?
Just follow our comprehensive guide to change your Netflix region/country.
If you're in a hurry, here's the gist of it – get a VPN, connect to a server in the region you want to switch to, and start using Netflix. The site will only see the VPN's IP address, so it will redirect you to the content library that matches the IP's geo-location.
So if you're from Portugal and want to switch your Netflix region to the US, just use a VPN server in the US.
Can You Optimize Netflix VPN Speeds?
VPNs can slow down your speeds. It's usually not noticeable, but if you have slow speeds to begin with (like 30-40 Mbps), it can be a problem. If they dip under 25 Mbps, for example, you won't be able to stream Netflix in Ultra HD anymore.
But don't worry – there are plenty of ways to increase VPN speeds. We outlined them all in this helpful guide. If you're in a rush, though, here are some quick tips that work well for Netflix speeds:
Use servers that are close to you. If you're in the UK, a US server on the East Coast will be faster than one on the West Coast.
Use lightweight protocols like IKEv2, L2TP/IPSec, and WireGuard.
If you can only use OpenVPN, use it over UDP instead of TCP.
Watch Netflix outside the US on wired connections, if possible (so not Wi-Fi).
Use split tunneling to ensure the VPN only routes Netflix traffic (other data could slow it down).
Will Netflix Ban You If You Use a VPN?
No. Even though Netflix's ToS say you're not allowed to "circumvent, remove, alter, deactivate, degrade or thwart any of the content protections in the Netflix service" otherwise Netflix will "terminate or restrict your use of our service if you violate these Terms of Use," we haven't heard of anyone getting banned for using a VPN with Netflix.
If Netflix catches you using a VPN, they will only redirect you to the Netflix proxy error page. But they won't ban your account.
Final Thoughts
That's it, folks. This is all you need to know about how to watch Netflix outside the US. Whether you're traveling abroad or live in another country, there's no reason not to take full advantage of this simple way to unblock content on this popular media streaming service.
We hope you'll manage to make this happen. If you experience any issues, you can count on us for help. Just leave a comment below.