Global TV is one of the best-known Canadian television networks. It is, in fact, the second most watched private broadcast TV network after CTV. Unfortunately, if you plan on traveling outside of Canada, you will no longer be able to watch your favorite shows unless you have a VPN. So, let's teach you how to watch Global TV outside Canada.
5 Best VPNs to Unblock Global TV Outside Canada
When it comes to VPN, you certainly need a trustful guide. Having reviewed dozens of VPNs, TechNadu's team is ready to present 5 best VPNs for unblocking Canadian Global TV. Take a look.
1. ExpressVPN
Our first recommendation is ExpressVPN, one of the world's best VPNs. The tool offers over 2,000 servers for users to pick from. It also manages to not only quickly connect people to the selected servers, but also to keep up their Internet speeds, something that doesn't happen with many VPNs.
Another bonus point for ExpressVPN comes from the fact that it comes with a kill switch, which prevents any of your data from reaching your ISP if your server drops for any reason, thus protecting your privacy.
ExpressVPN works on multiple platforms, including Windows, Mac, iOS, and Android. We have a full review of ExpressVPN ready to help you make up your mind about what tool to pick.
2. IPVanish
Second on our list is IPVanish, a tool that uses 256-bit encryption protocols to secure your data. Furthermore, it promises not to hold onto any kind of traffic logs, so your secrets are your own.
IPVanish allows users the chance to connect to over 1,000 servers in over 60 countries and to protect up to five devices at once.
The VPN comes with multiple platform support, including Windows, Mac, Android, iOS, and more. Our IPVanish review is ready for you to read, so you can have all the details.
3. SaferVPN
Next up we have SaferVPN, a tool that's been around for only a few years. Based in the USA, SaferVPN offers users over 700 servers in 34 countries to connect to. The VPN allows users to connect up to five devices, and since it works on Mac, iOS, Android, and Windows, all your devices are likely covered.
The company also claims it holds no logs on users' activity, so that's a bonus. On the downside, SaferVPN doesn't support P2P, so if you're a fan of torrents, you may want to keep looking. We have a detailed review of SaferVPN ready for you.
4. Buffered VPN
BufferedVPN is up next on our list of recommendations. The VPN has some great customer service that works around the clock to iron out any issues users may have, which is great.
It also uses 256-bit encryption to protect users' data and provides people with unthrottled connections, which means that your Internet speeds remain the same even if you're routed through servers across the world. Talking of servers, BufferedVPN has them in 45 countries, but the network is quite small when compared to some competitors.
The VPN works on Windows, Android, iOS, and Mac. Our Buffered VPN review has all the details you need.
5. NordVPN
Our last suggestion is NordVPN, one of the VPN with the largest and fastest-growing server networks. Growing by 200 in the past week alone, there are now over 5,100 servers in 62 countries.
NordVPN uses 256-bit encryption protocols to secure your data, and also has a double-VPN feature, which means you get to hide behind multiple servers, instead of just one. There's also a CyberSec feature which flags any dangerous website you want to access.
NordVPN works on Windows, Mac, Android, iOS, and more. We have a full review of NordVPN ready for you.
FAQ
We understand that you can't wait to stream Global TV. However, let's take this chance to teach you a few things about this broadcaster. So, let's dive deeper.
What is Global TV?
Founded in 1974, Global has come a long way, becoming one of the best networks in the country. It includes news coverage, entertainment, and sports in its programming, managing to offer something to view for everyone and their tastes.
Where is Global TV Available?
As we've already mentioned, Global TV is only available within the Canadian borders. This is a common occurrence with platforms that serve TV networks, so it's not really a big surprise. Therefore, if you're planning on traveling abroad, you'll need a VPN to make it work.
The Global TV platform includes some free-to-view content, but you need to log in for most of it. Unfortunately, you can only do so with Canadian TV provider credentials. Since there are no video-on-demand platforms that include Global content, there's no way around this little issue.
On What Devices Can You Watch Global TV?
The network has an app platform called Global Go. The apps work on iOS and Android devices, but there's also a Global Go app for Apple TV if you want to watch it in that manner too. Plus, there's always the option of watching the content straight from your web browser.
What Can You Watch on Global TV?
When it comes to great content, Global TV does not mess around. There are dozens of shows that you can enjoy, including shows like Big Brother and Saturday Night Live, but also the likes of NCIS, Bull, SWAT, or The Simpsons. There are some 'dinosaurs' like The Young and the Restless, or Days of Our Lives, the first airing since 1973, and the latter since 1965.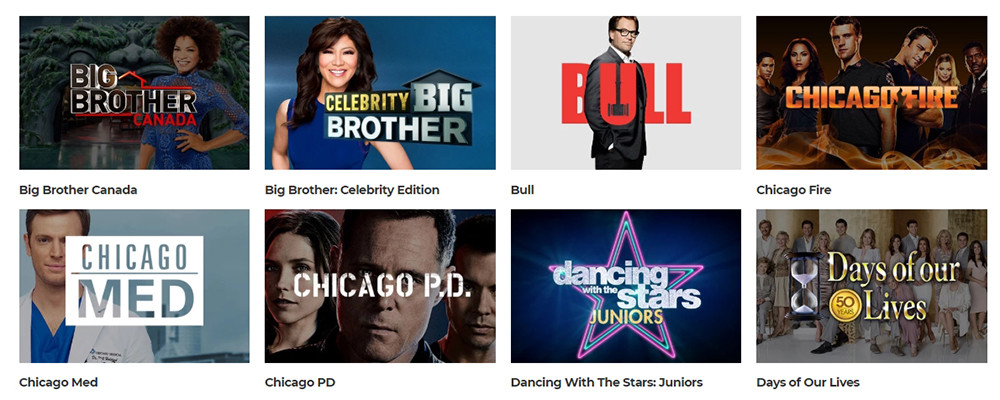 You can also watch live programming that's being broadcast on Global TVv, so you can keep up with everything that's going on.
How to Watch Global TV Without the Geo-Block?
If you're planning on watching Global TV while you're away from home, you're going to need a VPN to make it work.
VPN stands for Virtual Private Network, and it's a tool that allows you to view content that's blocked geographically by making it appear as if you're in that location. It's also a great way to secure your data. Even though they are some pretty complex tools, they're not really difficult to use nowadays, mostly thanks to the intuitive interface. Therefore, even if you're just getting started, it shouldn't be too difficult to figure it out.
To unblock Global TV outside Canada, all you need is to launch ExpressVPN. Then, select a server located in this country and connect to it. That's it – from there on, you'll get to stream Global TV without any limitations.
Global TV is a great platform, and we understand why you'd want to keep up with the content everywhere you go. So, we hope that now you know how to unblock Global TV from just about anywhere.
If you enjoyed our guide, please let us know in the comments section below, and share it online with friends and family. And one more thing – make sure to follow us on Twitter and Facebook. Thanks!