CTV is Canada's largest privately-owned TV network, known for broadcasting American hit series, original programming (including movies and TV shows), and more. Even though that's great for people living in Canada, this broadcaster's geo-restriction is an obstacle for those outside the country. So, is there a way to watch CTV outside Canada? 
Yes – if you're a Canadian who is currently abroad, and if you (or someone else you know) have a TV subscription that includes CTV, you can watch this channel from anywhere. So, let's show you how that is done.
Where Is CTV Available? 
CTV is available throughout Canada and in the northern parts of the US via cable or antenna. This applies to all CTV-branded channels.
Just like with similar television networks, it's hard to imagine CTV being available in any other country (at any point in the future). Still, thanks to the newly-redesigned Web platform (which now brings on-demand and live content), you can watch CTV even outside Canada using a VPN and by relying on your Internet connection.  
How to Watch CTV Outside Canada
And now, here are the 6 steps to watch CTV outside Canada in 2021:
Step #1: Find the Best-Working VPN to Unblock CTV
CTV can be surprisingly hard to unblock outside Canada, which is why you need a capable VPN with a proven track record. Based on our experience and hands-on tests, you should go for ExpressVPN (which is also the best VPN available right now).
3,000+ VPN servers in 160 VPN server locations in 94 countries, 5 Simultaneous connections, Fast and stable connection, No activity logs or connection logs, No bandwidth limits, Strong encryption, 24/7 live chat support, and 30-day money-back guarantee.
ExpressVPN doesn't only give you access to CTV. Its Canadian servers are capable of unblocking CBC, City TV, and Sportsnet Now. Still, that doesn't mean you don't have more options. So, to keep exploring, head over to our article on the best VPNs for media streaming. 
Step #2: Get Your VPN Subscription
Before we go any further into this process, know that you must have a VPN subscription. If you want to listen to our advice, go ahead and get your ExpressVPN subscription. Once you land on its website, pick 'Get ExpressVPN' and then pick a subscription plan.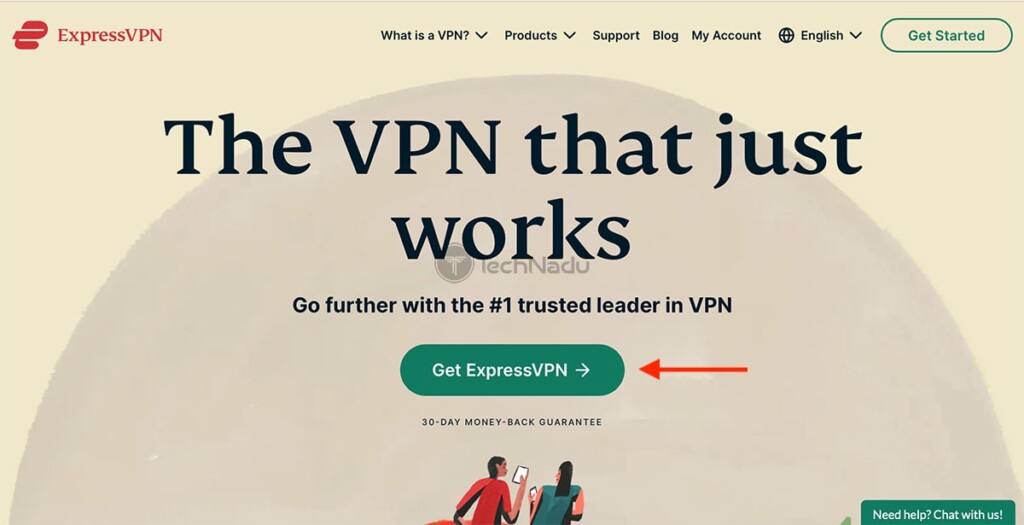 You will be asked to enter your email address and pick a payment method. So, once you input the required information and pay, you'll receive a confirmation email. Proceed to check your inbox and then jump to the next step.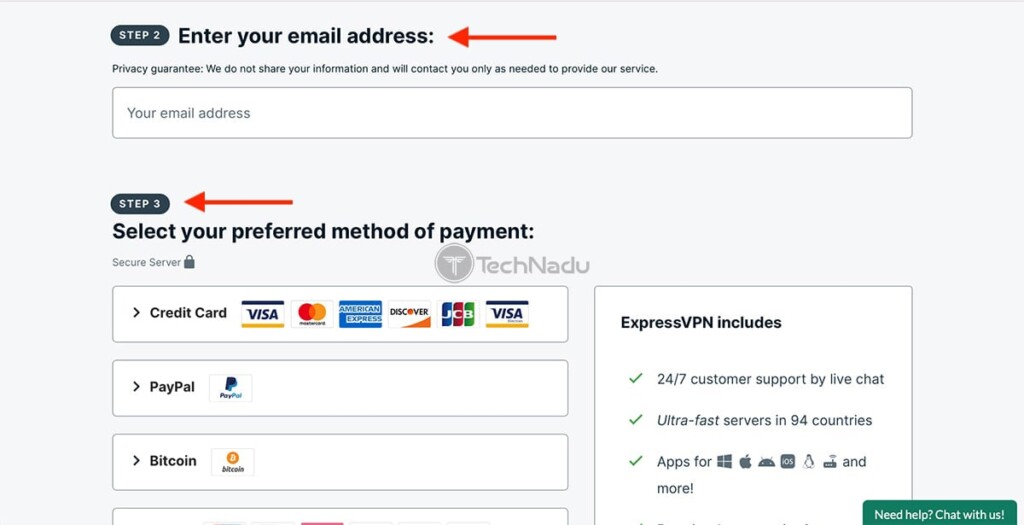 Step #3: Download & Install the VPN on Your Device(s)
Thanks to ExpressVPN, no matter which device you might use, you'll get to unblock and watch CTV outside Canada. That's because this VPN is compatible with 60+ devices. To get started, here's our guide on downloading, installing, and using ExpressVPN (on all of its supported devices).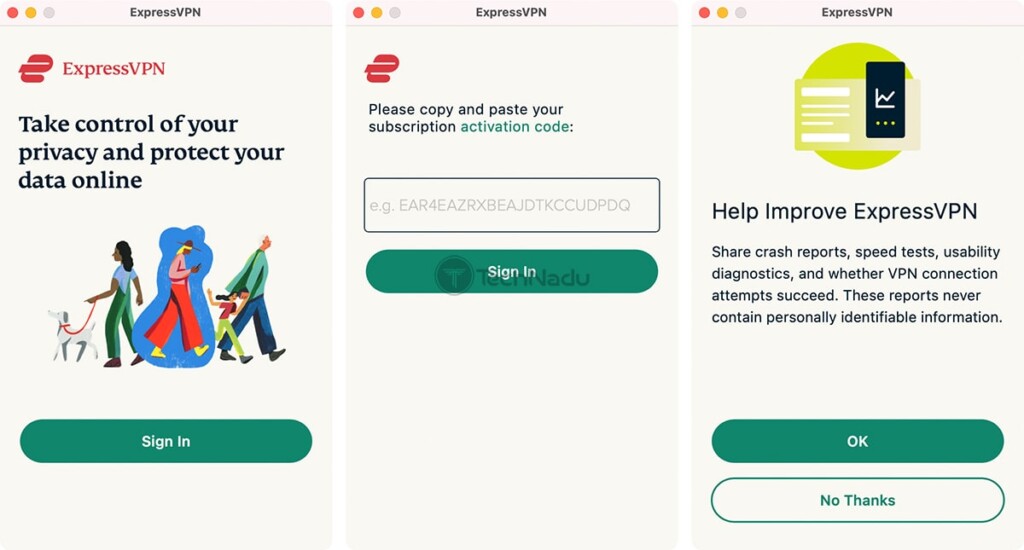 After you install ExpressVPN, launch it for the very first time. You'll be asked to log in, and you can use your ExpressVPN activation code to speed things up. Then, go through the initial setup, and you'll finally reach ExpressVPN's home screen.
Step #4: Connect to a VPN Server in Canada
To watch CTV outside Canada, you need a Canadian IP address. You can obtain one by connecting to an ExpressVPN server found in that country. So, start by clicking on the button just below the circular ON/OFF switch on ExpressVPN's home screen.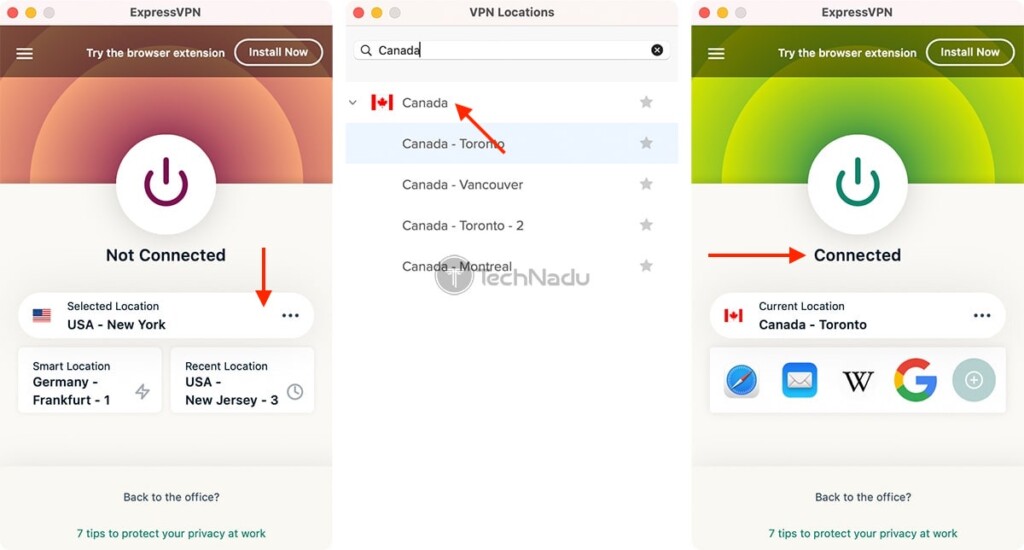 Then, look for 'Canada' using the top-placed search bar to look up the country's name. Pick any server and double-click on it. ExpressVPN will now connect you, giving you a Canadian IP along the way. Proceed to the next step once ExpressVPN's home screen (the upper half) turns green.
Step #5: Unblock & Access CTV From Anywhere
You should now access CTV using any Web browser. However, before you can stream its content, you need to log in to this Web platform. Select 'Sign In' in the top-right corner and then pick your TV provider. Proceed to follow the on-screen prompts and finalize the sign-in/sign-up procedure. 
Once you sign in, CTV's entire library will open up. You are now free to access any of its on-demand content, and you can also watch a number of live CTV TV channels. Remember to keep your VPN session active as long as you plan to watch CTV outside Canada.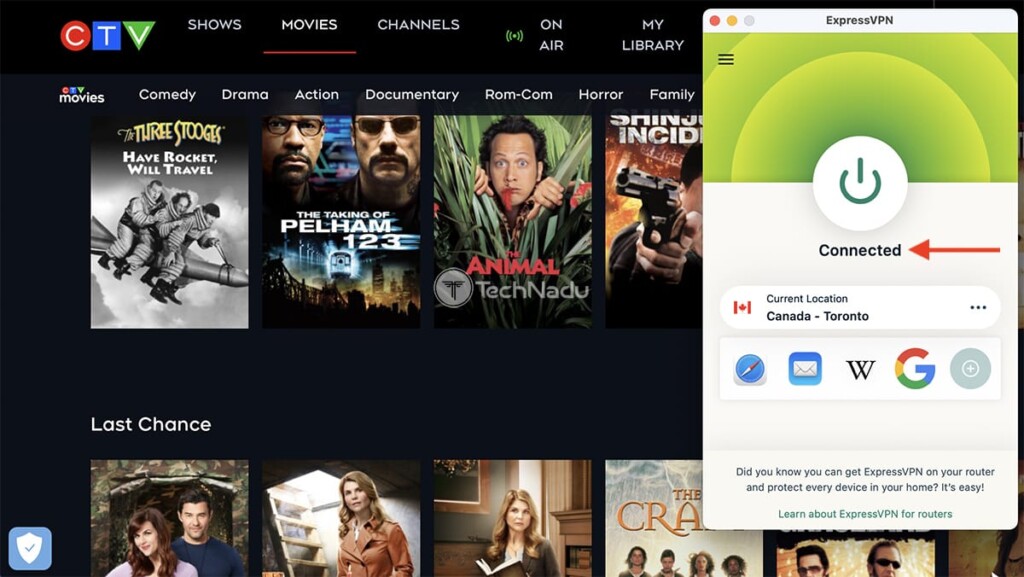 Step #6 (Optional): Get CTV on Other Devices
Considering that ExpressVPN is available on smartphones and tablets, nothing stops you from using CTV on those devices. With that said, know that you can download the CTV app on iOS/iPadOS and Android devices. And also, you'll want to try the CTV News app for iOS/iPadOS and Android (which you can unblock using ExpressVPN as well). 
Keep in mind that both the CTV and CTV News app are available on the Canadian version of Apple's App Store and Google's Play Store. Since you're reading this article, the chances are that you already have a Canadian account. However, if you don't have one, you can always get a new Apple ID or sign up for a new Google account. 
While signing up, make sure to pick 'Canada' when asked about your country. And also, make sure to have an active VPN session in the background. Apple will ask you for a Canadian address as well, so feel free to use any (Google can help you with that). Then, log in to your new account on your smartphone or tablet and download CTV-branded apps from there. 
FAQ
What Is CTV?
CTV is a Canadian terrestrial television network known for its entertainment programming sourced from American and Canadian production companies.
What Can I Watch on CTV?
CTV comes with a large selection of movies and TV shows that include Animal Kingdom, Masterchef, Gossip Girl, Garage Sale Mystery, Sydney White, and more.
On What Devices Can I Watch CTV?
CTV is available on any computer, smartphone, and tablet, in addition to media streaming devices and smart TVs. Learn more on CTV's website. 
Can I Watch CTV Without a Subscription?
Even though CTV doesn't offer a standalone subscription and comes for free, you still need a subscription to a compatible TV provider in Canada. 
Can I Watch CTV Outside Canada Using a Free VPN?
Unfortunately, we weren't able to find any free VPNs that can unblock CTV outside Canada. So, your best option right now would be ExpressVPN. 
That would be all on how to watch CTV outside Canada in 2021. If you have any questions for us, make sure to post them via the comments section below. And lastly, thank you for reading!