Comedy Central (CC) is one of the most-viewed channels in the US. It has a wide catalog of content, including TV shows, movies, stand-up specials, and more - featuring titles such as Broad City, Drawn Together, and Inside Amy Schumer. However, the entire content catalog is restricted to the US only, and you can't watch your favorite shows while traveling outside your home country. So, the question is – how to watch Comedy Central outside the US? 
By using a VPN service, you can unblock websites not typically available in your country. And yes, you can also unblock Comedy Central with a VPN.
As mentioned above, Comedy Central's content is available in the US only. You can access the catalog using your TV provider. If you can't sign in with that, a 24-hour viewing pass is available on the official website, but you have to register with your email, password, and DOB. Also, a number of OTT platforms, such as Paramount+, Hulu, Youtube TV, etc., have CC streaming rights. 
But, no matter which method you pick, you need a VPN to access Comedy Central from abroad. It's because VPNs hide your location and real IP address and enable you to get a virtual IP in your home country. So, you can easily unblock Comedy Central outside the US.
Here's our complete guide on how that's done. Have a look.
Where Is Comedy Central Available? 
Comedy Central is available in the United States, which is the TV channel's country of origin. However, it's also available internationally – with a catch. 
The catch is that Comedy Central is present in a number of countries across the world, i.e., Asia, Africa, Australia, Belgium, Canada, Czech Republic, Germany, Hungary, Middle East, Poland, New Zealand, Netherlands, Spain, Sweden, the UK, and Russia. However, it doesn't offer the same content as its original (US) version in all these countries. 
Due to broadcasting and streaming licenses, Comedy Central's shows are scattered across a vast number of streaming services, most of which are regional. So you'll get the following error message "Sorry, this video is not available from your location." while streaming any content belonging to the US catalog from a foreign country. 
With that said, we're sure that you want everything from a single place, which is where the US version of Comedy Central comes into play. That especially applies to on-demand content, letting you binge-watch entire seasons at once via CC's website.
How to Watch Comedy Central Outside the US
To watch Comedy Central outside the US, you need a VPN that has servers in different locations across the US. That's how you can mask your present location and get a virtual US IP. So, here's what exactly you need to do:
Then, visit its official website and log in to your online account dashboard.
From there, download the suitable native VPN app for your device.
Now, install it and log in to your VPN account.
Connect to any server found in the United States.
Start streaming Comedy Central. That's it!
You can watch any content you want on Comedy Central now. Make sure to clear the cache and cookies before you start with the steps. And, keep the VPN connection alive if you want to stay connected to your chosen VPN server 24x7.
How to Unblock Comedy Central Outside the US from Anywhere
Finally, these are the 6 steps to watch Comedy Central from anywhere:
Step #1: Find the Best-Working VPN for Comedy Central
There are two ways to watch Comedy Central on the Internet. You can watch it live, or you can watch its content on-demand. Either way, we're talking about media streaming here, which means you need a highly capable VPN, such as ExpressVPN.
3,000+ VPN servers in 160 VPN server locations in 94 countries, 5 Simultaneous connections, Fast and stable connection, No activity logs or connection logs, No bandwidth limits, Strong encryption, 24/7 live chat support, and 30-day money-back guarantee.
After having tested 60+ VPNs, we highly recommend ExpressVPN, especially for unblocking Comedy Central's content. Aside from that, this VPN grants you total online anonymity. Still, other options are there as well, as you can see in our guide on the best VPNs for streaming.
Step #2: Get Your VPN Subscription
Before we let you proceed any further, know that you need to have an active VPN subscription. If still in doubt, go ahead and subscribe to ExpressVPN. You will land on the VPN's site, where you can begin signing up by clicking on 'Get ExpressVPN.' Then, select a subscription plan aligned with your needs and budget.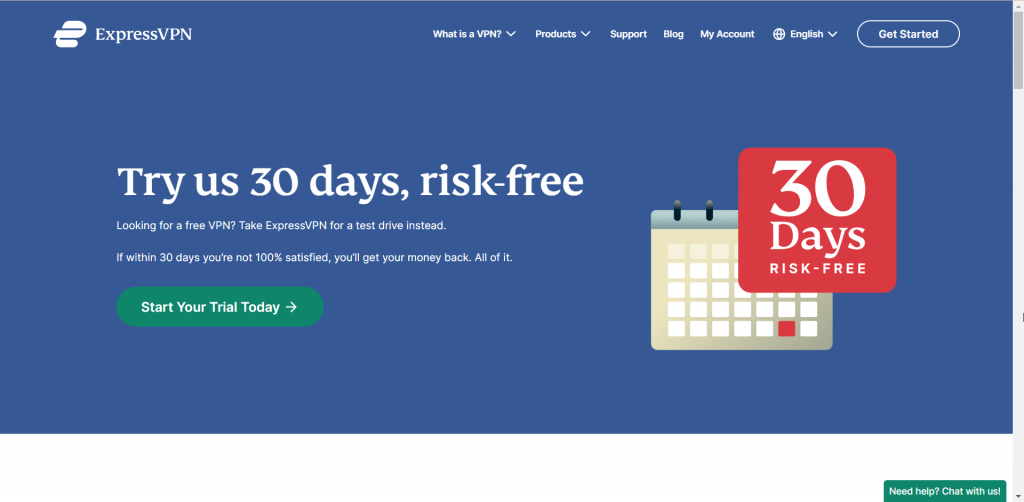 ExpressVPN will ask for your email address (you don't have to use your personal one), and you'll need to pick a payment method. Once you fill out the required information and pay, the VPN will send you a confirmation email. Check your inbox, and then keep on reading this guide.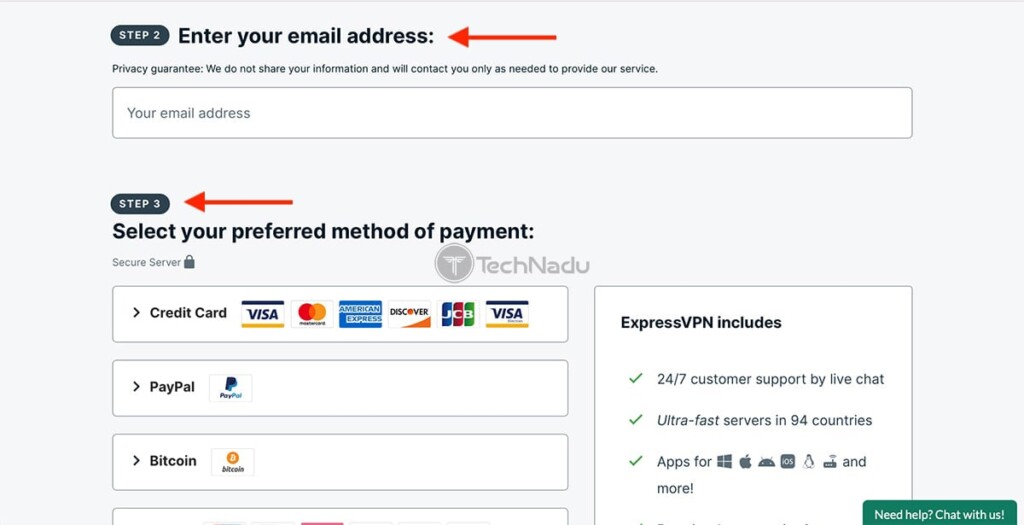 Step #3: Download & Install the VPN on Your Device(s)
Since ExpressVPN supports up to 5 parallel connections, you'll want to watch Comedy Central on all your devices. Even better, ExpressVPN works on 60+ platforms and devices in total. Use the provided link, pick your platform(s), and follow the installation instructions you'll see there.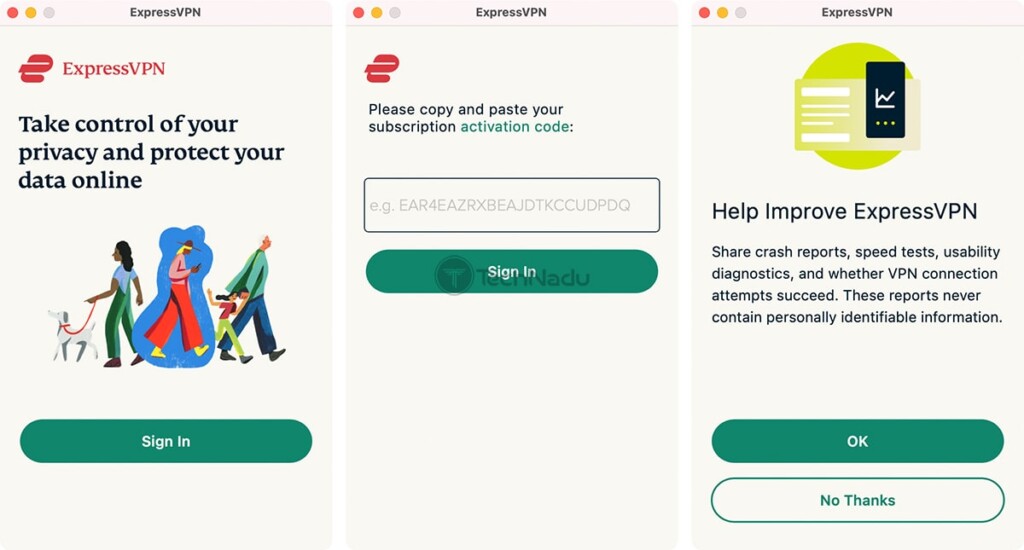 We want to remind you to prepare the VPN for use by running it for the first time. Access your subscription, for which you can use your ExpressVPN activation code. Complete the initial setup and proceed to the next step once you see the VPN's home screen. 
Step #4: Connect to a VPN Server in the US
You've reached the final step before you get to watch Comedy Central outside the US. So, start from ExpressVPN's home screen, where you need to click on the button below the ON/OFF switch. That will open a new window, listing thousands of ExpressVPN's servers. 
Use the top-placed search bar to look up 'United States.' Then, double-click on the country's name. The VPN will pick the fastest available server and connect you automatically. Of course, you are also free to select any individual server based on your preferences.
Step #5: Unblock & Access Comedy Central From Anywhere
You can now use any Web browser to access Comedy Central's website. Then, pick any episode you'd like to stream, and ExpressVPN will unblock your access. However, keep in mind that Comedy Central offers different tiers of access to its content.
First, there are free-of-charge episodes available without registration. You can watch some episodes by registering for a 24-hour pass. However, to unlock everything, you need to supply TV provider credentials. In case you don't have access to this TV channel, here's how to sign up for Comedy Central outside the US.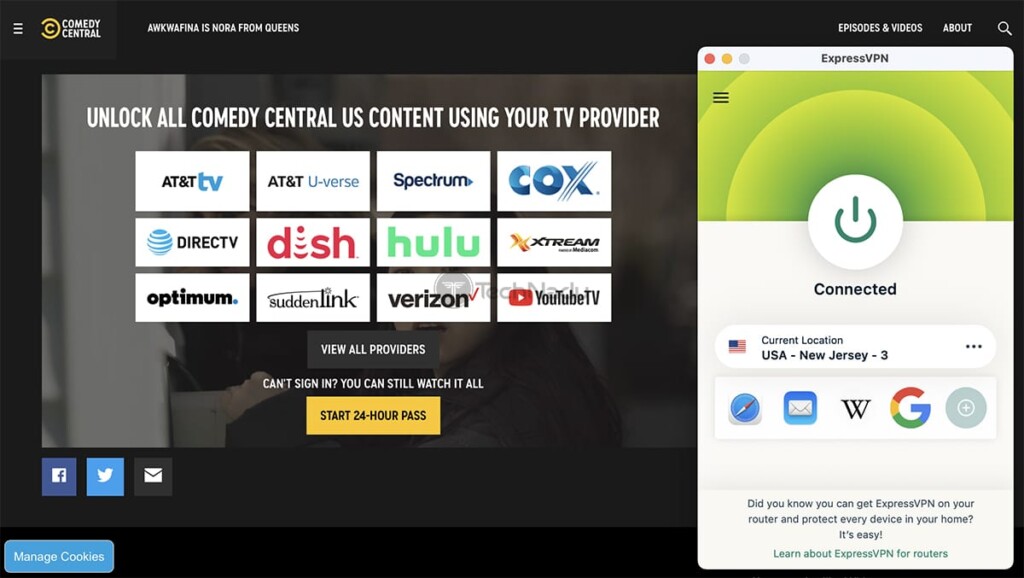 Step #6 (Optional): Get Comedy Central on Other Devices
It's not that surprising that Comedy Central has apps for iPhones, iPads, and Android. You can also use its app across media streaming devices. However, you'll need a Google or Apple account registered in the US. 
At any moment, you can sign up for a new Google or Apple account. Still, make sure to use your VPN while signing up, and pick 'United States.' When/if asked about an address, you can use this US address generator. Getting a new account shouldn't be a problem and should take only a minute of your time.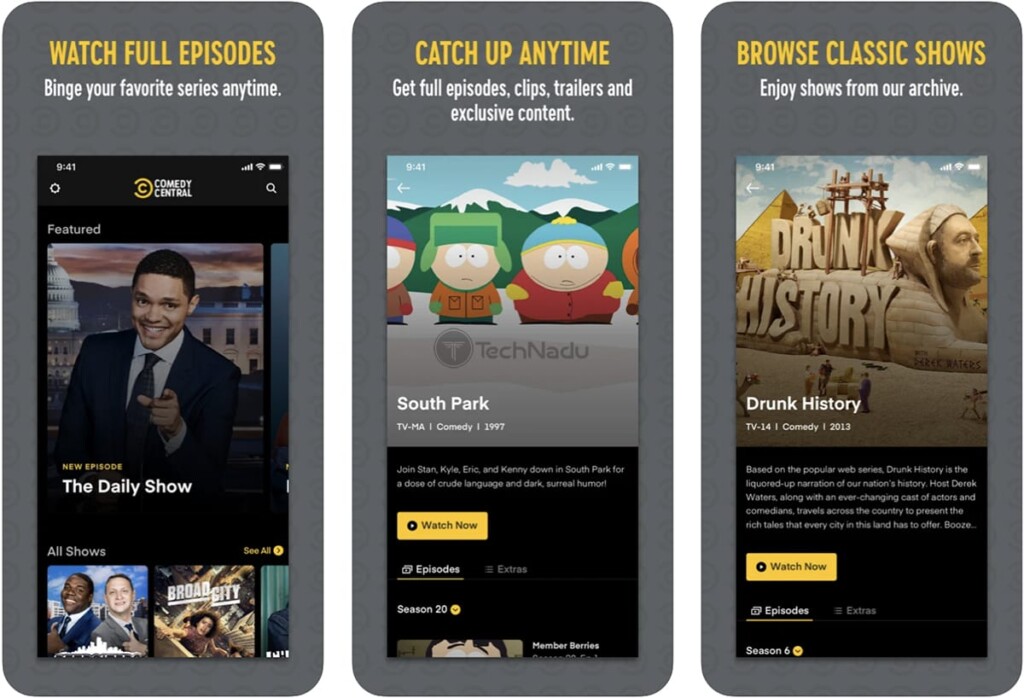 Then, don't forget to log in to your account – on your iPhone, iPad, or Android device. You'll need to log out of your old account first, so use the Settings app on your phone. After that, download the Comedy Central app and use ExpressVPN to unblock it. 
How to Watch Comedy Central Outside the US without Cable
As mentioned earlier, you can access Comedy Central's content only using a supported cable, satellite, or OTT service. So, if you're outside the US, the following are your best options.
1. Paramount+
Unique Stories. Iconic Stars. A Mountain of Entertainment. Growing collection of Paramount+ Originals, Tens of thousands of episodes and shows from CBS, BET,Comedy Central, Nickelodoen, MTV, and Smithsonian Channel.
Paramount+ is a freshly released streaming service that brings content from CBS, BET, MTV, Nickelodeon, Smithsonian Channel, and – Comedy Central. It's quite affordable, as it has just added a new $4.99/month tier, which comes with ads. To learn more, here's how to watch Paramount+ outside the US. 
2. Philo
50+ channels, unlimited DVR. Save money without sacrificing quality. Live your best life with Philo. All the features, none of the hassle. TV Shows & Movies.
When it comes to watching Comedy Central live, the most affordable way comes via Philo. Priced at only $25/month, you get access to 60+ channels, unlimited DVR, and support for up to 3 simultaneous streams. Make sure to learn more about Philo's plans, and here's how to access Philo from outside the US. 
3. fuboTV
Watch Your Favorite Shows, Movies & Sports ON ANY DEVICE. ANYTIME. ANYWHERE. Watch and DVR the channels you love. No contracts, no commitment.
Even though fuboTV is more expensive than our previous recommendations, it's still worth its price. For $69.99/month, you get Comedy Central and over 100 live TV channels, including their dedicated on-demand libraries. Here's what you need to know about fuboTV's channels and packages. And here's how to sign up for fuboTV outside the US. 
4. Sling TV
Sling is the live TV you love for less. Customize your channel lineup and watch TV online with no setup, hidden fees or long-term contracts.
Sling TV comes with a couple of subscription plans, trying to keep things relatively simple. With that said, know that Comedy Central is part of Sling's Blue and Orange plans, both are priced at $35/month. For that price, you get 50 hours of cloud-based DVR and a single stream. Learn more about Sling TV's plans, and then check how to get Sling TV outside the US. 
5. YouTube TV
85+ top channels of entertainment, news, live sports, & more. Recording without storage limits and 6 accounts included. No cable box, contracts, or hidden fees.
And lastly, know that YouTube TV lets you watch Comedy Central outside the US, alongside 85 additional channels. It comes priced at $54.99/month for the first 3 months ($64.99/month thereafter), and it's available across a massive number of devices. To dive deeper, check our instructions on watching YouTube TV outside the US.
Final Thoughts
We have mentioned all the processes available to watch Comedy Central outside the US. We'll recommend ExpressVPN to unblock this channel anywhere. ExpressVPN comes with a handful of servers in different US cities. You can connect to any of the US servers to bypass geo-restrictions and stream Comedy Central interruption-free with unlimited bandwidth. 
However, you can always choose another streaming VPN service if it suits your requirements. 
FAQs
What Is Comedy Central?
Comedy Central is a basic cable channel focusing primarily on comedy programming. It's available in the United States, as well as across the world. 
What Can I Watch on Comedy Central?
At the moment, the most popular shows on Comedy Central are: Awkwafina is Nora from Queens, Another Period, The Colbert Report, Chappelle's Show, and more.
Is Comedy Central on Any Streaming Service?
Yes, Comedy Central is available on streaming services like Paramout+, Philo, fuboTV, Sling TV, and YouTube TV. You can learn more about that here. 
Do You Have to Pay for Comedy Central?
Yes, you have to pay for Comedy Central, especially if you want to watch its live stream or access the latest episodes on-demand. 
You should also know that some content on Comedy Central's website is free, which might quench your thirst if you're not looking for the freshest episodes. 
What's the Cheapest Way to Watch Comedy Central?
The cheapest way to watch Comedy Central live is via Philo. It's priced at only $25/month and gives you access to more than 60 channels.
Can a Free VPN Unblock Comedy Central Outside the US?
Sadly, no. You won't find a free VPN that can reliably unblock Comedy Central. That's because all free VPNs come with speed and bandwidth limits. 
How Can I Watch Comedy Central USA in the UK?
To watch Comedy Central USA from the UK, you need a VPN with multiple servers in the US. Next, sign up with its risk-free trial plan and install it on the device you're using for streaming. Next, choose a server in the US and connect to it to unblock Comedy Central from the UK.
Can You Watch Comedy Central on Amazon Prime?
Yes, you can watch Comedy Central content on Amazon Prime Video. As per a report by NBC News, Amazon has made a deal with Viacom, and now shows from Comedy Central, MTV, Nickelodeon, Spike, TV Land, BET, VH1, and CMT are available to stream on Prime Video.
Can I Get Comedy Central on YouTube TV?
Yes, Comedy Central is available as a channel on YouTube TV. You can watch any on-demand video content you want on Comedy Central through this streaming platform. 
That would be all on how to watch Comedy Central outside the US. If you have any questions for us, let us know via the comments section below. And lastly, thanks for reading!