As many countries are responding to the COVID-19 outbreak, plenty of restrictive measures are introduced. However, the most important one is related to social distancing - putting some physical space between yourself and your friends, colleagues, and family. Still, this type of isolation doesn't come easy, especially since there are predictions that it might last for some time. With this said, if you're feeling social, you can use today's technology to stay in touch with those you care about, while also protecting yourself during the Coronavirus outbreak. One of the things you can do is to watch Netflix with your friends online. So, we'll teach you how to enjoy a relaxing activity such as watching movies while overcoming the hurdles of social distancing. 
We understand that many of you are relying on media streaming services right now. After all, there are so many popular streaming platforms out there, many of which are quite affordable (which doesn't help with the problem of fragmentation, though). However, the most popular option right now seems to be Netflix, whose traffic has recently hit an all-time high. This is also the reason why this platform has decided to stick to SD streaming in Europe, as to avoid problems with Web connectivity on a larger scale. With this said, it's time to think about enhancing your Netflix-streaming experience.
Recently, we told you about how to find "hidden" Netflix titles that are not available in your country. Today, we'll provide additional assistance on getting the most out of this platform. More precisely, we'll teach you how to watch Netflix with someone (online or offline). So, let's jump right in, shall we? 
How Can I Watch Netflix With My Friends Online?
Sadly, Netflix doesn't offer this option natively. However, users of Google Chrome are in luck, as there are some extensions that bring this functionality. All of those do the same thing: they allow you to synchronize video playback while adding group chat. It means that hosting long-distance movie nights is a possibility, which is especially helpful during the current Coronavirus crisis.
How to Host Long-Distance Movie Nights via Netflix Party?
By far, the most popular way of binge-watching Netflix with your friends is by using Netflix Party. It is an entirely free Chrome extension, very simple to install and use. You'll get to watch pretty much anything on Netflix (any movie or TV show) with friends by synchronizing video playback. The extension also adds a group chat window, so it will be like live-streaming Netflix.
Finally, here's how to set-up and use Netflix Party in five simple steps:
You need to make sure that you're running Google Chrome. If you're not using this Web browser, download it from its official website. Install the application on your computer, and then proceed to the second step.

 
Then, you need to install the Netflix Party extension. Click on the provided link while using Chrome, and then click on 'Add to Chrome.' You'll be asked to proceed, so you need to click on 'Add Extension.'
Now, go to Netflix using Chrome and then feel free to select any movie or TV show. Once the video starts playing, click on the red-colored "NP" icon (located in the top-left corner of your Web browser). You can decide whether only you'll have the control over the session, and then click on 'Start the Party.'
At this moment, you will see a Web address. Make sure to copy that URL and then share it with anyone you'd like to invite to the session.

 

That's about it! Once everyone joins, you'll get to chat live, sync your video playback, and more. Netflix Party allows you to upload screenshots, emojis, and GIFs as well. Also, you can change your nickname and personal icon in the top-right corner.

 
In case you'd like to join a Netflix Party session you'd first need someone to send you a link. Click on that link, and you'll automatically open the appropriate Netflix playback page. Finally, make sure to click on the Netflix Party icon, and you'll join the session automatically. 
Important Note: To use Netflix Party, you need Google Chrome. And also, you need to have the Netflix Party extension installed on your browser. So, make sure that everyone joining your session meets these requirements. 
Are There Any Other Options for Binge-Watching Netflix With Friends Online?
Netflix Party is your best bet right now. The extension is really simplistic, completely free of charge, and easy to set up. However, we know that some of you would like to check additional options. So, here are other ways to host long-distance Netflix-watching parties.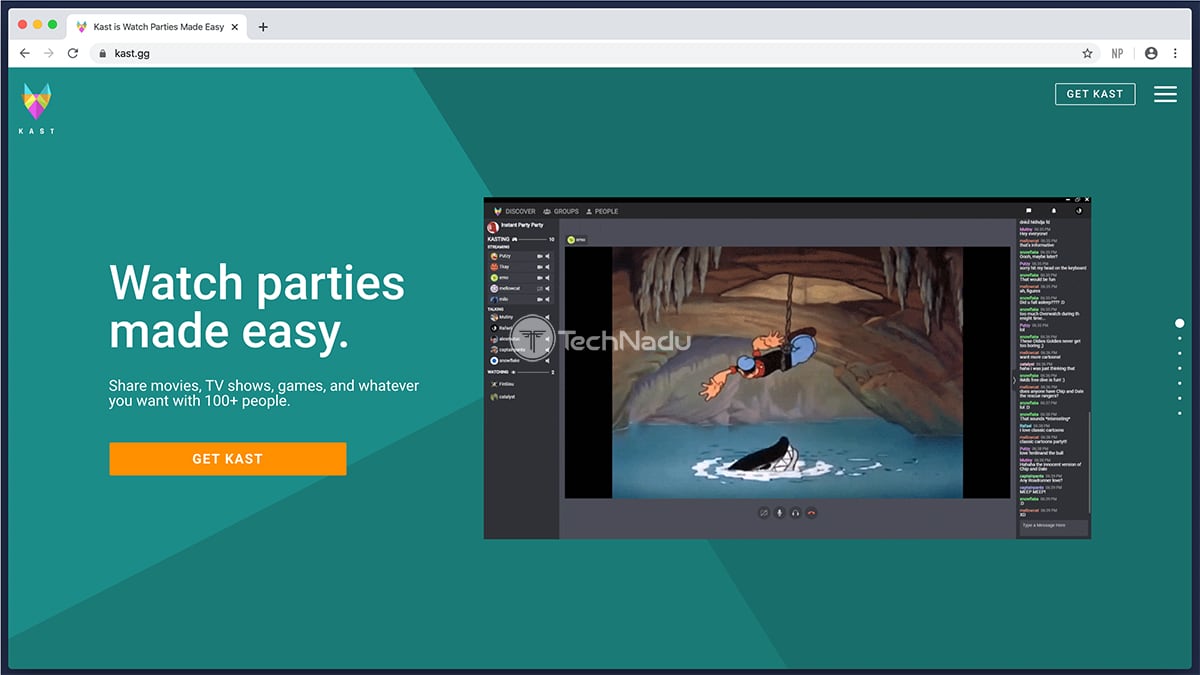 Kast is a comprehensive live-streaming and communication app. It allows you to share your screen with over 100 individuals at the same time. So, you can listen to music together, play games, or chat. In these times, when social distancing is essential, applications like Kast are a good way to bridge the social gap you might be feeling.
Kast isn't a Web browser extension, but a standalone app you can start using for free. It supports a considerable number of platforms and Web services, and of course, Netflix is among those platforms as well. It might not be the simplest application of its kind, but we're sure you're going to love it, nonetheless.
Supported Platforms: Windows and macOS.

 

Possible Use Cases: Hosting long-distance movie nights; Group video chatting; Community-style video gaming; Staying in touch with friends and family.

 

Does It Support Netflix: Yes - comes with full Netflix support.

 

Price: Free of charge; Premium starts at $4.99/month.

 

Learn More: kast.gg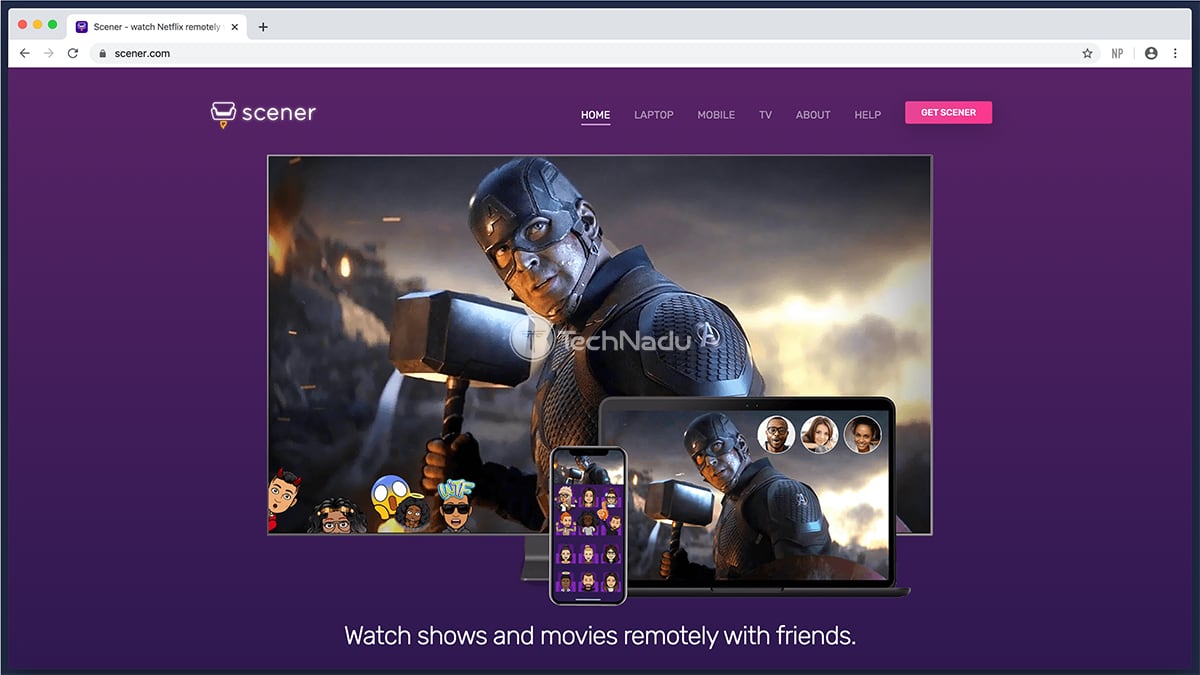 This is a highly polished app that allows you to create a "virtual" theater. In many ways, it's similar to Netflix Party. It means that you run it in your Chrome, pick a movie or TV show to play, and then initialize Scener to check with your friends. This one also allows you to fine-tune your experience by including your Twitter and Instagram accounts, bringing additional social media networks into your movie-watching experience.
It's also worth mentioning that Scener comes with an iOS app. You get to watch movies and TV shows with others, exchange emojis, and switch to a "virtual theater" mode where you have a nice visual representation of everyone in the current session.
Supported Platforms: Chrome, iOS, and Roku (coming soon).

 

Possible Use Cases: Watching movies online with others; Creating virtual theaters.
Does It Support Netflix: Yes - comes with full Netflix support.

 

Price: Free of charge.

 

Learn More: scener.com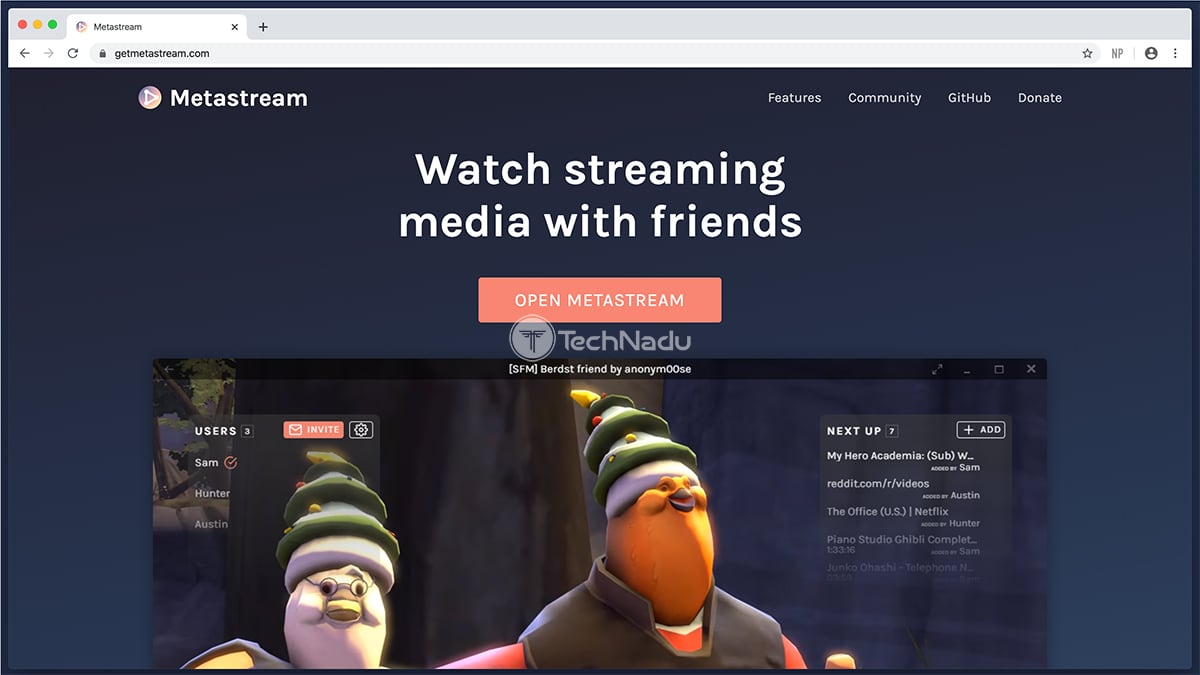 Finally, we have yet another way to watch Netflix with friends online. However, Metastream isn't only about Netflix, as it supports YouTube, Twitch, SoundCloud, Hulu, and plenty more websites. You can share all of these via sessions that you can create and then invite others to join. You're also free to create playlists and chat with others while videos are playing - all without leaving your Web browser. And speaking of Web browsers, Metastream works on Chrome and Firefox.
Using this Web browser extension is really simple - as is inviting anyone to join your session. And finally, know that Metastream comes free of charge. However, if you genuinely enjoy using this extension, you can always support its creators via Patreon.
Supported Platforms: Google Chrome and Mozilla Firefox.

 

Possible Use Cases: Creating long-distance movie nights; Watching playlists of video files; Sharing and watching custom-curated playlists with anyone.
Does It Support Netflix: Yes - comes with full Netflix support.

 

Price: Free of charge.

 

Learn More: getmetastream.com
So, that would be all we've prepared for this article. With this said, we hope that you're going to enjoy watching Netflix with your friends online. You have numerous options in front of you, and we hope that we helped you find the best tool for the job.