TBS offers a bit of everything, from talk shows to sitcoms and Hollywood-made movies. And also, this is home to titles like American Dad, Full Frontal with Samantha Bee, The Misery Index, Miracle Workers, and more. The only problem is that TBS isn't freely available across the world. So, you probably wonder if it's possible to watch TBS outside the US, right? 
Well, know that TBS imposes geo-blocks for a reason, so you'll need a bit of help to bypass those. With that said, we'll introduce you to VPN applications capable of unblocking websites, among many other things. Let's jump right in, shall we? 
Where Is TBS Available? 
TBS is available across the United States and its territories. Sadly, it's not available outside the United States in its original form.
It means that thanks to Turner Entertainment International, some of the content that originates from TBS is available in other countries across Europe, Latin America, Africa, the Middle East, and Asia-Pacific. Still, that content is often scattered across several TV channels and standalone streaming services. 
With that said, if you want to get everything that TBS offers, you'll want to access its American version (available via its official website). Don't worry - we'll show you exactly how that is done.
How to Watch TBS Outside the US? 
And now, here are the 6 steps to watch TBS outside the US in 2021: 
Step #1: Find the Best-Working VPN to Unblock TBS
Your first step would be to pick a reliable and trustworthy VPN service. On top of that, your chosen VPN must be capable enough to offer smooth and fast streaming. So, based on our hands-on experience, we strongly recommend you pick ExpressVPN.
ExpressVPN is an ideal VPN for streaming, especially when it comes to watching TBS outside the US. It's easy to install and use, and it works every single time. However, you do have more options, which you can find in our guide on the best VPNs for media streaming.
Step #2: Get Your VPN Subscription
So, have you made up your mind? If you're still in doubt, go ahead and subscribe to ExpressVPN (you'll need an active VPN subscription to proceed any further). You'll land on the VPN's site, where you need to select 'Get ExpressVPN.' Then, pick a subscription plan based on your budget.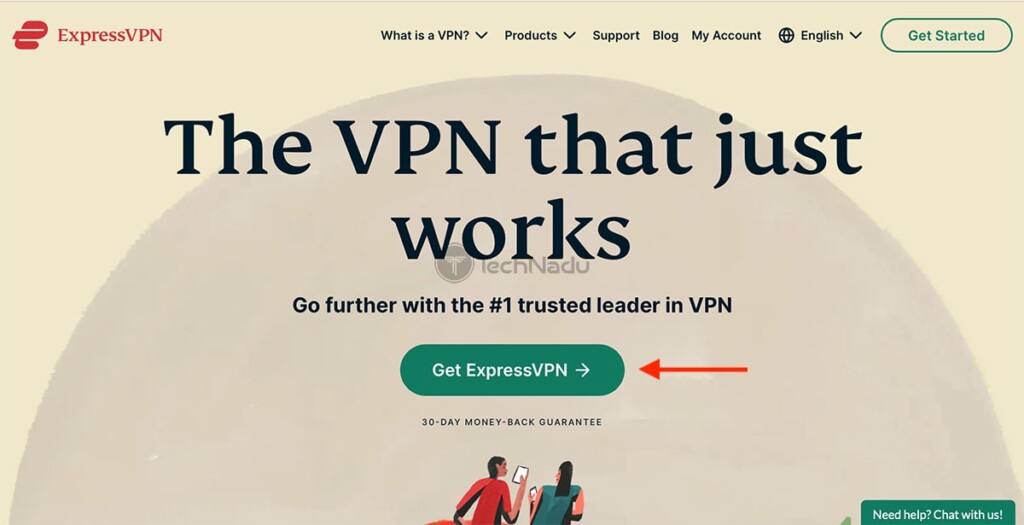 ExpressVPN will ask for your email address. After that, you'll need to pick a payment method as well. Once done (once your payment is processed, that is), you'll receive a confirmation email from ExpressVPN's team. Check your inbox, and then proceed to the next step.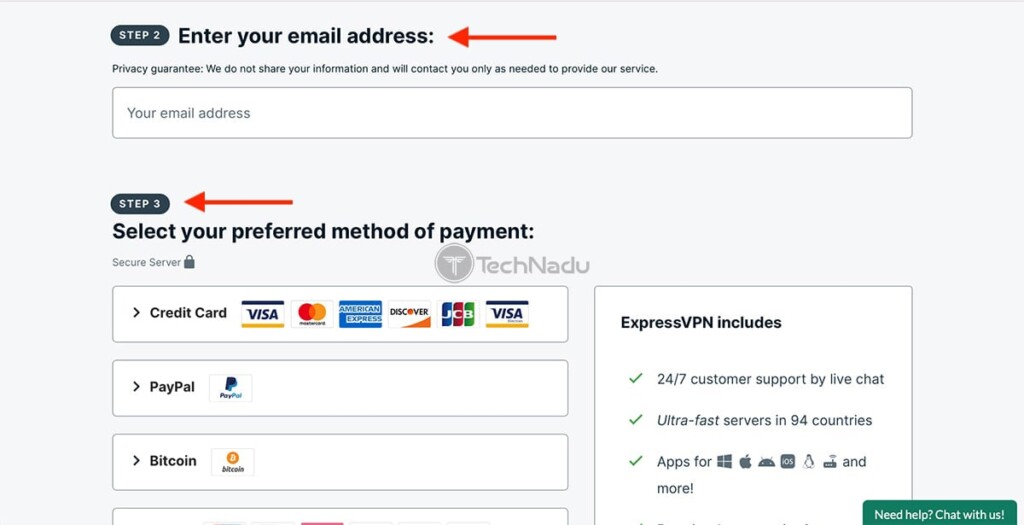 Step #3: Download & Install the VPN on Your Device(s)
You'll be happy to know that ExpressVPN supports up to 5 simultaneous connections. So, make sure to install it on any device you'll use to watch TBS outside the US. To help you get started, check our central guide on how to download, install, and use ExpressVPN – where we've covered more than 60 devices supported by this capable VPN.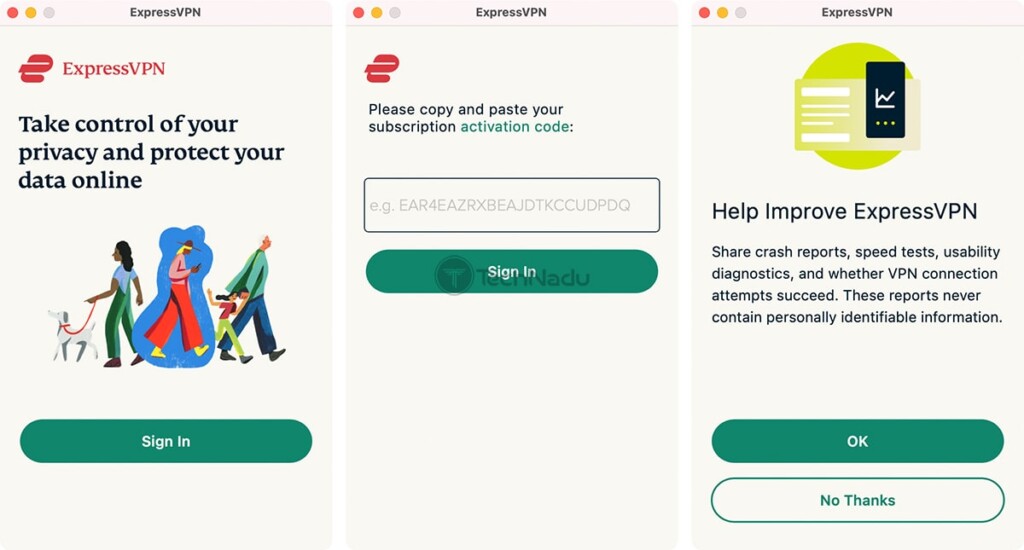 Installing ExpressVPN won't take more than a couple of minutes. However, once done, don't forget to run it for the first time. You'll need to log in to your account, for which you can use your ExpressVPN activation code (if you're on a computer). Complete the initial setup and then continue to the next step once you reach ExpressVPN's home screen.
Step #4: Connect to a VPN Server in the US
Now, we'll show you how to get a US IP address – letting you watch TBS outside the US. So, launch ExpressVPN, and you should see its home screen. Select the button you'll see just below the prominent ON/OFF switch. A new window will appear, showing you a sizable list of servers offered by ExpressVPN. 
Using the newly opened window, look up 'United States' via the top-placed search bar. If you double-click on the country's name, ExpressVPN will find the fastest server on its own. Still, you can always pick any individual server and take the matter into your own hands. Proceed once the VPN's home screen turns green.
Step #5: Unblock & Access TBS From Anywhere
You can now use any Web browser to visit TBS's website. Since you now have an American IP address, the site should open without any issues. To get to its content, browse the home page or use the "hamburger" button in the top-left corner to preview individual categories.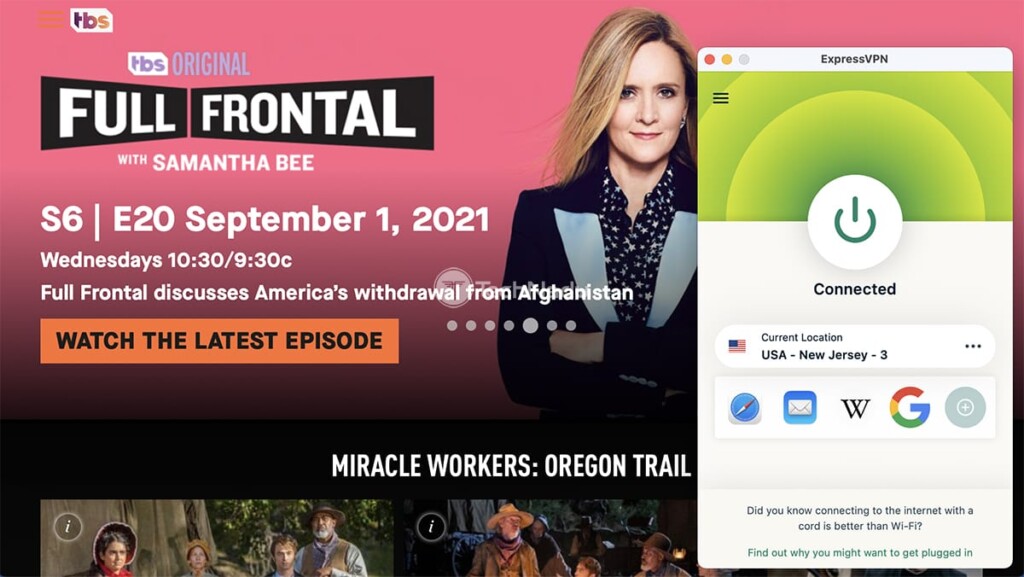 Once you select 'Watch Now' on any video offered on TBS' site, you'll be asked to sign in. That's because, to access TBS, you need a supported cable TV, satellite TV, or OTT (streaming) platform. If you don't have one, here's how to sign up for TBS outside the US.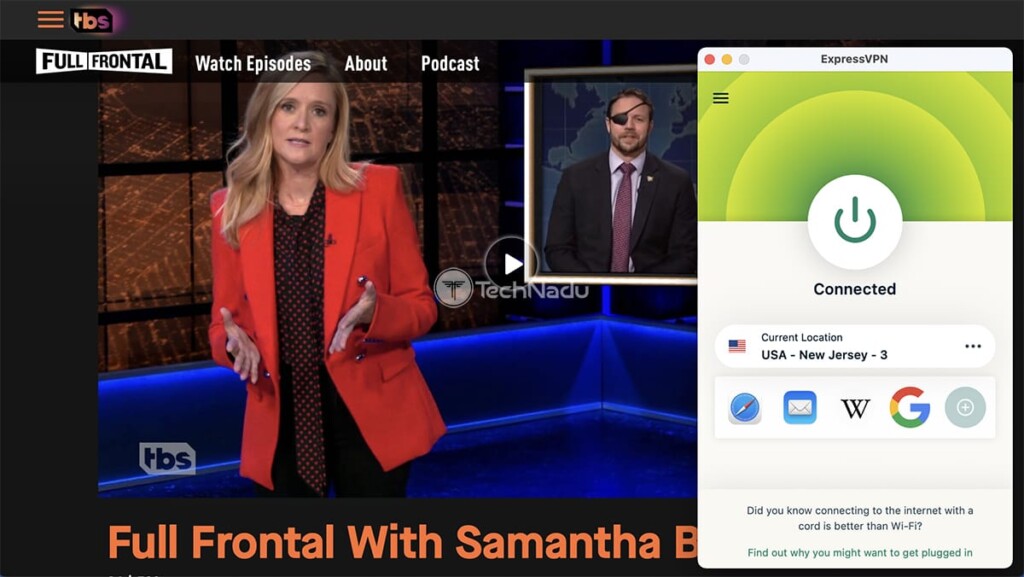 Step #6: Get TBS on Other Devices
You'll be happy to know that TBS offers apps for mobile devices, available for iOS, iPadOS, and Android. However, keep in mind that you'll need a US-based Apple or Google account to access those. And as you can guess, using a VPN service is a must in this case as well. 
At any moment, you're free to create a new Google account or get a new Apple ID. Just make sure to have an active VPN session and pick 'United States' when asked about your country. If asked about an address, use this random US address generator. 
Once you create a new account, make sure to log in on your mobile device (using the Settings app). Keep in mind that you'll need to log out of your old account first. Once you do that, access Apple's App Store or Google's Play Store, download the 'Watch TBS' app, and that's it! You can log in to the app, and its entire library will open up (for as long as you have an active VPN session). 
How to Sign Up for TBS Outside the US? 
TBS doesn't offer a standalone streaming service. However, you can watch it live and on-demand using a supported OTT subscription. So, if you're currently outside the United States, you have two options, as explained just below. 
1. YouTube TV
YouTube TV comes priced at $64.99/month, giving you access to more than 100+ live TV channels (based on your location or your VPN's "location"). And yes, TBS is part of its standard offer. Aside from that, you get unlimited 'Cloud DVR' and up to 3 simultaneous streams. To learn more, here's how to sign up for YouTube TV outside the US. 
2. Hulu + Live TV
At the moment, Hulu + Live TV is one of the best live TV streaming services, offering plenty of perks for its price of $64.99/month. You get 75+ channels, Hulu's on-demand streaming library, and plenty more. If you want a closer look, here are Hulu + Live TV's prices and plans. And lastly, here's how to use Hulu + Live TV outside the US. 
That would be all on how to watch TBS outside the US in 2021. Let us know via the comments section below if you have any questions or doubts. And finally, thanks for reading!