As you already know, VPNs present the best way to download torrents anonymously. They don't require extensive tinkering to safeguard your P2P traffic, as they work entirely in the background. However, things can go wrong on occasion. With that said, we understand your frustration if uTorrent isn't working with ExpressVPN in your case, and we're here to help.
In this guide, you'll find a series of quick solutions to various problems that might cause uTorrent to stop working with ExpressVPN (which doesn't happen that often, in all honesty). And don't worry, we won't ask you to do any complicated or highly technical operations. 
Unable to Download Torrents via uTorrent When ExpressVPN is ON? Try These 7 Quick Fixes!
The following recommendations will ask you to take a closer look at both uTorrent and ExpressVPN, tinkering with their settings and similar. We've also provided plenty of tips for downloading P2P files safely, so make sure to pay close attention. 
We highly recommend using ExpressVPN's kill-switch, especially when tinkering with this VPN while downloading torrents. So, make sure to open ExpressVPN's settings and select the 'General' tab. From there, check the box next to 'Network Lock.' 
1. Switch to a Different (Optimal) ExpressVPN Server
In our article on the best VPNs for torrenting, you'll see us calling ExpressVPN "the best VPN for torrenting in 2021." And yes, we still firmly believe in that statement. That's because this VPN doesn't offer only a group of P2P-optimized servers. Instead, all of its servers are optimized for downloading torrent files, which simplifies this whole situation. 
However, there's something important to keep in mind. Just because all of ExpressVPN's servers are optimized for P2P, you may still encounter servers that don't perform optimally for P2P Web traffic. There could be several causes for that, so here's how to switch to a different server and possibly resolve your problem with uTorrent not working with ExpressVPN.
Launch ExpressVPN and click on the 'hamburger' icon in the top-left corner. Then, make sure to click on 'Speed Test' – as you'll want to connect to an optimal server. 
A new window will appear. You need to click on 'Start Test' in the bottom-right corner. The VPN will now check all of its servers and present vital information such as the speed index, latency, and download speed – for each of its servers. It takes a couple of minutes for this procedure to complete, so sit back and relax. 
Now, we recommend you click on 'Speed Index' and sort the freshly tested servers by their performance. On the right-hand side, you'll get to make any server your "favorite." So, go ahead and pick a small group of servers (as you'll want some backup options as well). Then, close the 'Speed Index' window. 
Click on the name of the previously used server on ExpressVPN's main screen. This will open the list of available servers, where you need to click on the 'Recent' tab. Then, double-click on any of the servers you've previously made your 'favorite.' 
When switching between different servers, make sure to give uTorrent a couple of minutes to reconnect to seeders. If the P2P client is still having problems, go ahead and try other servers from your 'favorites' list as well.
2. Switch to Another (P2P-Friendly) VPN Protocol
By default, ExpressVPN is set to use an 'automatic' (or 'recommended') protocol. Even though the VPN application typically decides to use OpenVPN, that's not always the case. Therefore, we recommend picking a different VPN protocol manually, which is even more important when dealing with torrent files.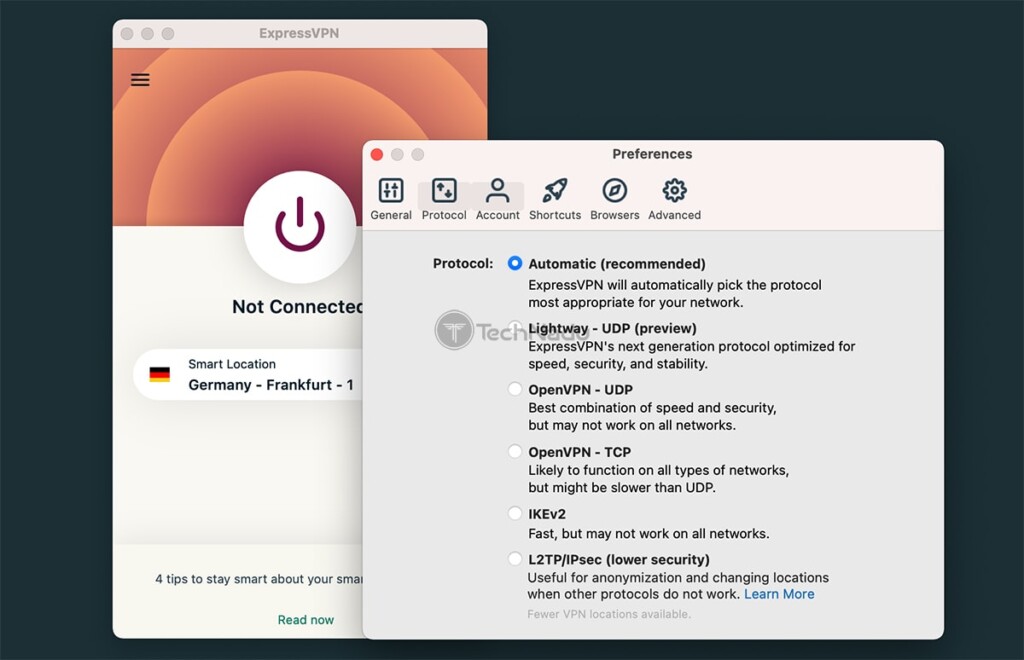 Luckily for us, ExpressVPN offers a wide range of VPN protocols, so you'll have options to choose from on just about any platform. To fix uTorrent's problems with ExpressVPN, you'll want to do the following. 
Open ExpressVPN and click on the 'hamburger' button in the top-left corner. Then, click on 'Preferences' and make sure to pick the 'Protocol' tab.
At this moment, you should see a list of available protocols. We recommend going with OpenVPN – UDP and OpenVPN – TCP first. If that doesn't help, you can try ExpressVPN's proprietary protocol called Lightway. As a final resort, feel free to try IKEv2. We don't recommend going with L2TP/IPsec, as that's the "weakest" protocol of the bunch. 
Once you change a VPN protocol, return to ExpressVPN's main screen and connect to a server. Then, launch uTorrent and resume downloading P2P files. Make sure to give the application at least a few moments to reconnect to seeders. If uTorrent still doesn't work with ExpressVPN, go back and try a different protocol.
3. Reinstall or Update the ExpressVPN App
If you've updated ExpressVPN recently, that might be the reason why you're unable to download torrents via uTorrent. Keep in mind that VPNs are highly technical applications, so problems may arise when updating them. For additional info, here's how to fix issues with ExpressVPN if it won't connect after an update.
In this case, the solution would be to reinstall ExpressVPN (once you completely remove the existing version from your computer). However, know that this will return ExpressVPN to its "factory-settings," so make sure to spend some time reconfiguring it. 
If you need help with setting up ExpressVPN, we have a range of detailed guides published on TechNadu. So, here's how that is done on Windows, macOS, Linux, Chromebooks, Amazon's Fire TV Stick, Android, and iOS.  
4. Check Your Cybersecurity Software
Both torrent clients and VPN applications can be "blacklisted" by cybersecurity software, mostly because they tend to change your Internet connection's settings. With that said, we've seen situations with uTorrent being flagged as a threat by antivirus providers, and similar things happened with VPNs as well. 
Therefore, the reason why you can't download torrents via uTorrent and ExpressVPN might be found in your antivirus, firewall, or other types of cybersecurity tools. Our recommendation is to take a very close look at your antivirus or Internet security suite and see if you can lower its 'security protection level' from 'High' to 'Medium.' 
Check your cybersecurity software for any other options as well, perhaps allowing you to add exemptions to their real-time protection (so you can 'whitelist' both uTorrent and ExpressVPN). 
5. Optimize uTorrent for Safety & Speed
You probably know that uTorrent is an incredibly flexible torrent client. It comes with a comprehensive settings panel, letting you fine-tune each aspect of your P2P connectivity. So, if you're facing problems downloading torrents via uTorrent, perhaps it's time to take a second look at those settings. 
You can do plenty to customize this application, so we won't get into various details in this article – because we have a separate guide on optimizing uTorrent for safety and speed. Make sure to use the provided link and learn more. 
As an alternative, you can also try other torrent clients. Our team has produced guides on the most popular options right now, so here are the best torrent clients (overall) in 2021.
6. Try Using 'uTorrent Web' Over 'uTorrent Classic'
At the moment, uTorrent provides two applications. We all know and love 'uTorrent Classic,' which has been around for quite some time. However, 'uTorrent Web' was released a couple of years ago, promising to replace its older sibling. This latest torrent client works inside your favorite Web browser, comes with a simple interface, and without any distractions.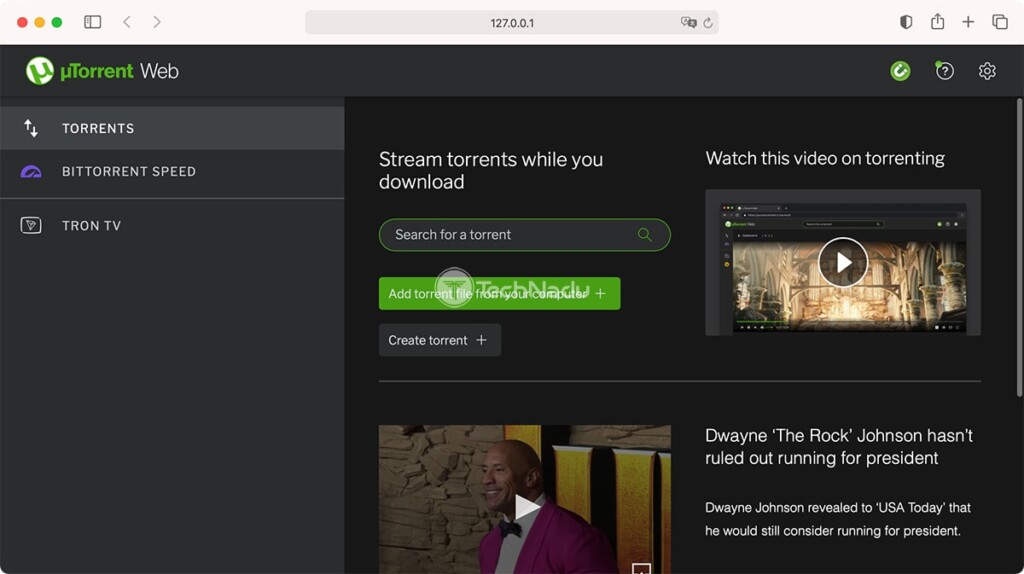 With that said, we do recommend keeping both uTorrent Web and uTorrent Classic up-to-date at all times. However, this has become difficult on some operating systems (like on macOS, for example), where uTorrent Classic no longer supports the latest macOS version (it has already been replaced by uTorrent Web).
7. Disable IPv6 on Your Windows or macOS Computer
Lastly, we have one more (technical) tip. If your ISP already supports IPv6, there could be a conflict between your Web connection and your VPN. More precisely, ExpressVPN supports IPv4 as of right now, so it automatically "translates" your Internet data through its IPv4 tunnel.
In other words, we recommend you disable IPv6 on your computer (if your ISP supports that protocol). That would prevent P2P-related leaks and resolve technical problems, including issues with uTorrent working with ExpressVPN.
So, here's how to disable IPv6 on a Windows computer. 
Right-click on the Network / Wi-Fi icon in the bottom-right corner of your screen. This will open a small menu, using which you need to select 'Open Network and Sharing Center.' 
Then, select 'Change Adapter Options,' which will show you a list of network adapters present on your computer. Right-click on the adapter you use at the moment, and then select 'Properties.' 
Make sure the 'Networking' tab is active. Then, scroll down until you see 'Internet Protocol Version 6 (TCP/IPv6).' Make sure to un-check the checkbox you'll see on the left-hand side. This will deactivate IPv6. Finally, restart your computer, connect to ExpressVPN, and try downloading a torrent file via uTorrent. 
Of course, we won't forget our readers using macOS. With that said, here's how to disable IPv6 on any Mac computer. 
Navigate to Apple > System Preferences > Network. 
Then, use the left-placed sidebar to select your currently active Internet connection. On the right, click on the 'Advanced' tab. 
Make sure to click on the 'TCP/IP' tab and then select the 'Configure IPv6' dropdown menu, which should display several options. You need to set it to 'Off' or 'Link-Local Only.' Lastly, restart your Mac, reconnect to ExpressVPN, and then try downloading a file via uTorrent.
This is where we conclude our (hopefully helpful) guide to fixing issues with uTorrent not working with ExpressVPN. If there's anything you'd like to say or ask, feel free to post your comment below. And lastly, thank you for reading!