No matter which platform you use, your computer's operating system doesn't recognize torrent files by default. That's why you need a reliable torrent client that connects you to other P2P users and lets you download files. However, what's the best torrent client today? Which torrent client will give you the fastest download speed while giving you plenty of customization options? Well, we have the answer to these questions – and we have a series of recommendations for the best torrent clients in 2019.
Before we get started, we'd like to take this opportunity to tell you a few important things. First of all, you already know that P2P is blocked in certain countries and many ISPs throttle your Web connection when they detect you using a torrent client. So, before you go ahead and download from The Pirate Bay, make sure to take all precautionary measures. In addition, make sure that you're using your new torrent client in the best way possible. That's why we also recommend our article on the 15 best torrent websites right now. We know that you can't wait to get started, so let's jump to what you truly want to know.
Before getting started, we strictly recommend you to be safe while Torrenting. Therefore, we want you to read the TechNadu does not condone illegal file sharing or copyright infringement. Even though P2P file sharing technology is legal, many of the files exchanged via P2P are indeed copyrighted. Uploading these copyrighted files can put you at risk of a civil lawsuit. While these lawsuits are often class-action cases, some have been targeted at individual users in an attempt to make an example of them.
disclaimer and a safety notice found below.
Stream Torrent Safely and Protect Yourself Online
Many of you will be surprised to know that your Internet browsing is fully visible by ISPs (Internet Service Providers). These companies have the power to collect your personal data and hand it over to third parties. Therefore, it's imperative to keep your data protected and inaccessible to anyone who tries to collect it. This is especially important if you plan on downloading and sharing torrent files.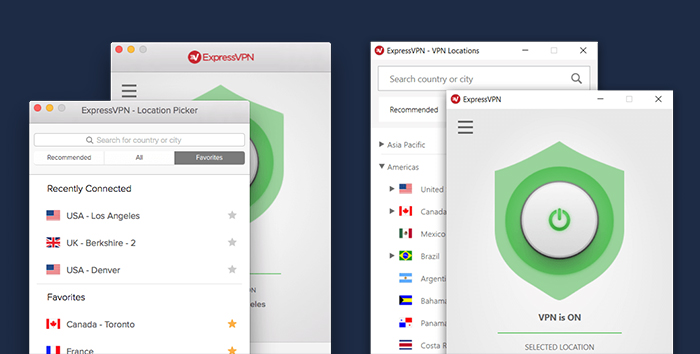 TechNadu strongly recommends you to connect to a VPN to encrypt your Internet connection, change your IP, and make your device impenetrable to malware. This particular VPN software scored the highest in our tests, which can be seen in our ExpressVPN review. Use the provided link to read all you need to know about this easy to use and highly powerful application. Make sure to sign-up for ExpressVPN and enjoy the Internet as it should be – open and without any privacy concerns.
Exclusive offer: Save 49% & try ExpressVPN 100% risk-free!
After plenty of testing, we present the 10 best torrent clients in 2019. Take a look, and make your pick.
1. uTorrent – The Most Popular Client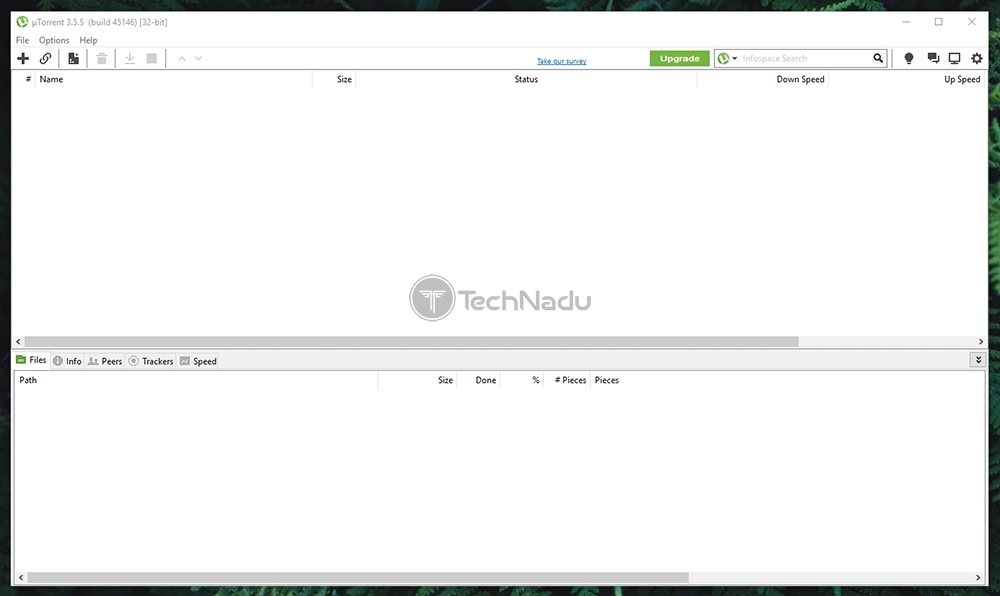 Overview
Supported Platforms
Windows, MacOS, Linux, Android.
Prominent Features
Tiny in size; Very light on resources; Lots of plugins available; Scheduled downloads.
What's Missing
A more polished UI.
Price
Free / $19.95 – Pro Version
Source
uTorrent
The uTorrent client is one of the most popular software of this kind. The company behind this software is well aware of that, which is why they are offing the 'Pro' version as well. However, the free of charge version should do the job for the majority of users.
First and foremost, this is an incredibly small application. You can download it in a matter of seconds and then proceed to install the software. During the installation, make sure to carefully go through every step and opt out of bundled software. Once you are done, you will be greeted by a fairly simple interface suitable even for complete beginners.
When you're ready to dive deeper, you will see why uTorrent is one of the best torrent clients of 2019. It comes with download prioritization, scheduled downloads, torrent streaming, media player, third-party plugins, and a plethora of deep-customization options. The only downside to the free version is ads that are displayed at the top of the window – so here's how to remove ads in uTorrent.
2. BitTorrent – Great for First-Timers
Overview
Supported Platforms
Windows, Mac, Android.
Prominent Features
Incredibly small and light; Intuitive UI; Great for first-timers.
What's Missing
Installation without bundled software.
Price
Free / $19.95 – Pro Version
Source
BitTorrent
BitTorrent is being advertised as the 'original torrent client'. That is true because BitTorrent has been around for quite some now. In addition, you can use its website to find lots of completely legal files including music and videos.
Aside from somewhat annoying ads and bundled software, there aren't any real drawbacks to this torrent client. No matter how experienced you are, you are free to customize the UI according to your needs. In essence, this is a drag-and-drop application that supports the standard set of features. You can prioritize torrent files, download specific files within torrents, play media, and even stream torrents. There are some advanced features like IP filtering, as well.
3. Transmission – Native MacOS Experience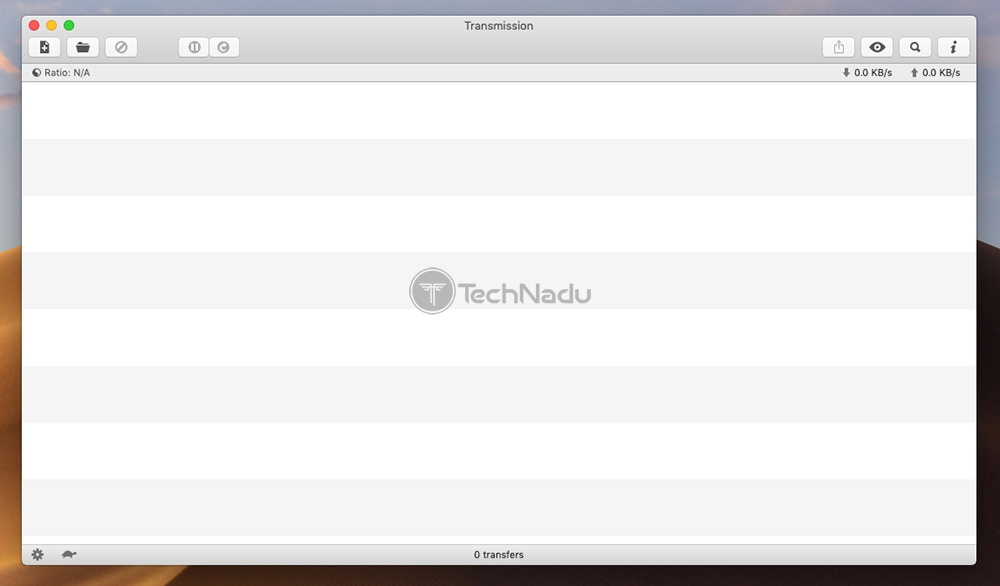 Overview
Supported Platforms
Mac, Windows, Linux, Web.
Prominent Features
Highly optimized Mac version; Incredibly simple; Polished UI.
What's Missing
Fine-tuning for advanced users.
Price
Free
Source
Transmission
During the last couple of years, Apple has done a great job of improving its desktop operating system. Constant security-related updates are great for users – but bad for torrent clients. This is what makes it somewhat hard to find a reliable client for Apple's desktop OS. However, we have the perfect solution – and that's Transmission.
This is an incredibly lightweight application that takes full advantage of MacOS. You can download it under one minute and then drag-and-drop its icon to install it. From there on, it's all drag-and-drop based. Find a torrent file and add it to Transmission. The application will do the rest on its own. It will optimize the settings based on your Internet connection and download the needed torrent files. The application runs quietly in the background and takes very little resources. This means that even entry-level Mac Book Air models can run Transmission without a single problem. And finally, make sure to check other torrent clients for macOS.
4. qBittorrent – Simple Yet Powerful
Overview
Supported Platforms
Windows, Linux, MacOS, FreeBSD.
Prominent Features
Very user-friendly; Ad-free; Light on system resources.
What's Missing
Deep customization.
Price
Free
Source
qBittorrent
This is one of the oldest torrent clients that still works without any issues. It doesn't come with a highly polished or modern interface but it gets the job done in an easy way. Therefore, we'd like to recommend qBittorrent to first-time torrent users and those who have computers with light specs.
We wouldn't want you to think that qBittorrent is a barebones software. It comes with some surprising built-in tools that make the whole process of downloading torrents a bit easier. There's an integrated torrent search engine, media player, and encryption. You can also prioritize torrents as you download them, as well as pick specific files to download within torrent files. The only thing that's missing here is that you won't find any plugins as with other similar applications. But again, plugins are mostly for experienced users.
5. Deluge – Incredibly Small & Light
Overview
Supported Platforms
Windows, MacOS, Linux, FreeBSD.
Prominent Features
Supports plugins; Integration with Chrome and Firefox; Scheduled downloads.
What's Missing
Not as easy to use.
Price
Free
Source
Deluge
You will often hear people talking about Deluge as the perfect tool for complete beginners. However, we disagree with this statement. Even though newbies will be able to use it out of the box, it takes some time until you truly discover what Deluge is all about.
On the plus side, this torrent client is very light when it comes to its size and performance. You can use it on a decade old computer and it will run just fine. Simply drag and drop a torrent file onto its UI and the torrent will begin to download. Once you get to know this software, you will see that it integrates with Chrome and Firefox and comes with helpful third-party addons. These can shut down your computer once the torrent is downloaded, unzip files, move them to a specific location and more. In addition, there are no ads or bundled software.
6. Vuze – Built-In Content Organizer
Overview
Supported Platforms
Windows, Mac, Linux, Android.
Prominent Features
Social features; Prioritization of downloads; Third-party plugins; Media playback.
What's Missing
Simplified user interface.
Price
Free / $29.99 – Vuze+
Source
Vuze
Long-term fans of torrents have probably heard about Azureus a while back. This was a popular torrent client known for its nicely designed UI. Vuze is a direct descendant of Azureus that comes with greatly enhanced and improves features as well as some drawbacks.
Just like with uTorrent, we recommend not rushing with the installation since you'll end up with bundled software. In addition, you will be asked to set up the software according to your needs. This might sound intimidating but every feature is thoroughly explained. In addition, this torrent client can as simple or as complex as you want it to be. Naturally, this means that it takes advantage of your system's resources in a big way. Therefore, we do not recommend it to those who have entry-level laptops.
7. Halite BitTorrent Client – Plug & Play Client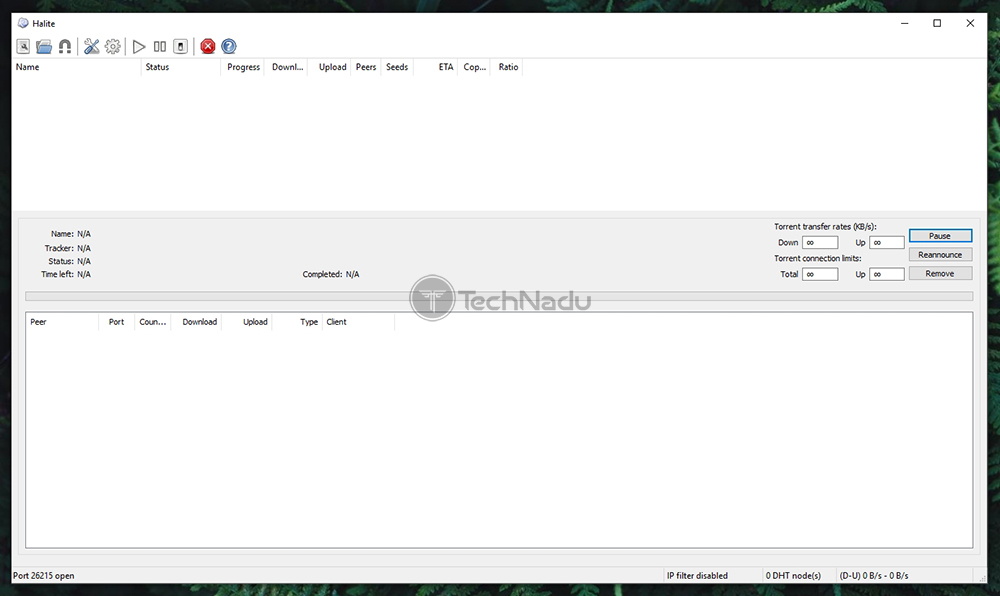 Overview
Supported Platforms
Windows
Prominent Features
Very basic torrent client; Support for multiple languages; Support 64-bit Windows.
What's Missing
Supports Windows only.
Price
Free
Source
Halite BitTorrent Client
Just because it has 'BitTorrent' in its name, don't confuse it with other suggestions found in this article. This is an incredibly lightweight application that supports Windows. In case you want something really simple, you're in for a treat.
Upon downloading Halite BitTorrent Client from GitHub, you can unzip and open it immediately (it's an EXE application). This kind of installation method can be somewhat confusing because GitHub is involved. However, we are sure you won't have a hard time making this application run on your system. Upon opening it, you will see an incredibly simple interface. Add a torrent file, and Halite will start downloading it. You can perform basic operations like stopping and resuming the download process and reviewing important download information. If you need a simple torrent client, this one is for you.
8. BitComet – For Advanced Users
Overview
Supported Platforms
Windows
Prominent Features
Very capable; Intelligent disk caching; Previewing while downloading files.
What's Missing
A more polished UI.
Price
Free
Source
BitComet
Once again, here's something for average torrent users. BitComet is an older client that still receives occasional updates. Even though this is a simple application at its core, it brings support for all modern standards of creating and downloading torrents.
It is worth noting that BitComet has a unique feature called Intelligent Disk Caching. A few years ago, even the best torrent clients were quite demanding. This was due to large amounts of read-and-write data. BitComet was the first application to solve this issue. Even though this isn't a highly important feature these days, it's worth noting that you'll be using a highly optimized torrent client. Other than that, you can rely on BitComet for all your torrenting needs.
The only downside is that Windows users can use BitComet. The application doesn't support (and doesn't have any intentions of supporting) other operating systems. Nonetheless, this is without any doubt one of the best torrent clients you can use.
9. WebTorrent – Built for Media Streaming
Overview
Supported Platforms
Windows, Mac, Linux.
Prominent Features
Highly polished UI; Made for media streaming; Open source.
What's Missing
Nothing really.
Price
Free
Source
WebTorrent
We're sure that many of you are downloading plenty of movies via P2P. As you surely know, you need to wait to download the entire file before you can play it. However, WebTorrent is here to provide a solution to this problem.
Once you add a magnet or torrent file to this application, it will start to download it. However, you'll be able to stream the file instead of waiting for it to be fully downloaded. There's also a whole set of playback controls, where you can increase or decrease speed, control the volume, add subtitles and more. And finally, we must mention that WebTorrent brings a beautifully designed interface on Windows, MacOS, and Linux. Sadly, no mobile versions still exist.
10. BitLord – Access to Torrent Repositories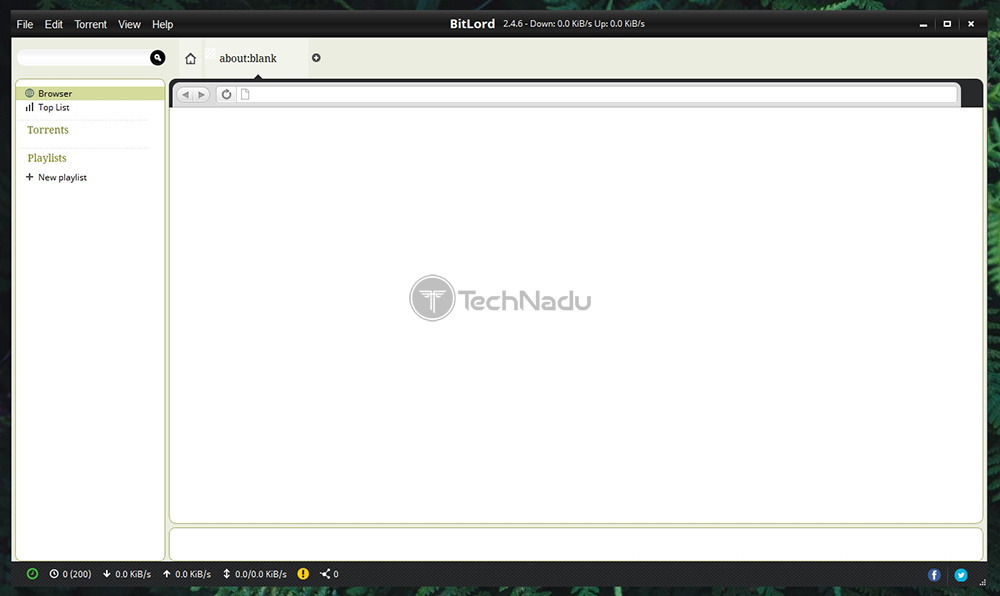 Overview
Supported Platforms
Windows, Mac
Prominent Features
Password protected; Easy file sharing; Built-in search engine.
What's Missing
Simplification in terms of UI.
Price
Free
Source
BitLord
We finish our list of the best torrent clients with BitLord. This is an older software that still manages to bring competitive features. It can be used by both novices and experienced torrent users since BitLord is a highly adaptive option.
We recommend you to pay attention while installing this application. Based on your needs, BitLord will first download the required files and then proceeds with the installation. If you're not careful, you might end up with unwanted software. However, we understand this is BitLord's effort to make some money, so you can easily uninstall different components at will.
When it comes to its capabilities, you can count on the standard set of features. However, what's interesting about this application are advanced tools. First, there's a built-in search tool for audio, video, and other kinds of torrents. Then, you can stream videos to your computer or play them on Chromecast. Finally, you can even download subtitles and make sure everything is prepared before you watch a movie or TV show.
How to Select The Best Torrent Client for You?
As you can see, there's a very nice selection of capable torrent clients online. So, how to pick the best one based on your needs? Take a look at the criteria we used to select our recommendations for this article.
The Selection Process
In case you didn't know, there are dozens of different torrent clients. More importantly, not all of them work as they should. Therefore, here are some of the things that you need to consider.
Platform Compatibility: In case you are using Windows, MacOS, or Linux, you shouldn't have a hard time finding a compatible torrent client. If you're using two operating systems on your computer, your choice is a bit narrower. However, torrent clients are inter-compatible which means that you can download torrent files regardless of a client you use.
Size and Performance: The most popular torrent clients are very lightweight. You can download and install them under two minutes. In addition, they tend to be light on system resources. This is especially important since it can take hours to download a large torrent file.
Ease of Use: The good news is that you don't have to be an IT expert to download torrents. However, some of these clients tend to have an overly complex UI. This is good if you really want to dive deep into different settings. Otherwise, a very simple application will do the job.
Price/Adware: Last but not least, there's the price. The majority of torrent clients come free of charge. However, some of these serve ads on occasion, which is their way of generating revenue. Don't worry, we'll only list the software that doesn't serve as typical adware.
There you have it, folks! We really hope that you found useful information in this article. After all, we gave our best to bring only the best torrent clients in 2019. In case you have any additional questions, don't hesitate to let us know.
As always, we would appreciate if you could share this article online. Also, don't forget to follow us on Facebook and Twitter. Thanks!