The truth is that there are so many different sources of P2P files on the Internet, and not many of those are safe to use. We understand that you're looking for the best torrent sites in 2021, and that's what we've done our best to discover. So, after plenty of research, we're ready to give you some on-point recommendations.
Before we get started with our list of the best torrent websites, we'd like to take a few moments to give you some important background information. After all, you've probably heard that torrent sites aren't exactly the safest places to visit on the Internet.
Many of those distribute malware, endangering your system and your private data. There are also copyright trolls targeting pirates, and you'll have to keep in mind that some countries are after pirates in a rather aggressive manner.
With this said, you need to know where to search for torrent files, and you need to know how to safely download those files. TechNadu's team is strongly against digital piracy, but we understand that even downloading legal torrents can get you into trouble. This is why we recommend reading this entire article carefully, as you'll find plenty of useful information below.
How to Choose the Best Torrent Site?
You might be wondering how we made this list or how we decided that certain torrent sites should be placed in this article? Well, know that each of the suggestions above brings plenty of content. What sets them apart are subtle differences. So, here's what we looked at.
Age & Reputation: Ideally, you'll want a long-standing P2P site with a proven track record of not serving malware or going through extended periods of downtime. Lucky for you, there are plenty of websites that have been around for more than a decade now. Before using any P2P site, make sure to do some online digging on its reputation.
Content Library (& Specializations): Today, we have several multi-purpose websites that bring all kinds of files. It means that you can rely on those to download music, movies, software, and more. However, if you're into more specific types of content (like anime, for example), you're better off using a niche torrent site.
The Health of Individual Torrent Files: Having a website with millions of torrents isn't worth much if the health of those files is low. A healthy torrent file has more seeders than leechers, which allows you to download those files as fast as possible. In other words, you need to go for torrent sites used by a large number of individuals.
Advertisements: Torrent sites generate revenue by serving ads. This is why many of them can be overly aggressive, with ads served in multiple forms. We've tried to find options that aren't overly annoying in this aspect. And also, all of the following options are proven to serve safe ads, as opposed to malicious websites.
The Best Torrent Sites in 2021
When it comes to torrent sites, you'll see that certain sites are better for certain types of files. With that said, our list of the 15 best torrent websites in 2021 is divided into the following categories:
1. YTS – Best Torrent Site For Downloading Movies
Everyone in the torrenting game has a soft spot for the folks from YIFY. Unfortunately, YIFY was shut down due to massive legal threats and is, it seems, gone forever. With that said, our list of the best sites for downloading torrents will begin with a YIFU alternative – called YTS.
YIFY was famous for aggressively-optimized video and audio encoding. They achieved some of the best quality-to-size ratios ever seen. Well, YTS is following those same footprints, providing access to countless movies, nicely organized, and often-updated. And considering that YTS has millions of active daily users, most of its movies are quick to download.
2. 1337X – Best for Speedy Torrent Files Download
1337X has been around for about a decade now and has somehow managed to avoid being shut down. It wasn't really all that well-known in the beginning, but with the demise of big names such as KickassTorrents and long periods where the Pirate Bay was MIA, there were plenty of opportunities to grow.
Today, 1337X is one of the big boys, with an Alexa rank that puts it in the top handful of torrent sites. We personally don't like the red and black site design, but that's just a taste issue. From a functionality point-of-view, the site is sharp as a tack. And most importantly, it allows you to download torrents fast since it has a highly active user base.
3. RARBG – Best Community-Driven P2P Site
Becoming a successful torrent site is a double-edged sword. Success also means being targeted the hardest. This applies to our previous recommendation but also to RARBG. Being one of the oldest P2P repositories of its kind, it managed to survive through several ups and downs – and is still one of the best sites for finding torrents in 2021.
Today, RARBG is back online and offering a huge number of torrents. Sheer torrent numbers are not that special anymore, though. Therefore, it makes this list not only because it is so comprehensive, but because the site has a clean design. Even if it looks sparse and simple, the process of finding the torrent you want is easy and quick.
4. Nyaa – Best Torrent Site For Downloading Anime
Today, you'll find English-translated Anime via services like Netflix and Hulu. There are even dedicated Anime streaming services such as Crunchyroll (recently acquired by Sony) and Funimation. Despite this, there are plenty of shows that are just too niche to be officially translated. Some shows are too old, and others will never see the light of day in the West.
This is precisely where Nyaa comes into pay. This site provides a simple and effective interface to its vast database of Japanese animation. If you want to go deeper than watching Naruto or Dragon Ball Z, Nyaa is the place to be.
5. The Pirate Bay – Best Multi-Purpose Torrent Site
What can we say about The Pirate Bay? It's been around for as long as we can remember. It's been killed and resurrected more times than we can count. It feels as if TPB is going to be around for the rest of eternity. It's even suffered through having its founders jailed.
The Pirate Bay is still one of the most popular torrent sites on the Internet. Because of this, you'll find just about any mainstream torrent here. However, the site's design is becoming a little old-fashioned.
Also, The Pirate Bay has been caught hijacking user CPUs to mine cryptocurrency. The site has been forced into this path, as more and more of its advertising income gets cut off. If you're OK with donating a little electricity to support them, they are well worth paying a visit.
6. LimeTorrents – Best Semi-Private Torrent Tracker
Speaking of the old generation, LimeTorrents has managed to dodge all the legal challenges and shutdowns other big names have been hit with. Mainly, the site has managed this by being very careful about what they actually host in terms of data. Instead of putting actual torrent files (which have become legally dodgy) on the site, they just host hash values of those torrents.
At the moment, this P2P repository is going underground. It seems as if the site is moving its torrent content to the deep Web, and you need to use the LimeTorrents client to access them. While this might seem a little overboard, LimeTorrents might very well be the last site standing when the dust finally settles, which is why you should keep them in mind.
7. Zooqle – Best Torrent Search Engine
Zooqle is one of the new kids on the block, and as such, it tries to do some interesting new things. The main party trick is the fact that torrents go through a verification process. It means that you're highly unlikely to find fake torrent files that either contain malware or are password-protected.
Zooqle is dedicated to TV shows and movie torrents (and it's expanding to other categories as well). While that might limit the quantity of content, it does allow for some great quality additions.
For one thing, the site owners have created a smart little API that pulls metadata on video torrents from a movie database. So you see the artwork, reviews, and ratings all in one place. It's very polished and a good representation of the new-generation torrent search engines.
8. EZTV – Best Torrent Site for Downloading TV Shows
Next, we have a niche torrent site that's all about TV shows. Called EZTV, it's been around for quite some time, which is one of the reasons why the website looks outdated. However, if you take a look beneath the surface, you will see loads of helpful features.
For example, the website allows you to track its calendar of releases and check out when new seasons are about to air so that you can set reminders accordingly.
What needs to be said about EZTV is that this website is incredibly powerful. You can find TV show categories by genres, types, and video file quality – and you can download torrents and magnet files. And on top of that, EZTV comes with millions of active users, making it easy to find healthy P2P files. What more could we possibly ask for?
Even though this website brings a generic name and a somewhat boring design, trust us that this is one of the most powerful torrent sites right now. It's been around for some time and went through several iterations, and the current one is definitely the best one yet.
This is a huge library of torrents from just about any category imaginable. You will get to download movies, TV shows, music, books, and pretty much everything else. Every torrent comes with a detailed description, including the information related to its health.
Lastly, even though 'Torrent Downloads' brings a nice selection of P2P files, we strongly recommend it for downloading music. Thanks to the site's handy filtering options, you'll get access to advanced ways of downloading high-quality audio files.
10. ETTV – Best Torrent Site for Downloading eBooks
Even though ETTV is a relatively new torrent site, it quickly managed to build a stellar reputation. You can see this website often mentioned in the lists of the best P2P websites for TV shows, but we actually recommend it for download eBooks. That's because its eBooks section is one of the most active on the Web.
Upon opening ETTV in your browser, you'll see a whole bunch of torrents, including the most popular files at any given moment. At the top, there's a huge selection of popular search terms, and there's a search bar as well. Once you get to a certain torrent, you'll see that you can download both torrent and magnet files. No matter which way you go, your files should download relatively fast.
11. iDope – Best Torrent Site for Mac Software & Games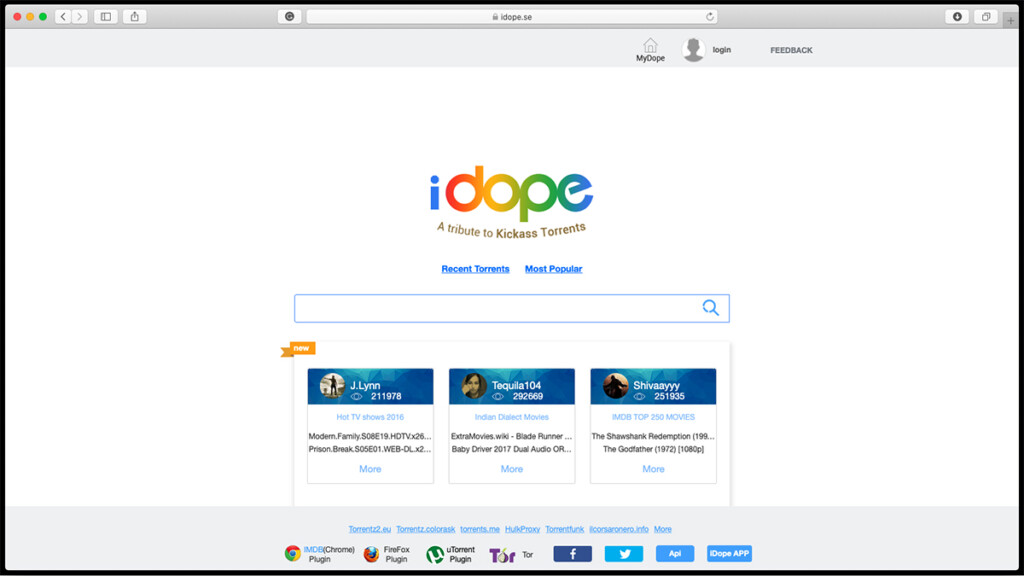 To make this list of recommended torrent sites as helpful as possible, we wanted to include something a bit different as well. So, we'd like to introduce you to iDope, a gateway to millions of magnet torrent files, many of which are incredibly quick to download.
You think of iDope as a torrent search engine, giving you access to movies, TV shows, ebooks, software, games, and adult content. However, we especially recommend iDope to Mac users, as it provides a wealth of macOS games and software, which has become incredibly hard to find lately. There are multiple ways to filter and organize its database, allowing you easily pinpoint a healthy torrent file, no matter how old that file might be.
12. Monova – Best Torrent Site for Software
If you like minimalism in your interfaces, Monova has got you covered. Not to be confused with the now-defunct Mininova, Monova presents us with a clean interface that works really well on mobile browsers. We also like that you can search for a torrent by pasting its hash string into the text box, which isn't something we often see.
Finding torrents on Monova is very simple. However, you'll also find numerous ads, which can be annoying at times. Even though we are sure none of these are malicious, Monova is pushing them really hard. If you're willing to overlook this obstacle, you will find one of the best torrent sites in 2021, without a single doubt. This especially goes for applications and software, with the site offering a really extensive library.
13. Torlock – Best for Downloading Verified Torrents
TorLock is known for offering verified torrents only. In other words, this torrent site's owners are doing plenty to avoid malware and other less-than-desirable conseques of unsafe torrenting. This is something you should really keep in mind, and this is why we recommend using TorLock – especially if you're new to the world of P2P.
This torrent repository brings a wide range of torrents, from pretty much any category imaginable. Before you download one, you'll get to see all of its information, including metadata and the release group behind that certain torrent. All of this is designed to give you peace of mind, and we have to say that Torlock succeeds in its mission.
14. Torrends – Gateway to Other Torrent Sites & Individual Release Groups
While even the best torrent websites look alike, there are some that stand out thanks to their intuitive design. 'Torrends' is one of those websites. In fact, this is a torrent search engine that scrapes information from a bunch of highly active repositories.
Even if you don't know what to download, this website will provide numerous suggestions. You can see what's popular online, what other people are saying, and everything is broken down into easily digestible categories. This website also brings a list of mirror URLs, which is hugely helpful, considering that many torrent sites are blocked in different parts of the world.
15. KATcr – Best Alternative to KickassTorrents
The entire global torrenting community felt the impact once the original KAT (KickassTorrents) disappeared. This was a brilliantly designed website with millions of daily visitors. So, it's not surprising to see that numerous clones have appeared. However, this also means that many malicious clones are targeting your privacy, so you should be extra careful to avoid malware.
Among the best KickassTorrent alternatives, KATcr stands above the rest. This is a clone of the original website, where you won't be able to tell the difference. You can download movies, TV shows, games, software, and anything else in between. There's also a highly active community if you want to talk to like-minded individuals.
What Are Torrent Sites? How to Use Them?
In simple terms, torrent sites are repositories of individual torrent files. Now, to understand this situation a bit better, it's important to understand how torrent files work.
If you click on the provided link, you'll learn that P2P files are decentralized files – which means that no single website hosts all that data. Instead, torrent websites (as their name implies) host torrent files only.
When you download a file and open it with your P2P client, your computer will start connecting to other computers that already have that file in full. By connecting to as many computers as possible, you'll get to download bits and pieces until the file is fully stored (and ready to be used) locally.
There's also another side to torrent sites. Any of us is free to create a torrent file. If you send someone that file, that person will connect back to your computer. However, if you decide to share that torrent file via a torrent site, you'll easily create a P2P swarm (a group of computers) on a global level.
If you'd like to dive deeper into this topic, we're prepared several handy resources. First, you can check our no-nonsense guide to BitTorrent. And once you're ready to learn more, here's our ultimate torrenting guide. These articles will provide you with the needed knowledge before getting to use torrent sites.
How to Download Torrents From the Web?
To download a torrent file, you need to install a torrent client first. The majority of this type of software comes free of charge. These are typically lightweight applications that help your computer recognize torrent files and connect to others on a global scale. So, you'll want to check the best torrent clients in 2021. And more specifically, here are the best torrent clients for macOS.
Here's a general overview of what this procedure entails. You first download a torrent file from any of the websites found above. Then, you open that file with your torrent client and wait until the file is transferred to your computer. Finally, you can proceed to open that torrent file – and that's about it.
To dive deeper into this procedure, here's our guide on how to download torrent files (on Windows). We also have platform-specific guides on downloading torrents on macOS, Android, iOS, and Chromebooks.
Should You Use a VPN When Downloading Torrents?
Yes – you should absolutely use a VPN if you plan on downloading torrent files. Even if you're sticking to legal P2P files only (which we strongly recommend you do), your ISP might automatically throttle your Web speed if it detects you visit a torrent site.
By using a VPN, you can stay anonymous while downloading torrents. In case you didn't know, VPNs work by encrypting your Internet traffic, which essentially hides what you do online. It means that no one will know about which websites you visit, or what kinds of files you download.
However, when it comes to torrenting, you need to be extra careful to pick a VPN that not only supports this type of Web traffic but also comes with specialized servers. You'll learn all you need to know in our guide to the best VPNs for torrenting. And here's a hint – we recommend ExpressVPN, CyberGhost VPN, and Ivacy VPN. You'll also want to check out the fastest VPN services available right now.
To further help you with choosing a VPN, here's our VPN buyer's guide. And to learn what to expect from this type of software, check out these less-known VPN features (and also learn what a VPN doesn't do to avoid common mistakes).
That's it when it comes to our list of the best torrent sites in 2021. If you have any questions or suggestions, don't hesitate to post a comment below. We are always on the hunt for new information, and we'll gladly update the article with your tips.