Perfect Privacy isn't one of the well-known VPNs that you can often see being advertised online. However, when taking a deeper look at lists of recommended VPNs for certain use-cases, you can see this VPN finding its place among more popular brands. With this said, Perfect Privacy VPN has taken the role of an underdog on today's massively saturated market. And if you've been following our website for a while, you know that we're always on the lookout for hidden gems. Therefore, welcome to our hands-on review of Perfect Privacy!
Just like we do in our every VPN review, we'll use this segment to introduce you to Perfect Privacy. Our first table, found below, will teach you the basic and highly important information about crucial aspects of this service. So, let's take a look.
Considering that VPNs have become the most reliable way to unblock media streaming websites, we have a dedicated segment in our review about this aspect. To give you a glimpse of what to expect - here's how Perfect Privacy ranks.
And before we proceed to our full review, we've prepared one more table. This one shows what to expect from Perfect Privacy in terms of its strengths and weaknesses. We're also going to reveal our final verdict, after having tested this VPN service.
That would be for the introductory part. To learn more, make sure to keep on reading this review. You can be sure that we'll go in-depth and leave no stone unturned.
Perfect Privacy VPN – TechNadu's Hands-On Review
We review VPNs by taking a look at different aspects while testing them hands-on. This means that our reviews are done by dissecting each individual service, which gives us an overview of its weak and strong parts. To learn more, here's how we review VPN services.
Background, Jurisdiction & Reputation
Coming from Switzerland and Panama, this VPN has already proven that it takes its 'no-logs policy' very seriously. Our Score: 10/10.
The first segment of our review deals with background information related to Perfect Privacy. We're going to check the jurisdiction that applies to this VPN, its reputation and possible past data leaks. Let's jump right in.
Jurisdiction & Applicable Laws
Finding background information on Perfect Privacy proved to be tougher than we thought. However, we've discovered that this VPN service is owned by 'Vectura Datamanagement Limited Company', headquartered in Switzerland. In addition, the 'technical implementation' part of this company is based in Panama.
Both of those countries are favorable toward data protection, and we can see why Perfect Privacy has chosen these countries. In fact, both of these countries are home to a number of reputable VPN brands such as ExpressVPN, NordVPN, and VyprVPN. All of these are known for their favorable privacy policies, and we expect the same from this VPN.
Previous Data Leaks
We're pleased to say that Perfect Privacy doesn't have any data leaks (passive or active) in the past. However, there was an incident back in 2016, when two of its Rotterdam-based servers were seized. Still, this incident only proved that Perfect Privacy doesn't collect data and that it knows how to take good care of its infrastructure as no customer information was compromised.
In conclusion, we believe that there's no reason not to trust this VPN. It's based in countries with favorable legal frameworks, which enable Perfect Privacy to avoid any data collection. And since there are no data leaks in the past, we think this VPN stays true to its policy.
Supported Platforms & Devices
The majority of popular devices are covered by Perfect Privacy. However, there are many alternatives to this VPN offering better platform compatibility. Our Score: 6/10.
Before buying a VPN subscription, you need to know if all your devices can be protected. This is done by either native applications or manual configuration. So, here's what you can expect from Perfect Privacy.
In terms of platform compatibility, we have full desktop support. Perfect Privacy is offering native applications for Windows and MacOS, and Linux. You can download and install these from the official website. And when it comes to mobile platforms, there's a native app for Android and configuration files for iOS (which means that there's no native app).
To protect all your Web-connected devices at once, we recommend installing Perfect Privacy on your router. There's a helpful support page that shows installation guides and offers configuration files. Even though this installation method isn't the easiest, it's by far the most convenient way to stay protected in the long-term.
As you can see, some platforms are missing here. For example, we don't have a native FireOS app, and there are no Web browser extensions. However, this problem is alleviated by installing the VPN on your router (which means an additional investment if you don't have a compatible unit).
Installation & Initial Configuration
Perfect Privacy offers a very simple installation method. There are also online guides that can help if you get stuck along the way. Our Score: 10/10.
The first step toward using this VPN is subscribing to Perfect Privacy. This will grant you a username and password that you'll need the first time you launch the application. In other words, the installation process starts by downloading the application from its official website.
With the installation file on your desktop, double-click to launch it. You'll be greeted by a familiar Installation Wizard, asking you where to place the files required to run this VPN. Choose a destination, and the rest of the procedure will be done on its own. After a few moments, you'll be asked whether you want to launch Perfect Privacy. If you decide to do so, you'll see its UI asking for your user credentials.
All in all, the installation procedure is very simple. What's important to note is that you won't find any obstacles, marketing offers, or anything similar. With this said, even the first-timers won't have any problems installing Perfect Privacy.
Prominent Features
This is perhaps one of the most feature-rich VPNs we've tested so far. More advanced users are certainly going to love it! Our Score: 10/10.
We all have different needs, which means we all approach VPNs from different standpoints. However, having a strong feature set is something that's considered to be imperative. With this said, let's talk about what kinds of features you can find here.
In terms of features, we can already see that Perfect Privacy has done a wonderful job. To protect you against any leaks, you can count on DNS and IPv6 leak protection. And in times when a secure connection becomes problematic, the VPN's kill-switch shuts all your Web traffic down, preventing any leaks of your personal information.
Perfect Privacy truly excels in the area of advanced features. The 'TrackStop' feature works by relying on a lengthy list of tracking and phishing domains, while the 'Stealth VPN' can be used in countries where anti-VPN measures are in place. And let's not forget that Perfect Privacy allows you to cascade several VPN servers, providing pretty much the best way to make your online data obscure.
There really is plenty to go through, and we'll explain some of the most dominant features throughout this review, so make sure to stick with us.
Server Count
Perfect Privacy brings a very small server network. It somewhat makes up for this by offering dedicated servers that provide reliable performance. Our Score: 3/10.
Next, we will take a look at Perfect Privacy's server network. The only way for VPNs to ensure smooth performance is by taking proper care of their infrastructure. So, let's talk about the servers found within this VPN.
Sadly, Perfect Privacy has one of the smallest server networks we've encountered so far. However, it has a few things going for it. First of all, we're talking about dedicated (bare-metal) servers, all owned by this company. In comparison, the majority of VPNs use virtual servers whose true location can be hard to verify. For regular users, this means that this VPN's servers bring better security and better reliability.
There are 55 servers in total, spread across 24 countries. There's real-time info on what kind of performance you can expect from each server before you connect, in terms of ping and available bandwidth. And since this is a 'smaller' VPN, you can expect excellent users-per-server ratio. And lastly, Perfect Privacy brings the ability to connect to specific cities and you can switch between different servers with no limitations.
Ease of Use
Perfect Privacy comes with an outdated UI design. However, this doesn't necessarily mean that you'll have any problems using it. Our Score: 8/10.
We're sure you'll be surprised the first you launch this VPN. Instead of offering a highly polished UI, Perfect Privacy looks 'old school' – like something that you would have seen 10+ years ago. However, this doesn't mean that its UI is hard to navigate, so let's explain everything.
The home screen brings a list of servers, filtered in the alphabetical order. For each available server, you can see its country/city of origin, ping value, and available bandwidth. There's also a button to connect on the right-hand side. It takes only a few seconds to connect, and you can review a detailed log while your session is active.
To dive deeper into customizing Perfect Privacy, take a look at the bottom of its UI. This is where you can quit or minimize the application, run a ping test, and most importantly – this is where you can access its settings. So, let's go over the available options found here.
Perfect Privacy Settings: The first tab lets you enter your credentials and choose from the two available VPN protocols (IPSec and OpenVPN). There are nicely written explanations of what to expect from each of these.
Program Settings: You can set Perfect Privacy to start on system startup, auto-connect to a server, and you can choose from several ways the available servers are presented on the home screen. Then, depending on the protocol you've picked, you can adjust the level of encryption.
Firewall and DNS: To make sure your data is safe at all times, Perfect Privacy brings granular control over firewall and DNS. You can enable your system's firewall (temporarily or permanently), firewall your router, enable IPv6 leak protection and more. The same applies to DNS leak protection that you can enable while the program is running or at all times.
IP and Ports: This VPN allows you to easily forward certain ports by inputting the needed values manually.
Cascading and Stealth: Now, here's something truly interesting. This tab lets you enable cascading, which means that you can route your traffic through several VPN servers. This grants you maximum protection, but we aware that it's slow you down as well. In case you need a more aggressive approach to anti-VPN measures, you can enable the 'Stealth VPN' functionality.
Other: The final tab lets you check for updates, reset your options, and review debug-related features.
We have to say that we're surprised by the level of customization this VPN brings. You can truly fine-tune every single option, which is something that advanced users are going to love. Even though Perfect Privacy doesn't have the most polished UI, it's still easy and straightforward to use.
Media Streaming & Torrenting Support
Perfect Privacy should not be your pick for media streaming, as it can't unblock any of the popular streaming services. Torrenting is fully supported though. Our Score: 2/10.
One of the main reasons for the popularity of VPNs is their ability to unblock media streaming services. We've tested Perfect Privacy with the world's most popular services, so here's what you must know.
It's clear that Perfect Privacy (as its name implies) isn't focused on media streaming. Instead, this VPN's primary focus is the privacy and protection of your sensitive data. With this said, we're not surprised that services like Netflix, Hulu, BBC iPlayer, and Prime Video are out of this VPN's reach.
It's important to know that there are reports online about Perfect Privacy being able to unblock Netflix. However, those reports are several years old, which means that the battle has been lost for good. In case this is a deal breaker, we recommend checking out the best VPNs for media streaming.
Let's not forget to mention that torrenting is fully supported by Perfect Privacy. This VPN imposes no limitations and all supported VPNs protocols are in play. To take full advantage of P2P traffic, you can even go for port forwarding.
Security & Privacy
By employing the latest digital security standards, Perfect Privacy keeps your data protected at all times. Also, there's no logging of any kind. Our Score: 10/10.
To see what kind of data protection this VPN brings, we'll inspect its protocols, logging policy, and we'll end this segment with a DNS leak test. So, let's jump right in.
Supported Encryption Protocols
Depending on what VPN protocol you select, Perfect Privacy will offer a range of encryption protocols. Since OpenVPN is the preferred protocol which provides strong data protection without affecting the speed of your Web connection (in a major way), there are six associated encryption levels. They range from AES-128 (CBC and GCM) to AES-256. Another protocol called Camellia (128 and 256bit) is on offer as well.
Depending on the platform you'll use to run this application, there's a nice range of VPN protocols as well. There's OpenVPN, IPSec, PPTP. In addition, SOCKS5, Squid, and SSH2 are on offer as well.
Logging Policy
Perfect Privacy clearly states that they don't collect your private data. Their privacy policy says that they're using strongly encrypted RAM disks that make it impossible for any data to be actively stored on hard drives. Instead, their servers are used only to transport data, without keeping any of it.
Being established in 2008, Perfect Privacy has a long history of keeping its customers safe. There are no data leaks in the past or any other situation that would cause distrust. With all of this said, we conclude that you can use this VPN without having to worry about your personal data.
DNS Leak Test
We don't just rely on reading this company's privacy policy. Instead, we've also done a comprehensive DNS leak test to see whether all of its claims are true. This kind of test tells us if there are any active leaks which could reveal your location.
After having done a DNS leak test, we can say that Perfect Privacy is absolutely safe for use. Anyone who reads your IP address on the Web sees only your virtual IP – assigned by the VPN. This means that getting to your true location or any type of information that could reveal who you are is close to impossible.
Speed & Performance
Perfect Privacy throttled the speed of our Web connection by 36% on average. This isn't terribly bad – but it's also not the best result out there. Our Score: 7/10.
We check every VPN's performance by doing speed tests of its secure connections. For this purpose, we connect to both nearby and remote servers, and we draw conclusions by taking a look at individual speed tests. First, we'll calculate the speed of our Web connection, to establish baseline data.

We have a 150Mbps Web connection. However, achieving that kind of result can be hard in the real world as some loss typically occurs. We've checked our speed without having the VPN enabled, and we got 144.7 Mbps for downloads and 8.81 Mbps for uploads.
Next, we've found a server that's in our close proximity, located in Zurich (Switzerland). The speed test we've done gave us 80.39 Mbps for downloads and 7.11 Mbps for uploads. We have to say that we're somewhat disappointed by this result, as we've expected a better performance.

Now, it's time to connect to a remote server. We've connected to a server in the USA, and we managed to get 104.09 Mbps for downloads and 4.47 Mbps for uploads. Strangely enough, this server gave us a better performance than the nearby one.
We conclude that Perfect Privacy slowed down our Web connection by 36% on average. This isn't a terrible result - but note that many VPNs manage to bring faster speeds.
Customer Support
Sadly, there's no live-chat on the official website. However, you can rely on emails, support tickets, and you can even use TeamViewer. Our Score: 9/10.
Perfect Privacy has developed a comprehensive system of support. Even though you won't find a live-chat option, there are other (equally helpful) ways to get help. Here's a quick overview:
Email Support: You can contact the company's support agents directly by writing an email. In general, expect to receive an answer within 48 hours. However, it'll take 24 hours in the majority of cases.
Ticket Form: Similar to how the previous support channel works, you can also submit an official support ticket. We believe that this method gets equal attention as emails, so expect to take up to 48 hours to get any kind of response.
Forum / FAQ: Perfect Privacy gives you a chance to try to find a solution yourself. For this purpose, you'll find a comprehensive FAQ section on the official website. If you have additional questions, you can also join the company's online forum.
TeamViewer: Finally, here's a nice surprise. You can set up a TeamViewer session and have support agents work with you in real time. This truly shows that Perfect Privacy is willing to go the extra mile to help its customers.
Pricing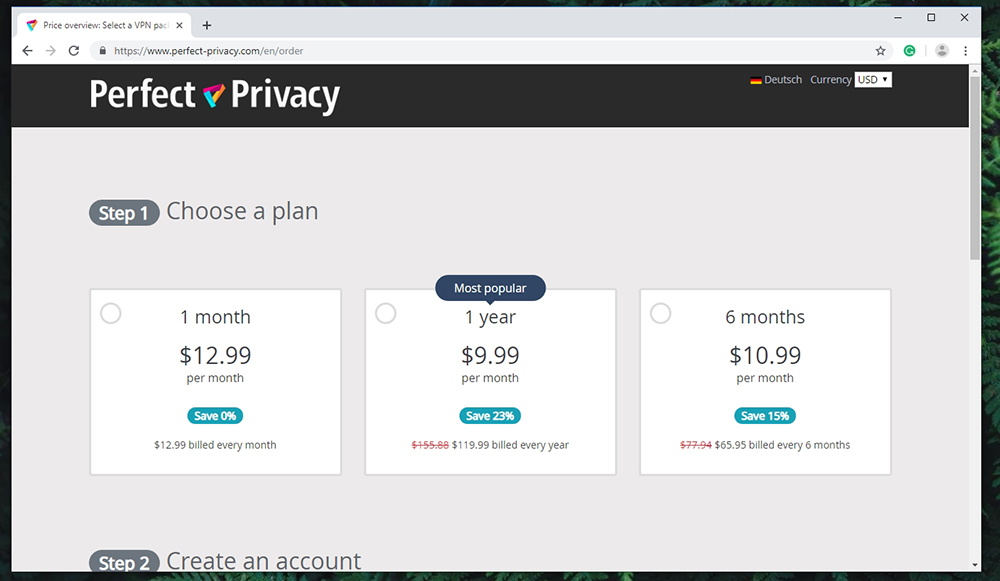 Perfect Privacy comes with a really high price. In fact, this is one of the least affordable VPNs we've met so far (even though it brings high-end features). Our Score: 4/10.
This VPN has recently updated its pricing structure. However, the new changes aren't that dramatic as this is still one of the least affordable VPN services.
It's evident that Perfect Privacy is a highly priced VPN service. You can buy Perfect Privacy for $12.99 per month, and this is one of the biggest prices we've seen yet. It's true that Perfect Privacy brings numerous highly advanced features and it also keeps you perfectly safe online – but it's high priced, nonetheless.
You can save quite a lot in the long-term, though. By getting a 12-month subscription, you can save 23%. In other words, this comes down to $9.99 per month, which is still higher than what its direct competitors are offering. It looks like there's a price on your privacy, and it isn't very affordable.
Lastly, please note that there's a 7-day money-back period. So, you can easily ask for your money to be returned in case you decide to try this VPN and change your mind afterward.
Do We Recommend Perfect Privacy VPN?
Without any doubt, this VPN can safeguard your personal data in the best way possible. We're sure that it collects zero information, makes you fully anonymous online, and gives you all the freedom you want. However, the only problem is that it's high priced, which makes us more reluctant to recommend it to all our readers. If money isn't an issue, this could be a perfect choice.
PROS: Doesn't collect data; No previous data leaks; Advanced features; Lots of fine-tuning; Dedicated servers; Complete privacy solution.
CONS: Outdated UI; Relatively small server network; Can't unblock media streaming websites; High priced.
OUR SCORE: 7.2 out of 10!
If you're intrigued by everything you've read in this article, go ahead and check out Perfect Privacy for yourself. And if total privacy is what you seek, don't think twice about subscribing to this VPN!
Finally, we'd like to ask you to share this review online. And to stay on top of the latest VPN-related news, you can follow us on Facebook and Twitter. Thanks!