As noted on its official website, more than 188,000 individuals use IVPN on a daily basis. And it also looks like this VPN takes great pride in numerous awards it got from reputable websites. With this said, it's safe to say that IVPN shows a lot of promise right off the bat. However, after reviewing dozens of VPN services, both well-known and brand-new, we know better than to trust any (marketing) claims. With this said, we'll be taking a very deep and comprehensive look at this VPN, so welcome to our hands-on review of IVPN!
To begin, we've prepared several handy tables that extract the most important information about this VPN. So, let's get started.
Quick Facts
| | |
| --- | --- |
| Jurisdiction | Gibraltar |
| Logs | No connection logs; No activity logs. |
| Number of Servers | 30+ countries, 75+ servers. |
| Parallel Connections | 2 (Standard); 7 (Pro). |
| Encryption Standards | AES-256; OpenVPN, IPSec/IKEv2, WireGuard. |
| Speed Reduction | 7%, on average. |
| P2P Support | YES |
| Live Chat Support | YES |
| Supported Platforms | Windows, macOS, Linux, iOS, Android, routers. |
| Price | Starts at $5.00/month. |
In many cases, VPNs are used to unblock websites – media streaming services, in particular. That's why we test each VPN with the world's most popular streaming services such as Netflix, Hulu, and more. Here's what you can expect from IVPN.
Media Streaming Support
| | |
| --- | --- |
| American Netflix | YES |
| Hulu | NO |
| BBC iPlayer | NO |
| Amazon Prime Video | NO |
| Kodi | NO |
In case you don't have the time to read this entire article, check out the following table. We'll tell you our findings after having tested IVPN. Here are its biggest strengths and weaknesses.
The Bottom Line
| | |
| --- | --- |
| Pros | Available on numerous platforms; Easy installation; Streamlined UI; Unblocks Netflix, Supports P2P; Amazing performance. |
| Cons | Small server network; Can't unblock iPlayer, Hulu, Prime Video. |
| The Final Verdict | Despite a few minor downsides, one thing is sure - IVPN can protect your online identity and can truly make you invisible online. It's one of the best VPNs right now. |
| Our Score | 8.2/10 |
That would be it for the introductory segment. If you keep on reading this article, you'll get the chance to get to know IVPN from the inside out. So, let's keep on going, shall we?
IVPN – TechNadu's Hands-On Review
Each of our VPN reviews follows the same structure. We begin by checking background information and reputation of a particular VPN (IVPN, in this case), and then we continue by testing the software itself. To learn more about how we review VPNs, click on the provided link, and you'll be taken to our dedicated article.
Background, Jurisdiction & Reputation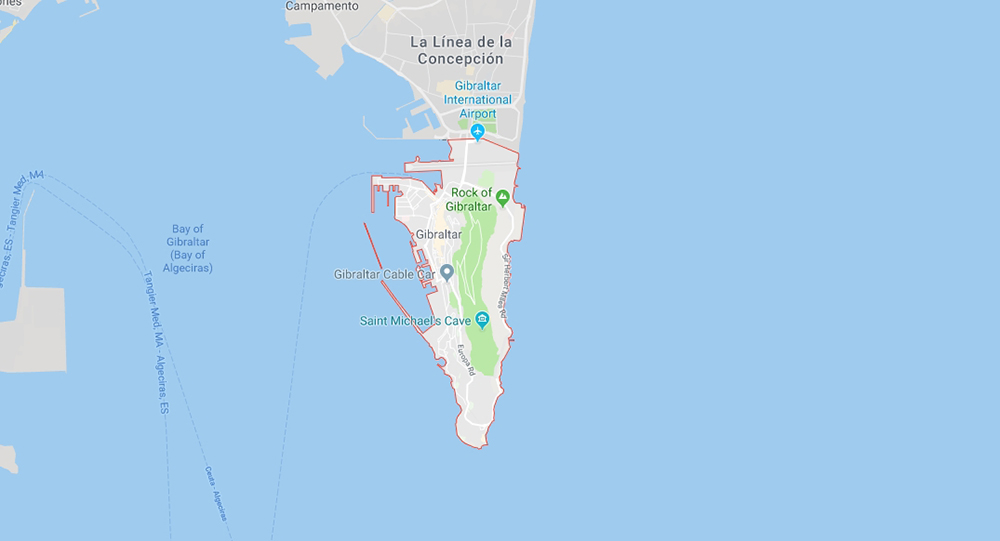 IVPN is based in Gibraltar, which is under British sovereignty. Still, there are no reports of previous data leaks or any other worrying situations. Our Score: 9/10.
It's important to know where your chosen VPN comes from, as this dictates the way your personal data is handled. It's not the same if a VPN is based in the USA or in some 'exotic' country that has no data retention laws. Now, here's what you need to know about IVPN.
Jurisdiction & Applicable Laws
First of all, you need to know that IVPN is based in Gibraltar. Those of you who follow the latest news know that Gibraltar has a strong connection to the United Kingdom (one of the founding members of the 5/9/14 Eyes Alliance). So, does that mean that IVPN is not to be trusted? Well, the situation isn't that simple.
Gibraltar is a British Overseas Territory, and it's located in the southern part of the Iberian Peninsula. It has its own system of governance, which means that Gibraltar has its own parliament and government. This also means that Gibraltar can adopt laws coming from the UK, but it can also make its own laws.
In terms of VPN-related businesses, you must know that VPNs are in no obligation to collect data if they're based in Gibraltar. Differently said, the UK government has no power over this territory and can't conduct direct surveillance of VPN networks (officially, at least). Still, we can't be 100% sure that your private data will be safe at all times, and we can't make any predictions for the future. The bottom line is that the UK is in 'charge' of Gibraltar even though this territory has plenty of freedom to act on its own.
Previous Data Leaks
We're pleased to say that IVPN comes with a reputation of being leak-free. There are no problematic events from its past, as this VPN was never accused of collecting or leaking the private information of its users.
With everything said so far, we believe that IVPN is one of the trustworthy VPN services. It's based in Gibraltar, has a very transparent communication with its subscribers, and there are no reports of previous incidents. Therefore, there's no reason not to trust this VPN, but we can't say how things will develop in the future.
Supported Platforms & Devices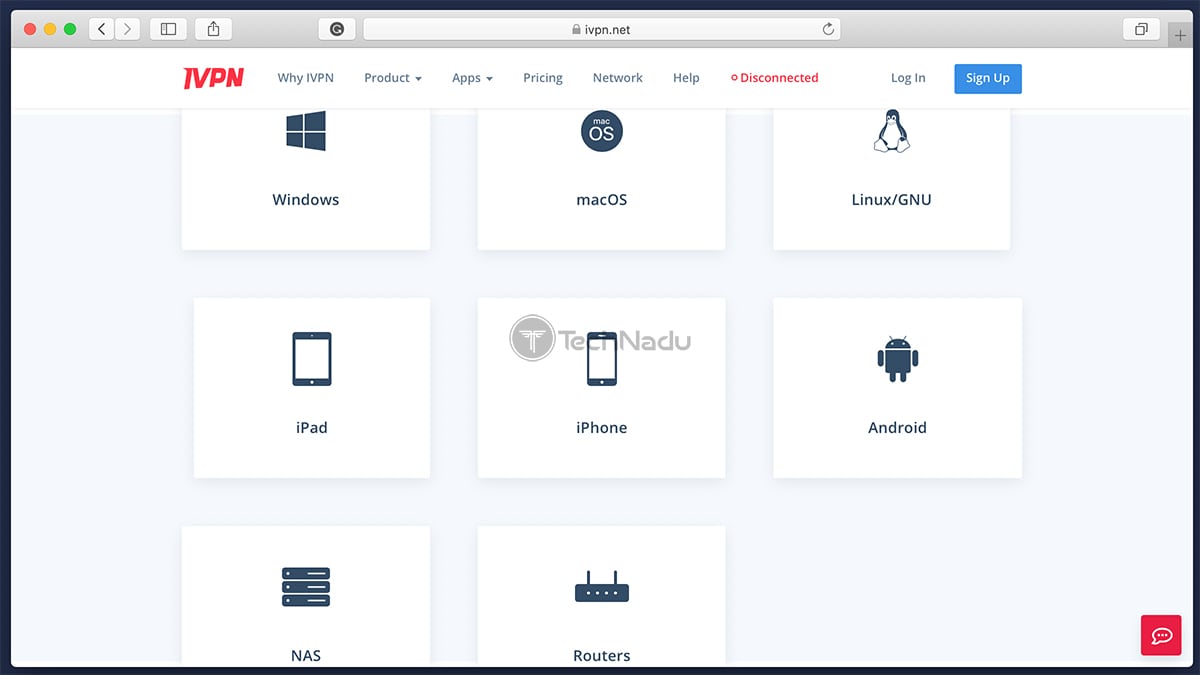 You can install IVPN on pretty much any device or platform (aside from media streaming devices). Compatible routers are on offer as well. Our Score: 8/10.
Every VPN comes with a certain number of simultaneous connections, so you can use it on more than one device. That's why it's important to know if you can be protected at your home, as well as when you're on-the-go.
Platform Compatibility
| | |
| --- | --- |
| Desktop Platforms | Windows, macOS, Linux. |
| Mobile Platforms | Android, iOS. |
| Web Browsers | N/A. |
| Routers | DD-WRT, PFSENSE, Tomato. |
| Other Devices | NAS devices. |
When it comes to computers, you will find native applications for Windows and macOS. Linux is also among the supported platforms, but you'll need to configure this VPN manually. In terms of mobile devices, you can count on Android and iOS (there are native apps for both of those platforms).
In case you'd like to protect your entire household at once, you can install and run IVPN on your router. As you might expect, this procedure is somewhat complicated as it includes using configuration files. However, IVPN has come up with nicely written guides that can take you through the entire procedure with ease.
And finally, please note that subscribers to IVPN's Standard plan can use up to 2 simultaneous connections. The VPN's Pro plan increases this limit to 7 devices.
Installation & Initial Configuration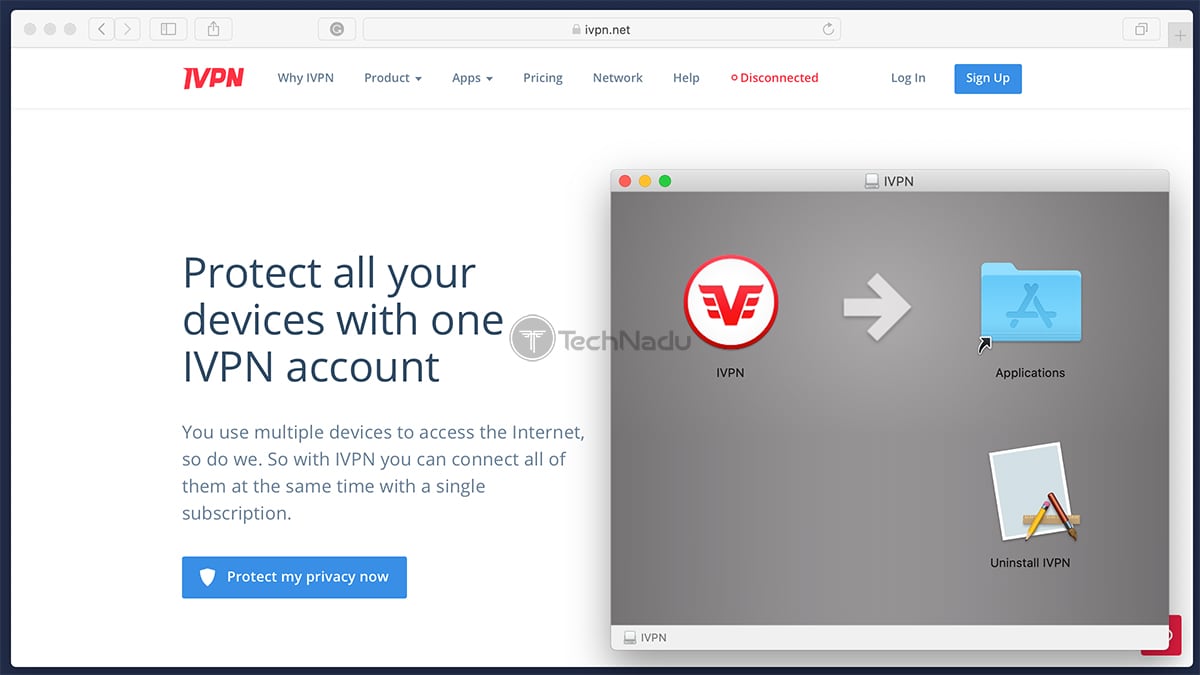 You can sign-up, install, and start using IVPN within minutes. It comes with a simple installation method, and handy guides are here to help as well. Our Score: 10/10.
IVPN allows you to test its services for up to 3 days. This means that once you go through the sign-up process, you'll be charged after the 3-day trial. If you decide to sign-up for IVPN, you need to provide an email and password, choose your subscription plan, and pay via a credit card, PayPal, Bitcoin, or cash.
Immediately after you create your new account, you'll be offered a list of applications that you can install. You'll see all of the supported devices along with installation instructions. We've tested IVPN on our macOS computer, where the installation went without any problems. The IVPN's DMG file is lightweight, and all you need to do is - drag-and-drop the VPN's icon to your Applications folder. Then, you can log-in using your IVPN ID (found on your dashboard, on the VPN's website), and that's pretty much it.
Once again, it's important to highlight that IVPN offers installation guides for all of its applications. You shouldn't experience any problems with desktop and mobile platforms. However, installing this VPN on a router might be somewhat complicated, which is the case with any VPN. Therefore, it's good to have a nicely written guide to help you along the way.
Prominent Features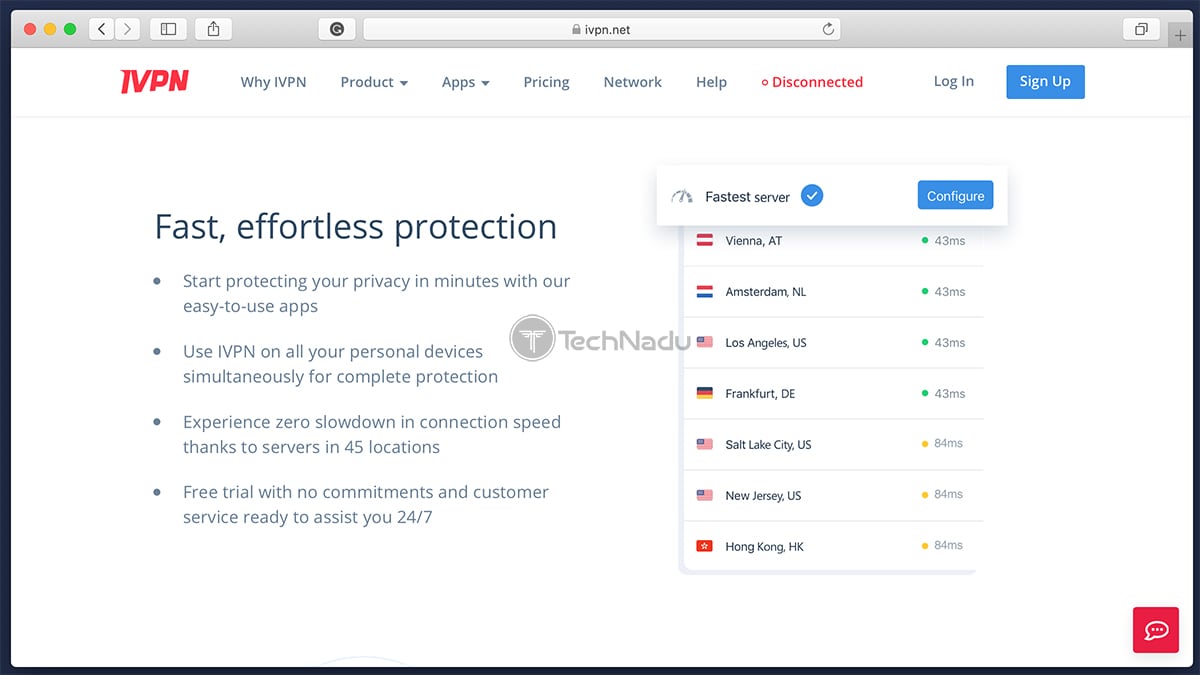 IVPN comes with a series of interesting features. Even more importantly, this is an ever-evolving VPN service. Our Score: 10/10.
Now, let's check the basic as well as more advanced features that IVPN offers. We're going to see how effective this VPN is when it comes to protecting your online data, and whether there are any limitations to what it can do.
VPN Features Checklist
| | |
| --- | --- |
| DNS Leak Protection | YES |
| IPv6 Leak Protection | YES/NO |
| Kill-Switch | YES (Firewall) |
| Ad-Blocker, Anti-Malware | YES |
| Unlimited Server Switches | YES |
| Unlimited Bandwidth | YES |
| Unlimited Data | YES |
In terms of keeping you safe online, IVPN utilizes DNS leak protection. Unfortunately, IPv6 is still not natively supported, but you get IPv6 leak protection if IVPN's Firewall is enabled. And also, there's a built-in kill-switch, which protects you in times when your secure connection becomes endangered.
Now, let's check out some advanced features. In December 2018, IVPN started offering WireGuard – an all-new VPN protocol designed to bring unparalleled performance while using the most advanced cryptography. However, it's hard to say if this was a good call. As noted by ExpressVPN, a highly-reputable VPN, WireGuard is not yet fully developed. As said by ExpressVPN, there are vulnerabilities that could reveal your online identity, putting everything you do online at risk of being seen by third-parties. Still, IVPN has managed to fix many privacy-related issues inherent in WireGuard, making it more stable and definitely more usable. However, we recommend you stick to OpenVPN, at least for now.
Also, IVPN is a multi-hop VPN service (this feature is available in the PRO plan only). This means that you can route your traffic through several VPN servers at the same time. As a result, this should make it 100% impossible for anyone to track your online whereabouts.
And finally, there's a recently introduced feature called 'AntiTracker'. This one helps you block traffic to sources that connect data-tracking services, malicious websites, and ads. You can also enable the 'Hardcore Mode' in the IVPN apps that make this VPN block services like Google and Facebook. As its name says, this really is a hardcore measure - but it brings you one step closer to a tracking-free Web experience.
Server Count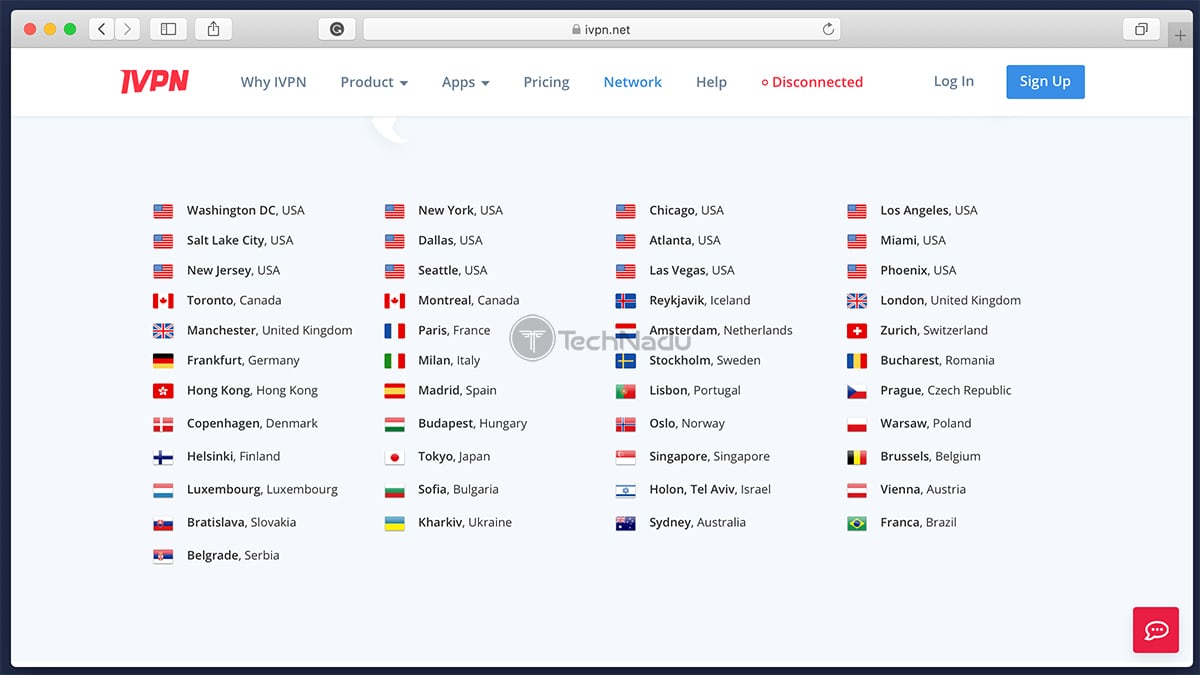 With over 75 servers on offer, IVPN won't impress anyone. However, it's good to know that it actually owns its entire network of servers. Our Score: 3.5/10.
Ideally, you want to have access to plenty of servers across the world and nearby servers that could provide reliable performance. So, here's what IVPN offers.
Server Count Info
| | |
| --- | --- |
| Number of Servers | 75+ |
| Number of Locations | 45+ |
| Number of Countries | 30+ |
| Specific Cities Selection | YES |
| Unlimited Switching | YES |
When you visit IVPN's website, you'll see marketing messages saying that you can use a 'global network of high-performance VPN servers.' However, finding concrete numbers is close to impossible. Upon further inspection, we've found that IVPN has over 75 servers, allowing you to connect to 30+ countries.
You need to know that this is a very small server network. In all honesty, 75 servers could do the job if you're a home user with very basic VPN-related needs. However, VPNs such as NordVPN and CyberGhost VPN have more than 5,000 servers spread across the entire world. So, you can see that IVPN is trailing behind in a big way.
On the positive side, IVPN owns its entire server network. This means that it can control everything that goes through those servers and block access to any third-parties. In terms of security, this is something that you should really care about.
Ease of Use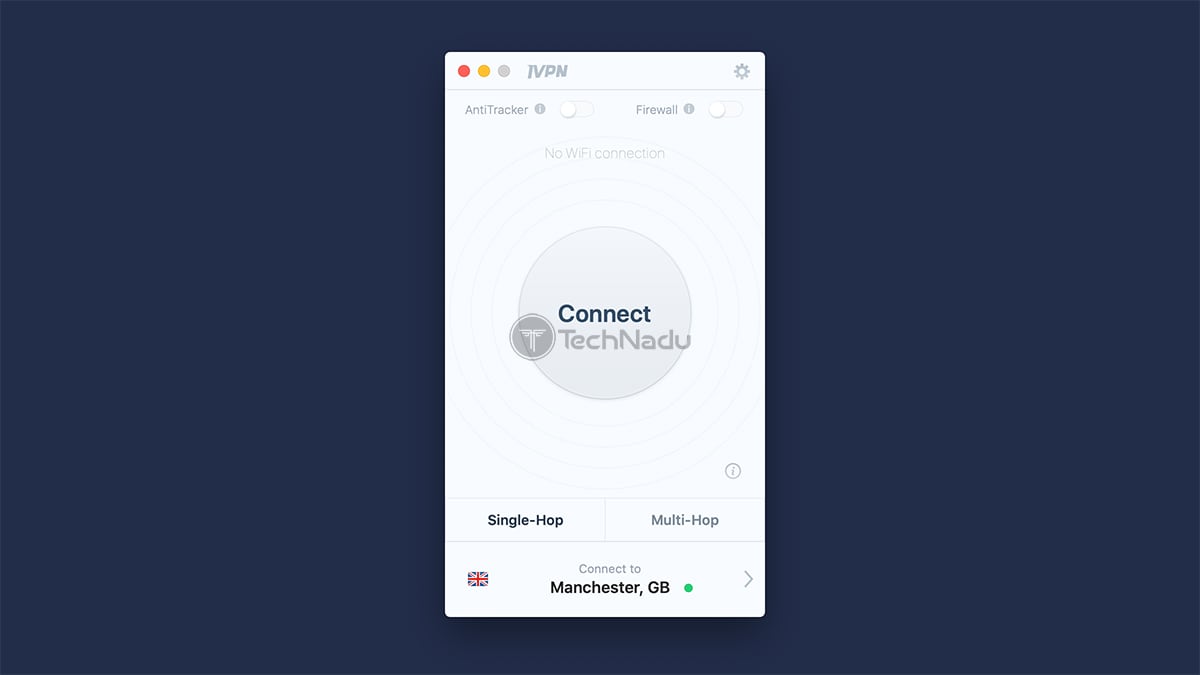 IVPN has come up with a nicely designed UI that's very easy to use. Still, it's suitable for advanced users as well, who want to dive deep into fine-tuning. Our Score: 9/10.
When you launch IVPN, you will see a fairly simple UI. The application's home screen allows you to connect to and disconnect from secure servers. This is also where you'll find one of IVPN's most prominent features – the ability to connect to two VPN servers at once (available in the PRO plan only). And let's not forget that you can enable/disable the application's firewall protection, which acts as a kill-switch as well. There's also a shortcut for enabling/disables the VPN's AntiTracker feature.
To connect to a server, click on its name on the home screen of IVPN. You will see a list of available servers along with their ping values (indicating their distance from your location). In case you want the best possible performance, IVPN allows you to pick the fastest server. In other words, the application will find the server closest to your physical location and connect you to that server.
Now, let's dive deeper into this application. In the top-right corner, you will find a gear icon. By clicking on it, you'll open the application's settings. We'll go over all the tabs found there, so keep on reading to see what kinds of adjustments you can make.
General: The first tab allows you to adjust how the application behaves. To stay protected at all times, you can set the VPN to launch on system startup, and even to auto-connect to a server. You can also enable IVPN to launch each time you connect to an unprotected Wi-Fi network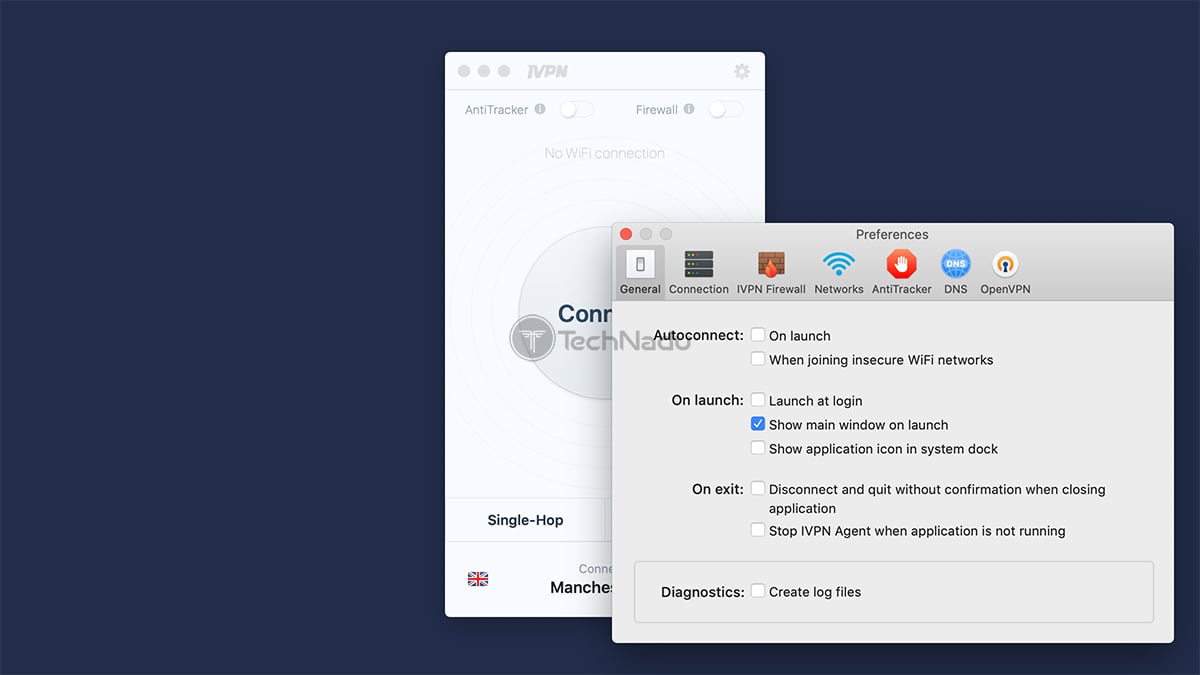 Connection: Since we tested IVPN on macOS, we got to use two protocols: OpenVPN and WireGuard. The 'Connection' tab allows you to fine-tune these protocols, choose between UDP and TCP, use obfuscation methods that battle anti-VPN measures, and similar stuff. And as mentioned earlier, this is where you can enable IVPN's experimental WireGuard protocol.
IVPN Firewall: As noted earlier, IVPN doesn't have a kill-switch, per se. Instead, it comes with a more powerful solution to blocking non-VPN traffic. You can use the application's firewall once when your VPN connection is active, or you can use it all the time as a background process.
Networks: IVPN can help you protect your computer when connecting to potentially dangerous Wi-Fi networks, such as public hotspots. You can decide how the VPN behaves when you connect to Wi-Fi, and you can select which networks to trust.
AntiTracker: As mentioned earlier, IVPN now comes with a feature called 'AntiTracker' that can be enabled on the home page of its UI. However, if you want to go in-depth into fighting against tracking, this is where you can enable the 'Hardcore' mode.
DNS: IVPN gives you the ability to use a custom DNS, which can be activated here.
OpenVPN: In case you want to dive deeper into optimizing the OpenVPN protocol, IVPN offers that possibility. Clearly, this is an option for advanced users.
All in all, IVPN is a very simple application – simple enough, even for first-timers. However, it also allows you to dive deep into its settings and fine-tune everything to your liking. This makes IVPN suitable for a wide range of users.
Media Streaming & Torrenting Support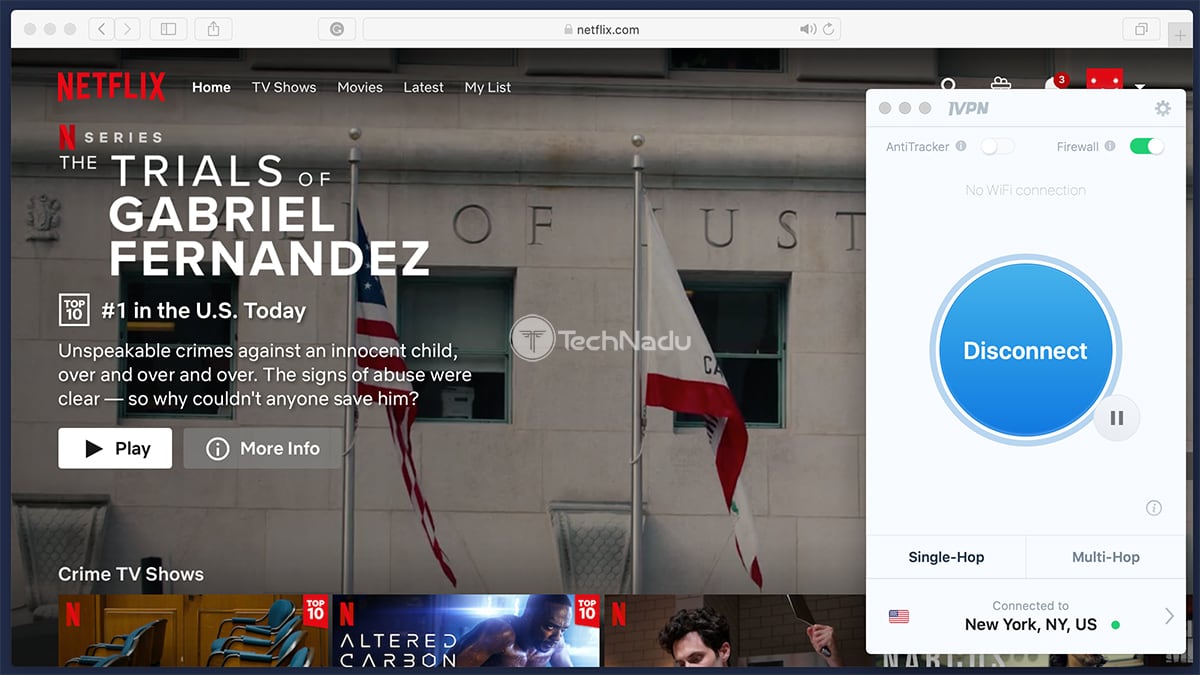 IVPN can be a good choice for unblocking Netflix outside the USA and for downloading torrent files. BBC iPlayer, Hulu, and Prime Video are not supported. Our Score: 4/10.
Want to know if IVPN can unblock media streaming websites? Are you planning to download P2P files? If that's so, take a look at the following table.
Media Streaming & Torrenting Support
| | |
| --- | --- |
| Netflix US | YES |
| Hulu | NO |
| BBC iPlayer | NO |
| Amazon Prime Video | NO |
| Torrenting (P2P) | YES |
When it comes to Netflix, we have some good news. IVPN is currently capable of unblocking the American version of Netflix. Furthermore, it seems like you can count on high performance since streaming in HD is easily achievable. And when it comes to other popular services, IVPN isn't able to unblock Hulu, BBC iPlayer, and Prime Video outside of their home countries.
To end this segment on a positive note, IVPN supports torrenting. As reported by this VPN a while back, it has been receiving plenty of DMCA notices targeting US-based P2P servers. This is why the company is asking its users not to download copyrighted material from the Web. Still, note that no users have actually received any DMCA notice.
Security & Privacy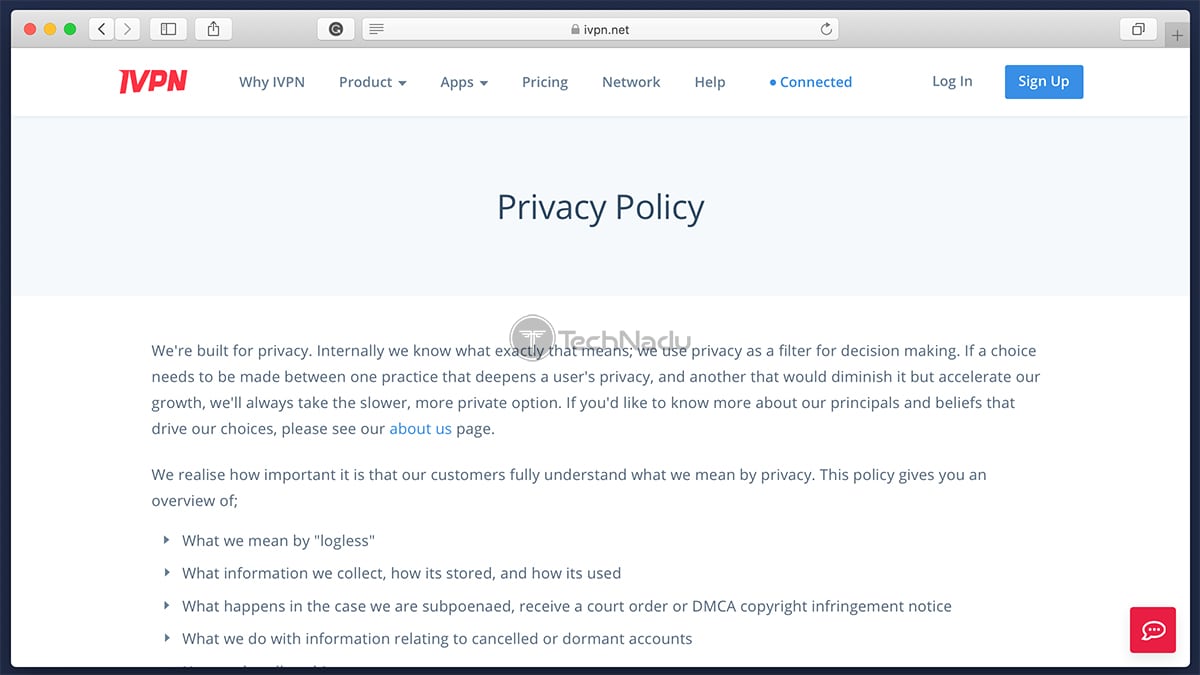 IVPN takes proper care of your privacy. This service uses the best possible encryption and the safest VPN protocols. It doesn't collect logs either. Our Score: 10/10.
As you already know, the primary role of any VPN is to keep you safe online. This is done via different levels of encryption and with the use of different VPN protocols. Let's see what to expect from IVPN.
Supported Encryption Protocols
In terms of encryption, IVPN is designed to offer AES-256-GCM and AES-256-CBC. The cipher AES-256 is considered to be among the most secure ones as it's practically uncrackable. In theory, even if someone gets to your data, they won't be able to understand it due to the complexity of this encryption type.
When it comes to VPN protocols, IVPN supports IPSec/IKEv2, OpenVPN, and WireGuard. All of these are believed to be strong VPN protocols that can also provide reliable performance. Our advice would be to go for OpenVPN, which provides full confidentiality, authentication, and integrity.
Also, we have to note that IVPN's applications are now open-source (Windows, macOS, iOS, and Android). This is yet another proof of how much trust IVPN has in its apps - allowing anyone to inspect their code and contribute to resolving potential problems. As IVPN says, open-sourcing the apps is just the first step in a multi-year plan to open up different parts of this VPN to the public. If you'd like to check out these apps, you'll find them on IVPN's GitHub page.
Logging Policy
Ever since it launched, close to a decade ago, IVPN claimed not to collect any data – not even for diagnostic purposes. In other words, it claimed to be one of the true 'no-logs' VPNs, which has become increasingly hard to find nowadays. And since it comes free of any past data leaks or vulnerability exploitations, it is safe to say that IVPN stays true to its privacy policy.
To further prove its claims and position itself on the market, this VPN went through an independent audit. Throughout March 2019, this service has been under inspection by Cure53, a renowned company offering penetration tests and security analysis. To goal was to check two claims made by IVPN – that it doesn't log any traffic, IP addresses, or DNS requests and that it doesn't collect any statistical traffic.
You can read the full report online, but we'll give you the most important highlights here. The audit found one flaw with the DNS servers on the VPN gateways. The issue was that DNS responses were cached by the DNS servers – which is treated as unwanted behavior. This issue is in no way related to data logging or identifying an individual user's activity. Furthermore, this issue was resolved by the IVPN developers who set the cache size on all DNS servers to zero.
In conclusion, the audit discovered no flaws that could be related to data logging. As Cure53 stated, all of the IVPN's privacy statements could be verified as truthful. In other words, you can be 100% sure that IVPN won't store your data in any form possible.
DNS Leak Test
Lastly, we've done a DNS leak test to check whether this VPN is leaking any of our personal information. As you can see from the screenshot above, no leaks were detected. Third-parties can see only what IVPN is showing them – and it's showing them your 'virtual' information.
Speed & Performance
IVPN will barely slow down your Web connection. As per our tests, this is the fastest VPN we've encountered so far. Our Score: 10/10.
One of the downsides of using VPNs is experiencing some throttling. However, a capable VPN shouldn't slow down your Web connection by much. We'll now check how IVPN performs.
We begin by testing the speed of our 'naked' Web connection. As we need some baseline data, we won't launch IVPN just yet. As you can see from the screenshot above, we got 147.31 Mbps for downloads and 9.31 Mbps for uploads.

As noted earlier, IVPN can select the best server based on your location. We got connected to a server in one of our neighboring countries (we're located in Europe), and we got 142.01 Mbps for downloads and 9.26 Mbps for uploads. We have to say that these numbers surprised us, as there's very little throttling involved.

Finally, we also checked the speed of a remote connection. After connecting to a server in the USA, our speed test gave us the following result: 131.48 Mbps for downloads and 6.77 Mbps for uploads. To make sense of all this data, we'll place it in the following table.
| | | | |
| --- | --- | --- | --- |
| | Download Speed | Upload Speed | Speed Reduction |
| Baseline Speed | 147.31 Mbps | 9.31 Mbps | 0% |
| Nearby Server | 142.01 Mbps | 9.26 Mbps | 3.6% |
| Remote Server | 131.48 Mbps | 6.77 Mbps | 10.7% |
We can say that IVPN made our Web connection slower by 7.1% on average. This is actually the best result we got so far, and we've tested dozens and dozens of VPNs. If you care about performance, this one should be your pick!
Customer Support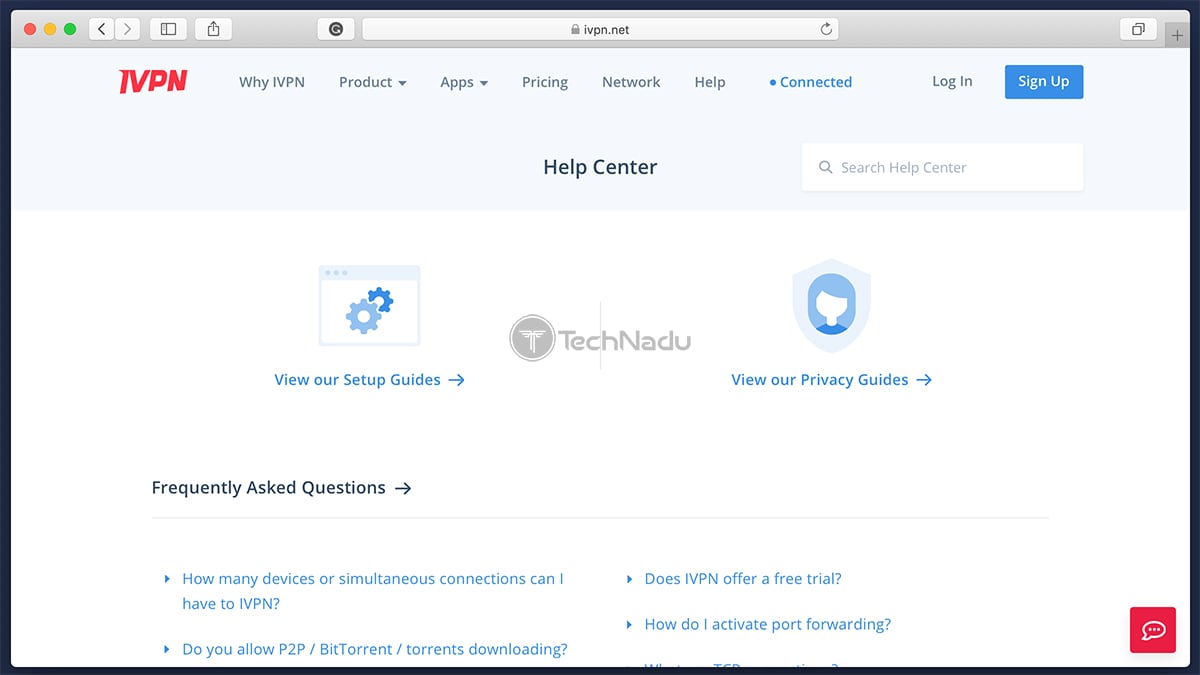 IVPN is offering live-chat support (not 24/7), self-help resources, and you can send a message directly to its customer support team. Our Score: 9/10.
Just like any premium-priced service, IVPN has come up with a system of customer support channels. There are different ways to get help, so here's a handy overview:
Live Chat: On the official IVPN website, you'll see an icon used to trigger live chat. You can talk to the company's representatives if you have any questions or issues with this application.
Self-Help Material: If you want to dive into solving your problem yourself, you'll find a series of helpful installation guides, frequently asked questions, and troubleshooting guides. There's plenty of material here, and you can also search for specific terms.
Contact Form: To open a support ticket or to simply send a message to the company, you'll be provided with a contact form, found on the website. You don't have to enter any of your personal information, which is always a good thing. Also, expect from IVPN to contact you back within 24 hours.
Overall, we feel that you'll manage to resolve any issues within a reasonable time-frame. However, be prepared to wait up to 24 hours if you can't fix the problem yourself, which means that you'll be prevented from using IVPN during that time. There's also live-chat involved, but it's not always available.
Pricing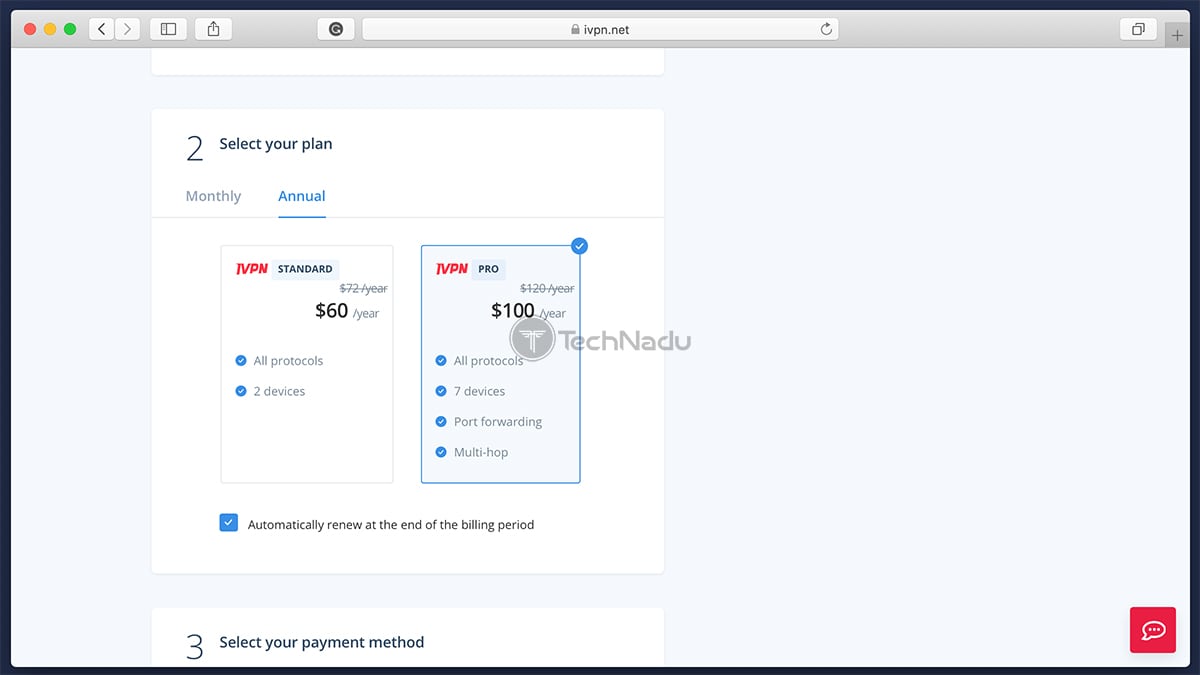 Based on your needs, IVPN comes with two subscription plans - Standard and Pro. And then, you can decide to pay monthly or annually. Our Score: 8/10.
If you decide to subscribe to IVPN, you'll need to pick one of two possible routes. That's because there are two subscription plans: IVPN Standard and IVPN Pro. They are slightly different in their feature set and pricing, so let's explain everything you need to know.
First, we have the IVPN Standard plan. If you decide to go with this one, you can connect up to 2 devices at the same time, and you get a set of 'standard' features. In general terms, more advanced features are reserved for the IVPN Pro plan. So, here's how much you'll need to pay for the Standard plan, depending on the duration of the subscription.
| | | | |
| --- | --- | --- | --- |
| IVPN Standard | Total Price | Per Month | Savings |
| 1 Month | $6.00 | $6.00 | 0% |
| 12 Months | $60.00 | $5.00 | 17% |
Then, we have the IVPN Pro plan. This one gives you access to 7 parallel connections, and you also get some high-end features like MultiHop and port forwarding. It's clear that if you need the best possible protection for your privacy, this is the route to go.
| | | | |
| --- | --- | --- | --- |
| IVPN Pro | Total Price | Per Month | Savings |
| 1 Month | $10.00 | $10.00 | 0% |
| 12 Months | $100.00 | $8.33 | 17% |
When it comes to other payment-related information, IVPN offers a 7-day money-back guarantee, there's a 3-day trial available, and you can pay via credit cards, PayPal, or BitPay. You can also pay with cash, but this applies only to a number of select countries. As always, we recommend checking for potential promotions while getting your IVPN subscription, so make sure to use the promotional link to check the latest pricing scheme available.
Do We Recommend IVPN?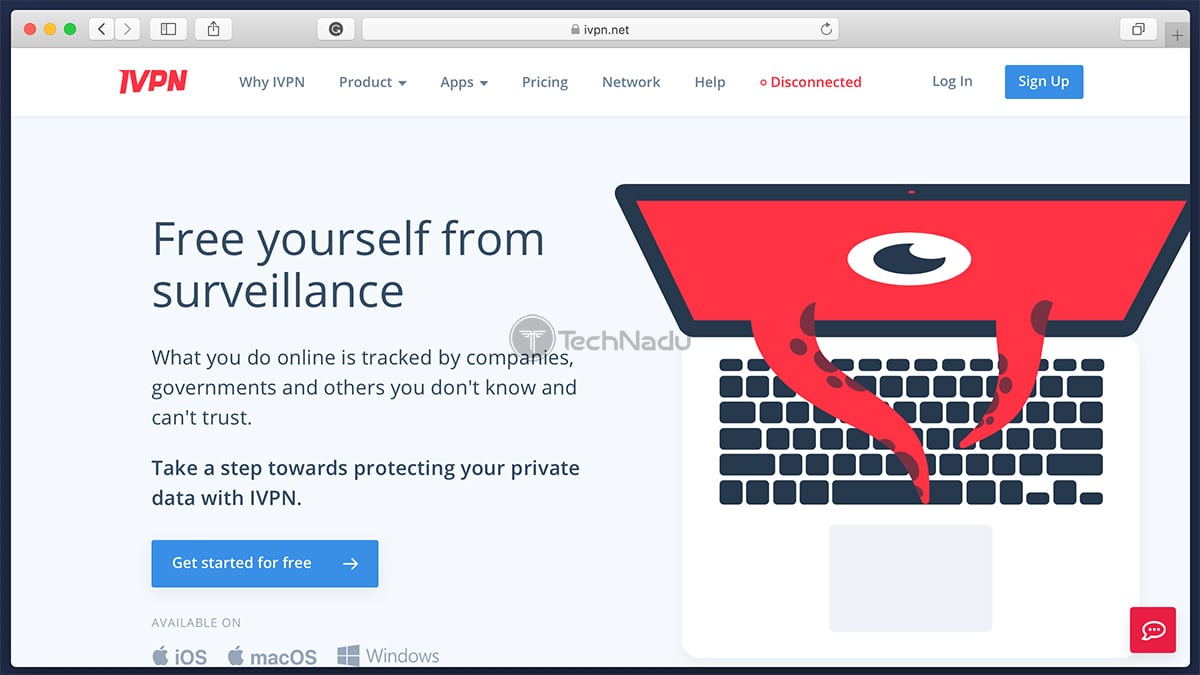 After everything said so far, we can easily recommend IVPN. Its primary focus is to keep your Web browsing safe and completely anonymous. And even though it comes with some downsides, it does its job admirably well. So, we recommend getting the subscription to this capable VPN solution.
PROS: Wide platform coverage; Easy installation; Streamlined UI; Tough encryption; Capable VPN protocols; Unblocks Netflix; Lightning-fast speeds.
CONS: Overly small server network; High-end features reserved for the PRO plan.
OUR SCORE: 8.2 out of 10!
Are you wondering if you should get an IVPN subscription? Well, let's put this way. If your goal is to be completely anonymous online and if you want the best possible performance out of any VPN, go ahead and subscribe to IVPN today! You certainly won't regret it!