If you're a huge anime fan like us, you probably already have a Crunchyroll account (or were at least thinking of getting one). Either way, should you use the site together with a VPN to you watch Crunchyroll outside US borders or to unblock shows from other regions?
We'll answer that question (and more) in this quick guide about unblocking Crunchyroll.
Where Is Crunchyroll Available?
Pretty much all over the world. They don't have a web page where they mention their worldwide presence, but this online article says Crunchyroll is available in over 200 countries.
So why are we talking about needing to learn how to watch Crunchyroll outside the US? It's already available everywhere!
Because while you can use the site from almost anywhere in the world, you won't always get the same content. Basically, some anime shows are only available in specific countries. And some regional libraries have more content than others.
While there isn't any data about the number of shows per country, one Reddit user put together this very helpful chart: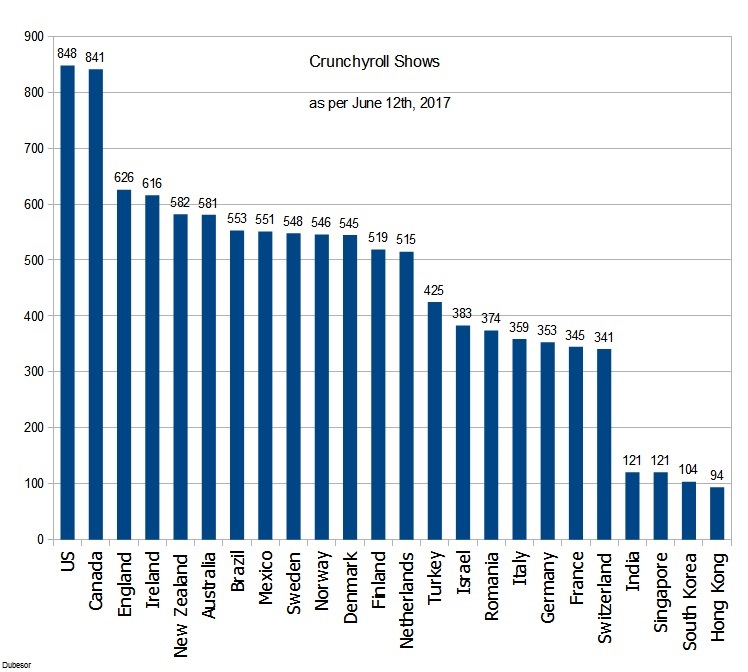 Keep in mind that data is from 2017, so we can't say how accurate it still is. Nonetheless, we saw other Reddit users confirming that the US library has the most content. So if you want variety, you'll definitely want to unblock Crunchyroll US.
If you try to watch a show that's geo-blocked in your country, Crunchyroll will tell you it's not available in your region. For example, when we looked up Cowboy Bebop outside the UK and Ireland, we got this message: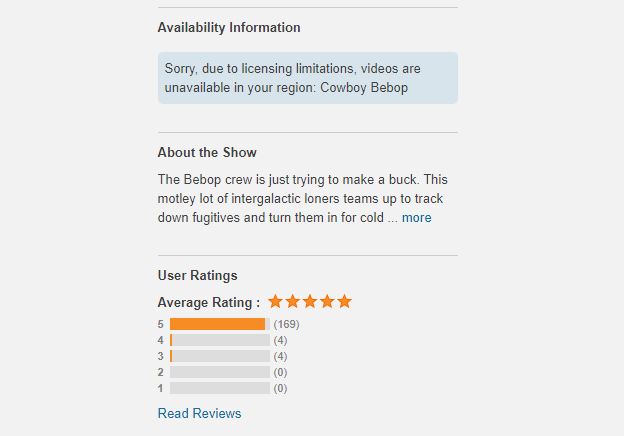 Why Does Crunchyroll Content Vary From Country to Country?
To keep it simple, streaming rights get in the way. Since Crunchyroll doesn't own the copyright to the content is streams, it needs to buy licensing rights for it. Unfortunately, they can't always get global rights for a certain show - here's why:
The copyright holder already sold the distribution rights for different regions to other streaming sites and TV networks. It's a pretty profitable move, to be honest.
Crunchyroll's data mining shows that a specific anime won't be popular with your country's audience. They likely won't get involved with a large investment that doesn't have a positive return.
The copyright holder might just ask for an absurdly high price.
Crunchyroll Originals are an exception to this rule. They should normally be available on Crunchyroll everywhere since they own these shows. If you know an anime produced by them that is geo-blocked in a certain region, please let us know.
What Devices Does Crunchyroll Work on?
If you're using the website, Crunchyroll works on any operating system as long as your web browser can run the site (Windows, macOS, Linux, etc.). But Crunchyroll also has native apps for multiple platforms (except Chromecast):
Crunchyroll Platform Availability
| | |
| --- | --- |
| Streaming Players & Smart TVs | Chromecast, Apple TV, Roku, Fire TV |
| Mobile Devices & Tablets | iOS/iPadOS, Android, Windows Phone |
| Gaming Consoles | PlayStation (3, 4, and Vita), Wii U, Xbox (360, One, and Xbox Series X|S) |
| Desktop | Windows 10 |
Keep in mind that Crunchyroll says the following: "Some device availability subject to territory." We're not 100% what that means, but there might be a chance that some of the site's native apps won't show up on the app store in certain countries.
We emailed Crunchyroll about this and will update the article when (or if) they respond.
If you're planning to binge Crunchyroll on multiple devices, you should think about using a VPN on a router. That way, all your web-connected devices use VPN connections with just one setup. Take a look at which VPN routers we recommend, and then use our tutorial to set up the VPN on your router.
How to Unblock Crunchyroll Shows From Anywhere
The easiest way to get around Crunchyroll's geo-blocks is to use a VPN. If you don't know what that is, it's an online tool that hides your IP address and encrypts your traffic. By preventing Crunchyroll from seeing your real IP, it stops it from knowing what your geo-location is.
Here's a quick step-by-step tutorial showing you how to unblock any Crunchyroll show you want. For this test, we used Cowboy Bebop with a UK server from ExpressVPN.
If you want to watch Crunchyroll outside the US, you need to use a US server.
Start off by subscribing to a VPN. We recommend using ExpressVPN since they're ideal for streaming. If you're not sure you'd like them or later decide they're not right for you, no problem - here's how to get a "free" 30-day trial and a refund.
Next, download the appropriate VPN app for your device.
Install and run the app, and log in using your activation code.
Now, connect to a VPN server that's in the same country as the anime you want to unblock (the UK or Ireland for Cowboy Bebop).
Log in to your Crunchyroll account and start binging your favorite shows. If you don't have one, don't worry - you can use the site for free. Alternatively, buy a premium subscription here (it comes with a free 14-day trial).
Can You Watch Crunchyroll for Free Without Signing Up?
Yes, you can - and you can do that on most devices. What's more, unlike other anime streaming sites, you get access to a lot of content (minus the geo-blocks).
Of course, there's a catch:
You can only stream content in standard definition or 480p.
You'll see ads when watching anime and reading manga.
New episodes aren't immediately available (with Premium, they're available one hour after Japan).
You can't watch the last episode that aired, just a sample. It only becomes available (with ads) when a new one gets released.
You get limited access to manga. Also, you often don't get full access to well-known manga (like Attack on Titan). You can only read the first chapter.
Can You Watch Crunchyroll Offline?
Yes, you can - but only on Android and iOS. You'll also need an active Mega or Ultimate Fan (only available in the US) subscription.
Besides that, you'll obviously need a web connection (wired, WiFi, or mobile data).
Which Crunchyroll Premium Plan Is Right for You?
Crunchyroll actually has two different pricing types - one for the US and for everyone outside the US. So, we'll take a look at both of them and see which one is right for you.
All Crunchyroll Premium plans come with a free 14-day trial.
US Subscriptions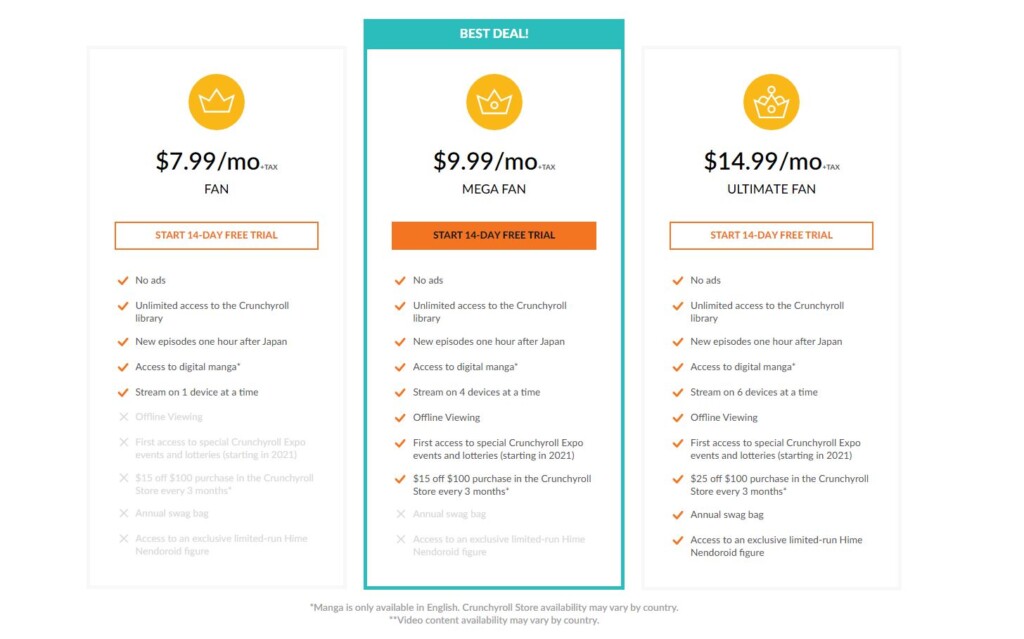 Users in the US can pick from three subscriptions right now. Here's a closer look at them:
Crunchyroll US Premium Subscriptions
| | | | |
| --- | --- | --- | --- |
| | Fan | Mega Fan | Ultimate Fan |
| No ads | YES | YES | YES |
| Unlimited access to the Crunchyroll library | YES | YES | YES |
| New episodes one hour after Japan | YES | YES | YES |
| Digital manga | YES | YES | YES |
| Simultaneous streams | 1 | 4 | 6 |
| Offline viewing | NO | YES | YES |
| First access to special Crunchyroll Expo events and lotteries (starting 2021) | NO | YES | YES |
| $X off $100 purchases in the Crunchyroll Store every 3 months | NONE | $15 | $25 |
| Annual swag bag | NO | NO | YES |
| Exclusive limited-run Hime Nendoroid figure | NO | NO | YES |
| Price | $7.99/month | $9.99/month | $14.99/month |
Overall, the Mega Fan seems like the best deal if you're planning on watching anime or reading manga on multiple devices (both online and offline).
But if you have multiple devices, love the Crunchyroll brand, and shop on their store often, the Ultimate Fan is definitely a better pick (though, keep in mind some people on Reddit have complained about having trouble receiving the swag bags).
The Fan plan only seems worthwhile if you're on a budget or know for a fact you'll only watch anime and read manga on one device.
If you want to watch Crunchyroll outside the US, you can get a US subscription even if you don't live there. Just use a VPN server in the US, and Crunchyroll will redirect you to those plans. Crunchyroll doesn't ask for proof of address, and you can actually pay with PayPal. So you shouldn't encounter any issues.
International Subscriptions
If you're outside the US, you'll be able to choose from three subscriptions too - but they're a bit different. Here's what we mean:
Crunchyroll International Premium Subscriptions
| | | | |
| --- | --- | --- | --- |
| | Fan | Mega Fan (Monthly) | Mega Fan (Yearly) |
| No ads | YES | YES | YES |
| Unlimited access to the Crunchyroll library | YES | YES | YES |
| New episodes one hour after Japan | YES | YES | YES |
| Simultaneous streams | 1 | 4 | 4 |
| Digital manga | YES | YES | YES |
| Offline viewing | NO | YES | YES |
| 16% off on monthly plan (billed every 12 months) | NO | NO | YES |
| Price | $7.99/month | $9.99/month | $79.99/year (around $6.66/month) |
In our opinion, there's no good reason not to get the Mega Fan subscription - you get decent perks, four simultaneous streams, and a nice long-term 16% discount.
You should only get the Fan plan if you're absolutely sure you'll only stream content on one device.
However, if you want to stream on more than four devices, you'll have to use a US VPN server. That way, you can get the Ultimate Fan subscription, which lets you enjoy six simultaneous streams.
What's the Best VPN to Watch Crunchyroll Outside US?
Based on our experience, it's ExpressVPN. Our tests also back that up - we checked out over 60 VPNs so far, and ExpressVPN always came on top. Here's why:
ExpressVPN has always been able to unblock Crunchyroll. We never experienced issues - not even once.
ExpressVPN has native apps for most operating systems and can also be configured on many of the devices Crunchyroll is available on.
The provider offers a very user-friendly service - even complete newbies will have no problem getting the hang of it!
We were always able to get really smooth speeds with this VPN (even when using OpenVPN).
Lastly, ExpressVPN offers powerful encryption (AES-256), so bandwidth throttling will never be an issue.
If you'd like a more in-depth look at ExpressVPN, you should check out our review. It covers everything from speeds and streaming to jurisdiction, encryption, and features.
Want to See Other Options?
Can You Continue Watching Crunchyroll After Disconnecting From the VPN?
You actually can. When we disconnected from the ExpressVPN server, we were able to continue watching the episode of Cowboy Bebop we were on. What's more, we were able to watch the next episode too.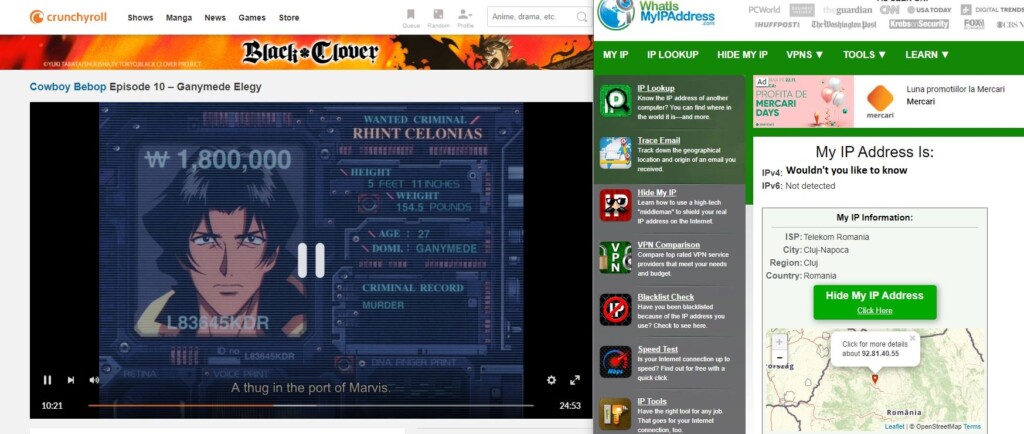 But we didn't stop there. We left the video page and went back to the list of anime shows. Then, we looked up Cowboy Bebop again. Once more, we had no problem watching it.
We even closed the tab and opened a new one, and we were still able to watch the show without a VPN. It's probably thanks to session cookies since it looked like we were still logged in from the UK geo-location to Crunchyroll.
We should mention, though, that we used incognito mode for this. Also, we were no longer able to watch Cowboy Bebop without a VPN when we closed the incognito window and opened a new one.
Can You Get Banned for Using a Crunchyroll VPN?
Unfortunately, that can happen. We have seen a lot of threads on Reddit and Crunchyroll (like this one), where users complained about getting banned for using a VPN.
Can Crunchyroll really do that, though?
It seems so. If you take a look at their ToS, you'll see that hiding your IP address is against the rules. Here's what we mean: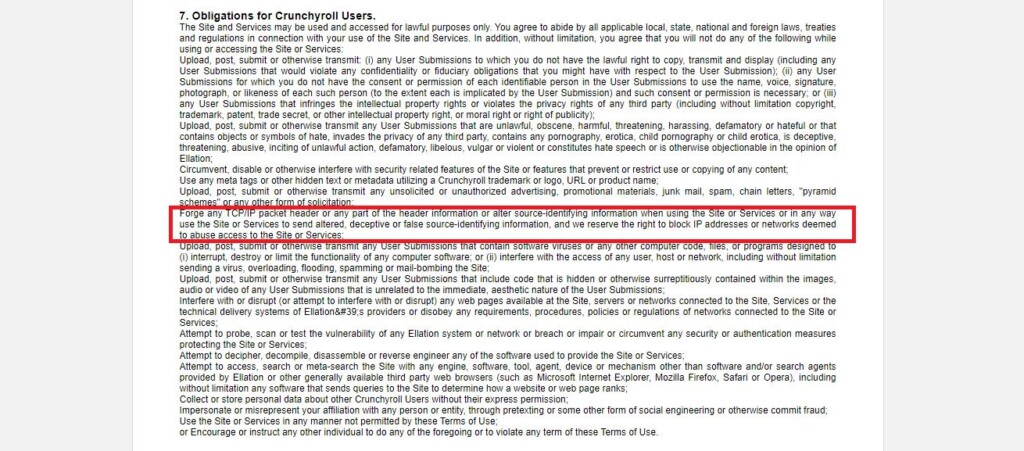 If the image doesn't load for you, here's a quote:
Forge any TCP/IP packet header or any part of the header information or alter source-identifying information when using the Site or Services or in any way use the Site or Services to send altered, deceptive, or false source-identifying information, and we reserve the right to block IP addresses or networks deemed to abuse access to the Site or Services;
There's a lot of technical jargon there, so it sounds complicated, but this is what it basically says - you're not allowed to hide your IP address when using Crunchyroll. If you're caught doing that, the site has the right to block your IP.
On the plus side, it doesn't say anything about your account getting banned, but we can't guarantee that won't happen.
If only the VPN's IP gets blocked, though, the solution is simple - just connect to a different server.
But if you use a VPN like ExpressVPN, you shouldn't really encounter this issue. They refresh their IPs very often, so the service should avoid Crunchyroll's detection methods.
Crunchyroll Not Working With a VPN? Try This!
If you're using a VPN, but Crunchyroll still behaves as if it sees your real geo-location, here's what you should do:
Clear your cookies. There's a chance Crunchyroll stored a tracking or session cookie, which leaks your geo-location when you use the site.
Use a VPN that regularly refreshes its IPs to avoid IP detection and blacklisting.
Get a dedicated IP address (a residential one, if possible).
Use lesser-known VPNs.
Use a Smart DNS. Many providers (ExpressVPN included) offer built-in Smart DNS functionality alongside their main VPN service.
Can You Watch Crunchyroll Outside the US With CR-Unblocker?
CR-Unblocker is a Firefox extension that helps you unblock US-only content on Crunchyroll by using session cookies from that region.
Based on our experience, you can unblock anime shows on the site with this extension. We tested this with Hunter x Hunter, a show which isn't available in the tester's area (Romania). After enabling CR-Unblocker, we were able to watch the anime.
And no, we didn't use a US VPN server, as the image shows: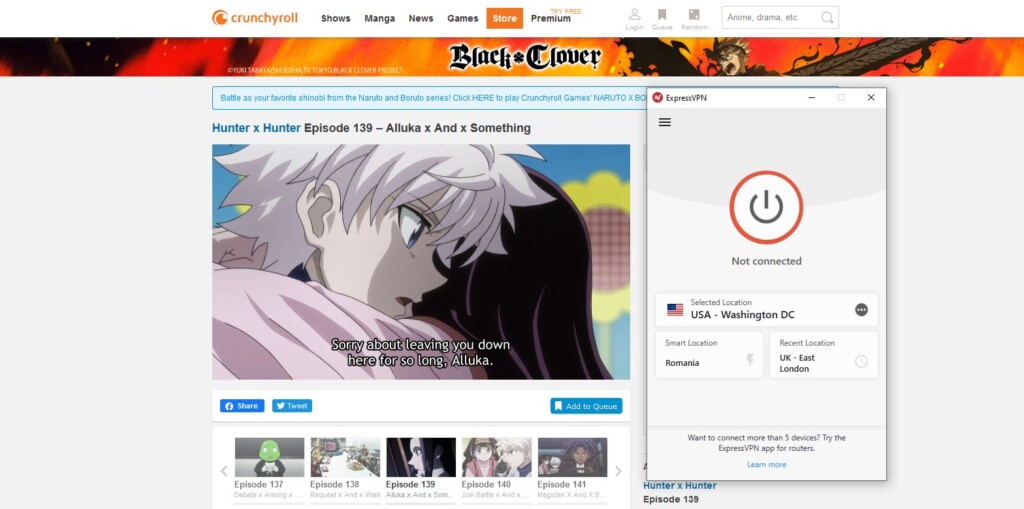 However, keep in mind this extension can only help you unblock US content. If the show isn't available in the US (like The Tatami Galaxy or Cowboy Bebop), you won't be able to watch it with CR-Unblocker.
Also, this extension won't hide your IP address (so less privacy) and won't encrypt your traffic (meaning bandwidth throttling can still be an issue).
What's Your Experience With Using a VPN for Crunchyroll?
Were you able to successfully unblock the anime shows you wanted or did you encounter any issues? Please let us know in the comments.
Oh, and if you have any tips you'd like to share about how to watch Crunchyroll outside US borders, please go ahead and do so.