As you surely know, Apple has done a good job of keeping iOS protected. Today, iOS devices are among the most risk-free devices when it comes to malware and digital threats. However, this comes with some tradeoffs. For example, you can't perform deep customizations of the operating system, and you can't install applications from the Web. Therefore, you might think that it's impossible to download torrents on iPhones or iPad. However, that's not the case – all you need is a helpful guide. Luckily, TechNadu is here to help. Here's how to download torrents on iOS.
Disclaimer: TechNadu does not condone illegal file sharing or copyright infringement. Even though P2P file sharing technology is legal, many of the files exchanged via P2P are indeed copyrighted. Uploading these copyrighted files can put you at risk of a civil lawsuit. While these lawsuits are often class-action cases, some have been targeted at individual users in an attempt to make an example of them. 
Torrenting Safeguards
Many of you will be surprised to know that your Internet browsing is fully visible by ISPs (Internet Service Providers). These companies have the power to collect your personal data and hand it over to third parties. Therefore, it's imperative to keep your data protected and inaccessible to anyone who tries to collect it. This is especially important if you plan on downloading and sharing torrent files.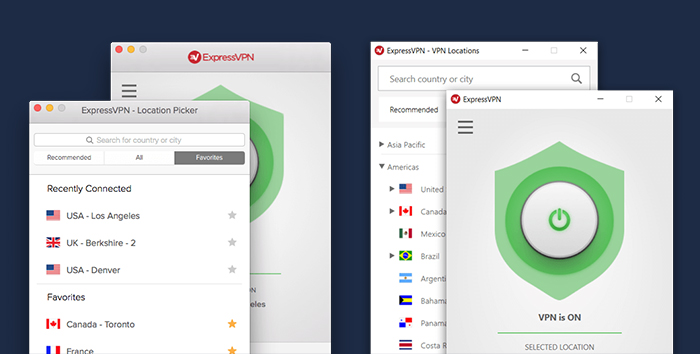 TechNadu strongly recommends using ExpressVPN to encrypt your Internet connection, change your IP, and make your device impenetrable to malware. This particular VPN software scored the highest in our tests, which can be seen in our ExpressVPN review. Use the provided link to read all you need to know about this easy to use and highly powerful application.
Make sure to sign-up for ExpressVPN and enjoy the Internet as it should be – open and without any privacy concerns.
Downloading Torrents on iOS: The Basics
You probably know that torrenting has two equally important sides. To download a torrent to any device, you need a reliable torrent client and a torrent repository. When it comes to Apple-made devices, there's a huge choice of reliable torrent clients. However, you'll see that all of these are made for MacOS, not iOS. So, where you can find and download a torrent client for iOS? Well, you can't. However, there are (perfectly legal) tools that can be used for this purpose. We'll tell you soon about those.
Next, you need to be aware of some of the most popular torrent websites. You'll often hear that there are notorious websites, typically used for piracy. Even though that's true, you can still use them to download perfectly legal torrents. For example, you can find a huge collection of classic movies that are part of the public domain. Still, if you want to be 100% on the safe side, here are some of the best legal torrent repositories. You are going to need these soon since we'll be telling you how to download torrents on iOS. And this includes downloading a torrent file from the Web to your iOS device. Let's jump right in.
How to Download Torrents on iOS: Step-by-Step Guide
Now that you know where to find torrent files, it's time to make use of them. The following set of instructions work on all iOS devices, which includes iPhones and iPads as well. The best of all is that you can use this guide no matter which iOS version your device is running. Why is that? Well, that's because the entire process of downloading torrents is Web-based.
Step #1: Download a Torrent File
The first step includes downloading a torrent file to your iOS device. Later on, we are going to use that torrent file to download the data it contains. Keep on reading.
First, you need to visit one of the popular torrent trackers using Safari on your iOS device. So, go ahead and find a torrent you'd like to download;
When you click on the 'Download' button on a torrent tracker website, iOS will display a few options. First, you need to click on 'More…';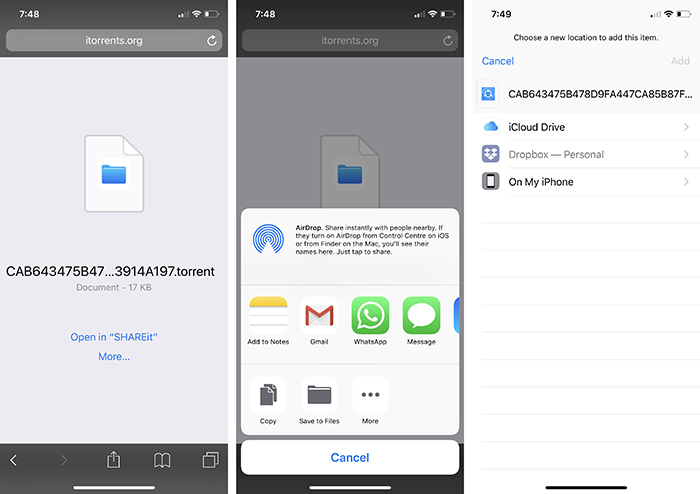 Next, you will see iOS' share sheet with a few options. You need to click on 'Save to Files';
Finally, iOS will present a list of different options to where you can save that torrent file. We recommend picking 'iCloud Drive', which will make it easier to find the file later.
Step #2: Use a Web-Based Torrent Downloader
To activate the torrent file you just downloaded, you need a torrent client. However, this type of application doesn't exist on iOS. That's why we can use one of the Web-based torrent downloads. The most popular option, at the moment, is a Web-based tool called Seedr.
First, visit Seeder.cc using your Safari browser and create a new account. You can register on the home page. Enter your email and password, and you're good to go;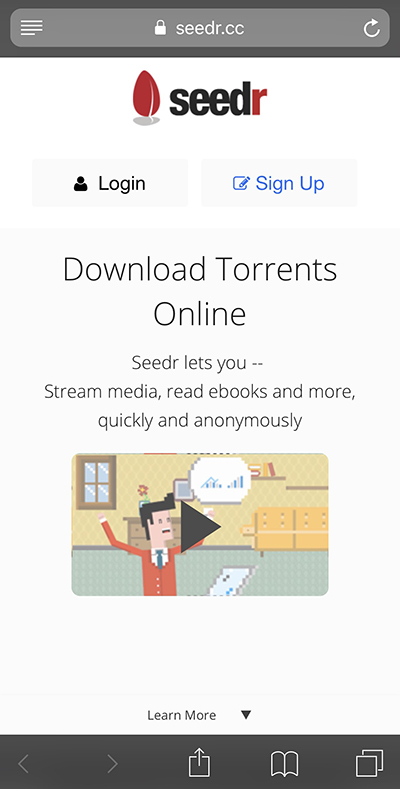 Once you activate your Seedr account, sign-in and you'll see your dashboard. First, you need to click on the Plus icon (+) in the top-right corner;
Next, click on the Upload icon, also located in the top-right corner;
Finally, click on 'Browse' from iOS' menu;
This is when you'll need to find a torrent file you've downloaded. In case you listened to our advice, the file can be found in your iCloud Drive. Go ahead and select that storage option;
Finally, tap on the torrent file and it will be uploaded to Seedr.
The Web-based torrent downloader will now do the job on its own. It will upload the torrent and begin to download it.
What you need to know about Seeder is that the service will download the torrent to your personal cloud storage (you get 2GB with the free-of-charge account). This means that your iPhone or iPad isn't involved (or your device's storage). In addition, you will download torrents incredibly fast – much faster than you normally would. This is the server-to-server transfer, which can achieve amazing speeds. Once the file is downloaded, you can play it (stream from your cloud storage) or download to your device. Just click on the downward arrow and select 'Download'. Then, choose the download location and you're all set.
Additional Resources: What's Next?
Before we conclude our article on how to download torrents on iOS, we'd like to provide useful resources. These will help you to understand what torrenting is all about, and keep you safe on the Web.
Final Thoughts
This is where we conclude our article. We hope you found it useful, and that you now know how to download torrents on iOS. If you have additional questions or doubts, don't hesitate to post a comment below.
You can help us spread the word by sharing this article online. Let's teach other iOS users about torrenting as well. Thanks!