When talking about torrent clients, we are mostly talking about two of the most popular ones – uTorrent and BitTorrent. Even though the choice is huge as we have numerous capable torrent clients out there, we know how rules this world. However, choosing between these two can be tricky. They look the same, feel the same, so do they work the same? Let's find this out by testing these two clients. By the end of this article, you'll have your answer to which one you should use: uTorrent or BitTorrent?
Before getting started, we strictly recommend you to be safe while Torrenting. Therefore, we want you to read the TechNadu does not condone illegal file sharing or copyright infringement. Even though P2P file sharing technology is legal, many of the files exchanged via P2P are indeed copyrighted. Uploading these copyrighted files can put you at risk of a civil lawsuit. While these lawsuits are often class-action cases, some have been targeted at individual users in an attempt to make an example of them.
disclaimer and a safety notice found below.
Stream Torrent Safely and Protect Yourself Online
Many of you will be surprised to know that your Internet browsing is fully visible by ISPs (Internet Service Providers). These companies have the power to collect your personal data and hand it over to third parties. Therefore, it's imperative to keep your data protected and inaccessible to anyone who tries to collect it. This is especially important if you plan on downloading and sharing torrent files.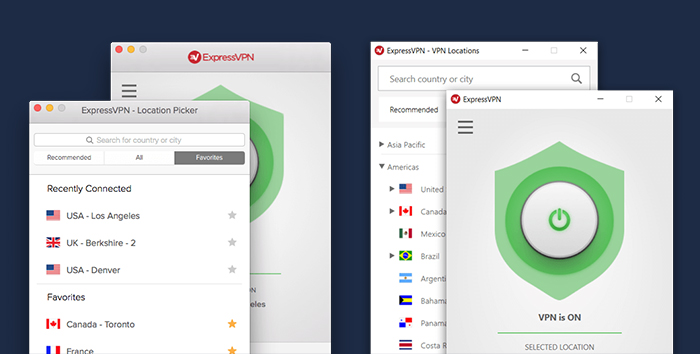 TechNadu strongly recommends you to connect to a VPN to encrypt your Internet connection, change your IP, and make your device impenetrable to malware. This particular VPN software scored the highest in our tests, which can be seen in our ExpressVPN review. Use the provided link to read all you need to know about this easy to use and highly powerful application. Make sure to sign-up for ExpressVPN and enjoy the Internet as it should be – open and without any privacy concerns.
Exclusive offer: Save 49% & try ExpressVPN 100% risk-free!
uTorrent or BitTorrent: Differences & Similarities
The best way to decide which one of these clients is better is by comparing them. We'll start with taking a look at their UIs, ease of use, specifications, and we'll conclude with performance testing. So, let's begin.
The First Look
It's safe to say that uTorrent and BitTorrent look close to identical. Actually, we can see why if we take a look at their history. When the BitTorrent protocol was first created, it required a reliable torrent client to be able to send and receive data. So, in 2001, the BitTorrent client was created. This is why you can often hear people referring to this client as being the original torrent client – which is true.
In a sudden turn of events, the same team that was behind BitTorrent created an alternative to this client – which is how uTorrent came into this world. This was back in 2005, and a lot has happened since then. There were times when these two clients followed their own paths. However, it seems like they are today closer than ever before. This is also why comparing these two clients isn't an easy task.
UI & User Experience
Upon installing both of these clients you will see two interfaces that are close to identical. On the left side of the window, you can see a prominent sidebar that you'll want to disable – especially if you download torrents only. This can be done by going to Options > Show Sidebar, or by pressing F7 on your keyboard. This will basically leave you with two main segments on your screen.
In the bottom top, you'll see an overview of added torrents. Thanks to a prominent toolbar, you can start or pause them, as well as prioritize those that you want to download as fast as possible. Then, the bottom portion of the screen brings several tabs called Files, Info, Peers, Trackers, and Speed. All of these provide in-depth information on a selected torrent. The 'Files' tab can be especially helpful since this is where you can avoid certain files within torrents to be downloaded.
Advertisements & VPN Features
No one likes to see aggressive ads in their favorite software. However, using powerful applications without paying anything still has its price. In terms of uTorrent and BitTorrent, there are regularly served ads at different parts of their UI.
What is important to be mentioned is that the biggest difference between these clients was related to advertisements. A while back, BitTorrent was ad-free which made the software perform faster than it's performing today. So, even in this department, the clients are close to identical.
To get to most out of these applications, you are offered to remove ads for $4.95 per year. Still, you can easily remove them free of charge and improve their performance a bit. Here's how to remove ads in uTorrent – and the same can be applied to BitTorrent as well.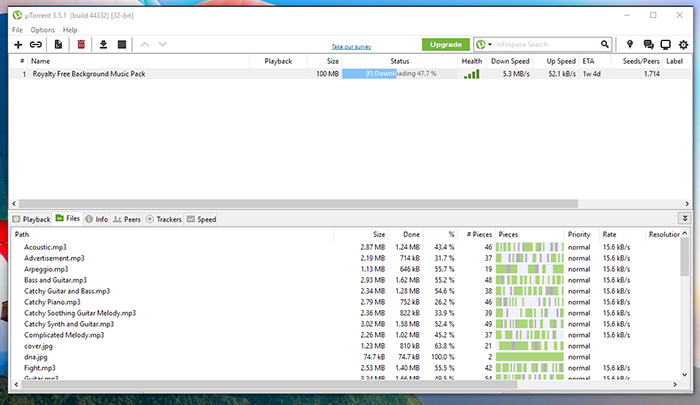 It should be also mentioned that you can upgrade to PRO versions for $19.95 annually. This gives you better security features, file conversions, and HD streaming. And there's also the top tier plan priced at $69.95 per year. Even though it sounds expensive, you should know that you get a VPN as well, which is pretty much an essential requirement for downloading torrents. However, you can also use third-party VPNs if you want something more serious. Here are the best VPNs for torrenting, so make sure to take a look.
System Impact
In case you didn't know, uTorrent stands for micro-torrent. Designed to be as lightweight as possible, it can be used on just about any device. Up until a year ago, BitTorrent was its bulkier cousin. Today, both of these apps come with lightweight installers, and they practically don't take any space on your computer's hard drive.
When it comes to performance, we can use Windows' Task Manager to take a look at how the clients are performing. While BitTorrent used around 60MB of system memory, uTorrent operated at around 50MB. Needless to say, these applications won't throttle your system. In fact, you can run them even on very old machines.
Operating System Support
Before we just to testing both applications, it's important to take a look at another type of differences between these two. That's because you might be surprised to know that uTorrent brings larger system compatibility.
The good news is that both uTorrent and BitTorrent are available free of charge on all popular platforms. This includes Windows, MacOS, and Android. Making torrents work on iOS requires you to use Web-based download service because this system is quite closed. In addition, uTorrent can be installed on Linux – with a bit of effort. There are examples of individuals using BitTorrent on Linux, but this requires even a bigger effort. So, in case you solely depend on Linux, your best bet is to use uTorrent for now.
Download Speed
What all of us want to know is which torrent client is faster, in terms of downloading torrents. If you take a look online, you will see that many are in favor of BitTorrent. However, these are mostly older articles and comments, from the time when BitTorrent was still open source. Today, this is a typical torrent client with ads, which can present a significant difference.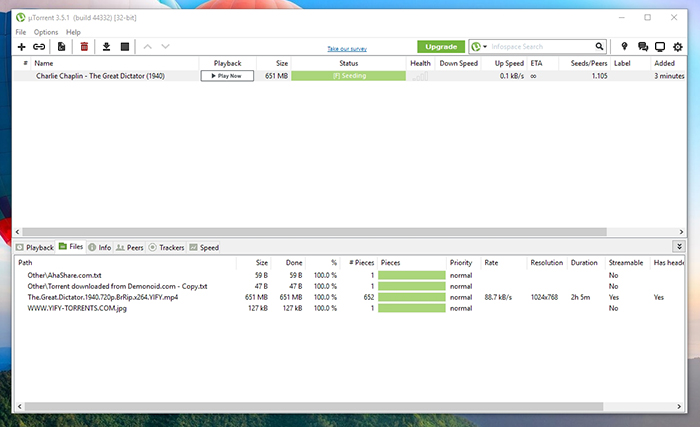 To test these clients, we have used a single torrent file with more than 120 seeders and only around 5 leechers. By the definition, this is a healthy torrent that should reach its maximum download speed under 10 seconds. So, we gave 30 seconds to each and then we'll see what percentage of the file they downloaded. Also, we have download one of Charlie Chaplin's movie (public domain) that comes in at 651MB.
uTorrent: This torrent client managed to download 30.0% of the file in 30 seconds. Overall, it managed to achieve the full extent of our Web connection speed in less than 10 seconds.
BitTorrent: Surprisingly, BitTorrent downloaded 23.3% of the file in 30 seconds. It took the client a bit longer to fully 'activate' the torrent.
There you have it. As per our tests – uTorrent seems to be a better option, especially if you want to download large files.
uTorrent or BitTorrent for Android: Which One to Pick?
Next, let's talk about Android apps for torrenting. You will be happy to know that both uTorrent and BitTorrent offer free of charge apps, and as you can guess – they are pretty much the same. Even though they are free, they serve ads. You can download torrent files with ease, and even watch videos as they are downloaded.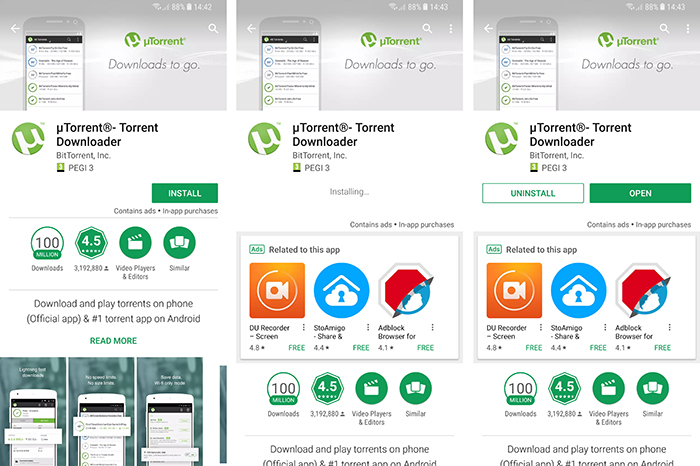 To try and find a difference between these apps, we took a look at Google's Play Store. What's more than surprising is that both uTorrent and BitTorrent have the same rating – 4.5 stars out of 5. How strange is that, right? Still, there's another number that seems interesting and that's the number of reviews. This is where uTorrent comes first, which means that it's far more popular on Android than its counterpart.
In case you can't decide which of these to use on your Android phone or tablet, maybe you can go with the wisdom of crowds. So, uTorrent should be your first pick.
The Bottom Line
In case you read the article carefully, you saw that uTorrent and BitTorrent are hard to differentiate. Still, our tests show that uTorrent is faster when it comes to downloading torrents, which is actually the most important thing here. So, here's a concrete list of all differences:
File Size: While uTorrent comes in at around 1MB, BitTorrent brings a 3MB file. They take the same amount of system resources.
Update Frequency: While uTorrent receives alpha and beta releases, BitTorrent only serves stable releases. In case you want to be ahead of time at the expense of reliability, pick uTorrent.
System Compatibility: Both of these clients support all popular platforms, with one exception. You can install uTorrent on Linux without much effort.
Cryptocurrency Mining: There were some reports in the past of uTorrent being vulnerable to cryptocurrency mining. However, those security risks have been patched in the meantime.
Final Thoughts
Dear readers, the final decision is to you. Which torrent client are you going to pick – uTorrent or BitTorrent? Feel free to let us know your thoughts in the comments section below. Also, don't hesitate to let us know if you're having technical issues with either of these applications.
Finally, we'd like to ask you for a favor. If you think this article might be of help to others, why not share it online? Thanks!