When looking for something online, you turn to a search engine like Google. However, if you're looking for a torrent file, you'll need a specialized tool - a torrent search engine. So, which one should you use? What are the best torrent search engine sites available nowadays? We have quite a few fantastic recommendations, so keep on reading!
We've previously written about the best torrent sites out there, and they should be enough to help you find what you need. However, why limit your searches to a single site when you can explore dozens at once?
Torrent search engines allow you to dive into millions of torrent files simultaneously. They're easy to use, convenient, and can search millions of files. However, before you dive into our list of the best torrent search engines in 2023, you'll want to make sure you're protected - which is where the best VPN for torrenting comes into play.
You need a torrenting VPN to ensure no one sees your P2P activities. Both the torrent search engines you use, and your Internet provider can see what you search for and download. So, if you download a copyrighted file, you will receive a copyright infringement notice. With a VPN, that won't happen because you'll get to download torrents anonymously.
In this guide, we'll discuss the top torrent search engines, giving you a dozen great options. We'll also show you how to use a VPN for torrenting, what to know before downloading torrents, and plenty more.
How to Use Torrent Search Engines Safely With a VPN
To use torrent search engines safely, you need to access them through an encrypted VPN connection, as that's how you'll hide your sensitive data. Just follow these steps:
Get a VPN that works great for torrenting (we recommend NordVPN).
Install the VPN application on your device.
Launch the VPN software and log in using your credentials.  
Choose a server in a country with torrenting-friendly laws (Switzerland, Spain).
You can now proceed to download torrents. That's it!
Pick one of the best torrent clients to improve your experience when downloading and sharing files using the BitTorrent protocol. A high-quality client offers a range of benefits; enhanced security, compatibility with a range of operating systems, and faster download/upload speeds.
The Best Torrent Search Engine Sites in 2023
In your search for the best torrent search engine, you must keep in mind certain requirements that allow you to pinpoint the best options. That said, you should primarily look for a wide range of content availability, letting you search across popular and niche content categories.
When it comes to searching for files, torrent sites offer different types of search tools. Pick one with more advanced search parameters, letting you filter the results based on their health, which is how you'll easily find torrents that are quick to download.
Then, pay attention to the interface you'll encounter. You'll want a simple-to-use torrent search engine that presents files in a readable format. Before you download any file, you'll want to check its basic stats, like its size, date of upload, and the total number of seeders and leechers.
Also, stay away from torrent search engines that are riddled with ads, as those websites are often a breeding ground for all kinds of malware. Instead, go for relatively known sites, at least, with a reputation for offering verified torrents and not collecting or sharing personal data.
Based on the criteria explained above, these are the 12 best torrent search engine sites.
TorrentDownload comes with a really simple UI that gets the job done in no time. You can use it just like you would use any 'traditional' torrent website, as there's a search bar right at the top of the page. Torrents are also grouped by category if you're just browsing for something to watch.
You'll find millions of the latest torrents here, with results pulled from reliable torrent sites like Torrentz2, RARBG, and LimeTorrents. Luckily, each of them does their best to provide only verified torrents, so you're sure to find only quality content. All in all, it's easy to see why this is one of the best torrent search engine sites in 2023.
BTDig is the successor of BTDigg - one of the most popular torrent search engines that had millions of daily visits. However, BTDigg went offline recently, which paved the way for successors to appear.
Well, BTDig is everything you would expect out of a capable P2P magnet search engine. It comes with a minimalist design, allows you to filter its search results, and gives you a helpful overview even before you start downloading torrents to your computer.
Best of all, you gain access to millions of magnet links without ever having to deal with annoying pop-ups or be redirected to shady third-party websites.
One thing's for sure: our list of the best torrent search engines wouldn't be complete without iDope - the self-titled tribute to the now-defunct KickAssTorrents. The website has been active since 2016, and it has managed to attract an enormous number of daily active users.
It comes with a simple UI that's also accessible via mobile devices, so if you prefer to download movies on your smartphone, you'll love iDope. The site should be accessible in many countries worldwide, although its growing reputation has prompted certain ISPs to block the service.
Once you open AIO Search for the first time, you'll be greeted with a short tutorial on how to use all of its features. The interface is clean, with a prominent search bar, and allows you to select which torrent sites you want to include in your searches.
There are over 30 different providers you can choose from, and you can add some of your own to the mix. Thankfully, the search process is lightning-fast, even if you include all of the supported repositories.
When it comes to torrent search engines, TorrentSeeker is as straightforward as it gets. Aside from the prominent logo on the home page, all you get is a search bar and a short description. Type in the name of the torrent you want to download and get your results - easy peasy.
Now, TorrentSeeker relies on numerous popular torrent repositories. But what's interesting about them is that they include niche and language-specific torrent sites in their searches. This should give you more than enough relevant search results. Sadly, search filtering is limited to relevance and date and isn't that great.
Despite its odd name, this is a very simple torrent search engine. Aside from the occasional ad, there are no distractions on the home page. You get the usual search bar at the top and the list of results right below. That means your interaction with the website is minimal, and you can start searching for a torrent without opening any sub-pages.
Snowfl uses a Google Custom Search API to find torrents. This allows the website to focus on delivering quality torrent results from the sites it gathers data. Results are also easy to track since every entry is numbered. You don't get too much information right from the results page, so you'll need to rely on external sites to get more info.
Next, we have a relatively fresh torrent search engine. It's called 'Solid Torrents,' and it has already managed to attract a substantial number of users. That's because Solid Torrents comes with on-point results, allows you to check vital info before downloading any torrent, and gets the job done in no time.
We'd also like to highlight that Solid Torrents comes with an effective tagging system, helping you discover related content quickly. There's also a way for P2P users to mark torrents as problematic, helping this website serve only fully working options.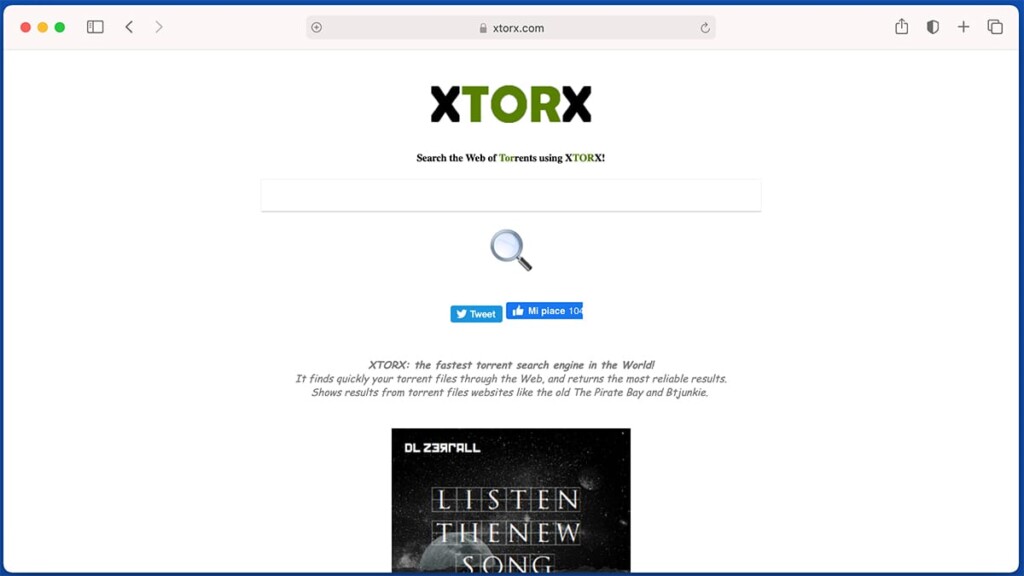 XTORX does things a bit differently. Instead of overwhelming you with a huge number of search results, you'll see a limited number of options. However, each search result will be a link, leading to search sections of popular torrent repositories.
For example, let's say you're searching for 4K wallpapers for your computer. You type in 'Wallpapers 4K' in the search field of XTORX's Home Screen. Then, you'll get to see links to The Pirate Bay, Kickass Torrents, ETTV Torrents, Torrent Galaxy, Sky Torrents, and more.
As you click on each of those links, you'll be taken to an already prepared list of results from those individual websites. Very simple yet very helpful.
Next, we have a very interesting niche torrent search engine. As you can guess by its name, this one is all about academic data - and we're talking about fully legal data here. More precisely, you'll find 120TB+ of data that can be accessed via Academic Torrents.
At the moment, the website offers datasets, papers, courses, and curated collections - all via torrent files. Don't worry; all those documents are legal to distribute. As you can see, this site proves how torrents can be useful - and even beneficial - when it comes to knowledge sharing.
As you've seen, not every torrent site is the same. They all bring a custom list of results based on what you're searching for. However, subtle details are what sets different search engines apart.
When it comes to Veoble, you will see a fairly standard interface with a prominent search bar on the home screen. However, dive one step deeper, and you'll be surprised.
The biggest strength of Veoble is that it offers helpful ways to filter the search results. You can include or exclude individual sites and even sort the search results by different languages. And finally, you can check if you'd like to see the most relevant files first or the newest ones instead.
Sadly, we've recently seen a number of popular torrent search engines going offline. The most recent example is Torrentz2, which was down for a while due to a prolonged DDoS attack. However, there are numerous useful clones of this website, and TorrentZeta is one of those.
TorrentZeta isn't just a copy-paste clone of Torrentz2. Instead, it changes things a bit. For one, you get search suggestions as you type stuff into the search bar. Aside from sponsored entries at the top, you'll find a nice selection of search results. Then, the website will take you to the torrent's source, from where you can download the file.
Aside from boasting a huge selection of torrents, BITCQ also brings a highly polished website. As you start searching for torrents, you will see all the information you need without going any deeper into the website. You can see the names of torrent files, their size, category, and health, and you can also quickly download individual P2P files or magnet links.
We have to admit that BITCQ isn't anything groundbreaking. Instead, it's just a standard yet solid torrent search engine, suitable for different use cases. However, it does have something that you won't find elsewhere - you can select a country, and BITCQ will base its search upon that criterion. This can be very helpful if you're looking for niche torrent files.
Torrent Search Engines That No Longer Work
Many of the best torrent search engines get taken offline from time to time. Some of them get back on their feet after a while, while others disappear for good. That said, we'll also highlight some of the top torrent search engines that are no longer available.
The point of this section is to make you aware of the popular torrent search engines that are not available at the moment. Malware-infected clones might appear, so knowing which ones no longer work helps you avoid problematic sites.
That said, these are the previously popular torrent search engines that no longer work.
Zooqle
When you open Zooqle, you'll think that you're looking at a media streaming website. There is a search bar in the top-left corner, but the rest of the screen real estate is reserved for images and artwork.
Zooqle showcases the most popular categories on the front page, where you can see popular movies, TV shows, music, and similar options. Clicking on any of these images will bring a detailed overview of the title.
If you click on any TV show title, for example, you'll see why Zooqle is so special. You will get to pick a season and episode and therefore narrow down your search in a very specific way. Then, you can browse different torrents and download files using your favorite torrent client.
Toorgle
Toorgle (as you can already imagine) has found its inspiration in Google. Of course, this is a torrent search engine, covering over 450 P2P websites. Therefore, you can expect to get a huge number of results, which can be sorted by date and relevance. All of this happens in a familiar interface, as their system is powered by Google.
Considering that Toorgle helps you reach over 55 million torrent files, this truly is a valuable resource. However, keep in mind that Toorgle isn't the fastest torrent search engine out there, and it might take a couple of seconds to get your results.
TorLook
This is one of the best Russian and Ukrainian-language torrent search engines (English version available). TorLook works even in Russia, where the government has been cracking hard on torrent websites and search engines. Naturally, it includes results from RuTracker, RuTor, Kinozal, and similar trackers that may have content unavailable elsewhere.
You can filter by seeds, size, or date and use the "forced search" option to get the most up-to-date results. There's even a "show online cinema" function to include streaming site links where available (sourced from Kinogo.la and Filmix.ac).
Torrent.nz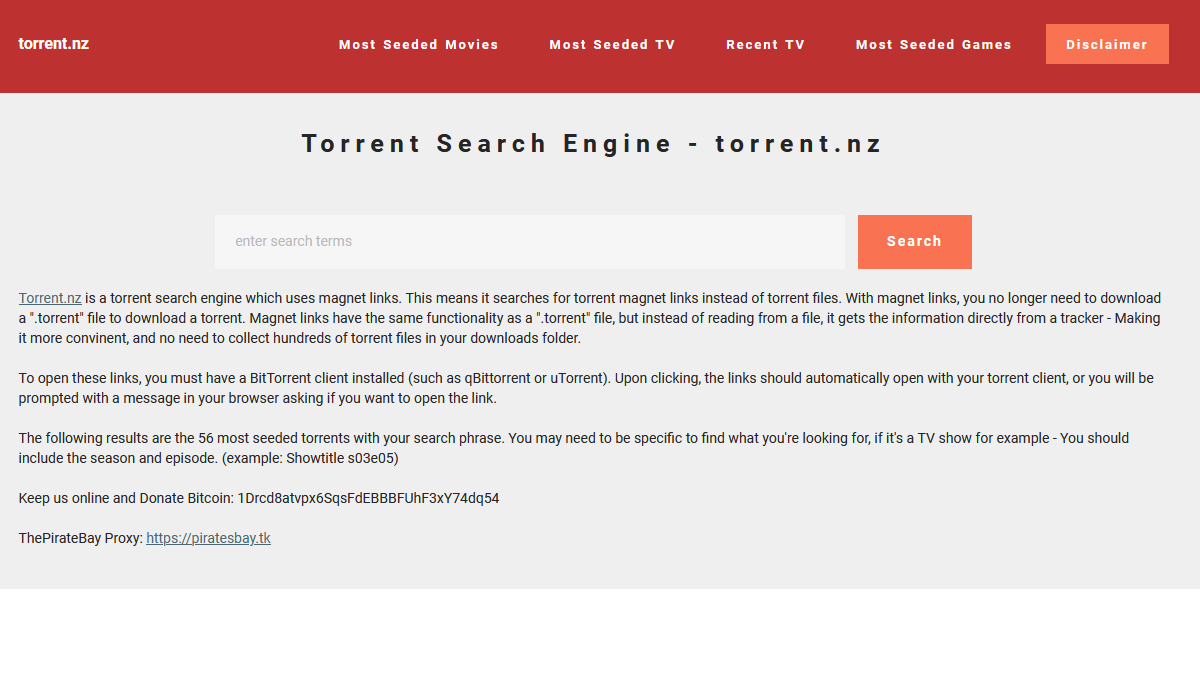 Torrent.nz is pretty straightforward as far as torrent search engines go. Your usual search bar is front and center on the home page, with magnet link results displayed below. The results list could use some work, as it only shows the most recent magnet links, with no multi-page navigation to check for older results.
To be fair, the main page does mention that you may need to be specific with your search terms. What's interesting about Torrent.nz is that it has categories for most seeded movies, TV series, and games - as well as the most recent TV series. These results usually include only top-quality torrents, so you don't have to sift through multiple irrelevant results.
Why Do You Need a VPN for Torrent Search Engines?
You need a VPN for torrent search engines to anonymize your P2P activities, optimize your Web connection, and gain access to blocked sites. Here's more info:
Privacy: A VPN protects your privacy by encrypting your Internet connection, which makes it more difficult for third parties to track you online and identify you.
Security: A VPN protects you from malicious websites and malware that may be present on torrent sites. They do that by checking the websites' URLs.
Anonymity: A VPN can increase your anonymity by hiding your IP address. While it may not guarantee complete anonymity, it definitely acts as an additional layer of security.
Access: In some countries, access to torrent search engines or websites may be restricted. A VPN can bypass these restrictions and access blocked content.
Legal protection: While using a VPN does not 100% guarantee legal protection, it can significantly reduce the chances of being caught while downloading copyrighted material. 
Performance: Since VPN can route your internet traffic through a more efficient server, it can potentially improve the download speed and stability of your connection.
Based on our extensive tests of 60+ VPN services, we highly recommend NordVPN, which comes as the best VPN available today - for torrenting and practically any other use.
What Are Torrent Search Engines?
Torrent search engines are specialized websites that allow you to search for P2P files. They typically index dozens of individual torrent websites and display search results in different ways.
They allow you to filter search results by age, size, or health (seeder/leecher ratio). In other words, torrent search engines allow you to cast an extensive net and check as many torrent files as possible, all at once.
On the other end of the spectrum, we have individual torrent repositories, including some of the most popular ones - such as ThePirateBay, 1337X, and RARBG. We also have specialized torrent websites for music, anime, comics, textbooks, ebooks, macOS software, audiobooks, games, tv shows, software, and movies.
Is It Safe to Use a Search Engine for Torrents?
In general, it's safe to use torrent search engines - but only if you stick to proven sites with a reputation for fighting against malware.
Considering that millions of individuals visit them daily, this makes P2P websites a target for malware and other types of digital threats. Since P2P search engines often index a massive number of websites at once, you need to be very careful about which websites you visit and what kinds of files you download.
There's also the question of privacy since many ISPs are actively trying to discourage their users from engaging in P2P traffic. Of course, we're talking primarily about copyright infringement here, which is punishable by law in many countries.
We've seen this happen recently across the world, with copyright trolls in Sweden targeting BitTorrent users, filmmakers suing thousands of BitTorrent pirates in Canada, and the USA adapting to new measures to prosecute pirates.
The problem is that even if you plan on downloading legal files, you might get into trouble if your ISP automatically marks you as a pirate. This is why we recommend using a VPN application.
What Is the Most Secure Torrent Search Engine?
TorrentDownload currently fits the bill of the most secure torrent search engine, as it sticks to reputable P2P sites only and tries to index verified P2P files only.
Also, customizable engines like AIOSearch allow you to pick which torrent sites to include in your searches. You have complete control over your torrent results, so essentially, you set your own level of security, which goes a long way toward reaching safe search results.
That said, we still recommend using a VPN to keep you safe against hackers and others that may eavesdrop on your connection.
How to Download Files From Torrent Search Engine Sites?
To download files from torrent search engines, you need first need to pick a search engine, input your search query, and then visit the corresponding website to download your P2P file. Let's give you more information about each of those steps.
First, remember what a search engine is - which is the first step towards understanding this situation. Torrent search engines don't host files, and therefore you can't download P2P files from those websites directly.
Instead, once you click on a search result, you will be taken to the website hosting that file. If you need a step-by-step guide, here is our article on how to download from The Pirate Bay.
You also need a dedicated torrent client to engage in P2P traffic - no matter which operating system you use. To help you find the best option, here's a helpful list of the best torrent clients. Mac users should check out our best torrent clients for macOS instead.
Also, remember that it's not unusual to see a bunch of ads and pop-ups when using torrent websites. To deal with these nuisances, we recommend using an ad-blocker (such as uBlock Origin), which you can install as a browser extension.
How to Access Blocked Torrent Search Engines?
The most effective method to access blocked torrent search engine sites is by using a VPN application. We've already recommended using a VPN earlier in this article, as this type of software hides what you do online, making it essential for torrenting.
Remember that you can hide your IP address by using a VPN, and you can use this to your advantage to unblock websites as well. Just connect to a server in a different country where the website in question isn't blocked, and you're good to go.
For example, if you're in Australia (where most torrent sites are blocked), connect to a VPN server outside the country's borders. As soon as you do that, your access to torrent search engine sites will open up - without your Internet provider knowing what you do online.
Why Is My Torrent Search Engine Not Working?
Torrent search engines frequently get blocked by ISPs worldwide, even if they remove any copyright-infringing content. If your preferred search engine doesn't work, try using a VPN to change your IP address to a different country that hasn't blocked them (yet).
The website may also be down for maintenance or may be experiencing technical issues. Try using a free tool such as IsItDownRightNow to see whether the issue is limited to your network or if the service is down for everyone.
Otherwise, the torrent search engine may simply have been taken down due to repeated copyright infringements. This sort of thing happens pretty often - so be sure to check for mirror sites or look for more information on Reddit and similar websites.
Final Thoughts
In 2023, the landscape of torrent search engine sites is likely to continue evolving, with new sites emerging and existing ones adapting to changing user needs and technological advances. That said, In this guide, we have outlined the pros and cons of the top torrent search engines to help you find the one that best meets your needs.
Having that said, it's also important to protect your privacy while torrenting, which is why we recommend NordVPN. By using this VPN for torrenting, you'll gain encrypted access to any of the torrent search engines listed above, allowing you to download torrents anonymously.
We've finally reached the end of our guide to the best torrent search engines. If you have any additional questions, don't hesitate to post a comment below. And, of course, happy torrenting!