Surfshark's 'Nexus' unites the VPN's entire server fleet into a network.
The new technology brings faster speeds and better privacy protection.
'Nexus' is poised to grow in 2022 and 2023 with multiple new features planned.
Ever since their inception, VPN services have been following a single pattern. Their primary role is to obfuscate your data by connecting you to a single server, creating a tunnel for your incoming and outgoing traffic. That's still a highly reliable method to protect your privacy (which even the best VPNs still use). However, today's VPNs are quick to evolve and innovate. With that said, Surfshark is the latest example of the next step towards building a system that protects your privacy.
Called 'Nexus,' Surfshark has launched a piece of technology that unifies its servers into a worldwide network. On the customers' end, everything remains the same. That means Surfshark users will still get to pick an individual server, which will now act as an exit node. That's how you'll continue to unblock websites and gain access to new types of digital services.
However, instead of creating a single VPN tunnel between your device and the end node, Surfshark now routes your traffic through a whole network of servers. As per Surfshark's explanation, this obscures and hides your traffic, stabilizes performance, and enhances your VPN connection speed. 
Surfshark's Nexus is based on Software Defined Networking (SDN) technology. That means the VPN uses software-based controllers and application programming interfaces instead of hardware devices to manage its infrastructure and traffic.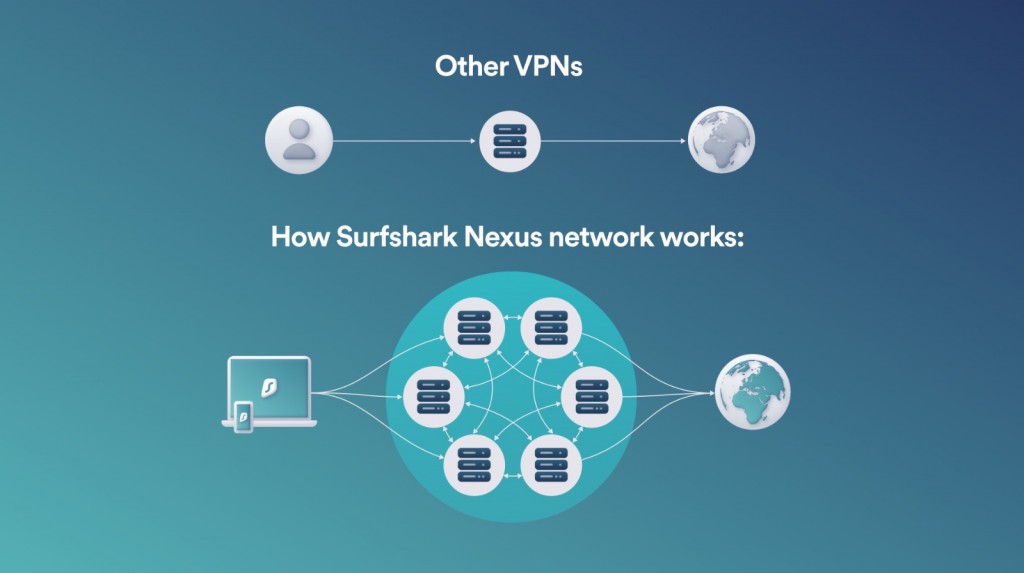 In simple terms, the VPN will first connect you to the nearest Nexus entry point (which is how you'll get faster performance than before). However, you'll end up with an IP address of the desired exit node. So, if you wish to get a US IP address, you can still get one.
Throughout 2022 and 2023, Surfshark plans to upgrade its 'Nexus' network to offer additional features. At the moment, there's a feature called 'IP Rotator,' whose mission is to change your IP address every once in a while without disconnecting you from the VPN network. As a result, your data will be much harder to track, which increases your privacy. 
Soon, Surfshark's Nexus network will be even more proactive. As per the VPN's roadmap, you'll soon get to expect a new IP address every time you connect to a different website. That will happen in the background without you having to interact with the VPN. And then, a 'Dynamic Multihop' feature is expected, letting you manually choose to flow to your data by connecting to several servers at once. For example, you'll get to pick two servers in different countries.
This is certainly an interesting development for Surfshark, putting the VPN one step ahead of its competition. We've seen several new features added to this VPN in the last year, so make sure to check what's new in Surfshark, where you can find more information.
For more information on what to expect from this VPN, turn to our Surfshark review.