Before you learn how to add a VPN extension in Chrome, make sure you've signed up with a top-quality VPN provider that has such an add-on available. Check out our list of the best VPNs for Chrome if you're not sure where to start.
How to Add VPN Extension in Chrome (Quick Setup)
1. Head over to your VPN provider's website to get the download link for their browser extension. We recommend against looking up any browser add-ons directly on the Chrome Web Store. Why? Well, malware-infected extensions that mimic the real thing may pop up in your searches instead.
In our example guide, we'll be using the ExpressVPN extension for Chrome. It features WebRTC blocking to prevent leaks and integrates HTTPS Everywhere to prevent unsecured HTTP connections that could leave your data exposed to eavesdropping.
Remember, you can always browse more of our recommended Chrome VPN extensions, though.
2. Once you're on the Chrome Web Store, just click "Add to Chrome".
3. Chrome will ask whether you want to install the extension. Review what the extension can do (just to be safe), then click "Add extension".
If the installation is successful, the "Add to Chrome" button will have changed to "Remove from Chrome." However, we're not done just yet.
4. Click on the Extensions button in the top-right corner of Chrome (it looks like a puzzle piece). Then select ExpressVPN from the list of extensions that pops up.
Click on the Pin icon to have the ExpressVPN icon always handy in the top-right corner. This is useful in case you want to tweak any settings or if you want to remove the extension later.
5. Click Skip in the small window that pops up. Then click "OK" or "No Thanks," depending on whether you want to send diagnostics back to ExpressVPN or not.
6. If you've already installed ExpressVPN on your system and logged in, the extension should immediately grab your login details from the app and should be ready for use.
Other Chrome VPN extensions (such as NordVPN) ask you to log in beforehand. Click on "Log in with [Your VPN Provider]" and input your login details before proceeding.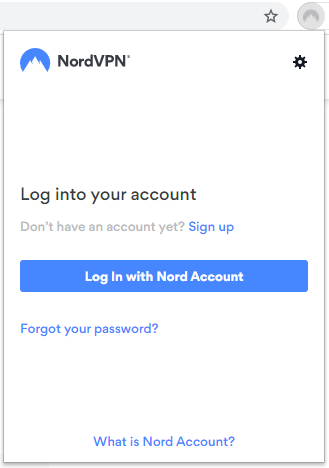 How to Use Your VPN Browser Extension
Select your preferred location from the "Selected location" drop-down menu, then click on the giant Power button (above "Not Connected") to connect.
And that's about it. Now you can securely browse and unblock online content while using Chrome. Of course, we always recommend using the full app when possible, especially while using public Wi-Fi. Otherwise, you risk having your data harvested by hackers or greedy ISPs looking to profit off your browsing habits.
Having trouble installing your VPN extension in Chrome? If updating your system and browser doesn't solve the issue, let us know which provider you use in the comments. We'll be glad to help out with the process.