Aside from ATRESplayer and fuboTV España, Mitele comes as a viable gateway to plenty of Spanish-language content. Even though it doesn't have as many subscribers as its competitors, we shouldn't deny the fact that Mitele offers plenty for its (low) price. However, the problem is that this streaming service comes geo-restricted – so you must be wondering how to watch Mitele outside Spain in 2021.
Have no worries, as you'll show you precisely that. Without any further ado, here's everything you need to know on how to bypass Mitele's geo-restrictions from anywhere in the world. 
Where Is Mitele Available? 
Mitele is available in Spain, and it comes with geo-blocks that scan your IP. That's why only those within Spain will get to stream Mitele's content. 
It's worth noting that Mitele is on its way to more countries, thanks to its recently introduced Mitele PLUS Internacional plan. However, that plan comes with many restrictions, as its library works on a per-country basis. So, you don't really know what you'll get (and for how long). 
With that said, we'll show you how to unblock your regular Mitele subscription from outside Spain using a VPN application.  
How to Watch Mitele Outside Spain? 
Finally, here are the 6 steps to watch Mitele outside Spain in 2021: 
Step #1: Find the Best-Working VPN to Unblock Mitele
As you already know, Mitele isn't a hugely popular streaming service (just yet). That means you'll have some difficulty finding a VPN to unblock this digital service. We're here to help, so we'll recommend subscribing to ExpressVPN based on our hands-on testing. 
3,000+ VPN servers in 160 VPN server locations in 94 countries, 5 Simultaneous connections, Fast and stable connection, No activity logs or connection logs, No bandwidth limits, Strong encryption, 24/7 live chat support, and 30-day money-back guarantee.
ExpressVPN has plenty of servers in Spain, and all of those work with Mitele (as well as with other streaming services). On top of that, ExpressVPN comes with a compelling set of privacy-focused features, keeping you safe online (which is why it's one of the best VPNs available now). 
However, if you'd like to expand your options, we won't get in your way. On the contrary, we can help by recommending our guide to the best VPNs for media streaming. 
Step #2: Get Your VPN Subscription
Now, it's time to get your VPN subscription before we get any deeper into this guide. So, go ahead and grab your ExpressVPN subscription. Once you reach the VPN's website, click on 'Get ExpressVPN' and then pick a subscription plan that works for you.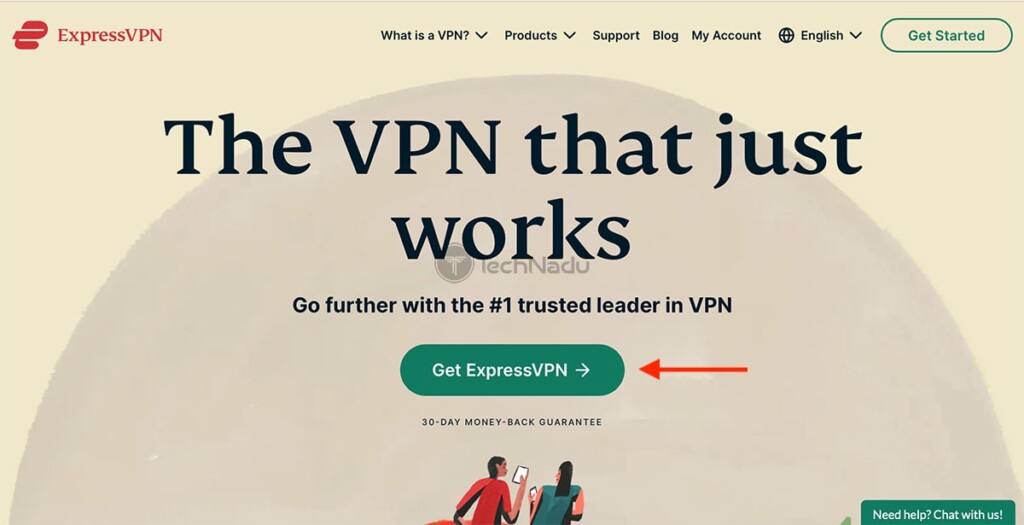 You will also need to input your email address and pick a payment method. Once your payment is processed, expect to receive a confirmation email from ExpressVPN's team. So, check your inbox, and then feel free to proceed to the next step.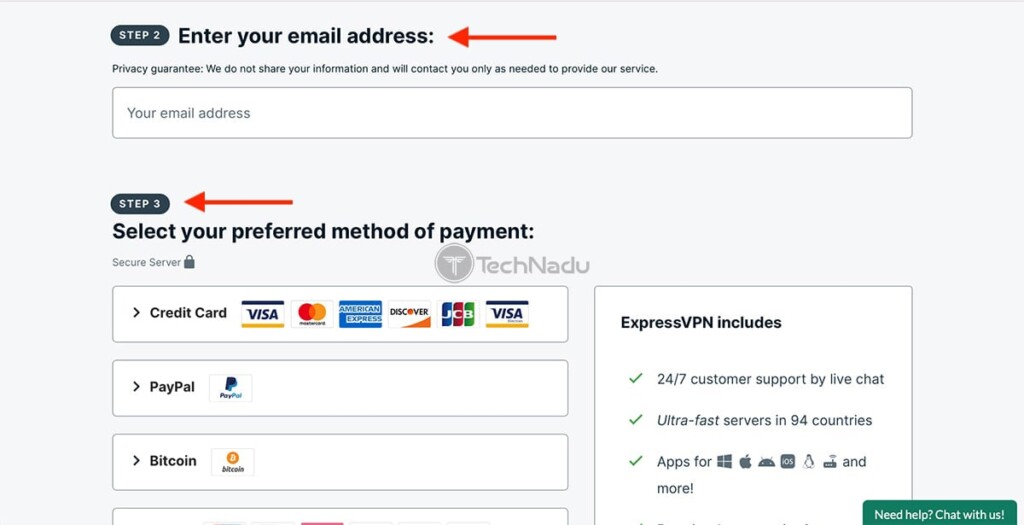 Step #3: Download & Install the VPN on Your Device(s)
At this moment, you should check our guide on how to download and install ExpressVPN. We made sure to cover all 60+ devices natively supported by this VPN. Feel free to use the provided link, pick your platform, and then set up ExpressVPN on your device.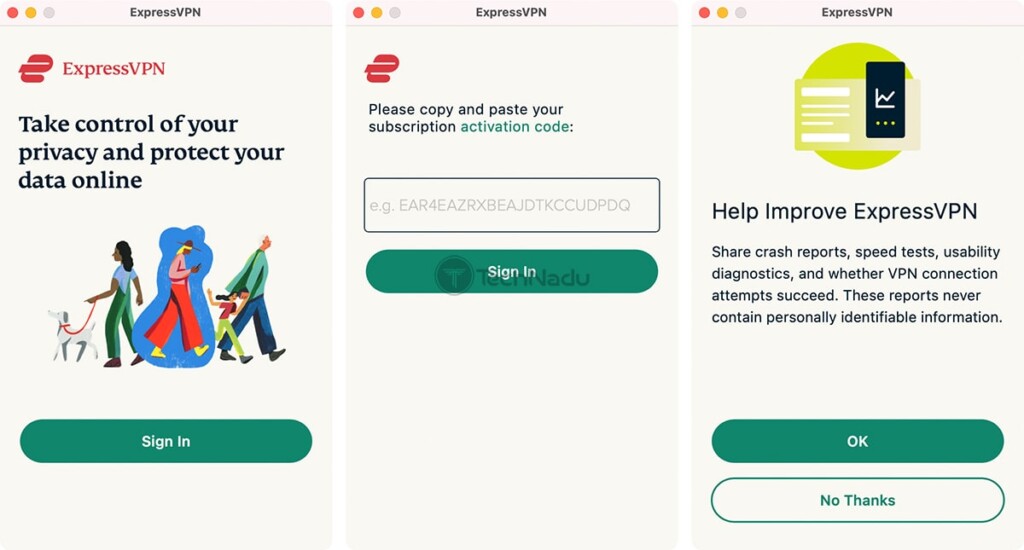 Once you install the VPN, you also need to run it for the first time. That is because you need to access your account by logging in. Also, you can use your ExpressVPN activation code for that purpose. And then, follow the on-screen prompts to complete the initial setup. 
Step #4: Connect to a VPN Server in Spain
Here's the crucial step that will help you watch Mitele outside Spain. Launch ExpressVPN and make sure you're on its home screen. Then, click on the button just below the ON/OFF switch, which will open a new window, showing you a list of ExpressVPN servers.
Use the top-placed search bar to look up 'Spain.' Then, you can double-click on the country's name to let ExpressVPN connect you to the fastest server. However, you can also expand the list of servers in Span to connect to any individual server. Once ExpressVPN's interface turns green, proceed to the next step.
Step #5: Access & Unblock Mitele from Anywhere
You can now launch your Web browser and visit Mitele's website. Then, to access this streaming service's library, select the profile icon in the top-right corner. Provide your username and password, and access your subscription.
From this moment on, you can use Mitele like you're in Spain, as ExpressVPN has replaced your IP address with a Spanish IP. That means your access to Mitele will be unblocked and unrestricted as long as your VPN session is active in the background.
Step #6 (Optional): Get Mitele on Other Devices
Let's not forget to mention that Mitele offers smartphone and tablet apps (available for iOS, iPadOS, and Android). The apps should be available on the global version of Apple's App Store and Google's Play Store. That means you can download them to your device regardless of your current location.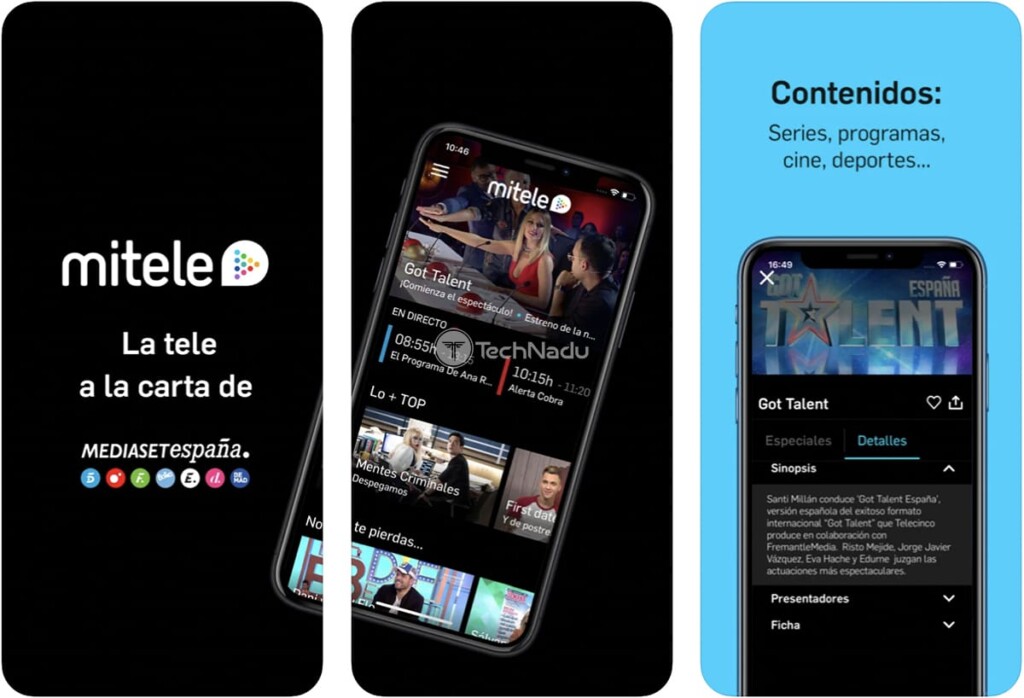 However, before you launch the Mitele app, make sure to connect to a VPN server in Spain. That shouldn't be a problem since ExpressVPN is available on iOS/iPadOS and Android as well. Then, lunch Mitele and log in to your account. That's it!
FAQ
What Is Mitele?
Mitele is a Spanish streaming service offering an on-demand library of TV shows and movies, in addition to a range of live TV channels. 
What Can I Watch on Mitele?
Some of the most popular titles on Mitele include El pueblo, La isla de las tentaciones, Mi casa as la tuya, Todo es mentira, El pade ce Cain, Love is in the air, and more. 
Mitele also gives you access to a range of live TV channels, such as Telecinco, Cuatro, Divinity, Be Mad, Boing, FDF, Solos/Solas, and plenty more. 
Can I Watch Live TV on Mitele?
Yes, Mitele gives you access to 10 live TV channels, available via Mitele's website and individual apps. You can watch their content both live and on-demand. 
How Much Does Mitele Cost?
Mitele's PLUS plan comes priced at 5 EUR/month. However, there's also the PLUS FIGHT Sports plan (5 EUR/month) and the PLUS Internacional plan (4 EUR/month).
As noted earlier, some of Mitele's plans are available outside of Spain. However, their content can be very limited, which is why we recommend using a VPN to unblock Mitele's original library, available to those in Spain only. 
Can a Free VPN Unblock Mitele Outside Spain?
Unfortunately, no. We weren't able to find any free VPNs that work with Mitele. That's one of the reasons why we recommend using a premium VPN, such as ExpressVPN.
That would be all on how to watch Mitele outside Spain in 2021. If you have any questions, make sure to post them just below. And lastly, thank you for reading!