Thanks to TV shows such as "#Luimelia" and "La Veneno," ATRESplayer has been on the rise during the last year. However, even though many have started talking about this Spanish streaming service, its international expansion seems to be going rather slow. So, naturally, many of you wonder how to watch ATRESplayer outside Spain in 2021 – and that's precisely what TechNadu will help you answer. 
First and foremost, know that it's possible to unblock ATRESplayer from anywhere in the world. No matter if you have a subscription or if you're yet to subscribe, we'll show you a way to access this streaming service's content. Let's jump right in. 
Where Is ATRESplayer Available? 
At the moment, ATRESplayer is available in Spain, the United States, and across several Latin American countries. 
Therefore, it's true that ATRESplayer has started to reach more countries outside of its original region of availability (Spain). Still, due to broadcasting and licensing rights, know that not all versions of this streaming service are the same. With that said, the most content-rich version is the original version, available in Spain. 
How to Watch ATRESplayer Outside Spain? 
Finally, here are the 6 steps to watch ATRESplayer outside Spain in 2021: 
Step #1: Find the Best-Working VPN to Unblock ATRESplayer
Make no mistake - this first step is actually the most important one. You need to be very careful about which VPN you'll pick, as you need one that's capable of unblocking different versions of ATRESplayer. And with that said, our strong recommendation would be ExpressVPN. 
3,000+ VPN servers in 160 VPN server locations in 94 countries, 5 Simultaneous connections, Fast and stable connection, No activity logs or connection logs, No bandwidth limits, Strong encryption, 24/7 live chat support, and 30-day money-back guarantee.
At the moment, ExpressVPN comes as the best VPN overall, based on our hands-on testing of more than 60 VPN providers. Aside from getting you access to ATRESplayer, it works great with a vast number of other streaming services. And also, it takes proper care of your privacy. 
In case you'd like to expand your options, we've prepared a handy guide. So, feel free to proceed to read our guide to the best VPNs for media streaming. 
Step #2: Get Your VPN Subscription
It's time to make up your mind about which VPN you'll pick. If you want to listen to our advice, go ahead and subscribe to ExpressVPN. Once you land on the VPN's website, pick 'Get ExpressVPN' and then select a subscription plan. Take your time to inspect your options, but keep in mind that long-term plans come with significant discounts.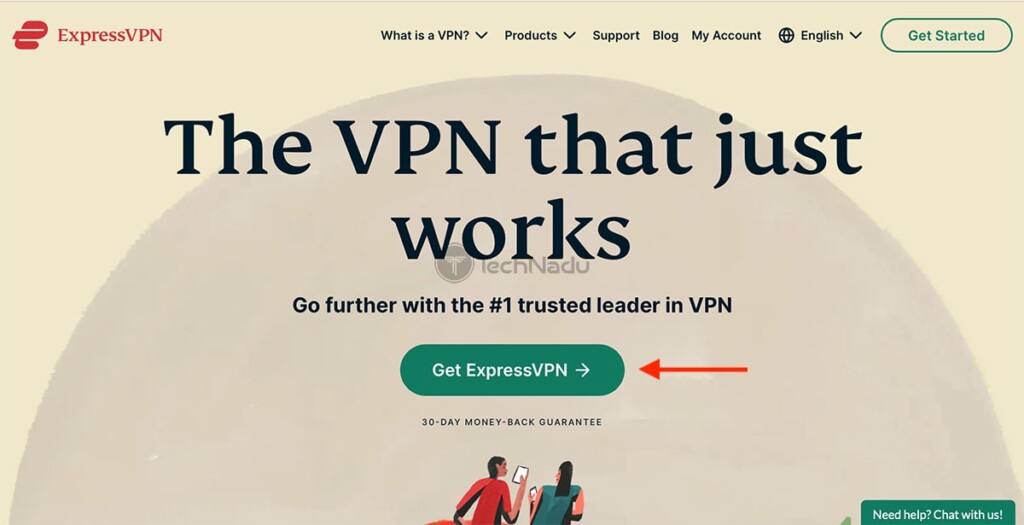 Then, provide your email address and pick a payment method. Once you fill out the required information and after your payment is processed, expect to receive a confirmation email from ExpressVPN's team. So, check your inbox and then proceed to the next step.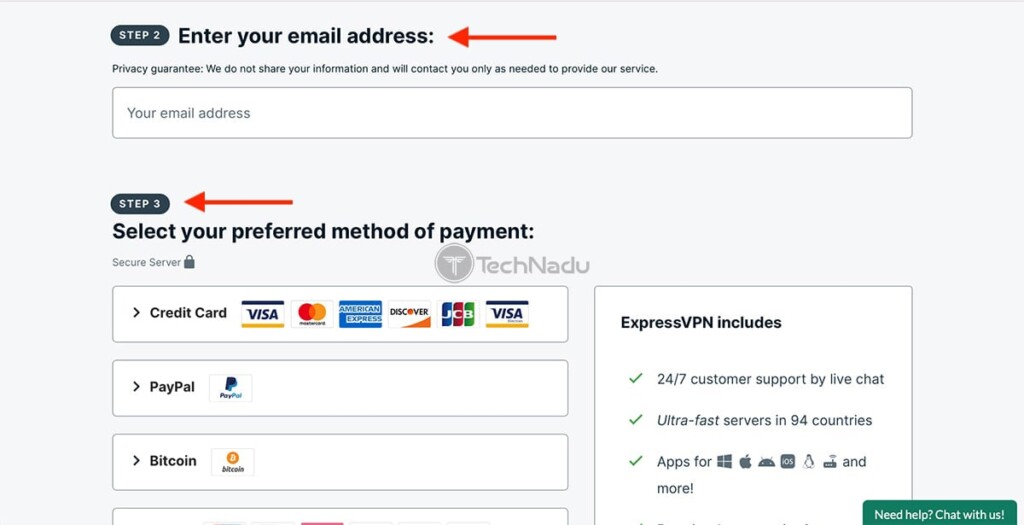 Step #3: Download & Install the VPN on Your Device(s)
You'll be thrilled to know that ExpressVPN works on more than 60 devices and platforms. So, your next destination should be our guide on downloading, installing, and using ExpressVPN. We made sure to provide instructions for all the VPN's supported platforms, so use the provided link, pick your platform, and follow the instructions you'll see there.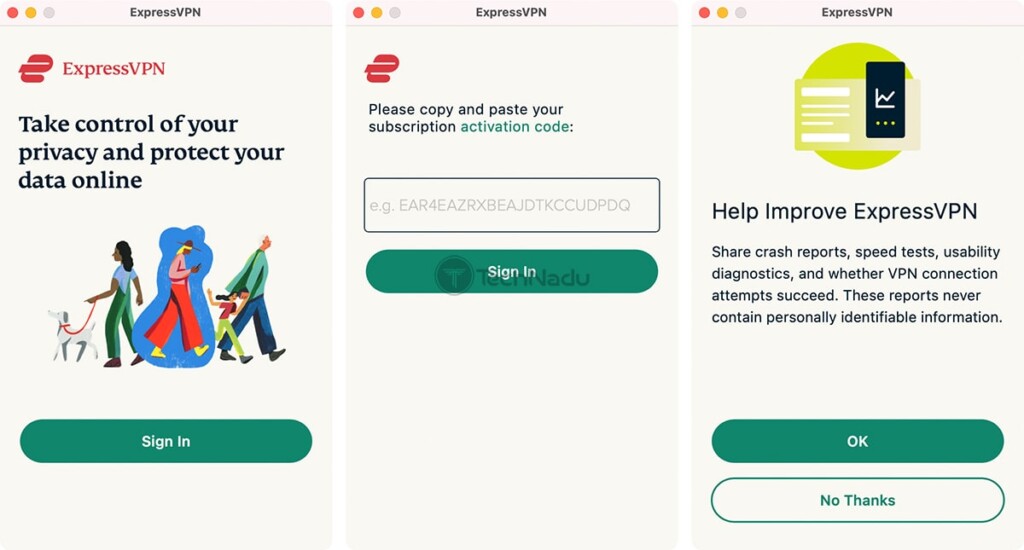 Keep in mind that you also need to set up ExpressVPN the first time you run it. So, open the VPN app and log in to your account (here's how to get your ExpressVPN activation code, by the way). Complete the initial setup by following on-screen prompts, and proceed to the next step once you reach ExpressVPN's home screen.
Step #4: Connect to a VPN Server in Spain
To watch ATRESplayer outside Spain, you must connect to a VPN server in that country first. So, open ExpressVPN and select the button you'll see just below the prominent ON/OFF switch. This will open a new window, listing more than 3,000 VPN servers on offer by this VPN. 
Use the top-placed search bar to look up 'Spain.' Then, double-click on that country's name or pick any individual server in Spain. ExpressVPN will take a moment to connect you. Once that happens, the upper third of its home screen will turn green. That means you now have an active VPN session, so you can proceed to unblock ATRESplayer. 
Step #5 (If You Want to Log In): Access the Spanish Version of ATRESplayer
This step is for existing ATRESplayer subscribers who are outside of Spain at the moment. So, now that you've connected to a VPN server in the country, access ATRESplayer using a Web browser. Give it a moment until the website loads, and then log in to your account by picking the profile account icon in the top-right corner. 
From this moment on, you'll have full access to ATRESplayer, as long as your VPN session is active. Feel free to stream anything, watch live TV, or check the latest trailers – everything will be accessible, without any restrictions whatsoever.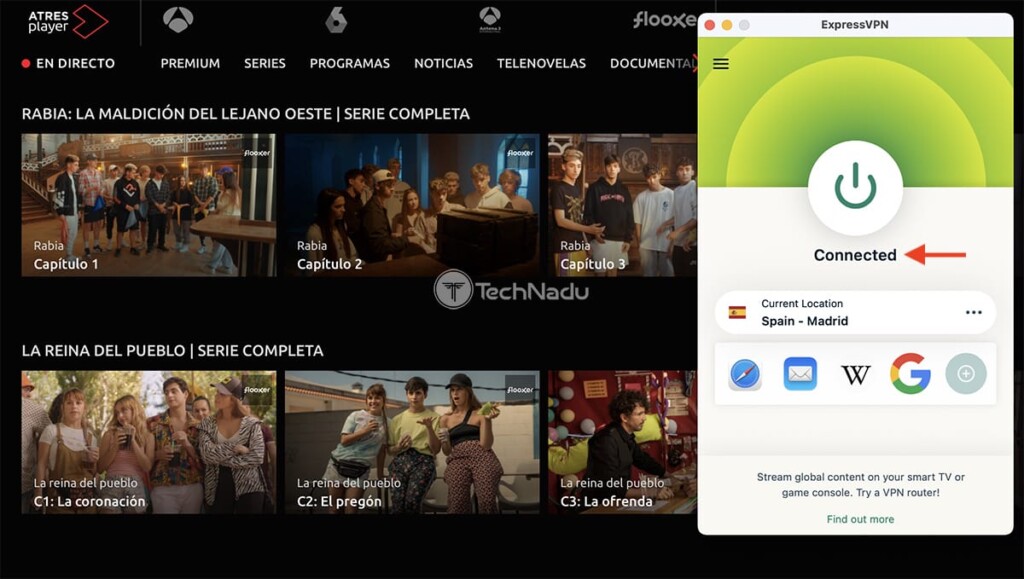 Step #6 (If You Want to Sign Up): Access the American Version of ATRESplayer
If you're outside of regions where ATRESplayer is available and if you want to subscribe, you'll need to do that via the American version of the streaming service. With that said, you'll need an American Google or Apple ID, which is the main requirement here. 
If you don't have one, you can always get a new Apple ID (for iPhones and iPads) or create a new Google account (for Android devices). Make sure to use ExpressVPN while signing up. Pick 'United States' when asked about your country. Apple will also ask for your address, so use this random US address generator. Also, make sure to log in using your new account on your iPhone, iPad, or Android (by logging out of your old account first, of course). 
Then, you'll need to add funds to your account. For that purpose, you need to purchase either a Google or Apple gift card (via Amazon, delivered to your email). Keep in mind that ATRESplayer costs between $4.99 per month up to $49.99 per year. Then, here's how to redeem your gift card (Google, Apple).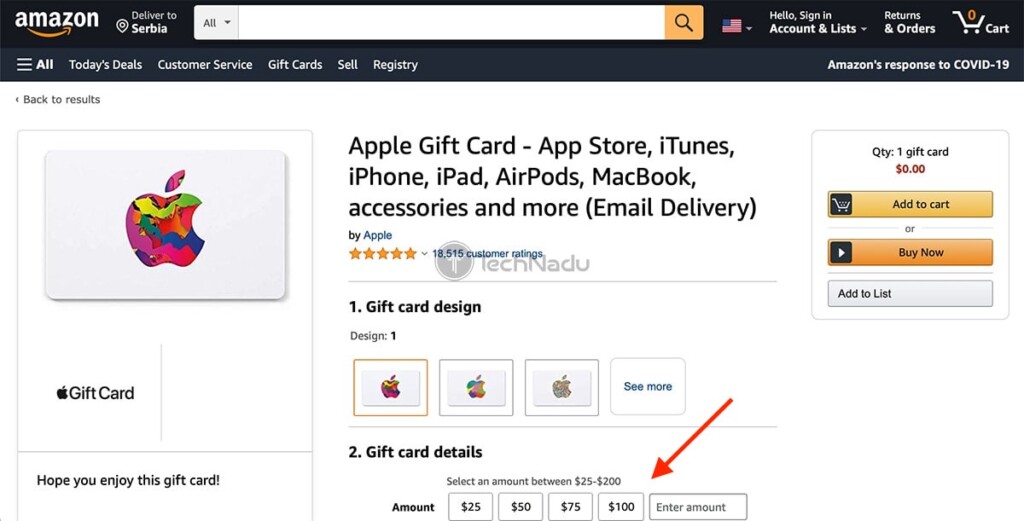 Proceed to download the ATRESplayer app (iOS/iPadOS, Android). Also, make sure that you're connected to a VPN server via ExpressVPN – and that has to be a server located in the United States. Launch the app and then choose the option to subscribe. Since you'll have pre-paid funds on your account, you'll use those to subscribe to ATRESplayer and unblock it from anywhere in the world. That's it!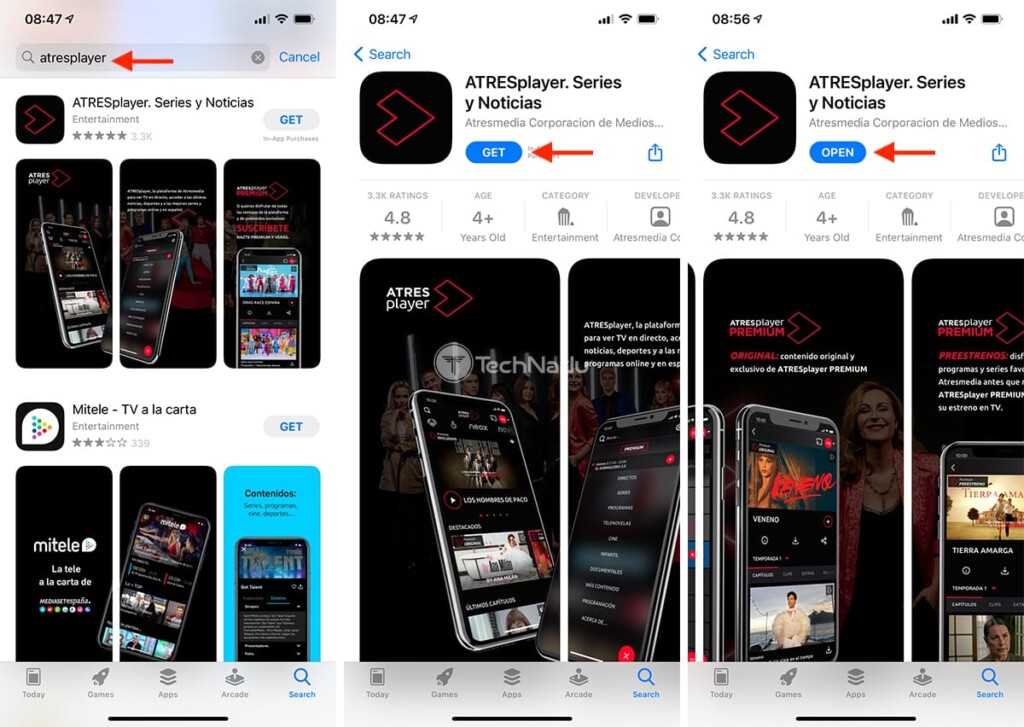 FAQ
What Is ATRESplayer?
ATRESplayer is an on-demand and live TV streaming service from Atresmedia, giving you access to content produced by Antena 3, laSexta, Neox, Nova, and Mega. 
What Can I Watch on ATRESplayer?
Via ATRESplayer, you can watch shows like #Luimelia, Rabia, La Reina Del Pueblo, Pasapalabra, Los Hombres De Paco, La Voz Kids, Mask Singer, and plenty more. 
Can I Watch ATRESplayer for Free?
A portion of the content on ATRESplayer is available free of charge, including TV show previews, extras, and even individual TV episodes.
How Much Does ATRESplayer Cost?
ATRESplayer offers several subscription plans. In Spain, it costs €4.99 per month or €49.99 per year. In the US, ATRESplayer costs $4.99 per month or $49.99 per year.
Can a Free VPN Unblock ATRESplayer Outside Spain?
No, you won't find a free VPN that can unblock ATRESplayer outside Spain. That's because free VPNs are unusable for streaming due to their highly limited bandwidth. 
There's only one way to go if you want a reliable media streaming experience. And yes, we're talking about using a paid VPN solution. More precisely, you should go for ExpressVPN. 
That would be all on how to watch ATRESplayer outside Spain in 2021. If you have any questions for us, make sure to post your comment just below. And finally, thank you for reading!