Pairing uTorrent with a VPN is the best decision you can make. That's because uTorrent (just like other torrent clients) makes your IP address visible to other P2P users, as well as to agencies after copyright infringers. That said, once you start to use uTorrent with a VPN, you won't have to worry about your privacy anymore.
That's because a VPN will hide your torrenting activities. You'll get to download and upload any P2P file, ensuring your data stays within a secure tunnel. That's possible thanks to encryption, which is the primary data obfuscation method employed by VPNs.
Of course, the big question is - how to use uTorrent with a VPN? Well, that procedure is quite simple but should be done carefully. If your VPN leads your data, that'll beat its primary purpose. So, let's guide you through a series of steps teaching you how to connect your VPN to uTorrent.
Ready to get started? If you are, just keep reading!
Step #1: Get a Reputable & Trustworthy VPN
First and foremost, pick a VPN that's optimized for P2P traffic. Many VPNs don't allow P2P traffic on their servers, or they might not be optimized for that kind of Web data flow. So, you need to be very careful when picking a VPN you can trust.
Based on in-depth testing of over 65 VPN services, by far the best option you have right now is ExpressVPN. With this VPN, you get over 3,000 servers worldwide, all of which support P2P traffic. Of course, plenty more features await, so go ahead and read our review of ExpressVPN.
If you'd like to check other options, our guide to the best VPN for torrenting should be your next Web destination. Even better, you can check our guide to the best VPN for uTorrent.
Step #2: Set Up the VPN
Next, you need to set up your chosen VPN software. Keep in mind that you need to have an active VPN session in the background each time you open uTorrent and download P2P files. In other words, your VPN needs to run on your device locally (preferably as a native application).
Since our #1 recommendation is ExpressVPN, we offer a dedicated guide on how to set up ExpressVPN - covering more than 60 devices and platforms. For more detailed information on how to get started, read our guide on using ExpressVPN for torrenting.
Step #3: Enable Your VPN's Data Leak Protection
We can't talk about how to use uTorrent with a VPN without instructing you to create a leak-free environment. That's precisely what VPNs offer, so you need to ensure that your VPN connection doesn't leak any DNS or IPv6 information.
Before you start downloading P2P files, make sure to take a very good look at your VPN app's settings. For example, ExpressVPN offers a way to prevent IPv6 leaks (by going to ExpressVPN's Preferences > Advanced), which comes enabled by default.
To learn how to check if your VPN works properly, click on the provided link. You'll find a 5-step guide, instructing you to check for IP, DNS, and WebRTC leaks. Once your VPN passes those tests, you'll be well on your way toward downloading P2P files anonymously.
Step #4: Enable Your VPN's Kill-Switch
When using uTorrent with a VPN, make sure to have a kill switch enabled from the get-go. That is what will keep you safe if your VPN connection drops unexpectedly (which can happen at any moment). To learn more, here's what to know about a VPN kill switch. And, of course, make sure to use the best VPN with a kill switch you can find.
Enabling your VPN's kill switch is done via its settings/preferences. For example, ExpressVPN gives you access to its option via Preferences > General. Then, take a look at the bottom of that page, where it says 'Network Lock.' Make sure to tick the box next to 'Stop all Internet traffic if the VPN disconnects unexpectedly.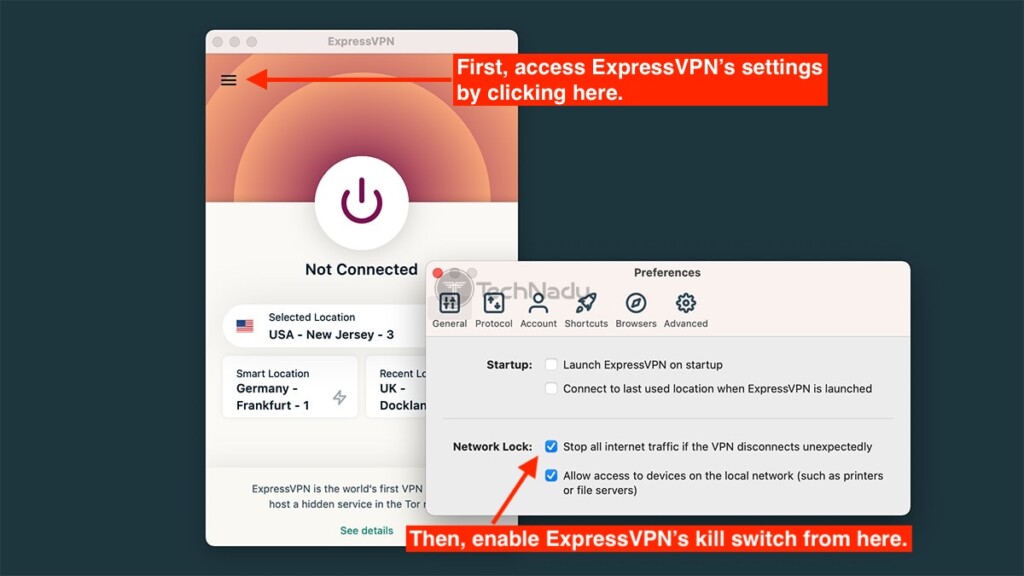 Once you enable this option, your Internet connection will work only if you have an active VPN session. So, if something goes sideways, your access to the Internet will be blocked, preventing your torrenting-related activities from being exposed online.
Step #5: Pick the Right VPN Server Location
You should think twice before connecting to a VPN server. That's because (in most cases) not all servers are optimized for P2P traffic, so find the one with a symbol indicating that it works with P2P. If there's no such symbol present in your VPN's interface, it either supports P2P via all of its servers or doesn't support P2P at all.
Besides that, we recommend using a country with more relaxed P2P-related laws, such as the Netherlands, Switzerland, Mexico, or Spain. Of course, use servers in those countries only if your VPN offers P2P-optimized servers there.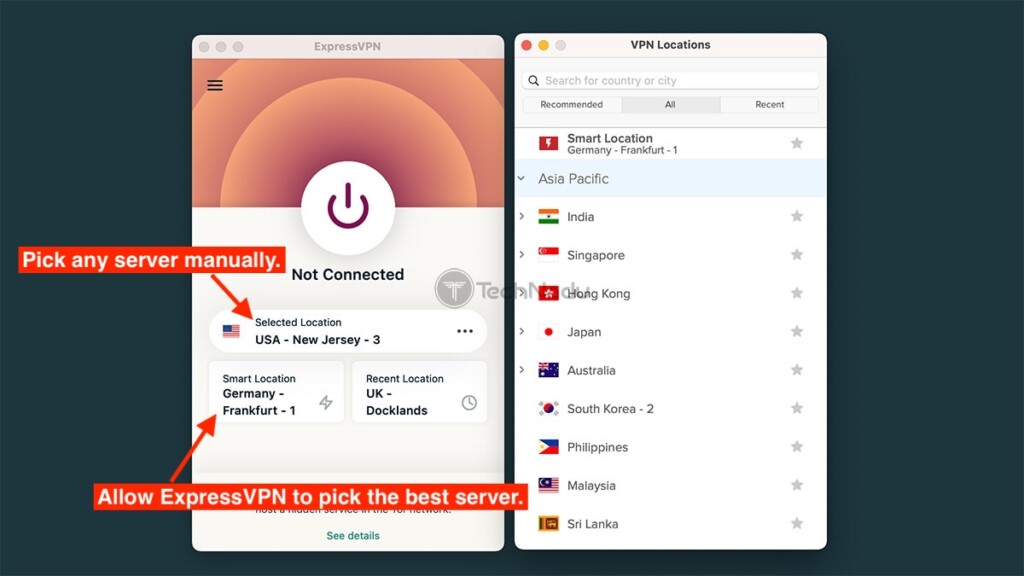 Since we focus on ExpressVPN, here's how to change a VPN location on ExpressVPN. It's also worth checking ExpressVPN's Smart Location feature, which provides a good way to reach servers that bring fast download and upload speeds.
Step #6: Configure uTorrent for Speed & Privacy
By default, you can use uTorrent with a VPN without tinkering with the torrent client's settings. However, changing a few things there can go a long way. So, do the following:
Make sure that uTorrent isn't blocked by a firewall or any other Internet security software that has a firewall built-in (Options > Preferences > Connection > Add Windows Firewall Exception).
Enable UPnP port mapping for easier peer-to-peer communication, letting you achieve faster Web speeds (Options > Preferences > Connection > Enable UPnP Port Mapping). 
Disable uTP (Micro Transport Protocol) and bandwidth management, which lifts the limits imposed on your P2P traffic (Options > Preferences > BitTorrent).
If you need more tips, we've prepared a separate guide for you - on how to configure uTorrent. Besides that, here are our best tips on how to make uTorrent faster. 
Step #7: Start Downloading Torrent Files!
You are now ready to start downloading torrent files. However, make sure to connect to a VPN server first. So, use your VPN's interface to pick a server to initialize a VPN session.
If you'd like some suggestions on where to find torrent files, we have some recommendations for you. Here are the best torrent sites overall. And if you'd like to expand your reach, learn about the best torrent search engines.
We can also help you navigate to specific types of torrent files. Here's how you can download movies, music, and games using uTorrent.
Final Thoughts
You don't have to be an IT expert to use uTorrent with a VPN. That said, you do need a capable VPN, which you can pair and use with uTorrent side-by-side. Of course, the most important thing to remember is to initialize your VPN session before opening the torrent client.
Also, make sure to close uTorrent first, and then shut your VPN down. In other words, everything you do related to torrents must be done while you're connected to your VPN. That's it!
Those would be the 7 steps to use uTorrent with a VPN in 2023. If you have any questions on your mind, let us know via the comments section below. Finally, thank you for reading!