If you want to safely download torrent files using the uTorrent client, you can either install the suitable NordVPN app on your device or connect to one of its Proxy servers. You can check our complete NordVPN installation guide to use it on all supported devices you own. But if you just want to bypass geo-restrictions and access P2P files available in other regions, connecting to a NordVPN Proxy server will be enough. So without further ado, scroll through the below step-by-step process and learn how to use NordVPN Proxy on uTorrent. 
1. First, visit the NordVPN website.
2. Next, click the Grab the Deal button and pick a subscription on the upcoming screen. 
3. You have to enter the required details now to complete your purchase. 
4. Once done, wait for a confirmation on your subscription.
5. Now, open your uTorrent client.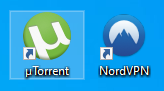 6. You have to click Options next from the toolbar at the top of your uTorrent app screen. 
7. Choose Preferences after that from the pop-up menu. 
8. A new window will appear next; select Connection. 
9. Navigate to the Proxy Server section next and click the drop-down button beside the Type: option. 
10. Choose Socks5 from the drop-down menu after that. 
11. Within the Proxy field type one of the NordVPN server IP addresses mentioned in the below list: [Pick depending on your location preference]
amsterdam.nl.socks.nordhold.net
atlanta.us.socks.nordhold.net
dallas.us.socks.nordhold.net
los-angeles.us.socks.nordhold.net
nl.socks.nordhold.net
se.socks.nordhold.net
stockholm.se.socks.nordhold.net
us.socks.nordhold.net
12. Now, within the Port field, type in 1080 and check all the boxes mentioned below:
Authentication
Use proxy for hostname lookups
Use proxy for peer-to-peer connections
Disable all local DNS lookups
Disable features that leak identifying information
Disable connections unsupported by the proxy
13. Type in your Username and Password next, which you can find in your NordVPN online account dashboard; under the Advanced configuration tab. 
14. Once done, your P2P traffic will flow through the NordVPN Proxy server in your desired location. 
15. To check whether you're connected or not, first visit this website. 
16. Next, scroll down to Torrent Address detection and click the Activate button. 
17. After that, hit this Magnet Link and choose uTorrent in the appearing window. 
18. Now, hit the OK button. 
19. uTorrent will be automatically launched, and the Magnet Tracking Link will start to synchronize. 
20. When the file starts setting up a connection to a peer, move back to the IP Leak website and check whether your IP address matches the Proxy server you've picked. 
21. If it does, you've set up a successful connection. 
That's all! Now you know how to set up and use the NordVPN Proxy server on uTorrent. If you've further queries, drop us a comment through the below button. Thanks for reading!