When choosing which VPN to use, you'll see that you have hundreds of options in front of you. What makes choosing a VPN hard and tedious is the fact that they all look alike. They all promise fast speeds, unparalleled security features, plenty of advanced options, and much more. So, for a VPN to stand out, it really needs to think of something different – which is precisely what Speedify offers. Aside from offering all of the features you'd typically expect from a VPN, Speedify promises to combine two different types of connections via its 'revolutionary' channel bonding technology. So, what does this actually mean, and what are the benefits of channel bonding? Is this VPN better than typical VPNs offered in today's market? Let's find out. Welcome to our hands-on review of Speedify VPN!
Before we get to all those advanced and unique features that this VPN offers, we'll first introduce you to its basic set of features. For this purpose, we've prepared three tables for you – with the first one giving you a series of comparative points that come in handy if you're in doubt when choosing between different solutions.
We're sure that many of you are fans of media streaming. One of the benefits of using VPNs is that you can unblock websites and access different editions of your favorite streaming platform. With this in mind, we've tested Speedify with the world's most popular streaming websites, so here are the details.
And finally, we'd like to present our post-review conclusions. This is why you'll find one more table below, created for those who're in a rush. So, take a quick look to see this VPN's standouts and downsides.
That would be it for our introductory segment. If you'd like to learn about Speedify from the inside out, make sure to stick with us. So, let's get started.
Speedify VPN – TechNadu's Hands-On Review
We'll review Speedify by checking and testing various aspects of this VPN service. To learn more about this process and the way we rate VPN services, we have a dedicated article on how we review VPNs. Make sure to take a look before you start reading this review, so you can set your expectations accordingly.
Background, Jurisdiction & Reputation
Speedify is a US-based VPN with ostensible connections to the intelligence community. There were also reports about data leaks in the past. Our Score: 1/10.
Checking the jurisdiction of your chosen VPN is more important than you might think. By choosing a VPN headquartered in a country with aggressive data logging and mass-surveillance, you're putting yourself at risk of having your data collected (and vice versa). So, here's what you need to keep in mind before getting your Speedify subscription.
Jurisdiction & Applicable Laws
Speedify launched back in 2014, as a channel bonding service. However, this wasn't the first software product made by its parent company, Connectify Inc. This company was founded in Philadelphia (Pennsylvania) in 2009, which is when its first product (Connectify Hotspot) launched. In the meantime, they've switched to a freemium commercial model and received funding from In-Q-Tel, a Virginia-based venture capital firm (connected with organizations like the CIA, DIA, NGA, and the wider intelligence community). Connectify also relied on Kickstarter in the past, to further develop their applications.
As you can see, this VPN comes from the United States of America. What's even more problematic is the fact that Connectify has had cooperated with the intelligence community (either directly or indirectly). However, it's also important to mention that Speedify had changed its privacy policy in 2015 by stating that they don't collect any logs – and that the online activity of their users if fully protected.
We also shouldn't fail to mention that the USA is a member of the 5-Eyes Intelligence Alliance. This is a group of countries that work together on collecting various types of personal data, which is then easily exchanged between the member countries (the UK, Canada, Australia, New Zealand, and more). Therefore, the fact that Speedify comes from the USA gives us an uneasy feeling – and we believe that those looking for the best possible online protection of their data should probably look elsewhere.
Previous Data Leaks
There was some talk on the Web about Speedify on two occasions. As reported by TechRepublic, it was discovered that this VPN was among 16 VPNs that leak private data. However, it should be noted that the free version of Speedify was tested – which we understand is not an excuse. However, this report was heavily focused on a few well-known VPNs so it could have been easily a marketing trick. In addition, a Reddit user reported that Speedify was leaking his data, including his social media and e-mail accounts. Even though there's no definite proof that Speedify was the culprit, we would recommend exercising caution.
Of course, you can read more about whether this VPN leaks your data in our 'Security & Privacy' segment, later on in the article. For now, we'll conclude that Speedify doesn't seem to be the most trustworthy VPN out there. It comes from the USA with connections to the intelligence community (in the past), and there are some troublesome reports about this VPN. It certainly doesn't leave a positive first impression.
Supported Platforms & Devices
Speedify supports only the most popular platforms out there. You can't install it on routers, media streaming devices, or any other platforms. Our Score: 4/10.
Speedify is not a typical VPN and it uses its proprietary technology to re-route your Web traffic. With this said, it's not surprising to know that it supports a limited number of devices and platforms.
When it comes to computers, you can install and run Speedify on Windows and MacOS. And when it comes to mobile devices, there are native apps for Android and iOS. That's pretty much it when it comes to supporting different platforms, and you won't find support for routers either.
The reason why you can't install Speedify on a router is due to its VPN protocol. In general, VPNs that rely on the OpenVPN protocol have a way of running on compatible routers and protect your entire household at once. However, Speedify combines different Web connection and it bonds them, which is unlike any other VPN protocol. With this said, there are no routers that support this protocol as it's currently impossible to combine two or more ISP providers in this manner.
Let's not forget to mention that you can use Speedify on up to 5 devices at the same time. This should be enough to protect devices in your home (like computers and tablets) and to use this VPN service on-the-go as well.
Installation & Initial Configuration
Speedify comes with an easy process of installation, no matter if you're installing it on a desktop or mobile device. Our Score: 10/10.
Getting started with this VPN is easy. The first step is to get a subscription to Speedify, or you can get started free-of-charge (more about this VPN's free plan later in the article). Then, proceed to download one of the available applications. We've tested this VPN on our Windows 10 PC and Android smartphone – where the process of installation is incredibly simple and fully automated. On Windows, all you have to do is to download the installation file (around 50MB in size). Then, click on it and Speedify will install automatically. After a few moments, you'll get to open the application and start using it.
When it comes to Android and iOS, you need to download Speedify from the respective App Store. Once the application is installed, launch it and then sign-in using your credentials. All in all, even complete beginners should not have a problem setting up Speedify as this entire process is fully automated.
Prominent Features
Speedify comes with a strong set of basic VPN features that should meet the needs of the majority of (non-demanding) users. Our Score: 7/10.
Next, it's time to check what kinds of features you'll be getting as a Speedify subscriber. To get started, we've prepared a handy table below, and then we'll elaborate on this VPN's feature set.
It's interesting to note that the website of Speedify is full of explanations of how this VPN works – written in a very user-friendly way. However, these explanations usually avoid using common VPN-related terms, which is perhaps a way for this VPN to differentiate itself from the rest of the pack. That's why we needed to take a deep look at its set of features, so here's what you need to know.
In terms of protecting your privacy, Speedify employs both DNS and IPv4 leak protections. We can see in this VPN's technical documentation that IPv6 is also supported – but we strongly recommend you test this on our own (if your ISP supports IPv6, to begin with). And also, Speedify comes with a kill-switch – but only for Windows. It's also important to note what's missing here. You won't be getting high-end features like split-tunneling, for example. There's also no ad-blocking or anti-malware.
We shouldn't end this segment without talking about the biggest feature of Speedify – and that's channel bonding. This VPN is designed to combine a number of different Web connections and to utilize the power of all those Web connections at once. You can combine several Wi-Fi networks, Ethernet, and 3G/4G connections by using several instances of the same or different types of Web connections. For example, you can bond two or more Wi-Fi networks, but you can also bond Wi-Fi and Ethernet, or Wi-Fi and a tethered Android/iOS phone. In simple terms, any kind of combination is possible.
Server Count
With only 200+ servers on offer, Speedify doesn't impress. However, it brings servers across 37 countries and lets you connect to individual locations. Our Score: 4/10.
It's important to know how many servers you'll be getting, in what countries, and whether there're any specialized servers. So, here's what you need to know about the server network of this VPN service.
Finding precise information about how many servers this VPN service offers has proven to be a tedious task. If you look at other reviews, you'll see that they're mentioning numbers from 50 up to 1,000+ servers. To find out the truth, we've approached this company and asked for an estimate. As we've been told, Speedify continuously works on improving its server network so the number of servers varies – but they've confirmed that they have around 200 servers at the moment.
In general, 200 servers should be enough for average home users. However, it's also important to know that you can get VPNs with over 5,000 servers without paying more than you would pay for Speedify. With this said, Speedify doesn't bring the smallest server network we've seen yet – but it trails behind numerous VPNs. Still, the situation isn't all that bad as you'll find servers in 37 countries and across 50+ locations. And also, you can connect to individual cities as well.
Ease of Use
Speedify comes with a relatively simple UI. However, it will take time to master all of its features as not all aspects of this application are intuitive. Our Score: 7/10.
On its home screen, Speedify gives you access to the often-used tools in addition to real-time stats. At the top of the screen, you'll see which Web connections you have available and this is where you can choose which ones to combine. As you add Web connections to your computer (via tethering, for example), these automatically appear within the app – so you don't have to add them manually.
Beneath the list of available connections, you'll see three horizontal bars. At the top, you can enable or disable Speedify. The next horizontal bar is where you'll get to pick a server. Click on the cogwheel button on the right and a pop-up will appear. This is where you can choose a server and fine-tune options related to the current session and privacy. In terms of choosing a server, you can go with the fastest one, there are also torrent-friendly servers, or you can choose any server manually. You can either select a country, which will instruct Speedify to connect you to the fastest-performing server, or you can also pick a specific city (for countries with multiple servers). There's also one more bar which lets you review your account settings.
At the bottom of the screen, you can see real-time stats. As you scroll to the right, you can review the current speed of each of your Web connections, usage breakdown by month and day, as well as additional information related to latency and loss.
To dive a bit deeper into this application, click on the question-mark button in the top-right corner. This will open a pop-up giving you access to customer support resources, your account information, and this is where you can generate logs (in case of a technical problem). This is also where you'll find the application's settings, so let's see what can be fine-tuned here.
Session: You can instruct Speedify to run on start-up and automatically connect you to the last used server. Also, you can enable the redundant mode and you can switch between this VPN's TCP and UDP protocol. Finally, you can also enable 'Jumbo MTU' which improves the speed of your Web connection.
Privacy: In terms of your privacy, Speedify allows you to enable/disable DNS leak protection, Internet kill-switch, encryption, and you can decide whether to send crash reports.
Overall, it can be said that Speedify comes with a simple UI. However, it will take some time until you get to learn all of its options as certain parts are not as intuitive. There are also several ways to get to the same setting within the app, which might be confusing to inexperienced users. And finally, it needs to be said that Speedify comes with the same UI across all of its supported devices.
Media Streaming & Torrenting Support
Speedify can't unblock websites like Netflix, Hulu, iPlayer, or Prime Video. And even though it supports P2P, it comes with a limited number of specialized servers. Our Score: 2/10.
As you probably know, VPNs can help you unblock Netflix, Hulu, BBC iPlayer, and more – outside of their home countries. However, not every VPN can effectively do this. So, here's what you need to know about Speedify and its media streaming capabilities.
We've tested this VPN with the world's most popular streaming platforms, including Netflix, Hulu, BBC iPlayer, and Amazon Prime Video. Unfortunately, none of Speedify's servers were able to overcome geo-restrictions imposed by those websites. To research further, we've also taken a close look at this VPN's website where it says that Netflix is no longer accessible via Speedify. However, other media streaming services might work on occasion as this VPN is constantly upgrading their server network, which means that certain streaming platforms might work in the future. However, this also means that getting a long-term subscription to this VPN comes with risks, as there's no guarantee how its media streaming capabilities will be developed in the future.
It's also interesting to note that Speedify didn't allow P2P traffic until recently. Now, you get to choose a P2P-friendly server, but you can't choose a server manually. With this said, you can only hope that Speedify has a P2P server nearby – if you want to download files without heavy throttling. However, since this VPN comes with 200+ servers in total, we believe that few of those servers are P2P friendly. Long story short, we can't recommend Speedify for media streaming or downloading torrents.
Security & Privacy
Speedify collects plenty of anonymized information and it's not built for total anonymity. It doesn't actively leak any data, though. Our Score: 5/10.
VPNs are made to keep your privacy safe online, and they do that via numerous VPN protocols and different types of encryption. So, let's see how successfully this VPN can protect your identity.
Supported Encryption Protocols
The majority of currently available VPN applications rely on AES-256 to encrypt your data. This is a well-researched cryptographic method of making your data unreadable to anyone but those with the correct encryption keys. However, Speedify has decided not to use AES and instead it relies on a protocol called ChaCha. Despite its funny name, this is a highly secure protocol that (in some cases) brings better performance in comparison to AES (128 or 256). This is yet another information telling us that Speedify is built around providing the fastest possible speeds.
In terms of the available VPN protocols, you'll find only one here. Called 'Channel Bonding', this isn't a typical VPN protocol, making it hard to know how to secure it is. However, we think the best answer to this concern is a sentence written by Alex Gizis, the person behind Speedify and other products made by Connectify. He said that Speedify is focused on speed, not security.
Logging Policy
Upon visiting the official website of this VPN, you'll see claims that this provider doesn't log your data. However, this isn't entirely true – as you can see by reading its privacy policy. Among different types of data, this VPN collects access logs (the time and location from which a connection is made, the amount of traffic, the duration of the session), location information, and your device information. In other words, Speedify knows where you come from and how you use this VPN service.
It's also important to be said that Speedify collects anonymized information only. In other words, this VPN could easily identify what you do online – but it also encrypts everything it receives from you. In the best-case scenario, all of this information is anonymous. Still, we believe that you could easily be exposed if someone pushes Speedify to collect your data.
DNS Leak Test
After doing an extensive DNS leak test, we conclude that this VPN doesn't leak any data. Once you connect to a secure server, Speedify will automatically assign you a new IP address. Third-parties will only see the information that Speedify is showing them, including your virtual IP, hostname, ISP, and country of origin.
Speed & Performance
Despite its name, Speedify will hardly make your Web connection faster. In fact, many other VPNs can bring better speeds and more fluid performance. Our Score: 6/10.
No matter which VPN you choose, your Web connection will suffer. However, the best VPNs out there slow you down by 10-15%. It can be said that this is tolerable, especially if you have a fast connection, to begin with. So, let's see how well Speedify performs. And before we do that, we'll first check the speed of this VPN's servers by using a single connection only (our Ethernet connection).
First, we need to establish some baseline stats. For this purpose, we've checked the speed of our Web connection, without running Speedify in the background. As you can see from the screenshot above, we managed to get 146.79 Mbps for downloads and 9.63 Mbps for uploads. Now, let's connected to a nearby server.

We're located in Europe, where this VPN offers plenty of servers. We've allowed Speedify to find the fastest server as per its algorithms, and this server turned out to be in one of our neighboring countries. According to the speed test, we got 146.35 Mbps for downloads and 8.06 Mbps. We have to say that we were highly surprised by this result – as there's practically no throttling present.

Then, we've connected to a remote server. In our case, that would be a server in the United States. Upon doing another round of testing, we managed to get 74.69 Mbps for downloads and 6.04 Mbps for uploads. As you can see, the speed of our connection dropped by nearly 50%, which could be a problem in the long run. So, let's put all these numbers into a table.
Statistically, Speedify slowed down our Web connection by 24.7% on average. However, what's important to be said here is that we checked the performance of this VPN by using a single Web connection (which is the only way possible in comparison to other VPNs). Speedy promises to actually make your Web connection faster by combining different connections, and we've tested that claim as well.
We've tested Speedify on our Android smartphone, where we combined (bonded) our Wi-Fi network with our carrier's 4G network. According to Ookla's speed test, we managed to get 27.8 Mbps (4G/download) and 102Mbps (Wi-Fi/download). Combined, that should be 129.8Mbps (at least). Upon doing a speed test within Speedify, we got 48.8 Mbps combined. In other words, we can't see the benefits that Speedify is bragging about on their official website.
Customer Support
Aside from checking FAQs and articles on your own, you can also contact the company via email. Sadly, live-chat is not an option with this VPN. Our Score: 7/10.
VPNs are powered by complex technologies and something can easily go wrong. That's why you should always pick a VPN that brings numerous customer support channels. Here's what to expect from Speedify:
Knowledge Base: There's a range of frequently asked questions and articles about various aspects of this VPN. At the moment, there are more than 100 articles describing different troubles you might face with this VPN, as well as how to resolve them.
Email Support: You can also send an email directly to this VPN's team. In our case, we managed to get a response within 3 hours – which is admirable.
That's pretty much it when it comes to customer support. Unfortunately, there's no live chat on offer or any other customer support channel. However, we do need to praise Speedify's team for answering us in a short time-frame.
Pricing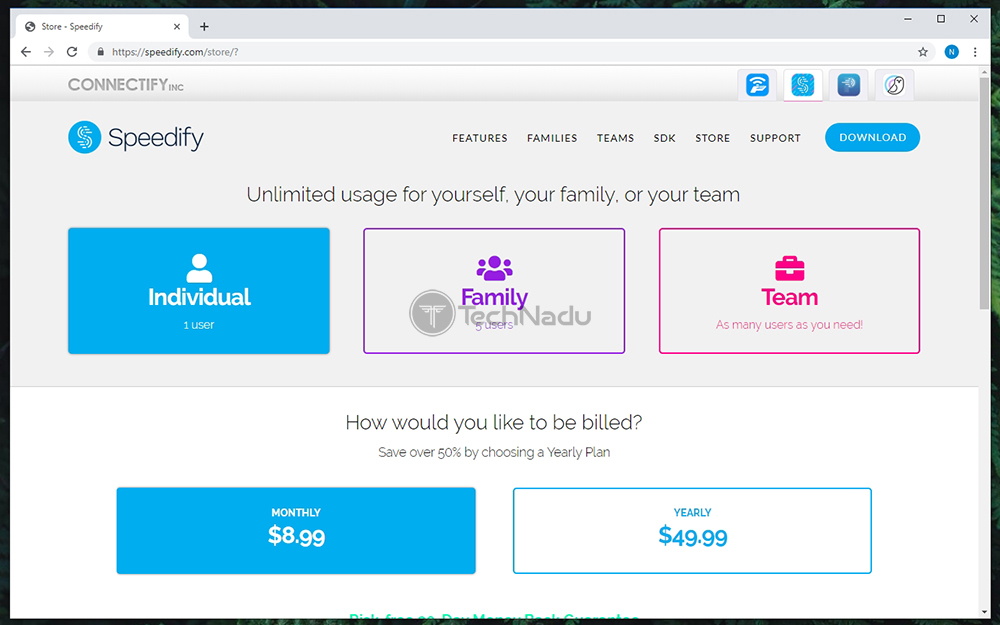 Speedify presents several pricing plans. However, considering everything it brings (and everything it doesn't), it does seem slightly overpriced. Our Score: 6/10.
Speedify comes with several subscription plans whose main difference is the number of users. We've reviewed this VPN using the Individual plan, intended for a single user (on up to 5 devices). So, here's how much you'll need to pay for this VPN.
As you can see, you can subscribe to Speedify for $8.99 per month. However, you can also save 54% by getting this VPN's annual plan. This means that you'll pay $49.99 each year, which brings the price down to $4.16 per month – quite affordable, right?
It's also worth mentioning that Speedify has a Family plan (for up to 5 users). This plan is priced at $14.95 per month or $74.95 per year. And finally, there's a plan for a larger group of users, called Team. The Team plan depends on how many users need access to this VPN, with the prices starting at $8.99 per month.
Among other information, Speedify comes with a 30-day money back guarantee. Also, you can pay via credit cards, PayPal, and via numerous other payment processors. Sadly, there's no anonymous payment method supported.
Differentiating Free vs. Paid Version
One of the most interesting selling points of Speedify is the fact that it offers a free plan. This is perhaps the best way to start using this VPN, which allows you to test-drive its capabilities and see if it aligns with your needs. However, as you can expect, the free plan comes with certain limitations, as described in the table found below.
Surprisingly enough, the free plan isn't heavily restricted. However, you'll get only 5GB per month and you can use it on a single device. Once you go over your monthly limit, Speedify will simply stop working.
Do We Recommend Speedify?
Speedify is certainly a unique VPN solution. However, instead of being focused on protecting your privacy, it's focused on providing you faster Web connection speeds via channel bonding. Sadly, it doesn't exactly work as advertised and it doesn't have a competitive edge that many top-rated VPNs have, making this VPN solution hard to recommend.
PROS: Unique set of features; 'Channel Bonding' technology; No active data leaks; Easy to use.
CONS: Small server network; Not suitable for video streaming; Collects anonymized information; Not available on routers.
OUR SCORE: 5.4 out of 10!
If you need additional information about Speedify, make sure to use the provided link. You'll be taken to its official website, where you can sign-up for either its free or paid account. And if you want to explore more options, check out the best VPNs available today.
In case you liked this review, we'd like to ask you to share it on the Web. And to stay on top of the latest VPN-related coverage, don't forget to follow us on Facebook and Twitter.