Speedify was founded in 2014 by a team of security experts. While the service claims to offer solid speeds and decent security measures, there are concerns that potential users should be aware of.
One issue is Speedify's logging policy—the provider claims to collect minimal information and that it doesn't monitor or record user activity, but its location in the US (part of the 5-Eyes Alliance) raises questions about government surveillance. There is also evidence of past security breaches and data leaks.
Speedify uses encryption and offers unlimited bandwidth, as well as servers in over 37 countries. However, in our tests, the service failed to unblock restricted content that other providers on our list of best VPNs could easily access.
Speedify offers standard privacy and security features, along with its proprietary channel bonding technology, which combines multiple Internet connections to boost speeds.
Before we dig into details, let's kick off this Speedify review by outlining its key features. Refer to the table below for a quick summary.
Paid
Free
Jurisdiction
United States
United States
Logs
Keeps logs
Keeps logs
Servers
Undisclosed number of servers in 35 countries
Undisclosed number of servers in 35 countries
Simultaneous Connections
5
5
Supported Devices
Windows, macOS, iOS, Android, and Linux
Windows, macOS, iOS, Android, and Linux
Features
Channel bonding technology, Kill switch, Optimized live streaming and video conferencing, worldwide server access, secure encryption, unlimited bandwidth
Channel bonding technology, Kill switch, Optimized live streaming and video conferencing, worldwide server access, secure encryption, 2 GB/month data limit
Protocols
DTLS
DTLS
Supports
Streaming and torrenting
Browsing (limited bandwidth)
Customer Support
Email support, knowledgebase, and social media
Email support, knowledgebase, and social media
Price
Starts from $4.99 per month
Free
Live Deal
67% off on 3-year plan
Free
Our Score
5.1
In this comprehensive review, we'll examine every aspect of this VPN from an unbiased perspective. We'll inspect its country of origin, supported platforms, UI design, prominent features, server network, performance, and more. To understand our approach to testing VPN services, check out our guide on how we review VPNs.
It's worth noting that we keep this review constantly updated, so you'll learn about any new developments with Speedify if you revisit the page. We'll make it easy for you to see where Speedify currently stands in the global VPN market.
So without further ado, let's dive into our Speedify VPN review.
Background, Jurisdiction & Reputation
Speedify is a US-based VPN with ostensible connections to the intelligence community. There were also reports about data leaks in the past. Our Score: 1/10
Checking the jurisdiction of your chosen VPN is more important than you might think. By choosing a VPN headquartered in a country with aggressive data logging and mass surveillance, you're at risk of having your data collected. So, here's what you need to keep in mind before getting a Speedify subscription.
Where Is Speedify Based?
Speedify was introduced in 2014 as a channel bonding service by Connectify Inc., a company founded in Philadelphia in 2009. Speedify is not the first software product of Connectify—its parent company relied on Kickstarter in the past to develop its applications and received funding from In-Q-Tel, a venture capital firm connected with organizations like the CIA, DIA, NGA, and the wider intelligence community. Connectify has cooperated with the intelligence community in the past, either directly or indirectly. 
The fact that Speedify is based in the United States is cause for concern. The USA is a member of the 5-Eyes Intelligence Alliance, a group of countries that work together to collect various types of personal data, which is then easily exchanged between the member countries. 
While Speedify changed its privacy policy in 2015, stating that they don't collect any logs and that the online activity of its users is fully protected, we remain doubtful, especially after discovering online reports of its data leaks.
Therefore, those looking for the best possible data protection should probably look elsewhere.
Did Speedify Leak Personal Data in the Past?
Yes, based on discussions online, there is some evidence that Speedify VPN leaked data on two separate occasions. 
In 2018, TechRepublic reported that Speedify was one of 16 VPNs that leaked private data. It is worth noting that the free version of Speedify was the one that was tested, although we understand that this is not an excuse for any data leaks. Furthermore, the report focused heavily on a few well-known VPNs, so it could have been a marketing tactic. 
Additionally, a Reddit user claimed several years ago that Speedify leaked their data, including their social media and email accounts. Although there is no concrete evidence that Speedify was responsible, we would advise exercising caution.
Is Speedify Safe?
No, we do not consider Speedify to be safe after conducting a thorough investigation and analysis. 
Our concerns stem from the fact that the service is based in the USA, a member of the 5-Eyes Intelligence Alliance, and that Speedify's parent company has connections to intelligence groups. Moreover, reports of data leaks and privacy concerns add to our reservations about the trustworthiness of this VPN.
Given these factors, we cannot recommend Speedify as a reliable VPN for users who prioritize privacy and security. We suggest exploring other options that prioritize and respect user privacy.
Supported Platforms & Devices
Speedify supports only the most popular devices, so you can't install it on routers, media streaming devices, or any other platforms. Our Score: 4/10
Speedify is not a typical VPN because it uses proprietary technology to re-route your Web traffic instead of common tunneling protocols. With this said, it's not surprising to see that it supports a limited number of devices and platforms. 
| | |
| --- | --- |
| Desktop Platforms | Windows, macOS, Linux |
| Mobile Platforms | Android, iOS |
| Web Browsers | N/A |
| Routers | N/A |
| Other Devices | N/A |
Speedify is compatible with Windows, macOS, and Linux operating systems, as well as Android and iOS mobile devices. However, the service does not support routers due to its unique VPN protocol, which combines and bonds different Internet connections. Many VPNs rely on the OpenVPN protocol to run on compatible routers. 
While Speedify can protect up to 5 devices simultaneously, it falls short compared to other services that offer protection for a larger number of devices. Support for 5 devices is generally sufficient in a home environment, but it may not be suitable for users with larger households.
Installation & Initial Configuration
Speedify comes with an easy installation process, no matter if you're using a desktop or mobile device. Our Score: 10/10
Setting up Speedify is pretty straightforward. After subscribing to the service (or if you're using its free plan), simply download the application for your desired platform.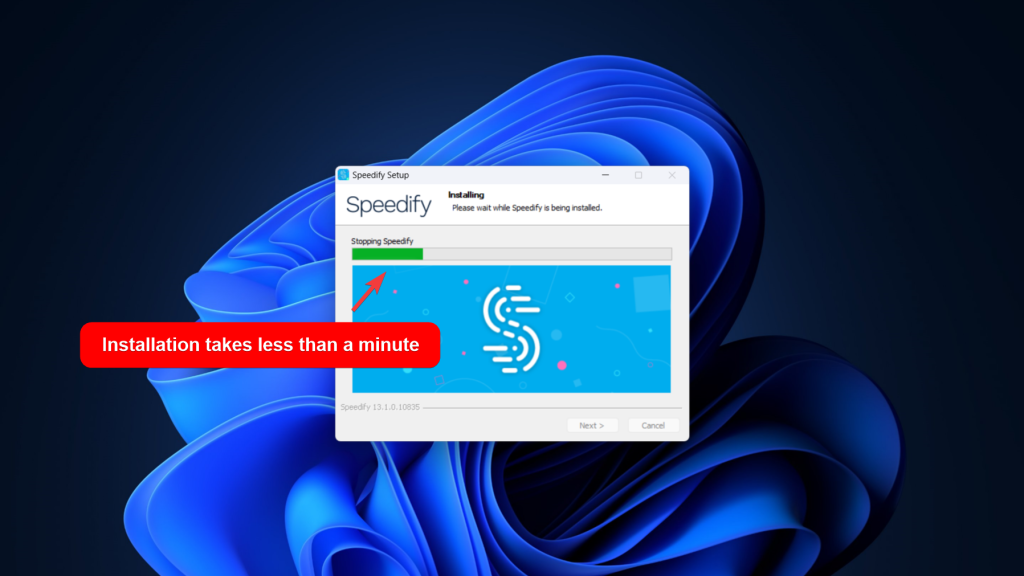 In our tests, installation on both a Windows 10 PC and an Android smartphone was quick and easy, with an automated process. On Windows, simply download the 8 MB Speedify installer file and click on it, and the application installs automatically. After a few moments, you can open the app and begin using it.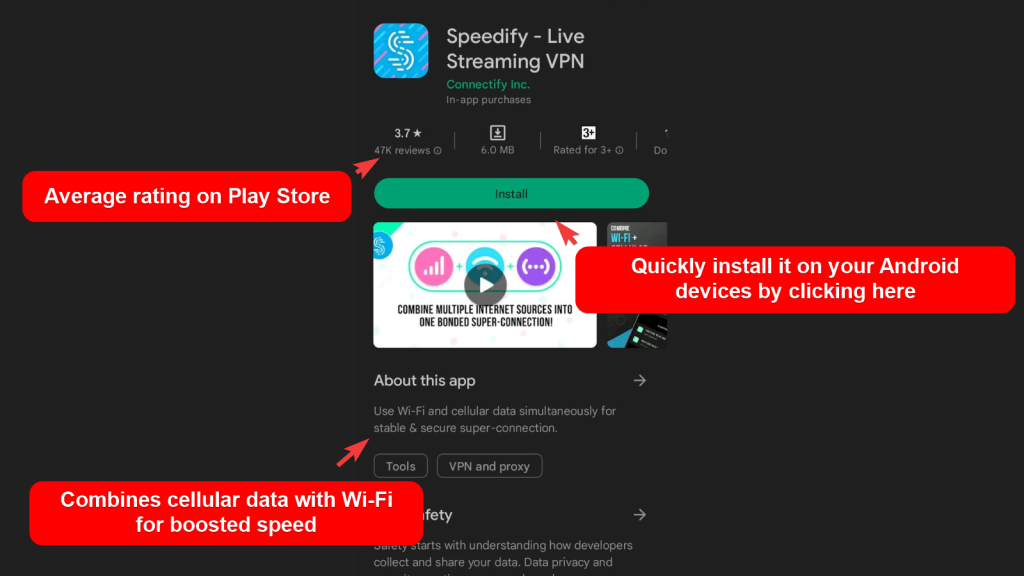 For Android and iOS devices, the Speedify app can be downloaded from the respective app stores. Once installed, launch the application and sign in using your credentials. The entire setup process is automated, making it easy for even novice users to get started with Speedify.
Prominent Features
Speedify comes with a strong set of basic VPN features that should meet the needs of most non-demanding users. Our Score: 6/10
It's interesting to note that Speedify's website is full of clear and thorough explanations of how this VPN works. However, these explanations usually avoid using common VPN-related terms, which is perhaps a way for this provider to differentiate itself from the rest of the pack. That's why we needed to take a deep look at its set of features. 
Here's what you need to know:
Channel Bonding Technology – The most unique feature of Speedify is its channel bonding technology, which allows users to combine multiple Internet connections for increased speed and stability. By using different types of web connections such as Wi-Fi, Ethernet, and cellular signals, you can bond them together to boost your speed. This feature can be especially useful for users who experience slow or unstable connections.
DNS Leak and IPv6 Protection – Speedify provides both DNS and IPv4 leak protection, which can help prevent your ISP from tracking your online activity and compromising your privacy. The VPN claims to offer IPv6 leak protection, but it's recommended to test it on your own, especially if your ISP supports IPv6.
Kill Switch – Speedify's kill switch feature will automatically shut down your Internet connection if your VPN session is interrupted. This can help prevent your online activity from being exposed to your ISP or any other third party.
Optimized Live Streaming and Video Conferencing – Speedify VPN automatically prioritizes live streams and video conferencing traffic over other network traffic, ensuring a smoother and more stable experience. This is achieved through Speedify's Streaming mode, which dynamically selects the best way to send and receive traffic over your available Internet connections. The VPN works with all major streaming apps and services such as TikTok, Twitch, YouTube Live, Facebook Live, and Instagram Live.
Secure Encryption – For recent phones and computers, the VPN employs AES256-GCM encryption, taking advantage of the hardware support for AES built into modern CPUs. This provides robust encryption to safeguard against unauthorized access and data breaches. For older devices that do not support hardware acceleration for AES, Speedify uses the ChaCha encryption cipher to secure user data. This ensures that all your sensitive information remains confidential and protected from cyber threats.
Unlimited Server Switches, Bandwidth, and Data – Speedify allows users to connect to any server, change servers at will, and use as much data as they need without any restrictions. This can be a valuable feature for users who need to transfer large files, stream in 4K, or frequently switch between locations to access different geo-restricted content.
In conclusion, Speedify offers basic security tools but falls short when it comes to advanced features like split tunneling. This could be a significant drawback for users who require more robust security and flexibility in their VPN service. While the product offers some essential tools, it fails to provide a complete solution.
Server Count & Infrastructure
Speedify doesn't disclose the number of servers it has. However, it maintains servers across 37 countries and lets you connect to individual locations. Our Score: 4/10
It's important to know how many servers a VPN has in its arsenal, what countries they're located in, and whether there are any specialized servers. So, here's what you need to know about Speedify's server network.
| | |
| --- | --- |
| Number of Servers | N/A |
| Number of Locations | 50+ |
| Number of Countries | 37 |
| Specific Cities Selection | YES (limited to a few countries) |
| Unlimited Switching | YES |
Despite our efforts, we found it difficult to obtain precise information on the number of servers offered by Speedify. The company claims to provide server locations in 53 cities, but when we inquired about the exact number of servers available, their support team provided a vague response explaining that the number changes constantly due to adding new servers and switching out old ones. 
This lack of transparency regarding server quantity is concerning, as a small network can become overcrowded and result in slow speeds.
While Speedify does offer dedicated VPN servers with its Teams plans for $14.99 per month, it comes at a hefty cost. However, these servers provide higher speeds, static IP addresses, and port forwarding capabilities. 
The company has servers in 37 countries and 50+ locations, with the ability to connect to individual cities. Although Speedify's server network is not the smallest we have encountered, it still falls short compared to many other VPNs. It is worth noting that other providers offer more than 5,000 servers at a similar price point.
Thus, we advise potential users to carefully consider the server quantity before committing to this service.
UI/UX Design & Ease of Use
Speedify comes with a relatively simple UI. However, it may take time to master all of its features, as not all aspects of this application are intuitive. Our Score: 6/10
Speedify VPN has a unique user interface, which might not be a good thing for the average user, who may find it difficult to locate the right tools. The home screen is cluttered with unnecessary options, such as News and Events, that do not need to be displayed.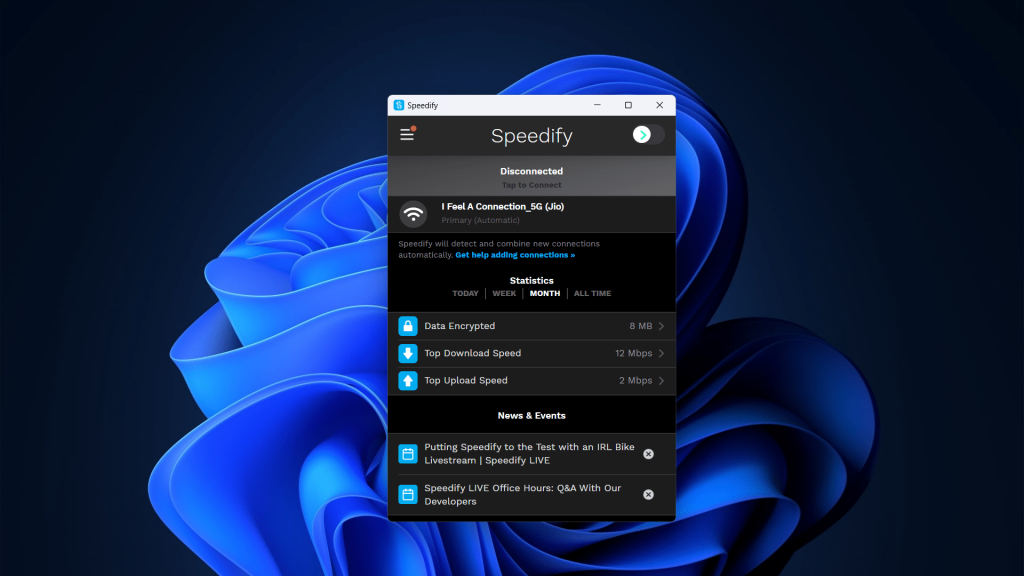 At the top-right of the home screen, you'll find a toggle button to turn Speedify on or off. Besides that, Speedify provides you access to a range of tools and statistics. Let's take a look at everything that can be found on this main screen: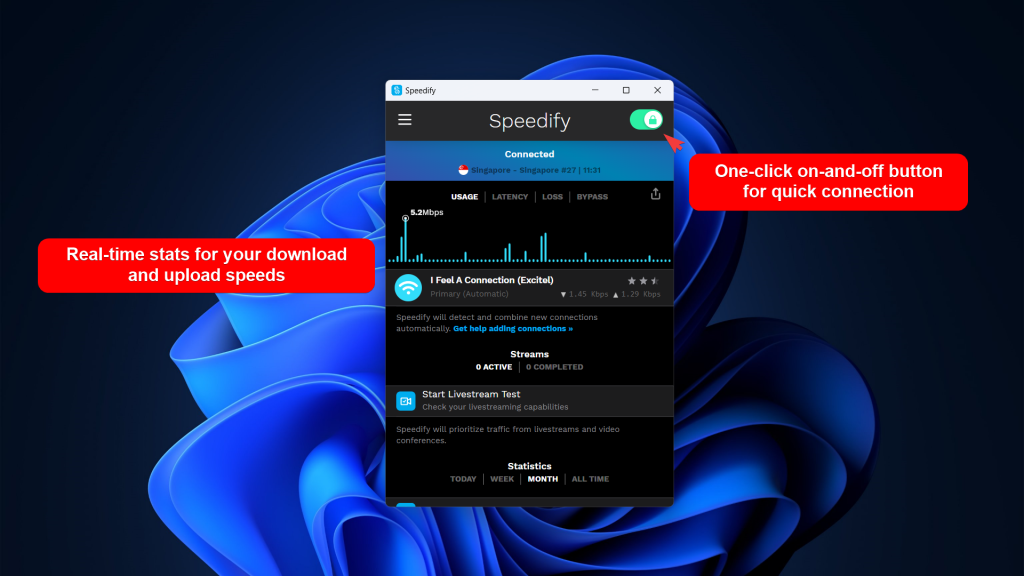 Connection – This displays the current status of your connection and informs you which server you're connected to. By clicking on the server, you can access the server list and select the country to route your Internet traffic through. You can choose the fastest server or a torrent-friendly one or manually pick any server you prefer. However, if you're not connected to the service, you can't access the list, which defeats the purpose of having the option on the home screen.
Real-Time Stats – At the top of the screen, you can see the available connections. When you add a connection to your computer, it will appear automatically within the app. This section gives you stats on data usage, latency, loss, and bypass. You can also see the real-time upload and download speeds along with the name of your network. Additionally, there's a share button that takes you directly to Twitter to post a tweet about Speedify, in case you're a fan.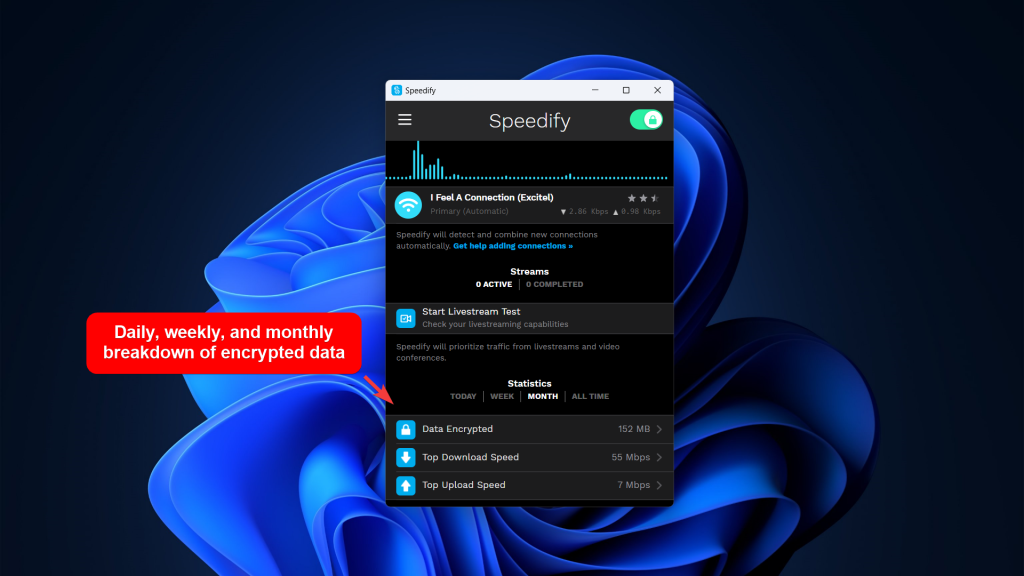 Streams – As mentioned previously, Speedify prioritizes traffic from live streams and video conferences. In this section, you can keep track of how many streams are currently running on your device and check your connection's live-streaming capabilities.
Statistics – This section allows you to review the total amount of encrypted data used and the current speed of each of your connections, as well as a usage breakdown by month and day. You can also find additional information related to latency and loss.
News & Events – This section provides a direct link to the blog and event section of the Speedify website. Most of the articles and events might be irrelevant to an average user who's just using the app for their own purposes.
Located at the top-left of the home screen is the main menu, where you'll find all the additional options for customization.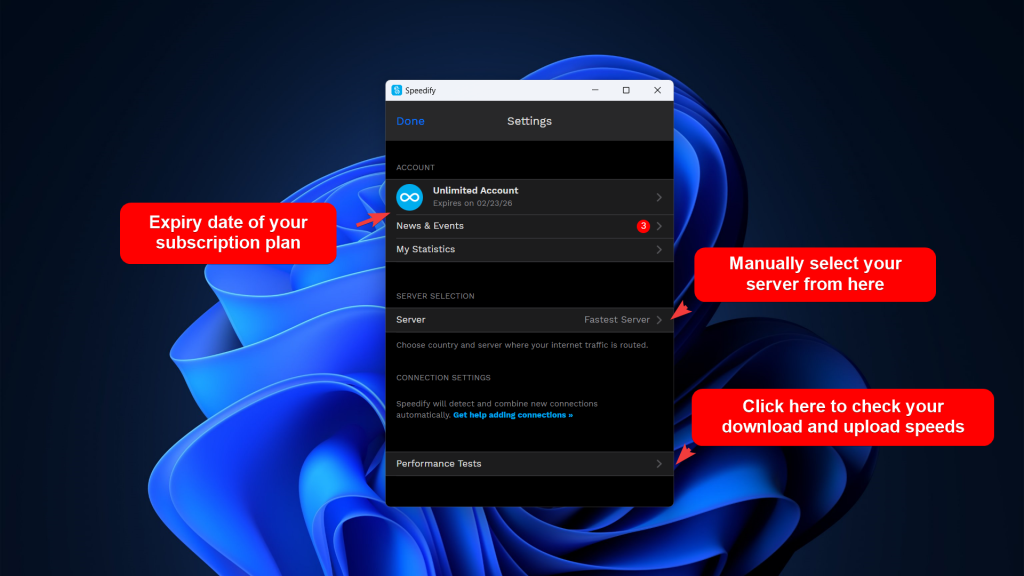 Account – Here you can check your plan's status and renewal date. You can change your password and sign out from the app, too. This section also includes links to news and events, as well as your statistics. Apart from that, it gives you a direct link to your online dashboard. 
Server Selection – This option is the same as what's available on the home screen, so it feels redundant.
Connection Settings – This section provides detailed information on your connection, such as its IP address, service provider, adapter, and latency. You can prioritize between automatic (recommended), primary, secondary, backup, or never. You can also set data caps and reset statistics from here.
Performance Tests – From this section, you can access speed and live stream tests. The speed test checks your maximum upload and download speeds, while the live stream test checks the optimal video resolution and frame rate for your connection.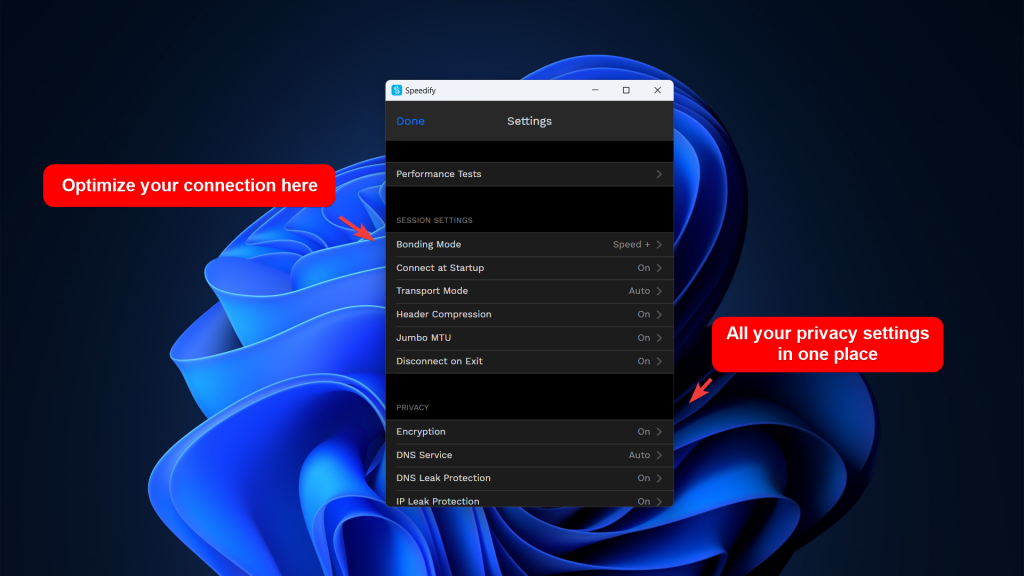 Session Settings – Here you can optimize your connection with options such as network protocols, bonding mode, Jumbo MTU, and header compression. You can also set the app to connect at startup and disconnect upon exit.
Privacy – This allows you to change your privacy settings, including encryption, the kill switch, and DNS and IP leak protection. You can choose from five available DNS services, including Adguard, which comes with an ad-blocker.
Display – From here you can customize your notifications, theme, and language. There's also a "Graph Rotation" option to rotate the dashboard graph every 20 seconds.
Help – Find quick links to Speedify's social accounts, privacy policy, terms of service, third-party credits, starting guide, and support page. You can also generate offline logs of your existing data from here.
Speedify has a unique UI that sets it apart from competitors. It may take some time to learn all its options, as some sections may not be intuitive, and there are several ways to access the same settings, which may be confusing for inexperienced users. However, the same UI is available across all supported devices, so once you learn it on one device, you'll know it for the rest. 
Media Streaming, Torrenting, and Gaming Support 
Speedify can't unblock websites like BBC iPlayer, Hulu, or Prime Video. Even though it supports torrenting, it comes with a limited number of specialized servers. Our Score: 3/10
As you probably know, VPNs can help you unblock services like Netflix, Hulu, BBC iPlayer, and more. However, not every VPN can effectively do this, including Speedify. This provider's media streaming capabilities are unfortunately lackluster. 
Here's what Speedify can be used for:
MEDIA STREAMING, TORRENTING, & GAMING SUPPORT
| | |
| --- | --- |
| Netflix US | YES |
| Hulu | NO |
| BBC iPlayer | NO |
| Amazon Prime Video | NO |
| Disney Plus | NO |
| Torrenting (P2P) | YES |
| Gaming | NO |
During our testing of Speedify with popular streaming platforms, we found that none of Speedify's servers were able to overcome geo-restrictions imposed by Amazon Prime Video, Hulu, Disney Plus, or BBC iPlayer. Speedify does have a bypass option under its privacy settings. However, we found that this option wasn't always effective and some services were still not unblocked.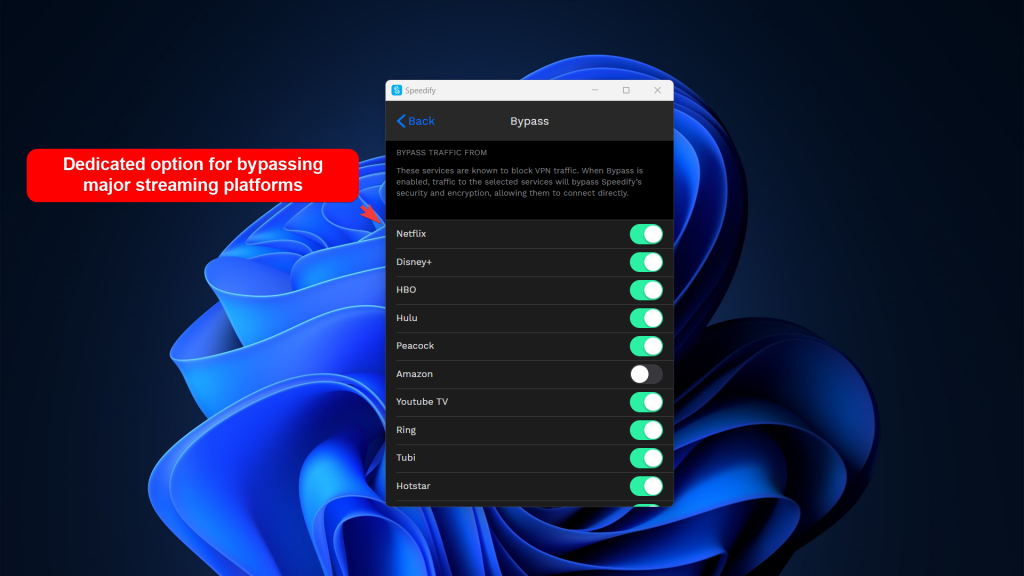 BBC iPlayer was not even listed as an option for bypassing, so it was not a surprise when we couldn't access it. A few streaming services do work with Speedify, but the majority do not, so we cannot recommend it for seamless media streaming.
While you can select a P2P-friendly server option, you cannot manually choose a server. This means that you are limited to hoping that Speedify has a P2P server nearby if you want to download files without heavy throttling. However, with servers in 37 countries, we believe that some of the servers located near you will likely be P2P-friendly.
Although Speedify offers the option to opt for UDP protocol under its Transport Mode setting, which should provide stable connections for latency-intensive applications like gaming, our hands-on experience was different. We found that even switching Transport Mode to Auto did not help when playing multiplayer titles on our PC. Speedify provides strong encryption and protection against DDoS attacks, but it's pointless if it negatively affects your gaming experience.
In conclusion, we cannot recommend Speedify for media streaming, downloading torrents, or gaming. While it has some useful features, its limitations make it difficult to use for these purposes.
Security & Privacy
Speedify collects plenty of anonymized information and it's not built for total privacy. It doesn't actively leak any data, though. Our Score: 5/10
VPNs are made to keep your privacy safe online, which they accomplish with numerous VPN protocols and different types of encryption. So, let's see how successfully this VPN can protect your identity.
Speedify Protocols
When it comes to VPN protocols, Speedify only offers one: Channel Bonding. It isn't a conventional protocol, which makes it difficult to determine how secure it truly is. 
Speedify uses industry-standard encryption and security, with DTLS 1.2 as the core transport security protocol. This protocol provides the same level of encryption used to protect websites like Gmail and Facebook while also handling error correction for optimal performance even in the face of unreliable lost packets.
Speedify uses AES256-GCM encryption for recent phones and computers, and for older devices, it uses the ChaCha encryption cipher. 
Despite these security measures, the service is adamant that it's focused on speed, not security. While this may not instill confidence in users who prioritize security, it's worth noting that Speedify's encryption and security protocols are still based on industry standards, so they provide reliable protection for most users.
Does Speedify Keep Logs?
Yes, Speedify keeps logs of your activity, including the time, server location, traffic amount, and session duration of each connection, as well as your device and location information. While the VPN claims that it only collects anonymized data that can't be traced back to you, it's still possible for authorities to compel Speedify to reveal user identities.
Despite the VPN's website stating that it doesn't log user data, its privacy policy contradicts this claim. Therefore, it's important to be aware of the information that Speedify collects and how it's being used, even if it's anonymized.
Does Speedify Leak/Expose Your Private Data?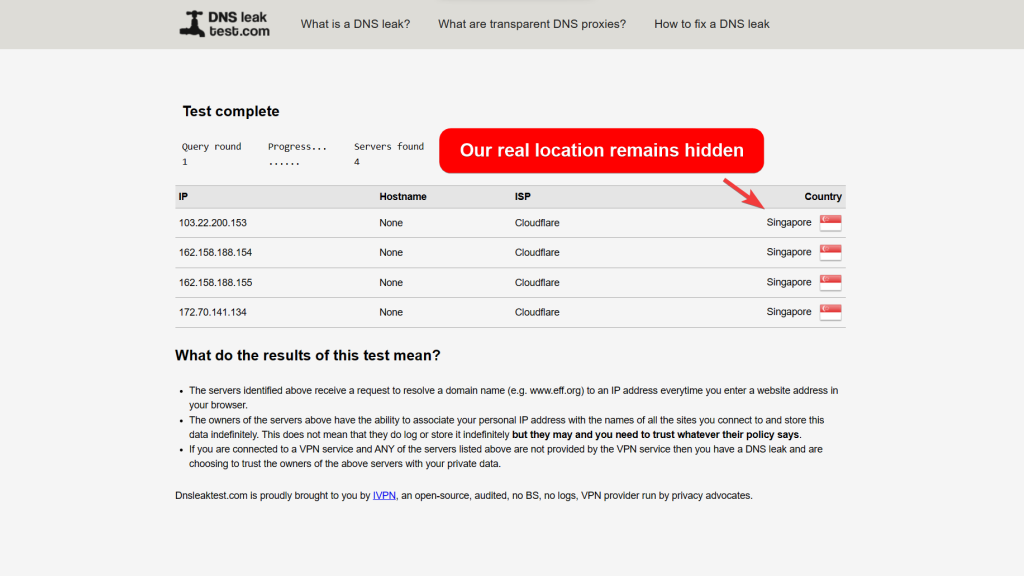 We conducted a thorough DNS leak test and can confirm that Speedify does not leak any data. 
When you connect to a secure server, Speedify assigns you a new IP address. Third parties can only see the information that Speedify allows them to, such as your virtual IP, hostname, ISP, and country of origin of your new connection. 
As you can see in the screenshot above, our DNS leak tests demonstrate that Speedify's IP and DNS leak protection is effective.
Speed & Performance
Despite its name, Speedify will hardly make your Web connection faster. There are many other VPNs available that provide higher speeds and smoother performance than Speedify. Our Score: 4/10
No matter which VPN you choose, your Internet connection speed will decline due to the effects of encryption and security measures. However, the best VPNs out there will only slow you down by 10-15%, which is tolerable, especially if you have a fast connection to begin with. 
To see how well Speedify performs, we first established some baseline stats by testing the speed of our Internet without the VPN connected. We managed to get 105.01 Mbps for downloads and 113.48 Mbps for uploads. Next, we tested a number of Speedify's servers.
Here are all the speed test results:
US Server – The US server showed a considerable drop in download and upload speeds compared to the baseline. Download speeds sank from 105.01 Mbps to 57.96 Mbps, resulting in a 44.8% speed reduction.
UK Server – Connecting to the UK server had a significant impact on both upload and download speeds, the latter of which dropped from 105.01 Mbps to 15.76 Mbps. This resulted in an 85% reduction in download speed, making it the slowest server tested.
Canada Server – The Canadian server showed a moderate reduction of 47.3% from the baseline, dropping the download speed from 105.01 Mbps to 55.37 Mbps.
Singapore Server – Speedify's Singapore server impacted both download and upload speeds considerably, with a speed reduction of 63.1%. Download speeds fell from 105.01 Mbps to 38.76 Mbps. 
Australia Server – The Australian server had a substantial effect on both upload and download speeds. Downloads declined in speed from 105.01 Mbps to 19.97 Mbps, resulting in an 81% reduction.
Italy Server – The Italian server demonstrated a steep 75.9% drop in download speeds, reducing from 105.01 Mbps to 25.27 Mbps.
| | | | |
| --- | --- | --- | --- |
| | Download Speed | Upload Speed | Speed Reduction |
| Baseline  | 105.01 Mbps | 113.48 Mbps | 0% |
| US | 57.96 Mbps | 3.78 Mbps | 44.8% |
| UK | 15.76 Mbps | 1.99 Mbps | 85% |
| Canada | 55.37 Mbps | 1.27 Mbps | 47.3% |
| Singapore | 38.76 Mbps | 19.53 Mbps | 63.1% |
| Australia | 19.97 Mbps | 1.72 Mbps | 81% |
| Italy | 25.27 Mbps | 2.08 Mbps | 75.9% |
Overall, Speedify's servers show varying levels of speed reductions, with some servers having a more significant impact on download speeds than others. Despite the variations, all servers tested show a considerable reduction in speed. Speedify slowed down our Internet connection by 66.2% on average.

The service promises to make your Web connection faster by combining different types of connections with their Channel Bonding technology, so we tested that claim as well.
We put Speedify to the test on our Android smartphone, where we attempted to combine our Wi-Fi network with our carrier's 4G network. Our goal was to achieve a speed of at least 116 Mbps since we managed to get 13 Mbps download speed over 4G and 103.13 Mbps download over Wi-Fi. 
However, when we conducted a speed test within Speedify, we only managed to get a combined speed of 42.12 Mbps. This falls short of the lofty claims made by Speedify, and we couldn't observe any tangible benefits.
Customer Support
Aside from checking FAQs and articles on your own, you can also contact the provider via email. Sadly, live chat is not an option with Speedify. Our Score: 7/10
When it comes to customer support, Speedify falls short in a few areas. While they do offer email support, there is no live chat support available, which can be frustrating for users who need immediate assistance. Additionally, representatives are only available during specific hours.
Here's what you can expect from their customer support channels:
Knowledgebase – Speedify offers a range of guides and articles about various aspects of their VPN. With more than a few dozen articles, users can find information on different issues they might face with the service and how to resolve them.
Email Support – Although email support is available, users may still have to wait up to an hour for a response. However, this response time is admirable compared to the email support of other VPN providers.
FAQs – Speedify's FAQs section is brief, with only a few dozen questions available. While the questions are linked to each other, they aren't available in one place in any structured way. However, users can use their chat bot to find the answer they are looking for.
While Speedify's customer support channels provide some assistance, the lack of live chat support and limited availability of representatives can be inconvenient for users.
Pricing
Speedify offers several pricing plans. However, considering everything it includes (and everything it doesn't), it seems slightly overpriced. Our Score: 6/10
Speedify's subscription plans are divided into three categories: Individuals, Families, and Teams. Users can choose the appropriate plan based on the number of people planning to use the subscription. Each plan is available in monthly, yearly, and three-year periods. However, Speedify does not offer a three-year plan for its Teams category, which limits the options for businesses or organizations looking for long-term commitments.

Additionally, the subscription fees for most plans are considerably high, which could be a concern for budget users. 
How Much Is Speedify?
Speedify offers numerous subscription plan types and lengths for users, but for the purposes of this review, we will focus on their Individuals plan. Let's review the costs of each term length in detail.
1-Month Plan – Speedify's monthly Individuals plan costs $14.99 per month. It's intended for a single user and allows up to 5 devices to be connected simultaneously. 
1-Year Plan – The 1-year plan costs $89.99 annually, which you will have to pay up front. This will save you 50% on the price of your subscription versus paying month to month.
3-Year Plan – Paying for 3 years up front will drop your monthly cost to $4.99, which is a 67% savings. The $179.99 price tag may seem a little steep, but it does lock in a significant discount for the length of the plan.
Speedify also offers two other categories of plans for those needing more simultaneous connections and higher device limits:
Families Plan – The Families plan allows up to 5 users to connect to the VPN simultaneously with 5 devices each. The monthly plan is priced at $22.50, and the yearly plan costs $135.
Teams Plan – The Teams plan is meant for larger groups and is priced at $14.99 per month per user. The price varies based on the number of users, and each user account has a 5-device limit.
We were disappointed to find that there are no significant discounts for the Families or Teams plans. Additionally, the fact that Speedify doesn't accept Bitcoin or any other virtual currency means there's no way to anonymously buy the subscription. 
Furthermore, Speedify doesn't offer many features compared to top VPNs, so we don't believe that sticking with the service for three years—the only way to get a good deal here—is a smart choice.
Is Speedify Free?
Yes, Speedify offers a free plan. However, it's important to note that it comes with a limited 2 GB of data per month, which is not enough for most Internet activities, particularly if you plan on streaming videos or downloading large files.

While the free plan is a great way to test out Speedify's capabilities and see if the service fits your needs, it only allows you to connect one device and it limits your data usage. Once you go over your monthly limit, Speedify will stop working.
If you do need more data, you can take advantage of Speedify's 30-day money-back guarantee, but keep in mind that paid plans can cost up to $14.99/month.
There are other free VPN options available that offer more bandwidth and features, so if you're on a tight budget, it may be worth checking out other providers who can deliver better value than Speedify's free plan.
Final Thoughts
Speedify claims to provide fast connection speeds through channel bonding but can't deliver on its promises. It also falls short in terms of unblocking capabilities and advanced security features. Considering its mediocre performance, it's hard to justify its relatively high price point.
While Speedify can improve live streaming and video conferencing, plenty of other VPNs offer wider server networks, more transparent privacy policies, and better unblocking capabilities for lower prices. You can certainly give Speedify a try by taking advantage of its 30-day refund policy, but we don't recommend it over other top-rated VPNs.
PROS
Unique feature for live streaming
Channel Bonding technology 
No active data leaks
256-bit military-grade encryption
Free trial available 
30-day money-back guarantee
Multiple subscription plan options
CONS
Unintuitive design
Small server network
Collects anonymized information
Claims of previous data leaks
Not available on routers
Expensive monthly subscription
FAQ
What Is Speedify?
Speedify is a VPN service that was launched in 2014 by Connectify Inc., a software company based in Philadelphia, Pennsylvania, USA. 
How Does Speedify Work?
Speedify works by automatically detecting all available Internet connections, such as Wi-Fi, Ethernet, and mobile data, and combining them to create a faster and more stable connection. This process is called Channel Bonding.
Is Speedify Legit?
Yes, Speedify is a legitimate VPN service. However, it may not be the best option available. Although Speedify offers fast speeds and a money-back guarantee, it is limited in terms of features and overall performance. Other VPNs provide many more benefits for lower prices. 
In case you liked this review, we'd like to ask you to share it on the Web. And to stay on top of the latest VPN-related coverage, don't forget to follow us on Facebook and Twitter.