Almost all of the live TV and streaming platforms nowadays have free trials on offer since they attract new customers and let them test their features, and Paramount Plus is one of these services. This is one of the newest names when it comes to streaming services on the market right now, and even though it does not offer as many things as its competitors, it has a really competitive price. It's only normal to look for a free trial before actually paying a subscription fee for one of the many live TV and streaming platforms currently on the market, so if you're thinking about becoming a Paramount Plus customer, we have all the information you may need regarding its free trial.
Before we go any further, we'd like to remind you that the Paramount Plus streaming platform has geo-restrictions in place. Since this is a US service, it means the platform is blocked abroad, and you can create an account with the service, use the platform, or take advantage of any of its offers only while you are within the United States borders.
Does Paramount Plus Have a Free Trial?
Yes, at the moment, Paramount Plus has a free trial. The streaming platform has two paid tiers and two bundle options, and you can find free trials for the following:
Paramount Plus base plans free trial
Paramount Plus and Showtime Bundles free trial
Unique Stories. Iconic Stars. A Mountain of Entertainment. Growing collection of Paramount+ Originals, Tens of thousands of episodes and shows from CBS, BET,Comedy Central, Nickelodoen, MTV, and Smithsonian Channel.
You can also create a Paramount Plus account and enjoy a free trial through a third-party bill if you:
are a Comcast customer with an Xfinity Flex or an eligible X1 device.
have an existing Roku account and a supported Roku device.
have an existing Amazon account and a supported Amazon device.
have an existing iTunes account and a supported Apple TV or iOS mobile device.
How Long Is the Paramount Plus Free Trial?
Usually, Paramount Plus offers a 7-day free trial that you can get your hands on quite easily as long as you are a new customer. This trial is available and has the same length for both paid tiers and for both Showtime bundle options, so you can choose whichever you like best.
However, the length of the free trials may vary, so you may find different deals. To be sure, check their website when you decide to take advantage of the offer.
How to Get Paramount Plus for Free?
It's pretty easy to get one since it's advertised all over the website. However, we should remind you that it is available exclusively for new customers. So, here's a step-by-step guide on how to get the Paramount Plus free trial.
1. Start by accessing the Paramount Plus website in order to create your account.
2. Use the big blue Try It Free button to begin.
3. Then, click the Continue button on the next screen.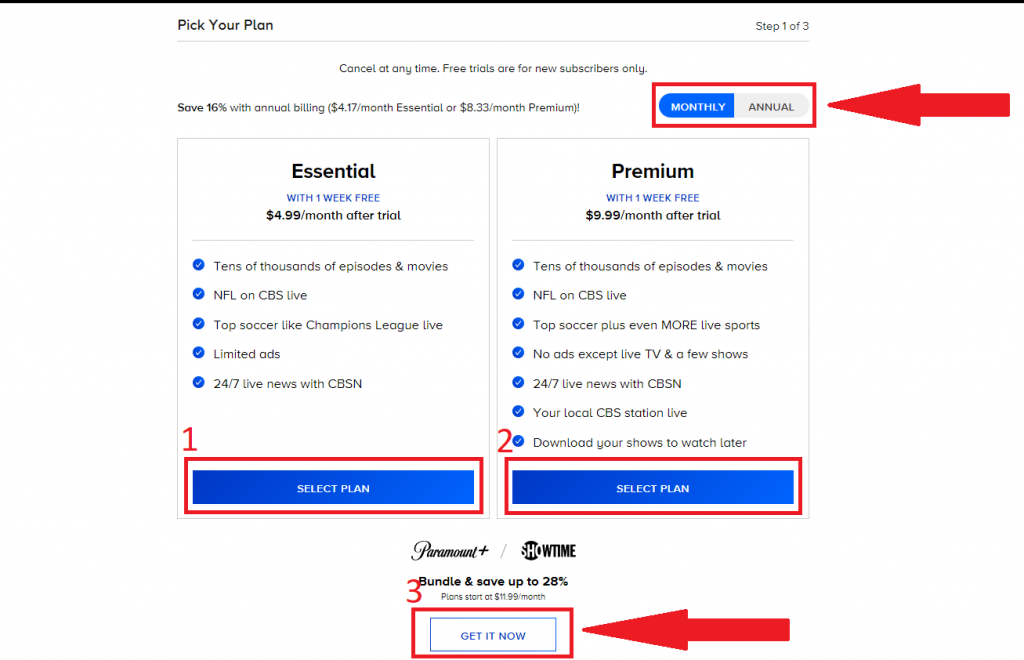 3. Choose whether you want to pay monthly or annually, and then select one of the three plans you can try - Essential (1), Premium (2), or the Showtime bundle (3). Click Select Plan for the desired plan and then the Continue button on the next screen.
4. If you click Get It Now at the bottom of the screen for the bundle, you will see a similar page with two bundle options. The steps are also similar - select monthly or annual payment, then click Select Plan and the Continue button on the next screen.
5. It's time to enter your name and email address, create a new password, fill in your ZIP code, birth date, and gender, and hit the Continue button, then Continue again on the next screen.
6. The last step is to provide a future payment method, so pick one. If you choose to pay with a credit card, enter your payment details and click the Start Paramount+ button on the bottom right of the screen. If you choose PayPal, that button will become Checkout With PayPal, so click it to be redirected to your PayPal.
6. Finally, you can access Paramount Plus on all your compatible devices for free for the duration of the trial.
How to Get Paramount Plus Free Trial Through Amazon Prime Video?
First, Go to the Paramount+ Channel on Amazon Prime Video.
Click on the "Start your free trials" button.
Sign in using your Amazon account.
Select Premium Plan to get a 7-Day Free Trial.
Now, Start watching Paramount+ on Amazon Prime.
Note: You will be charged $9.99 from your Amazon account after the trial period ends.
What Devices Are Compatible with Paramount Plus?
We are happy to say that this streaming service has already reached quite a lot of different device types. Here's the full list of devices compatible with Paramount Plus:
Make sure to use the links we've provided above to learn how to install Paramount Plus on those specific devices (you'll find other helpful information there as well).
Does Paramount Plus Have a 30-Day Free Trial?
No, Paramount Plus doesn't have a 30-Day Free Trial. It only offered the 30-Day Free Trial when it changed from CBS All Access. Currently, all of its plans are only eligible for a 7-Day Free Trial.
Are There Shows I Can Stream for Free Without a Subscription on Paramount Plus?
Yes, you can! Paramount Plus offers some episodes belonging to a selection of the most popular shows on the platform that you can watch for free - without a subscription. So if you want to explore a little before signing up, just open the Paramount Plus app or their website and select Watch Free Episodes.
However, keep in mind that the free content selection is not very comprehensive.
Is Paramount Plus Free on Roku?
You can get Paramount Plus free on Roku for 7 days if you are a new customer. Access your Roku.com account to sign up for your free trial on Paramount Plus and download and install the Paramount Plus app onto your Roku. When you open Paramount Plus, you'll see a button that says "Try It Free" - use the free trial button and follow the steps to create your account and enjoy the service for free on Roku for a week.
If you find this service does not suit your needs, you can cancel before the trial ends.
What Does the Paramount Plus Free Trial Offer?
The 1-week Paramount Plus free trial offers everything the service has available. This means you can access for free every feature the chosen plan has to offer and see whether you actually like it before deciding to pay the subscription fee.
If you go for the limited ads Paramount Plus Essential plan free trial, you get 7-days of free access to all the shows and movies on the platform, such as more than 30,000 episodes and movies from BET, CBS, Comedy Central, MTV, Nickelodeon, Nick Jr., Paramount Pictures and Smithsonian Channel, plus exclusive Paramount Plus original movies and series, live sports, breaking news, kids and family programming, your local CBS station (with the Premium plan only), Spanish audio shows, and much more. You also get NFL on CBS live, top soccer like Champions League live, and 24/7 live news with CBSN.
The no-ads Paramount Plus Premium membership offers all of the above, adding more live sports and your local CBS station live. The best perk is that this plan lets you download your shows for offline viewing, to watch later.
If you selected the Paramount Plus and Showtime bundle, you will get the features of the base plan you selected (Essential or Premium), plus Showtime originals, movies, and sports, and also no ads on Showtime.
What Channels Come With the Paramount Plus Free Trial?
At the moment, the live TV and streaming platform offers a limited collection of channels. Here is the list of channels you will enjoy during your Paramount Plus free trial:
BET
CBS Networks
CMT
Comedy Central
MTV
Nickelodeon
Nick Jr.
Paramount Pictures
Smithsonian Channel
VH1
Paramount Plus also took a page from ViacomCBS-owned Pluto TV streaming service to launch 18 linear themed channels streaming 24 hours a day, such as Kids & Family Fun, Crime & Justice, and Reality TV: Competitions, but also some beloved franchises like Star Trek, SpongeBob SquarePants, and Paw Patrol.
Can You Get a Paramount Plus Free Trial Without a Credit Card?
Unfortunately, you cannot get a Paramount Plus free trial without a credit card. The Paramount Plus does not let you subscribe to its services unless you provide a future form of payment. The service forces you to choose between a credit or debit card or PayPal in order to create your account.
However, keep in mind that you can cancel at any time in order to avoid being charged if you think the service is not suited for your needs and don't want to subscribe after all.
Will the Paramount Plus Free Trial Automatically Renew Into a Subscription?
You may have seen it coming since you are asked to attach a payment method to your account, so yes, the Paramount Plus free trial automatically renews into a subscription. This means your Paramount Plus account will automatically switch to a paid membership when your free trial period is over - unless you cancel before that happens.
Usually, these services ask for a payment method upon enrolling for a free trial because this makes the transition to a paid subscription seamlessly after the free period comes to an end. This means the card you entered will be charged the standard price for your first month of the Paramount Plus base plan and also for any subscriptions you've added to your Paramount Plus membership upon subscribing. The date when your free trial ends will become your monthly billing date from now on.
How Much Does Paramount Plus Cost After the Free Trial?
If you decide not to cancel during the free trial, your provided payment method will be charged the current price of the plan you selected upon creating your account at the beginning of the free trial period.
The Paramount Plus cost after the free trial ends will be the one you saw upon starting your free trial. If there are no promotions running, the standard price for the Paramount Plus plans are the following:
| | | |
| --- | --- | --- |
| | Essential Plan | Premium Plan |
| On-Demand Content | YES | YES |
| Local CBS Station Live | NO | YES |
| 24/7 Live CBSN News | YES | YES |
| NFL on CBS Live | YES | YES |
| Advertisements | YES | NO (except live TV) |
| Offline Downloads | NO | YES |
| Price (Monthly) | $4.99/month | $9.99/month |
| Price (Annual) | $49.99/year | $99.99/year |
| Free Trial | 7 days | 7 days |
Is Paramount Plus Free With Anything?
Well, no, but this is the closest thing to it. Right now, T-Mobile is giving eligible T-Mobile and Sprint customers 1 year of the Paramount Plus Essential monthly plan for free. You can also redeem this offer if you're an existing Paramount+ plus subscriber on a plan other than Essential monthly. You can find more details regarding this campaign on the streaming service's support page.
How to Cancel the Paramount Plus Free Trial?
If you feel like Paramount Plus isn't the streaming platform you were looking for, you can always cancel the trial before it ends so that you won't get charged for the service. You can cancel at any time through your account page, and we recommend you end your trial at least a day before the promotional period ends to avoid charges. A "day" is measured starting with the time you start your free trial period and ends 24 hours later.
Here is how to cancel the Paramount Plus free trial if you signed up for Paramount Plus on your desktop, mobile web, smart TV, or gaming console:
Visit the Paramount Plus website.
Click on user initials in the upper-righthand corner.
Click Account.
Scroll down and click Cancel subscription.
However, if you subscribed to Paramount+ on another billing platform, like the App Store or Google Play, you will need to manage your subscriptions from there. If you used Amazon, Roku, or others, you'd need to return to that platform to cancel your subscription. Click here to learn.
After you cancel during your free trial, you will not be able to watch Paramount Plus for the remainder of your trial period, so keep that in mind.