Amazon Freevee (formerly known as IMDb TV) is a free, ad-supported streaming platform that offers movies, shows, docuseries, and more. However, it's only available in the US, the UK, and Germany. The best way to experience Freevee in Canada is by using a VPN to change your IP address to the US, where you'll find the most comprehensive library available on the platform.
Read on for an easy-to-follow guide on how to watch Freevee in Canada, plus some VPN options that aren't blocked by Amazon. You'll also find a curated content list for Freevee and answers to some FAQs later on in the article.
How to Watch Amazon Freevee in Canada
To watch Amazon Freevee in Canada, you need to connect to a VPN server in the US. That's how you'll trick the streaming service into thinking you're in the US, which gives you full access to its top-rated free-of-charge content. Do the following:
Get a VPN that can unblock Freevee in Canada (we recommend ExpressVPN).
Download and install the VPN app on your device.
Connect to a server in the United States.
Go to the Freevee page on Amazon and click "More details" or "Watch with Ads."
On the next screen, click "Watch with Prime. Start your 30-day free trial."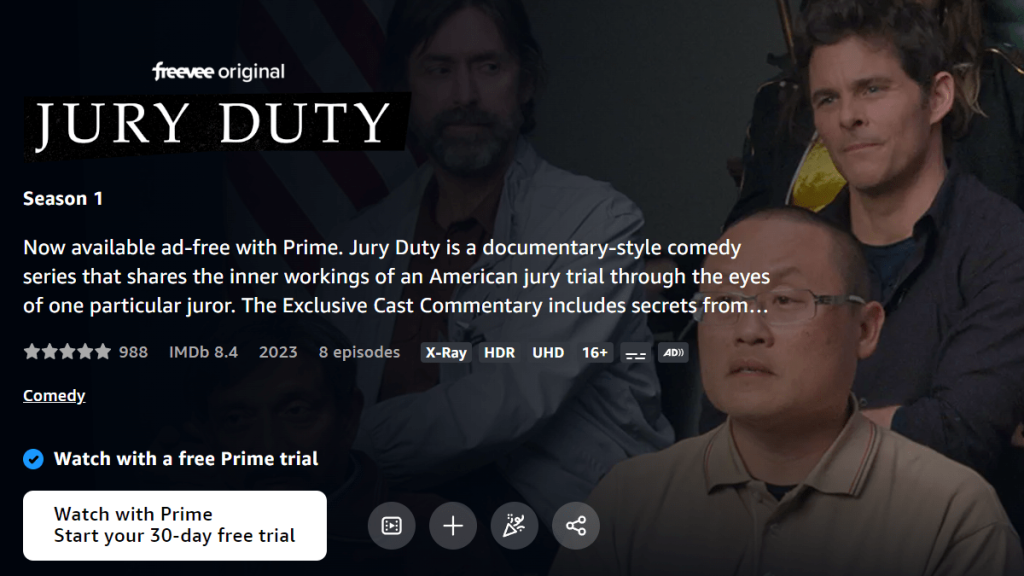 Next, click on "Create Your Amazon account."
Add your account info and click "Continue."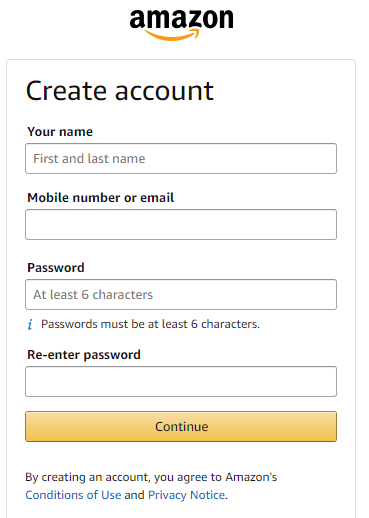 Go through the captcha and phone verification process.
Choose a show to watch and enjoy!
Why Do You Need a VPN to Watch Amazon Freevee in Canada?
You need a VPN to watch Amazon Freevee in Canada because the service is exclusive to the US, the UK, and Germany. Without a VPN, Amazon Prime Video will show you the following geo-block message:
"Travelling or based outside the United States? Video availability outside of the United States varies. Sign in to see videos available to you."
Luckily, you can bypass it by using a VPN to connect to a server found in the US. This will let you obtain an American IP and get the most content out of Amazon Freevee in Canada. Of course, you still need to create a separate Amazon account with a US address and phone number - which may be tricky without a friend in the area to help out.
Moreover, not all VPNs work on Amazon Freevee, as most streaming sites out there filter them to enforce their licensing restrictions. No worries, though - we'll recommend the best VPN for Freevee that gets the job done. Just read on.
Best VPN to Watch Amazon Freevee in Canada
The best VPN to watch Amazon Freevee in Canada should be able to bypass Amazon's filters and unblock Freevee with ease. It must also have a large server network in the US and worldwide, so you can explore both Freevee movies/shows and content on other platforms.
Next on the list is reliable performance and fast speeds, whether you're streaming from Canada or abroad. You also need obfuscation to bypass blocks on various networks, as well as a kill switch to protect your IP in case of disconnects. Security-wise, the VPN should have modern protocols like OpenVPN/WireGuard, with strong encryption (AES-256).
Naturally, it should be available for Windows, Mac, Android, iOS, and other platforms where Freevee is available. Also, you'll need a good number of simultaneous connections for multi-device streaming. Finally, 24/7 live chat and a generous money-back guarantee are useful features to back up your VPN purchase.
Based on these criteria, here are the best VPNs to watch Amazon Freevee in Canada:
ExpressVPN easily outclasses other VPNs when it comes to unblocking Amazon Freevee in Canada. That's because it has 3,000+ fully obfuscated servers in 90+ countries, including a sizable, high-performance network in the US (15 cities). Needless to say, Amazon won't be able to detect your VPN activity and block you.
The VPN performs impeccably on distant and close servers, whether you're streaming on the Freevee app or through your browser. We could watch HD and 4K content buffer-free on Freevee and most other streaming services worldwide.
ExpressVPN's no-logs claims have been independently verified to ensure maximum privacy. Its apps also include a trusty kill switch to disable Internet access in case of disconnects. Plus, you have all the industry-standard protocols at your disposal to protect your data - OpenVPN/IKEv2 with AES-256 and Lightway with WolfSSL encryption.
Amazon Prime Video allows up to 3 concurrent streams, so ExpressVPN's 8 simultaneous connections should be more than enough in this case. NordVPN and CyberGhost get you 6 and 7 connections each, which is useful if you have a lot of gadgets lying around.
Otherwise, ExpressVPN works for all the popular systems out there. PCs, smartphones, tablets, smart TVs, and even Amazon Fire TVs. If the device limit seems too low, you can install the app on a compatible router to get VPN capabilities on all your home devices.
As expected, ExpressVPN's support teams are ready to help 24/7 through live chat. Finally, you have a 30-day money-back guarantee in case you change your mind.
PROS
Streamlined VPN apps.
High-speed US network.
Bypasses Freevee geo-blocks.
Built-in obfuscation worldwide.
24/7 live chat.
30-day money-back guarantee.
NordVPN is an excellent VPN to unblock Freevee in Canada, thanks to its SmartPlay feature. This technology uses elements of smart DNS to hide your location from any service out there. It's also available on the entire 5,500+ server network in 60 countries (1,970+ servers in 16 US locations) - giving you plenty of options for content.
While NordVPN's network isn't as widespread as our other 2 recommendations, it doesn't skimp on speed and performance. You can stream HD and 4K Freevee movies/shows, even on remote servers, without noticeable slowdowns or lag.
What's more, NordVPN includes obfuscated servers to help you bypass VPN blocks (on Amazon Prime, at work, school, and elsewhere). There's also an advanced kill switch you can use to shut off traffic from specific apps during random disconnects.
The provider keeps zero user logs and has an independent audit to show for it. It also uses NordLynx to protect your data - a lightweight, WireGuard-based protocol. Alongside it are the classic OpenVPN/IKEv2 options with AES-256 encryption.
NordVPN is available for Windows, Mac, Linux, Android, iOS, Amazon Fire TV, and plenty of other platforms. You also have 6 simultaneous connections available for streaming, playing online games, and other activities.
As always, NordVPN has 24/7 live chat for any issues you may experience, and there's a 30-day money-back plan on any subscription.
PROS
1,970+ US servers.
Unblocks Amazon Freevee with ease.
Obfuscated servers available.
Easy streaming with SmartPlay.
24/7 live chat.
30-day money-back policy.
CONS
Obfuscation isn't network-wide.
CyberGhost VPN is a great, budget-friendly VPN that can unblock Freevee and 40+ more streaming sites in Canada. While it doesn't have obfuscation like the other VPNs, it has 9,000+ servers in 90+ countries (1,380+ in 11 US cities). Many of them are optimized for specific websites, including Amazon Prime Video.
The lack of obfuscated servers is only really a problem in restrictive regions like China or the UAE. Otherwise, CyberGhost VPN offers great performance on nearby servers, although NordVPN and ExpressVPN perform better on remote servers.
CyberGhost VPN has an always-on kill switch, so there's no risk of accidentally turning it off and being exposed online. To safeguard your data, the VPN employs the latest protocols like WireGuard, OpenVPN, and IKEv2 with AES-256 encryption. Their no-logs policy has recently passed a successful audit as well.
The VPN works on any system out there - Windows, Linux, Mac, iOS, Android, Amazon Fire TV, you name it. You can use CyberGhost VPN on up to 7 devices simultaneously, which is pretty generous considering their cheaper plans (compared to our other recommendations).
Speaking of which, their longer subscriptions have a whopping 45-day money-back guarantee. More than enough time to test the VPN on all those supported streaming sites. And, as with any top-class provider, you get 24/7 live chat to help with troubleshooting. 
PROS
1,380+ fast US servers.
Works with 40+ streaming services.
Budget-friendly Freevee VPN.
45-day money-back guarantee.
7 simultaneous connections.
CONS
Slower than alternatives.
No obfuscated servers.
What Can You Watch on Amazon Freevee?
As a free video streaming service, Amazon Freevee doesn't quite have the quality you'd see on paid platforms. That said, you still get to enjoy a few hidden gems like The Tick or Great Teacher Onizuka and amazing Amazon originals like Alex Rider, Bosch, and Paper Girls.
There's the occasional classic under the "Rent or Buy" section, such as American Psycho, X-Files, Top Gear, or the Mr. Bean animated series. But the main allure of the platform remains its free, ad-based content library.
As such, here's a curated list of completely free content you can watch on Amazon Freevee:
| | |
| --- | --- |
| Freevee movies | Freevee shows |
| Gringo (2018) | Judy Justice (2021 - present) |
| Generation Wealth (2018) | Jury Duty (2023) |
| Left Behind (2014) | Alex Rider (2020 - present) |
| No Escape (1994) | Columbo (1972 - 1978) |
| 7500 (2019) | Sprung (2022 - present) |
| The Aeronauts (2019) | GTO: Great Teacher Onizuka (1999 - 2000) |
| Memories of the Sword (2015) | The TIck (2016 - 2018) |
| Rommel (2017) | RoboCop (1994) |
| The Witch: Subversion (2018) | Bosch: Legacy (2022-) |
| Legend of the Red Dragon (2002) | Citadel (2023-) |
Can You Use a Free VPN to Watch Amazon Freevee in Canada?
No, you can't use a free VPN to watch Amazon Freevee in Canada, as Amazon typically blocks free VPNs altogether. Even if you do find one that works on Freevee, you're bound to run into a few issues that make streaming a horrible experience.
For example, free VPNs usually impose monthly data caps, meaning you're limited to 10 GB of Freevee movies or shows (in the most generous cases). They also offer few servers and slow speeds, which only adds to the problem. Worst of all, free VPNs sell user browsing data to ad companies for a profit - not really worth the trouble.
Skip the hassle and try out one of the top VPN providers listed here instead. You won't need to worry about data collection, and their advanced hardware is perfect for buffer-free streaming.
Final Thoughts
Amazon Freevee offers hundreds of hours of free, ad-based content. But while the service is available in 3 countries (US, UK, Germany), most of its content is exclusive to the US. To watch Amazon Freevee in Canada, you'll need a capable VPN that can bypass Amazon's filters.
We recommend ExpressVPN, as its built-in obfuscation on all servers can get around even the most annoying blocks. The VPN also has 3,000+ high-speed servers in 94 countries, so you can stream a whole new world of content from anywhere.
FAQ
What Is Amazon Freevee Canada?
Amazon Freevee is a free-of-charge streaming service offered by Amazon - but it's not available in Canada. It works only in the US, the UK, and Germany.
Does Amazon Freevee Work in Canada?
No, Amazon Freevee does not work in Canada, as the service is exclusive to the US, the UK, and Germany. You can unblock it with a VPN by connecting to any of those regions.
Is Amazon Freevee Free with Amazon Prime?
Yes, Amazon Freevee is free if you have a Prime subscription. More precisely, you don't even need a Prime subscription to access Freevee. You need a basic Amazon account only.
What's the Difference Between Freevee and Amazon Prime?
Freevee is a free-of-charge streaming service that requires you to have a basic Amazon account only. To access Prime Video, you need a premium-priced Prime subscription.
Is Amazon Freevee and IMDb TV the Same Thing?
Yes, Amazon Freevee and IMDb TV are basically the same thing. Amazon just rebranded IMDb TV to the new name in April 2022.
How Do I Download Freevee App on Firestick in Canada?
To download and access the Freevee app on a Firestick in Canada, you need a VPN app that has servers in the US. You also need a US-based Amazon account, which is when the Freevee app will show up on your Firestick's App Store.
That concludes our guide on watching Amazon Freevee in Canada. Need any extra help? Then let us know in the comments. Thanks for reading!