When it comes to choosing the right VPN service, there are many factors to consider. Unfortunately, HMA VPN, formerly known as HideMyAss, falls short in many areas. While it promises complete online freedom, it's not the most trustworthy VPN out there.
Based in the United Kingdom, HMA's location raises a red flag right from the start. The UK is notorious for its intrusive data collection efforts and is a member of the 5-Eyes Alliance. Although HMA VPN now claims to have a strict no-logging policy, its track record is extremely poor. In the past, it has shared user data with law enforcement agencies. For that reason, we wouldn't recommend it for privacy protection, torrenting, and other sensitive activities.
While HMA doesn't offer the best set of privacy and security features, it does include all the essentials. There are some advanced features, too, like split tunneling and a kill switch - making it a decent option for streaming, especially for US Netflix and BBC iPlayer. Its gaming performance is also decent, but if you're going to set up a VPN router for your gaming consoles, it can be a bit of a hassle.
As with our other VPN reviews, we aim to simplify the comparisons between the various options available. Let's begin by examining some of the key features of HMA.
| | |
| --- | --- |
| Jurisdiction | United Kingdom |
| Logs | Usernames and timestamps. |
| Servers | 1,100+ servers in 290+ locations. |
| Simultaneous Connections | 5 |
| Supported Devices | Windows, macOS, iOS, Android, Linux, Chrome, Firefox, and routers. |
| Features | AES 256-bit encryption, kill switch, split tunneling, DNS and IPv6 leak protection, IP shuffling, and IP refresh. |
| Protocols | OpenVPN (UDP/TCP), Mimic, and WireGuard. |
| Supports | Torrenting, streaming (Netflix US, Disney+, iPlayer), and gaming. |
| Customer Support | Email and knowledge base. |
| Price | From $2.99/month. |
| Live Deal | 75% OFF (3-year plan) |
| Our Score | 6.6 out of 10. |
In this review, we'll subject HMA VPN to a range of tests and evaluate its position on our list of the best VPN services. We'll assess various factors, including reputation, speed, security, privacy, pricing, and customer support, to provide a comprehensive analysis.
We take an objective approach in our evaluations to ensure that our reviews are impartial, accurate, and unbiased. If you'd like to learn more about our evaluation process, please refer to our guide on how we review VPNs.
Background, Jurisdiction & Reputation
HMA VPN, originating from the UK, isn't the most reliable VPN service due to its practices of collecting personal data and retaining it. Its past record of data leaks only adds to the concern. Our Score: 0/10
Needless to say, you want to find a trustworthy VPN service. And this requires a thorough examination of the VPN's history. Fortunately, we have done the legwork for you. 
Where Is HMA VPN Based?
HMA VPN is based in the UK, which is part of the Five Eyes Alliance, a group of countries that share intelligence information with each other. The country also has the Investigatory Powers Act, or the "Snooper's Charter," which gives the UK government broad powers to access and store personal data.
So, how does HMA operate in such a hostile environment? Well, the answer isn't so simple. The service is actually owned by Avast, a cybersecurity company based in Prague, Czech Republic. 
Avast acquired HMA VPN in 2016 and claims to operate it as an independent entity. However, this doesn't mean the provider is free from the UK's jurisdiction. The service still has to comply with British laws and regulations and even admits that it will cooperate with law enforcement requests if necessary.
You should be aware of the risks involved in using a VPN from a country that has a history of data collection. HMA VPN may offer some benefits, such as fast speeds and a large server network, but it also comes with some drawbacks that you should consider before using it.
Did HMA VPN Leak Personal Data in the Past?
Yes, HMA has leaked personal data in the past. Back in 2011, the company handed over incriminating data to the FBI related to a LulzSec member accused of using HMA's proxy to hack into the systems of Sony Pictures Entertainment. This incident highlighted HMA's crucial role in confirming the individual's identity and online activity.
However, this isn't the only case where HMA has shared user data with law enforcement agencies. A Texas judge was arrested in 2016 for stalking and harassment, and his identity was uncovered using connection timestamps provided by HMA. Bear in mind that all of these instances of data sharing happened under HMA's old privacy policy.
While the VPN service has altered its logging policy since then, it still collects data. Therefore, if you're considering HMA, keep in mind that it doesn't make you truly anonymous.
Supported Platforms & Devices
HMA offers applications for major desktop and mobile platforms, as well as for Android TV. It also provides browser extensions for Chrome and Firefox. However, it lacks support for Amazon FireOS, which puts it at a disadvantage compared to other top-rated VPNs. Our Score: 8/10
Next, let's review the list of supported devices for HMA. Note that HMA allows between 5 and 10 devices per account in the standard plan, so it's crucial to confirm compatibility with both desktop and mobile devices. Here's a table to simplify things:
| | |
| --- | --- |
| Desktop Platforms | Windows, macOS, Linux. |
| Mobile Platforms | Android, iOS. |
| Web Browsers | Chrome and Firefox. |
| Routers | DD-WRT and Tomato routers. |
| Other Devices | Android TV. |
In terms of device support, HMA offers decent coverage, with native apps available for Windows, macOS, Linux, Android, and iOS. However, the service falls short when it comes to streaming devices, with support limited to Android TV. While the Android TV app includes some useful features like split tunneling, kill switch, and refresh IP, it's disappointing that there's no native application for Fire TV devices.
To use HMA on other devices (those that don't support VPNs), you need to install the VPN on a supported and compatible router. This process can be complicated and requires technical knowledge, so it may not be the most convenient option.
HMA also offers free browser extensions for Chrome and Firefox, but they're limited to only 5 locations, including Paris, Frankfurt, Amsterdam, London, and New York. While these locations are popular, it's important to note that the extensions are Web proxies, not VPNs. This means that they don't encrypt your Web traffic and therefore don't hide your browser activity.
We also don't like the fact that the Web proxy logs a lot of information, including your originating IP address, encoded URLs of the websites you visit, and files accessed on those sites.
Overall, while HMA is decent in terms of device support, it falls short when compared to top-rated VPNs. The lack of support for Amazon Fire OS, along with the intrusive data collection from Web proxies, are significant drawbacks.
Installation & Initial Configuration
You can install HMA within minutes. The entire procedure is very simple and quite streamlined, so even complete beginners won't have any problems. Our Score: 10/10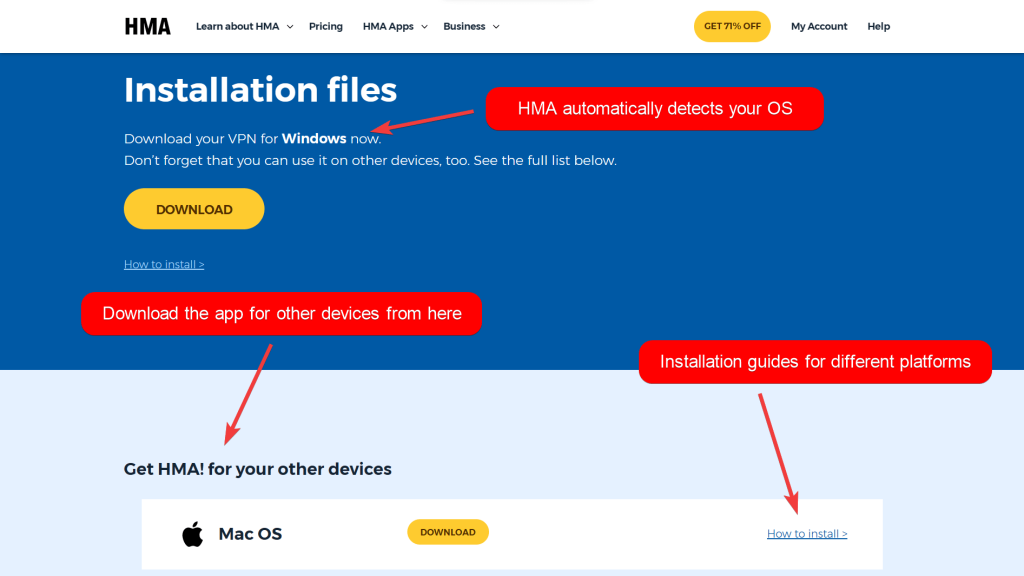 Getting started with HMA VPN is a breeze. First, you need to sign up for a new HMA VPN account. Then, you can proceed to download the official app from its website. We've tested it on Windows, and the installer file was just 1.2MB, making it a quick download.
Once downloaded, open the file, and you'll be greeted by a typical installation wizard. Accept the terms of use, select where you want to install the application, and you're good to go. It's worth noting that you could be asked to restart your machine, but this is just to ensure the installation process goes smoothly.
Once the app is installed, launch it by double-clicking on its icon. You'll be asked for your user credentials, which is standard procedure for any VPN. What's great about HMA is that it doesn't come bundled with any other apps that can often slow down your system.
If you're using HMA on mobile platforms, simply download the official Android or iOS app from its respective App Store. After opening the app and signing in, you're ready to start using HMA VPN on the go. 
Prominent Features
HMA VPN has made significant improvements lately, including the addition of advanced features to complement its existing set of basic features. Our Score: 7.5/10
To avoid getting overwhelmed by marketing messages, it's important to focus on the essential features when choosing a VPN. Fortunately, HideMyAss offers all the basic features you would expect from a reputable VPN, including AES-256 encryption and DNS servers.
We have collected all the necessary information about the security and privacy features available on the HideMyAss app. Here's a breakdown of what you need to know about each of them.
DNS and IPv6 Leak Protection: HMA VPN employs sophisticated methods to protect your DNS and IPv6 from exposing your real IP address and jeopardizing your online privacy. This feature is included in all HMA VPN apps. However, some users have encountered problems with IPv6 leaks on macOS, so you should be careful if your ISP uses IPv6.
AES-256 Encryption: HMA VPN uses AES-256 encryption, which is considered to be very secure and reliable. This encryption method protects your data from being intercepted, hacked, or exposed by cyberattacks, no matter where you are or what you're doing online. This encryption is available on all HMA VPN apps. 
VPN Protocols: A tunneling protocol is a set of rules for encrypting and transmitting data over a network. HMA gives users the choice of 3 tunneling protocols: OpenVPN, Mimic, and WireGuard. These are among the most dependable protocols for secure online browsing. OpenVPN and WireGuard are both fast and strong, while Mimic can bypass most online restrictions. 
Kill Switch: One of the benefits of HMA VPN is that it has a kill switch feature that protects your online privacy in case the VPN connection drops. This feature, which is available for Windows, Android, and Mac, stops any data from leaking if the VPN connection is interrupted.
Split Tunneling: Available only on Android, this feature lets you choose which apps or websites use the VPN connection and which ones don't. This way, you can enjoy the advantages of a VPN without sacrificing your speed or access to local content.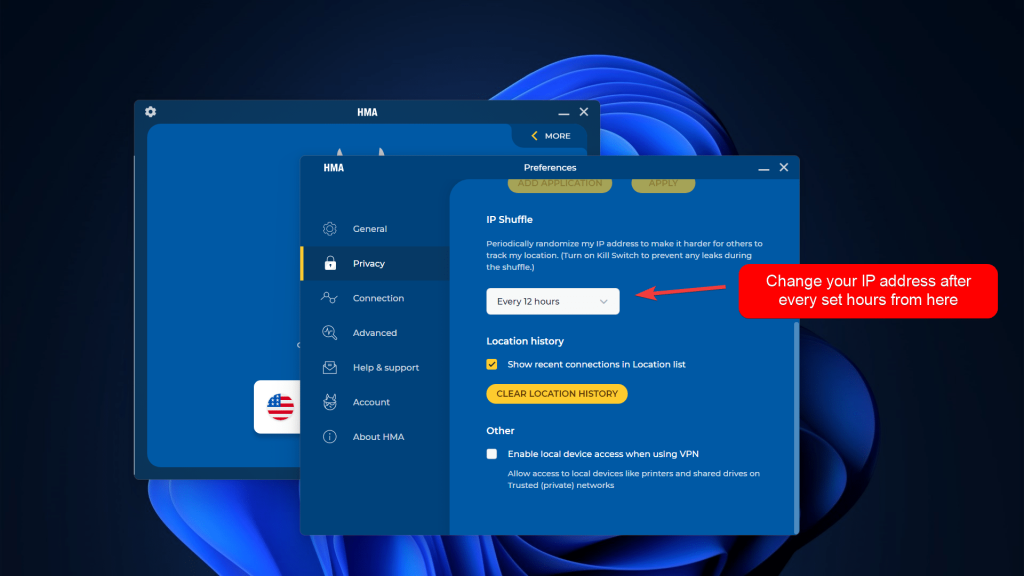 IP Shuffling and Refresh: If your current IP is unexpectedly banned, you can get a new one from the same or another place with the IP Shuffling and Refresh feature of HMA VPN. This tool is included in all HMA VPN applications.
Unlimited Server Switches and Bandwidth: With HMA VPN, you can switch between different servers anytime you want, with no extra costs or limitations. This allows you to access content that's blocked in your region or to improve your browsing speed by choosing a server with a better connection. HMA VPN also offers unlimited data, so you can use the VPN as much as you want without any restrictions or additional fees. You can enjoy these features on all HMA VPN apps.
Server Count & Infrastructure
HMA's server network covers many regions globally, but it's not as extensive as some of the top-rated VPNs. Our Score: 8.5/10
One of the standout features of HMA VPN is its impressive server network. While it may not have the highest number of servers, they're distributed evenly across the globe. However, there are still some issues with this aspect of the service. 
| | |
| --- | --- |
| Number of Servers | 1,080+ |
| Number of Locations  | 290+ |
| Number of Countries  | 210+ |
| Specific Cities Selection  | YES |
| Unlimited Switching | YES |
HMA VPN claims to have servers in more than 210 countries, but many of them aren't physically located there. They're virtual servers that use another location to mask their true identity. This can be a problem for users who care about the privacy and security of their data. We think overall, there should be more transparency around which servers are real and which are virtual.
This VPN has one advantage: it lets users choose specific cities in some countries and switch between servers as much as they want.
That said, HMA VPN falls behind other VPNs in terms of server quantity and quality. It only has 1,080+ servers, while some of the best VPNs have more than 5,000 servers. This service hasn't made any huge changes to its servers for a long time, unlike other VPNs that keep growing their networks.
UI/UX Design & Ease of Use
HMA has an easy-to-use application that anyone can navigate. The only drawback is that the window size is fixed and can't be changed. Our Score: 8/10
This VPN service has a unique and entertaining approach to its UI, from its comical name to the amusing donkey mascot featured on its website and apps. Over the past year, the support for platforms has only increased, and the provider has been semi-successful at delivering a consistent user experience across most platforms. 
The latest update streamlines the app, eliminating unnecessary clutter and presenting a more modern design. While this alone is a commendable improvement, the most significant enhancement is the app's increased simplicity.  
Let's delve into the details of HMA's user interface.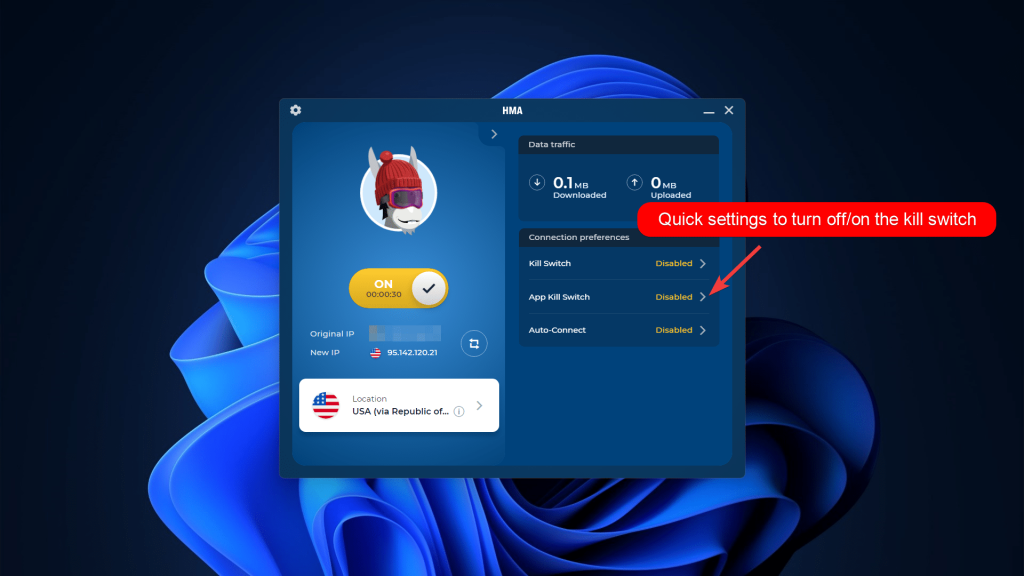 Home Screen: The front face of HMA VPN is refreshingly simple. It features the brand's donkey mascot, whose facial expressions change each time you mask your location. The home screen offers a large connect button to establish the connection. The "Mode" options that previously caused confusion have been removed, leaving just a single switch that makes connecting to the fastest available server a breeze. Below this, you'll find your current IP address, and if you're connected to a server, the new IP address will also be displayed here. There's also a button to access the server list. 
More: In addition to the traffic meter that shows your real-time stats on how much data has been downloaded and uploaded through the encrypted connection, this section has options for IP Shuffling and Refresh tool. This tool assigns you a new IP address in the same or different location if your current IP is suddenly blocked.
On the top left-hand side of the home screen, you'll find a cogwheel icon that takes you to HMA VPN's Menu. The menu offers seven options:
General: This section lets you set the app to launch automatically when the device starts up. You can also turn off notifications for the app from here and change the language. The choice to opt-in for beta testing updates along with checking for updates is also available. 
Privacy: This section is where you can turn on the Kill Switch and Split Tunneling (only on Android) features. From here, you can also set the duration for the IP Shuffle feature and check the connection history. Enabling access to local devices is also possible from this section. This is a useful feature for users who often connect external devices to their computers.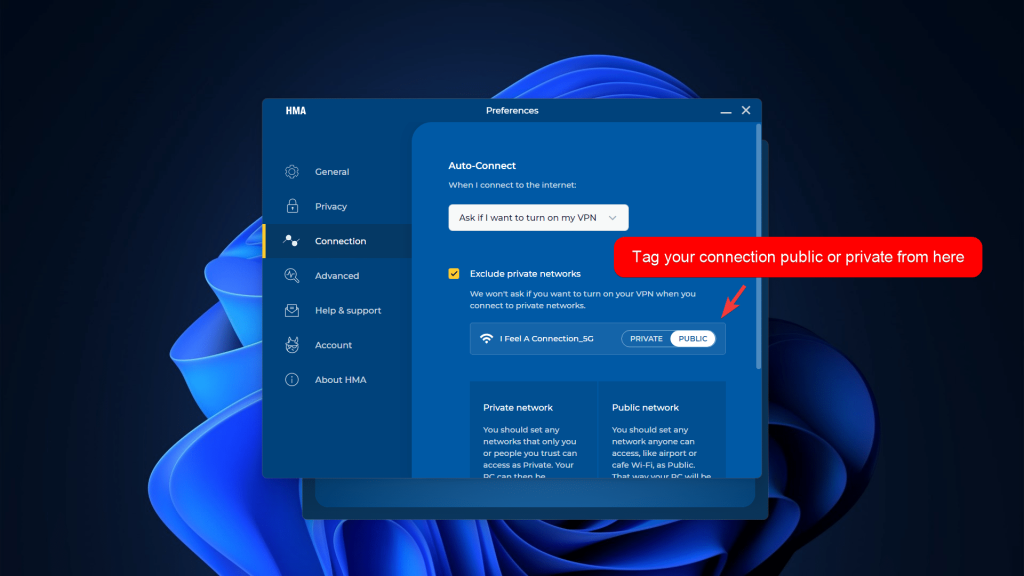 Connection: This section allows you to configure your connections and select which networks to avoid. You can choose to filter your connections by private or public. This feature can also help with protecting your device from exposure to public networks and preventing potential vulnerabilities when you switch between different networks.
Advanced: This section lets you switch between different protocols, including Automatic selection, OpenVPN, WireGuard, and Mimic. You can opt for using a TCP-only setting for OpenVPN protocol that blocks UDP, which is preferable if you're streaming or gaming. There's also a diagnostic feature that lets you save logs to share with HMA support for troubleshooting.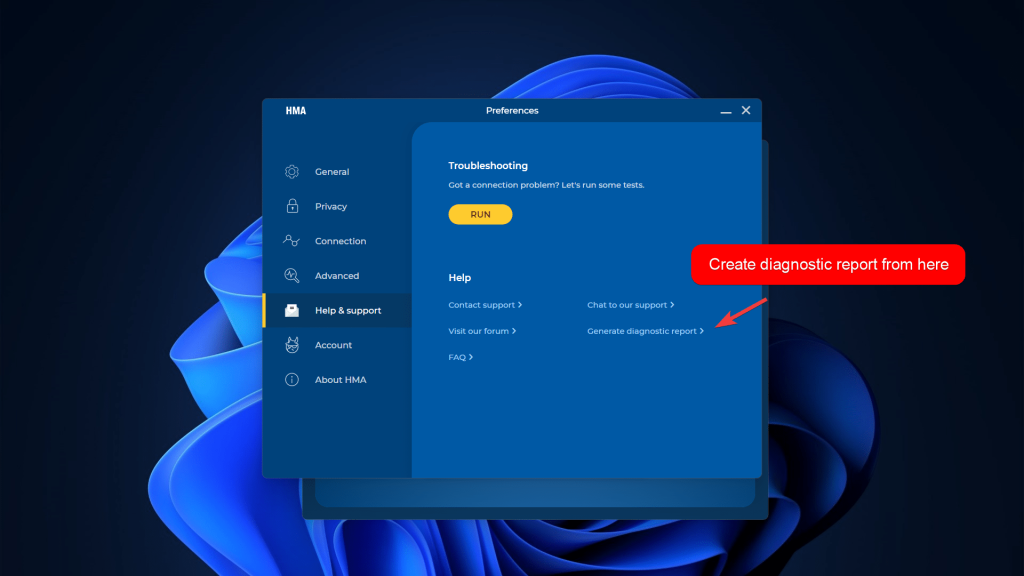 Help & Support: This shortcut opens a page on HMA's website from where you can submit an official support request and access their FAQ section. This section is handy if you're facing any technical issues. You could also use this section to troubleshoot tests if you're experiencing connectivity issues. You can generate diagnostic reports from here as well.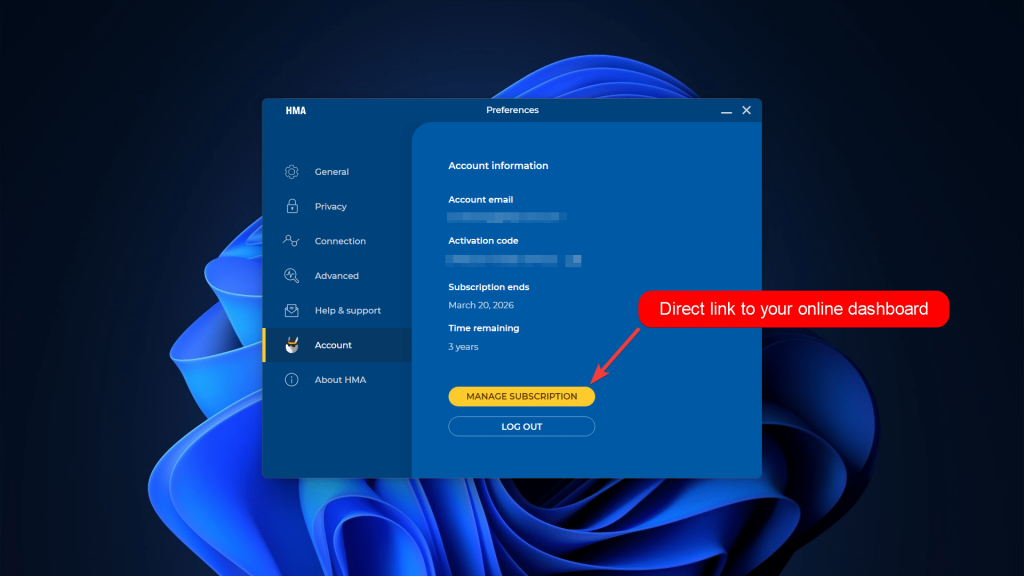 Account: This section shows you the basic information on your current membership, including the email ID you used to sign up for the membership. You can also access the activation code you could use for accessing your membership on other devices. If you want to see when your subscription date is ending, you can check that from here, too.
About HMA: This section allows you to check the currently installed version of HMA and provides links to the VPN's privacy policy, terms of service, and refund policy.
Overall, we believe that HMA has done a good job of providing an easy-to-use interface. It would have been even better if the window size isn't fixed. If you have an ultra-high monitor resolution, you'll want to scale it up a bit, as the text can be hard to read at times.
Media Streaming, Torrenting, and Gaming Support 
HMA unblock Netflix and BBC iPlayer, but torrenting should only involve legal files. The gaming performance is also decent. Our Score: 7/10
It's now time to put HMA's ability to unblock popular services, support torrent downloads, and gaming performance to the test. Please refer to the table below for our evaluations, followed by a more in-depth discussion of our findings.
| | |
| --- | --- |
| Netflix US  | YES |
| Hulu  | NO |
| BBC iPlayer  | YES |
| Amazon Prime Video  | NO |
| Disney+ | YES |
| HBO Max | YES |
| ESPN+ | YES |
| Torrenting (P2P) Support  | YES |
Our analysis of HMA VPN's streaming capabilities revealed that the service unblocks popular streaming platforms, such as Netflix US, BBC iPlayer, Disney+, and HBO Max, through its dedicated servers. 
However, we discovered that HMA VPN may not be as effective with other platforms, such as Hulu and Amazon Prime Video. Additionally, while our testing indicated that HMA VPN's streaming performance was generally fast and stable, it's worth noting that this may vary based on server load and location.
If you're primarily seeking a VPN service to unblock a wider range of streaming services, we recommend exploring other options, such as NordVPN or ExpressVPN.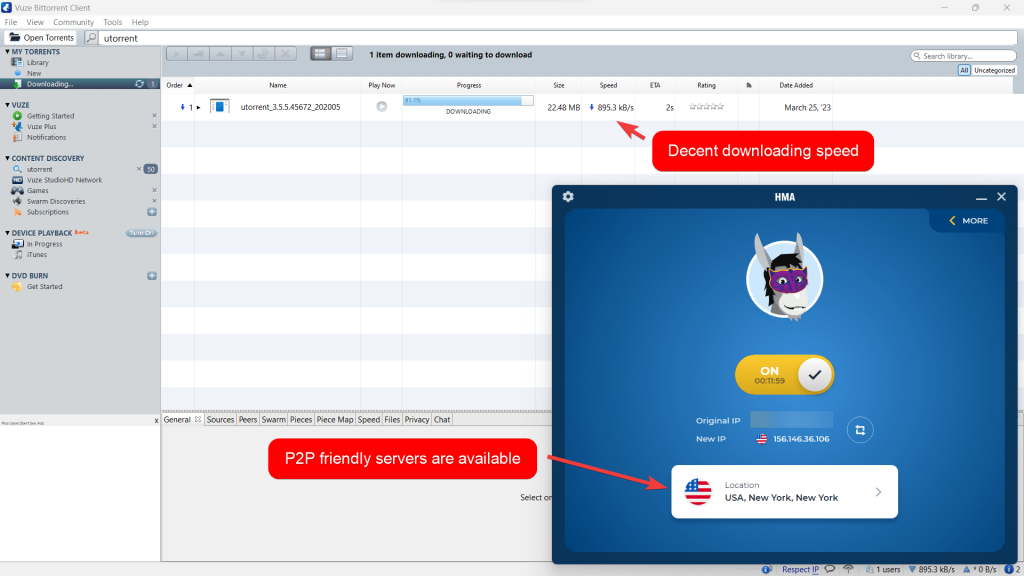 When it comes to torrenting, HMA VPN's offerings may not meet the needs of users who want to download copyrighted material or content that violates regulations. The VPN provides P2P-optimized servers in Europe and the USA, but it also scans downloaded files and restricts users to legal content. Additionally, the service has previously cooperated with law enforcement agencies, which may raise privacy concerns for some users.
Finally, while HMA VPN can provide stable connections and reasonable speeds for PC gaming, it's important to note that it doesn't offer a Smart DNS tool. As a result, using HMA VPN on gaming consoles will require a complex router setup, which may require technical expertise.
Security & Privacy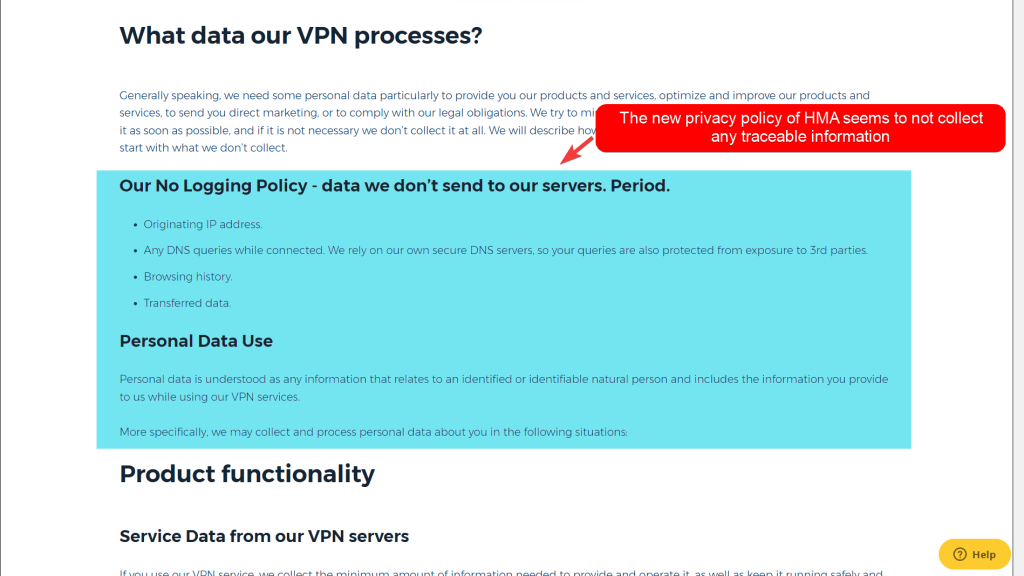 Although HMA isn't exposing your private data, it gathers a significant amount of personal information. This practice makes it an unfavorable option for privacy-focused individuals. Our Score: 3/10
While HMA VPN may have strengths in some areas, its weaknesses in other areas may outweigh those benefits. Ultimately, though, none of these considerations may matter much if the VPN service is unable to deliver complete online anonymity. Therefore, it's crucial to examine how this VPN safeguards your online privacy and security.
HMA VPN Protocols
While it's true that HMA provides users with industry-standard 256-bit AES encryption, it's worth noting that this level of encryption is widely available among most VPN services these days. As for tunneling protocols, HMA VPN broadly offers 3 options: OpenVPN, Mimic, and WireGuard.
| | | | |
| --- | --- | --- | --- |
| | OpenVPN | Mimic | WireGuard |
| Windows | YES | YES | YES |
| macOS | YES | NO | YES |
| Linux | YES | NO | YES |
| iOS | YES | NO | YES |
| Android | YES | YES | YES |
Here is a brief overview of each protocol and its benefits.
OpenVPN: This protocol is the most widely used and trusted VPN protocol in the industry. It offers strong encryption, high compatibility, and fast speeds. OpenVPN is available on all HMA apps for Windows, Mac, Android, iOS, Linux, and routers.
Mimic: If you want to access geo-restricted content in countries with strict Internet regulations like China, Iran, and Turkey, you can use Mimic. It's HMA's own custom-made protocol that disguises your VPN traffic as regular HTTPS traffic. This makes it harder for firewalls and censors to block your connection. Mimic is available on Windows and Android.
WireGuard: This is a new and innovative VPN protocol that promises to deliver faster and more secure connections than other protocols. It uses modern cryptography and a simple design to achieve high performance and reliability. You can find this protocol on apps for Windows, Mac, Android, iOS, and Linux.
The service is pretty efficient at hiding your IP address and DNS requests from prying eyes. If you want to protect your online activity, HMA is a safe and secure option.
Does HMA VPN Keep Logs?
No, HMA VPN doesn't keep logs. That means it doesn't track or log your Internet activity. However, HMA still collects some personal information from its users, such as email addresses and usernames, which is a common practice among VPNs. The data that HMA does log in is aggregated and can't be traced back to any specific user. 
This doesn't change the fact that HMA has a poor track record of safeguarding its customers' privacy. To gain its users' trust, the service has undergone a third-party security audit by VerSprite, a reputable cybersecurity firm. The firm has given HMA a clean chit by awarding it a 'low-risk privacy impact' rating.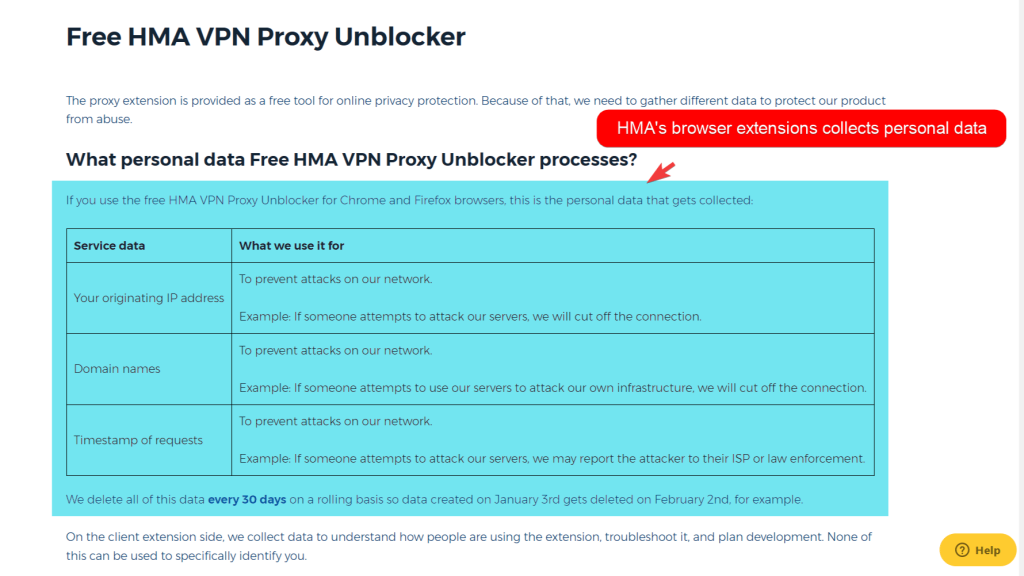 While HMA's native app is pretty water-tight in terms of security, its browser extensions are a very different story. They actively collect several types of user data, including timestamps of connection and disconnection, total data transmitted, and real IP addresses. The service claims to delete this data after 30 days, but we find this explanation unconvincing. It's very likely the collected data can reveal a user's online activity, undermining the whole point of using a VPN.
In the recent past, the HMA VPN has updated its logging policy and removed invasive data retention, but we remain skeptical due to the company's history of cooperating with authorities. Moreover, HMA VPN is based in the UK, a country with intrusive data retention laws, which only compounds the issue. Given the risks involved, we advise you to be careful with this VPN.
Does HMA VPN Leak/Expose Your Private Data?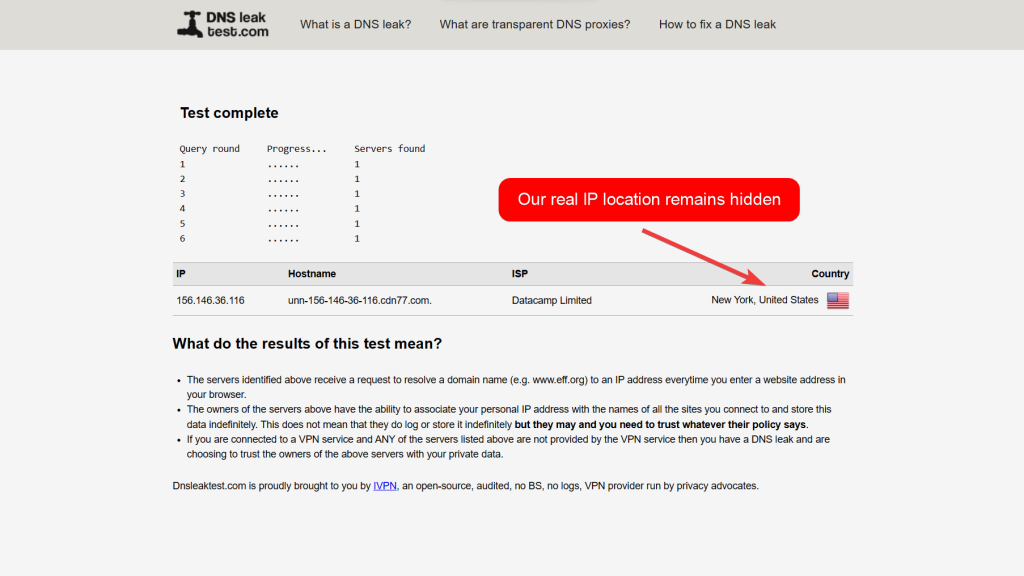 No, HMA VPN doesn't leak your private data. While using a VPN, it's crucial to ensure that your data remains secure. We have thoroughly tested HMA VPN for DNS leaks, and we're pleased to report that HMA VPN is quite protected in terms of leaking private data.
We found that our virtual IP address and its associated server were detected. However, our true information was never revealed, which is a testament to HMA's commitment to user privacy. 
Speed & Performance
After conducting our speed tests, we found that HMA slows down your Web connection by approximately 23%, which is a fairly positive outcome. Our Score: 9/10

HMA doesn't aggressively advertise its speeds, which gave us a bad first impression. However, we found its speed and performance to be a highly impressive aspect of this service.
For this test, we started with the speed of our Web connection without the VPN and got 105.02 Mbps for downloads and 114.99 Mbps for uploads. We then tested 6 servers around the world. It's important to note that VPNs use encryption tunnels to mask your connection, which is expected to slow down the speed.
That said, here are the results of the rest of our server tests:
US Server: The US server performed moderately well in our tests. It had a download speed of 73.06 Mbps and an upload speed of 54.37 Mbps. The speed reduction was around 30%, which is similar to most VPN services. You can count on this one if you want to stream media.
UK Server: HMA VPN's UK server performed moderately well in our tests. It had a download speed of 72.58 Mbps and an upload speed of 64.44 Mbps. The speed reduction was decent, around 31%. You can use this server for streaming media without facing any hiccups.
Canada Server: HMA VPN's Canadian server achieved decent speeds in our tests. It had a download speed of 77.32 Mbps and an upload speed of 52.85 Mbps. The speed reduction was around 26%, which is similar to most servers on this list.
India Server: We're located in Asia, and we expected the Indian server to outperform others since it's the closest to us. That wasn't the case, but it wasn't disappointing either. It reduced the speed by 29%, which is a reasonable drop. It had a download speed of 74.58 Mbps and an upload speed of 42.72 Mbps.
Australia Server: This one achieved above-average speeds in our tests. It had a download speed of 86.15 Mbps and an upload speed of 43.02 Mbps. The speed reduction was only 18%, which is much lower than the industry average. This speed is good enough for bandwidth-heavy tasks.
Italy Server: HMA's Italian server did pretty well, reducing the speed by only 5%. It had a download speed of 99.54 Mbps and an upload speed of 51.07 Mbps, which is just slightly slower than the baseline speed. 
| | | | |
| --- | --- | --- | --- |
|   | Download Speed | Upload Speed | Speed Reduction |
| Baseline | 105.02 Mbps | 114.99 Mbps | 0% |
| US (New York) | 73.06 Mbps | 54.37 Mbps | 30% |
| UK (London) | 72.58 Mbps | 64.44 Mbps | 31% |
| Canada, (Vancouver) | 77.32 Mbps | 52.85 Mbps | 26% |
| India (Mumbai) | 74.58 Mbps | 42.72 Mbps | 29% |
| Australia (Sydney) | 86.15 Mbps | 43.02 Mbps | 18% |
| Italy (Milan) | 99.54 Mbps | 51.07 Mbps | 5% |
Upon testing, we found HMA VPN's server speeds to be quite satisfactory, with an average speed reduction of approximately 23%. While this reduction is noticeable, it's not significant enough to cause major frustration or disrupt online activities.
HMA VPN's widespread server network provides users with a range of options and ensures that they can connect to a server that meets their needs. Ultimately, HMA VPN's server speeds provide a decent balance between performance and privacy.
Customer Support
HMA provides satisfactory customer support, but it falls short of our expectations for a popular VPN. While it offers a decent knowledge base section and email support, it doesn't provide live chat support. Our Score: 7/10
During times of crisis, it's essential to have dependable customer support from your VPN provider. If you choose HMA as your VPN, you can access customer support through various channels.
Here's a breakdown of the available support options offered by HMA:
Installation Guides: While installing HMA is relatively straightforward, setting it up on a router can be challenging. Fortunately, the service offers a series of step-by-step installation guides on its official website to help users get started.
FAQs: In addition to the installation guides, HMA VPN provides a list of frequently asked questions on its website. This can be a helpful resource for users who have basic questions about how things work in and around HMA.
Community: HMA VPN also has a community forum where subscribers can post their questions and receive answers from other users. While not the most active part of the website, it can still be a valuable resource for those seeking help or advice.
Support Tickets: For more complex issues, users can open a support ticket and contact HMA VPN's customer support team directly. While there may be a wait time of up to 24 hours for a response, this is still a relatively fast response time compared to other VPN providers.
In terms of customer support, while HMA doesn't offer all the features one might expect from a top-tier VPN, there are some helpful resources available. One such resource is their online knowledge base, which is extensive and includes detailed guides and FAQs. However, when it comes to contacting a human for assistance, HMA's customer support may not be the best. Unfortunately, the live chat feature has been canceled, which is a disappointment.
Nonetheless, there are still a few ways to get help from HMA, including submitting a ticket, browsing the FAQs, and accessing their community forum. It's worth noting that response times may vary, with support ticket inquiries typically taking up to 24 hours, which is still faster than some of their competitors.
Pricing
Even though HMA's 24-month plan brings an attractive price, we wished to see it more affordable. Also, we're disappointed that there are no anonymous payment methods. Our Score: 5/10
HMA offers several subscription plans, whose price is different based on the duration of those plans. So here's what you can expect from HMA VPN.
12-Month Plan: HMA VPN's subscription for 12 months costs $59.88, which is on the lower end of the pricing spectrum. You can also take advantage of the 30-day money-back guarantee, which allows you to test the service risk-free.
24-Month Plan: If you opt for the 24-month plan, the cost per month decreases significantly to just $3.99, which is a total of $95.76. While the upfront cost may seem steep, this plan ultimately saves you 67% of the total cost.
36-Month Plan: HMA's 36-month plan offers an even greater discount, with a cost of only $2.99 per month. This plan requires a payment of $107.64 upfront, but you can save up to 75% off the regular price of the service.
All of the plans offered by HMA come with 5 simultaneous connections by default, which is decent for most users. However, if you need more, HMA provides an option to increase the number of connections to 10 for an additional fee. For instance, the 12-month plan jumps from $4.99 to $7.99 with 10 simultaneous connections. Compared to other VPN services, the price for additional connections is relatively decent.
Apart from the consumer plans, the service also has additional plans for businesses, which allow up to 30 simultaneous connections. This is a considerable increase compared to the 10 in the standard plan.
We think HMA's long-term plans are reasonably priced, but they're not enough to seal the deal, especially considering that it can't unblock popular streaming services and has data collection issues. It'd be better if the company offered unlimited connections on all its subscriptions. That would simplify the hassle of moving between its profound number of plans. 
Nonetheless, the 30-day money-back guarantee ensures that you can try the service risk-free. Moreover, HMA provides a 7-day free trial that lets you test the software before making a purchase.
HMA accepts payments via credit cards, UnionPay, and PayPal. However, there are no anonymous payment methods available, which could be another downside for some users.
Final Thoughts
While HMA can unblock popular streaming services like US Netflix and BBC iPlayer with ease, its past logging practices and compliance with law enforcement requests may not sit well with those who prioritize privacy. While it has made improvements in this regard, it may still not be the best option.
On the bright side, HMA does offer a 7-day free trial and a 30-day money-back guarantee, allowing users to test the waters before making a commitment. Its user-friendly apps and extensive server network are also commendable. However, potential users should weigh the pros and cons before making a decision, as HMA's privacy policies may not align with everyone's expectations.
If you feel comfortable with this, you can subscribe to HMA and take advantage of the various VPN functionalities that it offers.
PROS
Simple installation.
Easy-to-use and well-designed UI.
Plenty of server locations.
Great download speeds.
Unblocks US Netflix and BBC iPlayer.
7-day free trial and a 30-day refund policy.
CONS
Collects various types of user data.
Previously handed over user data to the FBI.
No Firestick app and no Smart DNS tool.
Unblocks limited platforms.
Limited protocols options
Based in the UK.
FAQ
What Is HMA VPN?
HMA VPN is a service that encrypts your Internet connection and hides your IP address. Using this provider, you can also access streaming content from many countries. With over 1,100 servers in 210 locations, users can connect up to 10 devices at once, depending on your plan.
Is HMA a VPN or a Proxy?
HMA is a VPN service that utilizes encryption to keep your online activities secure and private by routing your Internet traffic through its servers. However, the service also provides browser extensions for Chrome and Firefox, which offer a limited version of the app's functionality.
Is HMA VPN Safe?
Yes, HMA VPN is safe. The service offers encryption, anonymous browsing, and IP masking for security. Even though the company claims to have improved its security and privacy policies since then, some users worry about past data sharing with law enforcement.
Is HideMyAss Free?
No, HMA VPN doesn't have a completely free version of the app. They do offer a 7-day trial window and a 30-day money-back guarantee for those who wish to try the service for free. 
HMA also offers free browser extensions for Chrome and Firefox, which can help unblock content and hide your location while browsing. 
Which VPN Is Better than HMA?
In our opinion, ExpressVPN is a better VPN option than HMA. ExpressVPN has a solid reputation for its security features, fast connection speeds, and reliable performance. It also has a user-friendly interface, making it easy for anyone, even those new to VPNs. 
Is HideMyAss Trustworthy?
No, HMA VPN isn't trustworthy. It has a mixed reputation. In the past, HMA has shared user data with law enforcement agencies, which has raised concerns about their security practices. However, the company has since updated its policies and taken steps to improve its service.