If you're looking for an affordable VPN, you might be tempted by FastestVPN's lifetime plan of $40. But before you bite the bullet and sign up, you should know what you're getting into.
FastestVPN operates from the Cayman Islands, a privacy-friendly jurisdiction not part of any "Eyes Alliance." This allows them to promise a no-logs policy to protect you from all sorts of snooping eyes. However, their logging policy hasn't been verified by an independent audit.
Apart from that, FastestVPN isn't as fast as its name suggests. The speed and latency are below average, making it a bad choice for streaming, torrenting, or gaming. The service does have some servers that are optimized for streaming and can bypass geo-blocks, but it requires a lot of trial and error to find them.
The provider offers decent security features, including a kill switch, ad-blocker, and double VPN servers. However, there's nothing that sets it apart from the competition. That said, FastestVPN isn't as good or as fast as it claims, and we can't let it get away with these claims by saying - you get what you pay for - because many services with the same price tag perform much better.
At TechNadu, we strive to be as objective as possible and make sure the way we review VPNs is fair, accurate, and unbiased. We also try to simplify VPN comparisons. To do that, we've prepared the following table with some basic but important facts about FastestVPN.
| | |
| --- | --- |
| Jurisdiction | Cayman Islands |
| Logs | No activity logs; No connection logs. |
| Servers | 500+ servers in 39 countries. |
| Simultaneous Connections | 10 |
| Supported Devices | Windows, macOS, iOS, Android, routers, and more. |
| Features | AES 256-bit encryption, kill switch, split-tunneling, DNS, and IPv6 leak protection. |
| Protocols | OpenVPN (TCP and UDP), WireGuard, IKEv2, PPTP, and L2TP. |
| Supports | Torrenting and streaming (Netflix US, BBC iPlayer, Hulu, Amazon Prime Video, and more). |
| Customer Support | Live chat, email, and knowledge base. |
| Price | From $2.08/month |
| Live Deal | 93% OFF on lifetime plan |
| Our Score | 7.3 out of 10 |
In this review, we'll evaluate FastestVPN and compare it to the best VPN services by looking at various factors, such as speed, security, privacy, reputation, pricing, and customer support.
Let's start by exploring the origin of the service and its trustworthiness.
Background, Jurisdiction & Reputation
FastestVPN is based in the Cayman Islands, guaranteeing to protect your privacy and never store any of your data. It also has a clean record of no data breaches. Our Score: 9/10
Just like with any other VPN review, we'll start by taking a look at FastestVPN's background. This will help us determine how trustworthy and reliable this VPN is. 
Where Is FastestVPN Based?
FastestVPN comes from the Cayman Islands, a haven for privacy-oriented businesses. This is because the Cayman Islands are an autonomous territory and can make their own laws.
One of these laws is the Data Protection Law (DPL), which grants new rights to individuals regarding their personal information and limits data logging in various ways. FastestVPN says that it complies with this law up to its full extent.
However, we'd like to know more about the company behind FastestVPN. Its website only says that it was founded by "a team of IT specialists" and doesn't provide any other details.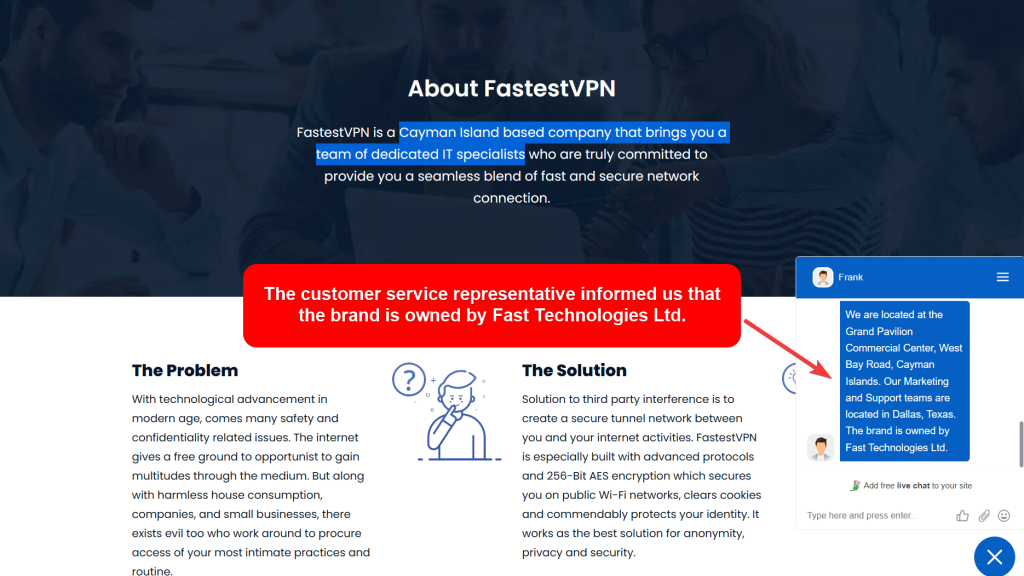 When we contacted FastestVPN's customer support, they informed us that while their headquarters are in the Cayman Islands, the marketing and technical support teams are based in Dallas, Texas. It was also revealed to us that FastestVPN is owned by Fast Technologies Ltd.
This raises some questions about the true location and jurisdiction of FastestVPN. Nevertheless, we have not found any evidence of wrongdoing or malpractice by the brand in the past.
Did FastestVPN Leak Personal Data in the Past?
No, FastestVPN has had no personal data leaks in the past. The service assures us that it doesn't collect personal information. We're inclined to trust this assurance because FastestVPN operates from the Cayman Islands, a territory with strong data protection laws. 
This VPN also has a limited number of users, which makes managing its data security much easier. Still, we would like FastestVPN to undergo an independent audit to verify its claims. This would make us trust the service more confidently. But as of 2023, we do not have any doubts about FastestVPN's safety or integrity.
Supported Platforms & Devices
You can use FastestVPN on any device you want, thanks to its native apps for all the popular platforms. For the rest, there are manual setup guides. Our Score: 10/10
One of the key factors to consider when choosing a VPN is its compatibility with different devices and platforms. FastestVPN offers native apps for a wide range of popular (and less popular) operating systems, making them easy to install and use. 
| | |
| --- | --- |
| Desktop Platforms | Windows, macOS. |
| Mobile Platforms | Android, iOS. |
| Web Browsers | Google Chrome and Firefox. |
| Routers | DD-WRT, Tomato, OpenWRT, and many others. |
| Manual Configurations | Linux, Android TV, Amazon Fire OS, and more. |
FastestVPN offers native apps for Windows and macOS desktop platforms, as well as Android and iOS mobile devices. Apart from that, you can also manually configure it on Linux.
The service also has extensions for Chrome and Firefox. These are not full-fledged apps but proxies that only secure your browser traffic. But the good news is that you can run up to 10 VPN connections at once on any number of devices.
The service offers support for Fire OS as well, but there is no app available on the Amazon App Store. If you want the app, you must sideload it on your device. The same goes for compatible Android TV boxes.
The provider also claims to support gaming consoles and Apple TV, but don't expect to find a native app here either. Instead, you will have to follow tutorials on how to set up different VPN protocols manually. Or, if you have any past experience, you can install FastestVPN on a router and protect all your devices at once.
Installation & Initial Configuration
Although we encountered some strange behavior, FastestVPN is easy to set up. Just download the app from the website, install it on your device, and you're ready to go. Our Score: 8/10
To use this service, you first need to subscribe to FastestVPN. After that, you can download and install the app. You don't have to log in to the website to do this. Enter your user credentials directly into the app after it's installed, and you're ready to go.
We started our testing by installing the FastestVPN app, which was about 25 MB in size. It only took a few seconds to complete this part of the process.
The streamlined installation process is great, but we encountered some problems with the app. Strangely, it launched many background processes that we couldn't identify. Then, when we tried to uninstall FastestVPN, it consistently crashed. By the way, the app also crashes while switching between the servers. And the background processes remained active even after the crash. We contacted their support team, but there was no satisfactory reply.
Prominent Features
FastestVPN has all the essential features you might need. Apart from that, it also offers some of the more advanced options. Our Score: 7.5/10
FastestVPN covers the basics well. It prevents DNS/IPv6 leaks and lets you use the VPN without restrictions. It also blocks harmful ads and malware, though the details of this feature are unclear. Find more information in the table below.
| | |
| --- | --- |
| DNS Leak Protection | YES |
| IPv6 Leak Protection | YES |
| Kill Switch | YES |
| Split Tunnelling | YES (only on Android) |
| Ad-Blocker, Anti-Malware | YES |
| Unlimited Server Switches | YES |
| Unlimited Bandwidth | YES |
| Unlimited Data | YES |
Here are the main points you should know about each feature.
DNS and IPv6 Leak Protection: To ensure your online activity remains private, FastestVPN provides protection against DNS and IPv6 leaks. DNS leak protection prevents your DNS requests from being routed outside the VPN tunnel, while IPv6 leak protection blocks potential IPv6-related leaks that could compromise your privacy.
AES-256 Encryption: For top-level security, FastestVPN uses industry-standard encryption to hide all your online activities and data. This encryption makes it nearly impossible for hackers or anyone else to intercept or steal your data.
VPN Protocols: FastestVPN supports multiple protocols, including OpenVPN, WireGuard, and IKEv2. OpenVPN TCP and UDP are both available. WireGuard is a newer protocol known for its speed, making it a great choice for streaming and torrenting.
Kill Switch: FastestVPN's kill switch feature protects your privacy by shutting down your connection if your VPN connection drops, which prevents data leaks. It's important to note, however, that the kill switch of this service doesn't work reliably on all systems.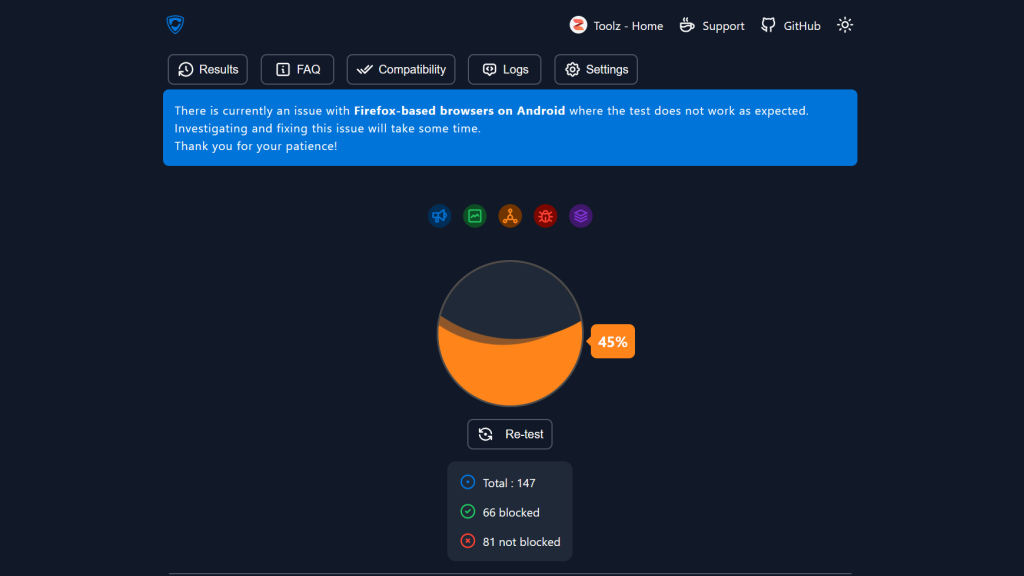 Ad and Malware Blocker: The service includes a built-in ad and malware blocker enabled by default on all its apps. However, our test suggests that this blocker doesn't work very well and stops only about 45% of ads and trackers. 
Split Tunneling: Only the Android app has a split tunneling feature, which lets you pick which apps can use or skip the VPN network. It'd have been nicer to have this option on other platforms like Windows or iOS.
D-VPN: For extra security, FastestVPN offers a double VPN feature called D-VPN, which allows you to route your connection through two VPN servers. However, this feature is limited to just three available routes.
Unlimited Server Switches and Bandwidth: This VPN lets you switch between servers and locations as often as you want without any restrictions. This feature ensures that you can always find the fastest and most reliable server to suit your needs, no matter where you are.
Server Count & Infrastructure
FastestVPN has one of the smallest server networks out of all the VPNs we've tested, offering just over 500 units in nearly 40 countries. Our Score: 4/10
When searching for a VPN, it is crucial to pay attention to the number of servers it provides. Ideally, you would want a VPN with a vast network of servers spread across the globe. 
| | |
| --- | --- |
| Number of Servers | 500+ |
| Number of Locations  | 50+ |
| Number of Countries  | 39 |
| Specific Cities Selection  | YES (US servers) |
| Unlimited Switching | YES |
Obtaining accurate information about FastestVPN's server fleet was not easy. Unlike most VPNs that proudly advertise their number of servers, FastestVPN does not do so. As a result, we had to rely on information provided by the company's support team.
That said, FastestVPN offers over 500+ servers in 39 countries, with more than 50 locations. While we couldn't independently verify the number of servers, we do know that FastestVPN's network is relatively small compared to the best VPNs with the most countries and servers.
Moreover, FastestVPN's server network is heavily concentrated in the Western world. Therefore, users in other parts of the globe may experience suboptimal connection speeds. It is worth noting that the US is the only country with city-level server options (11 cities in 10 states). 
Lastly, while FastestVPN's server count may be small, it still offers a decent set-up, such as unlimited server switching and connecting to specific US cities. Nevertheless, users in Africa, South America, and the Middle East may want to consider other VPNs with a more extensive server network.
UI/UX Design & Ease of Use
FastestVPN offers a user-friendly interface that makes it easy to navigate and configure the settings. However, the performance of the service could be better if the apps were updated regularly and the bugs that affect the user experience were fixed promptly. Our Score: 5/10
FastestVPN's design hasn't undergone any significant changes for well over a year. As a result, the interface appears outdated and frequently exhibits performance issues. However, despite these issues, it remains surprisingly easy to use.
We recently conducted a test of the FastestVPN app on our Windows PC, and here's what you can expect from the application.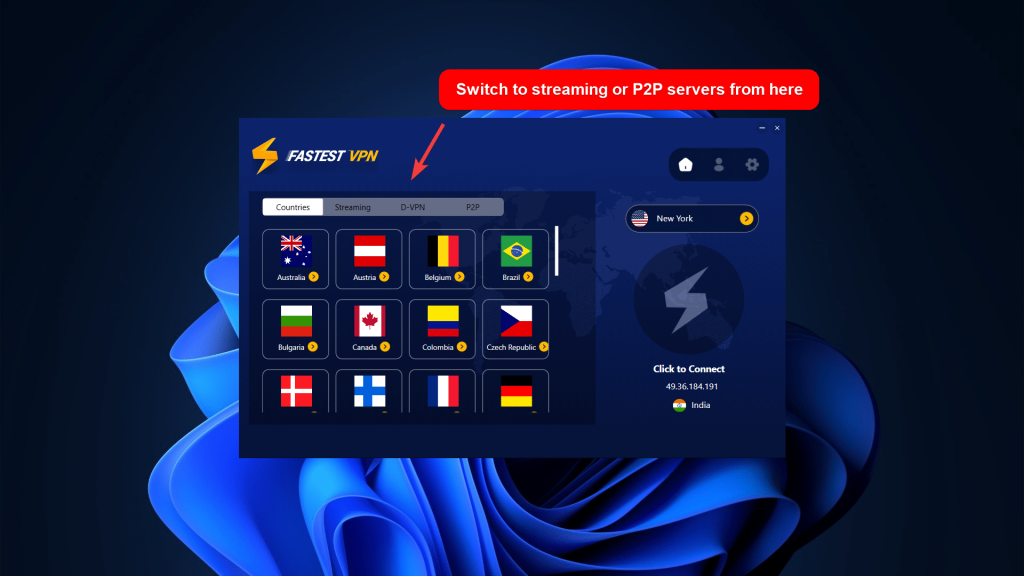 Home Screen: Upon logging in to your FastestVPN account, you'll be directed to the home screen, which includes everything you need to get started. In the top right corner, you'll find three buttons: a server list button shaped like a star, an avatar button to access your account, and a cogwheel icon to access the settings page. By default, the server list icon is selected when you launch the app.
Server Lists: After clicking the star button on the home screen, you'll be presented with a list of server locations. There are separate categories for streaming, P2P, and double VPN connections. To select a server, click on its location and then click on the large lightning icon on the right. After a few moments, FastestVPN will connect you.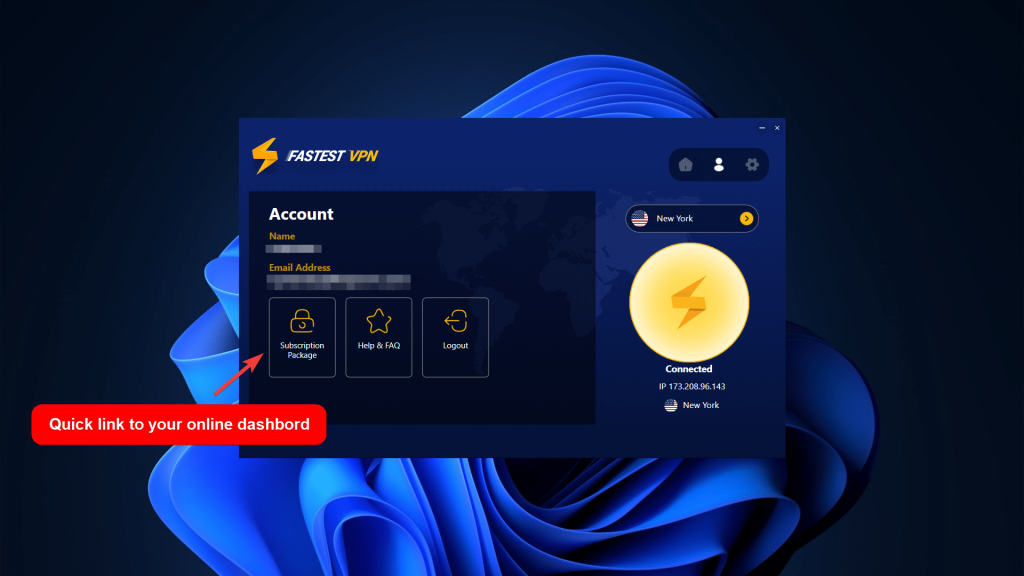 Account: The avatar icon located in the top right corner of the home screen leads you to the account screen. This section displays your name, the email address you used to sign up for the service, and quick links to your online dashboard and support page. You can also use this screen to log out of the app.
Settings: The settings section provides access to FastestVPN's protocols. You'll find four checkbox setting options, including "Launch at startup," "Automatic redial," "Kill switch," and "Auto-connect at launch." At the top, you'll find some useful links, including the direct link to change your password and access chat support. 
Media Streaming, Torrenting, and Gaming Support 
With FastestVPN, you can access streaming services from different regions. However, you'll have to try different protocols and servers to find the best ones. While the VPN supports P2P file transfers, its low speeds may affect torrenting and gaming. Our Score: 6/10
One of the main reasons people use VPNs is to unblock streaming services. That's why we evaluate every VPN based on how well it can unblock the most popular streaming platforms.
| | |
| --- | --- |
| Netflix US  | YES |
| Hulu  | NO |
| BBC iPlayer  | YES (via IKEv2) |
| Amazon Prime Video | YES (via IKEv2) |
| Disney Plus | YES |
| HBO Max | YES |
| ESPN+ | YES |
| Torrenting (P2P)  | YES |
| Gaming | NO |
FastestVPN has dedicated servers for streaming popular platforms like Netflix US, HBO Max, Disney+, and ESPN+. We were able to unblock these services and watch high-quality videos without buffering. However, we had some issues with BBC iPlayer and Amazon Prime Video. We had to switch to the IKEv2 protocol to access them, which wasn't very convenient. Also, the streaming server from Italy didn't work and crashed the app.
FastestVPN allows P2P traffic on most of its servers and has a strict no-logs policy. However, we weren't impressed by its speeds, which were very slow compared to those of other VPNs. The kill switch feature was also occasionally unreliable. Also, there's no port forwarding here.
In terms of gaming, FastestVPN didn't perform well either. We experienced a lot of lag and high ping times when playing online games. We tried using the OpenVPN (UDP) protocol, which was supposed to have lower latency, but it didn't make much difference. We also had trouble connecting to some servers and had to restart the app several times.
Security & Privacy
FastestVPN's logging policy is one of the only things that's exceptional about it. Our tests have shown that the service can protect your data without any data leaks. Our Score: 8/10
In the world of VPNs, added features are all well and good, but what truly matters is the ability to keep you safe online. We place special emphasis on this as we learn more about FastestVPN's encryption protocols, logging policies, and DNS leak protection.
FastestVPN Protocols
FastestVPN uses the OpenVPN protocol, which is pretty strong and trusted by many. Apart from that, the service also employs WireGuard and IKEv2 for added layers of protection. 
| | | | |
| --- | --- | --- | --- |
| | OpenVPN | WireGuard | IKEv2 |
| Windows | YES | YES | YES |
| macOS | YES | YES | YES |
| iOS | YES | YES | YES |
| Android | YES | YES | YES |
Let's go through each of these protocols:
OpenVPN: This protocol is widely recognized as the most secure protocol. It can operate over both TCP and UDP transport layers. While TCP is more dependable, UDP is faster but less reliable. FastestVPN provides both options, but for most cases, we recommend using OpenVPN UDP, as it delivers better performance and lower latency. However, when connecting to the US server, it seems that OpenVPN TCP offers better speeds.
WireGuard: FastestVPN also offers WireGuard, which promises faster, more secure, and more efficient connections than OpenVPN. Using state-of-the-art cryptography, it provides high-speed connections with minimal overheads. It has recently added WireGuard support in all its apps - for Windows, macOS, iOS, and Android.
IKEv2: Another fast and secure protocol that works well in FastestVPN's apps is IKEv2. In our experience, this one quickly reconnects to the VPN server after network interruptions. The service offers IKEv2 for all platforms. We recommend using it when you connect to the US server, as it has the best streaming performance among all protocols.
Does FastestVPN Keep Logs?
No, FastestVPN doesn't keep logs. Upon reviewing FastestVPN's Privacy Policy, it's clear that they prioritize their users' privacy. They explicitly state that they don't collect any logs except for the user's email address used for registration purposes.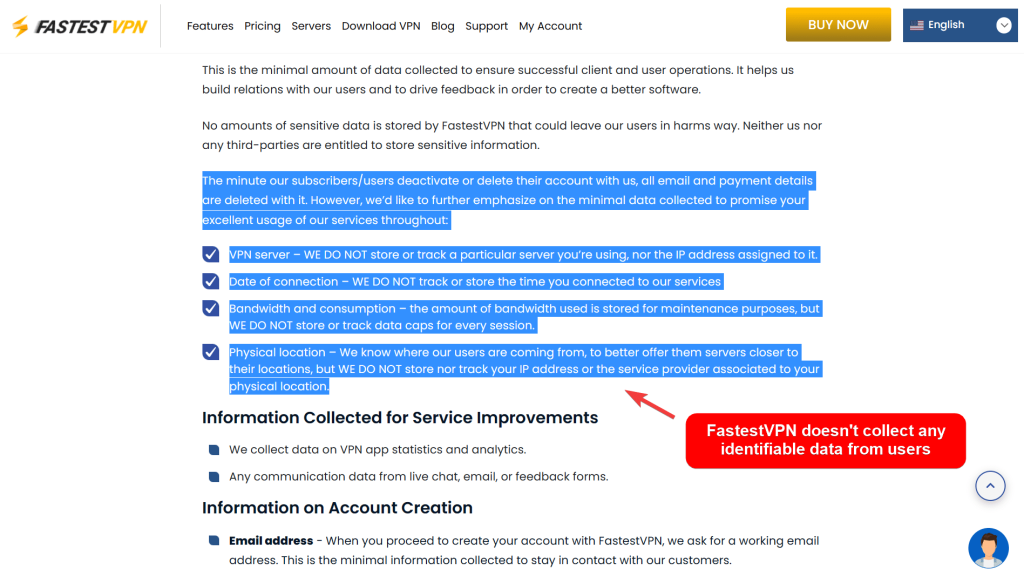 It's worth noting that when users deactivate their accounts, FastestVPN immediately removes email addresses from their servers. In addition, the VPN doesn't log any other data, including IP addresses or any form of aggregated data.
However, as FastestVPN is still a relatively new provider, there's no way to verify the accuracy of these claims. In other words, we'd like to see an independent audit of FastestVPN's no-logging policy to verify their claims.
In our experience, it's always better to have a third party verify the accuracy of a company's policies. Without such verification, it's difficult to know for sure if the VPN provider's privacy policy is legitimate.
Does FastestVPN Leak Your Private Data?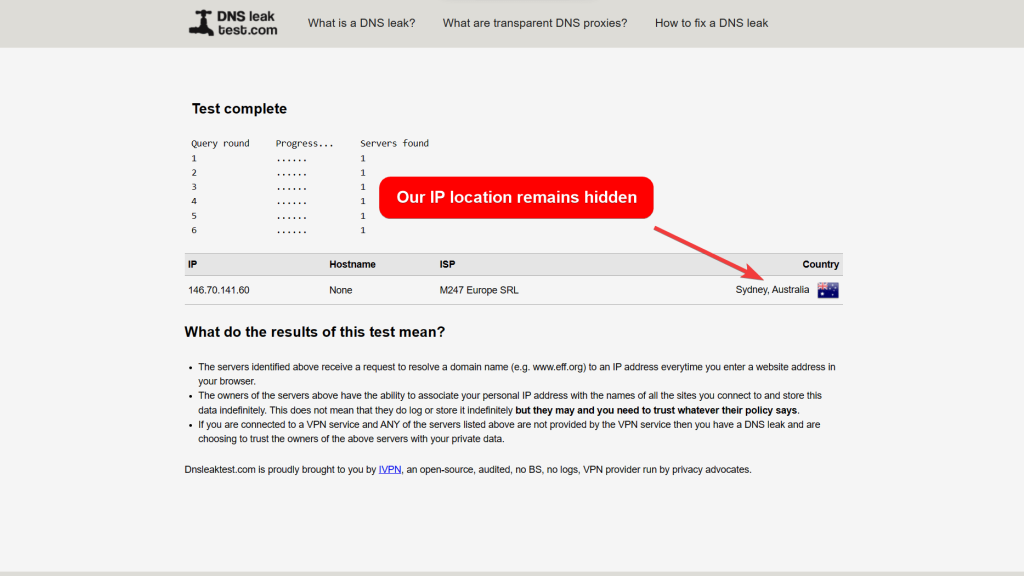 No, FastestVPN doesn't leak your private data. Ensuring that a VPN doesn't leak sensitive information is of the utmost importance. In this regard, we decided to test FastestVPN by connecting to a virtual server and conducting a DNS leak test to detect any concerning behavior.
FastestVPN did not leak any sensitive data during the test. We are pleased to report that the websites that were visited using the service showed the user's virtual IP address, which can't be traced back to their true physical location.
Speed & Performance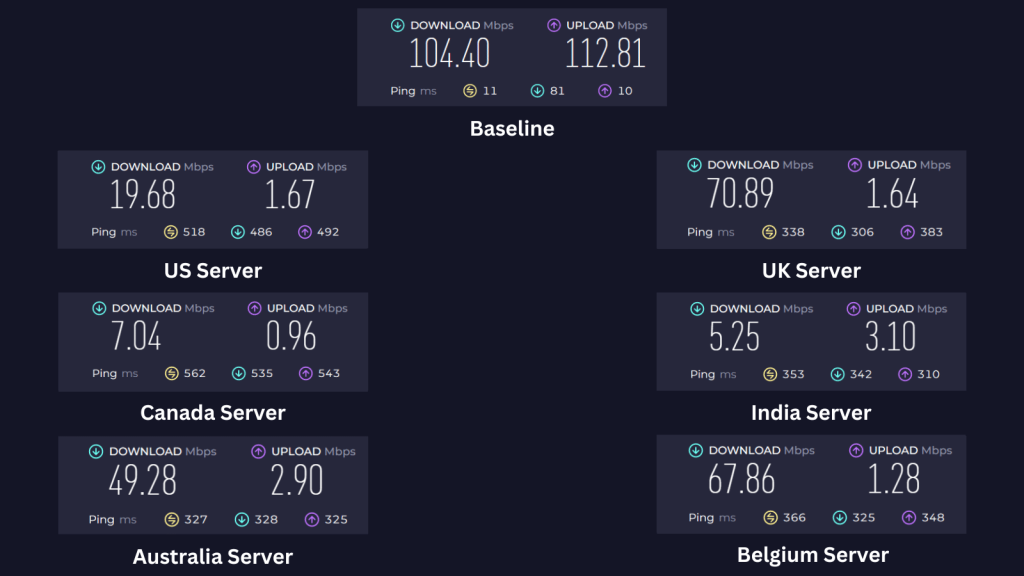 We weren't impressed by FastestVPN's performance, as it reduced our download speeds by around 65% on average. This had a significant impact on the quality of media streaming and resulted in unsuccessful connections or very sluggish streams. Our Score: 4/10
In this section, we'll share the results of our speed tests of FastestVPN's performance. To conduct these tests, we connected to various servers. However, before we did so, we first measured our regular Internet speed.
That said, our initial speed tests on a 100 Mbps connection showed a download speed of 104.40 Mbps and an upload speed of 112.81 Mbps. Now, let's dive into how FastestVPN performed in our tests and what you can expect from its speed.
Belgium Server: This server showed a moderate reduction in speed by 35%, with a download speed of 67.86 Mbps and an upload speed of 1.28 Mbps. Despite this reduction, it was still faster and outperformed most servers on the list.
UK Server: Among all the servers tested, the UK server showed the best performance, with a speed reduction of 32% and a download speed of 70.89 Mbps.
US Server: The server in the US was very slow, with only 19.68 Mbps for downloads and 1.67 Mbps for uploads. That's 81% less than our baseline speed. 
Canada Server: This server was very slow, dropping by 93% to 7.04 Mbps for downloads and 0.96 Mbps for uploads. The performance was much lower than the normal speed for both types of data transfer. This might not be enough even for simple browsing.
India Server: The server in India exhibited the poorest performance among all the servers tested. The reduction was 95%, with a download speed of 5.25 Mbps and an upload speed of 3.10 Mbps. 
Australia Server: 53% of speed reduction on the Australian server made this one slightly better than the other servers. With a download speed of 49.28 Mbps and an upload speed of 2.90 Mbps, you can use this server for streaming without hiccups.
| | | | |
| --- | --- | --- | --- |
|   | Download Speed | Upload Speed | Speed Reduction |
| Baseline Data | 104.40 Mbps | 112.81 Mbps | N/A |
| Belgium (Brussels) | 67.86 Mbps | 1.28 Mbps | 35% |
| UK (London) | 70.89 Mbps | 1.64 Mbps | 32% |
| US (Streaming) | 19.68 Mbps | 1.67 Mbps | 81% |
| Canada (Montreal) | 7.04 Mbps | 0.96 Mbps | 93% |
| India (Delhi) | 5.25 Mbps | 3.10 Mbps | 95% |
| Australia (Sydney) | 49.28 Mbps | 2.90 Mbps | 53% |
FastestVPN's performance falls below average compared to other VPN services. On average, it reduced our Web connection speed by 65%, which is a significant setback. This reduction in speed is noticeable across all servers, except for the UK and Belgium servers, which offer good download speeds.
Customer Support
There are numerous support channels – some of which are more helpful than others. Overall, FastestVPN is there for you, always willing to assist. Our Score: 10/10
Without having someone to rely on, using a VPN can become a hectic experience. After all, VPNs are technical solutions, so something can go wrong with no clear explanation. That said, we've checked FastestVPN's support, and here's a breakdown of the available options:
Live Chat Support: This VPN offers 24/7 live chat support on its site. You can launch this option from just about any page. We've used live chat a couple of times - and FastestVPN's support agents were always fast to respond.
Knowledge Base: If you prefer finding answers on your own, check out the knowledge base section on the website. It contains various resources and guides to help you use the VPN more effectively. 
FAQs: A section with frequently asked questions is there to help you clear up some doubts, especially about installing and using this VPN. Here, you can find answers to common questions, such as how to recover your account, request a refund, and more.
Setup Tutorials: You'll be happy to know there are detailed guides to teach you how to install this VPN on a wide range of systems. You can learn how to set up FastestVPN on Windows, Mac, iOS, Android, Linux, Fire TV, Kodi, routers, and more. 
Email Support: You can always send an email and open an official support ticket. This option is useful if you have a more complex or technical issue that requires more attention. If you encounter any problems, write to support@fastestvpn.com and expect a reply within 24 hours.
Pricing
FastestVPN's one-month plan won't save you money. However, you'll find incredibly steep discounts on its longer-term plans. Our Score: 9/10
FastestVPN comes with a series of subscription plans, some of which offer really attractive savings. To know what each plan offers, let's review them one by one.
1-Month Plan: This plan is ideal for those who want to try out the service for a short period. It gives you full access to all the features and servers of FastestVPN for only $7.00/month. You also get a 15-day money-back guarantee, free Internxt 2TB cloud storage, and a password manager.
1-Year Plan: If you want to save money, you can commit to a longer-term plan. The one-year subscription offers a huge 85% discount compared to the monthly plan, as you only pay $2.08 monthly. Apart from that, you get all the benefits of the monthly plan.
Lifetime Plan: For a one-time payment of $40, you can enjoy lifetime access to FastestVPN with this plan. You can get the best value for money with this one, as you save 93% compared to the monthly plan and never have to worry about renewing your subscription. You also get all the features mentioned above. 
The one-month plan of FastestVPN isn't very attractive. But you can get huge discounts with longer-term plans. This service is one of the cheapest VPNs we have seen. You also have a 15-day money-back guarantee, and you can pay with a credit card, PayPal, or crypto.
Final Thoughts
FastestVPN is a privacy-focused service that doesn't collect user data. It offers secure and anonymous browsing at an affordable price. However, it may not satisfy users who want more customization or faster speeds, as it falls behind most of its competitors in these aspects. Also, it's one of the cheapest VPNs at the moment - but that's not really a significant benefit, as most VPNs are more capable than FastestVPN.
If you value your online security and privacy above all else, we recommend FastestVPN. It also offers a free trial that lets you test FastestVPN's features before you commit.  
PROS
Affordable lifetime plan.
Good at unblocking streaming platforms.
Fast live chat support.
No data leaks.
Doesn't collect personal data.
Ad- and malware-blocker.
CONS
Very limited server network.
Problematic performance.
Connection failures & bugs.
Router installation is tricky.
FAQ
Who Owns FastestVPN?
FastestVPN is owned by Fast Technologies Ltd., a company registered in the Cayman Islands.
How Secure Is FastestVPN?
FastestVPN is a reasonably secure service. It offers advanced encryption protocols along with a no-logs policy and other features such as a kill switch and double VPN. 
Does FastestVPN Offer Lifetime Subscription?
Yes, FastestVPN offers a lifetime subscription for just $40 and permits up to 10 simultaneous connections. Additionally, the service is based in the Cayman Islands and boasts over 550 servers in 39 countries, ensuring a reliable experience.
Is FastestVPN Good?
Yes, FastestVPN is a reasonably good service with a lifetime deal costing only $40. It allows up to 10 simultaneous connections, supports P2P traffic on most servers, and can unblock popular streaming platforms such as Netflix, Disney+, and HBO Max.
Does FastestVPN Work on Firestick?
Yes, FastestVPN works on Firestick and other Fire TV devices. The service is compatible, but it doesn't have a dedicated app for the platform. This means you'll need to sideload it.