For the most part, ExpressVPN works without any issues on Android – even without tinkering with its settings. However, highly powerful VPNs such as ExpressVPN are backed by high-end technologies, so things can go wrong on occasion. With that said, if you've experienced issues related to ExpressVPN not working on Android, we've here to help. 
Our team has put together a group of quick and easy fixes, helping you regain your online anonymity and resolve issues with ExpressVPN on Android. And don't worry, as we won't ask you to do any deeper-level changes, like rooting your device. We'll stick to easy solutions that have proven to work in the past. 
Check These 8 Quick & Easy Solutions When ExpressVPN Stops Working on Android
Perhaps you have a hard time logging in to ExpressVPN, or you can't manage to achieve a stable VPN connection. The cause of ExpressVPN not working on your Android could be in the app itself or your operating system's limitations. Here's what you need to do. 
1. Check If Your Web Connection Works Properly
Are you 100% sure that ExpressVPN is to blame for your Internet connectivity issues? Considering that VPNs such as this one come with unlimited resources, many of us tend to use them at all times (in the background). With that said, you could take a step back and recheck if your Web connection works properly (without the VPN) in the following way. 
Ensure that you're not connected to a VPN server, and make sure that ExpressVPN doesn't run in the background. So, open the multitasking panel on your phone and close ExpressVPN if it's open. 
Then, launch your favorite Web browser and try visiting any website. Does everything work as it should? Do you see any error messages? Do websites open at their usual speed? 
You should also run a speed test of your Web connection (using a mobile Web browser on Android). Check and see if you're getting the speeds promised by your ISP. If you see a drastic difference, it's time to check in with your ISP and see if there are any (temporary) issues in your area or city. 
Also, remember that your Android smartphone offers two types of Web connectivity options. You could connect to a Wi-Fi network, or you could use your mobile carrier's network data. Pay attention to which of these you use and test accordingly. 
2. Having a Hard Time Logging Into ExpressVPN? 
To log in to the ExpressVPN app on Android, you need to supply your email and password. This is typically a straightforward procedure that takes no more than a few seconds. However, if you're on a restricted network (we've seen that happen on Google's Fiber network), you might have a hard time even getting into the ExpressVPN app.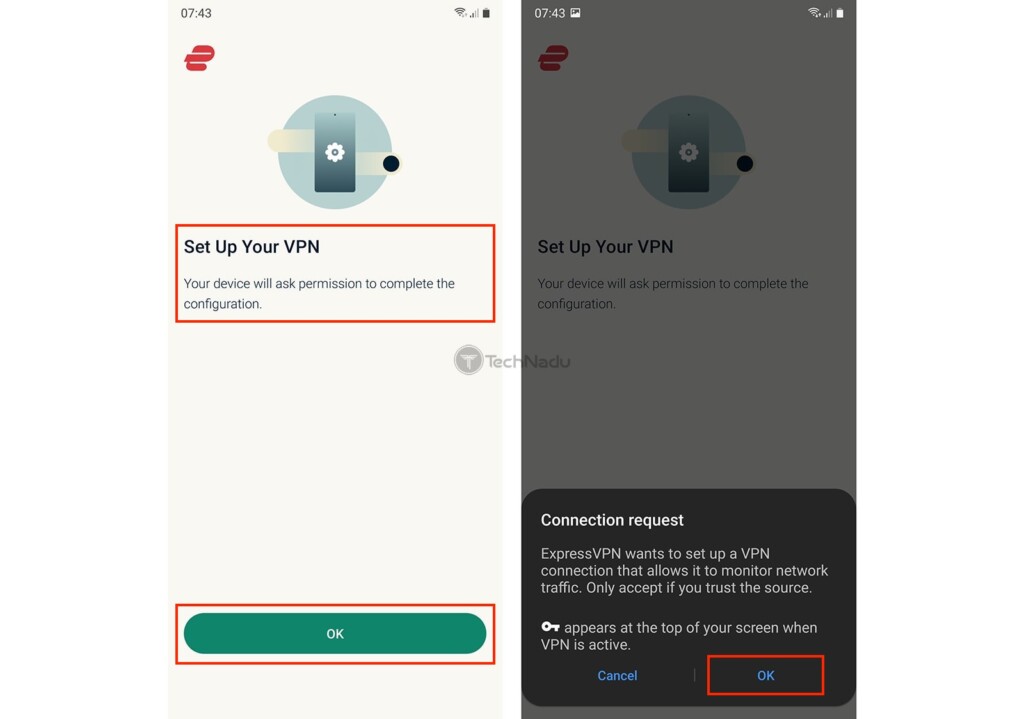 The trick to resolving this issue is to switch to your carrier's mobile data. In other words, disconnect from your Wi-Fi network (or disable Wi-Fi altogether, temporarily) and switch to mobile data for a while. Then, try logging in again. Once you get to ExpressVPN's home screen, feel free to enable Wi-Fi again and use the VPN as you normally would.
3. Try Connecting to a Different VPN Server
We're sure that you have a group of favorite VPN servers, which you use often. ExpressVPN helps you with that by pushing you to use nearby servers, as well as to make lists of favorites. However, VPN servers can face technical issues or encounter congestion issues (remember that ExpressVPN is one of the most popular VPNs out there, used by millions). 
With that said, if ExpressVPN doesn't work on Android in your case, you might want to switch to a different server. To do that, go through the following steps. 
Launch ExpressVPN and click on the name of the last used server. Alternatively, you can click on the icon representing three small dots on the right side. This will open a list of ExpressVPN's servers.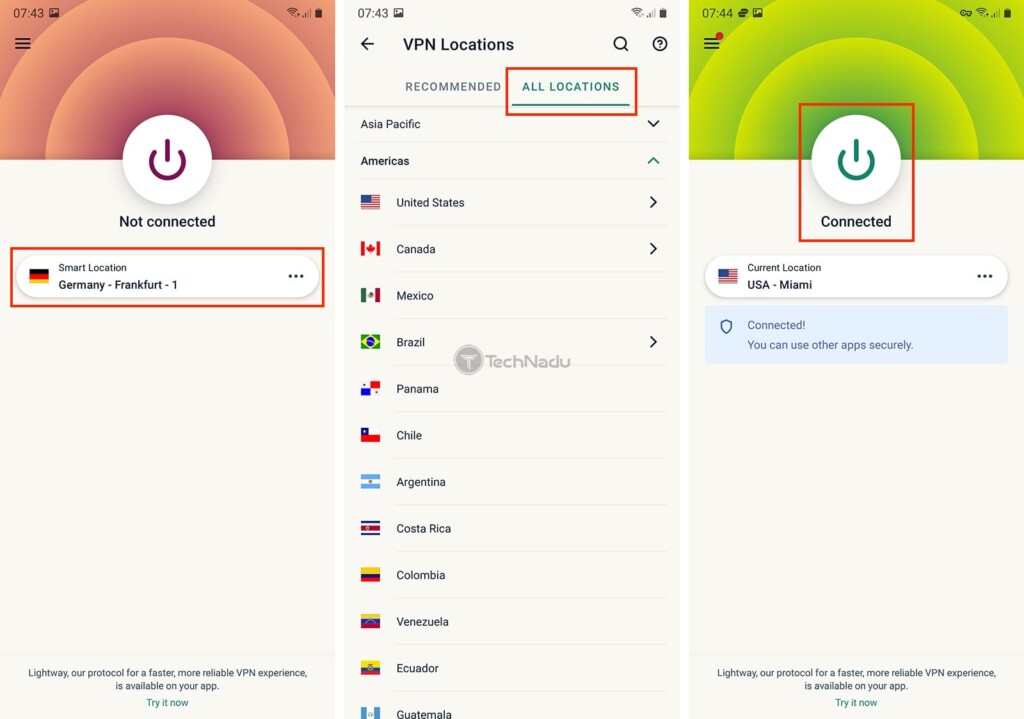 You're free to preview the available servers in several ways. However, don't just rely on the 'Recommended' tab. Instead, feel free to click on 'All Servers' and test several servers across several countries. See if there's any difference in connecting to those servers, as well as if ExpressVPN manages to create a stable VPN connection.
4. Have You Tried Using a Different VPN Protocol? 
This piece of advice goes hand-in-hand with the previous recommendation. However, instead of trying different servers, you might want to try a different VPN protocol. Keep in mind that each VPN protocol dictates how you connect to the Internet, and each comes with its own set of servers. 
Due to those reasons, changing a protocol can often be a possible solution when ExpressVPN stops working on Android. With that said, here's what you need to do. 
Open ExpressVPN and click on the 'hamburger' button in the top-left corner. This will open the app's main menu, using which you need to tap on 'Settings.'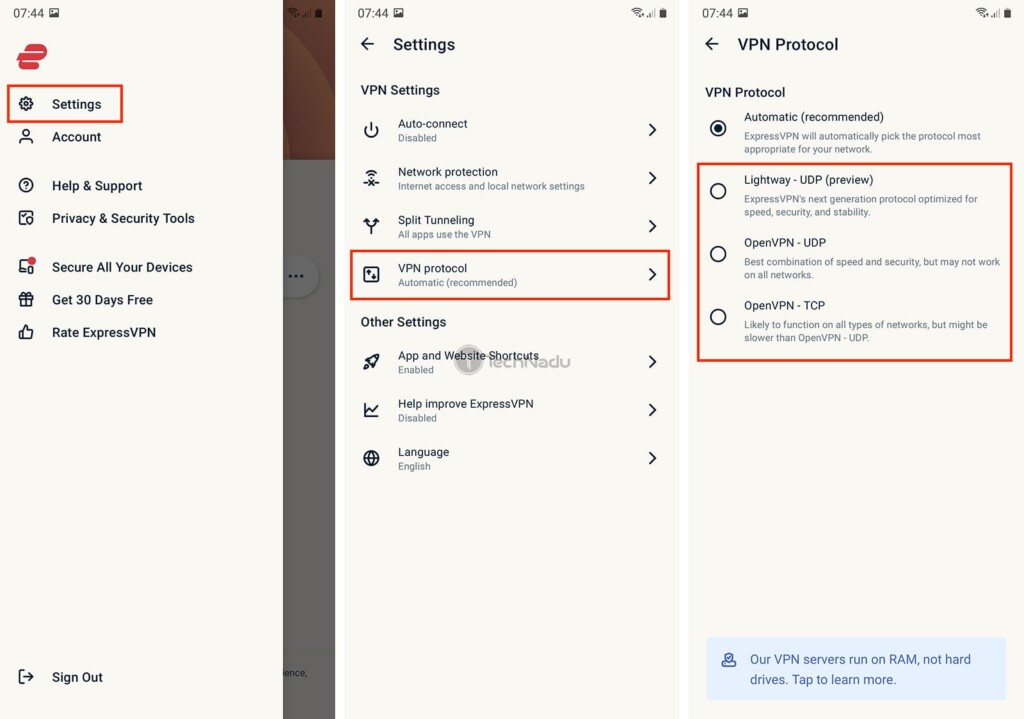 Next, you need to tap on 'VPN Protocol,' which will prompt ExpressVPN to list the available protocols on Android. You can choose from OpenVPN/UDP, OpenVPN/TCP, and Lightway (ExpressVPN's proprietary protocol). Tap on any of those, and then return to ExpressVPN's home screen and try connecting to a different server.
5. Have You Updated Your Android OS & ExpressVPN? 
Using the latest Android version paired with the latest ExpressVPN version, you're making sure to avoid technical issues. Know that ExpressVPN is a fast-evolving VPN app, with new updates being released regularly. They follow Android's updates as well, often bringing security patches and cybersecurity refinements.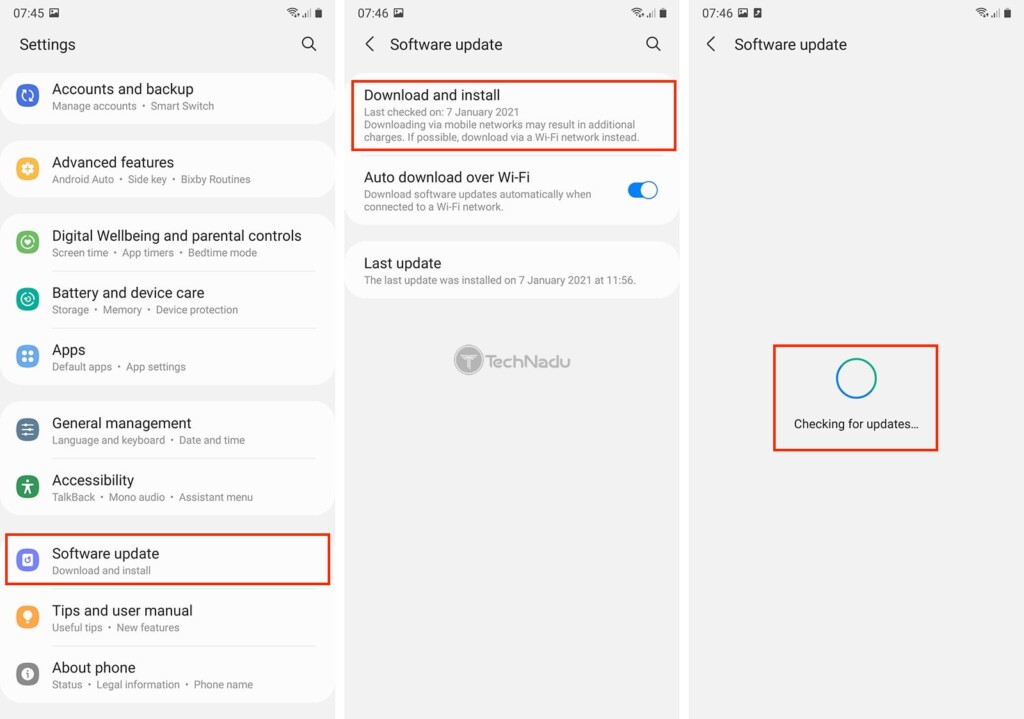 With that said, we highly recommend updating both your Android OS and your ExpressVPN app. Updating Android is typically done with the Settings app (Settings > Software Update), and you can update ExpressVPN by visiting Google's Play Store. 
If you've updated ExpressVPN recently, and if you believe that update might be causing an issue, you'll need to adjust your troubleshooting efforts. Here's what to do if ExpressVPN fails to work after an update.
6. Do You Use Other VPNs & Antivirus/Firewall Apps? 
ExpressVPN doesn't recommend having more than a single VPN app on your Android device. That could create a software conflict, or even more worrying – that could lead to your personal information leaking on the Web. 
Keep in mind that VPNs come in several forms on Android. You can install any VPN app from Google's Play Store, or you can set-up a VPN connection manually (usually done via the Settings app). So, checked whether you have more than a single VPN set up. And if you do, remove any other apps and leave ExpressVPN to be your only and primary VPN. 
The same applies to antivirus/firewall apps. We all know that Android has a problem with adware, spyware, and other types of malware. However, keep in mind that cybersecurity apps can cause ExpressVPN to stop working on Android. So, either pick a reputable antivirus (that lets you add exceptions to its real-time scanning) or stay away from shady apps altogether.
7. Recheck Your Android's Battery Optimizations
Recent versions of Android come with built-in battery optimizations. This mobile operating system now comes with software measures to control how individual apps work. More precisely, Android can disable certain features of individual apps, which might cause ExpressVPN to stop working on your smartphone or tablet.
With that said, you'll need a guide on how to disable ExpressVPN's battery-saving measures, ensuring that no disconnects happen. And while tinkering with your device's settings, feel free to enable a feature called 'Always-On VPN.' For detailed steps, turn to our guide on stopping your Android from disconnecting from a VPN. 
8. Try Setting up ExpressVPN on Android Manually
We always recommend going with ExpressVPN's native Android app. That's the best way to get everything this VPN offers in a convenient package. However, if ExpressVPN doesn't work on your Android, it's time to think of another solution. 
You should know that there are different ways to run a VPN connection on your Android device. Based on a protocol that you'd like to use, you can use an open-source third-party app or set up ExpressVPN via your Settings app. Here's what you need to know. 
If you wish to use OpenVPN: In this case, we recommend setting up individual ExpressVPN servers via the OpenVPN Connect app. That means that you'll use a third-party app to connect to ExpressVPN's servers using the OpenVPN protocol. To check how this can be achieved, turn to our guide on setting up an Android VPN via OpenVPN Connect. 
If you wish to use PPTP & L2TP/IPsec: If you don't want to use any VPN app, you can set up ExpressVPN on your Android manually via the Settings app. However, keep in mind that you should go with the L2TP/IPsec protocol in this case. This isn't the strongest option but should be sufficient for 'average' Internet users. For detailed steps, here's how to set-up and configure a VPN on Android manually.
This is where we end our guide on what to do if ExpressVPN fails to work on Android. If you have any questions or doubts, make sure to post your comment below. And finally, thank you for reading!