Want to multiply your crypto coins without staring at graphs all day? Well, Stake, one of the most popular crypto gambling sites, allows you to bet and play casino games using cryptocurrencies, including Bitcoin, Ethereum, Litecoin, and more. You're also free to pay via more conventional means, of course. However, you'll need to use a VPN for Stake since the platform isn't available in every country out there.
Even if Stake is available in your country, some types of games are probably blocked. That's because casino games are licensed for individual countries or regions. As a result, a VPN can help you unblock Stake from unsupported territories as well as unblock individual Stake games (such as roulette, scratch cards, or slots) not available in your country.
The best VPN will change your IP with ease, making it look like you connect from a different country. Also, it will encrypt your data (meaning no one will see what you do on Stake) and hide your actual location. So, your access to Stake will be without limitations, you'll get all the available games, and you'll protect your transactions.
In this article, we'll show you the best Stake VPN services, while also teaching you how to use one. Of course, plenty of tips and tricks await, as we'll share plenty of additional information as well. That said, let's jump right in, shall we?
Stake's ToS clearly states that: "The attempt to manipulate your real location through the use of VPN, proxy, or similar services [...] with the intent to circumvent geo-blocking or jurisdiction restrictions, constitutes a breach of Clause 5 of this Terms of Service."
In other words, using a VPN to bypass Stake's geo-blocking is against the ToS. Of course, VPNs are pretty good at masking where you access the service from. That being said, you should only do so at your own risk.
We recommend using a VPN server located in the same country every time you access the service to reduce your chances of being banned. Remember to turn on your kill switch when you go online. Using a separate browser to gamble on Stake is also a good idea.
How to Play Stake in the US and from Anywhere
To play Stake in the United States or any other country, you need to connect to a VPN server in a country where the betting platform is available. To make that happen, follow these steps:
Get a VPN that works with Stake (we recommend ExpressVPN).
Once you sign up, download the VPN app to your device.
Launch the VPN app and reach its home screen by logging in to your account.
Connect to a country where Stake is available.
You can now access Stake, log in to your account, and continue playing.
ExpressVPN comes with a kill switch that prevents your data from leaking while gambling online. Activate it by going to ExpressVPN's settings and picking the "General" tab. Then, tick the checkbox next to "Stop all Internet traffic if the VPN disconnects unexpectedly."
Best VPN for Stake
The best Stake VPN, naturally, must be able to unblock the gambling site from anywhere. It also means it should provide a sizeable server fleet (with servers in as many countries as possible). You also need access to robust protocols (OpenVPN, WireGuard) and solid encryption (AES-256). And then, you'll need native apps that are easy to use, with a kill switch included.
Based on the criteria explained above, these are the 5 best VPNs for Stake in 2023:
ExpressVPN is the best VPN for Stake because it's an excellent, beginner-friendly option if you're starting out with VPNs. More importantly, its lightning-fast server network is spread across 90+ countries. That's great news for those who want to access Stake's complete offering. Also, you'll be more likely to find a nearby server and get the best possible speeds to avoid lag during your sessions.
ExpressVPN's apps are available for a wide variety of platforms - Windows, macOS, Linux, iOS, Android, and plenty more. That means you can unblock Stake on the go whenever you're in the mood to gamble. And thankfully, ExpressVPN is a no-logs VPN provider that doesn't store your data anywhere on their network.
Otherwise, the provider is equipped with impenetrable, military-grade encryption and strong leak protection. Needless to say, the app has a built-in kill switch to turn off your connection during unexpected disconnects. After all, you wouldn't want to get banned from Stake because of a simple technical issue.
Finally, the provider features expert, 24/7 live chat support - feel free to contact them for any related issues. That said, it's obvious that ExpressVPN is the best VPN for online gambling, no matter which platform you use. As such, it's also the best VPN for Stake that money can buy today.
PROS
Unblocks Stake with ease.
Certified no-logs policy.
Highly polished interface.
Sizable server fleet.
24/7-available customer support.
CONS
No in-depth customization.
Experiencing lag during a heated gambling session can make anyone lose their nerve. However, you don't have to worry about slowdowns, as NordVPN is among the fastest VPNs overall.
Their NordLynx encryption protocol (unique for this VPN) also provides equivalent level security to established protocols like OpenVPN but with much more efficient loading times.
The provider doesn't keep any user logs, a fact well established by the many independent audits NordVPN has gone through. As expected, this Stake VPN won't leak your IP address and comes with a powerful kill switch to prevent accidental data exposure.
NordVPN also has a built-in ad-blocker and malware + phishing scam site filter, which is always welcome. And if you want that extra bit of privacy and security, try out their double VPN feature. It'll route your data through multiple servers and encrypt it twice to cover your digital tracks.
Let's not forget to mention that you also get a 30-day money-back guarantee, as well as 24/7-available customer support (with live chat on offer).
PROS
Unblocks Stake with ease.
Specialized servers on offer.
Great for practically any use.
High-end encryption.
Polished UI and UX design.
CONS
Not the most extensive server reach.
Requires some optimization.
CyberGhost VPN has a vast server network littered across 90+ countries. As such, finding a fast server close by shouldn't be a problem.
Naturally, this Stake VPN provider has everything you need to secure your gambling sessions on Stake. Strong encryption, a robust no-logs policy, as well as a permanently enabled kill switch.
You can always sign up for their specialized "NoSpy" servers, which offer better speeds and are fully controlled by the provider itself. That way, your traffic never passes through any third-party data centers, maximizing your privacy.
On top of that, you can apply for a static, dedicated IP which should help a great deal on Stake. How so? Well, you aren't sharing the same IP with thousands of other users, which could raise suspicion.
Much like NordVPN, CyberGhost VPN also has an ad-blocking and malicious domain filtering system in place. Highly useful, considering how frequently scammers tend to target users on gambling sites. There are also 45-day money-back guarantees and 24/7 available customer support.
PROS
Unblocks Stake with ease.
Ultra-secure VPN protocols.
Leak-free VPN tunnel.
Dedicated IPs on offer.
Generous money-back policy.
CONS
Not the fastest option.
High-end features priced extra.
If you're going to secure one device with a VPN, you might as well install the app on all your other gadgets. Thankfully, Surfshark lets you connect as many devices as possible using a single account.
Have a few gambling buddies that use Stake? Chip in for a long-term Surfshark plan, and you will get yourself an excellent VPN experience at the right price.
They've also implemented a double VPN option if you're adamant about hiding your tracks online. Plus, their CleanWeb feature removes annoying ads online and stops known malware and phishing domains to keep your accounts safe. Surfshark even offers GPS spoofing on Android in case your phone decides to snitch on your actual location.
Lastly, you can mask your VPN activity in regions like China, Turkey, and Russia using Surfshark's Camouflage Mode. It's unlikely that Stake has gone that far in filtering VPN traffic, but you never know. A little extra precaution never hurt anyone.
As you'd expect from any reputable VPN for Stake, Surfshark brings a generous 30-day money-back policy. It also has 24/7-available support, with live chat being one of the available options.
PROS
Unblocks Stake with ease.
Incredibly simple to use.
GPS spoofing on Android.
Wide server coverage.
Plenty of value overall.
CONS
Can take a while to connect.
IPVanish is known for its value, which means you get plenty of useful features without paying a lot. More precisely, you get a well-rounded VPN service that's more than suitable for the average home user. If you don't want to tinker with your VPN, this one should be your pick.
With IPVanish, you get access to 2,000+ servers in 75+ locations. That's not the biggest server network out there, but it covers the most popular VPN destinations. Then, you get apps for practically any platform, all of which work "out of the box."
In terms of protecting your gambling-related activities, this Stake VPN comes with AES-256 paired with OpenVPN and WireGuard. In other words, it shields your traffic from snoopers, MITM attacks, and all kinds of digital trackers. And yes, IPVanish is also an audited no-logs VPN.
Let's not forget to mention that you get unmetered connections, which means you can connect to IPVanish from as many devices as you want. There's also a 30-day money-back guarantee, as well as live chat support (which doesn't seem to be available 24/7, though).
PROS
Unmetered connections.
Works out of the box.
Suitable for beginners.
No tinkering needed.
Audited no-logs policy.
CONS
Servers in around 50 countries.
Slower than its competitors.
Why Do I Need a VPN for Stake?
You need the best VPN for Stake because that online betting platform is geo-restricted. A VPN is the only way to bypass Stake's blocks and use the platform from anywhere in the world.
According to its legal documentation, Stake isn't allowed for those that come from Afghanistan, Australia, Belarus, Belgium, Côte d'Ivoire, Cuba, Curaçao, Czech Republic, Denmark, Democratic Republic of the Congo, France, Germany, Greece, Iran, Iraq, Italy, Liberia, Libya, Lithuania, the Netherlands, North Korea, Ontario, Portugal, Serbia, Slovakia, South Sudan, Spain, Sudan, Syria, the United Kingdom, the United States (some US states), and Zimbabwe.
If you access Stake from one of the countries mentioned above, you'll encounter the following error message: "Sorry, Stake isn't available in your region. Due to our gaming license, we cannot accept players from [country.]"
On top of that, most of its casino games are licensed on a per-country basis. That means your selection of available games will depend on your location. So, you can use a VPN to gain access to more games on Stake, even if you're in a country where the betting platform already works.
Last but not least, VPNs provide much-needed protection for your privacy. As long as your VPN session is active, your connection to Stake will be invisible to anyone on the Web. So, not even your Internet provider will know what you do online.
Why Is Stake Not Available in the US?
Stake is not available in some US states due to complex gambling- and betting-related laws. So, there are states where Stake is fully legal and completely open, but there are also states where Stake is either fully blocked or restricted, such as in Washington, New York, Idaho, Nevada, and Kentucky.
If you're from one of the above-mentioned states, Stake explicitly forbids you to register. There's no way to bypass that block, as the following information is required to register: your full legal name, date of birth, permanent address, and your email.
However, if you're in any other US state, you're free to access Stake without any issues. Of course, some games are available only in some US states. Therefore, you still need a VPN for Stake if you wish to access more games on the platform.
For example, connect to a VPN server in California to unblock plenty of slot titles, table games, as well as free spins. A Stake VPN server in Florida can give you alternative bonuses. And finally, a VPN server in North Carolina gives you access to roulette, slots, and scratch cards.
How to Deposit on Stake with a VPN?
You can deposit on Stake if you have a crypto wallet or buy crypto directly from the gambling platform. Here's what that process entails:
Open your VPN application (if you don't have one, get ExpressVPN).
Connect to a VPN server in a country that has access to Stake.
Access Stake and log in to your account.
Go to Wallet > Deposit if you already have some crypto coins to spend.
Go to Wallet > Buy Crypto to buy crypto coins from Stake.
Proceed based on the instructions you'll see on your screen. That's it!
How to Withdraw Money from Stake with a VPN?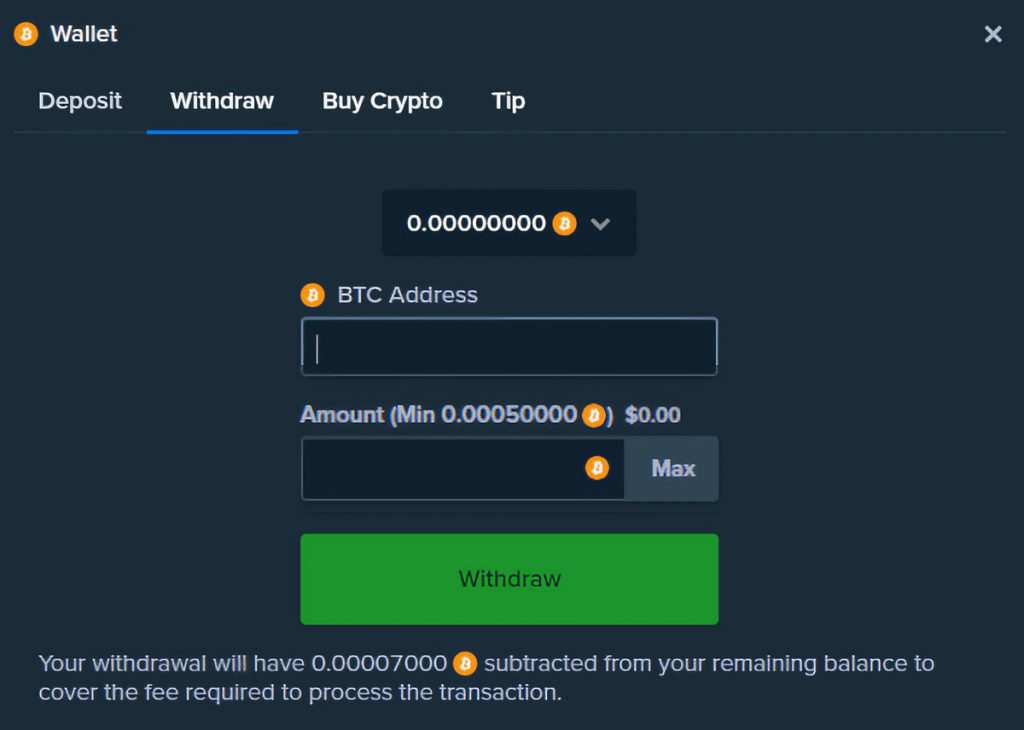 Before you withdraw your money, it's crucial to protect your Web connection with a Stake VPN. Here are the steps you need to take:
Launch your VPN app (we recommend ExpressVPN if you don't have one).
Connect to a VPN server in a location/country where Stake is available.
Access Stake and log in to your account.
Click "Wallet," and a pop-up should appear on your screen.
Pick "Withdraw," enter any amount, and click the green-colored "Withdraw" button.
Before you can withdraw any money, you must verify your email address. That shouldn't be a problem as long as you have access to your email. Also, keep in mind that there's a minimum withdrawal limit, so follow Stake's instructions before withdrawing your money.
Where Is Stake Legal?
Stake is legal in most countries, with countries such as Canada, Austria, and Germany having access to every game that Stake offers. That said, Stake is legal and accessible in most countries (with the US and Australia being exceptions) - but its selection of games varies on a per-country basis.
However, you can bypass that limitation. As explained earlier, the trick is to use a VPN service and connect to a country where Stake offers more casino games. That way, you'll gain full access to Stake's offer, letting you deposit and withdraw funds without limitations.
We'll also remind you that not every VPN is capable enough, especially when it comes to online gambling. So, don't take any chances and get the best VPN for Stake, such as ExpressVPN.
Best VPN Location to Bet on Stake
Not all casino games on Stake are available globally, even if the gambling platform is accessible in your area. As such, the best VPN locations for Stake are Canada, Austria, or Germany since these are your best bet (no pun intended).
If you're interested in sports betting, connect to a VPN server in or near your country of residence (since sports betting on Stake is more freely available than casino games). This also applies to users that wish to connect to the servers recommended for casino gambling.
Remember that the closer the server, the better the connection quality - as your network data doesn't need to travel as much to reach its destination. That's how you can keep your VPN active in the background, unblocking Stake continuously, without worrying about your Internet connection's performance.
VPN Not Working on Stake - How to Fix?
Before you blame your VPN, make sure Stake works while your VPN is OFF because the online casino may be down for everyone. Otherwise, there are several reasons why Stake may not be responsive even when using the best VPN for playing Stake:
Here's a quick rundown of what you need to do in each case:
Your antivirus/firewall may interfere with the VPN - Temporarily disable each of them and see if you can access Stake. Make sure to add your VPN app as an exception in your firewall rules and antivirus.
Your router may be blocking the VPN - Check the router settings and ensure that no tunneling protocols are blocked.
You have multiple VPNs installed - Different VPN providers may conflict with each other, so we recommend installing only one VPN at any given time. Uninstall all of them from your system and perform a fresh install for the one you want to use.
Switch to a different VPN server - Preferably not too far away from your physical location, as that's how you'll reach the fastest Internet speeds.
For additional tips, here's our guide that explains why your VPN doesn't work. As if you see a specific error message, here's our guide to resolving VPN error codes.
Can I Use a Free VPN for Stake?
Yes, you can use a free VPN for Stake - but we honestly don't recommend going for a free VPN. And yes, there are many reasons for that.
Sure, it may sound like a good idea not to spend extra on a VPN subscription. However, keep in mind that free VPNs impose quite a few restrictions that may be detrimental to your gambling sessions, like the following:
Data caps of up to 10 GB a month, in the most generous cases.
Small number of servers - which may not include the best countries for Stake.
Slow speeds and bandwidth throttling - free providers usually slow down your connection to keep things equal for all users.
This doesn't even include the potential dangers of free VPNs, such as injecting ads into your browser, selling your data to shady advertisers, or even infecting your system with malware.
If you're adamant about using a free VPN, make sure to check our guide to the best free VPN services. We made sure to highlight only the most reliable options - but don't forget that you'll face many restrictions, nonetheless.
Final Thoughts
A capable and trustworthy Stake VPN can be a powerful ally. As explained in this guide, only the best VPN for Stake can help you unblock the platform and preserve your privacy. No matter if you wish to unblock the site or reach games not available in your region, all you have to do is to set up a VPN session.
In the end, we'll conclude that ExpressVPN will meet all your Stake-related needs. This is the best Stake casino VPN, which will help you unblock the platform from any country, gain access to more casino games, as well as deposit and withdraw your funds safely and securely.
FAQ
Does Stake Allow VPNs?
No, Stake doesn't allow the use of VPNs. More precisely, the gaming platform doesn't allow you to use any software that helps you circumvent geo-back restrictions.
Still, we'll note that today's VPNs are hugely powerful and very difficult to detect. That said, if you choose to use a VPN with Stake, make sure to be on the cautious side.
Is Using a VPN with Stake Legal?
Is Stake.com Legal in the US?
No, Stake.com isn't legal in the United States. However, those that come from the US can use Stake.us, a version of the platform that's legal and accessible in the US.
Which VPN Works for Stake?
Many VPNs work with Stake - but very few of them are actually good enough to be used with Stake. Based on our hands-on tests, we recommend ExpressVPN.
Which VPN Server to Use for Stake?
We recommend using VPN servers located in Canada, Germany, or Austria. That's how you'll get access to Stake's entire catalog of casino games.
Can I Play Stake on Mobile with a VPN?
That would be all on the best VPN for Stake in 2023. If you have any questions or doubts, share them via the comments section below. Thank you for reading!