Rarible is among the youngest NFT marketplaces, focused on simplifying the process of minting and selling NFTs. Due to its ease of use, it has become a popular alternative to more capable competitors, like OpenSea. Even though it does it all for you (in terms of minting and marketing your digital art), it's your responsibility to take care of your privacy and get acquainted with the best VPN for Rarible, preferably before signing up for the NFT platform.
First of all, know that Rarible originates from Russia (founded by Alex Salnikov and Alexei Falin) – but the NFT marketplace seems to be available worldwide (most likely because it's registered in Delaware, the United States). You're probably aware of the current sanctions imposed on Russia and the complexity of that situation, which is why using a VPN is a brilliant idea.
In other words, in case this marketplace gets blocked by any country, a reliable VPN for Rarible will help you bypass those geo-blocks. That's why we recommend VPNs with expansive server networks, letting you evade possible future blocks.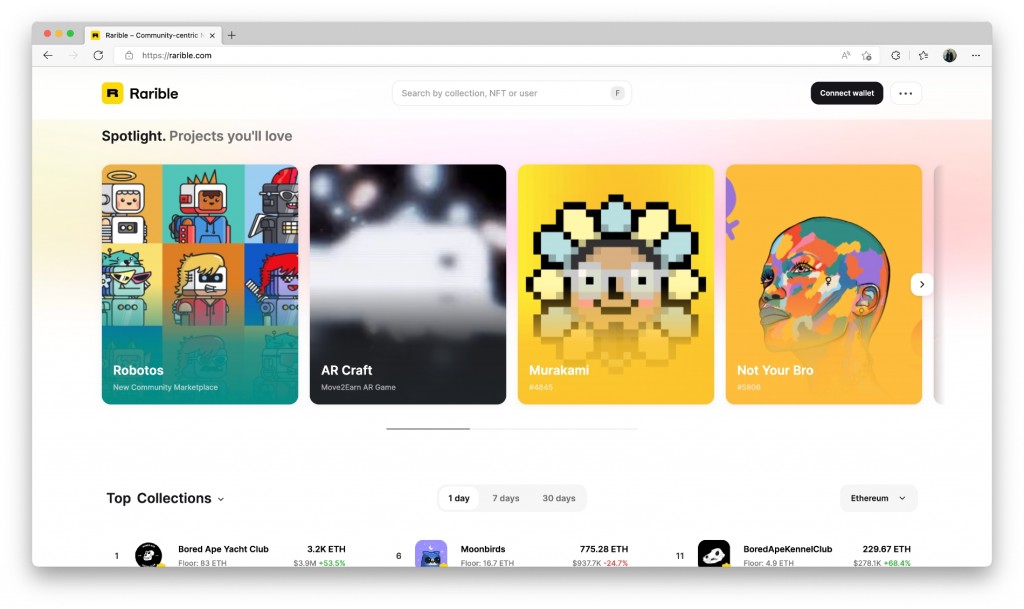 When it comes to what a VPN for Rarible can do now – well, it can protect your privacy. We're sure you'll want your crypto-related activities to be anonymous, which is one of the core perks of crypto, after all. With that said, you shouldn't trust Rarible to protect you against scams and malicious attempts focusing on your NFTs and crypto wallet.
Instead, use a VPN that encrypts your data and hides your location. That's the only way to use Rarible without leaving a single trace behind.
How to Use a VPN with Rarible?
To use a VPN with Rarible, you need to install your chosen VPN on your device(s) and then connect to a secure server. Just go through the following steps:
Pick a VPN service that works great for Rarible, such as ExpressVPN (you even try ExpressVPN risk-free for 30 days).
Sign up for a VPN account and then download your chosen VPN.
Install the VPN on any device(s) you'll use to access and trade on Rarible.
Access your account by logging in to the VPN app.
Pick any VPN server and establish a secure and encrypted connection.
You can now access Rarible. That's it!
Best VPN for Rarible
Since you'll be using a VPN to protect your Rarible-related data, you need one with native apps for your computer, phone, and tablet (which you'll use to access Rarible). You also need solid VPN protocols, AES-256 encryption (to protect your sensitive information), a sizeable selection of servers (useful if you need to unblock Rarible in the future), and preferably a no-logs policy (if you want to be 100% sure your data is never collected).
Based on the criteria set above, we managed to find VPNs that deliver on their promises. With that said, here's our complete list of the best VPNs for Rarible:
1. ExpressVPN – Best Rarible VPN Overall
ExpressVPN is the best VPN for Rarible because it brings easy-to-use apps, incredibly secure VPN protocols, solid encryption, plenty of servers worldwide, and it comes as an audited VPN service that guarantees your privacy. Therefore, it's a complete solution.
We'll mention that ExpressVPN offers uniform apps for all desktop and mobile devices. So, no matter how you access Rarible, you'll get to secure your connection and protect your privacy on all your devices. Of course, you can also use this VPN on other devices, even those not covered by Rarible. So, it's pretty versatile. You also get up to 5 simultaneous connections.
In terms of privacy protection, this VPN brings a series of protocols led by Lightway. That protocol has been developed by ExpressVPN, offering a combination of speed and security (AES-256 encryption is involved). Based on our hands-on tests, the VPN delivers on that promise, as it's one of the fastest VPNs available right now.
You also get access to 3,000+ servers in 90+ countries. All ExpressVPN servers come with automatic obfuscation, breaking down your traffic into smaller packets. Thanks to that feature, this VPN can evade Internet blocks and restrictions. So, even if Rarible gets blocked in your country, you'll always have an option to unblock it.
Lastly, know that ExpressVPN has many audits under its belt. It's among the most transparent VPNs, trying its best to prove its no-logs policy. That means your NFT-related activities will be hidden while using Rarible – even if you use a public Wi-Fi connection to access that NFT marketplace.
Get more details by reading our ExpressVPN review.
PROS
Very easy to start using.
Robust security features.
Lightning-fast speeds.
Massive server network.
Unblocks Rarible from anywhere.
CONS
Only 5 simultaneous connections.
No in-depth fine-tuning.
2. NordVPN – Best for Ultra-High Privacy & Security
NordVPN is a well-known name and a trustworthy brand, offering its services for a decade now. During that time, NordVPN developed a massively capable set of features to protect your privacy. So, let's talk about why it's among the best VPNs for Rarible.
If you access Rarible using your computer, phone, or tablet, know that NordVPN will always be there to secure your Internet connection. That's because it offers native software across the board and gives you 6 simultaneous connections. On top of that, NordVPN's apps look very modern, and they're easy to use, despite being powered by cutting-edge technologies.
Speaking of cutting-edge technologies, NordVPN brings NordLynx across all its apps, a protocol built upon WireGuard. You can also switch to OpenVPN, an older but incredibly secure protocol. So, no matter which of those you pick, you can count on encryption that will prevent anyone from tracking your NFT-related activities.
However, NordVPN goes even beyond that by offering specialized servers. You can use those to obfuscate your traffic, route your data through two VPN servers at once, and even route your data through the Tor network. There's also something called 'Threat Protection,' helping NordVPN keep away trackers and malware.
As you can see, NordVPN is more than a VPN. It's a complete solution to your personal cyber-security. It doesn't only unblock Rarible from anywhere in the world; it makes sure your access to the NFT marketplace is safe, secure, and hidden from anyone's eyes.
Discover what else to expect via our NordVPN review.
PROS
Native software across the board.
Proprietary VPN protocol (NordLynx).
Audited many times in the past.
Unique types of servers available.
Unblocks Rarible from anywhere.
CONS
Highly remote connections can be slow (at times, not always).
Requires some optimization.
CyberGhost is a well-rounded VPN service that brings just about everything. However, it's one of the best VPNs for Rarible because it covers the basics exceptionally well, ensuring you get total privacy while buying or selling NFTs.
Like our other recommendations, CyberGhost VPN offers native software for computers, phones, and tablets. So, combining it with Rarible should not be a problem. It's also easy to get started with this VPN as it offers a highly polished online dashboard, giving you a jump start as soon as you obtain your subscription. Also, you get 7 simultaneous connections.
CyberGhost VPN is based on protocols such as WireGuard and OpenVPN. However, it doesn't give you in-depth fine-tuning, which is not a big downside in this case. That's because it works out of the box, with very little input needed on your part. So, if you want a fully automated VPN that works in the background while you interact with Rarible, this one is an excellent pick.
Another strong suit of CyberGhost is its server network. It features 8,000+ servers in 90+ countries. So, it's no surprise that it unblocks practically any website. If Rarible gets blocked in your country, you'll have a reliable backup option. We'll also mention that you get some extra servers specialized for streaming, torrenting, and gaming.
If you'd like to take your digital privacy a step further, we recommend CyberGhost VPN's NoSpy servers. Those are operated by the VPN itself and managed internally end-to-end. That means you'll get the highest possible level of privacy, security, and performance.
Learn what else to expect by checking our CyberGhost VPN review.
PROS
Centralized online dashboard.
One-click VPN solution.
Advanced privacy protection.
Massive server fleet.
Special NoSpy servers for security.
CONS
Slower than its competitors.
Requires speed-related optimizations.
NoSpy servers are priced extra.
4. Surfshark – Best for Inexperienced Users
One of the most prominent selling points of Surfshark is its ease of use. However, just because it's made for inexperienced users doesn't mean Surfshark is less powerful than our other recommendations. In fact, this VPN has a few interesting tricks up its sleeve.
If you become a Surfshark subscriber, you'll get to download its apps on Windows, macOS, Linux, Android, iOS, iPadOS, and more. All those platforms are compatible with Rarible as well. In fact, you won't even have to worry about crossing any limits as Surfshark brings unlimited simultaneous connections.
To preserve your privacy, this VPN employs protocols like WireGuard, OpenVPN, and IKEv2. There's AES-256 in terms of encryption. And if you're in a country with rigorous Internet blocks, Surfshark's NoBorders mode will help you obfuscate your traffic. That way, you'll get to unblock Rarible even if severe restrictions are imposed in the future.
We'll also mention that Surfshark brings 3,200+ servers in 90+ countries. This VPN has recently expanded its network in a big way, making it on par with other top-rated Rarible VPNs. Most of those are standard VPN servers, but you'll also find those that bring static IPs. Once again, that's a handy trick for unblocking Rarible.
Lastly, Surfshark features 'Nexus,' which uses multiple servers to route your traffic. So, it makes use of advanced technology to evade trackers and ensure your privacy is protected. Also, 'Nexus' can rotate your IP address every couple of minutes, helping you become an anonymous user of Rarible (as much as possible, of course).
Take a deeper look "behind the scenes" by reading our Surfshark VPN review.
PROS
Powered by solid protocols.
Unlimited simultaneous connections.
Expansive network of servers.
Advanced data routing via 'Nexus.'
Regularly audited.
CONS
Can take a while to connect.
Our list of the best VPNs for Rarible simply had to include an option for advanced users. So, if you're not afraid to tinker with your VPN connection and customize its parameters, you'll love what Private Internet Access (PIA) offers.
PIA is among the oldest VPN servers, with more than a decade of protecting users from all around the world. During that time, this VPN produced, then overhauled, and recently improved a whole range of apps. PIA works on any platform supporting Rarible and goes beyond that. It also gives you 10 simultaneous connections.
When it comes to privacy protection, PIA leaves no stone unturned. Aside from using industry-standard protocols like OpenVPN and WireGuard, this VPN lets you optimize those protocols. You can choose how they handle your data, allowing you to reach extra-fast speeds. Also, you can even set a custom level of encryption, create two tunnels for your data, and bypass practically any Web roadblock.
You should also know that PIA has the biggest server network available today. It's spread across 80+ countries, so you have many options for unblocking websites. That also means buying a PIA subscription is a future-proof decision, as you'll get to unblock Rarible even if it gets banned in many countries (it's always better to be safe than sorry).
You'll also appreciate that PIA is 100% open-source. In the past, this VPN proved in court that it collects no personally identifiable information. That's important to remember, as very few VPNs will keep you as safe and private on the Web as this one. And, of course, that's why PIA is among the best VPNs for Rarible.
Get more information by reading our Private Internet Access review.
PROS
Unparalleled fine-tuning.
Flexible encryption options.
Absolutely massive server network.
Advanced privacy protection.
Open source and 100% transparent.
CONS
Requires some VPN knowledge.
Can be slow unless optimized.
Final Thoughts
As you can see, you have plenty of excellent options in front of you. However, we'd like to remind you that our #1 recommendation is ExpressVPN. Whether you're a beginner or an advanced user, ExpressVPN will meet all your expectations and needs. It's incredibly secure, easy to use, fully automated, and very fast.
We have a handy resource if you'd like to keep your options open. Our guide to the best VPNs for NFTs will help you expand your options while giving you some extra tips and tricks on trading NFTs. So, make sure to take a look.
This is where we conclude our guide to the best VPNs for Rarible. If you have anything to add, let us know via the comments section below. Thank you for reading!