Facebook has expanded into the dating app market, with Facebook Dating hitting Google's Play Store and Apple's App Store back in 2019. All you need is a Facebook account that's older than 30 days and is in good standing. Oh, and you also need to be in a supported region for it to work in the first place. Otherwise, your best bet is to use one of our recommended Facebook Dating VPNs to change your location.
A VPN will let you obtain a new IP address, which is how most online services determine your physical location nowadays. Just connect to a VPN server in a different country or region, and you can find potential dates before moving or visiting there. Or, you can use Facebook Dating from an unsupported region (say, while traveling).
Without a VPN app running in the background, you'll likely run into the following geo-location error: "Facebook Dating Is Unavailable - Facebook Dating is being rolled out to Facebook iOS and Android users aged 18+ in selected markets."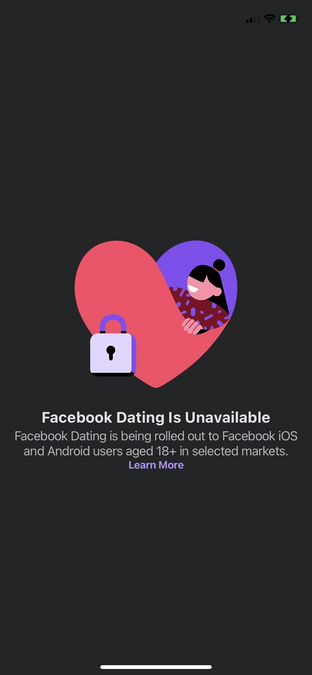 With that said, know that Facebook Dating is available in the following countries only: Argentina, Austria, Belgium, Bolivia, Brazil, Bulgaria, Canada, Chile, Colombia, Croatia, Cyprus, Czech Republic, Denmark, Ecuador, Estonia, Finland, France, Germany, Greece, Guyana, Hungary, Italy, Iceland, Ireland, Laos, Liechtenstein, Lithuania, Luxembourg, Malaysia, Malta, Mexico, Netherlands, Norway, Paraguay, Peru, Poland, Portugal, the Philippines, Romania, Singapore, Slovakia, Slovenia, Spain, Suriname, Switzerland, Thailand, the United Kingdom, the United States, Uruguay, and Vietnam.
On top of letting you bypass the "Facebook Dating Is Unavailable" error and explore different dating pools from around the world, a VPN will encrypt your network traffic, making it virtually impossible for your Internet provider, hackers, and other eavesdroppers to spy on your activity.
Here's how to get started.
How to Change Facebook Dating Location with VPN
Changing your Facebook Dating location with a VPN should only take you a few minutes from start to finish. Just follow the steps below:
Subscribe to a trustworthy VPN service such as ExpressVPN (you can also try out ExpressVPN risk-free for 30 days if you're not sure where to start).
Download the VPN app to your Android or iOS device.
Open the VPN app and use your ExpressVPN credentials to log in.
Connect to a VPN server in a location of your choice, and start dating!
When you first create your Facebook Dating profile, Facebook needs to check your Location Services to determine your "Primary Dating location." Fortunately, you can turn off "Location Services" once that process is done, and we recommend doing so if you plan on looking for dates in a different region.
Facebook is also testing out a "Match Anywhere" feature, letting you add two additional dating locations, which you can change once per week. Of course, it may take a while before the general public can access this feature, so a VPN is your best option for the moment.
Best VPN for Facebook Dating
The best VPN for Facebook Dating should have easy-to-use apps for Android and iOS, plentiful servers around the world, and keep no logs of your online activity. Other than that, a working kill switch is recommended, so your identity doesn't leak if the VPN happens to disconnect.
Based on the criteria mentioned above and our in-depth testing, we present the 5 best VPNs for Facebook Dating available today:
ExpressVPN - Our #1-Rated VPN for Facebook Dating
NordVPN - Top-Notch Facebook Dating VPN
CyberGhost VPN - Best for Online Dating + Entertainment
Private Internet Access - Best VPN for US Facebook Dating
Surfshark - Best Facebook Dating VPN on Android
1. ExpressVPN - Our #1-Rated VPN for Facebook Dating
ExpressVPN has beginner-friendly apps for iOS/iPadOS and Android with a clean interface. A couple of taps and you're ready to mingle with people in a different region. Their speedy server network is spread across 90+ countries, so you're never out of options - whether you're traveling or moving frequently.
Security-wise, ExpressVPN features military-grade encryption (courtesy of OpenVPN and their own Lightway protocol), leak protection, a kill switch, and "TrustedServer" technology that wipes any data passing through their servers. Naturally, they store no user logs, so your dating life remains completely private.
Another neat tidbit is that ExpressVPN comes with built-in obfuscation on all servers, which masks your VPN activity as regular HTTPS traffic - useful for Facebook Dating or if you don't want your school, workplace, or government to know you're using a VPN.
Finally, this VPN provider has recently implemented "Threat Manager," an anti-tracking measure that prevents companies from logging and creating detailed profiles about your online behavior.
Read up on all these features (and more) in our complete ExpressVPN review.
PROS
Easy-to-use apps.
Obfuscation on all servers.
Fast servers in 94 countries.
Audited no logs policy.
Anti-tracking with "Threat Manager."
2. NordVPN - Top-Notch Facebook Dating VPN
NordVPN is based in the privacy-friendly jurisdiction of Panama and owns over 5,000 servers in 59 countries around the world. Their apps have bank-grade encryption (including WireGuard support through NordLynx for better performance). At the same time, this VPN has undergone extensive audits to ensure that none of your data is stored on their network.
Their apps include a helpful kill switch, so your location doesn't leak while using Facebook Dating or any other service - even during unexpected disconnects.
Want to use the service in a restrictive country with heavy Internet censorship? Then try out their obfuscated servers while using the OpenVPN TCP protocol.
NordVPN goes well beyond the usual capabilities of a VPN, as it can block ads, filter phishing and malware sites, disallow trackers, and even scan files for malware. All this with the help of "Threat Protection," which can be left on even if you're not using the VPN itself at the time.
Find more details about the provider and its features in our in-depth NordVPN review.
PROS
Over 5,000+ servers.
Highly polished iOS/Android apps.
Independently audited no logs policy.
Blocks ads, trackers, and other threats.
CONS
Doesn't offer as many VPN locations as its competitors.
3. CyberGhost VPN - Best for Online Dating + Entertainment
CyberGhost VPN's server network covers over 90 countries, rivaling ExpressVPN in terms of locations. The lack of any obfuscation, however, means you won't be able to use Facebook Dating quite everywhere - with more restrictive regimes blocking out the provider.
Otherwise, you get everything you need to use dating sites securely and protect your privacy while you're at it. That includes impenetrable encryption, a strict no-logs policy (with transparency reports every few months), an always-on kill switch, and watertight leak protection.
The provider is especially geared towards unblocking streaming services, letting you access over 40 different sites for unlimited content. That makes CyberGhost VPN not only one of the best VPNs for Facebook Dating, but for digital entertainment as well. It also has a built-in ad-blocker and anti-tracking feature, which is always a welcome thing to see.
As always, feel free to check our CyberGhost VPN review for their specs and other details.
PROS
Servers in 90+ locations.
Strict no logs policy.
Built-in ad-blocker and tracking filter.
Always-on kill switch.
CONS
Requires fast connection.
In terms of sheer server numbers, PIA comes first. A good chunk of their 84-country network is focused on North America, so if you're looking to use Facebook Dating in the region, PIA is an excellent pick. Singles in the United States can explore their options in over 50 different cities - from Los Angeles all the way to New York.
Despite the provider being based in the US (a "Five Eyes" country), their no-logs policy has been proven valid in court (not once - but twice!). As such, you have nothing to worry about in terms of data logging or someone getting access to your dating-related data.
Apart from the default encryption protocols, their apps also support WireGuard if you need a little extra performance. PIA also lets you customize your protocols, ports, and other settings to get the VPN working on more stubborn networks (e.g. at work or school).
To keep up with the trend of VPNs offering ad-blockers, the provider offers its own solution called PIA MACE. It's not as effective when compared to the competition, but since that's not the main purpose of a VPN, we'll let it slide.
Don't forget to head over to our Private Internet Access review for the full scoop.
PROS
Huge US-based server network.
Court-proven no-logs claims.
Generous 10 device limit.
Highly customizable.
CONS
PIA MACE isn't as effective as other blocking methods.
5. Surfshark - Best Facebook Dating VPN on Android
Surfshark offers all the industry-standard security options you've seen thus far. What sets them apart is that there are no limits to how many devices you can link to one account. While you're looking for love on Android or iOS, you can use Surfshark to relax with some international Netflix on your other devices or share its unblocking capabilities with friends.
One feature that's quite rare in VPNs is GPS spoofing, which Surfshark lets you do on Android devices. This means you can trick even the most persistent location-checking systems (Facebook Dating and its annoying mismatches included).
As always, Surfshark takes security to the next level by blocking ads, tracking, and filtering malware or phishing domains through its CleanWeb feature.
Need to hide your VPN activity for whatever reason? Then switch to the OpenVPN (UDP or TCP) protocols within the app and take advantage of the built-in Camouflage Mode.
Learn more about this capable VPN provider via our Surfshark review.
PROS
No device limits.
GPS spoofing on Android.
Block threats with CleanWeb.
Camouflage Mode to hide VPN activity.
CONS
Can take a while to connect.
Final Thoughts
Facebook Dating isn't available worldwide just yet. So, to use the app in an unsupported region, or meet users in different areas, we recommend using a VPN to change your location.
Need a quick recommendation? ExpressVPN supports 94 different countries and has user-friendly apps on Android and iOS - plus built-in obfuscation on all servers to avoid most VPN detection systems and potential "Location Mismatch" errors on Facebook Dating.
If you wish to review some extra options, here's our guide to the best VPNs for dating sites (handy if Facebook Dating isn't the only dating app on your smartphone).
FAQ
What Is Facebook Dating?
As the name implies, Facebook Dating is Facebook's own dating app, available exclusively for Android and iOS, and only in specific regions.
Users in unsupported countries will need a VPN (like ExpressVPN) to use Facebook Dating.
Which VPN Is Best for Facebook Dating?
ExpressVPN is the #1 VPN for Facebook Dating at the moment.
It comes with lightning-fast servers in 94 countries, easy-to-use apps on Android and iOS, and built-in obfuscation on all servers, making it a great choice in countries that typically ban VPNs (such as China, Russia, and the like).
Can I Change My Location on Facebook Dating?
To change your location settings on Facebook Dating, tap the three horizontal lines at the top of the app, then tap Dating > Profile > Edit > Dating Location.
Select your preferred location, then tap "Save" to update your settings. If you prefer using Location Services with Facebook Dating, using a VPN will trick Facebook into thinking you're somewhere else.
How Do I Fake My Location on Facebook Dating?
If Facebook Dating is unavailable in your region (or just want to see what the dating pool is like in other places), try out a VPN such as ExpressVPN.
Thanks to VPNs, you'll be able to spoof your location for a variety of online services. Follow our step-by-step guide right at the start of the article for more details.
What Is a Location Mismatch In Facebook Dating?
If you receive a Location Mismatch error on Facebook Dating, it's most likely due to the fact that your "Primary Location" and "Dating Location" don't match up.
The primary location is determined by the city you have on your profile; your device IP, your activity (like check-ins); and any location data you may have shared on Facebook.
If the issue comes as a result of changing your IP address/location with a VPN, you may also need to update your city on your main profile as well.
What are your experiences with Facebook Dating while using a VPN? Did you encounter any issues? Let us know in the comments!