Atlas VPN is a freemium VPN service that offers an impressive set of features to keep you safe and private online. The service markets itself as the best free VPN, but as you'll see in this Atlas VPN review, the paid (premium) version of the VPN is comparable to what the best VPN services on the market bring to the table.
Atlas VPN brings robust fundamentals - but also goes well beyond the basics. For example, it doesn't put any limit on simultaneous connections. You also get unique features like "SafeSwap," which continually changes your IP address to keep you anonymous online. Additionally, the VPN informs you whenever your personal data leaks in a breach using its "Data Breach Monitor."
These are all impressive features on paper, but we wanted to know how Atlas VPN performs in real-life situations. Therefore, we put this VPN through a series of tests and compiled our results in this hands-on Atlas VPN review.
But before we dig any deeper, here's a list of the most prominent features that will give you a sense of what to expect from the free and premium versions of the service.
| | | |
| --- | --- | --- |
| Specs | Premium | Free |
| Jurisdiction | US (5-Eyes Alliance) | US (5-Eyes Alliance) |
| Logs | No logging – Independently audited | No logging – Independently audited |
| Servers | 750 servers in 45 locations | 3 servers in 2 countries |
| Simultaneous Connections | Unlimited | Unlimited |
| Data Cap | Unlimited | 5 GB/month |
| Supported Devices | Windows, macOS, Linux, Android, iOS, and smart TVs. | Windows, macOS, Linux, Android, iOS, and smart TVs. |
| Features | Kill switch, Split tunneling, SafeBrowse, SafeSwap, Data Breach Monitor, MultiHop+, ad blocker, and more. | Kill switch, Split tunneling, Data Breach Monitor. |
| Protocols | WireGuard, IPSec/IKEv2 | WireGuard, IPSec/IKEv2 |
| Supports | Netflix, Prime Video, gaming, torrenting, browsing, and more. | Browsing |
| Customer Support | 24/7 live chat | Email support |
| Price | From $1.64/month | Free |
| Live Deal | 85% off + 6 months extra | N/A |
| Our Score | 8.0/10 | – |
In this Atlas VPN review, we'll take a close look at the features mentioned above and explore the strengths and weaknesses of the VPN. We'll also investigate the VPN's background and how it handles its users' data. You'll also find information about the VPN's server network, supported platforms, UI design, performance, pricing, and more.
If you want to learn more about our testing process, take a look at our guide on how we review VPNs. And now, read on to find out about Atlas VPN's features, performance, security, and what to realistically expect from the service.
Background, Jurisdiction & Reputation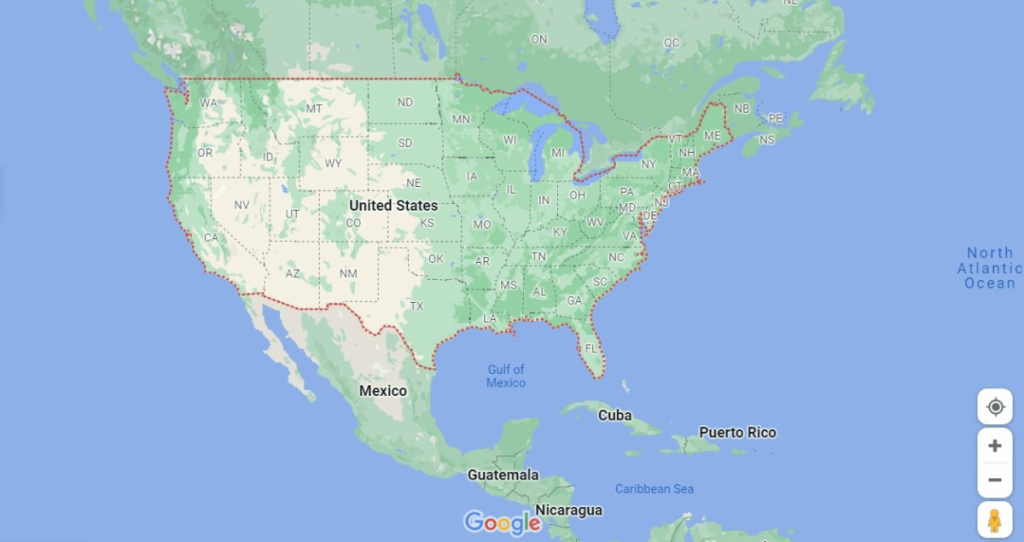 Atlas VPN is based in the USA, but it offers a strict no-logs service and undergoes independent audits regularly. Our Score: 8/10
VPN services usually handle copious amounts of sensitive data. So, you'll want your service provider to protect your personal data and never exploit it in any way. Let's see whether you can trust Atlas VPN with your sensitive information.
Where Does Atlas VPN Come From?
Atlas VPN is a relatively young player in the VPN space, based in the United States, but it has already garnered over 6 million users since its launch in 2019. It became part of Nord Security – the company behind the well-established NordVPN – in 2021, and continues to improve since then.
We were initially concerned about Atlas VPN being based in the USA, which is a member of the 5-Eyes Alliance. But we were glad to learn that the VPN operates under a strict no-logs policy and has no track record of leaking personally identifiable data. 
As per Atlas VPN's customer service representatives, the no-logs policy applies to both free and premium accounts.
Is Atlas VPN Legal & Safe to Use?
Yes, Atlas VPN is legal, but we advise you to use it with care in authoritarian countries. This isn't limited to Atlas VPN alone, as most authoritarian regimes put a blanket ban on the use of VPN services. 
If you want to know more about the legality of VPNs around the world, take a look at our guide where we list the countries that ban the use of VPNs.
Regarding the VPN's safety, we don't have any reason not to recommend the service. Atlas VPN's Windows and iOS apps have been independently audited by cybersecurity experts from MDSec and VerSprite.
Supported Platforms & Devices
Atlas VPN does a decent job of offering apps for desktop and mobile platforms. However, it doesn't offer extensions for Web browsers, and it doesn't support routers. Our Score: 6/10
Most premium VPN services offer native software for a wide range of devices and platforms. Here's what Atlas VPN offers.
| | |
| --- | --- |
| Desktop Platforms | Windows, macOS, Linux |
| Mobile Platforms | Android, iOS |
| Web Browsers | None |
| Routers | None |
| Other Devices | Android TV, Amazon Fire TV |
As you can see, Atlas VPN covers various popular desktop and mobile platforms. You can use it on a computer, smartphone, tablet, and even media streaming devices powered by Android TV or Amazon Fire TV. That being said, you can't install it on a router and won't find extensions for Web browsers.
However, it's pertinent to note that Web browser extensions usually act as proxies and don't provide the full protection of a VPN. So, it's understandable if a VPN provider avoids offering browser extensions in this price range.
The biggest downside is that Atlas VPN doesn't support routers. Instead, it focuses on offering VPN client apps only. So, if you're a more advanced user who wants to protect their entire household at once, you'll need to look elsewhere. 
Installation & Initial Configuration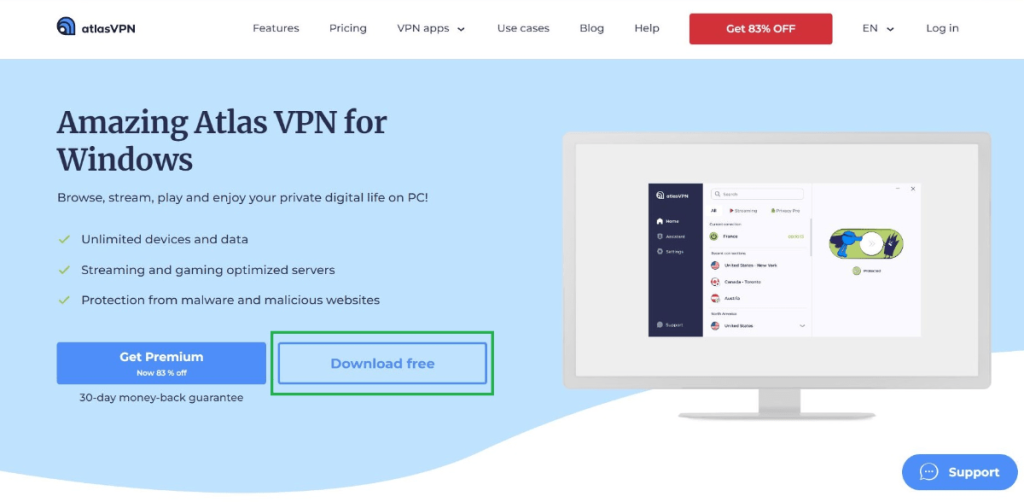 The installation process for Atlas VPN is straightforward. All you need to do is download the app, run it, and you will have Atlas VPN's protection within minutes. Our Score: 9/10
You can find Atlas VPN's native applications on the official site or the respective app store of your device. But you'll need to have an account with Atlas VPN before you can use the service. 
Previously, you could use the free version without entering your details, which was good for privacy. But the app now needs an email address before you can use the free plan.
Once you log in to your account on Atlas VPN's website, you can download the VPN app based on your device's operating system. The installation process is pretty simple and usually takes less than a minute.
What's interesting about Atlas VPN is its password-less login method. You only need to enter your e-mail address and the service will send you the link and activation code. Click on the link or enter the code and you are in.
Prominent Features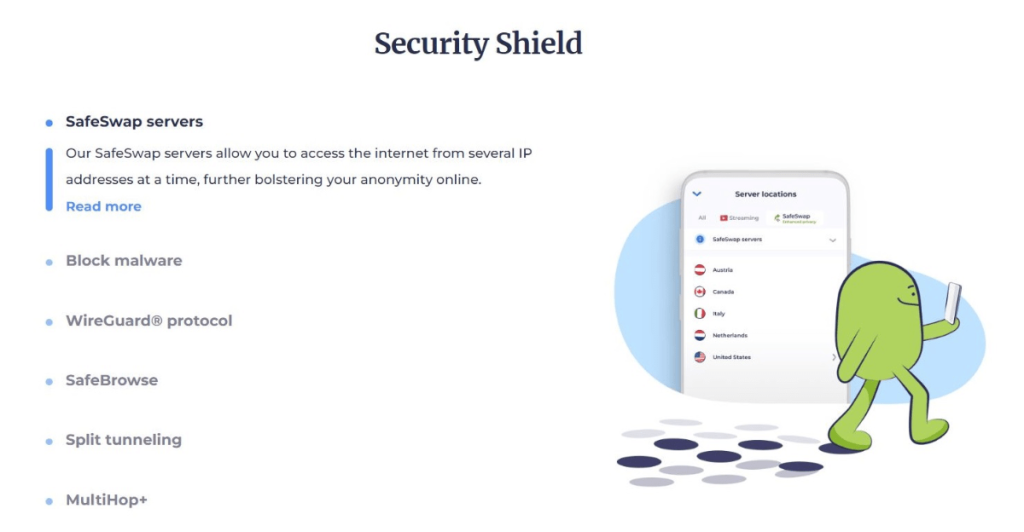 Atlas VPN offers most of the basic and a few high-end VPN features. However, these features aren't available across all its apps. Our Score: 8/10
Having tested 65+ VPNs, we noticed that Atlas VPN matches what most of today's popular VPNs bring. Here's a list of the features you'll see from the provider.
| | |
| --- | --- |
| DNS Leak Protection | YES |
| IPv6 Leak Protection | YES |
| Kill Switch | YES |
| Split-Tunneling | YES (Android only) |
| Dedicated/Static IPs | NO |
| Ad-Blocker, Anti-Malware | YES |
| Unlimited Server Switches | YES (Premium) |
| Unlimited Bandwidth | YES (Premium) |
| Unlimited Data | YES (Premium) |
As you can see, Atlas VPN provides all the features needed to protect your data and privacy. You get DNS and IPv6 leak protection as well as a kill switch and an effective ad-blocker.
However, some of these features are only available for premium accounts and on select platforms. This means that the features will differ depending on the version of the app and the type of device you use.
How Many Simultaneous Connections Do You Get with Atlas VPN?
Atlas VPN is one of the few VPNs that support unlimited device connections. This makes it a good choice for users who want to protect all their devices on a single subscription.
You only need to install the VPN app, log in to your account and start browsing the Web privately and securely. Atlas VPN won't impose any data or bandwidth limits, regardless of the number of devices you connect simultaneously.
Does Atlas VPN Have a Kill Switch?
Yes, Atlas VPN comes with a handy kill switch that disconnects your device from the Internet if your VPN connection drops. 
By doing so, Atlas VPN ensures a leak-free experience in case of a connection failure. Once the VPN connection is re-established, your private information can go through a secure VPN tunnel once again.
You can activate Atlas VPN's kill switch on Windows, macOS, Android, and iOS via the VPN's application settings. Here's exactly what you need to do on each device:
Windows: Settings > Security > Kill Switch.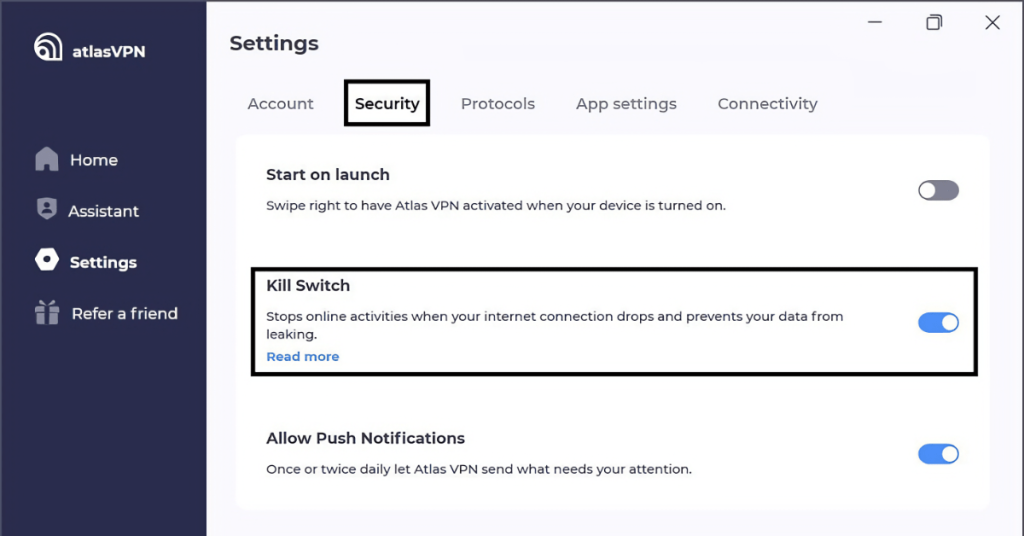 macOS: Settings > Kill Switch.
Android/iOS: Settings > General > Kill Switch.
Does Atlas VPN Offer Split Tunneling?
Yes, Atlas VPN offers split tunneling, but it's only limited to Android devices. The feature allows you to choose the apps that you want to route through your regular connection. All the other applications will continue to use Atlas VPN's encrypted tunnel.
To enable the feature, open the VPN app and follow these steps:
Android: Settings > Split Tunneling > Enable split tunneling. Check the box against those apps that you want to route through your normal web connection.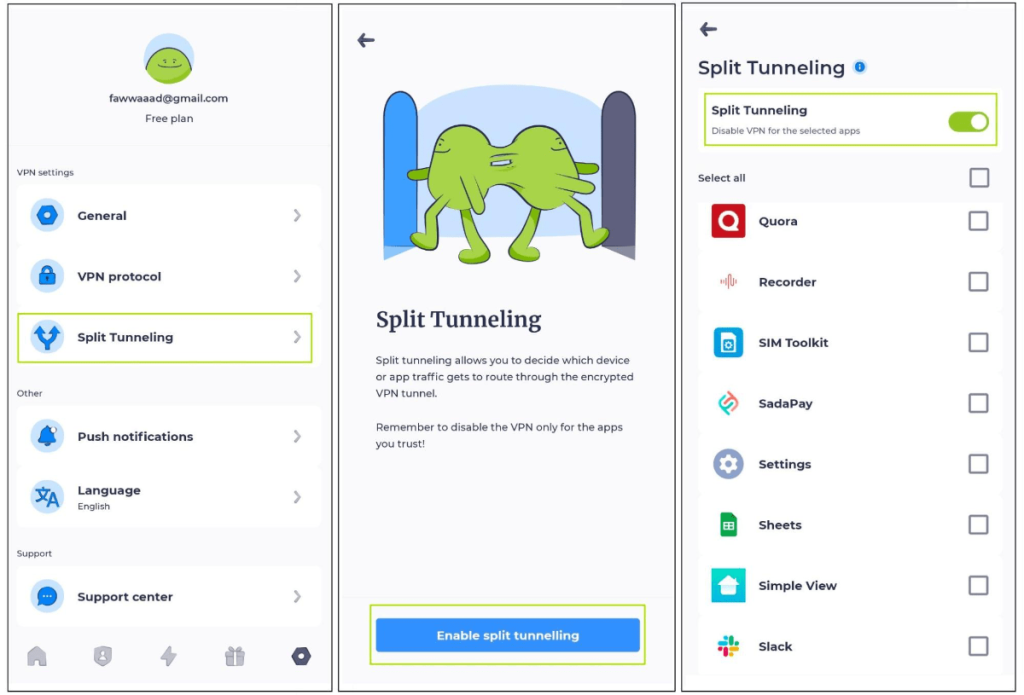 Does Atlas VPN Offer Static/Dedicated IP Addresses?
No, Atlas VPN doesn't offer static or dedicated IP addresses. Each time you connect to an Atlas VPN server, you get a different IP. Therefore, no one can track you online or expose your real identity by tracking you.
That being said, many premium service providers offer static/dedicated IP addresses without compromising users' security and privacy. If the lack of dedicated IPs is a deal-breaker for you, take a look at our guide on the best VPN for static IPs for the best options.
Does Atlas VPN Have an Ad-Blocker?
Yes, Atlas VPN offers an ad and malware blocker. It's called "SafeBrowse" and is only available to premium users. We tested the feature using the Windows client app and it actively blocked third-party ads, tracking, and malware.
Here's how to activate it: 
Click "Assistant" and select "SafeBrowse."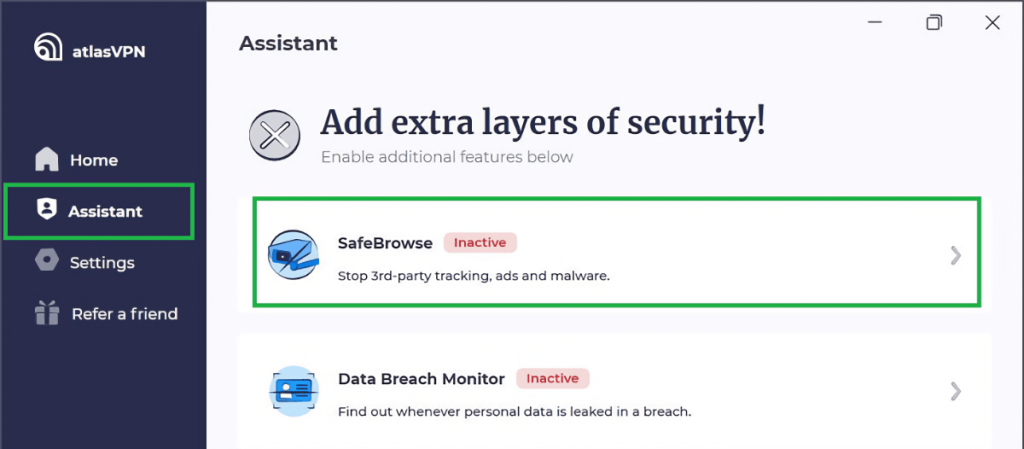 Now, enable "Block Trackers," and that's it!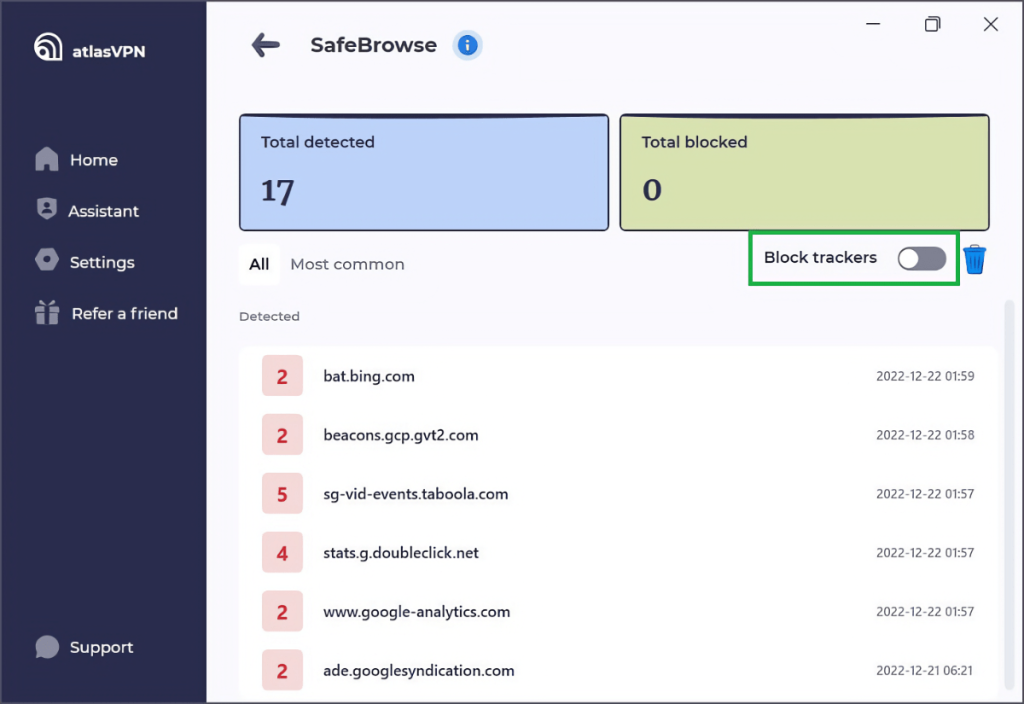 What Features Are Missing on Desktop Apps (Compared to Android & iOS)?
Since Atlas VPN was initially a mobile-only VPN, it comes as no surprise that the VPN looks and works better on mobile devices. Both the Android and iOS apps have a clean user interface and are easy to use.
The Android app is the most feature-rich version among all its applications. It offers all the usual features and is the only Atlas VPN app that supports split tunneling. The app opens with a promotional badge on top to encourage users to upgrade to a premium subscription.
The Mac app doesn't have an ad blocker, so you'll have to rely on a third-party extension to stop seeing ads. It also doesn't include the Data Breach Monitor, which lets you know whenever your email appears in a data breach.
Server Count & Infrastructure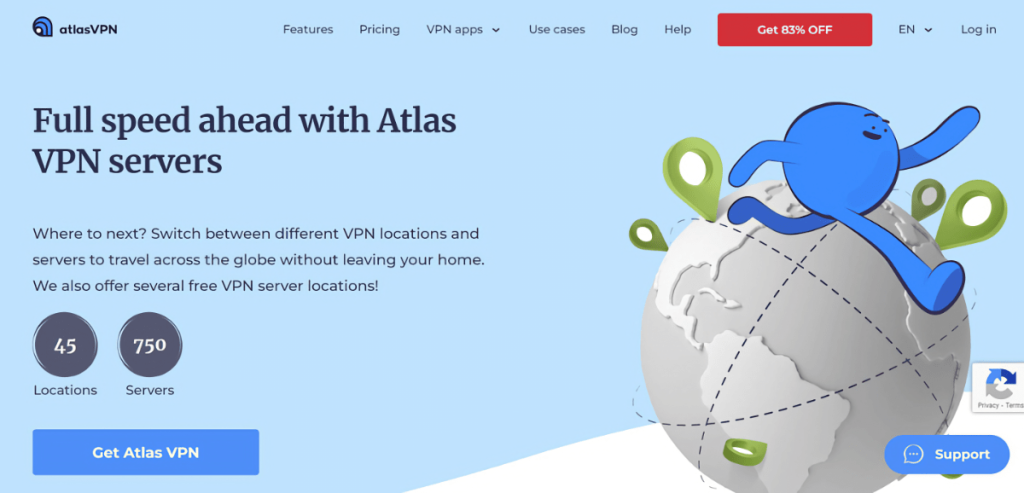 Atlas VPN offers 750 servers spread across 45 locations. These include specialized SafeSwap and MultiHop+ servers to anonymize your activity. Our Score: 6/10
Atlas VPN operates a server network of 750 servers in 45 locations across the globe. This is a relatively small network compared to the top VPNs on the market, but it's good enough for its price range.
| | | |
| --- | --- | --- |
| Server Count Info | Premium | Free |
| Number of Servers | 750 | 3 |
| Number of Locations | 45 | 3 |
| Number of Countries | 38 | 2 |
| Specific Cities Selection | YES | YES |
| Unlimited Switching | YES | YES |
All the servers are listed in alphabetical order and arranged by continent. You'll find servers in most of Europe and the Americas, but no servers in Africa. You only get 5 server locations in Asia, which means that coverage in most parts of Asia is missing. Atlas VPN used to have servers in India but has probably removed them in response to the new data retention directive.
Atlas VPN's free version lets you connect to 3 servers in 2 countries. These include 2 servers in the United States (New York, Los Angeles) and 1 in the Netherlands (Amsterdam). This isn't nearly as good as what the best free VPN services offer, such as Hide.me and Windscribe, which allow you to connect to servers in up to 10 countries.
Does Atlas VPN Offer Specialized Servers?
Yes, Atlas VPN offers specialized streaming and privacy-focused servers. You can easily find those by clicking 'Streaming' and the 'Privacy Pro' tab in the app.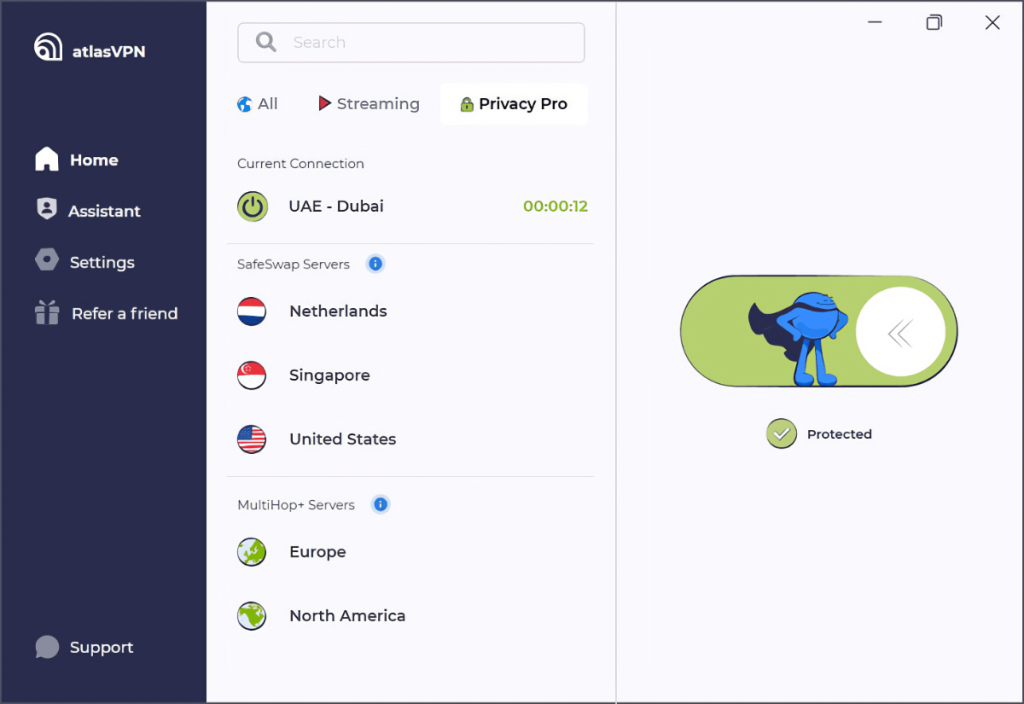 The Privacy Pro section provides you access to MultiHop+ servers in Europe and North America. These servers allow you to route your data through multiple servers in different locations, thus protecting your data through multiple layers of encryption.
Atlas VPN also offers SafeSwap servers that allow you to access the Web from multiple IP addresses at the same time when connected. With SafeSwap servers, your IP address changes as you browse, making your Internet activity difficult to track.
Does Atlas VPN Use Virtual Server Locations?
No, Atlas VPN doesn't offer virtual server locations. All its servers are physically located in their respective countries, meaning that the IP address they assign traces back to the same country.
UI/UX Design & Ease of Use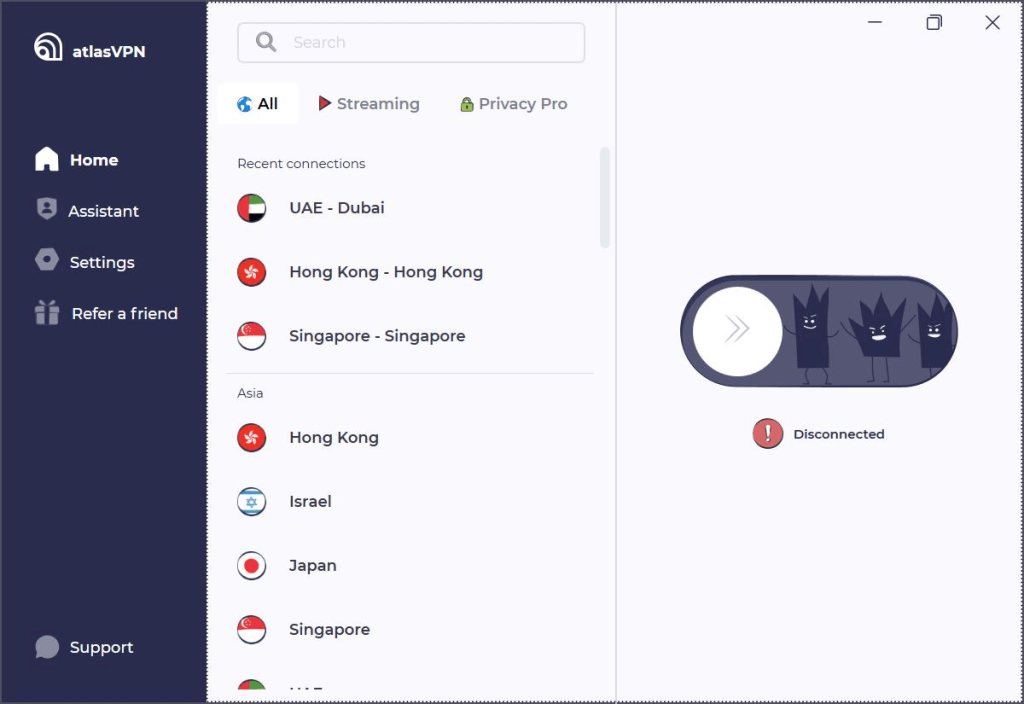 Atlas VPN comes with a simple UI on all its apps. Even VPN beginners won't have a problem using the VPN. Our Score: 10/10
Atlas VPN is a beginner-friendly VPN that is incredibly simple and easy to use. It offers native software for Windows, macOS, Linux, Android, and iOS. You can easily connect to a server, change your location, or choose a different protocol. 
The VPN also supports Android TV and Amazon Fire TV, so you get protection on nearly all your devices. Let's see how the application looks and works on different devices.
How Well Does Atlas VPN Work on Desktop Platforms?
When you launch Atlas VPN on Windows, you'll see a series of tabs on the left-hand side of the application. These include options like Home, Assistant, Settings, and Support (more about each of the tabs below).
There's a prominent ON/OFF button on the right side while the central section is reserved for information about servers. You will see tabs for specialized servers, including Streaming and Privacy Pro servers, as well as the recent locations you've connected to.
On the left, there's the 'Home' tab which, as you can expect, brings you to the home screen of the application. The next item on this menu is called 'Assistant', which has extra security features, including:
SafeBrowse: This is meant to stop third-party tracking, ads, and malware.
Data Breach Monitor: Check if your data has appeared in a data breach.
Protect My Devices: Pressing this button sends an installation link to your account that you can use to protect all your devices.
Next on the list, you will find the 'Settings' option that contains a handful of additional tabs, including:
Account: Here, you'll see your account information like user ID and subscription details. You can also sign out of the application in this tab.
Security: You can activate the kill switch, allow push notifications, and have Atlas VPN activated on launch.
Protocols: Atlas VPN supports various protocols, and this is where you get to choose which one you want to use. You can choose from Wireguard and IPSec/IKEv2 or select 'Auto' to let the app choose the right protocol for you.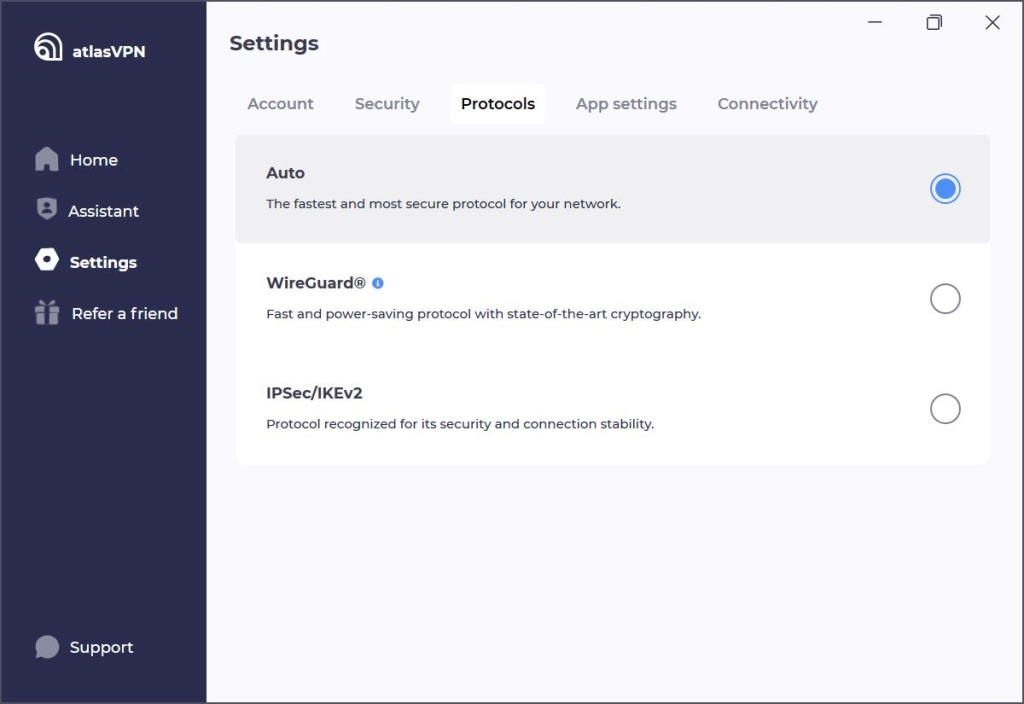 App Settings: Here, you can customize your app language, share app analytics, and decide whether closing the app shall minimize it to the system tray menu.
Connectivity: You will find 'Quick Connect' and 'Auto-Connect' options here. Quick Connect always connects you to the same location of your choice. Auto-connect allows Quick Connect to turn on automatically when Atlas VPN starts.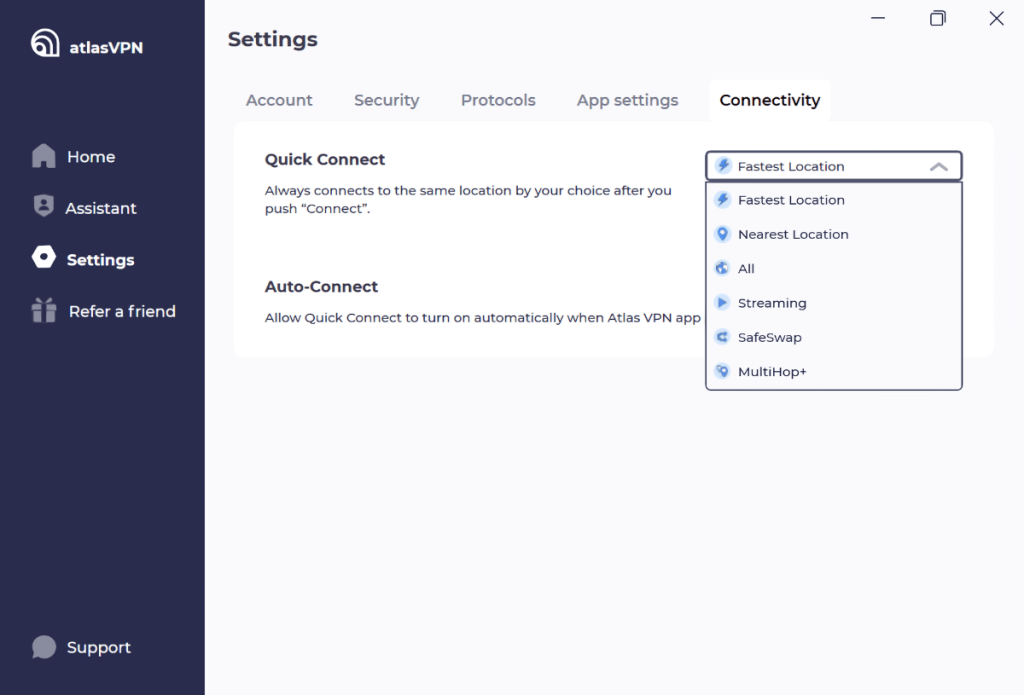 The Mac app looks and works much like the Windows app, except for some missing items. The location list doesn't contain the Recently Used section and there's no configurable Connect button and the Data Breach Monitor.
How Well Does Atlas VPN Work on Mobile Platforms?
Since Atlas VPN started as a mobile-only VPN, we expected the app's mobile versions to perform better than the desktop counterparts. And sure, it outperforms the Windows and Mac apps in several areas.
The mobile apps have a much cleaner UI with a large ON/OFF button in the center. A single tap will connect you to the fastest server or any other server depending on your preferences. The settings icons have a separate menu at the bottom of the screen. 
You get all the standard features like kill switch, ad and malware blocker, but the most prominent of these is the split tunneling feature. For the most part, Atlas VPN's Android and iOS apps look and work the same. The only difference is that the iOS version doesn't support split tunneling.
Media Streaming, Torrenting, and Gaming Support
Atlas VPN works with Netflix, Disney+, and a handful of other media streaming services, but fails to unblock Amazon Prime Video. Torrenting and gaming are a possibility but this isn't the most optimized VPN in that regard. Our Score: 7/10
We tested Atlas VPN on a number of streaming platforms and had mixed results. Here's a table containing the results of our tests.
| | |
| --- | --- |
| Netflix | YES |
| Amazon Prime Video | NO |
| Disney+ | YES |
| BBC iPlayer | YES |
| Hulu | YES/NO (works sometimes) |
| Torrenting (P2P) Support | YES |
Atlas VPN granted access to most of the popular media streaming platforms. I could access Netflix libraries from several servers, but as you'll see below, the connection wasn't reliable in the case of Hulu. I was able to unblock Disney+ and BBC iPlayer, but couldn't access Amazon Prime Video from any server.
Does Atlas VPN Work with Netflix, Hulu, BBC iPlayer, Prime Video & Disney Plus?
As you can see in our hands-on tests, Atlas VPN works fine for media streaming. We were able to access Netflix from several locations and stream shows without buffering.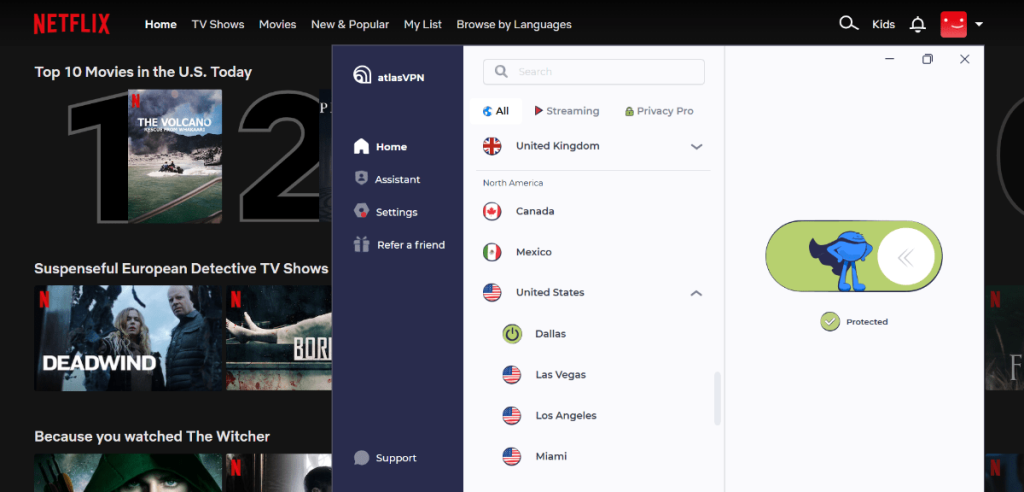 We also managed to access Disney+ and BBC iPlayer without any issues. Based on our tests, we recommend using the specialized streaming servers as they provide better unblocking capabilities and faster speeds.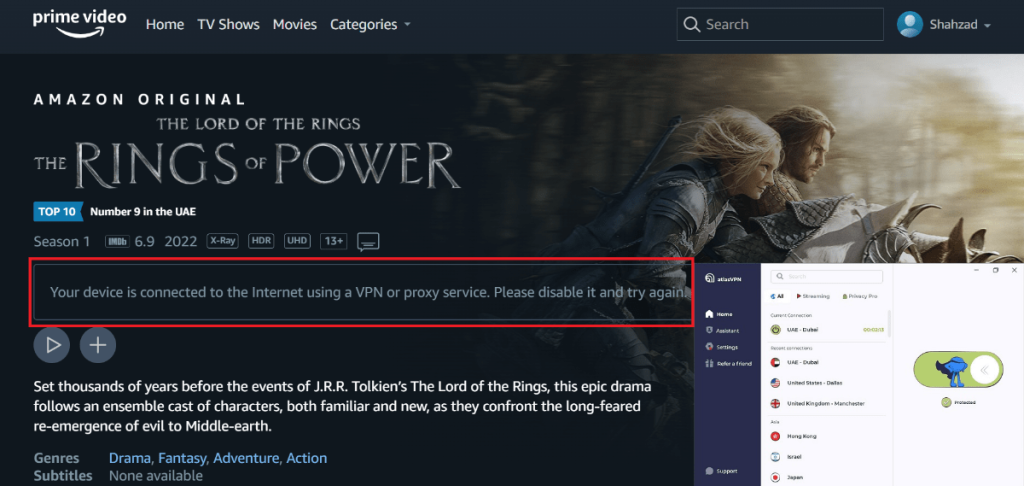 Although we had trouble with Hulu initially using the VPN, we were able to access the platform after several failed attempts. We also tried to unblock Amazon Prime Video from different servers, but the platform's powerful VPN filter could detect and block Atlas VPN every time during our tests.
Is Atlas VPN Good Enough for Torrenting (P2P)?
We had no trouble with torrenting using Atlas VPN. You don't get optimized servers for torrenting, but all servers support P2P traffic. 
Since Atlas VPN is a US-based service, which isn't a privacy-friendly jurisdiction, we'd recommend that you avoid indulging in copyright infringement. 
In any case, you should only download torrents from legal websites.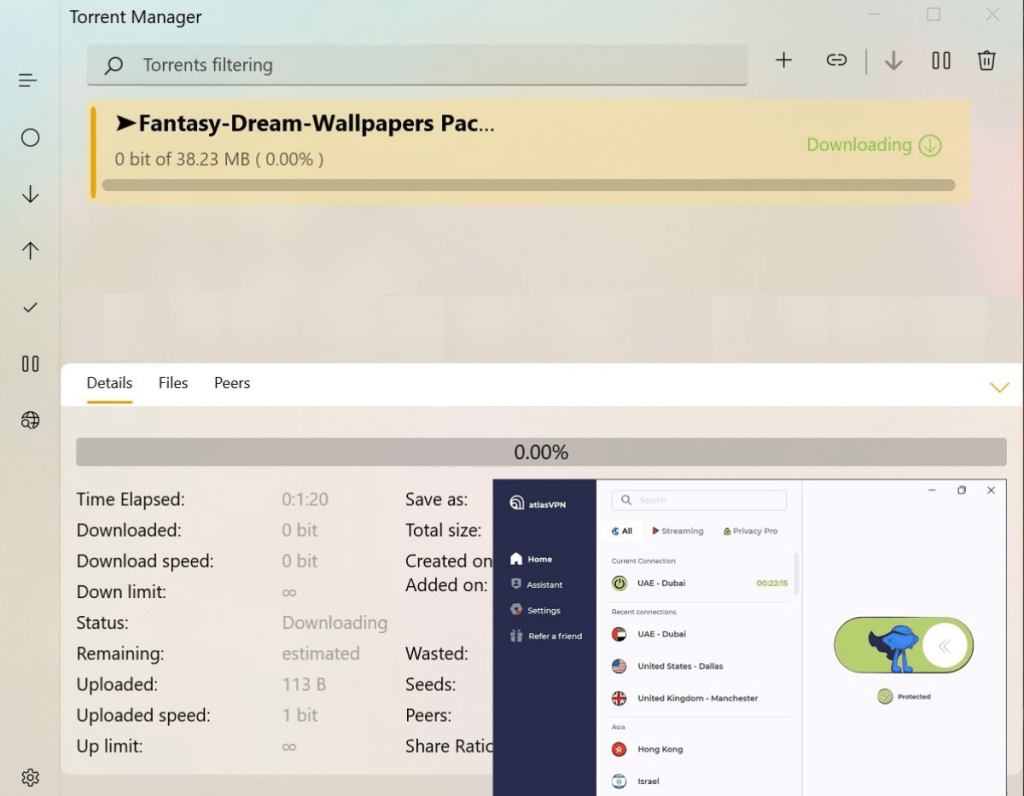 Is Atlas VPN Good Enough for Gaming?
Yes, Atlas VPN can be used for gaming. Although the VPN service doesn't offer any gaming-optimized servers, you can connect to any of its servers and enjoy gaming with lower ping and lag.
Atlas VPN also allows you to change your protocol (between WireGuard and IPSec/IKEv2), which means that you can customize your VPN connection for a better speed and gaming experience.
Security & Privacy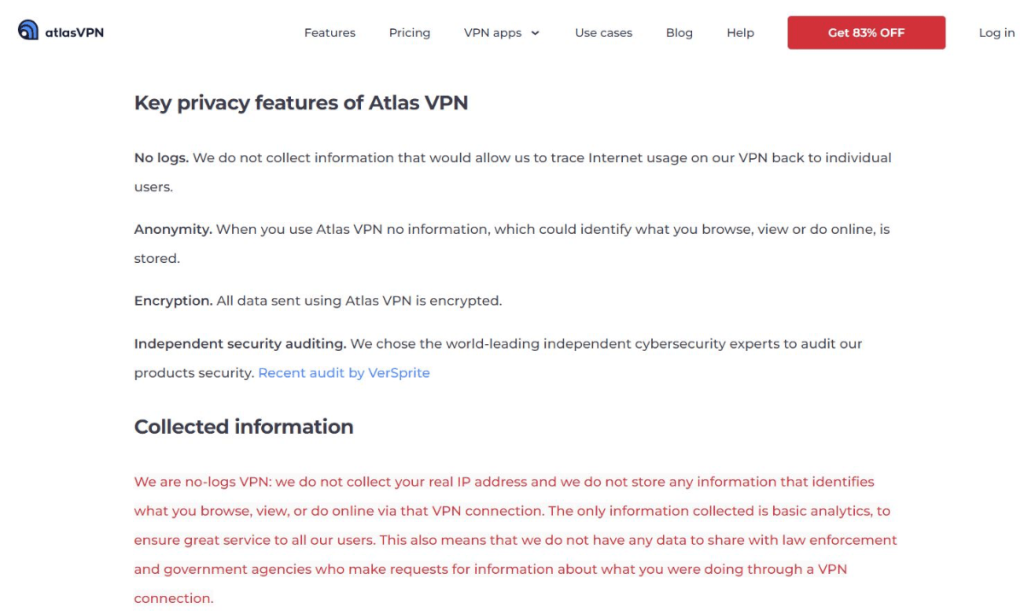 Atlas VPN is a US-based service. However, it operates under a no-logs policy and has two independent audits under its belt. It uses 256-bit encryption and offers strong VPN protocols to protect your confidential information. Our Score: 9/10
To find out whether we could trust Atlas VPN with our data, we considered three aspects of the VPN and conducted tests to determine how the VPN handles our data. Here are our findings.
Atlas VPN Protocols
Atlas VPN lets you choose between WireGuard and IPSec/IKEv2 protocols across all its applications. It doesn't support OpenVPN, which is a highly reliable VPN protocol and trusted by millions for many years now. 
However, WireGuard is a pretty capable protocol and is usually enough to meet most of your needs. IPSec/IKEv2 may not be as secure as WireGuard, but it's known for its performance.
Does Atlas VPN Log Private Data?
Atlas VPN operates under a no-logs policy and claims that no users' data is stored by the service. However, if you dig deeper into the VPN's logging policy, you'll see that it collects some data about your device and operating system. 
It may also ask to verify your email address to avoid abuses. But as this is all non-identifying information, there's nothing to worry about.
Since Atlas VPN is relatively new in the VPN space, its privacy policy hasn't been tested by real-world incidents. Therefore, there's no way we can test the veracity of its claims. 
More established providers like ExpressVPN and PIA have been subpoenaed by law enforcement and have been unable to provide their users' data.
Does Atlas VPN Leak/Expose Your Private Data?
Atlas VPN doesn't expose your real IP address, geolocation, or DNS data. We ran several DNS, IP, and WebRTC leak tests and couldn't find any leaks.
As you can see, Atlas VPN routed our data through a secure tunnel, meaning that our true network details always remained hidden.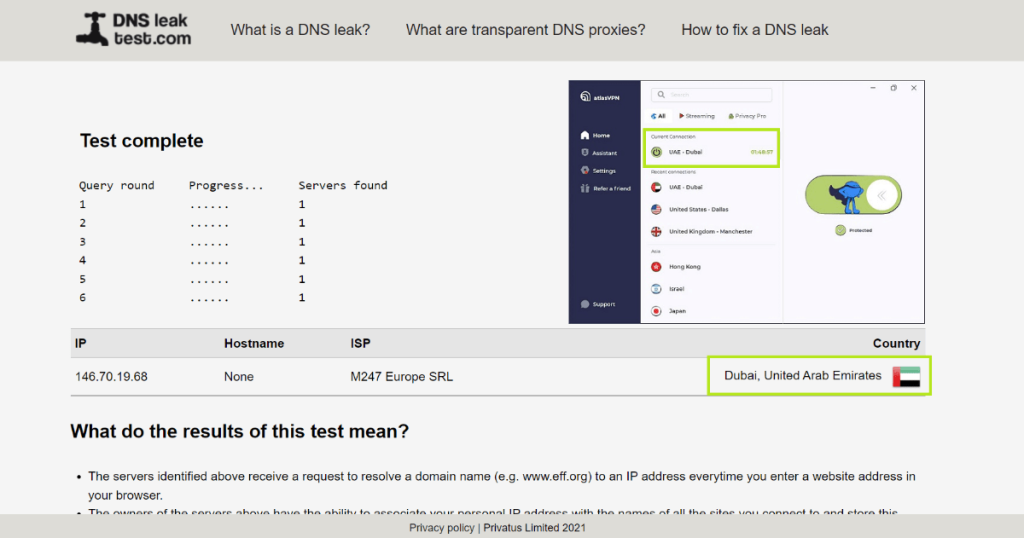 Atlas VPN leak protection feature is always enabled, so you don't have to tweak any settings manually to keep your device safe.
Speed & Performance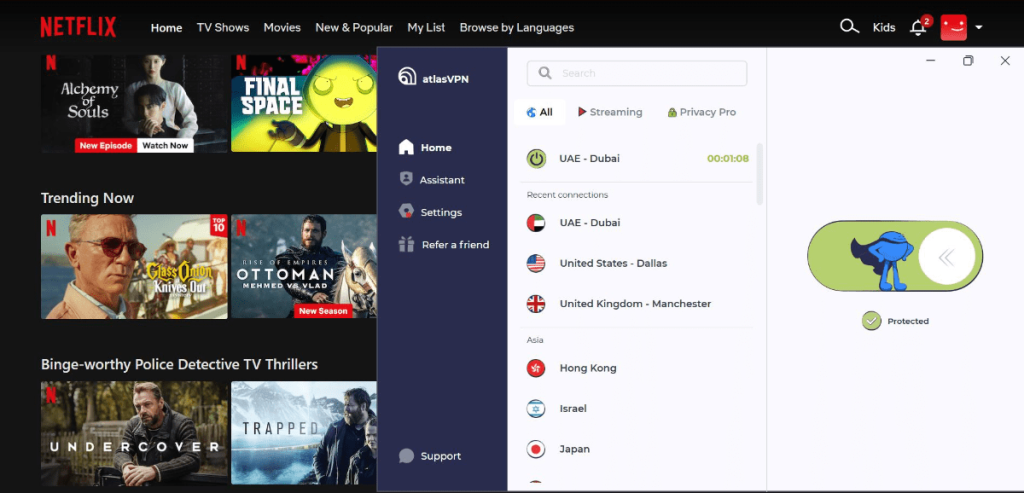 Atlas VPN has significantly improved its performance during the last year, but you may still experience occasional connection errors and slow speeds. Our Score: 7/10
Every VPN will slow your connection down, but some VPNs do a better job than others. Let's see how Atlas VPN performed in our tests.
Atlas VPN Speed Test
To see how Atlas VPN truly performs, we tested a wide range of local and remote servers. We began conducting the local speed tests and then expanded to more distant locations to see how long-distance connections work.
The image below shows our baseline speed, without Atlas VPN running in the background. As you can see, we managed to get 28.12 Mbps for downloads and 26.28 Mbps for uploads.
Local Speed Test
In our local speed tests, we connected to servers in the UK and Italy, to check Atlas VPN's nearby connections. Here's how these servers performed in our tests.

Italy: The Italian server offered 25.66 Mbps on download which was the fastest speed we got during our tests. It shows a speed reduction of 8.74%, which is comparable to most premium VPN service providers.

UK: Then, we tested the UK server (Manchester) and managed to get 15.91 Mbps for downloads and 2.67 Mbps for uploads. These aren't the best speeds, but they are still good enough for most use cases.
Long Distance Speed Tests
Next, we tested Atlas VPN's speed on long-distance servers in the US, Canada, and Australia. We ran several tests and got mixed results.
USA: By connecting to a US server (New York), we were able to get a download speed of 15.82 Mbps and an upload speed of 22.50 Mbps. We had trouble connecting to the server initially but managed to establish a connection after a few attempts.

Canada: We then tested a server in Canada (Montreal) and got decent results. We got 14.28 Mbps for downloads and 2.41 Mbps for uploads during this round of testing. As you can see, our upload speed was reduced quite significantly, and our download speeds went just below the average speed.
Australia: We also tested Atlas VPN's server in Australia (Sydney) and got impressive results. We were able to get 19.44 Mbps for downloads and 7.34 Mbps for uploads, which isn't bad.
So, How Well Does Atlas VPN Perform?
To make sense of our speed tests, we compiled our results in a table and calculated the speed reduction for each server.
| | | | |
| --- | --- | --- | --- |
| | Download Speed | Upload Speed | Speed Reduction |
| Baseline Speed | 28.12 Mbps | 26.28 Mbps | 0% |
| Italy | 25.66 Mbps | 6.79 Mbps | 8.74% |
| UK (Manchester) | 15.91 Mbps | 2.67 Mbps | 43.4% |
| US | 15.82 Mbps | 22.50 Mbps | 43.7% |
| Canada | 14.28 Mbps | 2.41 Mbps | 49.2% |
| Australia | 19.44 Mbps | 7.34 Mbps | 30.8% |
Based on these results, we can say that Atlas VPN reduced our internet speed by 35.1% on average. This is a significantly higher reduction in speeds compared to premium providers like ExpressVPN. 
What Kind of Performance Can You Expect? Atlas VPN's performance massively depends on your Internet connection speed. Most servers significantly throttle your speeds, so you can offset the reduction by using a decent internet speed before connecting to the VPN. 
With an average speed reduction of 35.1%, a baseline speed of over 25 Mbps should be sufficient to browse websites without lags and watch your favorite media content in HD without buffering.
Customer Support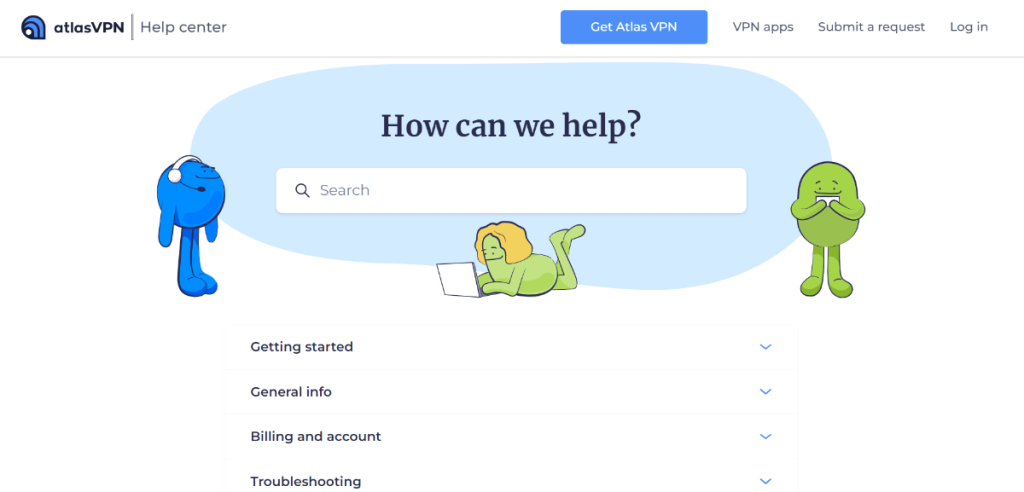 Atlas VPN has plenty of resources on its website, including helpful guides, FAQs, and many articles on how to resolve common issues with the VPN. Our Score: 8.5/10
There are several ways to turn to Atlas VPN for assistance. Some of these include:
Live Chat: The live chat option is only available to paying customers. More precisely, you need to log in to your account before you can start a live chat with a customer service representative.
Email Support: You can also create a new support ticket by sending an email to Atlas VPN. We sent them an email with our query and got a response within 3 hours.
Troubleshooting Guides: If you're facing problems with Atlas VPN, you can find helpful guides related to connectivity issues, account and billing, and more.
Overall, we were satisfied with customer support, but we do wish to see them extend the live chat option to all users. But as a budget-friendly VPN, it's understandable to limit the feature to premium users only.
Pricing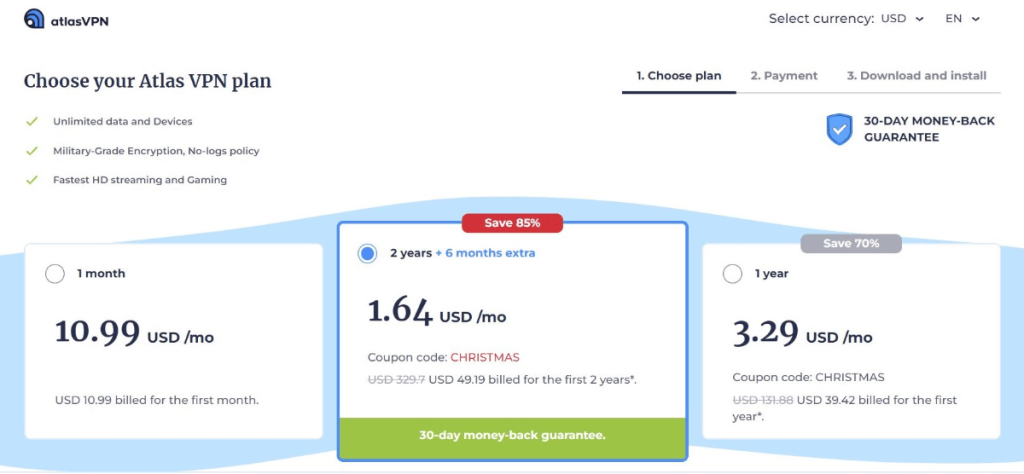 Atlas VPN offers plenty of value overall. It has an excellent free VPN version and affordable paid plans, especially if you invest in a long-term subscription. Our Score: 10/10
How Much Does Atlas VPN Cost?
Atlas VPN is a freemium VPN that offers a free plan and three subscription options. It often comes up with deals and discounts, but here's how much you can expect to spend on the premium plans at the moment.
As you can see, Atlas VPN's monthly plan will cost you $10.99/month. However, you can reduce the price by choosing the annual or the 2-year plan. The latter provides the biggest savings (85%) and you also get an extra 6 months of use.
It's pertinent to mention that the annual and 2-year plan prices are only valid for the first term of your subscription. After that, you'll be automatically charged the then-applicable renewal price – which is currently $39.42 per year.
Atlas VPN supports a wide range of payment options, including credit cards (Visa, Mastercard, American Express, Discover, and more), Google Pay, PayPal, and cryptocurrencies.
Can Atlas VPN Be Used Free-of-Charge?
Yes, Atlas VPN offers a free version that can be used completely free of charge. The free plan has a data cap of 5 GB/month and limits access to 3 servers in 2 countries. It works fine for normal browsing and streaming, but the data limit means that you won't be able to download or stream for long.
| | | |
| --- | --- | --- |
| | FREE | PREMIUM |
| Locations | 3 | 45 |
| Monthly Data Limit | 5 GB/Month | Unlimited |
| Streaming-Ready Servers | NO | YES |
| SafeSwap Servers | NO | YES |
| SafeBrowse Feature | NO | YES |
| Data Breach Monitor | YES | YES |
Atlas VPN's 30-Day Money-Back Guarantee - Will You Get Your Money Back?
Yes, Atlas VPN offers a money-back guarantee, but it only applies to the 2-year plan. As long as you initiate the process within 30 days of subscribing, you won't have any issue claiming the refund. However, Atlas VPN may first troubleshoot the issue you experience before initiating the refund process.
Atlas VPN allows users to get a refund twice. After the second cancellation, you won't be able to claim a refund again. Also, the refund policy applies if you sign up for the service directly through Atlas' website. For purchases made through a third party, you'll have to contact the third party and follow their refund and cancellation policies.
Final Thoughts - Do We Recommend Atlas VPN?
Yes, Atlas VPN is a capable VPN that has a lot going for it. It's simple to use and covers all the basics adequately. It's a great option if you want to unblock websites, stream online media, or download torrents. You can also block annoying ads and web tracking to protect your privacy. That said, Atlas VPN offers good value for your money.
However, there are still some areas where the service needs improvement. We encountered plenty of server connection errors and the connection speeds were slower than other VPNs in its price range.
That said, we recommend Atlas VPN to the average home user who just wants to stream media and make their Web connection private. If that's what you're looking for, don't hesitate to subscribe to Atlas VPN.
Atlas VPN Pros & Cons
After spending hours testing Atlas VPN, here are the most prominent pros and cons of the service.
| | |
| --- | --- |
| Atlas VPN - PROS | Atlas VPN - CONS |
| Generous free plan. | Based in the US. |
| Unblocks most streaming platforms. | No native apps for routers. |
| SafeSwap servers. | No browser extensions. |
| MultiHop connections. | Lack of customization. |
| Ad and malware blocker. | Small server network. |
| Unlimited simultaneous connections. | Slow connection speeds. |
| Supports P2P traffic on all servers. | |
| Affordable subscription plans. | |
FAQ
Is Atlas VPN Free?
Yes, Atlas VPN is free with 5 GB of data limit per month. It doesn't require payment info and allows you to choose from 3 server locations: New York, Los Angeles, and Amsterdam.
Is Atlas VPN Safe and Good to Use?
Yes, Atlas VPN is safe and good to use. It operates under a no-logs policy, and it won't leak your real IP address, DNS, or geolocation information.
Does Atlas VPN Have Free Trial?
Yes, Atlas VPN offers a free trial for Android and iOS users. With the free trial, you can use all the premium features for 7 days without bandwidth limits and data caps.