It took a while for Netflix and other streaming services to reach Australia. However, it's not like Australians didn't have any other options in the past. Even today, Stan is a hugely popular streaming service that offers several exclusives and originals. However, it comes geo-restricted. So, let's talk about how to watch Stan outside Australia in 2021.
As you can already guess, we'll point you to VPN services in this article. However, keep in mind that unblocking Stan from abroad is a challenging thing to achieve. We have the best possible VPN for the job, so here's everything you need to know.
Where Is Stan Available? 
Just like it always has been the case, Stan is still available in Australia only. You can visit its website from anywhere, but you'll need to be in Australia to use it.
More precisely, Stan will check your IP address at some point, and that will most certainly happen once you start to stream a video. Unless you have an Australian IP, your access will be blocked to the service (keep reading to learn more about that).
How to Watch Stan Outside Australia? 
So, to watch Stan outside Australia in 2021, go through these 6 steps:
Step #1: Find the Best-Working VPN for Unblocking Stan
This process begins with picking the best possible VPN for the job. Keep in mind that Stan has become difficult to unblock, so you should be careful about which one you'll pick. Based on our hands-on tests, we recommend going for the ExpressVPN.
3,000+ VPN servers in 160 VPN server locations in 94 countries, 5 Simultaneous connections, Fast and stable connection, No activity logs or connection logs, No bandwidth limits, Strong encryption, 24/7 live chat support, and 30-day money-back guarantee.
ExpressVPN isn't only one of the best VPNs for media streaming but also the best VPN overall. It comes with plenty of servers in Australia, lets you change your IP address easily, and of course – unblocks Stan without any problems. Therefore, it comes as a bulletproof solution.
Step #2: Get Your VPN Subscription
If you decide to subscribe to ExpressVPN, proceed to visit its website. Then, select 'Get ExpressVPN' to initialize the sign-up procedure. First, pick a subscription plan. However, take a good look at those, as long-term plans offer significant savings.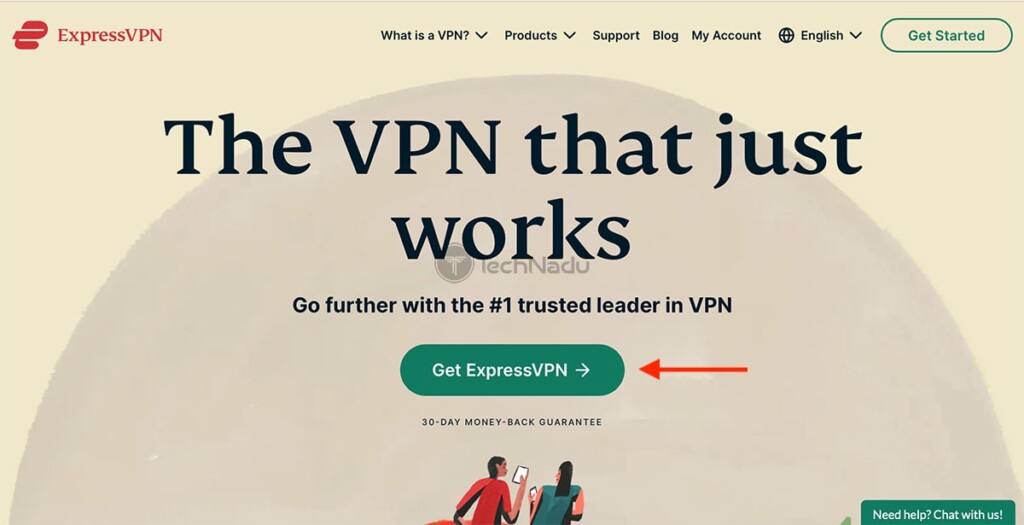 Then, provide your email address and pay for the chosen subscription. Once done, ExpressVPN will send you a confirmation email, so don't forget to check your inbox. When that happens, feel free to proceed to the next step.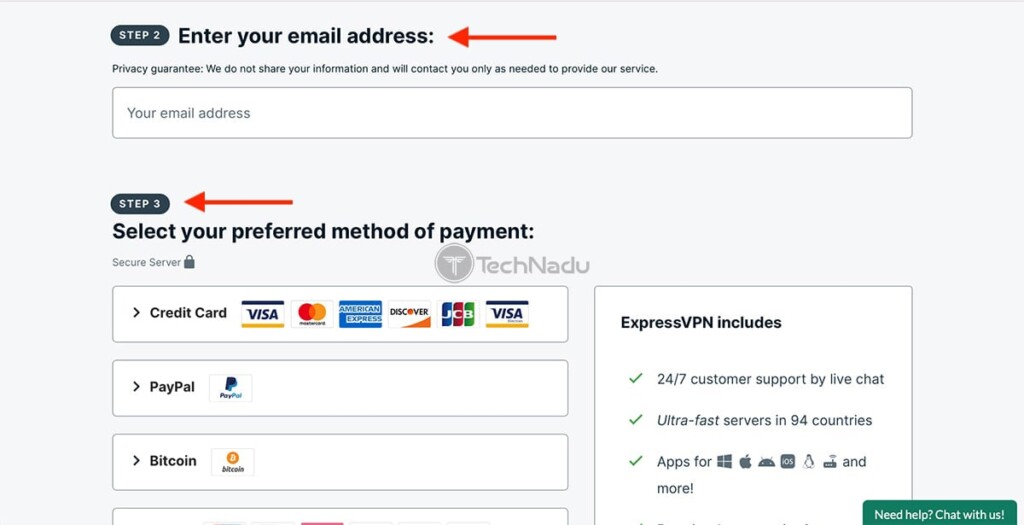 Step #3: Download & Install the VPN on Your Device(s)
There are many reasons why we recommend ExpressVPN. However, its platform compatibility is perhaps one of the most prominent benefits. To learn how to download and install ExpressVPN, use the provided link. You'll be taken to our guide covering over 60 platforms and devices, all natively supported by this VPN.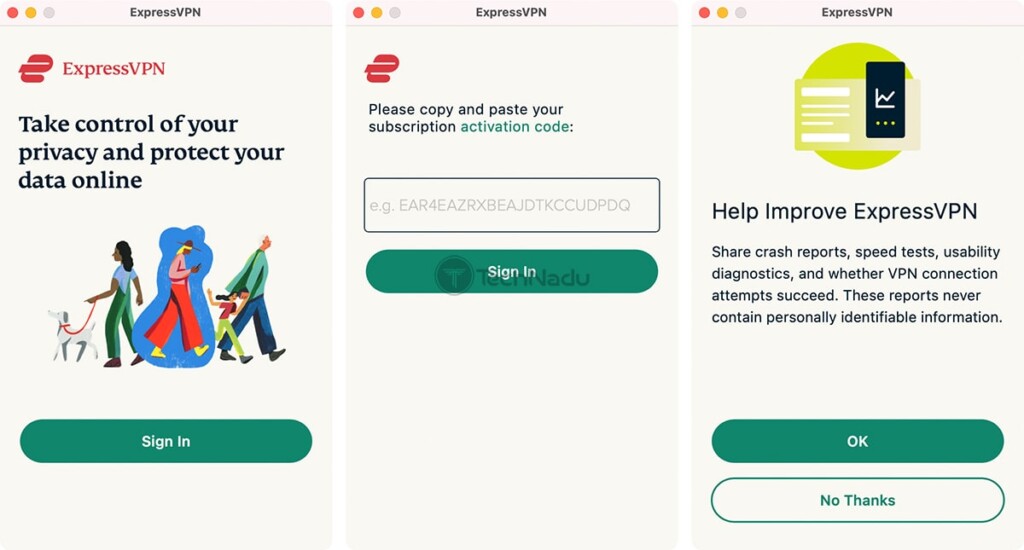 Also, don't forget to go through ExpressVPN's initial installation. Once you install the app, launch it, and log in to your account (here's how to get your ExpressVPN activation code, should you need one). Decide whether to supply the VPN with anonymous analytics data, which is when you'll find your way to ExpressVPN's home screen.
Step #4: Connect to a VPN Server in Australia
Now, here's a crucial step to take before you get to watch Stan outside Australia. Using ExpressVPN's home screen, select the button you'll see beneath the ON/OFF switch. A new window will appear, showing you all of the available VPN servers. Use the search bar to look up 'Australia,' and then double-click on any server you'll find there.
It will take a couple of moments for ExpressVPN to connect you. As soon as that happens, the upper half of its home screen will turn green. You will also see a note saying 'Connected,' which means you'll be ready to proceed to the final step.
Step #5: Unblock & Access Stan From Anywhere
Use any Web browser to visit the official Stan website. You should have no problem accessing it. Then, access your account by clicking on 'Log In' (found in the top-right corner). Provide your credentials and select 'Log In' once again to access the streaming library.
That's basically it! From this moment on, you can watch Stan outside Australia without any limitations. However, keep in mind that you must keep ExpressVPN active in the background as long as you wish to stream Stan. ExpressVPN comes with unlimited bandwidth, so don't worry whether you'll encounter any restrictions.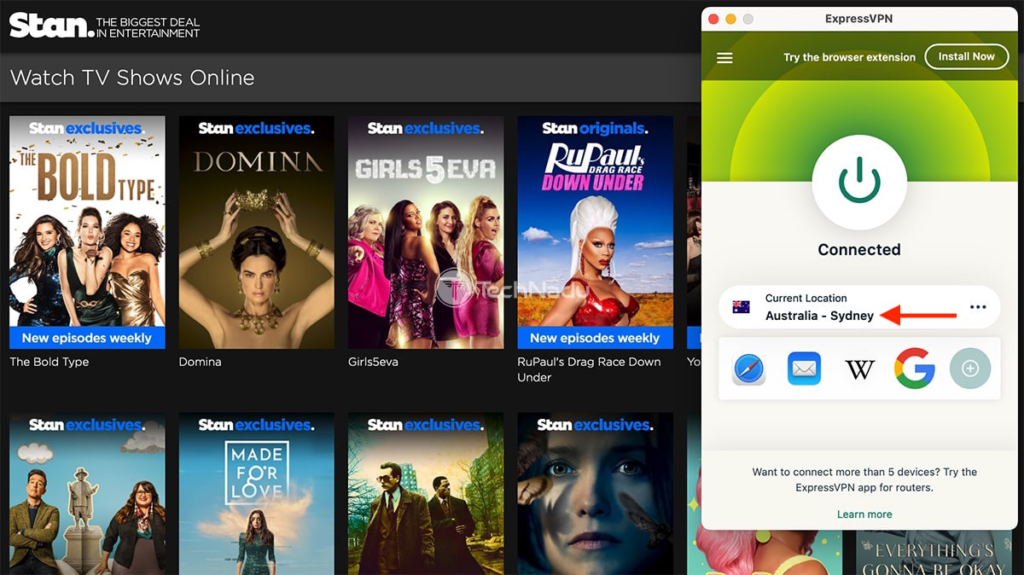 Step #6 (Optional): Get Stan on Other Devices
If you wish to reach Stan on more devices, you can count on its Android and iOS/iPadOS apps. However, to access those apps, you need to have an Australian account (we're talking about Google and Apple accounts here, by the way). So, if you don't have one, feel free to sign up for a new Google account or get a new Apple ID.
Don't forget to keep your VPN session active while signing up. And also, pick 'Australia' when asked about the country. Provide any address as well, which will what Apple will ask you to input. When it comes to Google, all it takes is to use a VPN all the time (so that it can read your geo-location data).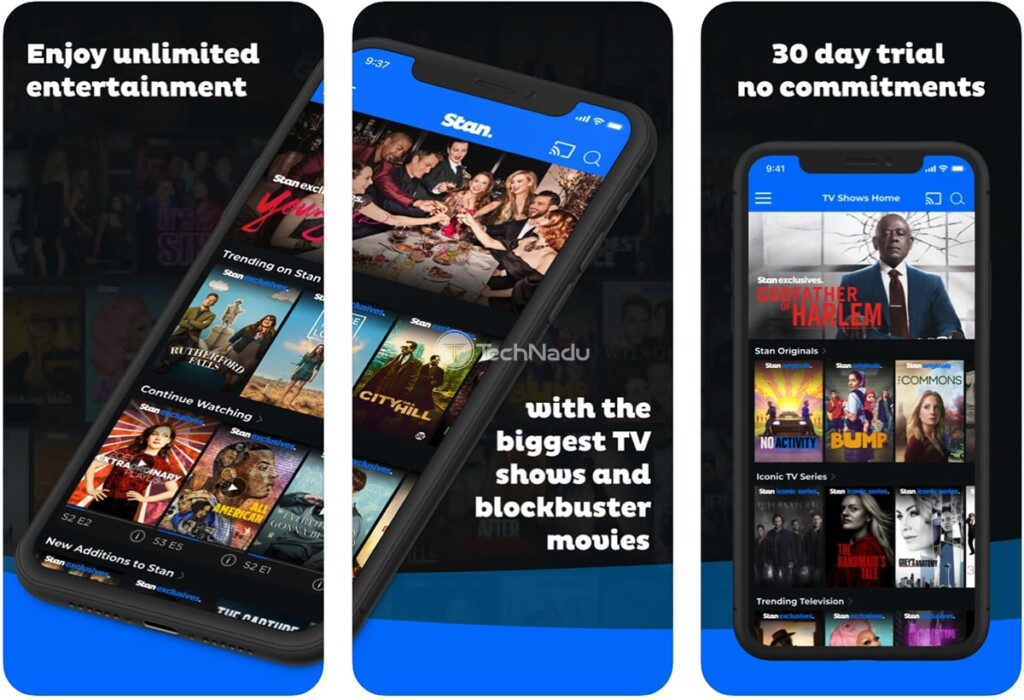 Then, log out of your old account on your Android or iOS/iPadOS device, and then log in using your new account (typically done via the Settings app). That's when you get access to the Australian version of the Play Store and iOS App Store, from where you can download Stan.
FAQ
What Is Stan?
Stan is an on-demand streaming service, available in Australia only. You can subscribe for only $10 per month, and you also get a 30-day free trial.
What Can I Watch on Stan?
Stan has a massive library of on-demand movies and TV shows. In addition, it features exclusives (not found elsewhere) and even offers its original content.
When it comes to its original content, you can count on Ru Paul's Drag Race (Down Under), Relic, The Other Guy, Commons, Eden, Wolf Creek, and plenty more.
On What Devices Can I Watch Stan?
Stan is available on Web devices, smartphones, tablets, media streaming devices, game consoles, and Smart TVs. Find more information here.
How Do I Download Stan Outside Australia?
If you're outside of Australia, you can download Stan only if you have an Australian Google or Apple account. To learn how that's done, follow these steps.
Can I Watch Downloaded Stan Overseas?
Yes, you can download TV shows and movies offered by Stan, and watch them overseas, even when offline. Find more info on Stan's website.
That would be all on how to watch Stan outside Australia in 2021. If you have any questions on your mind, let us know via the comments section below. And finally, thanks for reading!