It's true that France offers a lot of options when it comes to media streaming. However, when it comes to its "native" streaming services, the most popular one is myCANAL, with 14.9 million unique visitors each month. So, what if you're currently abroad? Is there a way to watch myCANAL outside France in 2021? Yes, there is – and we'll show you how!
Keep on reading this guide on unblocking myCANAL from anywhere in the world by relying on a capable VPN service. Here's everything that you'll want to know.
Where Is myCANAL Available? 
Currently, myCANAL is available in France, Poland, and across a number of African countries. Access to myCANAL from other countries is currently blocked.
It's also worth noting that myCANAL plans to expand to additional countries in Europe in 2021 and 2022. However, there are no concrete announcements regarding that just yet. So, unless you're in a country where myCANAL doesn't operate, you need to follow the guide explained in this article.
How to Watch myCANAL Outside France
Finally, here are the 6 steps to watch myCANAL outside France in 2021: 
Step #1: Find the Best-Working VPN to Unblock myCANAL
Know that unblocking myCANAL outside France isn't an easy thing to achieve. In other words, you need a capable, trustworthy, and proven VPN. Based on our hands-on tests, we strongly recommend ExpressVPN, which also comes as the best VPN overall available right now.
3,000+ VPN servers in 160 VPN server locations in 94 countries, 5 Simultaneous connections, Fast and stable connection, No activity logs or connection logs, No bandwidth limits, Strong encryption, 24/7 live chat support, and 30-day money-back guarantee.
ExpressVPN will help you unblock myCANAL with ease and every single time. However, you do have other options as well. So, if you'd like to explore what else is on offer, we recommend checking our guide to the best VPNs for media streaming. 
Step #2: Get Your VPN Subscription
Now, you need to get your VPN subscription before we proceed any further. Go ahead and subscribe to ExpressVPN, which will take only a minute of your time. After you land on the VPN's website, pick 'Get ExpressVPN.' Then, select a subscription plan (know that long-term plans come with steep discounts).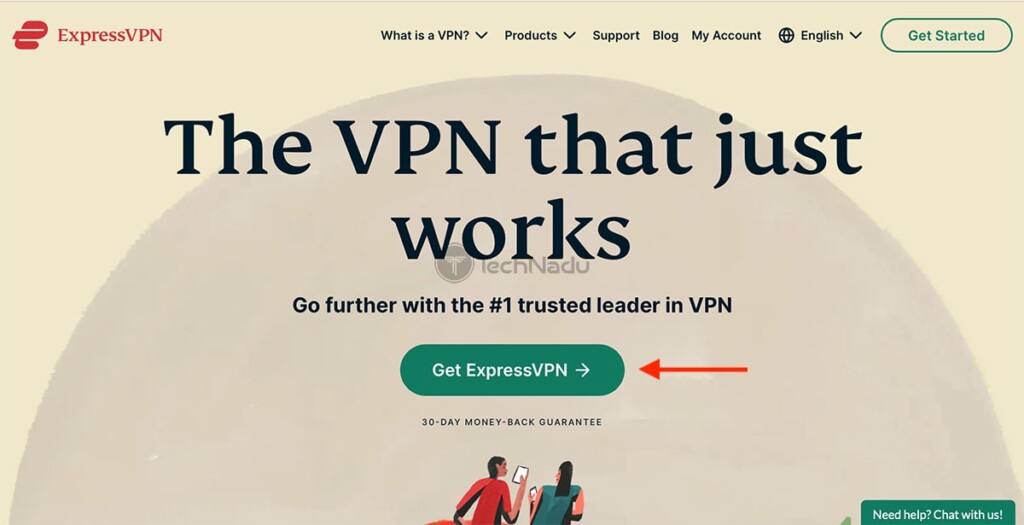 Provide your email address, and then pick a payment method. Once you input the required information, you'll receive an email from ExpressVPN's team. So, check your inbox, and then proceed to the following step.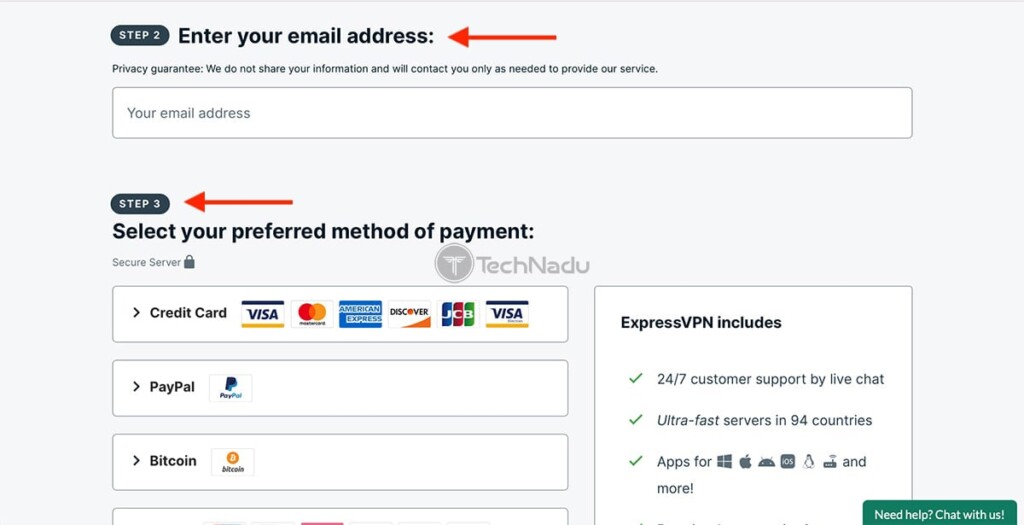 Step #3: Download & Install the VPN on Your Device(s)
One of the reasons why we recommend ExpressVPN is its broad platform compatibility. As you can see in our guide on how to download and install ExpressVPN, this VPN works on over 60 different types of devices. Use the provided link to learn how to set up the VPN.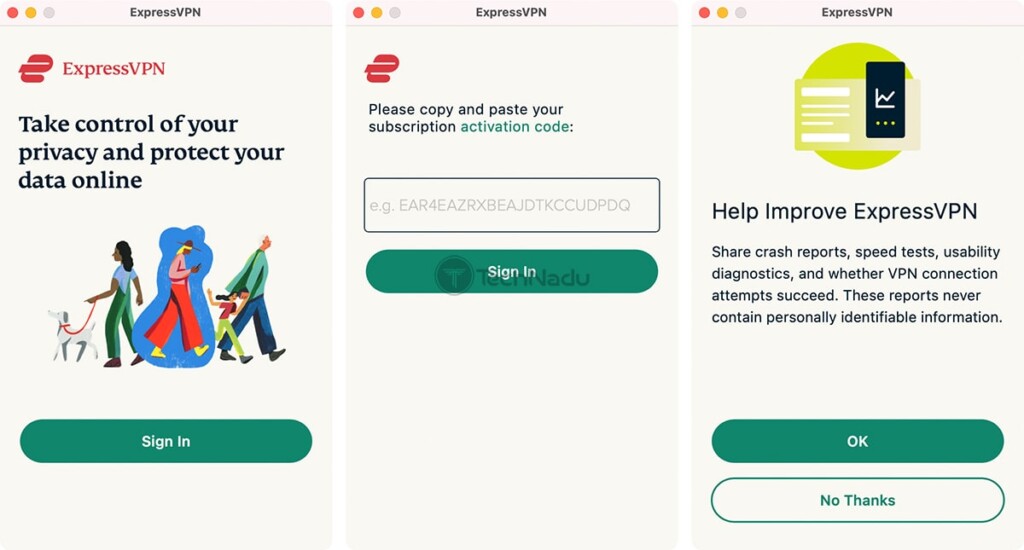 After you install the VPN, don't forget to launch it for the first time. That's because you'll need to log in, for which you can use your ExpressVPN activation code. Complete the initial setup and make sure that you reach the VPN's home screen before proceeding further. 
Step #4: Connect to a VPN Server in France
To unblock and watch myCANAL outside France, you need to connect to a server in that country (which, in turn, will get you a French IP address). So, go ahead and launch ExpressVPN. Once you reach its home screen, select the button just below the ON/OFF switch. You'll see a new window open, listing the numerous servers this VPN offers.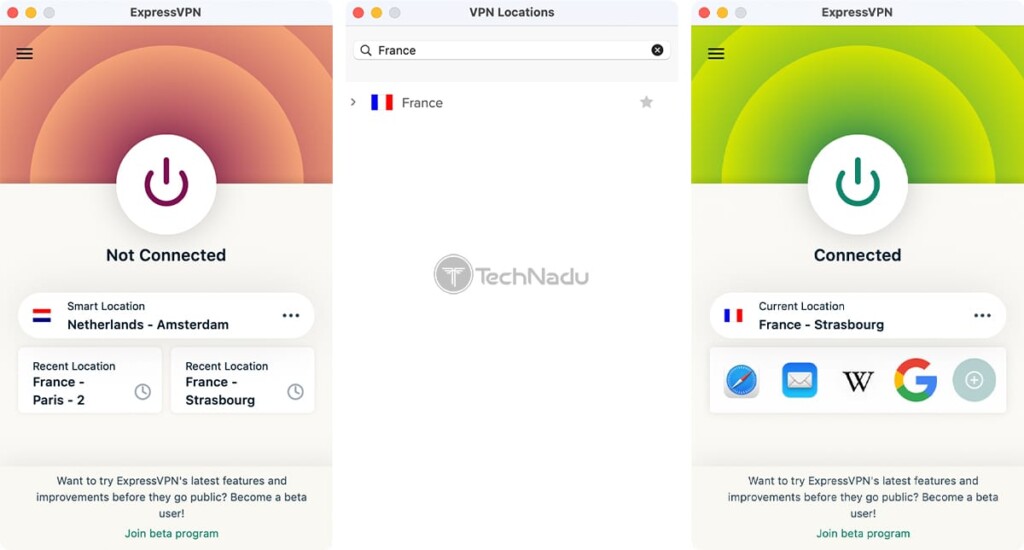 Use the top-placed search bar to look up 'France.' Then, double-click on the country's name. You can also connect to an individual server by double-clicking on its name. After a couple of moments, ExpessVPN's interface will turn green, indicating that your VPN connection is active.  
Step #5 (If You Want to Sign In): Unblock & Access myCANAL Outside France
Now that you have an active VPN session proceed to visit myCANAL on the Web. Keep in mind that unless you have a payment method associated with any of the countries where myCANAL is available, you can't sign up via its website (more about how to sign up here). Instead, this step lets you access your existing subscription.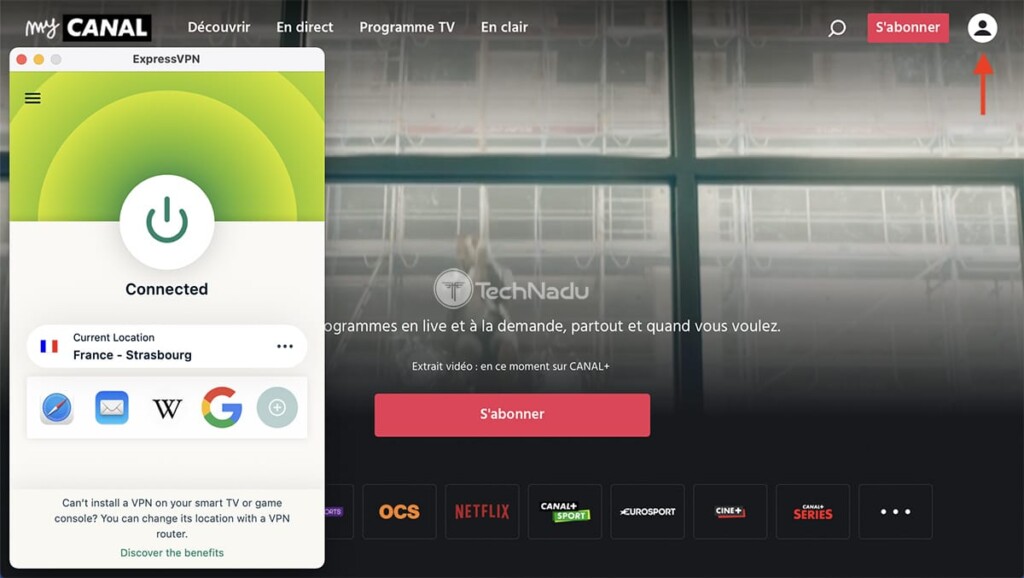 So, select the Profile icon, visible in the top-right corner. Click on 'Se Connecter,' and a new window will open, asking for your credentials. Input the required information and access your myCANAL subscription. That's it!
Step #6 (If You Want to Sign Up): Download myCANAL on iOS/iPadOS or Android
In this step, we'll show you a trick on how to subscribe to myCANAL from outside France. And for that, you'll need either an iPhone, iPad, or Android device. However, make sure to know the origin country of your Google account or Apple ID. We recommend you use an American Google account or Apple ID. 
If you don't have a US account, create your Google account or get a new Apple ID. Make sure to use the VPN while doing so, and pick 'United States' when asked about your country. When asked about an address, use this US address generator. Then, log in to your new account on your iPhone, iPad, or Android. 
Next, make sure to add funds to your account, using which you'll pay for myCANAL. In other words, purchase a Google or Apple gift card. Make sure to know which myCANAL subscription you'll get, and then add enough funds to your account. Here's how to redeem your gift card code with Google and Apple accounts.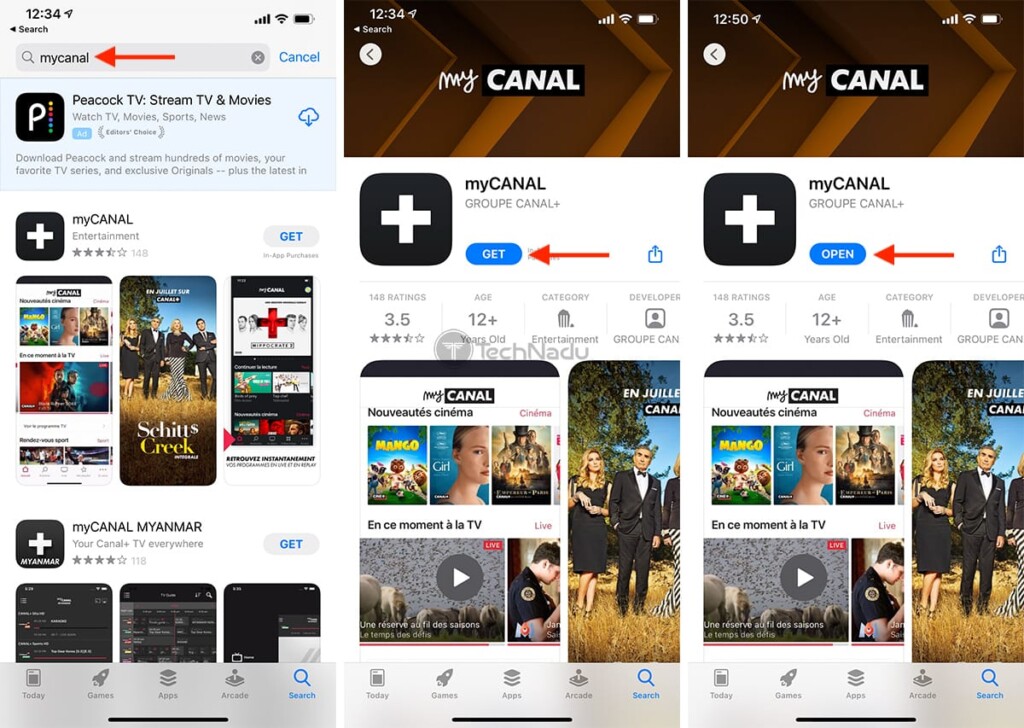 Lastly, download myCANAL from the iOS App Store or Android Play Store. Select 'S'abonner,' pick your subscription, and authenticate your purchase. That's it! Once you get your subscription, you can access myCANAL from any device and even on the Web.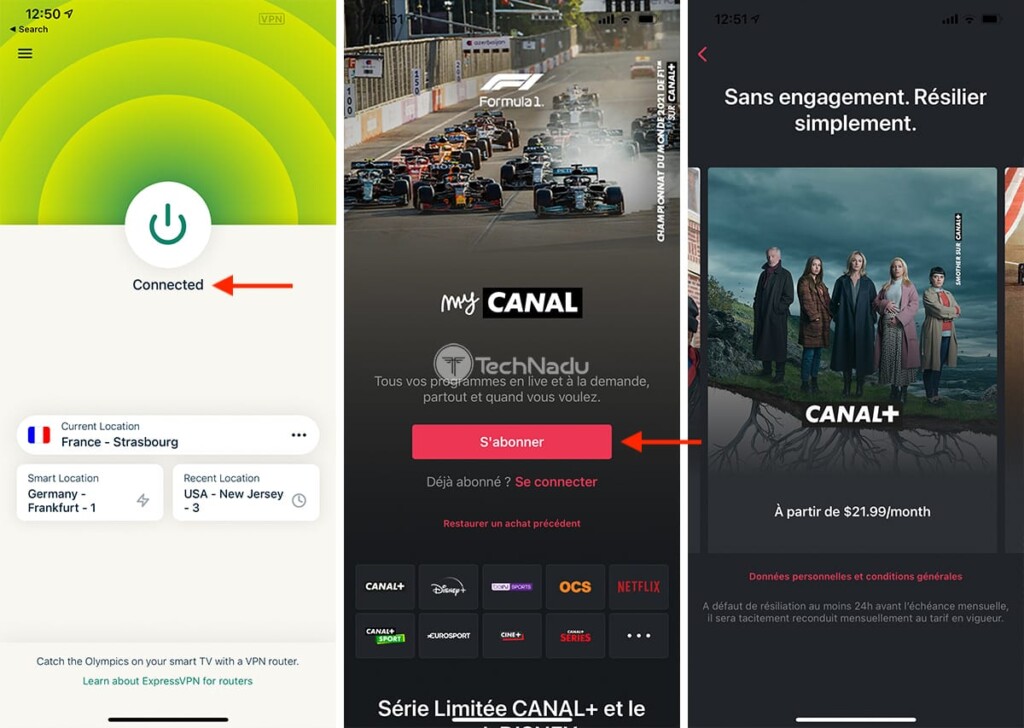 FAQ
What Is myCANAL?
MyCANAL is a French subscription service that brings movies, TV shows, sports, and even live TV channels – available via numerous different subscription types. 
What Can I Watch on myCANAL?
Subscribers to myCANAL get access to CANAL+ movies and TV shows, original content, as well as libraries from Netflix, Disney Plus, beIN Sports, and more. 
How Much Does myCANAL Cost?
There's a range of myCANAL subscriptions from 6.99 €/month for the 'Canal+ Series' plan up to 41.99 €/month for the 'CANAL+ & SPORT+' plan. 
What's the Difference Between CANAL+ and myCANAL?
CANAL+ used to be a standalone OTT service. However, it's now one of the subscription plans offered via myCANAL, giving you access to Netflix and more.
Can I Use a Free VPN to Unblock myCANAL Outside France?
We weren't able to find a free VPN that can unblock myCANAL reliably. With that said, trying a free VPN will most probably be a waste of time and energy. 
If you need a VPN that lets you watch myCANAL outside France, make sure to pick a reliable one with a proven track record. Once again, our strong recommendation is ExpressVPN. 
What's the Best VPN for Unblocking myCANAL in 2021?
Without any doubt, the best VPN for myCANAL in 2021 is ExpressVPN – which is suitable for media streaming, bypassing content restrictions, and plenty more. 
In case you'd like to learn more about this VPN, we offer you our hands-on ExpressVPN review, where you'll learn about its new interface, capable VPN protocols, trustworthy no-logs policy, and plenty more. 
That would be all on how to unblock and watch myCANAL outside France in 2021. If you have any questions for us, let us know via the comments section below. And finally, thank you for visiting TechNadu!