Apple's App Store restricts many popular apps to certain countries only. What that means is that Apple employs geo-based restrictions on its iOS App Store. This could be frustrating for users who want to download these apps regardless of where they stay or travel. Fortunately, using a reliable and capable VPN service, you can gain access to restricted apps after changing your Apple App Store country. 
Even though the App Store allows you to switch your location, doing so comes at a fair cost. You may lose your account credits and previous subscriptions. Users can only access the apps from the store they were bought from. In that sense, changing your App Store country is not always a comfortable choice.
When you try to switch your Apple App Store country, you may receive a warning similar to the one below: "This Apple ID is only valid for purchases in the [your country] iTunes Store. You will be switched to that Store."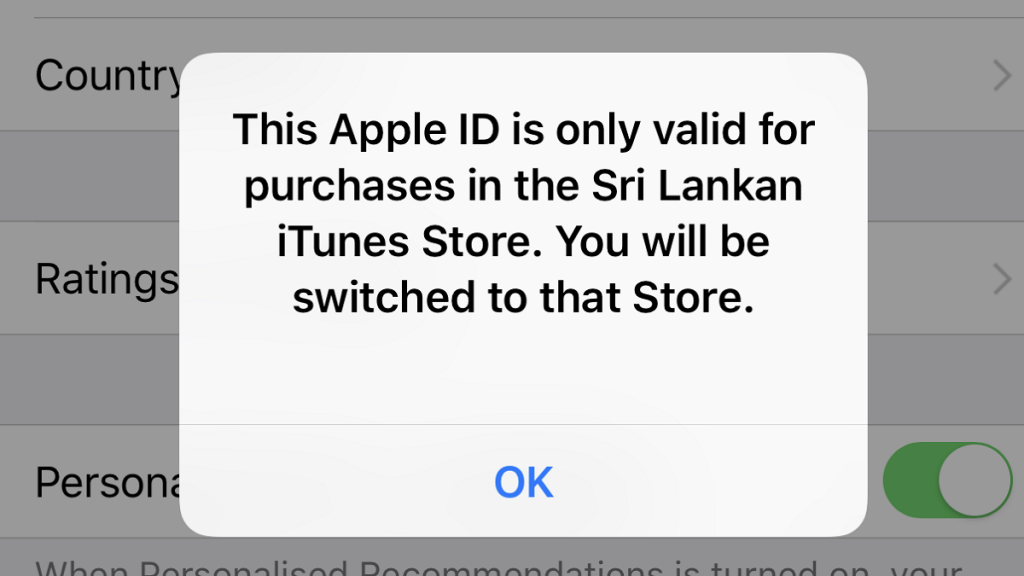 This means changing the Apple ID's location alone is not enough. Since most apps continuously detect your location, you may want to change your device's location, too. The App Store instantly prompts you to change your account information if you are in a different location. This happens because Apple doesn't want you to access apps that are not available in a certain country.
This is where a VPN that supports Apple's App Store can come in handy. It helps you get a new IP address, which can act as a shield that could stop an app from detecting your real location. That means you will continuously need and use a VPN. Once that's done, you can gain change your App Store location without adding a payment method or changing your address.
With that cleared up, let's start talking about how to change your Apple App Store country.
How to Change Your Apple App Store Country
Before you change your App Store country, you'll want to cancel your existing subscriptions and use the remaining credits on your Apple account. It's also a good idea to download any apps or content you might want to access in the future. That said, use these step-by-step instructions to change your Apple App Store country on iOS: 
Sign up for a VPN that works great with the App Store, like ExpressVPN.
Download your chosen VPN app/software on your Apple devices (like your iPhone).
Launch the VPN app and log in to your account to access its home screen.
Connect to a server in any country you wish to become your new App Store country.
On your iPhone, go to Settings > [Your Name] > Media & Purchases.
Tap "View Account" and then provide your Apple ID password.
Go to Country/Region > Change Country/Region.
Pick the country that corresponds to the country you picked in the VPN app.
Agree to the Terms and Conditions and enter your payment information. 
Provide a new billing address for your new country and tap "Done."
Make sure to have a valid billing address for your new location and a supporting payment method before you start changing your location on the App Store. Also, changing the Apple App Store location on one device will change your App Store location on all your Apple devices.
Best VPNs for Changing Your Apple App Store Country
The best VPNs for Apple's App Store should always prioritize privacy. Apart from that, it must be accessible across all your Apple devices. It is very useful to check if the VPN you are picking has a flawless unblocking record, good connection speeds, and a widespread network. There are many such services, which are also audited and offer excellent privacy policies.
Ticking all those boxes, along with their intuitive apps and excellent support, are these 3 best VPNs for changing your Apple App Store country:
ExpressVPN is our overall top choice in almost all the VPN categories and our decision for the best VPN for changing your Apple App Store location is no different. With a widespread network in over 90+ countries and lightning-fast connections, you will barely notice that this VPN app is switched on and protecting your devices. 
Even in terms of security, we noticed ExpressVPN is miles ahead of its competition. It doesn't shy away from advertising that all of its servers are owned by the brand itself - which means at no point, your data is compromised with a third-party vendor. Now, combine that with an audited privacy policy and industry-level encryption, and you may start getting the idea why ExpressVPN is one of the most privacy-focused services out there.
ExpressVPN doesn't disappoint in terms of changing virtual locations either. This VPN's unblocking capabilities aren't a secret and that's why it's also one of the best-performing streaming VPNs in the industry. Apart from unblocking a range of apps, the other benefit why you might want to pick this service is its cross-platform support. With broad device compatibility, you will be able to use this service on any of your devices. 
ExpressVPN's five-device limitation per subscription is the only downside we could find. That one thing aside, the provider is close to perfect for any Apple device.
 To know more about the service, consider reading our ExpressVPN review.
PROS
Ultra-fast performance.
Great for practically any use.
Certified no-logs policy.
High-end encryption.
Highly polished interface.
CONS
5 simultaneous connections limit.
No in-depth customization.
NordVPN is probably the best-known VPN in the industry and is trusted by millions of Apple users. During our testing, its reputation for having great privacy seemed evident with its Double VPN technology that encrypts users' data twice - making things more secure. Apart from that, there are plenty of security features like a kill switch, which only makes NordVPN an even stronger contender for the top position. 
NordVPN is an excellent companion if changing your Apple App Store location is in your mind. With a network that's 5,500+ servers strong, you will be able to access a wide range of locations regardless of where you're located. Considering its performance, we can confidently tell you that it's unlikely to slow down no matter what task you put it through.
It has a strict zero-logs policy that is audited annually by trustworthy cyber-sec companies and NordVPN's server performance is way above average, especially when you use it with its own NordLynx protocol. 
NordVPN's map-based interface is pretty unique compared to our other recommendations. The interface and animations are smooth on mobile devices and get the job done. The number of simultaneous connections, however, is limited to 6, which could be a problem if you have more devices or share your account with family and friends. 
But these are small quibbles considering what NordVPN promises us overall. We recommend it to users who want a feature-packed service with unrivaled privacy credentials. 
Read our NordVPN review to discover why this could be the right service for you.
PROS
Certified no-logs policy.
Polished UI and UX design.
High-end encryption.
Specialized servers on offer.
Trustworthy VPN brand.
CONS
Highly remote servers can be slow.
Requires some optimization.
As noted in our in-depth CyberGhost VPN review, we were surprised to see this Romanian-based provider taking down the competition with a personalized VPN experience specifically designed for Apple devices. The credit goes to its fast servers across 90+ locations. Its server count goes up to a blistering 8,700+, but that's not the only thing that stands out about this service.
CyberGhost has really useful features that get you the most out of the provider with minimum effort. Our favorite feature of this VPN is its filtering system that lets you pick the best servers depending on your requirements. The unblocking experience is absolutely seamless, too. 
This VPN's privacy features are among the most reliable in the industry that we have reviewed. It comes with an advanced kill switch that's efficient and never fails in our experience. Advanced encryption keeps you anonymous. It even helps you block ads, trackers, and malware.
CyberGhost VPN does have a no-logs policy, but it's been a long time since an independent party checked those claims. This could be worrisome for those who prioritize privacy over the other features and could be a deal breaker considering that all the other top rivals undergo invasive testing procedures. 
Apart from that, know that CyberGhost is slower than our other recommendations. So, it would help if you have a fast Web connection, to begin with. Apart from that, there isn't much to complain about. For anyone who wants a stable connection and reliable unlocking features, this VPN is worth checking out.
PROS
Certified no-logs policy.
Native software across the board.
High-end encryption.
Specialized servers on offer.
Generous money-back policy.
CONS
Missing a more recent audit.
Requires speed-related optimizations.
Final Thoughts
Like any other online security tool, a VPN service works best when you use it for the right task. After testing tens of providers, we found 3 VPNs that tick all the necessary boxes, out of which ExpressVPN is at the top of our leaderboard.
It offers stable VPN servers, excellent security, and fast connection speeds. At the same time, it is usable on a variety of platforms, including all your Apple devices. That said, it's the perfect pick if you wish to change your Apple App Store location. Still, if you need something other than ExpressVPN, check our guides to the best VPNs for iPhones and iPads, as well as for your Mac.
FAQ
Can I Change My Country on Apple's App Store?
Yes, you can update your country or region associated with your Apple ID as long as you have a valid payment method and billing address from your new country or region.
Is It Legal to Change My Apple App Store Country?
Yes, changing your Apple App Store to any country of your choice is legal and doesn't break any laws. However, by doing so, you may violate Apple's Terms and Conditions.
As Apple's guidelines mention, ensure you cancel all your subscriptions and use your Apple ID credit before you make the switch. We'll also add that no users have reported issues with using a VPN to change their App Store country.
Can I Change My App Store Country Without a Credit Card?
No, changing your App Store country is not possible without a credit card from the same region. Using any other card may give you an error saying: "Credit Card is not valid for this region."
The only other way, apart from having a valid credit card, is to make a second Apple ID on your device and switch between them as per your needs.
Can I Change My Apple App Store Country Without a VPN?
Although in theory, it's possible to change your Apple App Store country without a VPN, we do not recommend it. Unless you are physically present in the new country with a valid billing address and payment method, you are always prone to receiving an error from Apple.
Using a capable VPN service is easy and saves you from a ton of unnecessary hassle.
How Many Times Can I Change My Apple Store Country?
Changing your Apple App Store country is not limited to a specific number of times.
As long as you are fine with canceling your subscriptions, clearing your balance, and logging out, the App Store doesn't stop you from changing your country. Of course, you need a valid payment method and a billing address from the new country or region. But that's the only prerequisite.
Will I Lose My Apps If I Change My Apple App Store Country?
No, you will not lose your apps or their content when you change your Apple Store's location to another country or region.
Can I Have an Apple ID in Two Countries?
No, you cannot use an Apple ID in two countries at the same time unless you use a reliable VPN service to keep your device's location matched with your Apple ID location.
That would be all on how to change your Apple App Store country. If you have any questions, let us know via the comments section below. Thanks for reading!