When choosing a VPN, you are most probably inclined towards well-known brands. And thanks to a combination of clever marketing techniques, we already have a few 'VPN superstars.' However, you might be surprised what you'll find when checking smaller VPNs, especially those who take their time and effort into polishing that offer. With this said, we'll be reviewing a VPN named Trust.Zone in this article. This is a relatively unknown option with attractive promises, and we felt very excited to check it out for ourselves.
If you've read our other VPN reviews, you know that we use the introductory part to familiarize you with the most prominent features of each VPN. Therefore, take a look at the following table where you'll find some of the most important highlights of Trust.Zone VPN.
During the last couple of years, VPNs have been a popular way to unblock services such as Netflix and Hulu. This is why we pay special attention to media streaming services. The next table shows the capabilities of Trust.Zone from this perspective, so take a look.
And finally, we have one more table for you. Some of our readers might be in a rush, which is why we've included a table with our findings. So, here's what we think about Trust.Zone after spending some time using and testing it.
We're now ready to dive into our hands-on review of Trust.Zone VPN. So, if you'd like to learn pretty much everything about this VPN service, keep on reading this article.
Trust.Zone VPN – TechNadu's Hands-On Review
TechNadu's editorial team has developed a strategy for reviewing VPNs. We test them inside and out, and we try to uncover even the smallest of details. To learn more about this process, here's how we test VPN services.
Background, Jurisdiction & Reputation
Coming from Seychelles, Trust.Zone ensures that no personal data is collected. In addition, there are no data leaks in the past associated with this VPN. Our Score: 10/10.
We will start this review by doing a background check on Trust.Zone. We want to find out where this VPN comes from, what that means for its subscribers, and whether there were any data leaks in the past.
Jurisdiction & Applicable Laws
In general, top-rated VPNs come from 'exotic' countries and there's a good reason behind this. Just like any other type of business, VPNs have to respect the laws of their home countries. And since these are digital products, they fall under various data collection laws. With this said, we strongly recommend you avoid using a VPN that comes from a member country of the 14-Eyes Alliance. To learn more, make sure to click on the provided link.
Now, let's return to Trust.Zone. We are happy to tell you that this company is based in Seychelles. This is considered to be a good location for VPNs, as this country doesn't have data retention laws. In theory, this allows VPNs to avoid logging data, which has become an increasingly important aspect.
In addition, it's interesting to note that Trust.Zone offers a daily 'warrant canary' which shows the company's stance toward transparency. As per the latest available version of this document, Trust.Zone has not been subject to any searches or requirements to log any data. All of this sounds very reassuring.
Previous Data Leaks
Trust.Zone has always claimed that it does not collect any data. And even if they do, they certainly don't cooperate with third-parties. So far, there are no reports of this VPN leaking data or having any type of vulnerability.
All in all, it seems like you can trust this VPN to handle your data in the best way possible. Of course, we will be taking a closer look at this aspect later in the article (in the 'Security & Privacy' segment).
Supported Platforms & Devices
Surprisingly, Trust.Zone only support Windows natively. You'll need to configure it manually on any other device. Our Score: 2/10.
Ideally, you want to protect all your devices within a single subscription. As you're about to see, Trust.Zone meets this criterion – but only to a certain extent.
As you can see from the table above, Trust.Zone covers the most popular platforms. However, there's one important catch – you can use it natively on Windows only. Yes, you read that right – all other platforms are compatible with this VPN, but you'll need to configure it manually. Needless to say, top-rated VPNs bring native support across the board. Therefore, you can see what a huge obstacle this can be.
Let's also not forget to mention that you can use Trust.Zone on DD-WRT routers. Of course, you need to configure it manually as well. And finally, you can use this VPN on up to three devices at the same time, which isn't plenty (most VPNs support at least 5 simultaneous connections).
Installation & Initial Configuration
If you want to use this VPN on Windows, you're in luck. However, any other platform requires a tedious process of manual configuration. Our Score: 4/10.
To get started with Trust.Zone, you need to get a subscription first. After selecting one of the available subscription plans, you'll receive your username and password. Then, proceed to download the application from the official website (we're talking about Windows here).
Upon downloading the installation file, double-click to run it. You'll be asked where to save the installation directory, and the rest of the procedure will be done automatically. At some point, you'll be also asked to install a LAN driver, which is nothing unusual. Confirm this action and Trust.Zone should be ready for use within a few minutes.
The entire installation procedure is very simple – at least for Windows users. In case you don't use this operating system, be prepared for some manual configuration. This might sound frightening, especially if you're not familiar with VPNs, but an array of installation guides is here to help you. You can find this on the VPN's official website. Nonetheless, we can't oversee the fact that Trust.Zone doesn't have native apps for MacOS, Linux, Android, and iOS (at least). The current situation is just another obstacle to using it.
Prominent Features
It's evident that Trust.Zone is a fairly basic VPN service, suitable for average home users. It's missing more advanced options found in its direct competitors. Our Score: 6/10.
Before you get a subscription, you need to know what kinds of features to expect. Therefore, let's walk you through the feature-set of Trust.Zone, while explaining what each of those means.
When it comes to safeguarding your online identity, Trust.Zone includes a DNS leak protection (which we'll test later in the article). Unfortunately, this VPN doesn't support IPv6 yet, which reflects the correct situation of the majority of VPN services. And in terms of protecting you at all times (even if your secure connection becomes problematic), there's a kill-switch included.
So far, we can say that Trust.Zone covers the basics in a satisfactory way. However, when we compare it to today's top VPN services, we can see how limited is this VPN. There's no split-tunneling, for example, that lets you protect individual apps. There's also no ad-blocking or any other type of eliminating potentially malicious scripts. Therefore, we can say that average home users should be happy with this service – but the same cannot be said for users with more advanced needs.
Server Count
Trust.Zone is truly one of the 'smallest' VPNs we've met so far. With only 158 servers on offer, it leaves plenty to be desired. Our Score: 2/10.
Even though the number of servers isn't the most important aspect of a VPN, it's still an important one, nonetheless. You should always go for a VPN with a higher server count, as this generally ensures better performance without any bottlenecks.
After spending some hands-on time with dozens of VPNs, we can say that Trust.Zone has a fairly small VPN network. In fact, this is one of the smallest ones we've encountered yet. With 158 servers on offer, coming from 34 countries, this covers the most popular destinations such as the USA and UK. India and Australia also offer multiple servers, which should help you avoid any performance issues.
It's also important to note that you can connect to individual cities as well. For this purpose, you'll have to decipher the names of the available servers, so everything's not as straightforward. And lastly, you get to jump from one server to another any many times you want – no restrictions of that kind are found here.
Ease of Use
Trust.Zone comes with a really simple UI design. Even though it won't turn any heads, it's easy to use and gets the job done. Our Score: 8/10.
Just like a number of VPN services, Trust.Zone has turned to a mobile-like UI design. What you'll see is a small free-floating window with three distinct sections. At the top, there's the VPN's name, and you might see additional options depending on your navigation. Then, there's the main portion which presents different kinds of information. And at the bottom, there's the main navigation bar with five options.
To see the list of available servers, click on 'Servers' – found on the left side of the navigation bar. You can scroll up and down until you find a server you want. Clicking on it will instruct the VPN to make that connection happen. You can also select your favorite servers, so you can easily and quickly connect to them.
Then, we have the 'Status' tab. This is where you can review some of the basic information about your Web connection. This includes the selected server information, and whether you've enabled the kill-switch and auto-connect options. At the bottom, you can check some information about your account (duration, data transfer limitations, and similar).
To fine-tune this application, click on 'Settings'. There isn't plenty to fine-tune here, but you should still make sure that Trust.Zone aligns with your needs. You can choose to launch the VPN on system startup, enable the kill-switch and DNS leak protection. Then, you can select from different VPN ports (protocols) and play around with appearance options.
We have two tabs left. The 'Exit' one does what it says – closes (shuts down) the application. And in the middle of the bottom-placed navigation bar, you'll see the VPN's logo. By clicking on it, you'll be always returned to the home page.
As you can see from the screenshots, Trust.Zone brings a hassle-free experience. It does look at bit outdated and there are plenty of VPNs that bring a more attractive design. Even though it won't impress anyone, it gets the job done.
Media Streaming & Torrenting Support
Trust.Zone allows P2P file transfer and it can also unblock Netflix. When it comes to Hulu, BBC iPlayer, and Prime Video – those are not supported right now. Our Score: 4/10.
Media streaming has become an integral part of today's VPNs. This is why it's crucial to check whether a VPN you plan on buying can unblock your favorite websites. Here's what you must know about Trust.Zone VPN.
After testing Trust.Zone with the most popular media streaming services, we can tell that it only works with Netflix. You can unblock the American version of this service using a server specialized for this website. It's also worth noting that there are specialized servers for Hulu and BBC iPlayer. However, even after connecting to those, we weren't able to unblock those two services.
When it comes to torrenting, you'll be happy to know that Trust.Zone doesn't impose any limitations to this type of file transfer. You can freely connect to any server and download torrents like you usually would. Of course, there's the question of VPN-imposed throttling – so stick with us as we'll check the performance of this VPN soon.
Security & Privacy
Trust.Zone is capable of protecting your data using the latest security standards. Also, it doesn't collect personal information and has no data leaks. Our Score: 10/10.
In this segment, check if Trust.Zone is capable of protecting your online data. We'll inspect its encryption, VPN protocols, and more.
Supported Encryption Protocols
This VPN comes with 256-bit encryption, by default. This is considered to be the industry standard, as this type of encryption is practically uncrackable. On top of that, Trust.Zone supports L2TP/IPSec and OpenVPN. All of those are believed to be strong VPN protocols that eliminate any risk of your data leaking or getting into the wrong hands.
Logging Policy
As constantly repeated on its website, Trust.Zone doesn't store any logs. This means that information such as traffic logs, DNS requests, timestamps or anything similar isn't stored on this VPN's servers. All of this means that no personally identifiable data can be collected.
Upon taking a deeper look at this VPN's Privacy Policy, we've discovered that it collects a certain type of information. When you log-in to your account, you'll be able to see your bandwidth stats. This means that Trust.Zone still knows a few things about you. Still, this information can't be used to identify what you do online (in an exact matter), which means there's no reason not to trust this service.
DNS Leak Test
As you can see from the image below, no DNS leaks were detected. This means that our data remains hidden to third-parties online. They'll be able to see your virtual IP address, as well as other types of information that Trust.Zone serves them (hostname, ISP, and country).
To make sure this VPN isn't leaking any data, make sure to go to the application's settings. Then, make sure that the box next to 'DNS Leak Protection' is enabled. We aren't sure why it isn't enabled by default. Nonetheless, this is something to keep in mind.
Speed & Performance
Trust.Zone brings a satisfactory speed and limited throttling. It's perfectly usable, even though there are speedier VPNs out there. Our Score: 8/10.
We're sure you want to know what kind of performance to expect? To answer this question, we'll perform a series of speed tests. By the end of this segment, we'll be able to tell by how much this VPN throttles the speed of our Web connection.

To get started, we'll first check how fast is our Web connection (without the VPN, of course). As you can see from the image above, we got 148.09 Mbps for downloads and 9.62 Mbps for uploads. Now, let's add Trust.Zone to this equation.

We've allowed the VPN to connect us to an 'optimal' server, which turned out to be in a neighboring country. As expected, there was some throttling, but not in a big way. We got 132.84 Mbps for downloads and 6.24 Mbps for uploads.

Finally, we've tested a remote server, found in the USA. After doing a speed test, we got 54.36 Mbps for downloads and 2.32 Mbps for uploads. As you can see, the speed of our Web connection deteriorated even further.
We'll conclude this segment by saying that Trust.Zone slowed us by 36.6% on average. This isn't a terribly bad result, but it's not a stellar one either. The best VPNs out there can keep the throttling under 10%, which is considered to be the best possible result.
Customer Support
Trust.Zone offers several (limited) ways to get help, and live-chat is nowhere to be found. All in all, not the best example of how customers should be treated. Our Score: 3/10.
Just like with any premium-priced product, it's crucial to know what kind of support you'll be getting. When it comes to Trust.Zone, here are all ways you can have your questions answered.
Installation Guides: Installing this VPN on Windows should not be a problem. However, you'll have to rely on a manual configuration for all other platforms. Therefore, it's good to know that there are straightforward guides explaining how this procedure is done.
Troubleshooting Guides / FAQ: There's a dedicated section with frequently asked questions. This is also where you should go if you're having any problem with the native Windows app. Aside from some grammar errors, these are nicely written and can be of help in certain cases.
Support Tickets: Finally, there's an online form that you fill out. You can ask any question you might have, and then you'll have to wait for the company to write you back. This channel of customer support is available Monday to Friday (6.00 am to 4.00 pm), which means that you'll have to wait for a longer period of time over the weekends.
It's safe to say that even though there are several ways to get help, this kind of customer support isn't the greatest. And most importantly, live chat is not on offer. Therefore, you can only hope that Trust.Zone will work without a hitch. Otherwise, you'll be prevented from using it for a while.
Pricing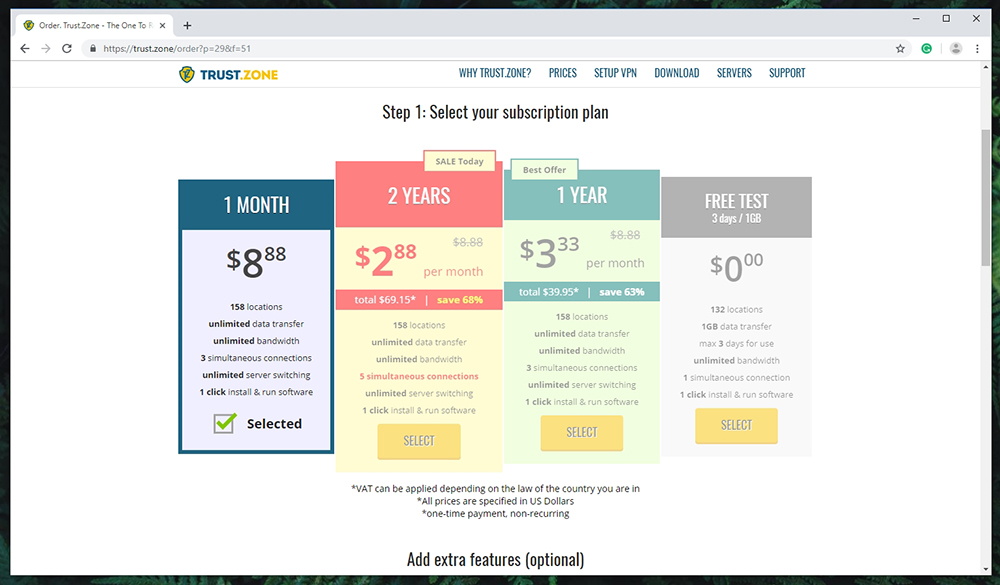 Trust.Zone might seem affordable at a first sight. However, we still can't say that it brings tremendous value for its price. Our Score: 6/10.
Just like other VPNs on the market, Trust.Zone is offering several pricing plans. Here's a handy overview of this VPN's pricing structure.
As you can see, Trust.Zone is an affordable VPN service. In general, VPNs are priced from $10 to $15 per month, on average. You can subscribe to Trust.Zone for $8.88 per month, if you want to be charged on a monthly basis. However, this VPN's long-term plans bring the price down in a dramatic manner. If you decide to go for its most comprehensive plan, you can save up to 68% and pay only $2.88 per month.
It's also worth noting that you can try Trust.Zone free of charge. This VPN is offering a 3-day trial period which limits you to 1GB of bandwidth, you can use it on a single device, and you won't get full access to all of the available servers. Nonetheless, this could be a good way to try before you buy.
Finally, there's a number of add-ons that you can purchase. For example, dedicated IP addresses are priced at $6.99 per month, and you can buy three additional connections for $2.99 per month. These are often discounted, so you can find them priced more aggressively.
Do We Recommend Trust.Zone VPN?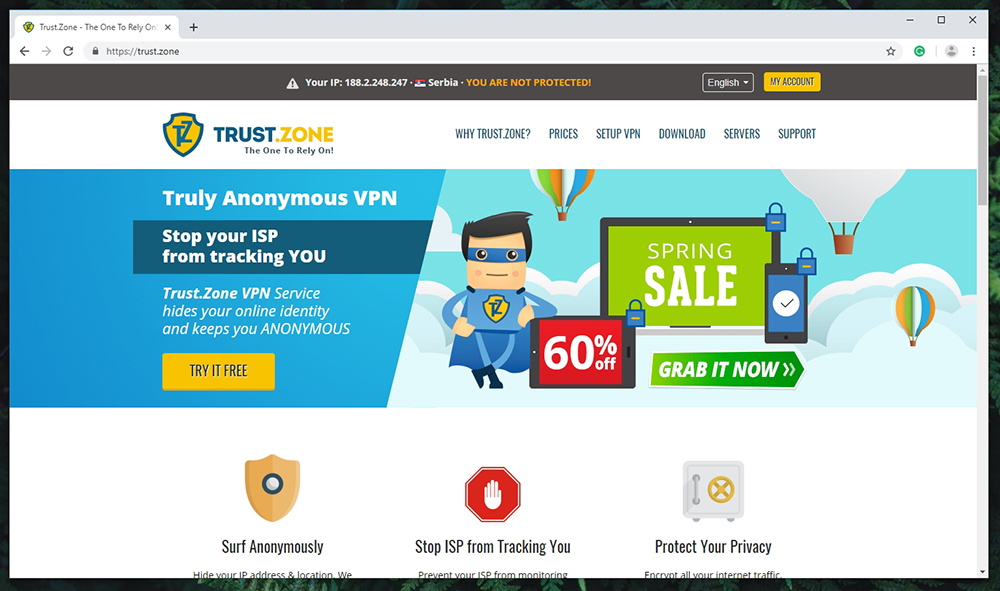 With everything said so far – we can recommend Trust.Zone to a limited range of users. If you're a typical home user who wants to anonymize their traffic and maybe even unblock Netflix, you're going to like what's on offer here. However, more advanced users are not going to be overly happy with this service.
PROS: Makes you completely anonymous online; Strong VPN protocols; Strong encryption; Very easy to use; Unblocks Netflix; Good performance.
CONS: Limited server network; Missing advanced features; Limited customer support; Somewhat outdated UI.
OUR SCORE: 5.7 out of 10!
As already said, those who wish to unblock Netflix and increase their online security should be perfectly happy with this VPN. It's not the best around, but it's also more affordable than its competitors. So, go ahead and check out Trust.Zone on your own.
In the end, we'd like to ask you to share this article online. And to stay on top of the latest VPN-related news, you can follow us on Facebook and Twitter. Thanks!