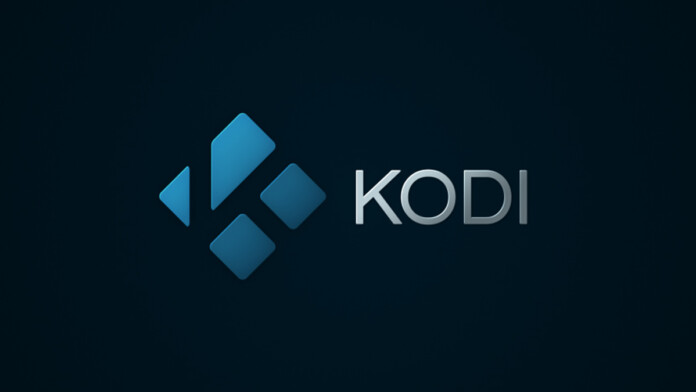 In general, Kodi is known to be a reliable application. This home theater software is incredibly powerful out-of-the-box. You can easily create your content library and play almost every type of media files. On top of that, you can install best Kodi addons that extend Kodi's capabilities. However, all these features can be too much for Kodi at times. Our readers have reported various issues, which is why we wanted to publish a guide to solving them. So, is your Kodi not working? Are you seeing the 'No stream available' error? Not a problem! Continue reading our Kodi troubleshooting guide to learn more.
Disclaimer: We will be talking about software developed for Kodi – which is based on open-source code. However, the following software comes from unofficial third-parties. In addition, it is publicly available and free of charge. TechNadu doesn't claim any responsibility for how our readers decide to utilize the following software. Please note that we don't condone sharing pirated content and copyright infringement. TechNadu is not affiliated with the software mentioned in this article in no way. Make sure to carefully read the above-said disclaimer and ensure the proper use of the software.
Warning: Why you must NOT USE Kodi without VPN?
Here are the reasons that you should consider looking at it
without SKIPPING
.
Using ILLEGAL Kodi Addons are Dangerous without a VPN: Most of the Kodi users are installing the ILLEGAL Kodi addons on their system to access all the latest movies, TV shows, sports, music, and much more for FREE, than a legal Kodi addons where it has the least content in it. But do you know what? The video content on illegal addons are a scraped and copyrighted material. If you are accessing them on Kodi, then your activities will be monitored by your ISP by tracking your IP and gives all the information to the government or companies if they request for it. This will land you in trouble. To stay away from this, you will have to connect to a VPN where it hides your identity by rotating your IP address while streaming Kodi content. This is how you will be safe from the prying eyes.
Bypass Geo-Restriction: As you probably know, some official addons like BBC iPlayer, NBC Sports, Hulu, IceFilms have geo-location restrictions. This also applies to other addons like Acestream which fetches the data from torrents. To unblock these restrictions, you will have to DEFINITELY use a VPN no matter what.
The above are the 2 reasons that forcing us to recommend a VPN to the Kodi users for safer streaming. In fact, after testing several VPNs for Kodi, we finally came up with a one non-stop solution and that is
ExpressVPN, the top rated Kodi VPN
so far.
Limited Time Offer:
For our TechNadu readers, there is a
49% OFF on ExpressVPN
which includes
3 FREE Months
in it.
How to Handle Kodi-Related Issues? – 10 Simple Solutions For Fixing Common Problems!
First, we will cover streaming and buffering issues. These kinds of issues occur when you click on a media file and receive different kinds of errors. Here are some of the cases of streaming issues that you might be experiencing:
You try to play a media file, but it never starts;
You receive a 'No stream available' error message;
A video starts playing, but it buffers way too much;
Movies and TV shows start playing, but freeze at some point;
You can't find any source links when browsing third-party add-ons.
There is a number of different solutions to the above-mentioned issues. Please note that we are going to list possible solutions that are applicable to the latest version of Kodi. It's up to you to try them out and hopefully resolve any technical difficulties.
#1. Always Use a VPN with Kodi!
In many cases, fixes for Kodi-related problems might be out of your reach. That's because Kodi is often associated with piracy, which forces certain ISPs (Internet Service Providers) to block or throttle Kodi-related traffic. In turn, this often produces problems with buffering, which makes streaming video files close to impossible.
The most reliable way to fix this issue is by using a VPN application. These are quite technical yet easy-to-use solutions that encrypt your Web traffic. By being encrypted, your traffic can't be throttled by anyone, including your ISP, which is how VPNs work.
Since VPNs are subscription-based, you need to do your research on which one to use. A good place to start is our overview of the best VPN for Kodi. In fact, we always recommend our readers to buy the ExpressVPN subscription, is just because, it is the best VPN overall. Once you're ready to make your pick and start using it, you'll want to read our guide on how to install a VPN on Kodi.
#2. Install the Latest Version of Kodi
Before doing anything else, you need to make sure you are running the latest version of Kodi. Sadly, this software doesn't come with an automatic update tool, which means that you need to update Kodi manually. Please note that a new version of Kodi is being released every couple of months. Some of those are larger updates (like Kodi 16, Kodi 17, and upcoming Kodi 18 Leia) while others are incremental updates (for example Kodi 17.1, up to Kodi 17.6). In case you haven't updated Kodi in a while, it's wise to check out if there's a new update available. Here's how to do that:
Go to Kodi's official website and click on a blue 'Download' button. This is where you'll find the latest versions for different platforms and operating systems.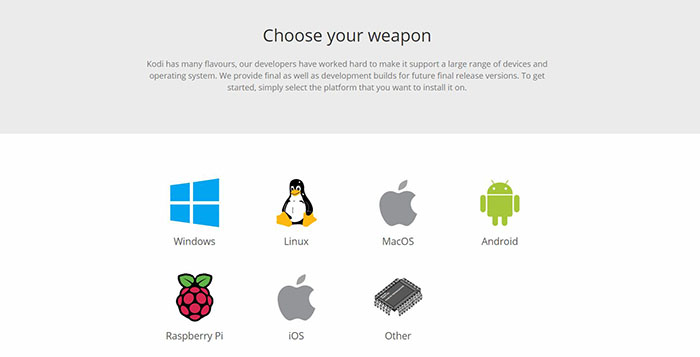 Select your operating system in the 'Choose Your Weapon' section and proceed with downloading the needed file.
Once downloaded, double-click to install Kodi. You don't have to uninstall the old version. Instead, re-install Kodi and all your add-ons and customizations will be left intact.
As you probably know, Kodi comes with wide compatibility with almost every popular operating system. This means that updating Kodi is done differently on different platforms. We are going to provide links towards our existing installation guides, which will tell you how to install (and update) Kodi.
#3. Keep Your Add-Ons Updated
We'll continue our Kodi troubleshooting guide by telling you how to update add-ons. Even though Kodi is set to check for updates automatically, you can do this manually as well.
Once you launch Kodi, the application will try to search for new versions of add-ons. If there are pending updates, you can see them in the Add-ons section – under Kodi's logo. You'll recognize this icon as a circular arrow. Click on it to perform manual updates.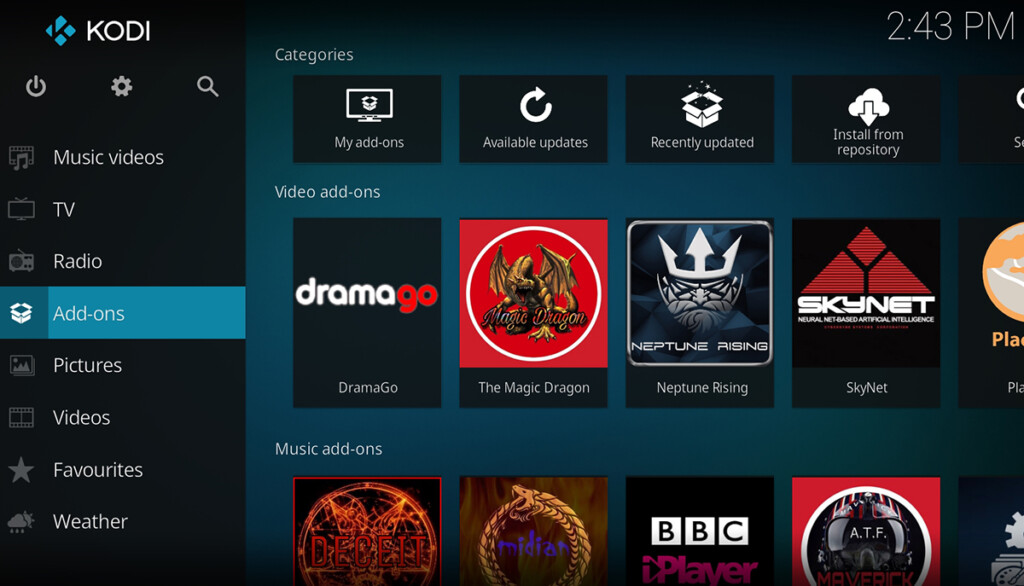 You also probably have a few of your favorite add-ons that you use on a daily basis. For us here at TechNadu, these are Exodus, Covenant, and Incursion. Here's how to update any of them.
Open Kodi and navigate to the Add-ons section;
Now go to Video Add-ons where you'll find the add-on you are looking for;
Once you find it, right-click on its icon and pick 'Information';
You will see an overview of the add-on. Click on the 'Update' button to manually check for a newer version.
Make sure to occasionally check for new updates. We understand that this can be tiresome if you have dozens of installed add-ons. However, make sure to keep your frequently used add-ons updated at all times. And finally, here's how to uninstall addons that you no longer use.
#4. Take Advantage of Real-Debrid
Long-time Kodi users are well-aware of an amazing tool called Real-Debrid. This service is used to help Kodi users deal with the uncertainty of streaming movies and TV shows using add-ons.
The truth is that Kodi's addons act as repositories of links towards media files. When you start streaming a movie, for example, it isn't served from a particular addon's server. Instead, that addon is using a link found on the Web to help you stream that content. This is why you can often find broken links forcing you to search for alternatives.
Real-Debrid solves this issue by letting you download and stream media files as fast as your Internet connection allows. Even if a download gets interrupted, you can resume downloading the file at a later time. However, you need to know what add-ons support this service. So, check our article on how to configure Real Debrid on Kodi.
Please note that Real-Debrid is a premium-priced service. However, it's quite affordable. If you depend on Kodi for all your media streaming needs, this service can be a wise investment.
#5. Clear The Cache Of Your Add-Ons
If your streaming issues are connected to a particular add-on, it's time to clear its cache. However, you should know that not every addon brings this option. We are going to talk about that later in the article, where we'll recommending using a maintenance addon called Indigo. Still, the majority of popular addons do come with a dedicated Settings section. Let's take a look at how to reset Exodus by deleting cache and providers.
Open Kodi, navigate to Add-ons and launch Exodus;
On the add-on's Main Page, click on 'Tools';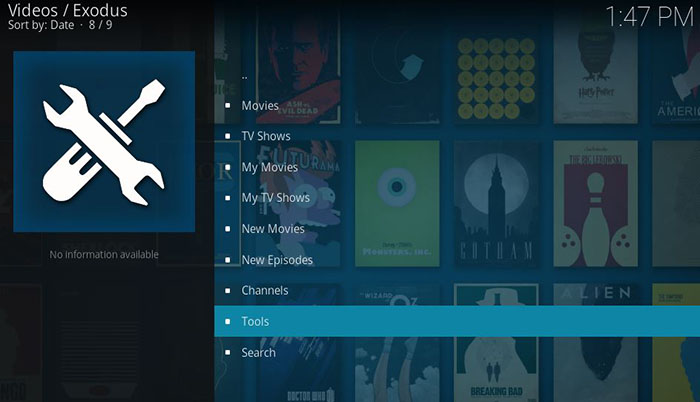 This is where you'll see two options – 'Clear Cache' and 'Clear Providers'. Feel free to use them.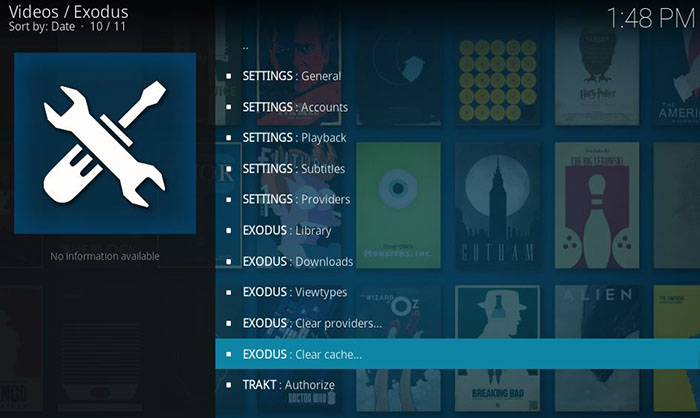 You will be asked whether you'd like to proceed. Click 'Yes' to finish.
At any moment, you can check our article on how to clear the cache on Kodi. This should eliminate any buffering issues and make your Kodi run at its best.
#6: Delete Kodi Addons, The Right Way!
At times, faulty addons or builds can force your Kodi to crash. When that happens, you need to remove recently installed addons. There are different ways you can do this, with the easiest one being from within Kodi's interface. For more information about this, here's our article on how to delete Kodi addons.
#7: Delete Kodi's 'Addons27.db' Database File
If you're experiencing problems related to Kodi's black screen or blank screen issues – you can resolve these by deleting a file named 'Addons27.db'. It's also important to note that this issue usually happens when updating Kodi to a major new version (like from Kodi 16 to Kodi 17+).
The solution is to delete a file called 'Addons27.db' which contains cached information about your installed addons. You won't remove any addons this way, as the file will be automatically generated the next time you launch Kodi. So, here's how to find and delete this file:
Windows: Open the Start menu and paste the following navigation path: %APPDATA%\kodi\userdata\Database. Click 'Enter' and the folder will open.
MacOS: Go to Users > Your Username > Library > Application Support > Kodi > Userdata > Database.
Linux: Go to ~ > Kodi > Userdata > Database.
Android: Navigate using a File Manager to Android > data > orgkodi > files > kodi > userdata > Database.
iOS: Go to private > var > mobile > Library > Preferences > Kodi > Userdata > Database.
OpenElec/LibreElec: Navigate to storage > kodi > userdata > Database.
Once you open the 'Database' folder, simply delete the 'Addons27.db'. There's no need to restart your device, just open Kodi. The file will be created from scratch, potentially resolving Kodi-related blank screen issues.
#8: Disable Hardware Acceleration
A number of playback issues can be resolved by disabling hardware acceleration from within Kodi's interface. This problem is more present on Android devices, which is why we strongly recommend you to disable this option if you have any kind of Android-based device, including a range of TV set-top boxes.
Launch Kodi on your device;
Go to Settings by clicking on the Gear-shaped icon (top-left corner);
Navigate to Player Settings;
In the bottom-left corner, click on the Gear icon until it says 'Expert';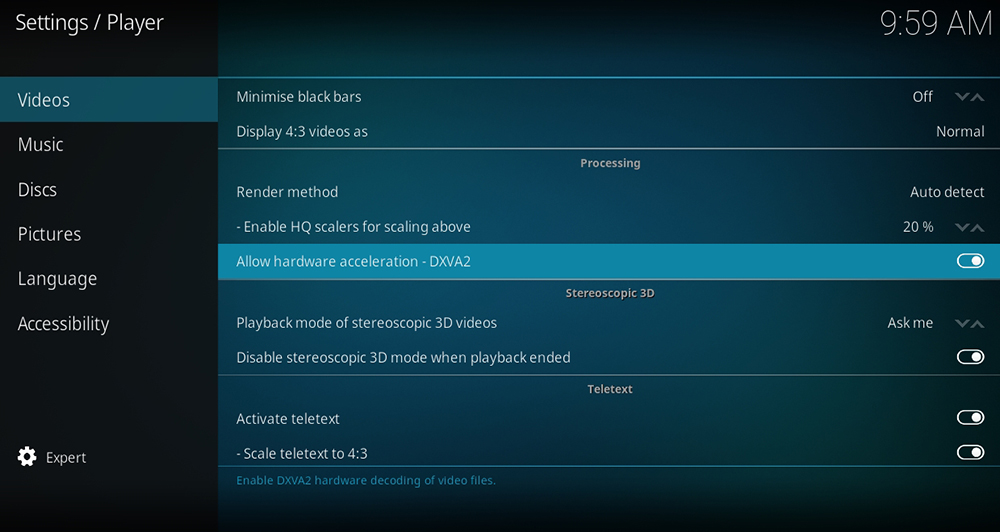 On the right side of the screen, you'll see an option that says: 'Allow Hardware Acceleration – DXA2'. Make sure to disable this option;
Restart your Kodi.
#9: Reset Kodi to Default Settings
If you've tried a number of different solution and nothing works, it's time to restore your Kodi to its original state. By doing this, you'll lose your addons and other personalized settings, which is why you should do this as a last resort.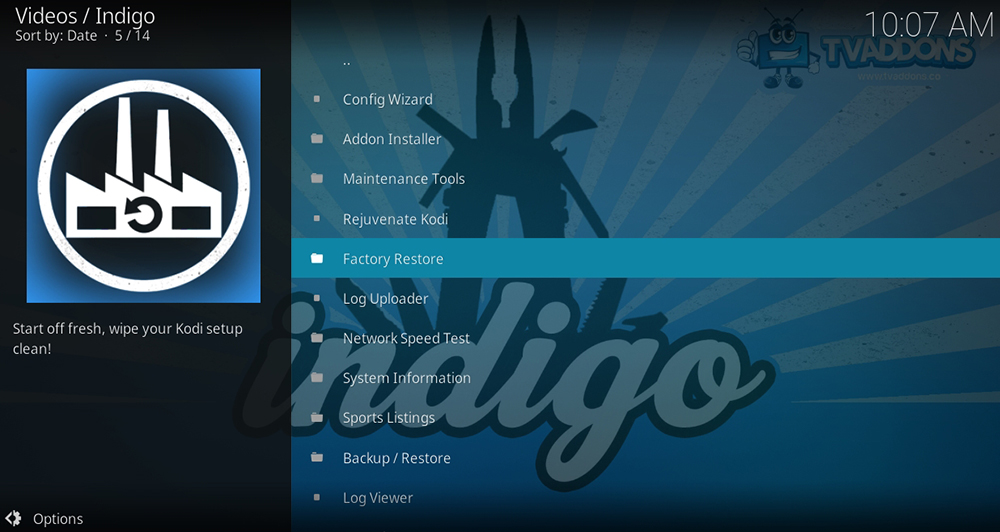 Restoring Kodi to default settings is done via an addon called Indigo. This is a hugely powerful maintenance addon that you can use to resolve all kinds of Kodi-related issues. We strongly recommend you to keep Indigo installed on your system, as it will most definitely come in handy.
Here's how to reset Kodi to default settings by using Indigo:
After installing Indigo, open it from within Kodi;
On the home screen, you'll see an option named 'Factory Restore'. Click on it;
You'll be asked whether you want to do this option, so go ahead with 'Yes';
It might take a few minutes for this process to be done.
Once everything's set, restart Kodi and import your media library once again.
#10. Enhance & Optimize Kodi's Playback Performance
In general, the more powerful computer (or device) you have, the better. Even though Kodi is a lightweight application, you can allocate more resources to help the application run better. This is done via an XML file that you need to create and place within your User Data folder. We'll tell you how to create that file, where to place it and how to make Kodi more powerful.
The first step is to create a new file with the XML extension that needs to be placed in your User Data folder. Here's how to locate your User Data on different operating systems:
Windows: Open the Run command by pressing the Windows Key + R. Paste the following code: '%APPDATA%roamingkodiuserdata'. Press Enter and you'll see the directory. You can also use the provided navigation path by launching the Start menu in Windows 10 and pasting it.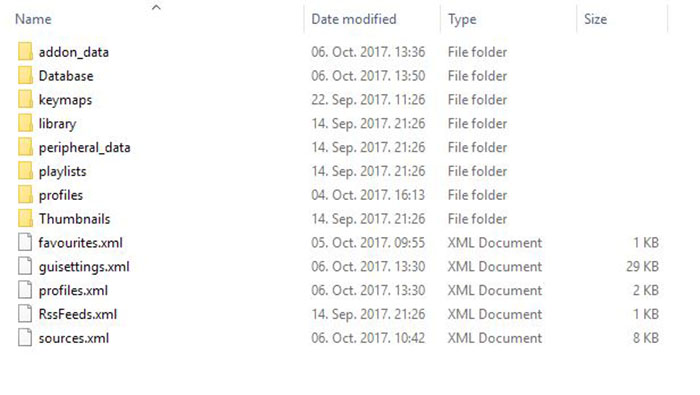 Mac: Go to '/Users/<your_user_name>/Library/Application Support/Kodi/userdata/';
Linux: Navigate to '~/.kodi/userdata/';
Android: Use your default File Manager and go to 'Android/data/org.xbmc.kodi/files/.kodi/userdata/';
iOS: Use your devices File Manager and open '/private/var/mobile/Library/Preferences/Kodi/userdata/'.
Once you've found the directory create a new file and name it 'advancedsettings.xml'. This can be done by creating a new text file and making sure you are using the XML extension.
Using the below-placed image, you can see the final look of the Advanced Settings file. Please note that the blue-colored text must be placed as you see on the image. The white text presents variations you can use, depending on your device's specification. The green-colored texts are explanations for what each of the available commands can do.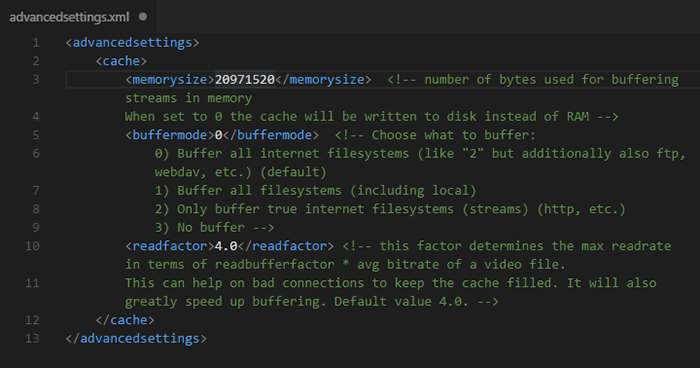 To help you understand what each of the commands is used for, we'll take a closer look at every one of them:
<memorysize> is a command used to tell Kodi how many bytes to use. In general, you can use up to one-third of your free RAM memory and dedicate it to Kodi. Make sure to know how much RAM you have, and divide that number by three. However, make sure to calculate that number in bytes. You can use this Online Converter to switch between gigabytes and bytes.
<buffermode> is a setting that defines the types of content that are allowed to be buffered. For example, you can instruct Kodi to only buffer locally stored content or to buffer any type of file. '0' is used to buffer all internet streams, '1' is used to buffer anything compatible with Kodi, while '2' is used to buffer true Internet-based filesystems.
<readfactor> is how Kodi tries to read a video file. If you have a powerful processor, you can take advantage of that. The default value is '4.0'. You can double it if you have a CPU that is above mid-range.
Once you've entered the new values, save your file. Once again, make sure the file has the XML extension. That's all you need to know. Kodi will do the rest.
Important note: Make sure that every symbol is properly entered. Take a close look at the image above and make sure every command has its start and end. For example: <memorysize> and </memorysize>. You will see that every command needs to be closed in order for Kodi to recognize this file. In case you mess something up, you can delete this file and Kodi will return to its original state.
How to Check Kodi Error Log Files – Here's How to Make Sense of Kodi Error Codes in 3 Simple Steps!
A certain portion of Kodi users is aware of the infamous 'Check the log for more information' message. This error message can be displayed in different cases but it often happens when you try to play a media file. Since this can prevent you from streaming media from the Web, we will take a look at possible solutions in this Kodi troubleshooting guide.
Step #1: Install Indigo on Kodi
A Kodi add-on named Indigo can be used as a maintenance tool for this application. As such, it can be used to keep Kodi optimized as well as to resolve certain issues. Even if Indigo fails to provide a solution, it can be used to restore this application to the original settings.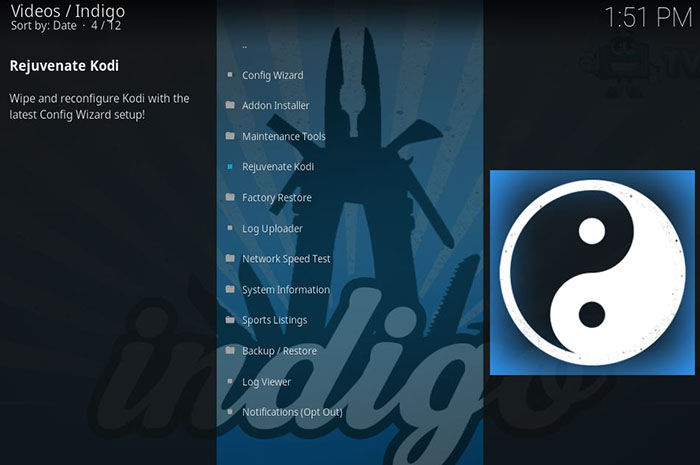 We have previously published an in-depth guide on how to Install Indigo. This is where you can find the updated repository as well as a series of screenshots helping you to add this add-on to your copy of Kodi. If you continue reading, you will learn how to use this add-on as well as what some of its options can do.
Step #2: Use Indigo to Open Kodi Log Files
Upon launching Indigo, you will see a series of different tools. We'll focus on those that can be used to fix issues with Kodi.
Maintenance Tools: This is a comprehensive section bringing lots of useful options. We recommend clearing Kodi's cache, deleting thumbnails, and deleting packages as well. As you can see, this section can also be used to keep Kodi optimized by using auto-maintenance scripts. You should know that Kodi does all these things by default, which means that Indigo can be used to force these operations. This can be helpful when it comes to removing different kinds of issues.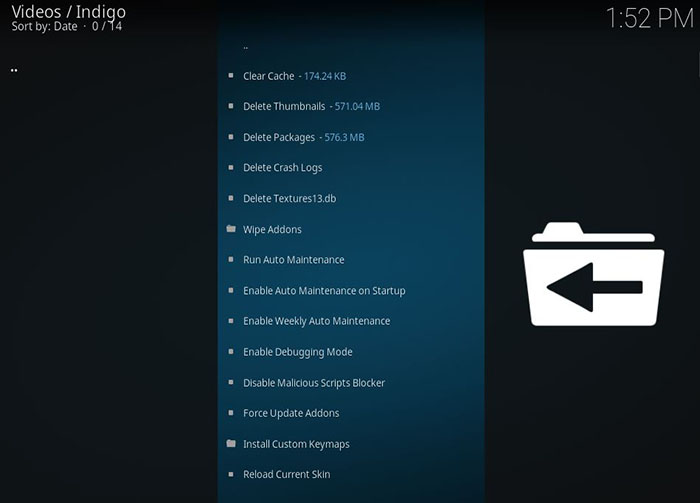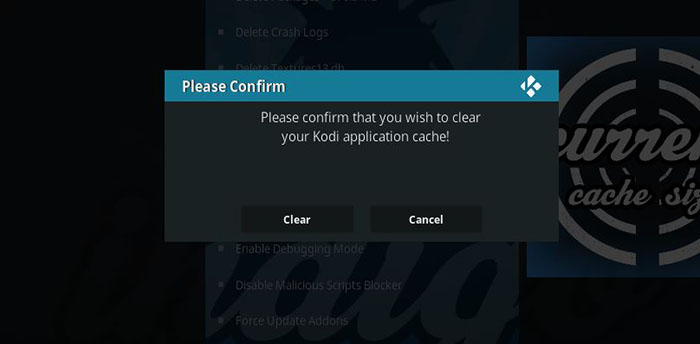 Rejuvenate Kodi: In case you try different options and still face issues, it's advisable to restore Kodi's installation. What you need to know is that this option erases the current configuration as well as any add-ons or skins for Kodi you have installed. You'll have to start from scratch once this operation is completed. It's also worth knowing that once Indigo rejuvenates Kodi, you'll be greeted with the Config Wizard which will help you set up the application.
Factory Restore: This option also restores Kodi to its original configuration. However, you'll be greeted with a blank slate. You can use this option if you don't plan on using the Config Wizard.
Step #3: Identify Issues Using Log Viewer
If you're still unable to solve issues with Kodi, we are going to give you one more tip. Even though we hope you'll benefit from reading this Kodi troubleshooting guide, we want to prepare you in case that doesn't happen. This is why it's important to know how to check Kodi's log and send it to another person (or upload it online).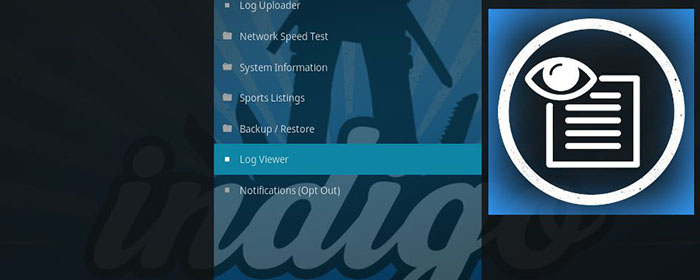 The easiest way to check Kodi's log file is by using Indigo (click on 'Log Viewer' in the Main Menu). This will display Kodi's activities and provide information if something goes wrong. This is helpful in more ways than one:
Kodi doesn't provide specific information about errors, once they happen. Instead, it says that you should check its log file. By opening this file, you can find different error codes that can be used to search online. Since there are dozens of different errors, you can use Google to find information on specific error codes.
You can also ask for help on forums. Kodi is known for its vibrant and helpful community of users. However, they won't be able to help you if you don't have a log file. This is why Indigo provides a convenient way to export or upload logs. This is done by opening Indigo and going to Log Viewer > Upload Log. This option can also be used to send your log to someone by knowing their email address.
Answered: Your Most Burning Questions About Kodi Errors!
To make sure that this article is as helpful as possible, we are going to include additional considerations. As you'll see, we'll present additional info via a series of questions, so keep on reading.
How to Clear Cache on Kodi?
Clearing the cache can potentially solve a number of issues. In many cases, these are playback issues that cause videos to stutter. This is why knowing how to clear cache is of the highest importance.
You should know that Kodi's doesn't provide you with an easy way to remove junk files. Instead, you need to rely on a third-party addon called Indigo. Don't worry, we're here to help. Here's an in-depth and step-by-step guide on how to clear cache on Kodi.
How to Reinstall Kodi?
Reinstalling Kodi won't solve a lot of problems, but it's always good to know how to reinstall your favorite application. In general, this action can produce viable results if you've encountered a bug that Kodi's developers haven't fixed just yet.
To reinstall Kodi, you can simply follow the same procedure you did when you installed it, in the first place. To keep all your settings and addons, make sure not to uninstall Kodi! Instead, simply install Kodi over the existing installation.
How to Fix the 'Failed to Install a Dependency' Error?
When installing addons, the last thing you want to see is the 'Failed to Install a Dependency' error. However, there's plenty you can do to solve this problem.
In essence, you need to understand the cause of this problem first. Kodi addons rely on different types of addons to work. For example, we have Web scrapers that search the Web for media streaming links. If the scraper doesn't work, the addon won't work either.
Now, let's talk about how to resolve this issue. You'll find all you need to know in our article on resolving Kodi's dependency-related issues.
How to Fix Kodi When It's Rebooting Continuously?
In many cases, faulty addons cause Kodi to reboot continuously. First, we suggest you disconnect from the Web. Then, open Kodi and delete recently installed addons. However, you can also try to update Web scrapers (while connected to the Web, of course), and here's how that is done:
Launch Kodi;
Go to Settings and then open 'System Settings';
Scroll down to the 'Add-ons' tab and click on 'Manage Dependencies';
You will see an entry named 'URL Resolver'. Select it, and then select 'Update';
Restart Kodi.
How to Fix the 'Kodi is Unable to Connect to a Source' Error?
Every time you want to add an external source, you will need to add an URL. For example, this happens when you want to install an addon. If Kodi fails to open that URL, you will see a notification saying that it can't connect to a source.
First, make sure that you've entered the URL correctly. Check if the URL begins with 'HTTP' or 'HTTPS' and check for any uppercase or lowercase letters. If you're 100% sure that you've entered the URL correctly, the repository might be offline at the moment. In that case, try installing some other addon from a different source.
How to Fix Kodi When Videos Look Strange?
Playback issues related to incorrect colors are not common when it comes to Kodi. However, you might experience something strange at times. For example, videos can be too large or too small, which means that you've accidentally zoomed in or out. Here's what you need to do:
Start playing a video within Kodi;
In the bottom-right corner, you'll see the Gear icon. Click on it;
Next, select 'Video Settings';
This is where you'll see the 'Zoom Amount' option. Return it to '1.0';
Also, make sure the 'Video Mode' is set to 'Normal'.
While you're here, you can also check if the brightness and contrast are set to 50%.
How to Fix Problems With Non-Working Kodi Search?
In many instances, Kodi isn't able to search for files is the date and time are incorrect. This also causes problems within individual addons, especially those that list entries based on dates.
To resolve this problem, you need to check your device. This can be a computer, media streaming device, or a TV set-top box. Double-check if the date and time are set properly.
If you're just upgraded to a major new Kodi version, there's also a chance that you're using obsolete addons. It might take a few months until developers update their software creations and made them fully compatible with new Kodi versions.
Why Are HD & 4K Streaming Links Slow to Load?
You've probably heard great things about 4K video addons for Kodi. However, playing 4K files requires you to have a capable machine running Kodi. This is why we recommend you to check whether your device is capable of playing 4K files.
You should also know that Kodi comes preloaded on a number of custom-made Android TV boxes. These are so-called 'Kodi Boxes' and they are usually quite affordable. In the majority of cases, these can play HD files (720p or 1080p). However, many of them are simply not capable of playing 4K files which leads to stuttering.
What to Do When Kodi Repositories Aren't Working?
You need to know that Kodi add-ons 100% rely on remote servers. Even though they're installed locally, they need a Web connection to work. If something happens to those servers, the addon will stop working all of the sudden.
In general, Kodi addons are quite unreliable, especially unofficial ones. They depend on their developers who spend quite a lot of time maintaining their addons. With this said, it's easy to see why they're so unreliable.
When you find a non-working addon or repository, we suggest you simply move to a new one. There are hundreds of addons on the Web, and we're sure you'll find an alternative.
How To Fix 'Unable to Create Application' Kodi Error?
In some cases, updating your Kodi to the latest available version can cause certain issues. The most common one is the 'Unable to Create Application' error which prevents Kodi from opening after updating the application. This most frequently happens on Windows PCs, so here's the solution:
Go to My Computer on your Windows PC;
Now, make sure that you can see hidden files. This is done (on Windows 10) by clicking on the 'View' tab and then select 'Hidden Items';
Now go to C: > Users > Your Username > App Data > Roaming;
Next, go to Kodi > Userdata.
This is where you'll find a file named 'profiles.xml'. Feel free to delete this file as it has become corrupted.
Now, restart your PC and launch Kodi. The application will create a new 'profiles.xml' file and it should start successfully.
How To Fix Kodi Crashes On Startup Without a Clear Error Message?
If you have a brand new Windows 10 PC, or if you've recently done a fresh installation of Windows, Kodi can sometimes fail to launch. Instead, it crashes on startup without giving you an error message. Here's an easy fix for this problem.
In many cases, installing the latest Visual C++ Redistributable can solve this issue. In fact, Kodi should check for any missing files on your system during the installation – but this doesn't always happen. So, go to Microsoft's website and download the latest update.
Is Kodi Playing Only The First Episode?
Some of our readers noted that their Kodi only plays the first episode of a TV show – and this issue seems to be related to Exodus. To solve this issue, here's what you need to do:
Open Exodus and go to Settings (right-click on the addon, select 'Information' and then click on 'Configure');
Click on 'Providers';
Uncheck the following options: Ymovies, MoviesHD, and Torba;
Hit 'OK' and restart Kodi.
Is ISP Throttling Your Internet Speed While Streaming Kodi?
Some ISPs (Internet Service Providers) throttle your connection when they catch you using Kodi to stream videos. The only way to overcome this obstacle is by using a reliable VPN. So, check out the best VPN for Kodi that can easily solve this issue on yourseld. Else, If you would like to get a suggestion from us, then we strongly recommend ExpressVPN for you, which we consider the top Kodi VPN in 2019.
Final Thoughts
We hope that our Kodi troubleshooting guide helped you solve your issues. The truth is that some errors can be more specific than others, forcing you to turn to the Web and seek answers. This is why it's beneficial to know how to identify an issue – which is done via Kodi's log file. Even if you don't resolve technical problems, there are numerous individuals online that can assist you.
In case you think other Kodi user would like to read this article, why not share it online? And you can also follow us on Facebook and Twitter – so, let's stay in touch. Thanks!